Best Concealed Carry Purses Reviewed & Rated for Quality
In a Hurry? Editors choice: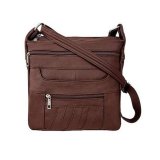 Test Winner: Leather Cross Body

Despite an improvement in policing and
security
, the aspect of surprise that crime enjoys makes it difficult to rely on law enforcement at all times.
Women
bear the brunt of most criminal acts and are more likely to be victims of crime. As a way to improve personal security, many women have asked to be issued
concealed carry
licenses. And since women usually carry a purse even when they don't carry a
gun
, purses have become the perfect way to have your weapon with you without raising any suspicion.
Standout Picks
Criteria Used for Evaluation
Durability
Unless you plan on buying a new concealed carry purse once every few months, durability is one of the most essential factors you should consider. The purse should be made from high quality materials, have a strong and functional design and parts like the zippers should be incredibly strong.
Even though most quality CC purses are more costly, the length of service they offer and their ability to stand up to the test of time will more than make up for the extra bucks you will pay for them.
Features
There are a number of features that you should consider when buying a good concealed carry purse. Most of the features should revolve around the concealed carry compartment to guarantee safety and security of the weapon.
A good purse should have a lockable compartment that you can easily access from both sides of the bag. The compartment should be preferably padded to avoid imprinting and a gun holster. For premium purses, it should also be lined with ballistic nylon.
Since these are everyday purses, a unique and appealing design should also be included in your checklist. In addition, the purse should have plenty of space for your other carry-on items and not just the gun.
Materials
There are plenty of materials that are used to make CC purses. Choosing one made out of the right materials can prolong use and improve your experience. Understandably, these are not your average purses. Guns are heavy and you need a purse that can carry the firearm on a daily basis over a long period of time.
Opting for bags made out of leather with strong straps, high quality zippers and quality lining is very essential. The use of such materials will attract a higher price but it is well worth it.
Size
Size is a sensitive issue when it comes to concealed carry purses. While the purse should not be too small that it only fits the gun and nothing else, it should also not be too big to be classified as a bag.
The bag should be sizeable enough to handle most small and medium sized weapons while leaving enough space for your phone, make-up and other items. Some even optimize space by modifying the front flap to include an organizer.
Style
Finally, you need to look at the style. There are purses designed for formal occasions and there are others ideal for informal occasions. There are also options that neatly trend the line if you don't want to buy too many purses.
Style is a personal preference and it is important that you go for a bag that you like. However, it is prudent not to compromise on vital factors like quality and design of the compartment for style. After all, the primary goal is to make sure you can safely carry your weapon around.
10 Best Concealed Carry Purses Picks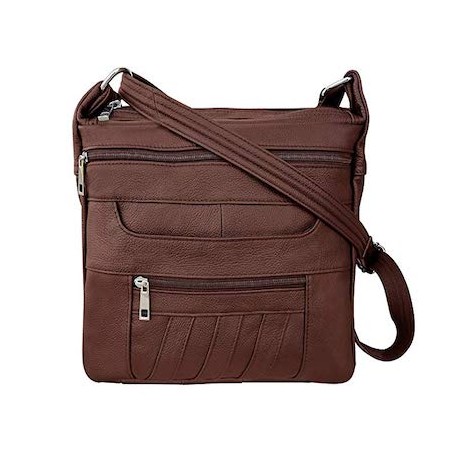 Guns are not light and it only makes sense that you want a purse that can bear the weight without showing any signs. Made out of 100% cowhide leather, this one of kind purse allows you to access the gin from the side of the bag.
It has two lockable YKK zippers accessible by both hands and has multiple pockets, an organizer and cell pouch. Despite its versatility, it is still quite small with a neat rectangular shape.
Cow hide leather
Having your concealed carry purse made out of pure leather is quite beneficial. The purse is can easily bear the weight of the gun and other items and it is able to last for a long period of time. Cow hide leather also gives the purse a nice finish.
Lockable zippers
It is a great ideal to have lockable zipper especially when you're at home. It is an added layer of security that is highly welcome. When you're at home or in the office, you can lock up the zippers to protect your weapon against prying eyes and your children.
Cost and value
For a reasonable price, you get a quality bag that is built to last. You can enjoy the diversity and incredible design of the bag. If you value quality, this bag offers exactly that at a convenient price.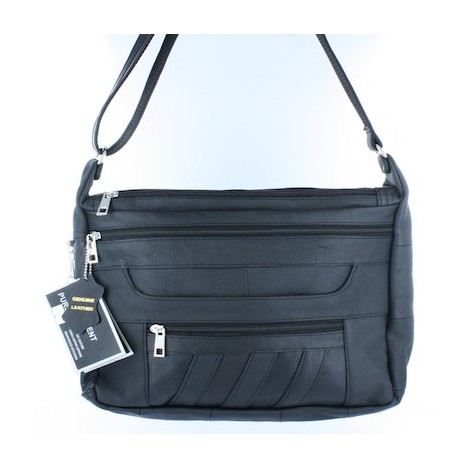 You shouldn't have to compromise your sense of style to bolster your security. This concealed carry purse makes sure of that. It comes in an elegant black and silver finish and it's made from premium leather.
The bag packs plenty of storage and the gun compartment is lockable complete with two keys that will help you access the compartment. The quality of the bag is also top notch. Other than the premium leather, the bag also has high quality zippers and a Velcro holder that keeps your gun in place and makes it easier for you to access.
Velcro holder
For the sake of safety, it is important that your gun stays in a particular position at all times. With a Velcro holder, this is made possible and easy. The holder keeps the gun in place at all times and makes it easier for you to retrieve it at any time should the occasion call for you to draw.
Lockable concealed compartment
Not only does the bag come with a lockable concealed compartment. You also get two keys to this compartment. If you have to leave the bag unattended like when you're in your home, you can lock the compartment to keep your children from accessing it. This improves security and safety of the gun and everyone around.
Cost and Value
This is a great purse for the price. It has the quality and features you need in a concealed carry purse and the price has been carefully thought out. It offers you value for money and with minimum care, it is a purse that you will be using for a long time.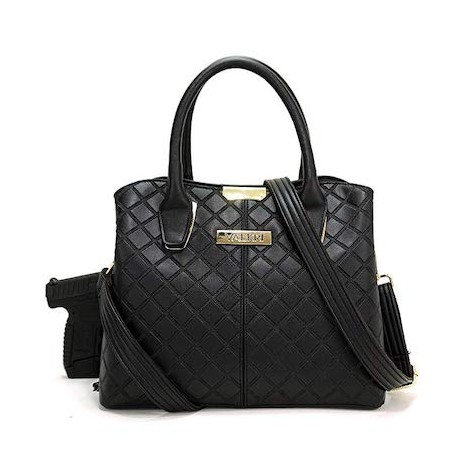 This little purse not only has a great concealed compartment but also doubles up as a great fashion statement. Adjustments have also been made to the shoulder strap to make it more comfortable and prevent the breakage and slashing which happens because of the weight of the weapon.
The gun compartment is protected by locking zippers and can be accessed through both sides of the bag. To prevent imprinting, the compartment is padded on both sides to ensure the weapon is discreetly tucked away. It is also a great way of reducing tampering by other people.
The gun compartment also features an adjustable Velcro holster that ensures different types of firearms can fit into the concealed compartment while keeping the process of drawing simple and fast.
Gun Compartment
With this purse, a lot of thought has gone into the gun compartment. Additions like padding and having an adjustable Velcro holster help the purse to live up to the hype of being a CC purse. It also keeps the gun safe and secure awaiting use with a smooth drawing experience.
Reinforced shoulder strap
The biggest challenge that most concealed carry purse users face is the strap. With extended use, the strap starts breaking and it has a slash which can easily prick your hand. With this purse, the shoulder strap has been reinforced and has extra padding to guarantee safe usage of the pass for a longer time and wire does not come out or become a hazard.
Cost and Value
The bag is slightly expensive and you might have to pay a little more to land its services. However, with its design, quality, and functionality, it is worth every single penny that you're going to pay for it. It is comfortable, sizeable and easy to use as you're going to find out.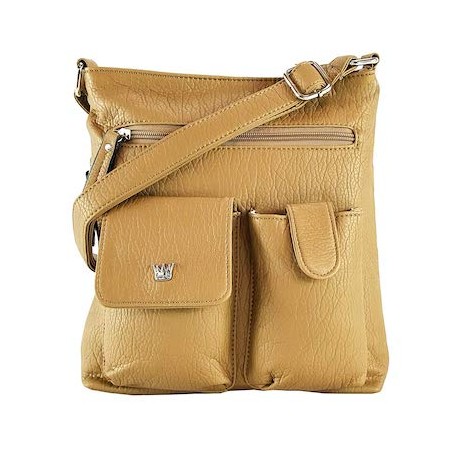 The King Colt CC purse is built to offer plenty of storage. Even though the bag is small, it is handy and will carry a lot more than just a gun. It is made from vegan leather and they also offer a variety that is made from blue denim jeans.
The purse feels soft but it is durable and the strap is wide so it doesn't dig into your shoulder when you carry the purse with the gun in it. The interior features a strong nylon lining that separates the different compartments to provide a small yet roomy bag.
Supports a variety of gun sizes
Even though the gun pocket does not have a gun holster or Velcro holders, it offers the benefits of being able to support a wide variety of gun sizes. Most purses with a holster or holder significantly affect the size of gun that you can carry around.
Stylish design
The bag is easy on the eyes and soft to the touch. It has a few accents that help it to stand out as a fashion statement while remaining tough enough to ferry your firearm on a daily basis. The use of synthetic leather keeps the bag affordable without compromising the quality or the price.
Cost and value
It is a great purse for users considering a budget friendly purse that doesn't look the part. It might be dollar for dollar the most value packed concealed carry purse that you can buy. With its quality and ability to handle daily use, you will definitely be getting your money's worth.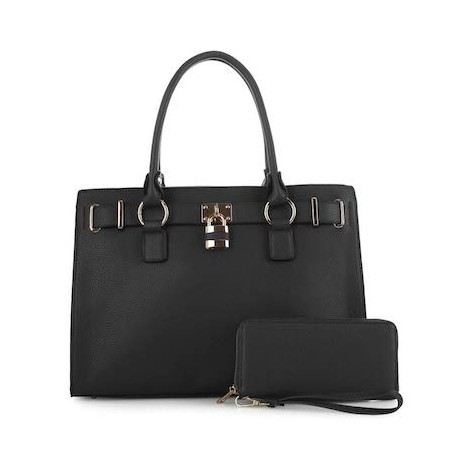 Most CC purses are cross bodies. But, if you prefer to just carry the bag as you would carry any other bag, the Dina Lock CC purse is a great alternative. Made from synthetic leather, the purse has a detachable shoulder strap that you can leave behind whenever you don't need to use it.
The concealed compartment is located at the back of the bag. It has two zipper openings to make it easier for you to draw with either hand and the compartment is lockable. Other additions include a removable holster and interior pockets to carry other items like your cell phone.
Lock and key feature
Carrying a firearm demands a lot of responsibility especially if it is concealed. To help you keep the firearm discreet, the bag comes with a lock and key feature. When you're not carrying the bag, you can lock the compartment to keep the gun safe from external interference.
Ambidextrous zippers
Even with all the features that concealed carry purses have to offer, there is always the concern of how easy and quick drawing is going to be. With this purse, that has been made much easier by having zippers that allow you to draw with either hand. It is quick and convenient.
Cost and value
Even though the price of the purse is considerate, for the same price, you can buy a purse made from better materials. Nonetheless, if you don't mind the faux leather finish, you will get a great bag with a simple but elegant design and sizeable enough to carry your weapon and a few other amenities and it will be a great complement to your sense of style.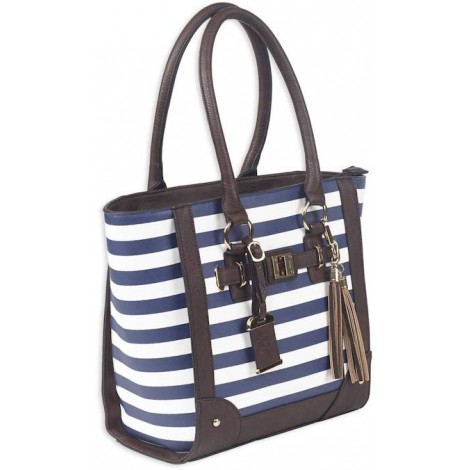 Nothing offers better protection than a purse that looks too good to carry a gun. That is what this CC Tote Style purse is all about. Everything from the build to the finish of the purse is all about quality which offers a premium experience while offering plenty of additional storage.
The gun compartment is on the side and is easily accessible. Other compartments include the zippered accessory pocket. The shoulder straps have been reinforced for comfort and durability. The purse also features a holder which makes it easier to store the gun.
Design and finish
For the modern day woman who values how she looks, this purse is a great addition to your wardrobe while ensuring you can safely carry your gun and easily protect yourself. The stripped finish makes the bag versatile and can be paired with multiple outfits.
Color matched holster
The holster is not only another add on. It is matched to the interior of the bag. It is a great addition for a variety of reasons. The main one is, the holster does not stand out and blends in with the rest of the interior. The holster is also able to handle a variety of guns include a Kruger 9mm and a Sig P320 Sub compact.
Cost and value
For a great price, you get to add some much-needed sense of style and fashion to your wardrobe while improving personal security. The bag looks excellent and will definitely earn you complements while remaining discrete about the fire arm.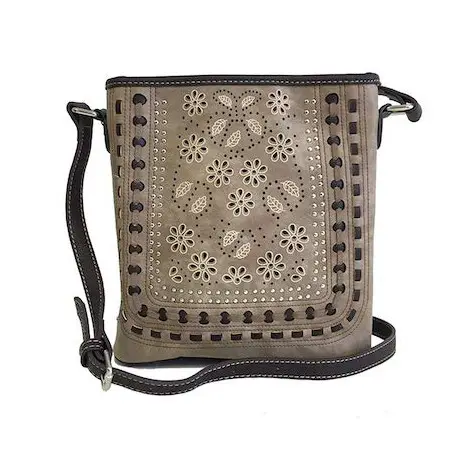 Most of the concealed carry purses are best suited for formal occasions. However, the ability to protect yourself should not be limited to formal occasions only. If you don't have a CC purse for informal occasions, this is a great candidate.
It is made from high quality PU leather with flower and leaves cut out designs. It has leather stitching and stud embellishments to give it a stylish look.
It has an open pocket and the concealed compartment has a zipper and can accommodate small and medium framed guns. Even with the gun, the purse still offers plenty of room for your other items.
Design
Casual CC purses are not easy to come by particularly those with a great design and can be used in multiple settings. This particular one has plenty of space to offer, a great design and carved out design and leather stitching for an impressive look and functionality.
Plenty of room
The purse has offers plenty of space to offer it has three inner compartments on the inside and another two one on the outside. It offers plenty of room for your gun and any other items you might want to bring with you.
Cost and value
For a great casual conceal carry purse with a great finish and impressive build quality, the price makes a lot of sense and represents what the purse is about. It might not be the purse for every occasion but, it will be a great pick for most informal occasion.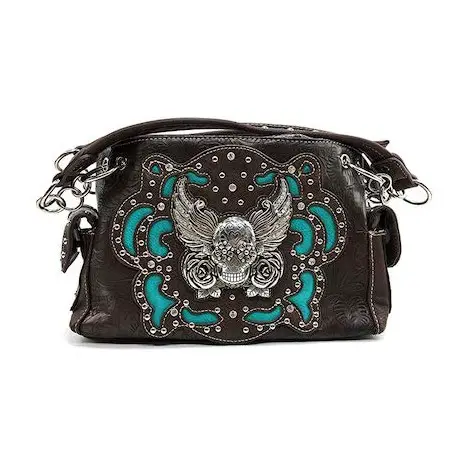 If you love having embellished accessories, this purse is the perfect pick. It has an interesting sugar skull design and features plenty of additions that make it a trendsetter in terms of fashion and also in keeping your firearm safe and accessible.
It has a top zipper closure without multiple pockets inside the bag. The concealed compartment is located at the back of the bag with a phone pocket. For additional storage space, the purse has two side magnetic flap enclosed pockets.
Beautiful design
The purse is designed to be an impressive fashion statement. It is an all-round kind of purse that you can take to most formal and informal statements. It is ideal for women who like standing out and don't mind grabbing the attention of other people with their unique sense of style.
Storage space
The purse has plenty of room to offer. It has multiple pocket inside, a phone pocket at the back and magnetic flap pockets on the sides. It is a great asset to have if you're always struggling to find a sizeable enough purse to carry your gun and your other equipment like makeup and other accessories.
Cost and Value
Packed with plenty of features and considerable quality, the price of this back is quite reasonable. For its price, you get a great bag with plenty of space and a conveniently concealed compartment to keep yourself safe at all times.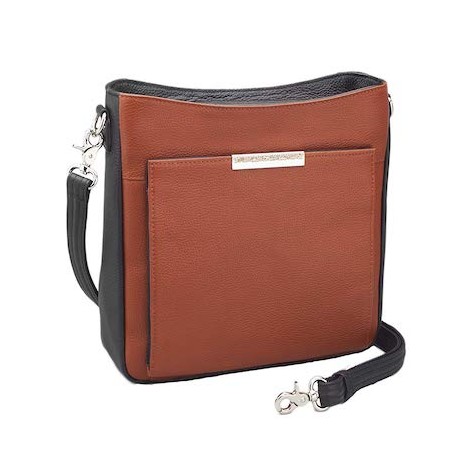 This purse by Gun Tote'n Mamas is simple, functional and elegant. It is made from pebble grain American cowhide and has a soft matte texture. It also has a chrome gold plate accent that offers a great complement and contrast for the bag.
The gun concealment is accessible from both sides of the bag and as an additional, the front flap of the bag has an organizer. The lining is made from khaki which makes it durable and easier for you to find things no matter how small.
Flap organizer
With an organizer in the flap, you have a central place to place all your business cards, credit and ATM cards. It makes it a lot easier for you to carry around more things and much easier for you to find them.
Ambidextrous gun concealment
You can access the gun compartment from either side of the back which is essential in times of danger. Additionally, the compartment also has special padding to avoid imprinting which can make the gun noticeable and it also has a holster that keeps the firearm in place.
Cost and Value
The quality of this little bag is unmatched, it is hardy yet elegant and easy on the eyes and very applicable to every modern. The organizer is a much welcome addition that allows you to easily find your cards and other items. To enjoy all these benefits and more, expect to dig a little deeper into your pockets.

10

. Helen Leather Crossbody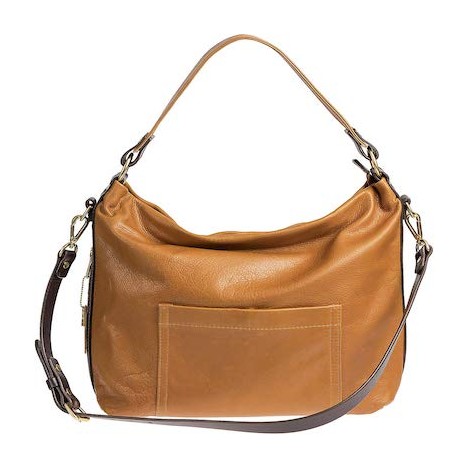 The Helen Crossbody CC purse offers a blend of space, security, safety and style. It's made from supple leather with accents of antique brass hardware. The lining inside the bag is made from poly-cotton lining to ensure comfort and quality.
The concealed carry compartment of the purse has a key lock to keep the firearm safe when you're not using the bag and it is lined with ballistic nylon to guarantee safety at all times. The cross body strap is adjustable up to 20" long and can be removed depending on how you prefer to carry the purse.
The concealed carry compartment
While most bags focus on having a concealed compartment for the gun, this particular one has gone a couple of steps further to make sure the compartment is functional, secure and safe. It features a key-lock on the compartment and the lining of the compartment is made from ballistic nylon to guarantee security and safety.
Plenty of storage
The purse is quite spacious and measures up to 15 inches high and 14 inches wide. Even though it packs a staggering 2.5 pounds, it has enough room for every other item and accessory you might want to carry along with your gun without bulging out weirdly.
Cost and value
It is the priciest of all the options we have reviewed so far. If your budget is flexible and you prefer not to hold back on your safety and sense of style, this bag can make the perfect ally. As much as the price is steep, it is a reflection of the quality and workmanship that has gone into the bag.

Subscribe to our Newsletter