Best Tea Light Holders Reviewed & Rated for Quality
In a Hurry? Editors choice: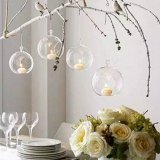 Test Winner: Sziqiqi 80MM

If you've ever been to a wedding recently, you probably know what a tea light is. Even if you don't know, you've probably seen them at least once in your life either at friends' homes or at restaurants. Tea lights are little
candles
. They are enclosed in either a small metal or plastic cup so the candle can liquify in its entirety. They are often a one-time-use candle. Because of their tiny size, multiple tea lights are commonly used at once. This creates a very stunning and glowing visual effect, which is why they are so widely used at weddings. However, tea lights shouldn't be displayed on their own for not only safety purposes but to ensure the longevity of their flame. So, they need holders — good thing we put together this top ten list.
Standout Picks
Criteria Used for Evaluation
Materials
Tealight candle holders mostly come in ceramic, glass or mirrored. Ceramic holders are the most common and are the most available. They are not as expensive to produce and can be molded and lasered into a variety of different cuts and styles. Not only this, but this is also lightweight and used for a variety of settings.
Ceramic is also easily customizable because it is easy to paint or spray paint over it. This creates different effects and looks that can create a whole different set of lights, styles, and patterns. Another popular holder is the glass holder. These come in different shapes and sizes, open and closed, and are often clear or colored like stain-glassed. Depending on the color, they can primarily be used in religious settings.
Glass holders give a very transparent, unique look when lit. It's easy to get mesmerized by the flames in glass holders as you can see right through them. Glass holders can also be designed on top of with markers to add a different look.
Mirrored holders have reflective patterns that offer a unique look that bounces off the light and lights up different parts of the room or space that you're in. These are popular in a lot of restaurants because they give off very little light but provide a very intimate atmosphere. These can also come in unique sets of colors or patterns.
Versatility
If you are not using these tea light holders for significant events or parties, and want to purchase several for outdoor camping events, your home, hosting dinners, or gifts, then there are several gift sets that are sold in packs of 4, 6, 12, or even by itself. There are so many different styles and variations that they can come with- with the holidays now approaching.
There are tea light holders that can match a festive mood. You can place them in each room of your home in the style you choose, and when you turn off the lights, they can even serve as a night light if you are using the battery-powered LED lights. If you want to add a standalone centerpiece item that lights up in the middle of the room, many different stunning, individual tea lights are sure to light up the room.
Size
There is a difference between votive vs. tealight, which can make a difference in the holder you should be purchasing. The significant difference comes in the size difference. Votive candles are also small but are designed to burn for at least 8-10 hours, while tea lights flash for 3-5 hours.
Because they are smaller in length, the holders specifically meant for these will tend to be lower. Tea lights should be able to fit in all votive candle holders, but votive candles would not be able to fit into tea light holders. Think about the duration of the event when thinking of what type of holder to purchase. If the event is longer than 4-5 hours, then opting for votive candles with votive candle holders would be your best bet. Nobody wants to relight a candle in the middle of an event. Tea lights are perfect for dinners or short events outside.
Value
If you're planning to use a lot of tea lights for a ceremony or a significant event, you want to look for tea light holders that are sold in bulk. The purpose of these should be to enclose the tealight and make sure the light does not burn out, all while providing a different pattern or look that you're going for. Many companies cater to these type of events that use wrap holders that are not only cost-effective but can be repurposed for later use.
Glass holders are often sold in bulk at a meager cost from manufacturers or warehouses. It is becoming more common that these items are sold in high volumes because they are being used in large quantities at venues that are romantic or want to give off a sophisticated vibe. Planning a significant event is costly enough as it is- you have to think of guests, food, entertainment, drinks, seating, etc. With the number of sheer availability in buying mass quantities of these accessories, it's easy to purchase quality goods that look expensive at a fraction of the price.
Style
The style of tea light holders partially relates to the materials of which they are made. We touched on this earlier, such as with colored glass or painted ceramic holders. Glass holders also offer textured or funky shapes. When it comes to the style of votive or tea light holder, it's up to your preference, since there are so many styles out there.
10 Best Tea Light Holders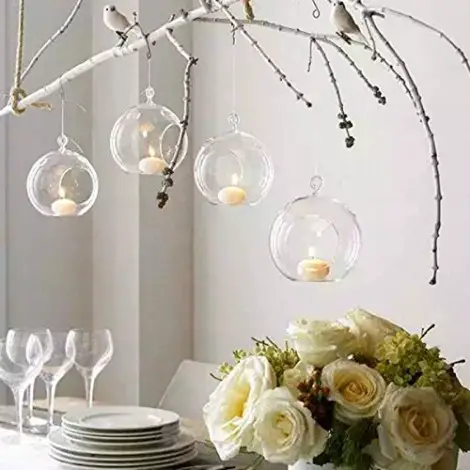 Hanging orbs have become a trend recently, and its no surprise why. These hanging tea holders are not only beautiful but very versatile in the possibilities of use. These add a unique, elegant touch to the venue and also serves as ambient lighting.
Handmade Design
These are made manually by blowtorching and molding, so each design has a very delicate, unique look to them that is amplified with the addition of a tea light.
Versatile Use
These don't have to be placed down. With their handles, they can be easily hanged on trees, overhead fixtures, on ropes, etc. These also come in a variety of designs that best fit your needs.
Cost and Value
The prices vary according to the package you want- you can get just the orbs at a meager price, or get package deals with increasing orbs and strings and lights included. To save hassle and time, the package deals may be worth it.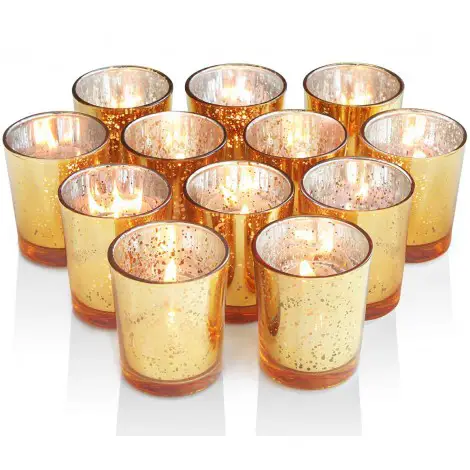 "Votive" candles are another term used to describe tea lights- these are considered votive when they are used in religious settings as such as offerings, and you can often find them in churches. Even if you are not using them in a religious setting, you can still use these tealights plus their holders anywhere. These glass-stained holders have a unique pattern which turns into beautiful twinkles when lit, creating warm, inviting atmospheres.
Set of 12
These come in a set of twelve tea light holders, so you have many uses for them. You can use them for an event, throughout your rooms in your home, in your backyard- the possibilities are endless!
Safe and Long Lasting
These mercury glass tea light holders feature a thick glass wall and a weighted base to prevent from tipping over in windy conditions. They are also dishwasher safe, which make them easy to clean to use again.
Cost and Value
Considering that these holders are made from high-quality class and have a mercury speckled finish, you would expect them to come at a higher price. This set comes at a very reasonable price point.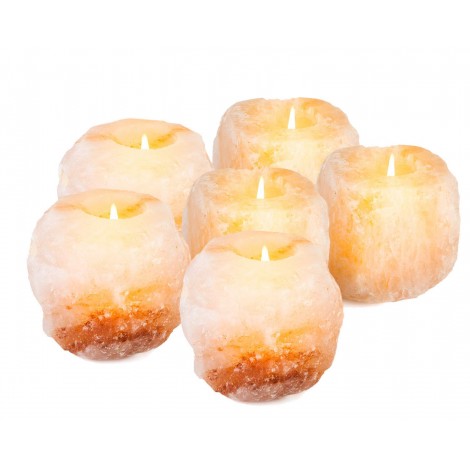 The Mockins 6 pack Set not only serves to hold the candles in place, but they are also made from Himalayan salt, which is known to provide many aromatherapy benefits. Not to mention, these candle holders are quite stunning to the eye.
Health Benefits
These are made from the Natural Himalayan Crystal Rock Salt. This type of salt is known to reduce negative ions in the air, which purifies the air, improves breathing, helps improve sleep, reduces stress, reduce allergy symptoms, and increase energy levels. These effects can vary based on the individual, but it's no surprise that Himalayan salt has very beneficial effects.
Quality Material
These are handmade and hand-carved with quality and care, and no two holders are alike. This ensures that they are genuinely made from Himalayan crystal rocks and carved with precision to hold the candle perfectly.
Cost and Value
Himalayan lamps are all the rage for health enthusiasts today because of their health benefits and calming qualities. You can find them at most aromatherapy or yoga studios. These are hard to purchase because they are quite expensive, but these Himalayan candle holders are a much more affordable alternative, and you get a pack of six!

4

. Biedermann Rustic Glass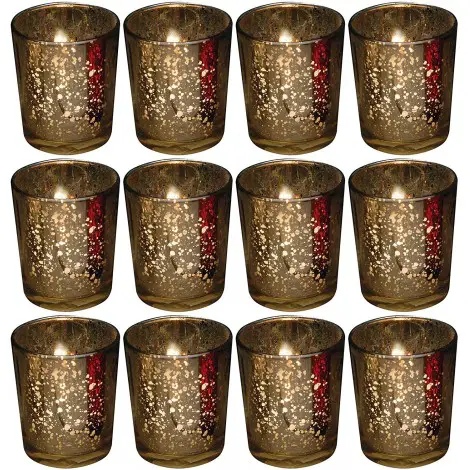 Biedermann has specialized in candles and candle accessories since 1956, and this design reflects the quality and care they put into them. These holders are perfect for any occasion and offer a stylish, sophisticated finish that spruces up any time. These are the complete gift set and add a great accent or decorative touch to any room.
Variety of Colors
You have a few options to choose from (amber, brown, gold, green, and red) that can fit your style or match to any event.
Quality Material
These are made from sturdy glass that is dishwasher safe and is made to fit all tea light candles. The dimensions are 2-1/8-inch diameter and 2-5/8-Inch tall
Cost and Value
Considering that this comes in a pack of twelve, this comes with a very reasonable price point. You can use one or two of these as decorative pieces in every room with a battery tea light, giving your house a cohesive ambiance.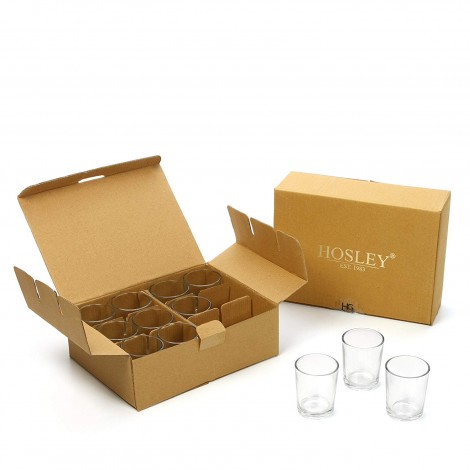 This bulk set is an ideal purchase for significant events, weddings, parties -- you name it — this set comes with 72 carefully wrapped glass candle holders. The Hosley set is the perfect purchase to add a beautiful dimension to an event that begins with little effort and at a low cost.
Quality Raw Materials
Hosley products are made from quality raw materials with little to no wastage during production, attempting to reducing our carbon footprint and help our environment for future generations. The glass is very thick, enclosing the tea light and ensuring the flames do not burn out.
Customizable
Because these come in a clear glass style, you essentially have a blank canvas to work with. You can spray paint to a different color, add branding stickers, use as party favors for an event, etc.
Cost and Value
This whole set of 72 glass holders come at a very affordable price point- I would even consider this a bargain. Given its sturdy material, versatility, and quantity, you won't get a better bang for your buck.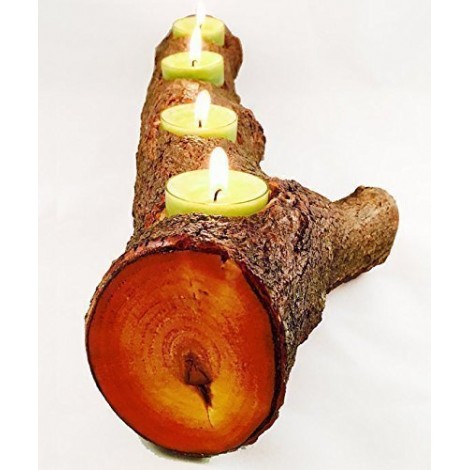 This is a very uniquely designed candle holder that is not only visually pleasing but is also made from natural materials. Evoking natural and outdoor vibes, this is a standout centerpiece holder that is handcrafted so that no two are ever alike.
Repurposed Wood
This is a 100% real log that has been repurposed from already fallen trees, preserving them in another useful way. They are protected with a coat of sealant to prevent flaking or dusting.
Original Piece
Because each one is handcrafted, you are assured that no two are ever alike, and you truly own a one of a kind piece. Custom sizes can also be ordered upon request so that you can have the perfect mantelpiece for your home.
Cost and Value
Given that this is a hand-made, hand-carved item from natural wood, it is pricier than the versatile tea light holders listed before. The purpose of this isn't to throw away after one use- it is to be admired as a decorative item or centerpiece item so that it may be worth the price for some.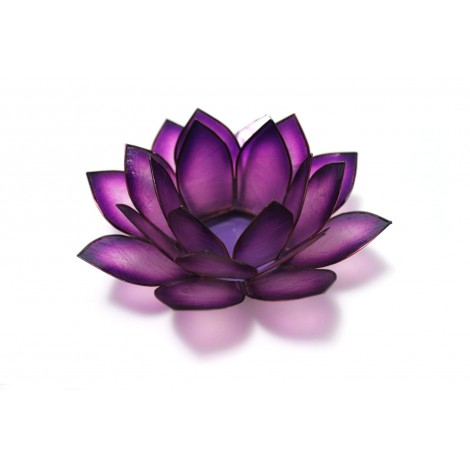 The Om Gallery Capiz Shell Lotus Tea Light Holder is uniquely shaped to resemble an open lotus tea flower, with three translucent capiz shell petals. The lotus flower symbolizes peace and serenity, and once the tea light is placed within this, you get a soothing and peaceful ambiance.
Variety of Colors
The lotus tea light holder comes in eight different color styles (blue lagoon, cool water, flamingo, horizon, mango, passion, rainforest, and sunshine). All are designed to evoke different vibes and emotions.
Unique Design
With its vibrant color and ombre style petals, a white or colored tea light can create a very soothing, peaceful ambiance, and glow. These can be used in a variety of settings where you want to create a peaceful atmosphere to release some stress and tension.
Cost and Value
Given that the other items on this list have come in sets or packs of multiple holders, this product may come at a higher price point in that each is sold separately. Perhaps these can be used individually as a decorative piece in rooms rather than purchasing multiple in bulk for events.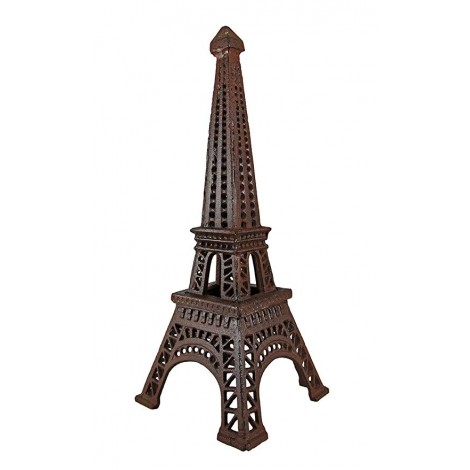 To end our list is a very romantic, uniquely designed standalone holder. Made to resemble the Eiffel Tower, this holder, when lit up, can provide a beautiful ambiance and is a great gift item for people who love all things French-related.
Heavy Duty Enamel
This is made from a heavy-duty enamel with a distressed brown finish, giving it a very vintage, aged, classic look.
Heavy Base
The heavy base of the candle holder prevents this from tipping over or falling and is perfect for placing as the centerpiece at the dinner table or on a bookshelf.
Cost and Value
This is a very unique, sturdy, and nostalgic tea holder that will stand out in your home and separate it from others. Given the heavy-duty iron material and vintage finish, this looks expensive but is very affordable.

9

. Frux Home and Yard FLAMELESS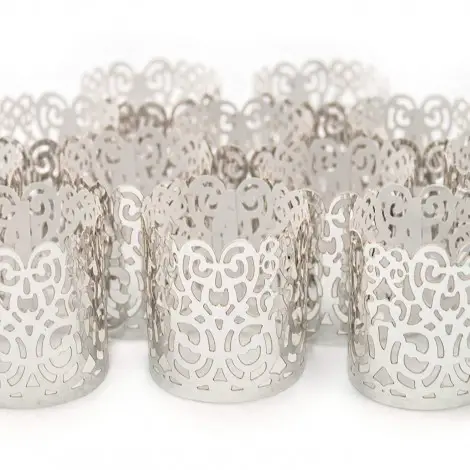 These are perfect for when you are planning an event on a budget, or if you are looking for disposable holders that you only need one use out of. Made from sturdy paper wraps, these can be assembled in seconds and provide a stunning effect.
Convenient
These sturdy wraps have already been laser cut with elegant designs and can be assembled just by securing the tabs around the ends. They could be easily stored and disassembled after use if you wanted to save them for another event.
Inexpensive
These are a very reasonable alternative if you require a lot of tea light holders. Because of their sturdy material and unique laser-cut, the light will emit beautiful patterns that their glass counterparts would not be able to.
Cost and Value
These are very cost-effective- you receive 48 tea light wraps at a fraction of the cost of what you would pay for if you were to purchase glass or chrome holders. They are also offered in different colors and patterns so you can find one that fits your needs.

10

. Reindeer Tea Light Holders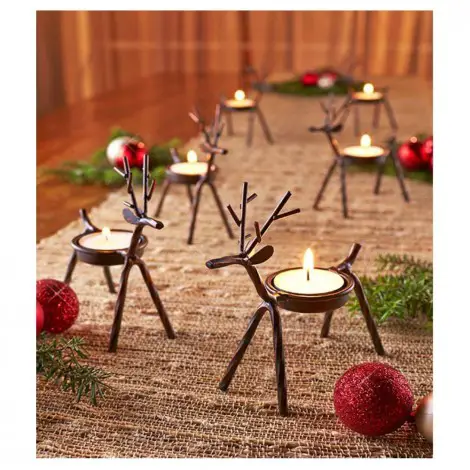 These are the perfect gift or decoration for the upcoming holidays. Shaped as a reindeer with a sturdy iron body, these add a classic, festive look to wherever you're placing them and can bring a smile to anyone's face.
Set of 6
These come in a set of six reindeer with an opening in its back to hold a tea light or LED light. These are great to disperse around the home to add a festive feel, add to the holiday dinner table, or even bring to the office (with battery light, of course)
Very Unique
Customers agree that they haven't seen any candle holders like these before, and they're very pleased by the compliments they receive from family and friends when they see these cute holders.
Cost and Value
Consider the iron material and unique design, this pack of six comes at a great price point. Grab one of these for yourself or with some tea lights as a gift to your loved one- 100% guaranteed they will love it!

Subscribe to our Newsletter