Best Screwdrivers Reviewed & Rated for Quality
In a Hurry? Editors choice: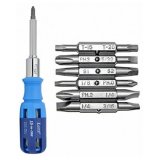 Test Winner: Lutz 21001 15-in-1

How many times have you pulled out a box of screws, eager to install that
new floating shelf
you just got on sale at IKEA, only to realize that you're woefully underprepared for this home
renovation project
? If you're the average person, probably more often than you'd ever want to admit. While it's possible to set up beds, couches, chairs, and bookshelves without a screwdriver, there are some things that just need that little extra push. Elbow grease can only go so far before it's you're going to get stopped in your tracks by not
having the right tools
. Everyone needs a good set of tools, and the best place to start is with a great screwdriver. Here are some of our favorites.
Standout Picks
Criteria Used for Evaluation
Durability
When looking at screwdrivers it's important that we find a handle that's not going to break. The stress that the tool can get put under when screwing in shelves or furniture means that it's important it doesn't crack. Weak or cheap plastics can snap under stress, and screwdriver heads that aren't set in the handle properly can also pop out or break.
Materials
We were careful to check that the material quality of these screwdrivers was very good. That way it ensures that the screwdriver lasts for a long time. It also means you're able to craft high-quality furniture, shelves, and anything else that the screwdriver might be able to do. Remember: the stronger the driver, the better the screw.
Ease of Use
Screwdrivers are a straightforward product, right? You grip the handle, hold the screw, and hope for the best while you push and rotate your way into a hole. You'd be surprised just how much nuance can go into the creation of a screwdriver. Not only is there the actual physical handling of the screwdriver, but there's also the workability of it. Sometimes what seems like an ergonomic design isn't actually practical when you're crouched underneath a low-level shelving unit or computer desk. Other times the product that looks clunky and bulky is actually going to do the best job. It's hard to tell what the better options are until we take a good, hard look at the job and the screwdriver we're using for it.
Accessories
Purchasing a screwdriver means purchasing a product that you hope will last a lifetime. With all the variables that come with, it just makes sense that you'd be looking for extra features. Whether you're aiming for replaceable bits, telescoping reach, or a super comfortable and no-slip grip, we've managed to find products that will encompass all of those aspects and more.
We aimed to include the most amount of variety in this list as possible. These screwdrivers are as good as they come and include some fun extra features. No longer do we have to worry about buying three different tools to do three different jobs. Many of these screwdrivers have a variety of features and options, making them suitable for all sorts of work.
Value
Price range is always important, but even more so when it comes to finding a high-quality tool. It's so easy to get caught in the trap of thinking that a more expensive tool means a better quality tool. We're told so often that the more expensive something is, the better it's going to be and the longer it'll last. Sometimes that's just not true, though.
Many times, especially when it comes to tools, we get caught in the idea that price automatically equals better quality. Oftentimes the reverse is true. Tried and true products don't need to up their prices. The quality speaks for itself, and even though it might be cheaper, it's still going to bring the reliability and quality that a more expensive product should have.
Due to the above, we attempted to find a variety of products that not only fulfill the expectation of having a higher price and a better quality, but we also looked for screwdrivers that were going to fit into the cheaper spectrum of budget options too. This is the best way to get a variety in, which makes this buying guide suitable for all budgets. We personally feel that, while the range might not be huge, we did manage to squeeze in enough low price and higher-priced options to fulfill any budget need.
Best Screwdrivers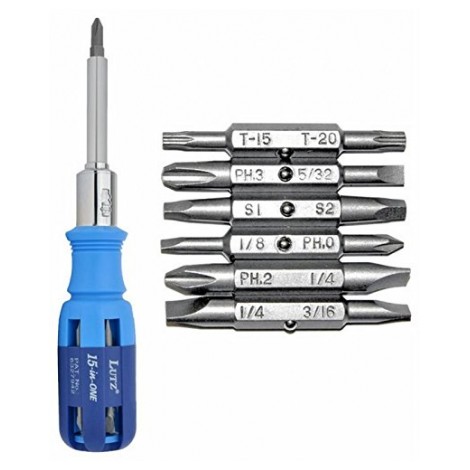 We're starting our list with the most straightforward, reliable screwdriver out there. Manual usage means you don't need to fiddle around with batteries and chargers, while a variety of additional features means it's a true catch-all for anyone looking for a screwdriver that will get the job done. Not only are we able to utilize this screwdriver (and its additional bits) for any project that pops up in our apartments, but with the reliability of the Lutz brand, we can take this baby to go as well. There's no fear of losing a bit or having it all pop apart.
Many Bits
This is a positive that we're going to see cropping up a couple of times on this list. Screwdrivers worth their salt should come with at least a couple additional bits. Rather than purchasing four different drivers for four different screw types, we should rather focus on getting the most bang for our limited budget (and junk drawer space). This Lutz screwdriver features several different bits for several different screw heads, making it easy to switch between tools in the same project. Plus, no additional money needs to be spent; all of these are included!
Turn and Lock
This isn't a new dance move; this is the solution to all your changeable-bit-screwdriver issues. Ratcheting the bits into place makes it easier to put in and take out the different types of screw bits. Some screwdrivers stop there, though, which means you're at risk of having your bits fall out! The locking feature on this screwdriver means you can screw as hard as physically possible, and nothing is going to pop, crack, or burst.
Cost and Value
There are a few different packages you can choose from with Lutz. If you don't need all 15 bits you can opt for the 6-bit pack, or even the 12, 4, or 2-bit options. While all of the prices are slightly different, overall we feel that this product is one of the cheapest options. Taking into account the fact that it's also incredibly sturdy, there's no way that you're not getting more value for its low, low cost. No matter which bit pack you pick, this is an incredibly well-priced screwdriver that can take a whole lot of hardcore twisting.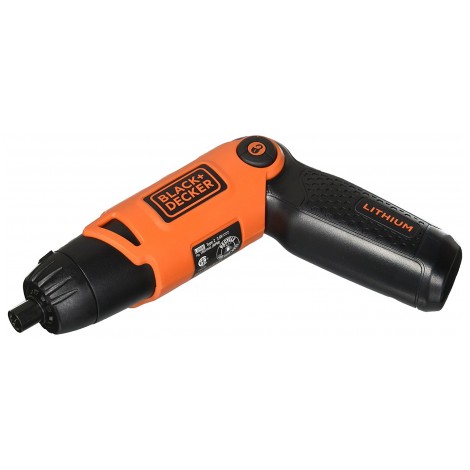 Whenever we put products in the second spot on our list it's almost like they were tied for first place. We typically have a hard time choosing, just because so many of these products are of high quality and good value. That's especially the case with this screwdriver, which is the electronic version of our first Lutz driver. Any handy person knows that the Black and Decker company is a good one. Their products are reliable and high quality and will last an incredibly long time. Considering the fact that this screwdriver is even rechargeable, you might not need to purchase another one ever again.
Electric
How many times have you been faced with a couple of loose screws and gone "Not today, desk? Not today"? We're willing to bet that it's more than once or twice. Reluctance to tackle a fix-it project can come from a variety of reasons. Namely, the sheer amount of effort it takes to fix things. Tackling screws and structures isn't fun when you're exhausted from work. By utilizing an electronic screwdriver, though, you'll find that it's all of a sudden a zero-effort project. No more twisting and turning; all you need to do now is to hold steady and push in. Plus, the recharge-ability means you're never going to have to struggle with finicky batteries.
Three positions
Screwing can happen even in the tightest spaces. Dark corners, under tables, and even in the closet are all places where weird angles and a tight squeeze is the only way to get that shelf up. While most electronic drivers are too thick and immovable to really get in the nooks and crannies, this one is more versatile than that. The handle has three different positions, which means you can shove it in at any angle you want. Assuming you can reach the hole, of course. If that's not an efficient driver, we don't know what is.
Cost and Value
Surprisingly, this electronic screwdriver is only going to set you back slightly more than our first manual option. While most drivers tend to be quite expensive, that's not the case with this one. You're looking at a budget-friendly electronic screwdriver. How rare is that? Extremely rare, especially from a brand that's as highly regarded as Black and Decker is. The quality is excellent, though there were a few reports of being unable to change the batteries. Even with that slight design flaw, we think it's still worth the bang for your buck.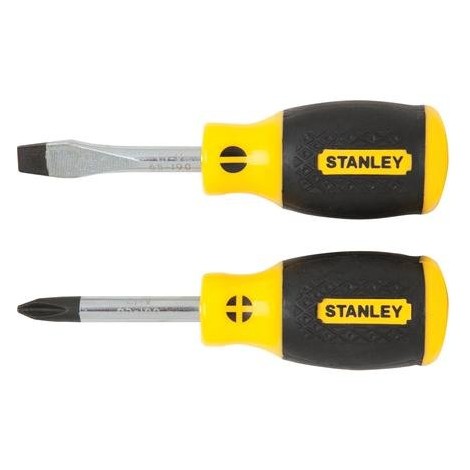 Pulling up the rear of our top three are these two little baby drivers. No, not like the movie. Baby Driver might have been good, but these pieces of equipment are even better. We're so excited about how cute and chubby these screwdrivers are that we just had to put them on this list. We've certainly reviewed other Stanley screwdrivers on this list, which gives you an idea of the quality. Maybe not the most practical for big hands and big projects, but overall there's a use for these quality tiny drivers.
Squishy Grip
We've spent a lot of time looking at the grip, and for good reason. The grip is one of the qualities people tend to overlook in a screwdriver. When you're using these as hand tools, though, you need to be able to get a solid handle on the tool. A solid grip and a solid structure will make any home renovation project easier. Built for smaller hands, this stubby screwdriver 2-pack is perfect for someone who just needs an emergency screwdriver. The squish makes it comfortable to carry and use, providing a little bit of pleasure when putting together that bed frame, shelf, or new kitchen table.
Chrome Plated
Jumping off the idea that this is a 2-pack primarily used when there's nothing else around, it needs to be strong. Keeping it in damp places could be a recipe for disaster, but oftentimes that's the only spot it fits. Under the kitchen sink is where all the fix-it stuff goes, right? Luckily for you and your limited storage capacities, these shafts are chrome-plated. Chrome plating keeps corrosion away and allows for a stronger, smoother shaft build.
Cost and Value
This 2-pack isn't for everyone, especially those that take renovations seriously. True DIY-ers might scoff at such a ridiculous set, but those of us who don't do a whole lot of hardware work would rather not invest in a pricey set just to have it collect dust. The two stubby, squishy screwdrivers will quickly find a home in your tool chest or junk drawer, and we know you'll be pleased. For one of the cheapest prices on the list, the quality is up there with any other Stanley product. Great value and great quality, but a bit unconventional on the sizing. That's definitely the product for us!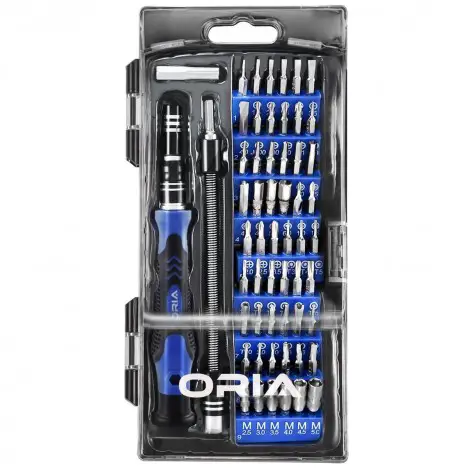 But what about other screwdriver options? What about those of us who don't want to work with wood and power tools, but would rather focus on motherboards and electrical power? Rest assured, we found a screwdriver set for you too. ORIA's screwdriver set is made for those that are looking for precision; it's even in the name. They're certain that this is going to be the perfect screwdriver set for those looking for a gentle touch, and we believe them. With 60 different precision screwdriver options, this is a set that's going to change your basement-dwelling, computer-building game.
Flexible Shaft
It sounds questionable, yes. Normally a person wants a nice rigid shaft to screw with, but there are many, many benefits of having a flexible shaft too. Not only are we now looking at a shaft that can twist and turn depending on where the screw is, but it's actually been a life-changing development in the world of electronics. No one needs to use a lot of pressure when screwing in electronics screws. Delicate machines require a delicate touch. This is what makes the flexible shaft possible. Now you can reach any part of the stereo, phone, or laptop!
Almost Unbreakable
By that we mean, it's really strong. Sometimes what you find with screwdrivers is that there's a metal shaft that's been attached to a plastic handle. With this product, you'll find that the shaft and the handle are cut out of the same piece of aluminum. The handle was then covered with silicone grip enhancer, making the whole product incredibly sturdy. While you might not need to put a whole lot of pressure onto this screwdriver, it certainly will be able to handle whatever does happen.
Cost and Value
While none of the screwdrivers, or screwdriver sets, that we've looked at so far have been incredibly expensive, this is one product that we think is just straddling the line of not being worth the cost. While we're sure that it's a great boon to anyone who does a lot of electronics fixing, it's not necessarily an essential buy for others. If you have a need for a set of electronics screwdrivers, then this is a great package that's well worth the cost. If you're looking for a "normal" screwdriver set, maybe think again before picking up this package.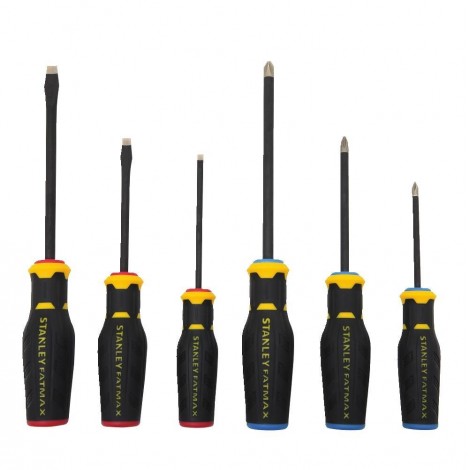 After all the questions surrounding electronics-specific screwdriver sets, we thought that it would be a good idea to go back to basics. After seeing a few different options on this list, we're convinced that one of the best options is to pick up a set that will do what you need it to do. Sure, it's nice to have the 69 options of screwdriver tips, or the ability to flexi-shaft your way into a laptop. At the end of the day, though, you want to spend your money on a screwdriver that's going to get used. Stanley knows this, which is why they created this diamond tip screwdriver set.
Diamond Tipped
What is diamond tipped? Believe it or not, it's not actually a diamond that's implanted into the top of these drivers. Maybe once upon a time, construction-oriented companies could do that, but not now. On these screwdrivers, it's "simulated diamond technology", which basically means a material that's as tough as a diamond but probably a lot cheaper. They might have managed to make it unbreakable, but it looks like it isn't going to be breaking the bank either. The price hasn't been swayed higher at all, despite the diamond tip design.
Grip It Good
Not only is this a feature of the handle, but it's also a feature of the tip! How many screwdrivers can boast that kind of great grip? Very few. While the simulated diamond tip adds durability, it also adds grip that most people wouldn't expect. The product's handle is created to fit firmly, yet snugly, into your hand. The curvature makes it easy to twist and push, while the grip strength of the tip means it's fully possible to let go and keep the screwdriver in the screw. At least, that's what a couple of reviews mentioned.
Cost and Value
The reviews on this product are mixed. Some people say that the set is perfectly suited to their needs. It's a great standard to keep in the tool chest or junk drawer and works for most home improvement projects that people are attacking on their own. While it's a little more intense than other screwdriver sets, some people are unenthusiastic. After any long-term usage or hardcore building, the simulated diamond coating starts to chip. That being said, the price isn't bad. It's an average price for an average product. This is a good investment if you just want to cover all your building bases though!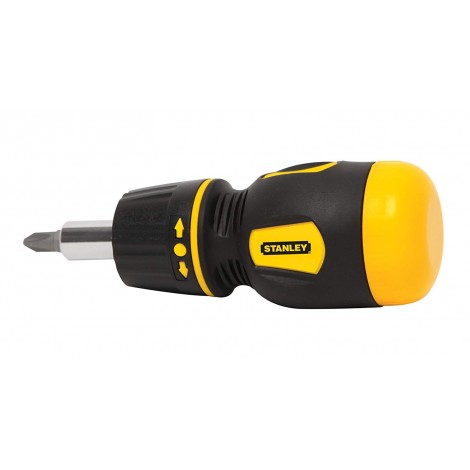 This stubby little tool is your glove compartment's newest addition. It takes up almost no space, but you get all the benefits of a full multi-tool. The bit options might not have the same sort of variety that other, bigger multi-tools have, but there's certainly all the old standards we usually come across in our day-to-day lives. We love the fact that this stubby screwdriver has so many secret bits hidden inside of it. Plus, the size means it's not going to be too much of a space invader.
The Switch
Multi-bit products, or even electronic drivers that have removable bits, can keep their bits attached in a variety of ways. Some utilize magnetism to them attached. Some require you to push and twist into a locked position. Others, like this, ratchet their way to security. The switch on this little screwdriver makes it easy to know when your bit is ratcheted securely, keeping you from ending up with a wayward bit in the eye.
Just the basics
Sometimes we don't want something fancy and full of frivolous bits. The most straightforward option is often the best one, especially when it comes to emergency screwdrivers. While it might not have every single option in every single size, it's certainly got all the right pieces to cover your bases. The basics are fundamental, and can often get any job done. This basic tool might sound simple, but its simplicity really is a huge feature.
Cost and Value
The price of this product is about the same as a Starbucks frappuccino and could be the difference between a big headache and a quick and easy fix. Not only are the bit options enough to handle any type of screw that's encountered (even if they're not built for every size), but they're also sturdy and reliable. While the size might be a deterrent to some people, especially those with large hands, we think that this is a great compact tool whose value far exceeds the cost.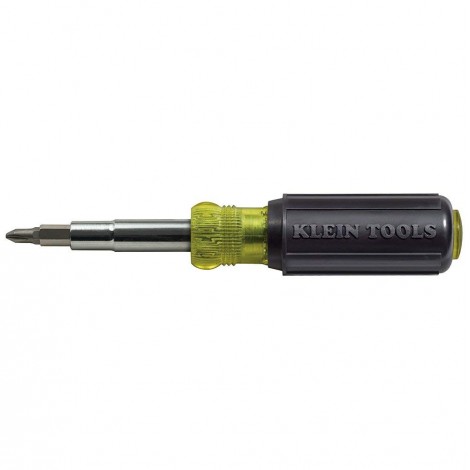 While reading the reviews for other screwdriver brands on this list, one name that kept coming up as a comparison was the Klein brand. This brand seems to be near the top of almost everyone's list, even though folks tend to list them as having a few shortcomings. When we stumbled across this screwdriver, we thought that all our worries had been solved. We knew that it needed a place on our list. It's versatile, sturdy, and comes with a great reputation. It might not be the prettiest tool in the world, but at the end of the day, that's not necessarily important.
Replaceable
This is a surprising benefit that we didn't even think about before researching multi-bit screwdrivers. Many screwdrivers that boast changeable bits neglect to mention the fact that you can't buy replacement bits for them. Damage, wear, or loss makes it possible to quickly lose bits that make this multi-tool truly multi. Luckily for us, Klein thought about that. They're one of the main brands that offer replacement bits for the multi-tool users who might need it.
Blade Changer
This blade changing capacity might not come in handy at a first glance (after all, we still need to physically remove the blade from the handle before switching the bit), it's actually a really smart product feature. Pre-loading bits into different shafts or blades that work with the same Klein handle means it's easy to plug-and-play any bit you might need. We're pleased with the fact that this makes it faster to switch the bits around, and doesn't leave you with tiny screw tips all over the floor. Blade changer? More like a game changer.
Cost and Value
A little more expensive than some of our cheapest options, but nowhere close to being our most expensive option. Klein is a brand that's found the balance of quality and cost, making this an excellent small investment for anyone that does a lot of work with their hands (and their tools). The variety of bits and nut drivers it comes with is fantastic, giving us almost unlimited options. Whatever the job, we feel that this tool is going to stand up to it.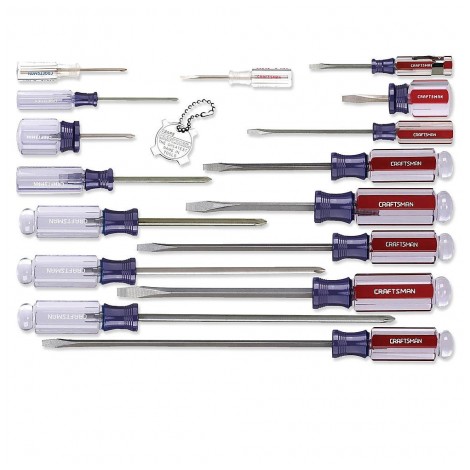 This 17 piece set is giving us high-quality construction worker vibes, even if they're not necessary for everyone's home. The variety in this set isn't quite as large as some of the bigger sets we've looked at, but it's still got everything you're likely going to need. While some have said that Craftsman has gone down in quality over the years, we're not sure that's true. These screwdrivers are an excellent option for anyone looking for a very high-quality set.
Lifetime Warranty
One thing that the Craftsman brand boasts that few other brands have is a lifetime warranty on their products. We're big fans of this, and think it's an important thing to consider when investing in a set of tools. Even though you're paying a higher price for this product out of the gate, the money it saves you, in the long run, is worth it. Being able to phone Craftsmen and have them replace one, two, three, or even all of your screwdriver sets means you never have to worry about having four half-completed sets kicking around your storage unit.
The Keychain
Maybe it doesn't seem like a big benefit, but we think that the keychain is a nice touch. Being able to carry an emergency screwdriver in our pocket is a thoughtful addition to this set, and could be the difference we need to inspire us to invest in it. While you're just getting the flathead screwdriver top on this bonus product, it still comes in handy. Maybe you need to open a bottle of coke, or maybe you need to quickly tighten something. Whatever the moment is, you're going to be happy this keychain was around for it.
Cost and Value
One of the most expensive sets on our list, we're on the fence about whether or not the product is actually worth it. Any serious home renovator would be pleased with the quality of this set, as well as the variety you get in the package. Others, however, might not be willing to spend this much money on a product that they're only going to use one or two pieces of once in a blue moon. Ultimately the choice is yours. The quality is aligned with the price, which means you can rest assured you're never going to have to deal with breakage. Even if one of them does break, the lifetime warranty is a nice touch.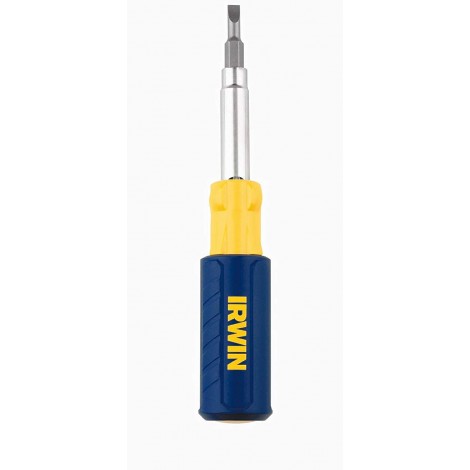 There have been a couple of multi-tools on this list, but none quite as clearly and carefully designed as the IRWIN multi-tool. Multi-tools are products that really do benefit from simplicity. They don't perform well when faced with pressure, pushing, or too many features threaded throughout. The easier the better, we think, in the world of multi-tools. IRWIN has done a great job with its straightforward design. Check out what this tool is packing; it's more than meets the eye!
Nut Twisters
Many times we'll be faced with a project that doesn't solely have screws. There're these things called nuts, bolts, and washers, which are also used to keep a variety of furniture items steady. Normally that would mean you'd have to pick up a whole new tool just to be able to tighten or loosen a nut. With this multi-tool, however, you've got a variety of options for screws as well as nuts. It's time to twist with freedom thanks to all of IRWIN's options.
Excellent Design
This is a feature that we all see and use, but sometimes it goes unnoticed. The design of a multi-tool is just as important as the functionality and versatility of one. In fact, sometimes it's even more important. From the sturdiness of the shaft to the ergonomics of the handle, this multi-tool hides a lot underneath its surface. Their "ProTouch" grip and slip resistance make it easy to get torque, while the sleekness of the handle itself easily fits in a variety of hands. Plus, there's no risk of a wayward bit popping out due to the spring-loaded mishap.
Cost and Value
Based on the fact that this multi-tool is a true multi-tool, and the fact that the design of it is so smooth, we believe that this product is an excellent addition to your home. IRWIN is a well-known name in the tool design world, and this multi-tool truly cements them in as a name anyone should be proud to support. While it's not the fanciest tool out there, the grip, shaft, and bit options are fantastic. And as one of the cheaper options on our list, it's definitely well within a budget price range.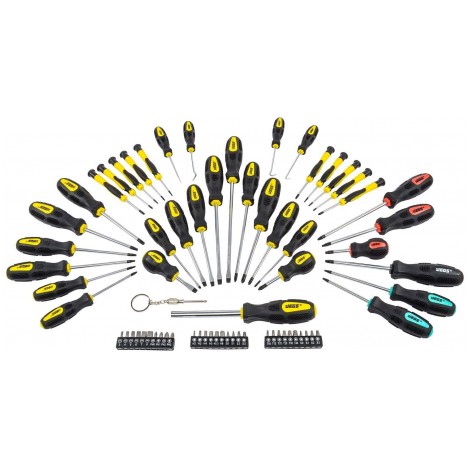 JEGS might be a brand that we personally are unfamiliar with, but we're likely going to get to know them very, very well if they keep putting out such great products. Unlike some of our other options on this list, this screwdriver is actually a screwdriver set. You're getting 69 different screwing options here, and we have to say that we love them all. The brilliant features of this set are simply that you're always going to have the right tool for the job. Sure, it's not electric like our second option. It is, however, incredibly high quality.
Magnetic Tips
Imagine: You're on the kitchen counter, trying to screw the brand new cabinet doors into their hinges. You're stressed, the kids are almost home, and the cat is meowing for no real reason. You've just gotten the door level and are about to add the first screw (which is always the hardest) when all of a sudden… It drops. It's gone forever. You have to take that shelf down, get off the counter, and start the whole process over again. With a magnetic tip, you're unlikely to ever drop a screw again. The screw will attach itself onto the tip of whatever screwdriver you're using from this set, making it failsafe when you're perched on a kitchen counter struggling with that last cabinet door.
There's 69 of them
Seriously, just think about that for a second. Even the screwdrivers that come with changeable bits aren't able to hold a candle to this 69 piece package. The quality of the tools is high, which means you can rest assured that 69 screwdrivers aren't just in case they break or come apart. These are legitimate, individual tools. One review mentioned that the pack they come in requires them to be stored face down, with no labels on the bottom. Fortunately, we can also link you to some good label makers. At a price like this, you can definitely afford it.
Cost and Value
We teased it a little bit in the last section, but yes. This is a price that would put any other higher-priced screwdriver set to shame. This set is high quality, with a variety that can't be beaten. While there are a few mentions in the reviews about being sure you're using the right tool for the job (or else the bits might strip), we know that a quick labeling job on the bottom of these screwdrivers will make for a much more successful fix-it time. Worth the money? Yes. Worth the space that 69 screwdrivers in their own toolbox would take up? We're less convinced, but we don't do many intense home renovation projects. Those that need that kind of variety are likely very pleased.

Subscribe to our Newsletter