Best Crossbows Reviewed & Rated for Quality
In a Hurry? Editors choice: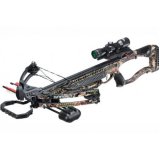 Test Winner: Barnett Whitetail Hunter II

Crossbows have somewhat stolen the stage in recent years. Much of this can be attributed to their apparent effectiveness in a Zombie Apocalypse. In real life terms though, they are just as effective as they seem in those TV shows. They are a great weapon for both hunting and sport. Crossbows strike a nice balance between rifle and bow. They offer greatly increased power over a standard bow, give the feel of rifle and do an excellent job of elevating your bow hunting experience. Another big perk of the crossbow is that you are able to use them during bow hunting season. There are many types of crossbows that span the spectrum price wise. You have the option to really get what you want by getting units with different scopes, strings, and cocking mechanisms. There are several different companies that put forth an excellent quality crossbow that will serve you well. It is also highly recommended that you actually hold a crossbow before you use it. Get a good feel for the ones you are most interested in and make your choice from there. The actual feel can make a big difference and you'll be glad you made the effort. However; the assembly of a crossbow at home is typically not a big deal and all of them will come with somewhat extensive instructions whether in an actual booklet or available online. Now that we've covered the basics, let's go over some of the best options available.
Standout Picks
Criteria Used for Evaluation
Speed
Everyone is always concerned about speed. But how do you know which crossbow will shoot the fastest and hit the hardest? First off, let's go over how to interpret the speed and energy. Speed is measured in feet per second or fps. There is a wide range, but for those on this list it falls somewhere in the 300-400 range. The higher the number, the faster the arrow flies. Energy is measured in ft. pounds of kinetic energy. Again, the higher the number the harder it hits.
Choosing which is best for you will have to be determined by a number of factors. As is often the case in almost everything, if you want an item that hits harder and flies faster you are going to have to pay more for it. While that isn't always the case, it is absolutely the case if you want your fps in the 400s. The energy and speed is also directly correlated with the size. A lot of the time you need to have a bigger bow in order to get it to move the arrows harder and faster.
It should be noted, though, that anything with an fps over 300 will shoot fast enough to give an ethical kill. That kind of speed will release energy of at least 80+ foot pounds. An ethical kill is considered anything above 55 ft pounds of energy.
Size
Much like with any bow or rifle even, getting your size right is critical. Having the wrong size can affect everything from your ability to aim to your ability to even hold it. Both the weight and size of the limbs needs to be taken into account. A person of smaller stature needs to have a smaller bow or else they will be sorely disappointed. Ultimately, you will get the best results if you actually feel and hold the crossbow. That way you know what it feels like and that little factor will go a very long ways.
Size is also important in hunting. It doesn't matter as much when simply target shooting, but if you are going to be out and hunting game you will also want a smaller unit. There are a couple reasons here. First off, there is a chance you will be walking more and hauling it around with you. A heavy item will seriously affect you ability to do that long term. The odds are also higher that you will need to be able to get into small spaces without making a scene. You don't want to be too noisy and scare off your game nor do you want to be seen before you have a chance to fire off a shot. Thus, you will need to be able to get into tight spaces in order to get some shots and a big bow here is a big downfall.
Bottom Line
Price can very often be a limiting factor to basically anything in life and owning a crossbow is no different. However; they are absolutely cost effective units that do an excellent job, several of which we have included on this list. You don't have to spend a ton of money in order to get decent quality. You do have to plan on spending more money if you want top of the line and a bunch of added features; which is obvious. If, for whatever reason, you want to save money check out the cheaper options listed here and you won't be disappointed. They all shoot well and accurately and will satisfy your need to fill your freezer or get that trophy to hang on your wall. The more you pay, the more features you get and the fancier your bow gets. That is only necessary if you deem it to be.
10 Best Crossbows
1

. TenPoint Titan SS ACUdraw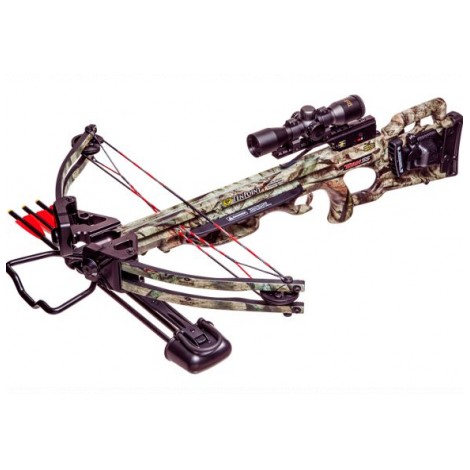 If you like your crossbows to be light, fast, and compact then this may be the crossbow for you. It is Titan's version of all those things. The unit is skeletonized so that it is easier to hold and maintain for even smaller users. It comes with a mounted scope, ACUdraw cocking aid, an owner's manual, and three carbon Pro Elite arrows.
Maneuverable Design
If you are all about function and want the minimum amount of pieces on your crossbow, this is a great option. It is small and compact and only rings in at 18.5 inches wide when it is cocked. Combine that with the skeletonized unit and you've got a crossbow that is just about as small as you can get. It will fit in small spaces and allow you to hold it for longer with less fatigue.
Boost Performance
There are several features found here that will ultimately help to boost your performance and allow you to shoot more accurately and safely. There is a long finger guard to help with safety and the trigger is just a little bit farther forwards than in other models to help with performance. You also get the ACUdraw cocking mechanism that will help reduce the weight and burden on you. When operated manually, the draw weight is reduced to only 5 pounds.
Cost and Value
If you want a more automated bow that helps with performance and will send your arrows screaming with power, you will pay for it. These types of bows don't come cheap, but neither do any of their hunting counterparts. If you love the sport and want to shoot quickly and accurately every time, then you will happily pay the price.

2

. TenPoint Titan SS Skinny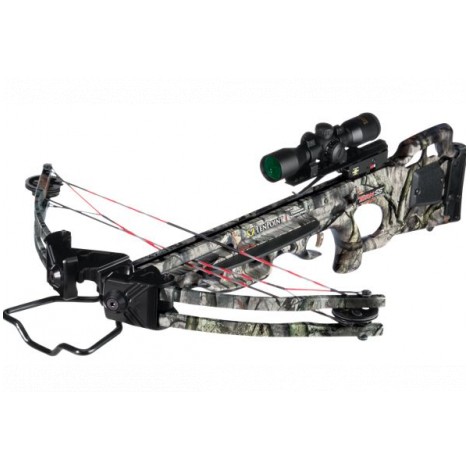 You get the best of both worlds with this unit. It is a small and compact unit that is easy to use, draws powerfully, and shoot with even more power. Any game you are hunting don't stand a chance here. It has a skeletonized frame and comes with a Multi-Line scope already mounted and a 3 arrow quiver that is easily detachable.
175 Pound HL Limbs
The limbs found on this crossbow are no joke. They will allow a powerful draw weight of 175 lbs with very little effort on your part and then send the arrows at a screaming 340 fps. This allows you to quickly and accurately get any game you are aiming for and know that a kill shot is an ethical one with this unit.
Fusion S Stock
A key part of the maneuverability and flexibility found in this item is that is is build on a Fusion S Stock frame. The frame is adjustable and contains only the minimum parts to make it functional. As a skeletonized unit, it is able to weight less, upwards of half a pound less than other models, and is more compact at only 18.5 inches wide when cocked.
Cost and Value
You definitely get a good bang for your buck, literally and figuratively, here. This bow comes in at a very reasonable price and will have you more than happy that you were willing to spend the money. It will last you a long time and bring down a lot of game, which will ultimately help to pay for it as you will be collecting your own meat within reason rather than buying it from a store.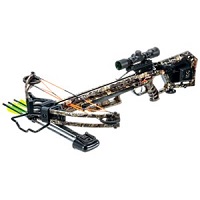 If you want easy to shoot accuracy with very little adjustments, this Wicked Ridge should be high on your list. It is lightweight and compact, measuring only 15 inches when cocked. It comes on a X-core stock semi-skeletal frame and will send your arrows flying at a speedy 360 fps. It is well thought out and comes equipped with safety features to further enhance your experience.
Dry Fire Inhibitor Technology
Like most TenPoint units, this one is equipped with their patented Dry Fire Inhibitor Technology. It essentially prevents your bow from firing when it doesn't have an arrow in place and goes a long way to ensure your safety and preventing injuries and damage. Another neat safety feature found here is the pass through foregrip that has elongated wings.
Easy to Use
There is nothing much more irritating that getting a new toy, opening up the box, and then spending a lot more of your life figuring out how to set it up and/or use it. Rest assured that will not be an issue here. It is very intuitive to use and will shoot almost exactly as you want it to right out of the box. Very little adjustment is typically needed to get it exactly where you want it to be.
Cost and Value
High quality products generally come at a high quality price. As long as you are aware of that, you'll know before going in that this is going to be a good bow and ultimately a good purchase. You get a lot of neat features as well as a high quality bow at a price that it definitely earns.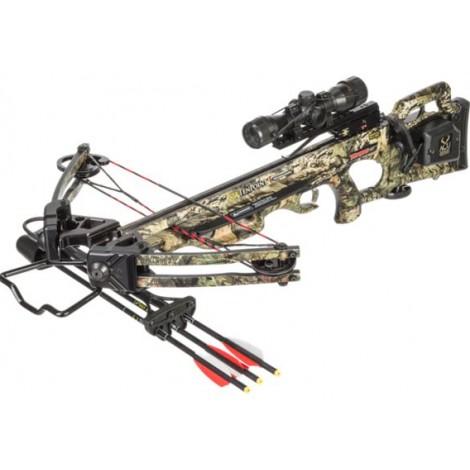 For close, accurate, and reproducible results look no further than this TenPoint Turbo GT model. It feels light to hold, is easy to assemble, and just as easy to shoot. You'll have no problem at all getting game from a reasonable distance and the arrows shoot at 360 fps, so you know you'll only have to take one clean shot.
ACUdraw Cocking System
One of the big perks about this bow package is that it comes with the ACUdraw cocking system already installed. This will allow you to get the best shot every time without killing your arm or requiring a ton of strength. The draw weight of this bow is 175 pounds and you will easily manage that, despite your strength or lack thereof, much thanks to the cocking mechanism in place.
Fusion S Stock
The frame used on this crossbow is the Fusion S stock frame. It is sturdy and dependable. Not only that, but it is also loaded with safety features, making this one of the safest models available. Additionally, it is lightweight and measures a compact 13.5 inches when cocked.
Cost and Value
The more features you get on a bow, the more you will ultimately pay for said bow. This one comes with a lot of neat features that will make your shooting or hunting experience all the more enjoyable. As such, it does earn a ranking among the more expensive units on our list. It is a price you will be happy you paid once you are the proud owner of the Turbo GT though.

5

. TenPoint Wicked Ridge Warrior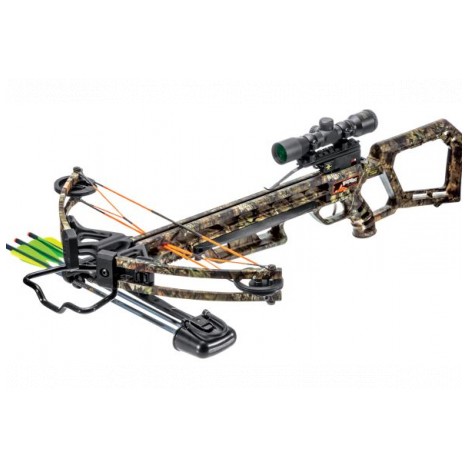 This item is like the smaller, lighter, but just as deadly little sister to a bow we've already discussed here. It is compact and lightweight but still packs a powerful punch. It will shoot arrows at 350 fps and they will hit hard at 101 ft pounds. The draw weight is quite manageable at 150 pounds and the trigger pulls crisp and smooth.
Ultra-Lite
Sometimes bigger is not always better. Sometimes there is very much a place for a lighter, smaller version of a product. That is absolutely the case here. This is small, light, easy to hold, less cumbersome, and will allow you to move around faster. It rings in at a small 6 lbs and measures only 15 inches across when cocked.
Increased Accuracy
Pulling the trigger here is a very smooth and crisp process. It has a 3 ½ pound trigger which offers minimal creep and allows for smoother motion that comparable units. A big benefit of this is that it ultimately leads to increased accuracy - which is something that everyone can appreciate.
Cost and Value
This is definitely one of the cheaper units listed here. If you are looking for a nice, lightweight bow that will serve you well for a long time, especially if you are a beginner or need a lighter version for whatever reason, then this may be the bow for you. It's small price allows it to be more widely usable and you will love having it as part of your arsenal.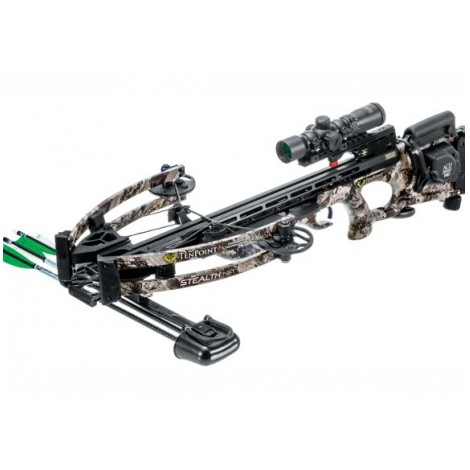 This crossbow is built for performance and all of it's feature speak to that end. It has a tight and slim design that results in great accuracy and easy use. It has several key safety features and comes with ACUdraw Pro cocking. It comes with a scope mounted and will have you itching to get out and shoot it.
Top of the Line Performance
If you are not a novice hunter and are also not afraid to drop a pretty penny on a crossbow, the performance found in this one will blow your mind. It shoots at an incredible 410 fps with a hit that packs a punch at 138 ft pounds of energy. The overall draw weight is 220 pounds and it comes in at a slim 6 inches when cocked. This unit offers top of the line performance.
A Step Above
TenPoint really raises the bar with this crossbow. It is thinner, shoots more accurately, and is quieter than any other model in this price range. Once you have used this one, you will be hard pressed to be satisfied with any other. It combines the best of technology with high quality performance and the result is truly amazing and will knock your socks off.
Cost and Value
As one of the most expensive units on our list, you better believe that the value is high on this crossbow. If you take all the features of others listed here, combine them, then multiply their ability by 2 that is what you get here. Yes, the price is high, but the resulting quality easily demands such a price and you will readily and willingly pull out your wallet to pay for it.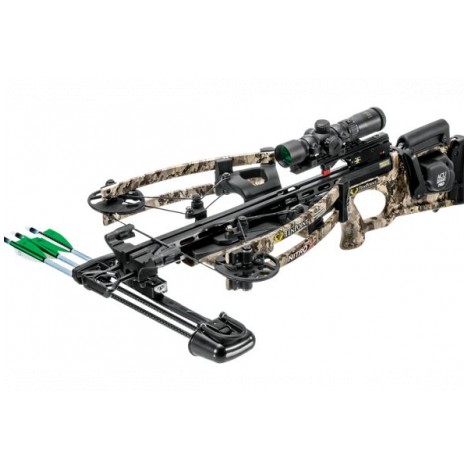 This bow is a compact, lightweight, easy to shoot, monster that will impress you from the very first time you pick it up. It has a draw weight of 200 lbs and is packed with safety features. It comes with a scope mounted and also includes an ACUdraw Pro cocking system that will the 200 lb draw weight very easy to handle.
SlingShot Technology
Harder, better, faster, and stronger are not just the words to a Kanye West song they are actually a very accurate description of this crossbow. It will send your arrows pummeling through the air at 440 fps and hit your targets with an amount of energy not seen with many other models - 159 ft pound. This Sling Shot technology will literally make your jaw drop at how quickly and accurately it will shoot your arrows.
String Pressure
Much thanks to a tight construction, this design will create an environment of optimal string pressure that will help your string to last much longer - up to 75%. A longer lasting string means less replacing, less maintenance time, better shots, and ultimately money saved.
Cost and Value
While this is certainly among the more pricey crossbows we include on this list, it is worth every penny. This bow is far from child's play and for the serious archer or bow hunting enthusiast, it a must own. It shoots hard, fast, and accurate which more than makes up for the pretty penny you will be paying to be the owner of this unit.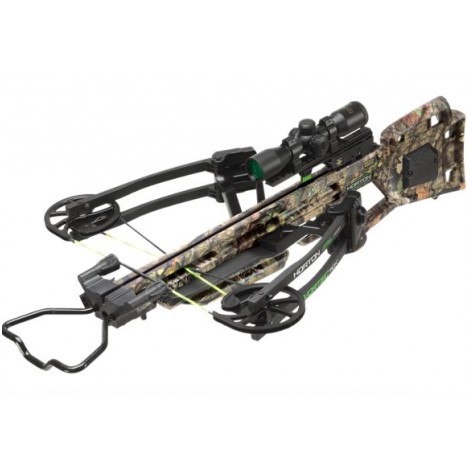 This is a great bow that has all the features you need to get started. Nothing too fancy here, but it does have the basics. It shoots at 340 fps and hits at 103 ft pounds of energy. It has a draw weight of 135 lbs and comes equipped with a Dedd Sled Cocking package that makes it a very manageable weight. It is powerful and accurate and gives high performance.
Hunter Friendly
Designed with the hunter in mind, this bow is compact and lightweight and easily maneuverable. It rings in at only 7.6 pounds and is only 9.125 inches from one axel to the other when cocked. It is perfect for when you are hunting under tight cover or in ground spaces. It strikes an excellent balance between accuracy, handling ability, and power for the everyday hunter.
Solid Construction
The base of this unit is Horton's RDX reverse draw design. It features aluminum risers and delivers high performance. It looks and feels solid. You will be able to feel that it will perform well right when you pick it up. No cheap, lightweight material here. It also includes a trigger system and features a number of other safety items.
Cost and Value
This crossbow falls mid to low end of the spectrum price wise. It is a very reasonably priced bow that is more reachable to every hunter, not just those who are willing and able to drop a lot of money. It strikes a great balance between function and price and if what you are looking for is a less expensive bow that still delivers great performance, this should absolutely be on your list.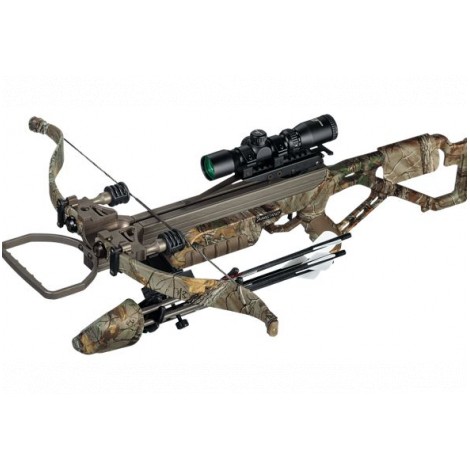 If compact, light, and powerful are a few of the words you want to use to describe your bow, then this Excalibur is a great option. The name Excalibur traditionally holds a pretty powerful place in people's mind and in like fashion, this bow won't disappoint. It has an incredible draw weight of 270 pounds which will fire your arrows at 335 fps with ease.
Easy To String
The ability to string your crossbow on the fly is not something that you will find often. However; that is the case here. Stringing this crossbow takes minimal effort and is doable even if you are out and hunting. Removing the frustration and complication that typically comes with stringing your bow is a big perk to this unit.
Cheek Guard
When you are routinely resting your cheek on your crossbow in order to get a good aim, it isn't always the most comfortable position. That is further complicated if your dominant eye is your left eye and the cheek guard is made for a right eye dominant person. Excalibur removed this obstacle by including an ambidextrous cheek guard right on the bow. Your cheek will thank you, no matter which one you use.
Cost and Value
The cost to value ratio here is pretty high. You are getting a lot of neat features with a pretty powerful bow for not a ton of money. Compared to others on our list, this one falls mid to low range and will be more than worth that amount once you get out and feel how smoothly it shoots.

10

. Barnett Whitetail Hunter II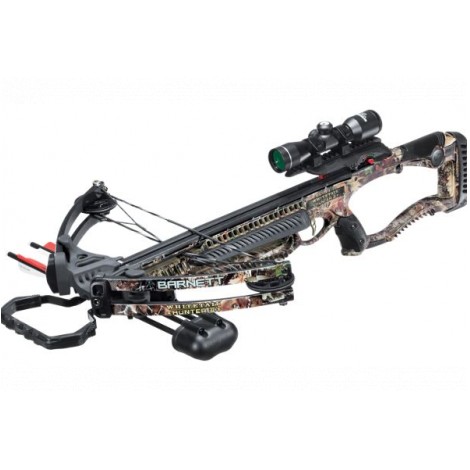 Sometimes the best bow is the one that comes at the best price. This bow is deadly and accurate and does everything you'll need it to do in order to put meat in the freezer, or even a trophy on the wall if that's more what you're after. This is a compact, lightweight bow that is easy to use and easy to carry. It shoots the arrows with 103 ft pounds of energy and does so with a force of 350 fps. It has a smooth trigger and built in safety features.
Small Hunters
This item is great to be used as one that is built for smaller hunters. It only weighs 6.4 pounds which makes it very light and easy to carry. Additionally, the draw weight is a much smaller 150 lbs instead of the 200+ of other crossbows listed here. Despite that, it still shoots powerfully and sure to give you the best hunting experience possible.
ADF Trigger
The trigger found on any crossbow can make a world of difference. It is critical to get both a good aim, but also be able to carry through that aim without any creep. The trigger here is built to do that. It has a light 3 pound pull, a crisp break, and you will experience zero creep. Additionally, it has anti-dry fire protection.
Cost and Value
This may be the least expensive item on our list. That makes it a great option for those who are just getting into the sport and those who are smaller framed - be it child or adult. While it doesn't have all the fancy features found it others, it absolutely functions well and will perform all the tasks you need it to. It is a perfect starter unit and will serve you well.

Subscribe to our Newsletter