Best Recurve Bows Reviewed & Rated for Quality
Archery is a sport that dates back many, many years. In fact, it is one of the first weapons used to help successfully take down prey. While it has primitive roots, it is still very functional and well loved today. We've obviously evolved our bows at this point and even have a variety of different types. One of those types is the recurve bow.
Featured Recommendations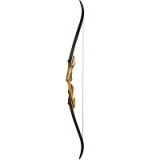 Vista Sage 62

Our rating
Maple/Fiberglass Limbs
Price:

See Here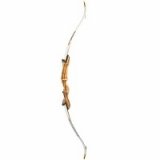 PSE Archery Razorback

Our rating
Great Introductory Bow
Price:

See Here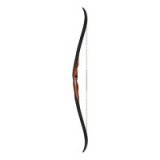 Fred Bear Grizzly

Our rating
Weather & Scratch Resistant
Price:

See Here

This is a great bow that offers a lot of power thanks to how it is shaped. The arrows shoot farther faster with a recurve and that only means good things whether you are trying to chase down a deer or win a shooting competition. Additionally, it should be noted that recurve bows are the only ones allowed in the Olympics, so if you or your child really want to get into archery and take your game to the highest possible level, this is absolutely a good place to start. There are lots of options when it comes to recurve bows and while the size and weight that you get are far more important than the brand or model, it is also helpful to get one that feels good to you. You want it to be easy to hold and comfortable to use. It comes with added bonus points if you like how it looks too. Nobody doesn't like compliments on their expensive toys. So, let's go over some of the best options no matter the level of your game.
10 Best Recurve Bows
1. Vista Sage 62''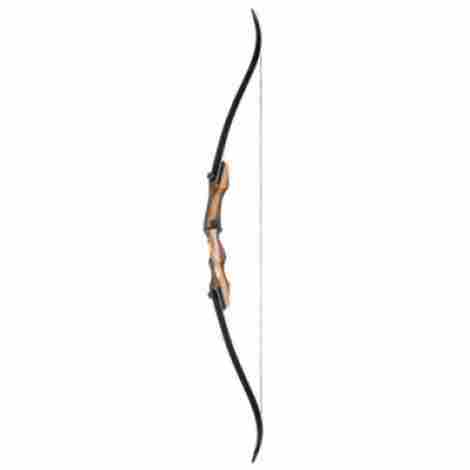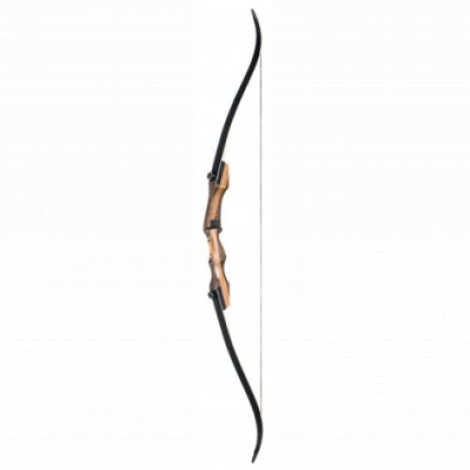 When you get this bow you get solid performance, quality construction, and a great price. It is a very sturdy bow and will last many years with proper care. The riser is a hard maple/dymondwood, with fiberglass/maple limbs, and the limb tips are reinforced. You also get a stabilizer insert, brass plunger mount, and sight mount bushings.

Expand to see more
Smooth and Powerful

This bow shoots incredibly smoothly. Once you get it all set up and ready to go, you will be pleasantly surprised with how smooth pulling bis and shooting are. Like most recurve bows are, it is powerful and packs a good punch. Additionally, as long as you can aim, this bow will send the arrow exactly where you want it to be.

Pleasant to Look at

When you look at the history of the bow, it all begins with wood versions. Often times that is not the case with ones made in this day and age, but this bow actually has real wood in it and a wood appearance. You will love the way it looks and feels and will be eager to show everyone you are with how good your bow looks.

Cost and Value

You get excellent value on your dollar with this bow. It comes with a very little price tag all things considered and works well for both beginners to the sport and pros. If you are looking to get a feel for a bow or perhaps have an interim option, then this very reasonably priced unit may be the one for you.
Feels light compared to others in the same weight class
Fairly easy to set up
Very affordable and shoot incredibly well for its price point
Handle is comfortable to hold
Fabric may peel off over time
Limbs scratch somewhat easily
2. PSE Archery Razorback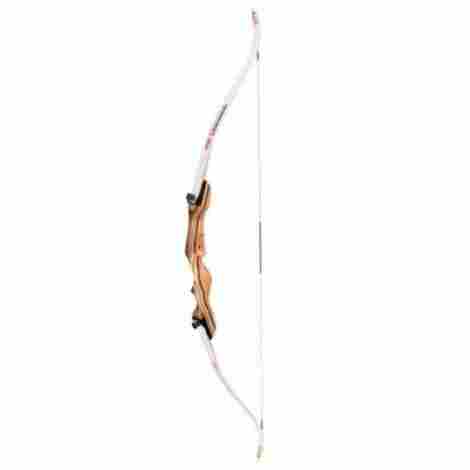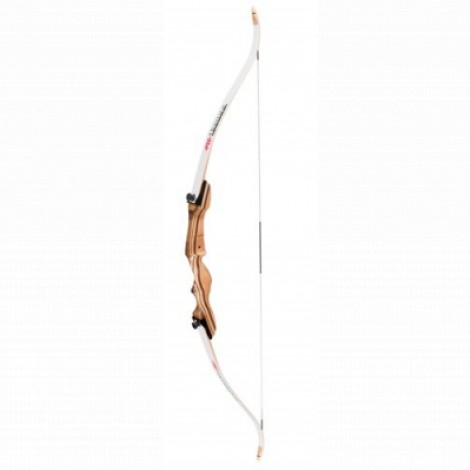 This PSE Razorback bow is the perfect bow for beginners. It comes at a small price point and a ranges of sizes and weights which makes it perfect for whomever you need to buy it for. Children and adults alike will appreciate this lightweight and easy to shoot unit and love learning how to be a master archer on it.
Expand to see more
Variety of Sizes
As this bow is meant to
match the beginner
, even if that beginner is very young, of necessity it comes in a variety of different sizes. That means that you will be able to get the perfect size for yourself or your 10-year-old daughter and it will be sized appropriately. In addition, this bow is lightweight in any size and is easy to use for even the smallest archers.
Introductory Bow
This makes a great introductory bow. Not only does it come in a variety of sizes and weighs in at a small number, it also sells for a small number. You won't lose too much sweat over having to replace it should something happen. It is easy to use and very functional. It is one of the best bows to buy for someone just getting into the sport, no matter their age.
Cost and Value
This bow comes to you at a very small and reasonable price. It is designed to be more lightweight, and in some instances smaller, than others on our list so that certainly plays into the lower price. However; should you little archer outgrow it in a couple years and want to move onto a more sophisticated unit, you won't feel bad about doing so as they will have already learned the basics from this one.
Lightweight
Comes in a variety of different weights
Has two lengths, with matching draw weights
Easy to use and hold
Limb bolts may be harder for younger users to tighten
Doesn't have the long life of other bows on our list
3. Fred Bear Grizzly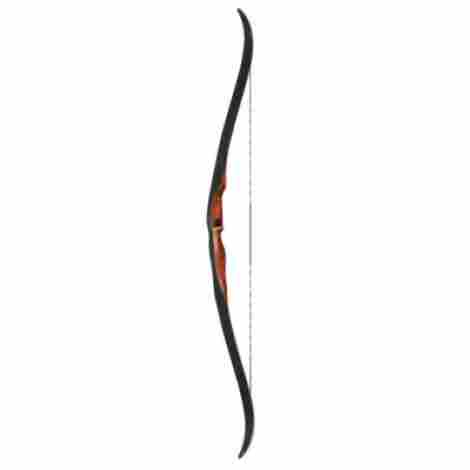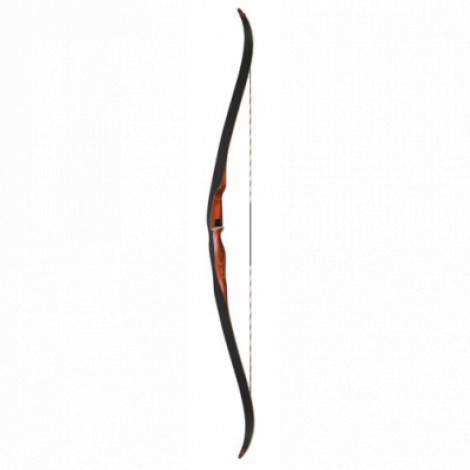 If you are looking for a high-quality bow that you'll have for years and have confidence that it
will shoot well every time
, this may be the one for you. It comes in two different weights so you can get the one most suited to you and is 58 inches long. It has protection from both weather and terrain and is even scratch resistant.
Expand to see more
Weather Resistant

A big perk of this recurve bow is that is both weather and scratch resistant. You can use it in both hot and cold weather, wet or dry. The satin-gloss finish protects it from all elements, in all terrains. This means you can use this bow no matter where you live or are visiting and it will always look good while doing so.

Part of You

This bow feels like a part of you. It is natural and all of the movements are instinctive. You don't feel like you are using a piece of equipment so much as you just have an extension of your arm. This makes it easier to use and to master and you will very much appreciate that fact everytime you hold it.

Cost and Value

This is not an inexpensive bow. What it is though, makes it well worth the price you pay for it. You will get a nice, long lasting, powerful, and easy to shoot bow. While you do pay to have this bow, it is a price you will be happy you paid once you are the proud owner.

Quieter than most recurve bows
Feels like a part of you
Lasts a long time
Provides solid consistent performance
String that is included snaps easily and isn't of the highest quality
May be awkward to transport
4. Cabela's Warden 62"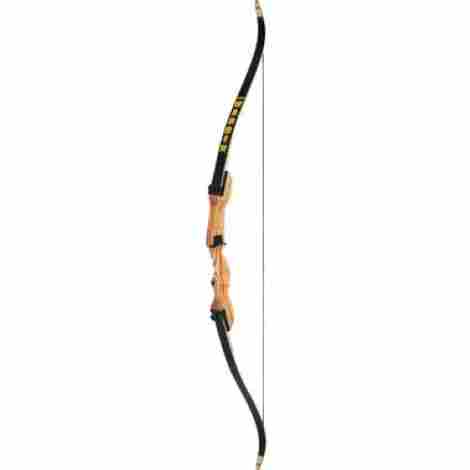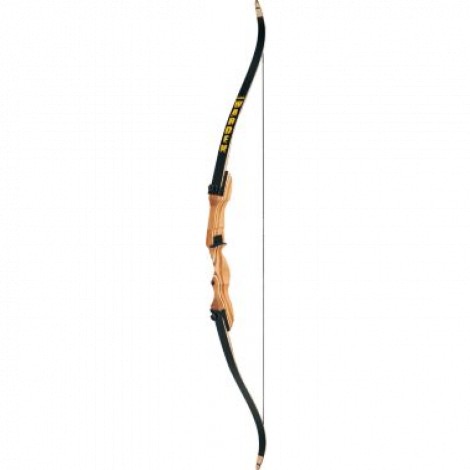 This bow is not only nice to use, it is also nice looking. Both of those things are thanks to the construction of it. It has a wood core with black fiberglass limbs. It is made of hard maple, white oak, walnut, and garin riser. It has reinforced limb tips and comes in both left and right handed models.

Expand to see more
Slim Grip

This bow is great for archIts of all ages. If features a slim grip which makes it very reasonable for smaller hands to hold but is also strong enough to be used by older, more experienced archers. In addition to the slim grip, it comes in various sizes, weights, and even has a left handed option to make it more accessible to all who are interested in it.

Reinforced Limb Tips

One thing you never want to hear when you spend a decent amount of money on something is that it will cease functioning in a short amount of time. That is not the case here. This bow has reinforced limb tips that will help the fiberglass limbs withstand years and years of use. It is made to last.

Cost and Value

This bow really comes to you at an excellent price. It is more than just an entry level unit, but is priced similarly to those designed specifically for that purpose. It is heavy duty, long lasting, and will serve you well. The value here is definitely worth the cost.

Limbs draw nice and smooth
Easy to assemble and begin using
Shoots fast and then hits hard
Fun to use
Screws that help attach the quiver aren't anchored as securely as they should be
Threaded mounts may come out easily
5. PSE Archery Mustang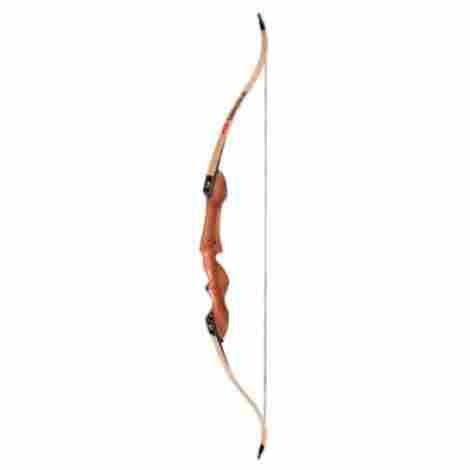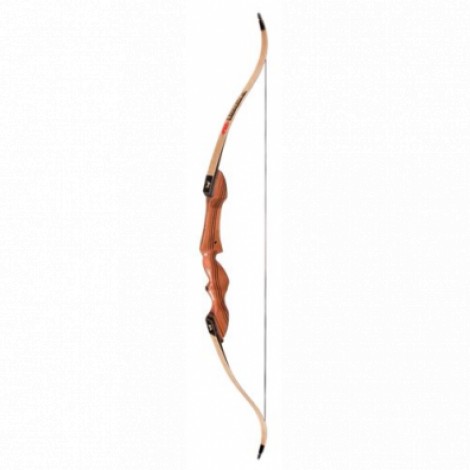 This is a bow that you will look at and wow will be the best word to describe it. It feels as good as it looks and will have everyone at the range commenting on it. It is made of black walnut, has maple limbs, and a cherry riser. It is 60 inches in length and comes in both a 50 pound and 55 pound option.

Expand to see more
Take Down Option
A neat feature found here is the ability to take it down. This is a popular option on bows these days that gives the user a couple different advantages. First off, they are much easier to transport when you can take the arms down on either side. They can be placed in smaller cases and aren't nearly as cumbersome. They also give the ability to change out the limbs if you so desire.
Performance
One thing is for sure and that is that you will love how this shoots. It feels great and performs well. It will
shoot accurately
as long as you can aim and will garner compliments from all around you. Shots will be powerful and go where you want them to.
Cost and Value
Considering its look and feel, this unit comes to you at a great price. It is well worth every penny spent whether you are a first time archer or an seasoned pro. You will be more than happy with the cost to value ratio with this bow.
Easy to use
Shoots cleanly and smoothly
Great cost to value ratio
Durable
Both accurate and relatively quiet
Included string may unravel
May be too powerful for a beginner
6. Cabela's Ranger 62"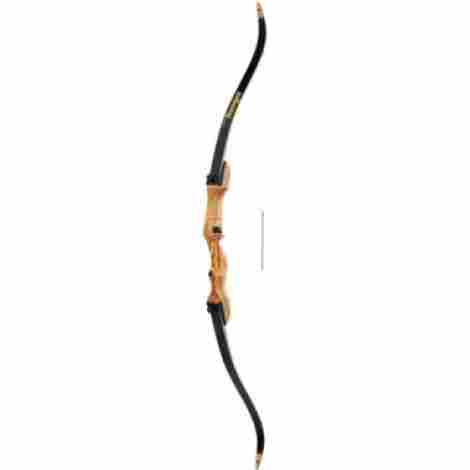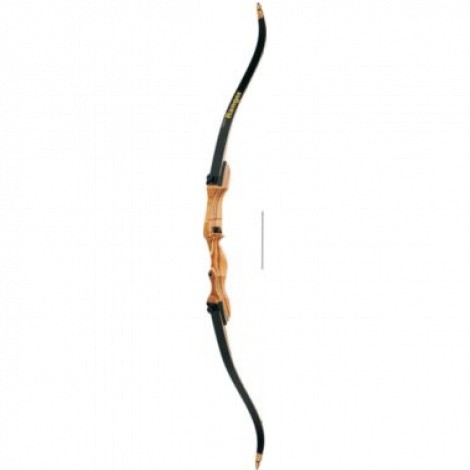 This is a great bow that is built in the traditional style and serves as an excellent beginner's bow. You will absolutely love it if you are new to archery or just getting back in. The draw weights are lower which makes it easier for all to use. It looks good and feels good and is a take down style bow for easy storage and transport.
Expand to see more
Designed For Beginners

If you are a beginner or just returning to the sport after a long hiatus, then this bow is absolutely a good option. It doesn't cost a ton so will allow you to get a good feel for the sport before diving into a more expensive unit. In addition, the draw weights offered are 25# and 29#, which are light enough for a younger and smaller crowd.

Hardwood Riser

This unit features a hardwood riser that is as beautiful as it is functional. The hardwood is comfortable to hold and feels warm in your hand. It comes with a wood core to complement the riser and black fiberglass limbs. Arrows will be shot easily and powerfully with all of these high-quality components working together.

Cost and Value

You are getting a great deal with this bow. It comes at a very small price, which makes it excellent for beginners. You are able to get a lot of use out of it and will appreciate that your first bow didn't cost a ton as sometimes you need to learn on something and not feel bad messing it up; as will likely happen.

Easy to assemble
Aesthetically pleasing
Shoots straight and true
Comfortable to shoot
Pull weight seems heavier that what it is advertised as
No instructions or manual comes included with the bow
7. Cabela's Saberhawk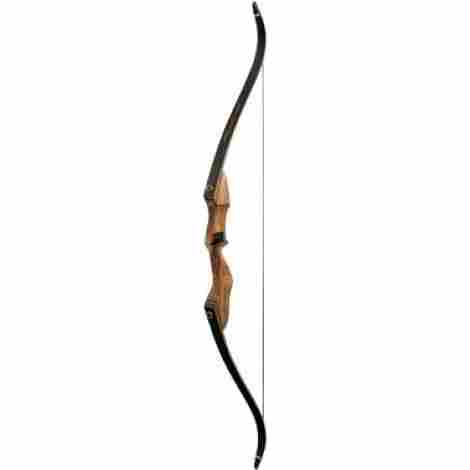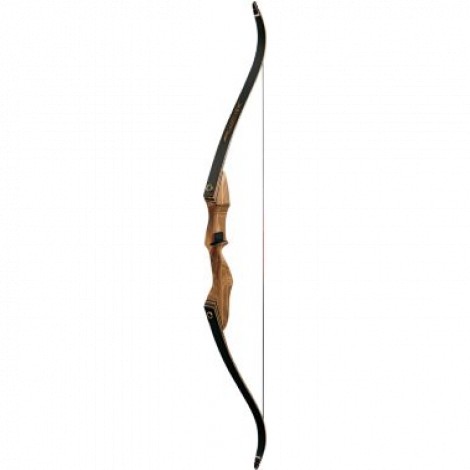 This bow is a great mix of hardwood and fiberglass. It has a hardwood riser and the limbs have a wood core with black fiberglass. On top of that, the fiberglass limbs are reinforced so that they will have a longer life as will the bow in general. It also has brass bushings and dual pin limb alignment. This bow is meant to feel high end.

Expand to see more
Reinforced Limb Tips

While reinforcing your limbs is not something that comes standard on every bow, it does on this unit. What that does for you is ensures that it will last you much longer and the limb tips won't give out nearly as early as they would otherwise. You will get years of use out of this bow, even when you expose it to stress.

High-End Feel

Sometimes you really can tell the difference between high-end units and ones that are simply designed to look that way. This bow both looks and feels the part. It has high-end craftsmanship, but also very successfully blends in performance and cost effectiveness. This is a great bow with quality parts that you are sure to love.

Cost and Value

If you want to get the best of the best bow wise but aren't willing to foot the cost of one, then this may be your bow. It looks and feels like luxury, but doesn't cost much more than some of the cheapest ones on this list. You'll absolutely love the cost to value ratio here and will be recommending it to all of your friends.

Has a very smooth pull
Packs a good punch
Wood finish is smooth and beautiful to look at
Well made
Does not come with a stringer
Does not come with bushing installed if you want to add attachments
8. Bear Archery Super Grizzly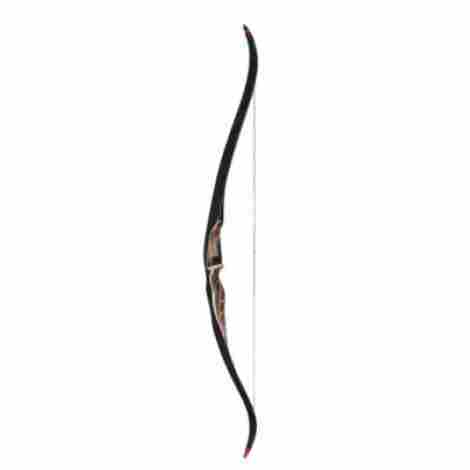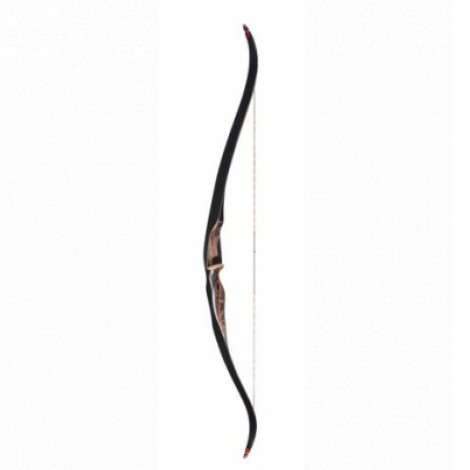 This is a beautiful and functional bow. It has a red stripe accent on the Black DymondWood riser. Black fiberglass backs the limbs which helps to enhance durability of the tips. It features both a hair rest and a leather sideplate. Additionally, it comes with a Dynaflight Flemish Twist string.

Expand to see more
Blast From The Past

This Bear Super Grizzly is actually a return of one of their most loved models. It is well constructed and will make those who owned the original version just as happy as it makes those who can now purchase this treasured recurve. Sometimes you just have it right the first time, and bringing back a well loved produce works well for both consumer and manufacturer.

Smooth Shot

If you are looking for a bow that shoots smoothly with minimal hand shock, this may well be your best bet. You will get smooth and accurate shots every time without hurting your hand or feeling the repercussions of a powerful release. Add in a string silencer, and it is hard to beat this bow.

Cost and Value

This unit is certainly one of the more expensive ones on our list. It comes at a pretty penny, but also earns every penny you spend on it. It looks good, feels good, and is the return of a relic. You will be more than happy with your purchase and not even think twice about spending as much as you did.

Has minimal hand shock
Easy to draw
Shoots accurately
String is low stretch
Somewhat expensive
String can be loud without a silencer
9. Vista Monarch 62''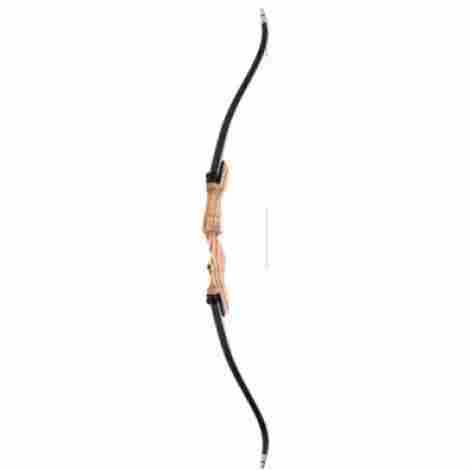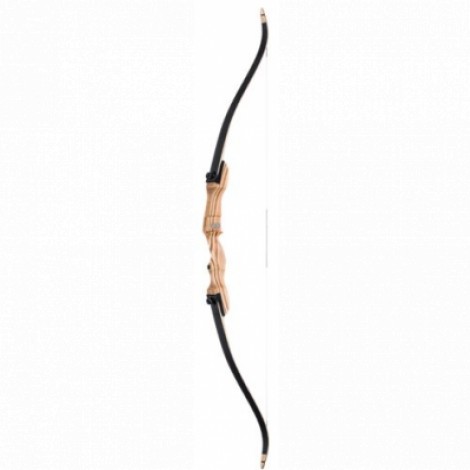 If you are looking for a beginner bow, then this is a great option. If is a handsome bow and functions exactly as you need it to. It will help you to master the art of archery with its hardwood riser, wood core and fiberglass limbs, as well as the reinforced limb tips, and comfortable, easy to use design.

Expand to see more
Easy to Use
One thing is for sure, and that is that you don't want to purchase a bow only to not be able to actually use it - especially if you are just starting out in the sport. You want a unit that makes sense, is easy to hold, and just as easy to shoot. You want something that will help you master the sport and challenge you without discouraging you. This is that bow.
Ready to Shoot
You will be
ready to shoot
this bow as soon as you get it. It is easy to assemble and also easy to transport. It even comes with an arrow rest already installed to help minimize the extra accessories you need to buy on your initial purchase - which also helps with it's cost effectiveness. It's hard to go wrong with the design here.
Cost and Value
This is another great bow for those looking to get into the sport. It strikes a great balance between price and functionality. You won't have anything fancy on the off chance you don't actually love archery as much as you thought you would, but you will absolutely be able to master the basics with this bow and know which direction you want to head in for your next bow purchase.
Is takedown style, meaning it comes apart and is easy to store and travel with
Well priced
Made to last
Shoots accurately
Does not come with a warranty
Quality matches the price and as such, doesn't give you the same value as higher priced bows
10. PSE Archery Nighthawk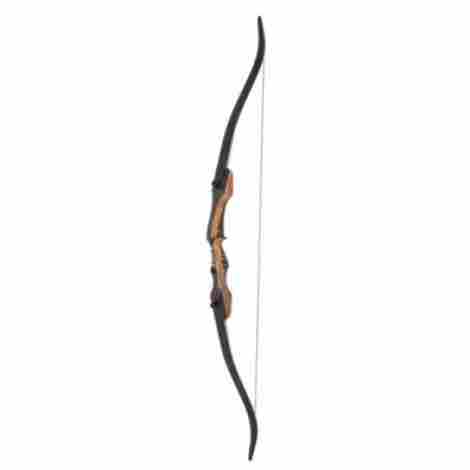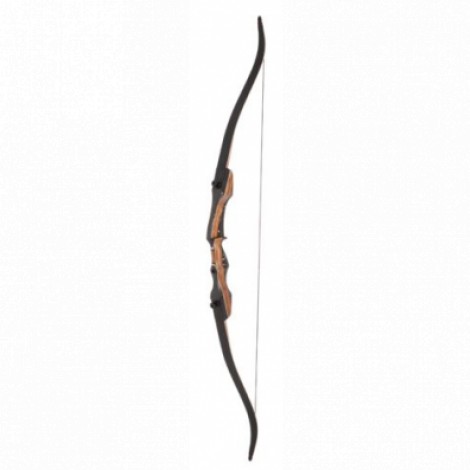 This is a nice looking bow that will serve you well for many years and is a perfect option even if you are just learning how to shoot. It has quality materials, is well constructed, and has a price tag that is easy to swallow. It comes in both left and right handed options and at a variety of different draw weights so that you can be sure to get the one that is right for you.

Expand to see more
Blend Traditional and Modern

This bow combines the best of both worlds. You get a nice modern bow and all the conveniences that affords such as takedown style, cushion plunger threaded, and stabilizer brushing. However, you also get the classic feel and shot of a recurve bow thanks to the hand selected wood found in the limbs and riser.

Take Down Model

A very nice and convenient feature found in many recurve bows is also found here and that is the ability to take it down. The limbs will easily come off and reattach. This makes transportation much easier as well as storage. It also gives the advantage of switching up the draw weight if that is something you need to do for whatever reason.

Cost and Value

Because it is meant as somewhat of a beginners bow, this unit is very reasonably priced. It is meant to work hard and long, but also be a good unit to learn and master the sport on. It blends price and value very well and you will be very satisfied with your purchase.

Fun to shoot
Easy to learn how to aim and maintain accuracy with
Aesthetically pleasing
Comes at a great price to value ratio
The screws may be loose on the quiver insert
Makes a lot of noise when shooting
Criteria Used in Choosing The Best Recurve Bows
Once you have narrowed your bow search down to recurve bows, then choosing one from amongst the options there really isn't too hard of a task. Most options are pretty reasonable and as long as they are of sound construction and match your price point, you are likely going to get a good bow; particularly if you choose one off of this list. Then you'll mostly have to choose things like color and ability to add attachments and longevity of the unit. You'll also want to match it to your ability the best that you can – don't get a beginner a pro's unit or vice versa! It will also be helpful to take into account where you want to buy it as certain stores offer warranties or have package deals.
What Size Do I Need?
The very first, and most important, thing you need to determine is what size you need. If you are already an avid archer, then the odds are good that you know your size and draw weight and can move onto the next section of this article. However; if this is your first bow or your current bow isn't the right size, then let's fix that here and now and make sure that you do own the right size.
Draw Length
Having the proper draw length is critical to your success. Too big or too small and it is potentially a painful experience and certainly won't be a good one. It is quite simple to measure and determine your draw length. All you have to do is measure your arm span from the fingertips of your left hand all the way to the fingertips of your right hand. Try your best to simply stand naturally with no extra extension or stretching. Do take the time to actually measure because despite the popular old wive's tale that your height is equal to your arm span, that is not always the case. You want exact and accurate numbers here. Once you have that armspan, divide it by 2.5 to get your draw length. For example, someone with an arm span of 60 inches would have a draw length of 24 inches. This method is flawless no matter you size or age. It will work for both young and old, tall and short.
Bow Size
A good rule of thumb here is that your bow size should not be taller than your actual height. It should be a few inches shorter. So, how do you know what size is best? This step isn't nearly as complicated and does not require a tape measure, but it does require a bow size conversion chart. All you need to know here is your draw length that you should have calculated at this point. The shorter your draw length, the shorter a bow you want. However; if you fall on a half inch line, it is better to round up because it is better to have a bow that is slightly too large than one that is too short. While a quick google search will pull up a chart, a brief overview goes as follows: for draw lengths between 14 and 16 inches, you want a 48-inch bow. 17-20 inch draw lengths want a 54-inch bow. 20 to 22-inch draw lengths need a 58-inch option and those with 22-24 inch draw lengths will need a 62 inch one. 24-26 will want a 64-66 inch bow, 26-28 need a 66-68 inch option, 28-30 inches will want something between 68-70 inches, and for the tallest among us with draw lengths over 31 inches, you will need a bow that is 70-72 inches.
Draw Weight
Once you've determined your draw length and bow length, the last thing you'll need to know is your draw weight. This is critical as it will directly affect your ability to pull on the string and get accurate shots. The term "overbowed" is used for someone who has a draw weight that is stronger than they are. It is painful and difficult to shoot a too heavyweight and will ultimately end up in you hating the sport. This is much less of a do this task and get a certain answer type issue than the ones above. Your draw weight is based on a number of factors that include age, weight, gender, athletic ability, involvement in both archery and other sports, and the list goes on. The overriding suggestion here is to under-guess. Be moderate and start on the lower end. As you practice shooting your bow more and more, your muscles will grow and you will need a heavier weight. However; you can't progress properly if your bow is too heavy right from the beginning. Take into consideration your experience and involvement in other things that would allow greater muscle tone to be in the right places, then choose a draw weight that matches both your age and ability. The good news is that many recurve bows have removable tips, which are oftentimes exchangeable, so you can adjust appropriately if needed.
Ability To Transport
When you are debating purchasing something that can be up to 6 feet long, it is also important to take into consideration how you will be taking it from place to place – be that hunting, to competitions, or to the shooting range. If you have a truck with a nice bed to put it in, this is a non-issue but for those of us that drive cars or smaller SUV and crossovers, we need another option. Most of the bows on this list are takedown bows. That means they can be taken down into three pieces which make them smaller, more easily stored, and easy to manage and transport.
FAQ
Frequently Asked Questions
Q: Can you get this bow in a left handed model?
A: Not all recurve bows come in left-handed models. Some do, and others will make them to order, but you can't guarantee that every style comes with a left-handed model.
Q: What kind of arrows do you use with this type of bow?
A: Arrows used with recurve bows need to be able to withstand repetitive shooting and, as such, should be both flexible and strong.
Q: Where can I get replacement string for my bow?
A: Typically anywhere that you can get bow supplies – Bass Pro Shops, Cabelas, etc. There are also great online options so that you can get it shipped right to your door.
Q: Can I use this recurve bow for hunting and successfully take down animals?
A: Yes! Recurve bows are made for hunting! You can expect to take down a deer with a draw weight anywhere from 35-55 pounds. Just be sure to follow state laws for hunting with your bow.
Q: How do you make sure you are getting the correct height and draw weight on a recurve bow?
A: You will be best served to visit an expert who can help get you the best sizing, however; for proper sizing guidelines visit our sizing section above.
Q: Is this bow one piece or is it take-down style?
A: Most featured on this list are take-down style, but not all of them. Make sure to read the fine print before purchasing if that is a deal breaker for you.
Sources