Best Umbrella Strollers Reviewed & Rated for Quality
In a Hurry? Editors choice: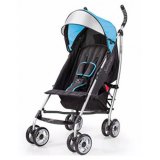 Test Winner: Summer Infant 3Dlite

All the stress of being a good parent and raising well-adjusted, happy and healthy kids can be overwhelming. Add to that the additional work of choosing the
right gear
to get you through each stage of your child's life. Being a parent is probably the hardest full-time job you will ever have. One piece of gear most families will need for sure is a stroller, and choosing one with a convenient
umbrella
will add even more bang for the buck. While we can't help you with common parenting dilemmas such as
potty-training
, teething or transitioning to a big-kid bed, we have narrowed down the field when it comes to the best umbrella strollers on the market. At least one thing about raising kids can be simple! Keep reading for our top picks and helpful information for choosing the right product for your needs.
Standout Picks
Criteria Used for Evaluation
Comfort
When evaluating products for comfort we considered two elements- the comfort for your child along with your comfort as well. We looked for strollers that are easy to handle and maneuver corners with ease, one-handed steering was also a big plus. Adjustable handles are great for parents that may be on the taller side, and small storage pockets for items like cell phones, keys or sunglasses are also key. For your child, shock absorbers help to create an extra smooth ride, especially on bumpy terrain. The addition of an extendable sun canopy or visor was also a big plus, as this will provide even more protection from the sun than a stationary umbrella style will. Extra accessories like rain shields, bug shields, toddler seats, and infant snuggies will also help your child stroll in comfort.
Capacity
We consider the capacity of the stroller how much weight it can support, along with how much room is has for storage of additional gear and necessities. Most designs feature a large basket underneath that can accomodate a diaper bag, large purse or some shopping/grocery bags. Bonus points for models that had additional storage either in the form of side pockets or smaller parents organizers. Areas for holding drinks both for your child and for yourself are also helpful. The other way to evalute the capacity of the various models was what they were suggestes for use up. Standard seemed to be 55 pounds, with one model even stating it could support a child up to 65 pounds. Not all models can be used with infants, and this is another important consideration. If you want to use your product as soon as your bring baby home, you will need a fully-reclining stroller or one with an accessorie designed for newborns. If your model does not recline fully you will need to wait until your baby can support itself on its own or about age 6 months before you can use it safely.
Ease of Use
Today's strollers have been designed with parents in mind. Extra features make them easy to use. There is superior maneuverability on current models versus strollers from the past and small frame sizes allow you to travel anywhere without being limited. Products that are lightweight will be easier to travel with, aluminum frames will be great for this reason. Another feature to look for is one-hand folding and compact size when collapsed if you plan to do a lot of traveling or want to store your item at home when not in use.
Style
The style of your stroller is pretty subjective to your personal tastes, and why shouldn't it be! Just because you are a parent doesn't mean you have to entirely forgo expressing your unique style and looking great. For especially style conscious parents look for luxury editions that offer premium fabrics and accents.
Accessories
As we already touched on in 'comfort' and 'ease of use', accessories are great! There is a whole range of things to look for, some that are included in the purchase price and others that are an additional cost. Bug shields and rain shields will help you battle the elements and toddler seats or infant inserts allow maximum comfort and a snug, secure fit. We also parent organizers which are helpful for storing smaller items like keys, wallets, glasses and cell phones. Many models also offer accessories for cold weather such as custom fitted snuggies for added warmth in the winter season.
10 Best Umbrella Strollers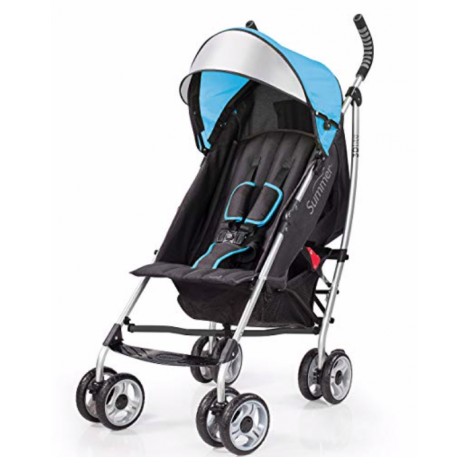 The 3Dlite is recommended on tons of parenting sites and mommy blogs and it is easy to see why after taking a look at all the features it offers and the modest price! Lightweight, durable, easy to maneuver, ample storage, stylish design - this stroller checks all the boxes! Plus, it offers an impressive four different reclining positions, which is a huge plus for an umbrella stroller which traditionally does not recline at all! With thousands of 5-star reviews and rave reviews from parents, you cannot go wrong with the 3Dlite from Summer Infant!
4 Reclining Positions
In the past, parents were faced with the tough choice of either a reclining style stroller or an umbrella style, but manufacturers had yet to figured out how to offer the best of both worlds in a single item. This put parents in the challenging dilemma of choosing between the two features or purchasing two different strollers. Summer Infant has cracked the code with their 3Dlite! There is a large canopy to offer shelter from the sun plus an impressive 4 positions for reclining, so your child can snooze in comfort while you carry on with whatever plans your day calls for. An added bonus of having a seat that reclines fully is it can be utilized for diaper changes on-the-go!
Aluminum Frame
Another great feature of the 3Dlite is the aluminum frame. There are numerous benefits of using aluminum. First, it is lightweight. This will make maneuvering your stroller easier, less challenging to carry up and down stairs and will be especially great for transporting your stroller for travel purposes. Aluminum is also durable and strong. It will last much longer versus a product with a plastic frame. This is important for all parents, but should certainly be considered by folks who intend to have more than one child. Reusing an item you already own will save you valuable money when baby number two comes along.
Cost and Value
On top of the very impressive reclining abilities of the 3Dlite, it also offers a number of other great features. There is a 5-point safety harness, so you never need to worry about your baby or toddler getting free or slipping out. A large basket on the bottom offers ample storage for diaper bags, play toys, beach gear or whatever items you need to bring along. There is a smaller pocket on the back perfect keys, cell phones, sunglasses, and other small items, plus a cup holder for your hot or cold beverages. The aluminum frame of the 3Dlite weighs only 13 pounds but that is not the only bonus, it also folds up in three simple steps. The carrying strap, compact size and lightweight make this option great for parents who take the subway or travel frequently as it is easy to transport while not in use. Bonus points for the extendable sun visor, offering even more UV protection for your babies sensitive skin.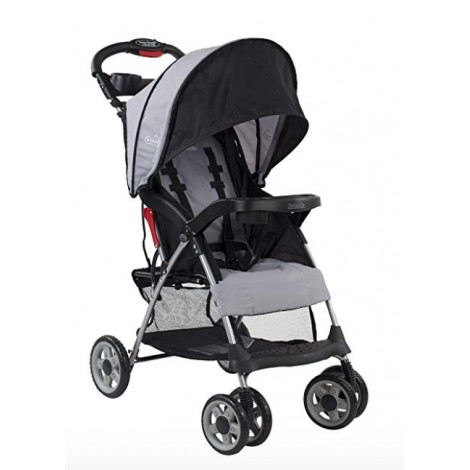 Kolcraft is a family owned company for 3 generations. They make a whole line of baby products, including the Cloud Plus. This product offers a ton of features that much more expensive models do and looks so stylish you wouldn't know the difference in a side to side comparison.
Budget-Friendly
Having a child is one of the biggest expenses you will encounter on your journey through life. Saving a couple dollars where you can will definitely come in handy for any family on a budget and the Cloud Plus is a great place to start. The three tier canopy extends to provide extra coverage on especially sunny days. There is loads of storage in the bottom basket for all babies essentials. The parent tray has room for two beverages plus storage and the removable baby tray has a dual juice box drink holder.
One Hand Folding
Another great feature of the Cloud Plus is its lightweight, foldable design. This product weighs in at only 11.8 pounds. It easily folds up into a compact size perfect for travel and bonus points it also stands up on its own.
Cost and Value
Other features that make the Cloud Plus a great buy include all-terrain wheels and front suspension for a smooth, comfortable ride. There is a industry standard 5-point safety harness as well. Coming in on the lower end of the price range, this product is great value for money. An added bonus, there is a one-year manufacturer warranty.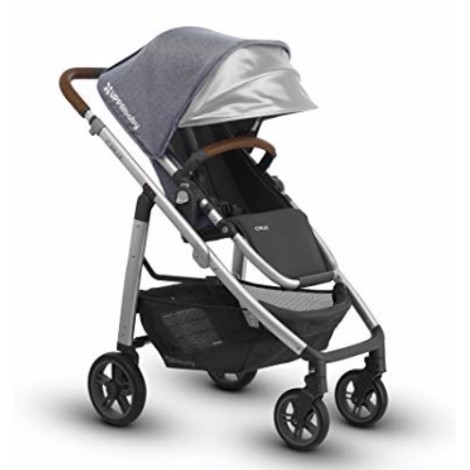 Grabbing the bronze award we have another great pick from UPPAbaby. The UPPAbaby company specializes in high-end strollers and car seats so you can be confident that you are investing in a premium product. The CRUZ is fully loaded with features and has a super stylish design to boot.
Luxury Pick
The CRUZ is by far the most luxuriest pick on our list! A stroller is an item you will use almost daily, so if your budget allows it is a great item to spend a little more on. This product comes with a ton of helpful extra like a bug shield, rain shield, and a toddler seat. The toddler seats swivels 180-degrees with one hand so baby can sit forward or rear facing. We also love the adjustable canopy that offers sun protection up to 50+ and also has a peek-a-boo window. The CRUZ is suitable for infants with the purchase of the Infant SnugSeat accessory all the way up to toddlers weighing 50 pounds.
Aluminum/Magnesium Construction
The CRUZ is made with a hybrid aluminum and magnesium design which offers the best combination of lightweight and durability. For a smooth ride, there is front and rear shock absorbers and the narrow frame easily maneuvers tight corners and small spaces. The CRUZ is compatible with the MESA baby seat from UPPAbaby as well as seats from other brands with the purchase of an adapter. Paired with the small size of the CRUZ when folded this creates a performance travel system for busy parents on-the-go.
Cost and Value
The CRUZ definitely has a higher price tag than other options on the market. Apart from all the great features and extra accessories that come with your purchase the CRUZ is a great looking stroller. There are three color combinations to choose from and all of them feature genuine leather or neoprene accents on the bumper bar and handles. The large storage basket has room for all babies toys or your diaper bag and the toddler seat can face forwards or backwards with just one hand. For fashion forward parents who want a highly functional stroller that looks as great as it performs, you cannot go wrong with the UPPAbaby CRUZ.

4

. JOOVY Caboose Ultralight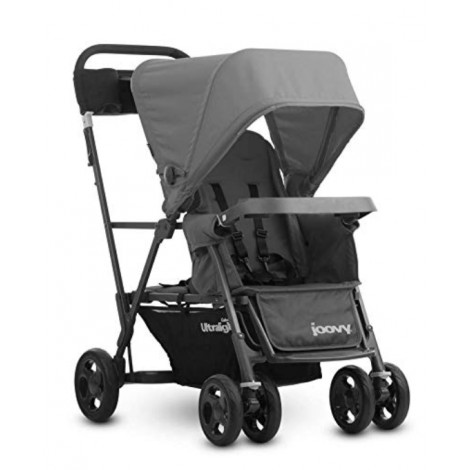 The next product that made the cut is the Caboose Ultralight from JOOVY. As the name implies, this stroller is super lightweight but that is not the only reason it landed a spot on our list. The Caboose Ultralight has room for two children of different ages, which is often a reality when it comes to families. This plus all the other great features makes this JOOVY a great option to consider.
Suitable For Two Children
One great thing about the Caboose Ultralight is it can accommodate two children of different ages. Parents will love the neoprene organizer which has two pockets for small items as well cup holders. Additional storage is available in the large underneath basket that also has side pockets.
Standing Platform
The unique design of the Caboose Ultralight allows your smaller child to ride securely in the front facing seat. For older children there is a unique sit or stand platform. This allows parents to give older children the freedom to roam around but also the convenience of giving them somewhere to rest when their feet get tired. Being able to keep both children close and secure will be a lifesaver in crowds and busy situations. It will also save your back from lifting heavy toddlers in and out of a seat.
Cost and Value
The Caboose Ultralight comes in around the middle of the price range. Considering it has capacity for two children, it offers a ton of value. We love the extra stable design which is secure even when the additional weight of a second child is added. There is ample storage for diaper bags, drinks, snacks and all the supplies you need for a day out. The frame of the Caboose is made from graphite, so it is considerably lightweight at only 22 pounds for a double stroller. This product is compatible with most car seats and we give bonus points for the large sun canopy which covers both the front and rear child.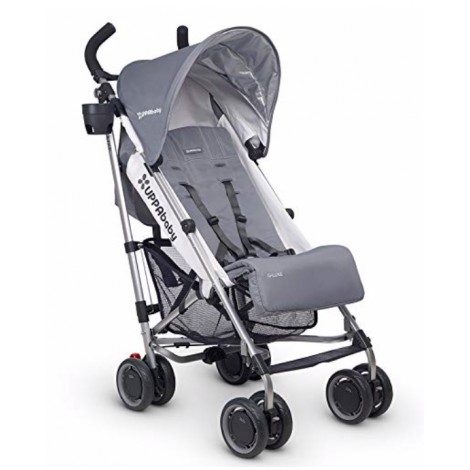 Up next on our list we have another UPPAbaby stroller at much more accessible price point. This product has all the features and reliability that you expect from the UPPAbaby brand but is more modestly priced for conscious consumers. You can't go wrong with the G-LUXE in terms of functionality and ease of use.
Three Position Recline
We love that the G-LUXE offers three positions of recline so your child can always stroll in comfort. This model is suitable for children from three months all the way up to 55 pounds so you will get a ton of use out of it and won't need to worry about your child outgrowing it anytime soon. The frame is made from aluminum so the G-LUXE is lightweight and there is a one-step front brake so security when you need to take a break from strolling or times like riding the bus or subway.
Water & Stain Resistant
Another reason to love the G-LUXE is the removable seat pad which is made from water and stain resistant fabric. It is also machine washable so your G-LUXE will always look good as new. Kids are messy creatures and nobody wants to galavant around town with a filthy stroller. The sun canopy offers 50+ UPF protection and extends to provide shelter from the sun.
Cost and Value
The G-LUXE is a moderately priced highly functional stroller from the premium uppaBABY company. There is a shoulder strap for easy carrying and this item folds up with one hand no fumbling or messy around with foot pedals. Since you can use this product until your child weighs 50 pounds you will get a ton of use out it making it well worth the price. We give bonus points for the tall handle bars, storage basket and easy to use front brake. You won't be disappointed with the G-LUXE.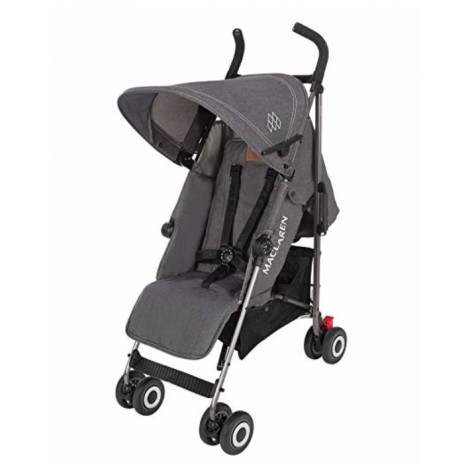 Next we want to show you a great looking product for parents who want to stroll in style. Made by Maclaren, the Quest Denim as the name suggests is fully outfitted in everyone's favorite fabric. Good looks aside, the Quest Denim also has a ton of features that make it easy to use. For parents that aren't ready to sacrifice style, this is the top pick.
Stylish Appearance
Just like our favorite pair of jeans, the Quest Denim is comfortable, casual and cool. Let's be honest, with their bright colors, shiny fabric and plastic accents some strollers are down right garish in appearance. While this is fine for strolls around the block, sometimes you will need to take baby to more formal events or locations. You won't look out of place even at posh restaurants, art galleries or even weddings with the Maclaren Quest Denim.
weddings.
Suitable to 55 Pounds
On top of the good looks, the Quest Denim is suitable for children all the way up to 55 pounds, so it will last well into the toddler stage. There is a headhugger and shoulder pads included, so you can use the Quest Denim as soon as you bring your baby home. The sun canopy has a peek-a-boo window and is also waterproof and offers sun protection up to 50+ UPF.
Cost and Value
This is the only option you will need all the way from newborn up to 55 pounds. We love the stylish and timeless denim fabric that also has double stitching for an authentic jeans look. Adding even more value is side and bottom storage plus the included newborn accessories. There is an extendable leg rest and 4 wheel shock system so your child will always ride in comfort. Bonus points for the buggy ID tag and wind and water resistant rain cover. Having a baby doesn't mean you need to look out of place and the Maclaren Quest Denim with its timeless appearance and superior performance is a great way to still feel like the hip parent you are.



Gb markets the Pockit Lightweight as a 'lightweight folding champion' and we do not disagree. The Pockit folds up small enough to fit in a backpack, making it the worlds smallest folding stroller, as proven in the Guiness Book of Records. For busy parents on the go, city dwellers and urbanites the gb Pockit is one product you don't want to pass by.
Ultra Lightweight
The compact size of the Pockit is very impressive. When folded it can fit into hand luggage, overhead plane comparts, backpacks and even larger handbags. This is the ultimate product for busy parents on the go! On top of its tiny size, the Pockit Lightweight lives up to its name, weighing in at a slight 9.7 pounds. Small but mighty, this is the perfect companion for city exploring, all types of travel by bus, plane or train, and busy parents on-the-go.
Small But Mighty
For the world's smallest folding stroller the Pockit also performs as well as full size models. It is suitable for babies from 6 months up to 55 pounds. Plus, the storage basket is capable of lugging up to 11 pounds of additional weight perfect for carrying for all your childs necessities. There is also a rear brake along with an adjustable sun canopy to shield your child's sensitive skin.
Cost and Value
The gb Pockit comes in around the middle of the price range. Parents raved about how convenient it was for travel and perfect it was for busy, city situations like subways and buses. The ideal companion for parents who commute, the Pockit can fold up small enough to fit into a backpack after you drop your tot at daycare or nursery. It can easily fit into hand luggage or overhead compartments on planes as well. For people who fly frequently or live in large cities, the gb Pockit will certainly be worth the investment for the convenience it offers.

8

. Baby Jogger Mini GT Single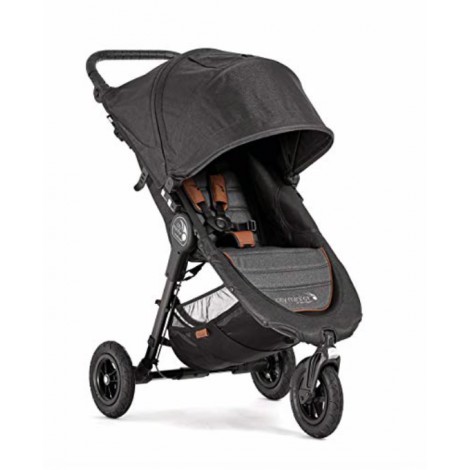 This product from Baby Jogger features all the great extras you expect from the GT Single model combined with a stylish limited edition knit fabric along with timeless leather accents. Baby Jogger strollers aren't just for running like you might think, but perfect for today's busy parents who are always on the go. The Anniversary Edition of the GT Single offers maneuverability, a large canopy, bottom ventilation all paired with premium fabrics and a luxury look.
All-Terrain Tires
On of the top reasons to choose a Baby Jogger is the smooth ride and super easy maneuverability they offer. This company is known for offering products that are ergonomically designed and super super user friendly. On top of that, thanks to all-terrain tires they provide a smooth ride for your child even on trails, uneven pavement or bumpy terrain. You never need to feel limited to where you can go with this GT Single Anniversary Edition in tow.
Bottom Vent
Another thing to love about this product is the bottom vent. You can open this in the summertime or during hot temperatures to allow maximum airflow keeping your child comfortable and cool at all times. The plush seat reclines to a near laying position and the mattress pad is removable and machine washable as well. An extra large sun canopy extends to provide shelter from the elements.
Cost and Value
We love the combination of performance and luxury good looks that this GT Single Anniversary Edition offers. Never worry about flat tires again because this Baby Jogger can handle trails and bumpy terrain with ease. The ergonomic design is great for busy parents who are on the move. Not wanting to sacrifice style for function, this product has premium quilted knit fabric and leather details. We give bonus points for the included bumper bar, so older children can stroll in style. Capable of supporting children all the way up to 65 pounds, this stroller will last well into the toddler stage giving you a ton of use.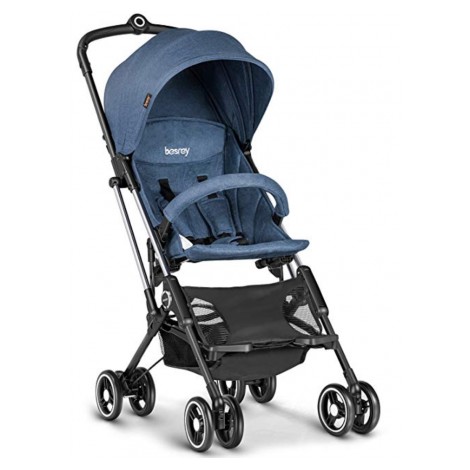 Next up we have another great travel companion that offers storage, sun protection and compact, one-hand foldable design all at a great price point. The Airplane is the smallest stroller in besrey's line-up and is great for not only airplane travel, but subways, buses or just putting in the car as well. For people short on space, frequent travellers, or just parents who want a high performing product with a smaller price tag, you can't go wrong considering the besrey Airplane.
Collapses With One Hand
The Airplane collapses with one-hand which is a relief for parents giving them one less thing to fuss and fumble with. The small folded size is great for travel but also perfect for storing at home if you live in a condo, apartment, have a small foyer or just don't want a stroller on display!
Three Colors
The Airplane is offered in three colors. Choose to stand out with a vibrant red or blend in and be more subdued with a cool grey or denim palette. This model also has a removable bumper, a large adjustable canopy for sun protection, easy one-hand steering, a five-point safety harness, a large shopping bassinet, 360-degree swivel wheels as well as rear foot brake. The list of features goes on and on!
Cost and Value
For all the features we listed above you might think the besrey Airplane was one of the more pricier options on our list, but it comes in around the lesser end of the spectrum! We love not only the great price point of this product, but also the super compact size when folded. This makes the Airplane ideal for all sorts of travel especially since it is small enough to fit in luggage, overhead compartments and even a backpack. We give bonus points for the sturdy design that can be used a seat by parents when it is folded up. For frequent flyers, parents on-the-go or those who want a great looking stroller at a fair price, the besrey Airplane is a perfect model to consider.

10

. Baby Jogger City Tour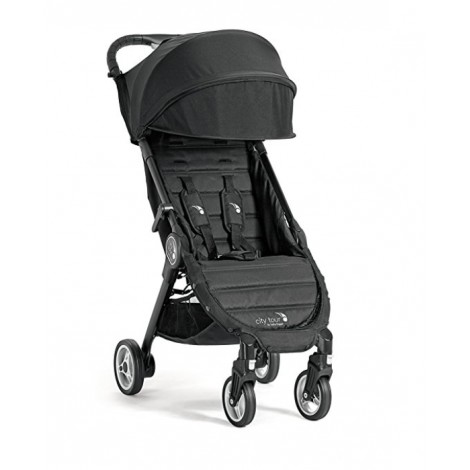 Finishing up the top ten selection, we have another winner from Baby Jogger. Parents love Baby Jogger products because they are so easy to maneuver and perfect for any situation. Coming in at more modest price tag our previous Baby Jogger model, this is a great option to consider if you are after the superior performance the brand offers without spending quite as much on a luxury edition.
Superior Maneuverability
As we already stated, one of the top reasons people choose a baby jogger is the superior handling and performance they offer. Ideal not just for jogging but everyday use these strollers get rave reviews from everyone who buys one. There is a compartment under the seat for storage and a wide canopy extends to offer protection from UV rays.
Comes With Travel Backpack
Another reason to love the City Tour is its compact folded size which conveniently fits into it own backpack design. This product is great for city use, taking with you on day trips or any type of travel. Weighing in at an impressive 14.2 pounds the City Tour is one of the lightest products on the list. The lightweight combined with the foldable backpack design make travelling or commuting with this product a breeze.
Cost and Value
The City Tour has a ton of features and almost all the reviewers loved the way it handles. The price is comparable with other entry-level products on our list and the great design is perfect for parents on the go. Adding more value to the City Jogger is the sun canopy, padded seat and on-board storage. This product looks great, keeps baby sheltered from the sun, and will be a pleasure to use all without breaking the bank. Baby Jogger also offers a ton of additional accessories you can purchase to fully customize your City Tour to your liking.

Subscribe to our Newsletter