Best Tea Kettles Reviewed & Rated for Quality
In a Hurry? Editors choice: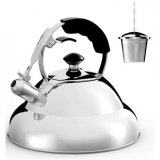 Test Winner: Willow & Everett

Are you a fan of drinking tea? How do you like your tea? Black, white or flavored or herbal? Whatever your preference, starting your day with a hot cup of tea opens the door to the world of limitless opportunities. A perfect and elegant tea kettle will take your tea drinking experience to a whole new level. Tea is loved by millions of people around the globe and most people believe the choice of a tea kettle has an influence on its taste and flavor. We have selected the top ten tea kettles that are rated high in terms of efficiency, design, and beauty.
Standout Picks
Criteria Used for Evaluation
Materials
Before you pick a teapot, it is important to consider the material used in its construction since that will determine its durability. Teapots are made of different materials such as copper, stainless steel and aluminum. Anodized aluminum and copper teapots are energy efficient and slightly resistant to stains and scratches. If you are planning to go for a night out of camping or hiking, these pots are ideal; since they light well in darkness. They are ideal for outdoor activities and can also can be used at home. However, they may not be popular due to health concerns. Some people view aluminum as cheap, unhealthy and low quality and thus should be avoided for regular boiling. However, aluminum is still preferred due to its heat conductivity characteristics thus can heat quite fast and keep the contents in the pot hot for long.
Stainless Steel material is the most popular, cheap, attractive and easier to clean. The handles of the teapot should be of a material that is a poor conductor of heat to protect your hands from burning.
Glass teapots are attractive and easy to clean. You should take care while heating to prevent sudden changes in temperature that can cause the glass to shatter. Also, avoid placing it on the stove directly; instead, you can use a piece of metal support to diffuse the heat. They are fragile and must be handled with great care.
Copper teapots are better than stainless steel when it comes to conduction of heat and energy efficiency. However, they are soft and can scratch easily thus require a high level of maintenance.
Effectiveness
When shopping for a tea pot, it is essential; to consider its efficiency and performance. It should be easier to use, fast and energy efficient. It should boil the water or the tea pretty fast thus reducing your waiting time. No matter how big or small it is, you should be able to boil even a single cup of tea. The flexibility allows you to choose the amount of water needed depending on your needs. Tea pots made of stainless steel and an aluminum base heat up pretty fast as compared to glass teapots and are also durable. They are also fragile and prone to breakages.
The teapot should provide for different temperature options. This is because tea normally changes its taste and flavor when brewed at different temperatures. Cheap teapots may not have variable temperature settings.
Value
The amount you intend to spend on a teapot will depend on your budget and its type. Various teapots vary in terms of price due to quality, design, and effectiveness. Copper and glass products cost more than the stainless and aluminum ones. Elegantly designed ones will also cost you more. However, despite the price, your satisfaction with the product should be a priority. When shopping, the best teapot is one that will fit within your budget and one that will guarantee a 100% money back.
Durability
The quality of any product will determine its durability. When buying a teapot, you must consider whether the quality of material used will affect the taste of your tea. Glass kettles do not alter the taste of tea. However, most people complain that copper gives a metallic taste to the tea which is unpleasant. Stainless steel tea pots are of superior quality material and would be ideal in terms of maintaining the real taste of your tea. Glass teapots if well taken care of can last for long since they are not prone to rust or corrosion. However, they are fragile and can break easily. Stainless steel and aluminum teapots are prone to rust on the inside. However, most usually have an exterior that is coated to prevent rusting. They are also prone to dents and scratches if mishandled. Enamel teapots also can scratch or dent. All these aspects can affect the durability of the kitchenware and its ability to withstand wear and tear.
Ease of Use
When shopping for a teapot, it is essential to consider whether it is user friendly. Refrain from buying one that has no clear instructions on how to operate. A tea pot should produce a whistling sound so that you can go about your activities without worry. For instance you can answer the door, answer an incoming call or attend to a baby while tea is boiling.
10 Best Tea Kettles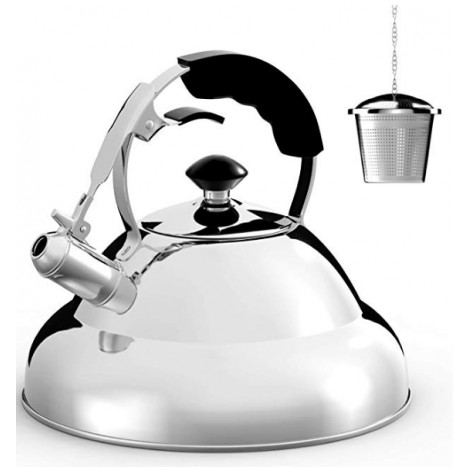 Upgrade your kitchenware with this beautiful kettle from Willow & Everett. It is built like a tank, quite sturdy and it's the best piece of utensil you have ever laid your eyes. It is made of premium stainless steel, and is superior in quality and withstands dent, scratches, and corrosions. The mirror finishing makes it have a shiny and attractive appeal that is also easy to clean. It is safe to use and is 100% BPA and Teflon free and made of high quality aluminium, iron, and stainless steel.
Advanced features
The reason why we choose this great product is the infuser or strainer that allows you to brew a hot cup loose raw tea leaf. This stovetop product has good design and functions well. Its handle and the spout level have a non-slip and a soft silicone coating for a comfortable touch and protect your hands against heat. The handle has an ergonomic design for a comfortable grip, and the level is spring loaded. Thus the whistling spout is easy to close and open.
Effectiveness
As compared to other cheap options in the market, this premium utensil will take you less time to prepare your cup of tea. It has five layers of first-grade steel, aluminium and iron at the bottom that spreads the heat evenly while heating pretty fast; hence less time in making your tea. The handle is sturdy and is heat resistant; thus you don't need gloves to hold it and pour your tea in a cup.
Cost and value
This gorgeous teapot is easy to maintain, clean, heats up quickly and made of high quality stainless steel, aluminium, and iron. It is fairly priced, and the compact design adds to its elegant finish and outstanding efficiency. It is a good purchase that guarantees 100% money back.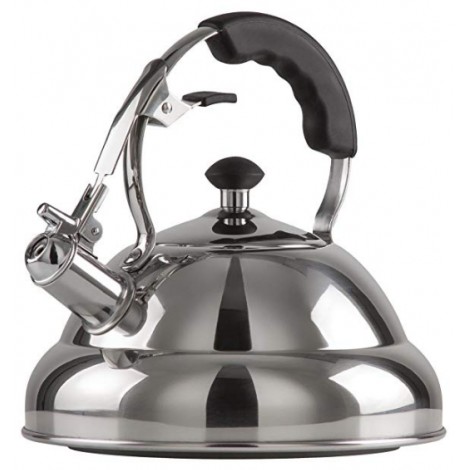 Have you ever heard a whistling sound emanating from the kitchen? This cookware from Chef's Secret will whistle and alert you when tea gets hot. It is made from high quality stainless steel and is useful in brewing delicious tea and other beverages such as coffee, hot chocolate, and instant soup. It has a copper capsule base, an opening lever, riveted handle, and cover with a knob and whistles when the tea is ready. Its capacity is 2.75 quarts, and it's sturdy thus resting well on the stove top.
Sturdy construction
It is a magnificent piece of utensil made by state of the art engineering to produce kitchenware that has vibrant thermal conductivity properties. The four-layer stainless steel construction ensures your tea boils fast and stays warm for long. You will feel proud having it in your kitchen and serving tea to your visitors due to its elegant design and a shiny mirror finish that makes it have a classy urbane look.
Extra features
What I love about this decorative kitchenware ware are its brilliant design and features. It has a perfectly riveted handle that is heat resistant, and this offers a comfortable grip, and your hand will not burn. The knob handle is also heat resistant in the middle with a lever strategically placed to allow for easier opening and closing. You don't have to worry about your hands burning from the steam while opening. The inside is large enough to hold a lot of water or tea.
Cost and Value
It is a good product at a great price made from high quality stainless steel free of chemicals. Your tea does not change flavor or taste. Get one today and experience efficiency, quality and style at an affordable price.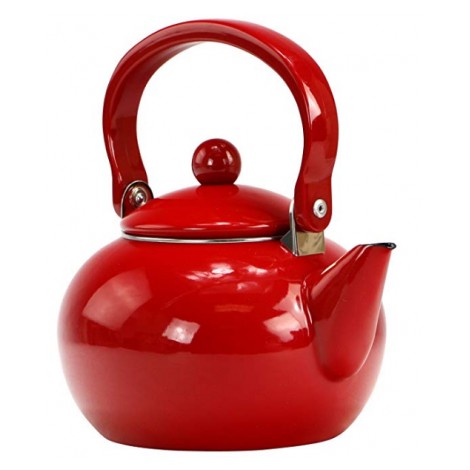 This splendid option from Reston Lloyd is made of heavy-duty gauge porcelain on hard steel for an elegant appeal. Its capacity is two quarts, and the finish is out of this world. The finish will still hold after many years of use and will not chip at all. The handle folds down, heat resistant and offers a comfortable grip and makes it easier for you to fill your cup of tea. It is also easy to clean and will not show a speck of dirt.
Compatibility
This product from Reston Lloyd has a solid flat base that rests well on most stove tops such as electric and gas. The multi-layered base heats up pretty fast and evenly distributes heat, and the tea remains warm for long. The rivets are perfectly done and hold the handle in place.
Elegant
If you are looking for something adorable, good looking for your kitchen, then you will go for this kitchenware. This product is elegantly designed, and it's a beautiful decoration on the stove top, it is pretty and will get the job done.
Cost and Value
We choose this product first due to design, functionality, and quality. The price is reasonable and will give you value for your money. Grab one today and add some elegance and shine to your kitchen.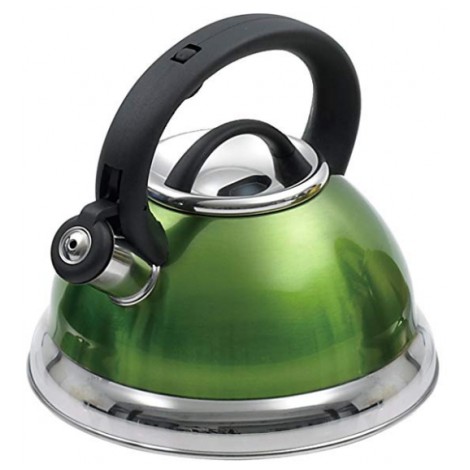 Want to add some pop and metallic cranberry color to your kitchen? Then, this teapot from Creative Home with a capacity of 3.0 Quartz will just do that. It features a shiny metallic powder coating elegantly coated over heavy duty stainless steel body. The base is sturdily constructed to allow for fast heating.
Ease of use
What we love about this product is that you can go about your activities without having to worry about tea or water boiling in the kitchen. This kitchenware from Creative Home produces a whistling sound that notifies you once the water boils. Another added advantage is the handle which is coated and firm, thus offering a comfortable grip. It is insulated and will not burn your hands when you hold it. The aluminum bottom is compatible with most stovetops such as electric and gas. Since it is a good conductor of heat, it heats up very fast and evenly distributes the heat; thus the water heats fast and remains hot for long. The lid has a lever system that allows you can open and pour with ease without the risk of burning your hands.
Beautiful
Get a good feel for your options and buy this gorgeous teapot from Creative Home that is appealing to the eye with a presentable appearance on your table. It brightens up your kitchen and is available in different colors. You can, therefore, chose a color that matches your home décor and style.
Cost and value
This is an excellent product at a reasonable price which will serve you well and uplift the mood around your home. You will not regret buying it, pick one today and transform your kitchen.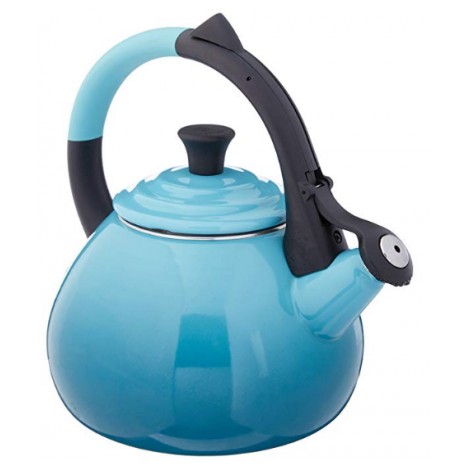 This magnificent kitchenware measures 10 by 10 inches and has a capacity of 1.6 quarts. It is made of sturdy enamel coated steel. The coating ensures the pot is heat resistant and will not burn your hands when you touch it. The handle has an ergonomic design that provides you have a comfortable and secure grip. The lid is round shaped with a stay cool know that is heat resistant to protect your fingers from heat; It is safe to use on all types of stovetops, electric, gas, and even induction. It is due to the aluminum base that is a good conductor of heat; it is sturdy, heats first and evenly and ensures the tea remains hot for long.
Versatility
This great product from Le Creuset is for tea. However, you can also use it for making a cup of coffee, chocolate or soup. It makes the process of beverages preparation quite fun especially when it produces a whistling sound when the tea boil. This notifies you that your tea is ready but also gives you the comfort of doing other things while your tea gets prepared. For instance, you can read a novel, listen to music, relax on the couch, and attend to a knock on the door and several other activities in peace.
Simply Beautiful
If you are conscious about the look of your kitchenware, then you will pick this teapot from Le Creuset. It is a perfect size and has so many radiating colors. You will be spoilt for choice. You can even gift your mother during Thanksgiving, it is just incredibly gorgeous, and your selection will fit into your personality and style.
Value and cost
You would be mistaken to think that Le Creuset teapot is the most expensive piece of kitchenware available on the market due to its elegance and sophistication. While that may not be far from the truth, this perfect addition to the kitchen is just as good as it can be. It is highly priced as compared to other teapots, however, it is an epitome of quality and beauty. It is worth every penny you spend and will give you value for money.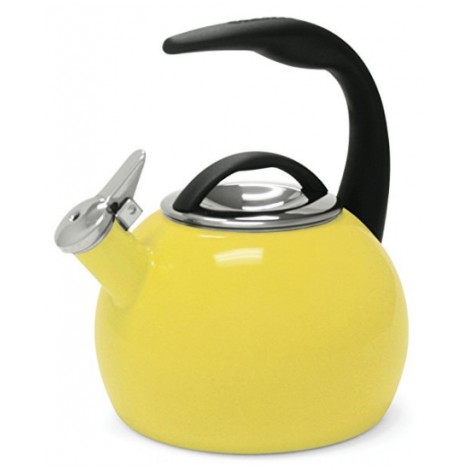 Chantal presents to you a premium teapot made from high-quality enamel. It has a beautiful design with a bottom made from aluminum that heats up quickly and evenly and keeps the tea hot for long. The handle and the lid has a special coating thus will not burn your hands. It is ideal for all stovetops, like electric, gas and magnetic induction. The enamel is easy to clean and fade resistant.
Ease of use
You will fall in love with this elegant kitchenware from Chantal. It is the perfect size for preparing the afternoon tea. It has a brilliantly crafted handle that will not get hot even under high heat. One is tempted to underestimate the size of the kettle due to the slanting sides. However, it is quite large especially when you lift the lid. Tea prepared from it is adequate for you and your visitors for an afternoon chit chat. Unlike other pots, the whistle is gentle and feels like music to the ears.
Safe to use
We chose this teapot since it is from a trusted brand known for making high-quality excellent enamelware and Chantal kitchenware products from Germany are a popular brand because they are enameled under German regulations about quality and safety. In the US they are regulated under FDA requirements; All Chantel kitchen utensils are free of lead and Cadmium. Therefore, when using this product, you are guaranteed of safety with no risk of chemicals getting into your tea.
Cost and value
This product from Chantal is of superior quality and will hold up for some years to come. That said, its price is quite competitive when you compare it with other products in the market. The color is beautiful, and the design is stylish. It looks like a pricey teapot, and it's something good to show off to your friends. It is a good purchase, and worth every penny.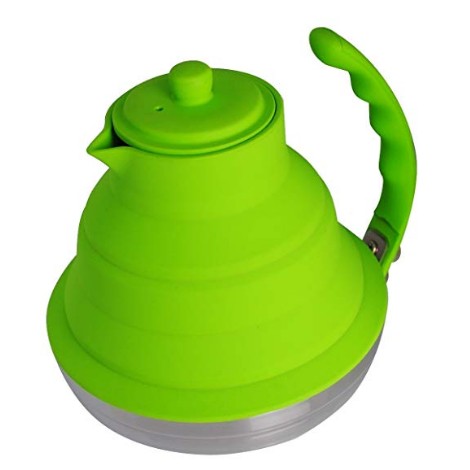 Are you planning to go out camping or hiking and a hot cup of tea is on top of your checklist to keep you warm at night? We would highly recommend this collapsible option from Better Houseware. It is perfect for travel since it is lightweight, not so bulky and easily collapses. It has a unique design that stands out from the rest. It can be used on electrical and gas cooktops. The main advantage of this product is that it is convenient to use and saves on space and storage. The lid is made from silicon to protect your hand from burning. The base is made from multi-layered stainless steel that heats up quickly and spreads the heat evenly. It does not require any assembly, and once you receive your package, you are good to go.
Guarantees safety
Most people are usually apprehensive when they use teapots to prepare their favorite beverages due to safety concerns. This teapot is 100% compliant to FDA regulations, and thus you are assured that the product you are using is safe to you and the environment. The handle and the lid are silicon coated to protect your hands from heat when you hold it.
Elegance
The design is brilliant and one of its kind. It is a beautiful addition to your kitchen, and there are several colors to choose depending on your specific presence. You can pick a color that matches your home decor, your style and the color of other utensils such as cups.
Cost and value
For a product that offers so much in terms of convenience and quality, you would expect the price to hit the roof. The good news is, you don't have to break the bank to acquire this awesome teapot, for just a few dollars, you can have a perfect addition to your kitchenware.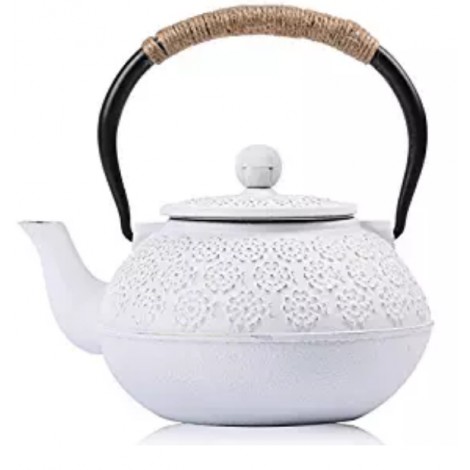 Bring some Japanese experience right into your kitchen by picking the Sotya. It promises quality and durability since it is made from cast iron that heats very fast, retains heat and keeps the tea hot thus maintaining its flavour. It has a capacity of 1200ml. Therefore it is large enough to hold adequate tea for you and your guests. It is a perfect gift for your parents and tea lovers.
Exquisite design
This kitchenware has a classic design that lets you have the country experience in a modern setup. The colors are warm and mysterious. The handle has an ergonomic design with hemp to prevent scalding from the heat. The lid is made from special material that protects you from the heat and the spout does not trickle when you pour the tea.
Ease of use
The inside is made of enamel which is easier to clean and is also anti-rust and does not corrode. It has a tea infuser you can use to brew the tea. It is absolutely lovely and you will fall in love with all the details of this teapot.
Cost and value
The Sotya tea pot is an excellent product that is not too heavy but just the perfect size. It is undeniably amazing, and you will feel the luxury of making tea in it. It appears more costly than the real price, and you will be happy with your pick.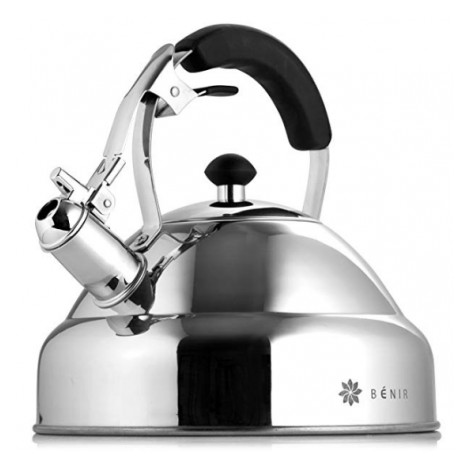 For an elegant choice, this mirror finish option will make a stylish appeal to your kitchen or the dining area and is a perfect choice for entertaining your guests. It is high quality made from high premium stainless steel and can boil water on different cooktops. It is made of rust and corrosion free stainless steel made to last long.
Elegant design
Just like its name, the Select Gorgeous is simply gorgeous and has a shiny appeal. The rubber grip is insulated with a rubber grip to protect you from steam. This teapot is pleasing to the eye and promises efficiency in its performance. It has a stable bottom that rests well on the stovetop thus evenly warming the water or beverage.
Efficiency
It has a multi-layers aluminum and iron bottom with a wide bottom that heats fast and keeps the water warm for long. It works on all stovetops such as the electric, gas, glass, and halogen, wood stove, magnetic and ceramic. It produces a whistling sound thus will notify you when the tea boils. Cleaning with mild soap and warm water is easy.
Cost and Value
The price of the Select Gorgeous teapot is unbelievably low, yet it is highly efficient and of superior quality. It is a good product for a great price and offers a 100% money guarantee. You will be happy with the purchase.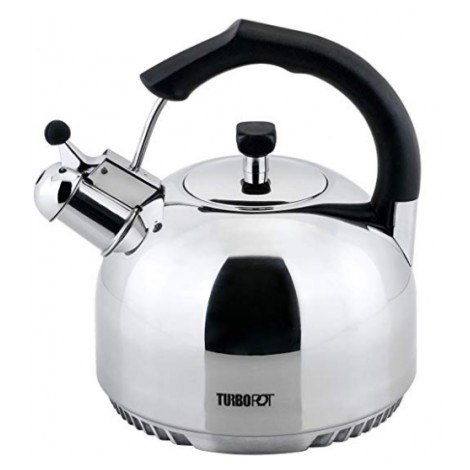 With a silver finish, the Turbo Pot FreshAir is a high quality teapot 100% Teflon, lead, Cadmium, and BPA free. It is made from high-grade premium stainless steel and has a multilayer of aluminum and steel thus heats up very fast and evenly. It also saves heat and consequently ensures efficiency in energy use and reduction in greenhouse emission gases like CO and NO2.
Versatility
This great teapot from is ideal for preparation of tea and other beverages like coffee and hot chocolate. You save on waiting time since the multilayer capsule base heats up quickly and keep the contents hot for long. The lever is spring loaded thus closes and opens easily while protecting your hand from steam.
Extra features
The Turbo Pot FreshAir teapot is easy to use with a silicone coated handle, and the spout lever makes it easy to hold and protect your hand from the heat. It produces a whistling sound thus alerts you when your tea boils.
Cost and value
It is a good product available at a higher price as compared to other teapots. However, I would highly recommend it since it is efficient in its performance and assure 100% money back. Get one today; it is worth every penny a good pick for the price.

Subscribe to our Newsletter