Best Meat Thermometers Reviewed & Rated for Quality
In a Hurry? Editors choice: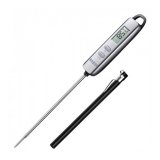 Test Winner: Habor

Meat
thermometers are the part of a cook's toolkit that should always, always be considered absolutely essential. Especially when cooking big meat like turkeys or roasted chickens. They're big, juicy meats that are hard to fully gauge the readiness of, especially because they tend to burn you when you touch them. So, to avoid third-degree chicken burns, we're counting down the top ten best of the best meat
thermometers
.
These ten entries are all great in their own right, but more than that, they're answers to everyday food dilemmas. So, sharpen your
knives
, and fire up the grill, because we're bringing you the very best meat thermometers on the market.
Standout Picks
Criteria Used for Evaluation
Accuracy
There's a lot to expect from a meat thermometer, but chief among them, at least in our opinion, should always be accuracy. Even if it takes 20 seconds for the full readout to appear, if it at least is an accurate readout, then at least it did its job all right. The last thing you want is undercooked meat going into your stomach. It's not only disgusting but also incredibly bad for you. So, you need your thermometer to be as accurate as possible in its readouts. Now with that said, this doesn't mean it must be exact. Just being within 5 degrees of the target should be good enough.
Responsiveness
Some thermometers take a bit to get the full readout and display it for you, and for the most part, that's fine. Heat is a funny thing, it takes a while to really get going, and to figure out a truly hard estimate for what you're sensing. With that said, there's a limit. In this day and age, technology is faster than it has ever been before, so frankly there is no excuse for a meat thermometer to take 20 seconds just to give you a readout. The majority of meat thermometers on this list take about 3-5 seconds or less to give you the full readout you're looking for. On top of that, you likely have other meals to work on, if you're cooking a meal big enough to warrant a meat thermometer. So, it's always nice to not have to wait around just to see what temperature you're at with your Boston Butt.
Ease of Use
Meat thermometers are only used with any sort of frequency if you're a professional chef who has to make certain foods multiple times a day. As such if that doesn't describe you, then you'll likely find yourself trying to relearn how to use a meat thermometer every Thanksgiving and Christmas dinner. So, when you do crack it out for holiday cooking, it's safe to assume you just want it to do what you need it to do as soon as you need it to do it. Which is why even the most complicated of meat thermometers won't be nearly as complex as, say, a Windows 10 computer. The best meat thermometers may throw in an extra dash of complexity for the sheer novelty of it all, but besides that, you'd be hard pressed to find anything too stressful in a meat thermometer. You stick it in, and it tells you how hot the slab of meat you put over an open flame is. Not much else to it than that.
Value
Generally speaking, a meat thermometer needs a very good reason to be expensive. Even the really good ones, as we've seen, as pretty tame when it comes to price, so if a meat thermometer costs over $20, there better be a good reason. Sometimes they're made overseas, and the higher cost comes from the cost of importing it. But whatever it is, the price is often mercifully low compared to other items on the culinary market. So, if you see a meat thermometer at all, the chances are good that you're going to get a good price for it, and if not, then there's probably a catch to this whole deal.
10 Best Meat Thermometers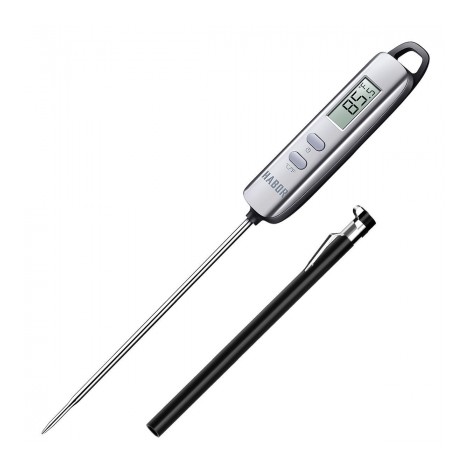 Starting off our list, we have the Habor Meat Thermometer. Habor is an interesting sort when it comes to their products. They're excellent at making what they make, but rarely do their products visually reflect the work put into them. But make no mistake, under its simple facade, is one of the best on the market.
Super long probe
The probe of this meat thermometer is significantly longer than many the other probes on this list. Which is really good when you have fried turkeys filled with delicious but scorching hot sauces just looking for any excuse to burst out and splash all over the first poor hapless sap they can. Using this probe takes away all danger of burning from getting too close to the turkey.
Instant read
The read that this thermometer gives you isn't just incredibly accurate, almost down to the last decimal point, but it's also incredibly fast with those same readings. Taking at most 5 seconds to return the readings (on a bad day, as it's more often way faster than that) this thermometer won't waste your time at all.
Cost and Value
The best part about this thermometer, though, is the price. The price of this thermometer is incredibly forgiving, especially when you consider the quality of the product you're receiving.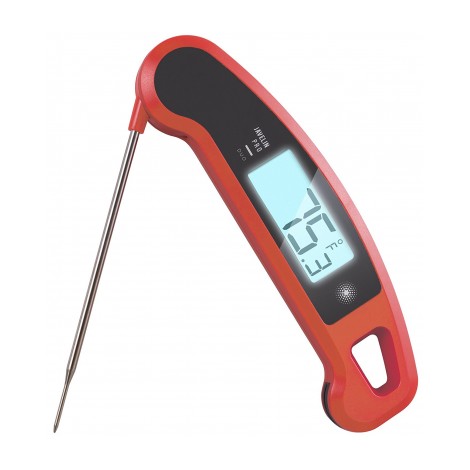 In second place comes the Lavatools Javelin Pro Thermometer. At first glance, this meat thermometer may not seem like anything too special. It appears to be a basic meat thermometer that provides temperatures between -40 and 482. However, rest assured, there is far more going on under this thermometer's hood than a first glance will ever tell you.
Splash resistant construction
This thermometer is made with an IP65 Splash resistant construction. These are not the biggest fans of water, and thus not the biggest fans of the sauces and grease found in meat, which is enough like water for it to matter. Fortunately, while not completely waterproof, the construction of this thermometer is just resistant enough to keep going despite a splash of liquid.
Auto rotating display
Sometimes you have to insert the thermometer probe at some odd angles. You can't just put it anywhere, after all, you need to be specific about your probing to make sure you get it all the way in there. Luckily, the backlit display of this thermometer is auto-rotating, meaning it will rotate to whatever direction is most readable to you no matter what direction you turn it in.
Cost and Value
The biggest problem with this thermometer is the price. It's far more expensive than the 1st entry, which is why it's at #2 despite being all around superior. At the end of the day, the Habor did just enough the same while also being more affordable.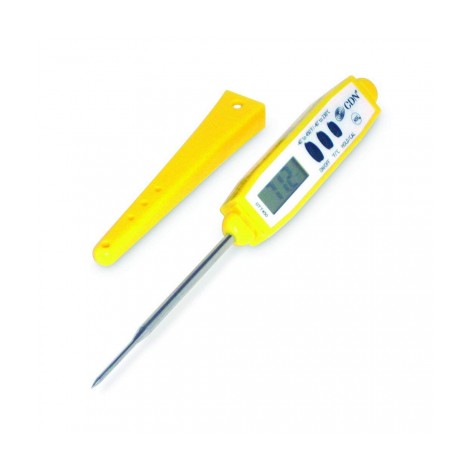 Finishing up our top 3 sections, we have the CDN Thin Tip Thermometer. Now this here is the best thermometer you can go with when you're dealing with a thick cut of meat. The kind where, when it's time to eat, you need the big knives to get into. You need a heavy-duty thermometer to get into that type of meat, and that's exactly what this thermometer is.
Shatterproof
Not only is this thermometer probe completely waterproof, but it's also completely shatterproof. When a thermometer shatters, we're talking about a lot of metal and glass just going everywhere, and you'll never find all the sharpest parts at once because the shards will find whatever nook and cranny they can until the right moment to slice open your foot. Thankfully with this thermometer, that is not a problem.
No risk of cross contamination
Not only is this thermometer made from stainless steel, hence the lack of shattering of any kind, but it's also coated in what's known as biocoat. This is a special protective substance that keeps the probe clean and reduces the risk of cross-contamination with other foods tremendously.
Cost and Value
In stark contrast to the previous entry, the best part about this entry is the price. For all of this quality craftsmanship, you'll have to pay basically next to nothing. Which is definitely a steal for one of the best meat thermometers on the market.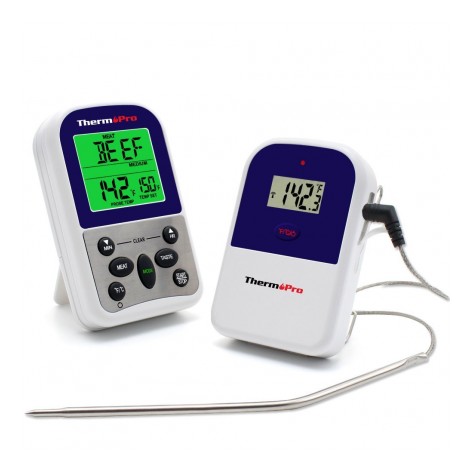 In our #4 spot, we have the Thermopro TP-11 Meat Thermometer. Nobody likes cooking a big meal for the whole family on their own. Chiefly because there's so much to do, and while you're stuck monitoring the beef brisket, you're burning daylight you could be spending prepping the 3 side dishes you need to do. Well, with the Thermopro TP11, now you can do both!
Wireless
The big secret behind the Thermopro's success is the fact that it's completely wireless. Stick the probe into the meat, and the signal transmits to the hub even over 300 ft away. Now you can monitor the progress of your Boston Butt while you're prepping the side dishes in the kitchen.
Detailed monitoring
And about the monitoring itself, that's also pretty good. For one, the thermometer knows the subtle differences between different types of meat. From beef to pork, they all have something about them that's going to determine how the heat moves through it. It will also tell you what temperature the meat is at, as well as what temperature it needs to reach in order to be ideal.
Cost and Value
Obviously, this thermometer is a tad more expensive than your run of the mill meat thermometer. Especially if you try going for the dual probe, which lets you monitor two dishes at the same time. However, we cannot hesitate to name this thermometer as being more than worth the price.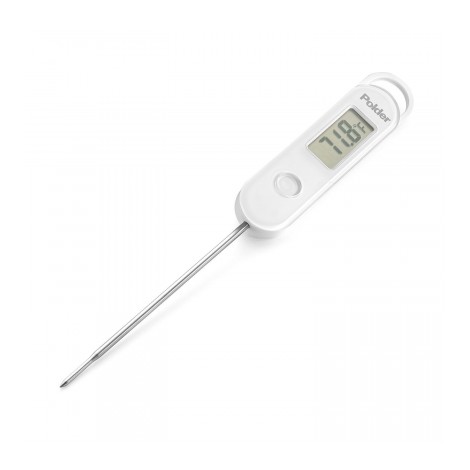 In the #5 slot, we have a very back to basics type of meat thermometer with the Polder Digital Kitchen Thermometer. Now it may seem strange to put this one so high on the list because as we said, it's a very back to basics thermometer. Well, sometimes, you just need a good, "gets the job done right" thermometer that doesn't need any bells and whistles.
Easy to use
While the previous entry is excellent, there is a bit of a learning curve where you have to figure out what everything means, from the buttons to the symbols on the screen, and more. But with the simplistic design of the Polder Thermometer, you just have to stick it into the meat and press a button, and you're good to go.
Indicates when ready
The biggest problem with this is that it takes over 10 seconds for the readout to be complete, which is downright inexcusable, but at least this thermometer lets you know, both when the temperature readout is ready, and when the temperature you get is the ideal one.
Cost and Value
This thermometer is thankfully very inexpensive. In most retailers, you'll typically find this one for no more than a little over $10. A rough estimate, but a reliable one.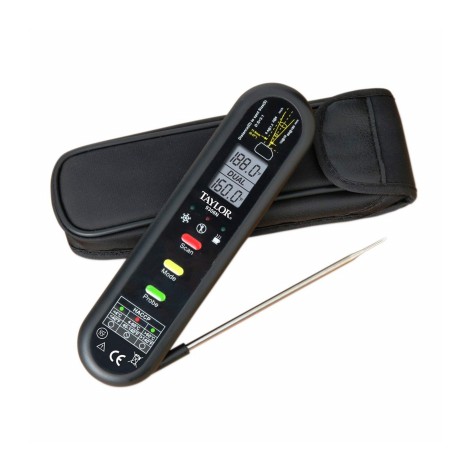 In the #6 slot, we have Taylor Precision Products and their model of a meat thermometer. Not only is this an excellent product, but it's also a competently made timer as well. Of course, there's plenty else about this product that it has going for it.
Measures internal and surface temperatures
While the point of a meat thermometer is to measure the temperature of the inside of the meat in question, eternal surface heat is just as important. Which is why this thermometer makes two measurements, one for the interior of the meat after you stick the probe in, and the other for the surface level temperature.
Step down point probe
This utilizes a 5-inch long probe made from stainless steel, which has a step-down point at the end. A step-down point's purpose is to make smaller punctures in order to retain more of the juice inside and to make it easier to clean. A smaller needlepoint, after all, gathers less juice and residue after you pull it out from the lack of surface area.
Cost and Value
The biggest thing keeping this at #6 is its price, which is a bit higher than most are likely willing to pay for a meat thermometer. It's probably one of, if not the most expensive entry on this list, in fact.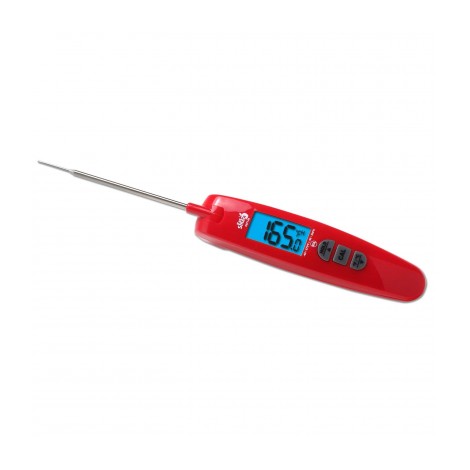 For our #7 pick, we decided to go with the EatSmart Precision Food Thermometer. Unlike the other entries on this list, which tried to go hard on either the home cook scene or the professional market, this is a meat thermometer that can be used by pros and amateurs alike.
Instaread technology
The technology in this thermometer allows its readouts to some of the fastest on this list, and on the market at large. Using its specialized Instaread technology, this thermometer will give you readings in less than 3 seconds.
Step down probe
Once again, we have an option that utilizes a step-down probe, which keeps the juice inside the meat, rather than has it splurge out of the meat upon puncturing. A smaller puncture is easier to plug with the larger portion of the needle.
Cost and Value
This price is a bit above average, but nothing too bad. It isn't very cheap, but it's nowhere near the variety of expensive either.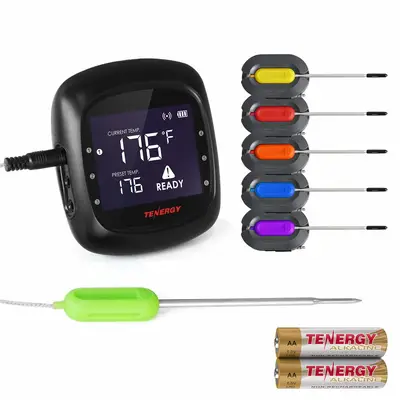 We kick off our final 3 with our eighth spot, the Tenergy Solis Digital Meat Thermometer an app-controlled wireless Bluetooth thermometer designed to make grilling, and smoking a whole lot easier. While most of us will be cooking indoors for the holiday's some enjoy grilling or smoking as well; therefore, we wanted to bring an option for those as well. This meat thermometer takes grilling or smoking meat to the next level by having an easy to read large LCD display and 6 stainless steel probes for meat that is cooked to perfection every time.
Multipurpose
While this meat thermometer is designed and marketed for grilling and smoking it can be used for numerous other temperature readings including meat, poultry, fish, bread, candy, frying oil, coffee or homebrewing, it's a one-stop shop when you use one of these. The large backlit LCD makes it easy to read while making sure it tells you the exact temperature your food of choice should be. This little guy is capable of giving you accurate readings between 32°F - 572°F, so you always have a hand up when cooking.
Real-time notification app
One of the best aspects this thermometer has is it's easy to use the app. The app comes with a preset interfere that allows you to choose from 11 different choices- beef, veal, lamb, pork, chicken, turkey, fish, hamburger, BBQ smoke, hot smoke and cold smoke depending on what you select there will be a preset temperature. Once the temperature has been set a notification will be sent to your phone when the meat is fully cooked. Additionally, you have the option of setting the temperature yourself according to your personal preference.
Cost and Value
The cost of this meat thermometer will depend on how many probes you decide you need the fewer probes you purchase the more cost-effective your meat thermometer will be. However, in our opinion having all 6 probes is the best choice as it gives you the option of using your thermometer for multiple different things. Additionally, you're getting an excellent product with even better quality and an easy to use app that helps you cook perfect meat every time.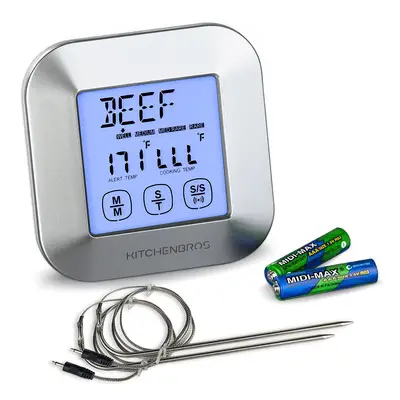 We now come to our second to last place pick, the KitchenBros Digital Food Thermometer a simple thermometer that gets the job done without unnecessary bells and whistles. It's simple to use a meat thermometer that was created to help you cook the best meals for family and friends time and time again. If you're looking for a no-nonsense thermometer this is the one for you.
Stainless Steel Probe
Featuring a stainless-steel design this meat thermometer comes with two probes so that you can have better control over the temperature of your meat. Additionally, the temperature is displayed on a well-backlit interface that is touchscreen and shows 8 meat types, 4 taste settings, alarm temperature, actual temperature, and Fahrenheit or Celsius. These options can all be customized to what your cooking and what your personal preferences are.
Easy to Use
Because there are already 8 preset setting for your protein, you do not need to worry about burning your meat. This is great for those that are starting to fall in love with cooking or those that don't particularly know the proper temperature meat should be internally. The key is placing the probes inside of your meat whether you're cooking in the oven, grill, smoker or the stove and letting it beep when the temperature has risen to the perfect amount.
Cost and Value
This thermometer is extremely cost-effective. It comes with AAA batteries, so you don't have to worry about having those on hand when you get it home you get two probes, can be used in most cooking settings and you have a lifetime warranty and money back guarantee.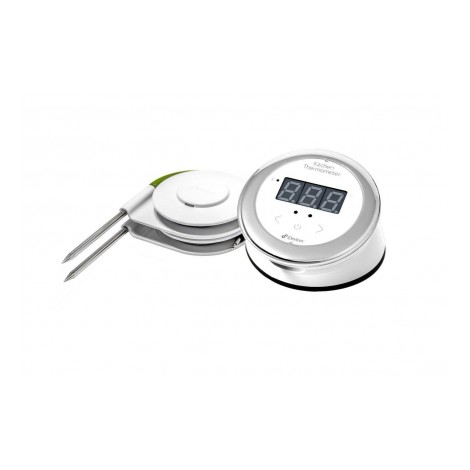 In our final section, we have our #10 pick, the iDevices Kitchen Thermometer. In general meat, thermometers are meant to be particularly long, so this option, with its short, one could say outright tiny form, might be off-putting to many. But rest assured, it more than earns its spot on this list.
Mobile app
See, the thing is, you're supposed to put this probe into the meat the minute you put it on the grill and then leave it there. And as it cooks, you then use a corresponding mobile app to check on the progress, which the thermometer interacts with via Bluetooth. To some, this may seem outright cumbersome and not a great way for a thermometer to be run. But if you have a million other things to do while waiting for the meat to cook, having a way to check on your phone instead of having to carry around another device, takes away some cumbersome elements.
Live progression
You can leave this thing stuck in your prime rib and leave it there without even lifting the lid, and it will still manage to update you with wake-up functionality that reminds you every time the meat gets closer to the ideal temperature.
Cost and Value
One would expect a Bluetooth functioning meat thermometer to be particularly expensive. After all, it is a pretty advanced tech for such a typically low-tech device. But instead, this thermometer is one of the cheapest entries on the entire list.

Subscribe to our Newsletter