Best Toilet Nightlights Reviewed & Rated for Quality
last updated:
May 11, 2019
Wanna make sure you can see where to GO in the middle of the night?
There are many different reasons why a toilet seat night light is utilized. Have you ever gotten up in the middle of the night with a reluctance of turning your light on? Your eyes may be sensitive to the light. Your spouse is laying in bed and you do not want to disturb them. Maybe, you are potty training.
A toilet nightlight of this nature is designed specifically with your toilet in mind. It is typically shaped like the letter "L". This is so the light emits inside the toilet bowl. Place it on the rim of the toilet seat and fastened so that it does not fall into the water. It can come with various light colors and aromatherapy scents. Below you will find our top 10 Toilet Nightlights:
In a Hurry? The test winner after 15 hrs of research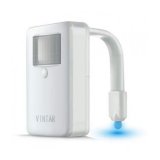 Vintar 16-Color
Why is it better?
Includes motion detection.
carousel setting with 16 different colors.
Five different brightness settings.
Light can flash or be steady
Senses body heat
In a
Hurry? Editors choice: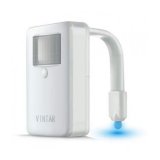 Test Winner: Vintar 16-Color

11
Researched Sources
12k
Reviews Considered
15
Hours Researching
10
Products Evaluated
Battery Life
Color
Fit
Motion Control
Weather Resistance
By Default
10 Best Toilet Nightlights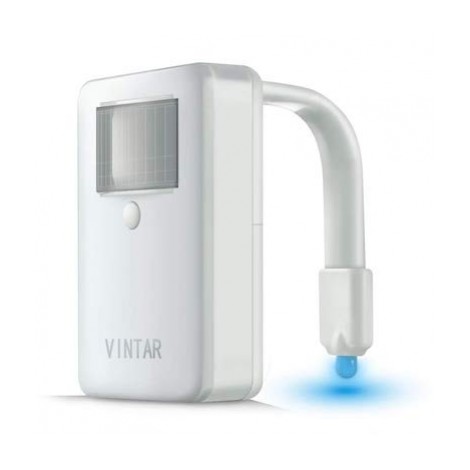 Includes motion detection.
carousel setting with 16 different colors.
Five different brightness settings.
Light can flash or be steady
Senses body heat
May stop working after a while of use.
Bulb area is not covered.
This includes a 16 color motion sense. The light is LED, which means the light is bright and vibrant. This model only lights up when it is dark. It runs on three double A batteries, which are not included. Even though it includes a motion sensor, you are still able to turn the light on and off manually.
Color Carousel Mode
The Vintar is a great product that offers a cool feature called the color carousel mode. It is automatically on this mode when you first turn it on. When the light is activated, it will switch through all 16 colors. The switch happens every four seconds.
Brightness Control
If you would like to turn the brightness down, this specific product allows you to do so. You can select from five different brightness levels. There are many different options that do not offer this feature, so this really puts this specific item ahead of others. In order to cycle through the lights you will need to hold the button down until it blinks blue, and then click the button in order to select the color you would like. Wait a just a few seconds until it flashes once.
Value and Cost
Value versus cost is pretty amazing for this product. It is an amazing option in which you get multiple options in one. You can have it flashing, or you can pick the color that you would prefer.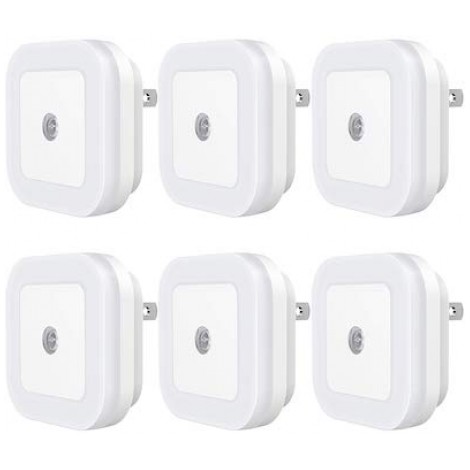 Has a smart light sensor.
Can be used anywhere in the house
Bright even in the darkest of rooms.
Plugs directly into an outle
Not bulky
Light is dim.
Sensor is sensitive to light.
For those who want a nightlight for their toilet, but does not want the light actually in the bowl; this one's for you. This light sensing night light only turns on when it is extremely dark. This will ensure that you are not wasting money on the light that you do not need. It has a compact design so it is not bulky like other products of this nature.
Built-In Smart Sensor
This includes a smart light sensor that will ensure that even if it is slightly dark, the light will not come on. When there is an absence of light, this will turn on automatically.
Versatile
Although the list is for toilet night lights, this product offers a versatility that a lot of other toilet lights do not. With the type of energy it uses, you are able to plug it in anywhere in your home, not just the bathroom.
Value and Cost
Due to the cost, the value is great. The versatility and the special sensor that is included with this product raises the value and the cost ends up being very fair. Overall, this product is definitely worth purchasing.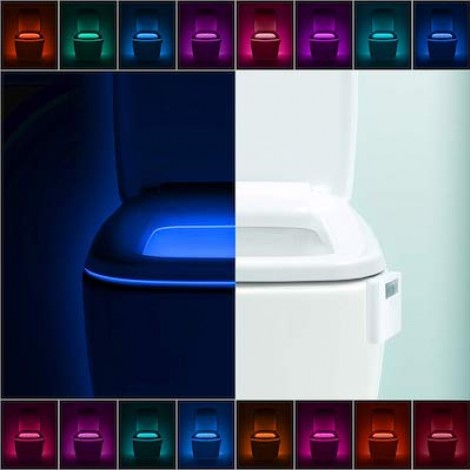 Made of superior materials.
Offers 16 different color options
Can control the level of brightness.
Keeps your settings saved.
Has a motion detector so that it will not be on constantly.
Battery life is short
Some colors may stop working
This amazing product offers not just light to see, but it offers a spectacle. This 16 color night light has a superior design with better materials. It offers a way to adjust not just the color, but also the brightness. It fits in all toilet bowls. It offers illuminating light every time the light is turned off so you are able to see without blinding yourself with the overhead light.
16 Different Colors
Most other products of this nature only offer one color. Those others that offer more of an option typically only offer about 5 to 8. The LumiLux offers 16 different colors that you can choose from.
Brightness Control
You are able to set this specific device at a preferred level of brightness. There are five different brightness levels that will make your toilet glow as bright or as dark as you would like it to. It also includes a built-in memory of your settings. Keep in mind that the settings are only saved when the batteries have not been removed or replaced.
Value and Cost
The value versus the cost of this toilet night light is fair. Due to the features that are included with this, you are definitely getting the worth for your money.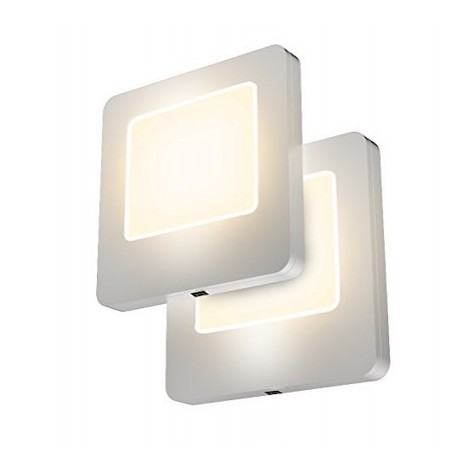 It includes a light sensor for automatic off and on.
This specific product offers a two for one pack.
Saves on energy by using batteries
Emits a warm white light.
Offers a slim design.
The bulb in this light is bright.
Adjusting the brightness is difficult.
This option offers a continuous glowing light for added convenience, safety, as well as security. All you will need to do is plug it in and it will turn dark to light. It offers a flat design so that it will not protrude from the wall. This specific model also includes an amazing touch design so you are able to move it to any spot, any time. The light is bright enough to allow you to see but soft enough so that it does not disturb your slumber. It has been proven that soft light does not disrupt your sleep, but bright ones do.
Soft Glow
Many other options offer a bright light that may disturb your sleep. However, this specific light offers a soft glow that will lull you to sleep, but allow you to see what you are doing should you wake up in the middle of the night.
Automatic On
This model detects the absence of light. Therefore, when you are ready for bed you will not have to remember to turn this light on. It will use the built-in sensor to send a signal to the light to turn on. Once it is bright out again, it will automatically turn off. It will save energy and money.
Value and Cost
The value versus the cost is a good one. With the types of features that you get and the functionality of this specific product; the worth is fair.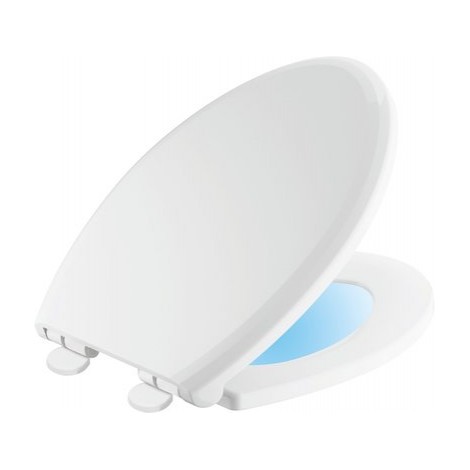 Offers a softer glow
Includes a slow closing technology to prevent slamming
The design has non-slip bumpers for a secure toilet seat
Has quick release technology
Includes two colors of light; soft white and blue.
Difficulty in attaching on some models.
This light is dimmer than most others.
The Delta toilet night light offers a very gentle light all through the nighttime hours. It also offers a slow close type of technology that will ensure that even in the middle of the night when you are sleepy, you will not accidentally slam the toilet seat. It is powered using four double A batteries, and they will last about six months.
Slow Close Technology
This specific product has something most others do not; slow close technology. How many times have you gotten up in the middle of the night to use the bathroom and accidentally slam the toilet seat? Many, right? Not anymore if you purchase this product.
Non-Slip Bumpers
If the slow close technology was not enough for you, then you will be happy to know that there is another feature that most other products of this nature does not have; non-slip bumpers. This ensures that when you sit down on your toilet, the seat will not slide or move. It is kept in place by the non-slip bumpers that is included in this design.
Value and Cost
When it comes to the value versus cost, this is pretty great. With the added features, the design, and the soft glow that it emits, you are definitely getting your money's worth.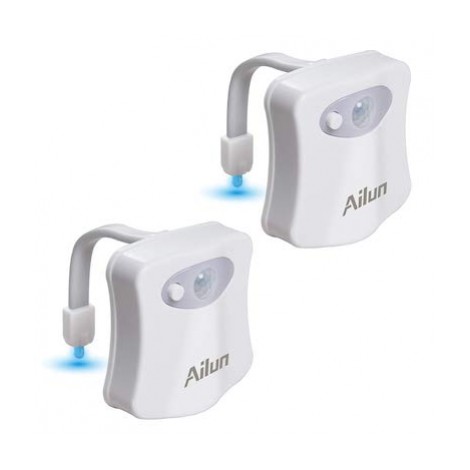 Includes 16 different colors to choose from.
Can cycle through the lights in a different mode.
Ultra water resistant to ensure proper cleaning.
It is very easy to install this night light on any toilet.
Offers a motion detection technology.
The screws may slightly rust.
Difficult at times to change the light choice.
This option from Ailun offers a way to light up your bathroom without having to turn the burning bright overhead light on. It offers a motion activated technology that utilizes an LED light. It will turn the light on and it will stay on until there are two minutes uninterrupted stillness. It also offers 16 different colors for you to choose from.
Ultra Water Resistant
This product is ultra water resistant. That means that you are able to clean this night light without worry of ruining it due to chemicals or water.
Multiple Colors
It offers 16 different colors of your choice. You are able to pick just one color and continuously have it light up, or you are able to use the setting to have it cycle through all of the colors for a mini light show right in your bathroom.
Value and Cost
Due to the motion detecting technology and the variety of colors, the value of this is worth the price. You get more than what you pay for with this product. It also comes in a pack of two instead of one like most others.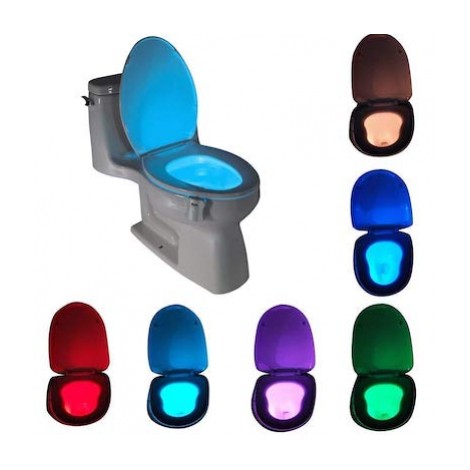 Easily installed; no tools needed.
Offer eight different color options.
Colors cycle through making it more fun for kids.
Motion detection technology for safety purposes.
Sensitive motion sensor
Softer than other lights of this nature.
Batteries need to be changed often.
The Komire offers a motion detection technology so that you do not have to physically turn on any light in order to use the bathroom. It will turn on when you are 3 to 5 meters away from the sensor. It offers a soft light so it will not hurt your eyes or take you out of your sleep state when you have to use the bathroom.
Color Option
This offers eight different color options that you are able to choose from. You can have it steady on one color, or you can have it cycle through the eight colors for a light show in the night. It is a fun way for the kids to use the bathroom without being scared of the dark.
Easily Installed
This model offers an easy way of installing it on your toilet. All you have to do is mount it right on the rim of your toilet. You do not require any tools whatsoever.
Value and Cost
Due to the color options and the ease of installation, this product rates high when it comes to the value versus cost. This product is highly suggested for the price and the features that comes with it.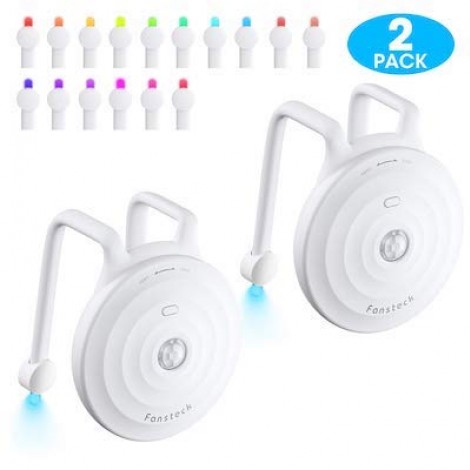 Help kill bacteria inside of your toilet bowl.
Offers extra color choices.
The light offers a choice of a light show.
Offers automatic off and on.
Sturdy design and good materials.
Difficult to change the batteries in this specific light.
Challenging to change the color choices.
The Fansteck is an amazing design toilet night light that will brighten your way to the bathroom with a soft glow. It offers a guided trail of flowing light to your toilet so that it will not wake you out of a sleeping state. It offers an automatic on and off technology. This great night light also offers 16 different color choices.
Color Choices
This offers 16 different choices of color. You are able to cycle through the different colors to have a light show, or you can choose a specific color. I will depend on your favorite color or the brightness level of the specific color.
Bacteria Killing Technology
This is one of the very few products that offer to kill bacteria. Once the LED light is shut off on the automatic setting, the UV light will turn on to kill the bacteria inside of your toilet bowl. It is important to not expose yourself to the UV rays as it can be harmful to human beings.
Value and Cost
As far as value versus cost, it is definitely a fair price. With the features that this product includes, you are getting your money's worth. It kills bacteria, offers extra light choices, and more.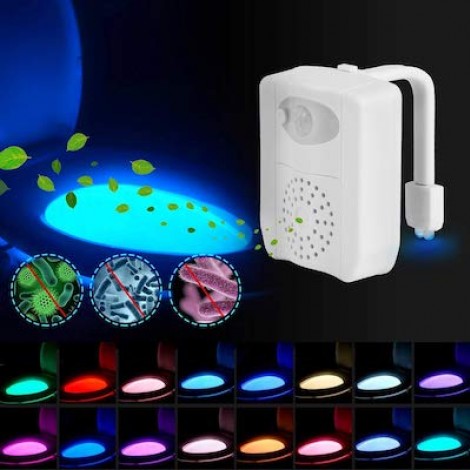 Offers a bacteria killing technology.
Includes motion control technology.
Includes different colors to choose from.
Works great with any toilet seat.
Includes built-in aromatherapy technology.
It is difficult to replace the aromatherapy slices.
The sensor is not very sensitive.
The Sunnest is a superior option that offers you non-traditional features like being splash proof and fragrance. You are able to wash it without being scared of hurting it. You will also love the fragrance feature. There are two pieces of slices of aroma product that is placed in the night light to keep dirty smells away.
Fragrance Feature
Most night lights do not include a feature of this nature. Not only will you avoid bright lights in the middle of the night, but you are also able to utilize the aroma feature to make sure you are calm and relaxed with specially formulated aromatherapy slices, which are included.
UV Bacteria Killing Technology
This offers a way to keep your toilet bowl keep and smelling good. Along with the aromatherapy slices, this light also offers UV bacteria-killing technology. Once the light kicks off, the UV kicks on to help keep nasty bacteria counts down.
Value and Cost
The value versus cost is very fair for this specific toilet night light. With all of the extra features, you are sure to be happy with this specific light. Between the UV bacteria-killing technology and the aromatherapy, you will have a nice smelling toilet, without the horrible bright lights.


Good motion detection sensor.
Can rotate through the lights to choose favorites.
Wiill fit on any toilet.
Built-in rechargeable lithium battery.
Sensor duration is of 2 minutes.
Motion sensor is not sensitive enough.
Two minutes may not be enough time.
You do not have to stumble around during the nighttime hours any longer with the ROYFACC Rechargeable. It offers 16 different colors to choose from and some cool features that you will absolutely love. This specific option does not have to be plugged in to use it, and you will never have to change a battery. You can actually recharge this light., meaning you will save money on purchasing batteries every time the die.
Rechargeable
This does not use batteries. Long gone are the days where you have to change batteries. It will save you money. You are able to recharge this light and set it, then forget about it.
Motion Activated
Even though all of the options on this list offer motion detection technology, this one does have a really good sensor. It offers light when you do not want to turn the bright overhead light on and wake you or your spouse up.
Value and Cost
This product offers a fair cost versus value. With the rechargeable feature, it will save you some money which in turn raises the value of this specific toilet night light. You definitely will enjoy this light for the fair price listed.
Criteria Used for Evaluation

Battery Life
When it comes to a light for your toilet that runs on batteries, it is crucial that you pay attention to the product descriptions so that you can see how long it will run on the batteries. If you have to replace the batteries on a consistent basis, you will be losing out on money.

Color
Color is also an important feature to take a look at. Make sure that it includes the word "soft" or "glow". If it does not, then more than likely the light will be much brighter than you anticipated. This will have the adverse effect that you were looking for in a night light. If the light is too bright, then it will end up waking you up.

Fit
What good is having something to illuminate your toilet for you at night if it does not fit on the toilet seat properly? Make sure to take note of the measurements. If the description says "fits on all seats", then it is a safe bet that it will fit on your toilet.

Motion Control
Motion control is extremely important when it comes to a product of this nature. You do not want the light to run non-stop because that will cause your batteries to die very quickly. Automatic on and off features are also important so that you do not have to think about turning on a light in order to use the bathroom. Just walk your sleepy body to the washroom, use the toilet, and then go right back to bed.

Water Resistance
This is another important feature to look for in a night light. If you have it close to water, it will need to be water resistant. The moisture in the air will cause damage to the product itself. Water resistance also means that you will be able to clean it as well.
Expert Interviews & Opinions
Most Important Criteria
(According to our experts opinion)
Experts Opinion
Editors Opinion
Users Opinion
By Default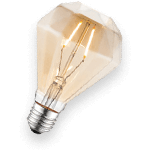 Batteries Versus Rechargeable
When it comes to picking out the perfect product, you will be faced with a couple of different choices on how it will use energy to light up your bathroom. Yes, there are ones that you will plug into the wall, but in this section, we are going to cover the two most common. Those are lights that run on batteries, and lights that run on a rechargeable battery. Of course, it does rely on your preference.
Options that run on batteries that are not rechargeable, you will need to replace them here and there. It does offer more money spent especially if you purchase batteries that last longer. The name brand batteries offer a longer battery life, but they can be a bit expensive.
Rechargeable batteries cost a little bit more in order to run after you purchase the light, but it does not cost as much as replacing batteries. You will need to ask yourself if you are going to remember to take the light off the toilet to charge it, and then remember to replace it.
Installation
Another aspect that is important is the installation process. You will need to read in the description on how to install your toilet night light. Some come with clamps, and some even come with suction cups. Suction cups are a risk. They could lose the suction and fall off of the toilet bowl.
Also, take a look at the product description and see if you will need to utilize any tools. This could be an issue if you do not have typical tools in your home. You may have to purchase a tool in order to install your new toilet night light.
Direction of Light
When you purchase one of these products, you will also need to pay attention to what the description says about the light direction. Some may say up and down. What this means is that it shines the light up, as well as down. Others may just say down. It will depend on how much light you actually want. If it is a softer light, then you may want it to go both ways; up and down. If you have a brighter type of light, then you will probably want it to point down so that it does not hurt your eyes in the middle of the night.
Type of Bulb
Most products of this nature utilize an LED bulb. However, it is truly important to pay attention to the product description. LED bulbs are brighter, as well as more durable. These types of bulbs are highly suggested in most products, not just toilet night lights.
Other Factors to Consider

Bottom Line
When it comes to purchasing a product of any nature, you need to look at the bottom line. Where one product lacks, it may make up for in another area that is more important to you. For example, maybe the light you are using to illuminate your toilet has to be running on batteries, but it has a softer glow. This feature might be more important because your children will not wake up during the night. It is all about prioritizing your needs from what product offers you.

Features
Just as other electronic devices, these can come with extra features besides the main function as light during the nighttime hours. Some come with an option of different colors.
There are others that offer a bacteria-killing technology. When the timed light goes off, the UV light comes on in order to kill the bacteria inside the toilet. There are some people who love this feature; however, there are some that have kids and do not.

Size
Size is another aspect to pay attention to. It should not be bulky as you can hit it in the middle of the night. This can cause minor injuries or damage to the light. Ensure it is of a sleek design in order to stay away from accidents.

Water Resistance
Most of these are made of plastic. Make sure that you see that there are rubber or soft plastic included in the material list. This means that if the description says it is water resistant, then this claim is true. It needs to be sealed in order for the moisture of the toilet to not get into your new light.

Adjustability
It is important to read in the description on how bright the bulb is inside. If it is to bright, then you will risk the chance of not being able to go back to sleep after using the bathroom in the middle of the night. Most of the lights utilize LED bulbs.
Safety Hazards
Safety hazards can happen during the night if you are in a hurry to make it to the bathroom. This can be due to the fact that you simply cannot see how to maneuver around objects between you and your destination. Tripping and falling can cause some serious injuries as well as some seriously embarrassing explanations. Or you can cause the unit to fall into the toilet bowl which would be nasty. Possibly stopping the toilet up too.
Frequently Asked Questions
q:

Should I get one that has batteries or a plug?

a:

Either one would be great. However, you will need to take into account that you will have to replace the batteries when they die, and if you purchase a plug night light it will not be attached to your toilet bowl. Ultimately it boils down to what you want out of your night light.
q:

What size batteries does it take?

a:

It will depend on the model. Most take triple A batteries. There are some at do take double A batteries. Read through the description, as it will tell you exactly what sized batteries you will need.
q:

How good are the suction cups on it?

a:

Some utilize suction cups. These fasten to the side of the toilet bowl. There are many that include great quality suction cups; however, it is wise to get one that has a design with a hook type shape. This will ensure that it does not fall and cause damage to your new light.
q:

What is the typical battery life in it?

a:

As stated before, there are different ways that a toilet night light will use power. When choosing a night light that uses batteries, make sure that you pay attention to how many and what sized batteries it will use. Typically, the battery life for a toilet night light is about six months. It lasts quite a while due to the fact that most of the night lights have a motion or light sensor. This will enable to light to turn on and off automatically.
q:

When the description says multiple colors, what does that mean?

a:

When you purchase a toilet night light and it offers multiple colors, it typically means that you can change the color to suit what you like, or you can have a small light show. It will cycle through the colors to make it more fun and cool looking for the consumer. The night lights that have multiple colors also should have a brightness option. You are able to adjust how bright the light is.
q:

How can I turn off the rotation for the colors?

a:

You will press the button that should start the rotation of colors. Once it has rotated to the color of your choice you will press the button again. You might have to do this a few times to get it to the right color that you want.
q:

Can you use these in other places besides the toilet?

a:

Yes, you can. These can be placed anywhere that allows the motion sensors to pick up motion so when a person walks by the light will come on. You could place these over the bathroom door, medicine cabinet or linen closet if that is where you want to light up the area at.
q:

I don't want constant glow. Does the unit turn off at all when it is dark?

a:

Most of the units will turn off after two minutes. You will need to read through the descriptions so you can make sure you do purchase one that turns off. There are some that will turn on when it is dark, but then it will time out after about two minutes. There are some that will turn on during the night time hours and stay on until there is daytime or a switch is flipped again.
q:

Am I able to keep the it plugged in all of the time?

a:

If you purchase a unit that is plugged into an outlet, you are able to keep it plugged in at all times. It turns off and on automatically in order to save on energy. It is not a hazard since it is an automatic off.
q:

Can I use it with an extension cord?

a:

It is suggested to not use this type with an extension cord. It can be extremely hazardous. Not only could it start a fire due to the contact to the surface that it makes contact with like the floor and plastic of the extension cord. Also, a cord lying on the floor could cause you to trip.
Subscribe to our Newsletter