Best Boot Spurs Reviewed and Rated for Quality
last updated:
Apr 27, 2021
Go to any Western event, and you will hear the sing-song jingle-jangle of boot spurs on nearly every pair of feet. There are as wide a variety of boot spurs as there are the people wearing them, including short or long shanks, sharp or dull rowels, roller ball or soft touch spurs. Spurs are used by riders to direct their horse forward or to move laterally. Boot spurs are used in many equestrian disciplines to supplement natural training aids and refine riding commands. Sometimes, spurs are even worn for decoration by some individuals. Our research team has compiled a top ten list of boot spurs to help you choose the right pair for you and your horse.
This is the best product on our list that is currently in stock: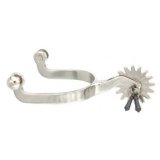 Tough 1 Kelly Silver Star
Why is it better?
Durable and sturdy for years of use
The rowel spins easily and freely
Fit nice and snug on boots
Band is plated with high-quality chrome for shine
Jingle bobs are removable
In a
Hurry? Editors choice: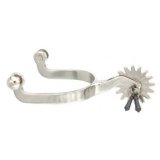 Test Winner: Tough 1 Kelly Silver Star

6
Interviewed Experts
8
Researched Sources
10k
Total Readers
25
Reviews Considered
10
Hours Researching
10
Products Evaluated
Effectiveness
Features
Value
By Default
Criteria Used for Evaluation
Effectiveness
Although many people, riders or not, wear spurs for fashion, their primary use has been to supplement a horseback rider's natural aids --- hands, seat, legs, and voice --- to move a horse forward. The success of that move is undoubtedly tied to the rider's abilities; however, the spur itself needs to play its role in the process as well. Our research team determined that effectiveness was the top criteria for our spur buying guide because it is a critical component in the success of communication between horse and rider. Useful spurs will help the rider give subtle cues to their horse, so gently as to almost be invisible to the naked eye. Spurs that are too harsh or sharp may do more harm than good, so we took the sharpness of the rowel into consideration as part of the effectiveness of the spur.

Features
In conjunction with effectiveness are the features offered with each pair of spurs on this list. Not all horses and riders are created equal, and so particular spur components from the rowel to the bumper spur to the shank need to be examined regarding quality and their role in the equestrian process. For more fashion-minded riders, we looked at simple and basic spurs as well as those that are decorated and engraved and factored those components in for buyers who want a particular element of style with their purchase.

Value
Because spurs are an essential component for many riders while working with or training horses, how much those spurs costs becomes a necessary element of the conversation. Quality spurs are ones that serve effectively, and as our researchers found, they can be had for budget prices if you know where to look. Our team found many examples included on this list of reasonably priced spurs that look classy and get the job done, but without spending much money. We also factored in value regarding durability and longevity, as purchasing purs at a lower price is hardly a deal if those same spurs do not last for a decent amount of time.
Expert Interviews & Opinions
Most Important Criteria
(According to our experts opinion)
Experts Opinion
Editors Opinion
Users Opinion
By Default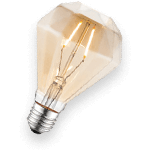 Choose the Right Option for Your Riding Discipline
It is critically important that you use the right spurs for your equestrian discipline. For example, dressage riders need spurs that have a short shank length because of how close the rider's leg is to the horse's side. In some types of dressage, spurs are mandatory from advanced levels to professional competitions. Jumpers and show hunters are apt to look at a Prince of Wales style spur as it is flatter and more likely to encourage impulsion over jumps and fences. Some jumping competitions only allow spurs with specific shank and rowel measurements, and no sharp or rough edges are permitted. Western competitions often feature spurs that are decorated in trim and include rotating rowels. Shanks are usually longer and wider because the rider's leg position is much longer and further away from the horse's side.
Know Your Positions
Misusing spurs on a horse is a recipe for disaster and can have dangerous results for both rider and equine. It's essential for a rider to understand the underlying message they are sending to their horse through the use of the spurs. The four key spur positions are: "neutral", where the spurs are away from the horse's sides and you are not asking him to do anything; "please", where you begin a leg aid with calf pressure and if the horse does not respond, then add the pressure of the spur; "I mean it," when because your horse ignored the "please" command, you reinforce the calf pressure by placing the spur rowel against the horse's side, using light pressure and stopping once the horse responds; and "Hey you! Listen up," when if your horse still does not respond, you roll the rowel up his barrel with firm pressure and release as soon as he reacts correctly.
Familiarize Yourself With Rowels
Before you use a set of spurs on your horse, make sure you understand the type of rowel on your spurs. Rowels are the focal part of the spur and indicate its severity. Although a severe rowel is not one that is necessarily bad, it is one that needs to be used by a professional rider with great caution. Typical rowels include the cloverleaf rowel, the least severe and ideal for introducing a horse to spurs. The more points and narrower a rowel is, the more severe it is considered. A sharper rowel generally indicates that less leg movement is required in that particular equestrian discipline as advanced riders like to communicate with their horses through minimal movement. If you are uncertain how sharp the rowels are, roll them across the palm of your hand and keep that feeling in mind before applying the spur to your horse.
Other Factors to Consider

Comfort
Spurs need to be comfortable both for the rider wearing them and the horse on which they are used. Riders want spurs that will fit their boots and not cause difficulties during riding by sliding down the boot or up the leg. The spurs should not get in the way of a rider's walk or make it difficult to move, especially in emergencies where the rider needs to get clear of a horse quickly. Our researchers took comfort into account in their rankings and also noted what spurs had more humane and comfortable spurs for horses versus those that did not.

Durability
Spurs are used under challenging conditions both on horseback and on the ground. They need to be made of quality materials that are durable and long-lasting. A rider wants spurs that they can count on, not ones that fall apart after just a few uses. We considered durability as an added criteria on our list because spurs need to be well-crafted and dependable to be worthwhile to the rider.
Frequently Asked Questions
q:

Why do some riders use these?

a:

Spurs are a training aid riders use to communicate with their horses. The spur is meant to be an extension of the rider's leg, and when used properly, they increase your horse's responsiveness to your commands. It's important to note that just because a rider wears spurs does not mean they need to use them. They are only necessary when you need to reinforce cues from your legs.
q:

How should you measure the shank?

a:

Shanks should be fitted by the size of the rider, the length of the rider's leg, and the rider's level of experience. Generally, the longer the rider's leg, the longer the shank. Some taller riders may still opt for a short shank, so they do not accidentally use the spurs on their horse. Most shank sizes are between 1 1/2-inches and 2 inches.
q:

How can I introduce my horse to these?

a:

First, push your thumbs against your horse's sides to introduce him to the type of pressure he will experience from the spurs. Let him move away from that pressure. Then, roll the rowel against the horse's side during groundwork to accustom him to the feel and sound of the spur.
q:

What are the most popular types?

a:

There are a variety of spur types, and each can be used based on equestrian discipline, rider comfortability, and horse sensitivity. Bumper spurs lack a shank and a rowel and are excellent choices for training, spur introduction, or especially sensitive horses. Rowelled spurs have a blunt-toothed wheel that attaches to the shank to provide pressure on the horse's sides during communication between horse and rider; the more teeth the rowel has, the less severe the spur. Prince of Wales spurs are used in English show rings, and sport flat ends that are slightly sharp. Dressage riders often use disc or roller spurs where the shank has a plastic roller instead of a rowel for sensitivity purposes or a swan neck spur that goes upward at an angle before leveling off. Finally, Western spurs fall into two categories, the half-mounted spur which is decorated on one side and the full-mounted spur which is embellished on both sides.
q:

How should they be worn?

a:

Spurs are fitted to the boot with the end of the shank pointing a bit downwards. The spur sits on the back of the boot and the spur strap buckle should rest on the outside of the boot.
q:

What are the main parts?

a:

The spur has three main parts: the rowel, the yoke, and the shank. The rowel is often attached to the shank and includes a revolving disc or wheel that is usually toothed. The yoke wraps around the heel of the boot, and the shank extends from the back of the yoke and is the part of the spur that touches the horse. Spurs are connected to the boot with a leather band called a spur strap. Not all spurs have spur straps; some are fitted so tightly to a boot that straps are not necessary.
Subscribe to our Newsletter