Best Boot Spurs Reviewed and Rated for Quality
In a
Hurry? Editors choice: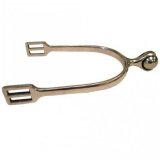 Test Winner: Coronet Soft Touch Roller Ball

Go to any Western event, and you will hear the sing-song jingle-jangle of boot spurs on nearly
every pair of feet
. There are as wide a variety of boot spurs as there are the people wearing them, including short or long shanks, sharp or dull rowels, roller ball or soft touch spurs. Spurs are used by riders to direct their horse forward or to move laterally. Boot spurs are used in many equestrian disciplines to supplement natural training aids and refine
riding commands
. Sometimes, spurs are even worn for decoration by some individuals. Our research team has compiled a top ten list of boot spurs to help you choose the right pair for you and
your horse
.
Standout Picks
Criteria Used for Evaluation
Effectiveness
Although many people, riders or not, wear spurs for fashion, their primary use has been to supplement a horseback rider's natural aids --- hands, seat, legs, and voice --- to move a horse forward. The success of that move is undoubtedly tied to the rider's abilities; however, the spur itself needs to play its role in the process as well. Our research team determined that effectiveness was the top criteria for our spur buying guide because it is a critical component in the success of communication between horse and rider. Useful spurs will help the rider give subtle cues to their horse, so gently as to almost be invisible to the naked eye. Spurs that are too harsh or sharp may do more harm than good, so we took the sharpness of the rowel into consideration as part of the effectiveness of the spur.
Features
In conjunction with effectiveness are the features offered with each pair of spurs on this list. Not all horses and riders are created equal, and so particular spur components from the rowel to the bumper spur to the shank need to be examined regarding quality and their role in the equestrian process. For more fashion-minded riders, we looked at simple and basic spurs as well as those that are decorated and engraved and factored those components in for buyers who want a particular element of style with their purchase.
Value
Because spurs are an essential component for many riders while working with or training horses, how much those spurs costs becomes a necessary element of the conversation. Quality spurs are ones that serve effectively, and as our researchers found, they can be had for budget prices if you know where to look. Our team found many examples included on this list of reasonably priced spurs that look classy and get the job done, but without spending much money. We also factored in value regarding durability and longevity, as purchasing purs at a lower price is hardly a deal if those same spurs do not last for a decent amount of time.
10 Best Boot Spurs
1

. Coronet Soft Touch Roller Ball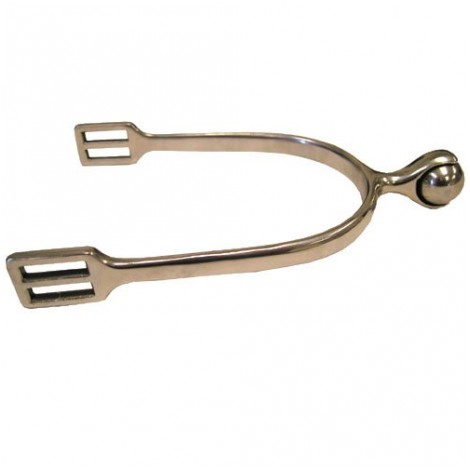 For riders who have a sensitive horse, or who want the reassurance that their spurs are not causing their horse discomfort, the Coronet Soft Touch Roller Ball Humane Spurs are the ideal choice for English riding. This gentle spur offers a subtle, painless cue for your horse that will not cause physical difficulties and will get the results you want as the rider.
Soft and Humane
The Soft Touch spurs are explicitly designed for delicate, sensitive horses, including those who may have suffered abuse or poor horsemanship by previous riders. The spurs have a rotating stainless steel sphere which is smooth, so it reduces rattling, rubbing, and pinching. These spurs are fit to ladies' riding boots and are sold in a pair, although a men's version is available as well.
Extra Features
These English spurs have a roller ball that can be rolled along a horse's side. The ball is made of quality stainless steel and will not hurt the horse when rolled against him. This feature is the key component of these spurs, making them perfect for horses who have sensitive sides, skin, or temperament. Attention to precise engineering and manufacturing on these spurs is evident.
Cost and Value
The Soft Touch spurs are sold as a pair, thereby making them an exceptional deal for their price. These are ideal spurs for skilled riders with still legs who can use these tools as active liaisons in communicating with their horse.

2

. Tough 1 Kelly Silver Star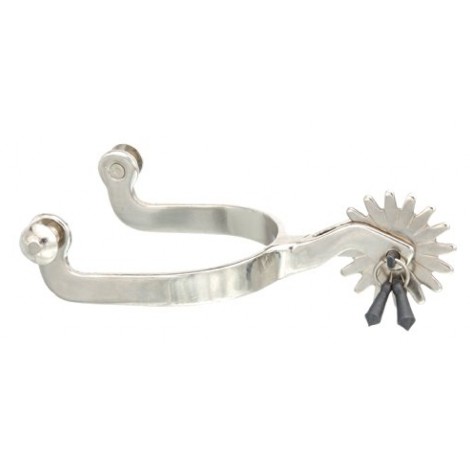 The Tough 1 Kelly Silver Star Jingle Bob Spurs are heavy and sturdy spurs that are as effective for use while riding as they are for wearing around town. These spurs have the classic Western sound to them when the user walks, and the quality craftsmanship adds to the durability and style of this product.
Affordable and Chrome-Plated
The Kelly Silver Star spurs are highly affordable and include high-quality chrome plating. The jingle bobs are featured on the ½-inch band and come with a 16-point rowel. These spurs fit perfectly with smaller heels and are shiny for eye-catching attention whether in the show ring or at a party.
Extra Features
The exceptionality of the Kelly Silver Star spurs can be found in the features of its construction. The construction of the spur from the shank to the heel band is top quality work, ensuring the durability of these spurs. The added feature of the jingle bob spurs add more noise to the spurs; however, the jingle bobs are removable for users who would like less sound to their walk.
Cost and Value
Many well-designed and constructed spurs cost three times as much as a Kelly Silver Star pair. For its quality and effectiveness, the Kelly Silver Star spurs are a steal at their market price. Sure to last for years, these spurs are an investment that will provide a return.

3

. Korsteel Never Rust POW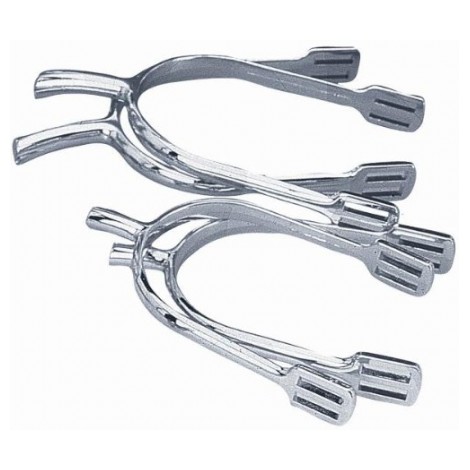 The Korsteel Never Rust Prince of Wales spurs exhibit the quality hardware associated with the Korsteel name. These basic, simple spurs are designed to withstand harsh weather and meant to last for years of use. Riders with horses that need mild pressure to respond will find these spurs both effective and humane.
Quality Craftsmanship and Anti-Rust
The Never Rust POW spurs feature high-quality construction and craftsmanship combined with an anti-rust design so the spurs can be used in wet weather without suffering damage or decay. The spurs are crafted with smoothed edges and square-shaped ends ideal for use with sensitive horses or horses in training.
Extra Features
Aside from the anti-rust design, the Never Rust POW spurs have a 3/4-inch stainless steel neck. The spurs are rounded and allow more responsiveness supplemental to the leg aid without causing pain to the horse. That slight bit of pressure can improve communication between rider and horse. These spurs are sold as a pair.
Cost and Value
The Korsteel Never Rust POW spurs are very reasonably priced for a pair of seemingly basic yet effective spurs. With their craftsmanship and anti-rust qualities, these spurs are a true deal for English riders.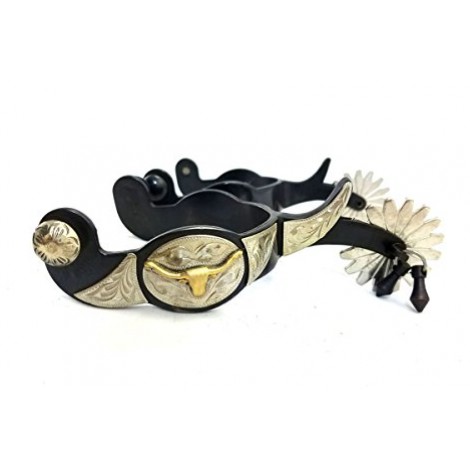 The Aime Imports Western BS Texas Longhorn 16pt Jingle Bob Spurs are an eye-catching pair of spurs that are black steel with German engraving. These heavy, gorgeously designed men's spurs also include gold-toned highlights and jingle bobs.
Handsome and Engraved
The Aime Western BS Texas Longhorn spurs are made of scalloped black steel and are stunningly hand engraved. The spur's outer side and band sport a silver German trim. A gold steer head adorns the 2-inch chap guard, completing the classic look of these spurs.
Extra Features
These spurs feature 16-point rowels with attached jingle bobs for enhanced sound during movement. Between the noise created by the jingle bobs and the flashiness of the gold and black scalloped steel, these spurs are sure to catch the attention of everyone. The spurs are sold in men's sizes and are 3-inches wide.
Cost and Value
The Aime Western spurs are one of the pricier sets of spurs on our top ten list. That said, for people who want elaborately designed spurs for show or costume, the price for this pair may be worthwhile.

5

. Straightline Clint Eastwood Style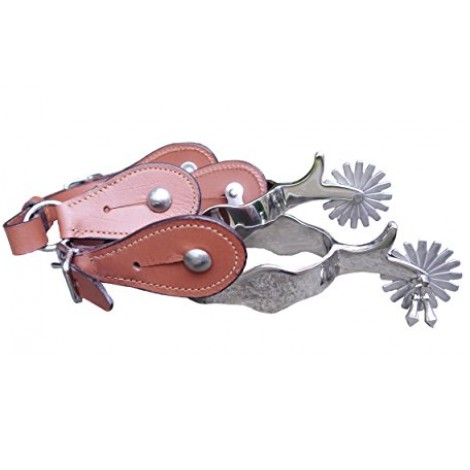 The Straightline Clint Eastwood Style Spaghetti Western Cowboy Boot spurs are the ideal gift for someone who has always wanted to fulfill their cowboy dream and perfect for use in a costume or show. Modeled after the spurs seen in famous Western movies, the Straightline spurs harken back to a magical time in Hollywood's history.
Hollywood Style
The Straightline spurs are useable spurs for everyday riding or ranch work; however, they are designed for users who want the old West style spurs on their boots. Made with quality steel and leather, these spurs replicate the type of spurs worn by Clint Eastwood's character in famous movies.
Extra Features
These spurs are stainless steel and feature brown leather straps. They fit most boots with a Spaghetti Western design and expert craftsmanship. Sold as a pair, the Straightline spurs jingle when the user walks, just like they do in the movies.
Cost and Value
The Straightline Spaghetti Western Style spurs are significantly pricey, the highest-priced spurs on this list. If you have your heart set on spurs that sport quality work and are a living reminder of American Western cinematic glory, then these spurs might be right for you.

6

. Partrade Trading Corporation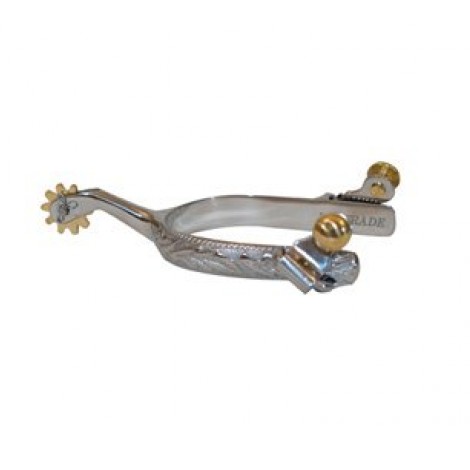 Riders looking for an essential, gentle spur with a little pizzazz to its design should check out the Partrade Trading Corporation Western SS Engraved Leaf Tooled ladies' spurs. These women's stock spurs are affordable, beautifully crafted, sturdy, and eye-catching. Best of all, they are appropriate for training horses by providing a gentle nudge for guidance and correction while riding.
Delicate and Useful
These women's stock spurs are silver-plated ½-inch bands with 1 ½ -inch shanks. The band is engraved with a delicate yet visible leaf pattern. The decoration is tasteful and subtle and not gaudy or flashy. Additionally, the spurs are highly effective when used by a skilled rider on horses that are sensitive or in training.
Extra Features
The Partrade Western Engraved spurs feature a 10-point spur with rounded edges. This detail ensures that the points will not rub the horse's fur off or skin raw. The engraved features on the spur bands are elegant and add a touch of refinery to the spurs themselves. The spurs are available in ladies' sizes and are sold as a pair.
Cost and Value
The Partrade 10-point engraved spurs are beautiful, well-made, and reasonably priced. Riders who want a gentle spur that also includes some flare and design will like the looks and the price of these spurs.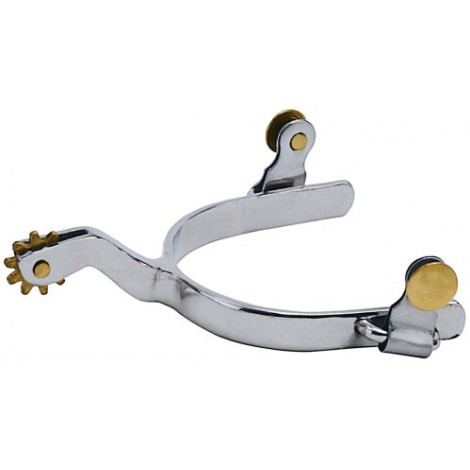 For a classic looking spur that is dressy but not overly so, horsewomen can look to the Weaver Leather Roping Spur with a Plain Band as a solid option. This beautifully and delicately designed spur is both functional and affordable as well as a gentle method to communicate your intentions to your horse while riding.
Elegant and Classy
Sold as a pair, the Weaver Leather Roping Spur has two-toned metal accents that give these spurs a sense of style and class. Better yet, these spurs are fully functional for roping, either on the ranch or during competition and shows as a means of picking up your horse's shoulder in the dally.
Extra Features
These spurs are chrome-plated with a 10-point rosebud rowel and slanted swivel buttons. The shank is 1 ¾-inch long, and the band is ½-inch wide. The rowel is of medium severity and should be used with caution by experienced riders.
Cost and Value
The Weaver Roping Spur is extremely affordable and is an excellent deal for a sharp-looking yet useful spur that looks good in the ring and at home in the corral. These spurs work well as a reminder to reluctant or stubborn horses to move forward at a minimal cost to your pocketbook.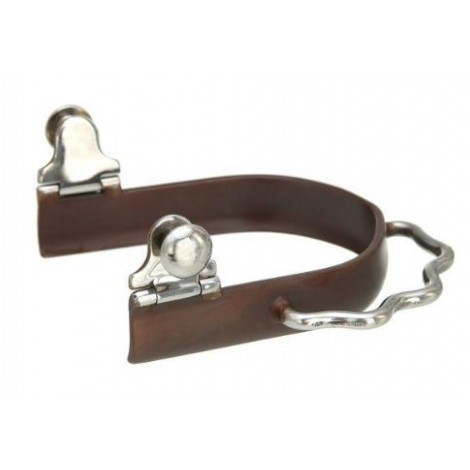 Simple and straightforward, the Tough 1 AT Sidewinder Bumper Spurs are designed to give the rider firm control without the need to rotate the foot. These spurs may look basic, but they are designed to work effectively and humanely with horses hence the lack of rowel and shank.
Durable and Hands-On
These Bumper Spurs are made of superior craftsmanship and designed to be useful and functional as opposed to flashy and decorative. These spurs look lovely on any pair of boots and are helpful for working with stubborn or reluctant horses who are sensitive or in training.
Extra Features
These spurs are made of stainless steel and include a slip-on bumper spur and buttons which allow the rider to maintain control of the horse's direction without having to twist the ankle or knee. The spur is available in multiple ladies' sizes in an antique brown finish.
Cost and Value
The Sidewinder Bumper Spurs are slightly more expensive than some other spurs on our top ten list, but they are highly effective and humane for use on horses, especially those who need training or are high-strung or headstrong. The spurs have a simple design that is beautiful while also retaining functionality.

9

. Weaver Leather with Engraved Trim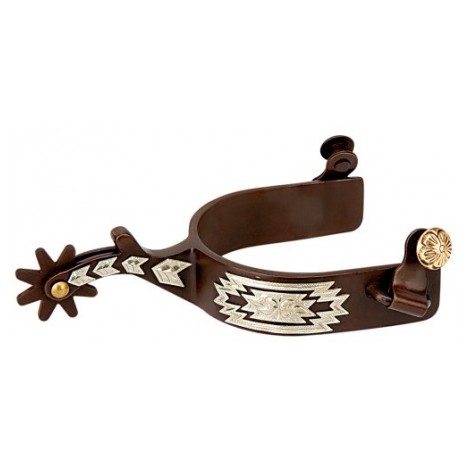 The Weaver Leather Men's Spur with Engraved German Silver Trim is an ideal spur selection for men who want functionality and flare with a budget price. With a decorated, antique finish, these spurs are efficient while also flashy. The rowels on these spurs are rated severe and should only be used appropriately on horses by professional riders.
Antique Finish and Style
The Weaver spurs are brown antiqued with a Native American pattern and engraved German silver trim. These details add a refined finish and an air of Western authenticity to these spurs. With a 2-inch shank, 8-point rowel, and 1-inch wide band, these men's spurs make a statement wherever they are worn.
Extra Features
These leather spurs are crafted and constructed using proper balance and weight. In this way, the spurs hang properly when worn on the boot without riding up the user's ankle and leg when in use. The spurs are sold as pairs.
Cost and Value
The majority of users of the Weaver Leather Men's Spurs feel that these spurs are available at a decent price for the quality and construction of the product. While they are a far cry from a custom pair of spurs, these Weaver spurs are sturdy, durable, and made to last for years.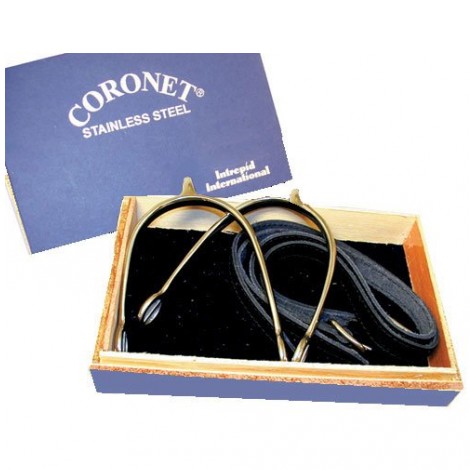 For English horsewomen in need of show-worthy spurs while on a budget, the Coronet Prince of Wales English Show Spurs are the perfect selection for craftsmanship at a reasonable price. While ideal for the show ring, these spurs are also effective for everyday riding and training.
Classic and Refined
The Coronet POW English Show spurs are sleek and refined, with a classic look that is perfect for any English equestrian competition, from dressage to English pleasure riding. With a choice of either silver chrome-plating or brass-plated gold, these spurs are useful and look more expensive than they are.
Extra Features
These Coronet spurs are sized for women with a ¾-inch (20mm) neck. They are coated with an anti-rust material for durability in wet weather conditions. The spurs come with a pair of black nylon spur straps and are delivered in a classy presentation box.
Cost and Value
For quality spurs that have show-quality construction, the Coronet POW English Show spurs are ideally priced. They are not too expensive for those riders on a budget but deliver the same quality as spurs that are more highly rated on the market. English show riders who want classy spurs that provide direction for the horse and look pricey at the same time should check out these Coronet spurs.

Subscribe to our Newsletter