Best Boot Spurs Reviewed and Rated for Quality
In a
Hurry? Editors choice: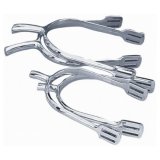 Test Winner: Korsteel Never Rust POW

Go to any Western event, and you will hear the sing-song jingle-jangle of boot spurs on nearly
every pair of feet
. There are as wide a variety of boot spurs as there are the people wearing them, including short or long shanks, sharp or dull rowels, roller ball or soft touch spurs. Spurs are used by riders to direct their horse forward or to move laterally. Boot spurs are used in many equestrian disciplines to supplement natural training aids and refine
riding commands
. Sometimes, spurs are even worn for decoration by some individuals. Our research team has compiled a top ten list of boot spurs to help you choose the right pair for you and
your horse
.
Standout Picks
Criteria Used for Evaluation
Effectiveness
Although many people, riders or not, wear spurs for fashion, their primary use has been to supplement a horseback rider's natural aids --- hands, seat, legs, and voice --- to move a horse forward. The success of that move is undoubtedly tied to the rider's abilities; however, the spur itself needs to play its role in the process as well. Our research team determined that effectiveness was the top criteria for our spur buying guide because it is a critical component in the success of communication between horse and rider. Useful spurs will help the rider give subtle cues to their horse, so gently as to almost be invisible to the naked eye. Spurs that are too harsh or sharp may do more harm than good, so we took the sharpness of the rowel into consideration as part of the effectiveness of the spur.
Features
In conjunction with effectiveness are the features offered with each pair of spurs on this list. Not all horses and riders are created equal, and so particular spur components from the rowel to the bumper spur to the shank need to be examined regarding quality and their role in the equestrian process. For more fashion-minded riders, we looked at simple and basic spurs as well as those that are decorated and engraved and factored those components in for buyers who want a particular element of style with their purchase.
Value
Because spurs are an essential component for many riders while working with or training horses, how much those spurs costs becomes a necessary element of the conversation. Quality spurs are ones that serve effectively, and as our researchers found, they can be had for budget prices if you know where to look. Our team found many examples included on this list of reasonably priced spurs that look classy and get the job done, but without spending much money. We also factored in value regarding durability and longevity, as purchasing purs at a lower price is hardly a deal if those same spurs do not last for a decent amount of time.
Subscribe to our Newsletter