Best Spur Straps Reviewed & Rated for Quality
last updated:
Feb 28, 2019
Whether you are a serious equestrian, a leisure-time rider or even a rodeo enthusiast, you are undoubtedly familiar with spur straps. Spur straps, of course, are worn to better direct and control the horse or animal being ridden. More specifically, the strap is what allows the spurs to be securely affixed to your boots. Straps are similar to belts or bands and are meant to be load-bearing devices, as well as attractive, fashionable Western-wear.
This is the best product on our list that is currently in stock: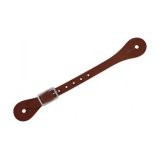 Weaver Leather Horizons
Why is it better?
Manufactured to withstand serious use and everyday riding
Manufactured by Weaver, the foremost authority in spur straps
Attaches to boots with ease
Stainless steel hardware
Sleek design
In a
Hurry? Editors choice: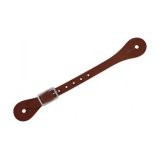 Test Winner: Weaver Leather Horizons

14
Researched Sources
11k
Total Readers
18k
Reviews Considered
22
Hours Researching
15
Products Evaluated
Comfort
Ease of Use
Effectiveness
Materials
Style
By Default
10 Best Spur Straps
1

. Weaver Dark Oil Leather


Fair price
Thick, sturdy leather straps
Easy to snap into place
Secure fit, adjustable holes for the buckles
Handmade in USA
Only comes in brown, not black
Complaints of straps being too short, even in youth sizes
This product is a great option for women and children. Unfortunately, this particular set of straps does not come in men's sizes. They are designed for heavy use and are a no-frills selection with a focus on performance and function rather than fashion. The Weavers are a true workhorse, no pun intended. Sturdy, reliable and well-made, Weaver offers a nice option at a fair price with the Dark Oil Western Spur Straps.
Handcrafted
The Weaver Dark Oil Leather Western Spur Straps are handcrafted in the USA. They are carefully constructed with quality materials. The leather is exceptionally strong. As a result, the straps are somewhat stiff initially but become malleable after being oiled a few times. The buckles are strong and withstand heavy use and serious riding.
Practical
This product is an extremely practical option for female and/or young riders. The thick leather straps are made to last for several years. The straps themselves do not have any ornamental accents or accessories that might require them to be treated delicately. Rather, they are no-nonsense spur straps made for riding, not for show. These straps are rough, tough, and ready to go. They make it easy to control the horse or bull being ridden with little effort. The fact that the spur straps are secured properly and safely reduces the risk of injury to both the rider and the animal.
Cost and Value
These are sold at a very fair price. Considering the high praise and excellent reviews these straps regularly get from customers, it can certainly be said that the straps do not disappoint. They therefore offer a high return on investment and will offer many years of happy trails.
2

. Weaver Leather Horizons


Manufactured to withstand serious use and everyday riding
Manufactured by Weaver, the foremost authority in spur straps
Attaches to boots with ease
Stainless steel hardware
Sleek design
The leather is extremely stiff before being broken in
Complaints concerning the length of strap
The Weaver Leather Horizons Spur Straps are a great choice for adults and children, men and women. They are constructed with weather resistant harness leather, meaning that you can be out riding no matter what the forecast may bring. The Horizons are intended for everyday use, so Weaver focused on construction, strength, durability and reliability when designing these particular straps. While these spur straps are not flashy or eye-catching, they are practical, strong, carefully constructed and made to last. Their construction may be basic, but they are classic and handsome in their own right, pairing well with black or brown riding boots.
Malleable
When the Horizons first arrive, the leather is quite stiff. However, after being treated a few times with leather soap and oil, the leather becomes supple, malleable and soft, allowing for optimal comfort. The leather is extremely strong and becomes form-fitting due to its malleability. As a result, you will be hard-pressed to find a better-fitting set of spur straps for your boots. Regular oiling will keep the tooled leather in tip-top shape, resisting cracking and tearing.
Pop Right On
The Horizons are noted for their easy application. They snap right onto your boots with little effort. If the straps are too long, the leather is pliable enough to easily punch a new hole in so that the strap can be better secured. Overall, the Horizons are comfortable, pliable and fit well, properly staying put on your boots.
Cost and Value
The Horizons are inexpensive; a price which belies the actual value of the straps. Inexpensive, yes, but cheaply built? Absolutely not. The Horizons are handcrafted in the USA by Weaver, one of the most reputable brands in the equestrian field. Durable, handsome and comfortable, the Horizons are a smart buy.
3

. Royal King Shaped Leather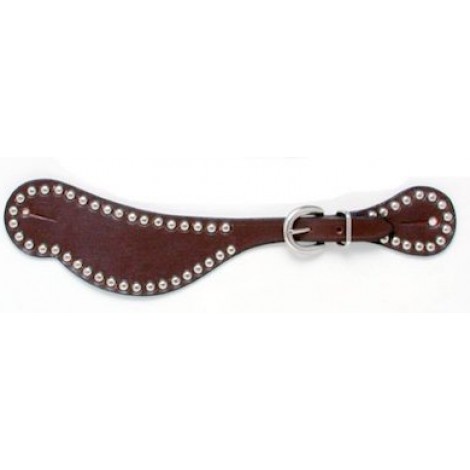 Rust-resistant hardware
Handsome appearance
Comfortable
Snaps on easily
Compact and lightweight while still powerful and balanced
Requires frequent oiling
Some leather cracking has been reported after heavy use
The Royal King Shaped Leather Spur Straps are men's straps are black leather men's straps with metal buckles. They are handsome, Texan style straps with metal accents. Simple, classic and clean, Royal King offers a sturdy option for men who enjoy serious, regular riding and want low-maintenance straps that stay in good condition without a lot of work.
Texan Style
Royal King offers its Leather Spur Straps in the classic Texan style. This classic style is an homage to the Western days of yore. Handsome, simple, dark leather straps with metallic accents, these spurs would make the Duke himself proud. All class, no flash; Royal King does not disappoint.
Strong Buckles
The Royal King's straps are noted for their strong buckles, which allow for secure fastening. The high-quality metal the buckles are fashioned out of ensure that the leather straps stay in place. The straps and spurs will sit on your feet comfortably, allowing you to properly and safely control your horse.
Cost and Value
The Royal Kings are offered at a moderate price. For a modest sum, an excellent product is delivered. The leather withstands heavy use, the metal buckles are rust-resistant, and the overall look of the straps is handsome. With a little maintenance and care, the Royal Kings will remain stately for years to come.
4

. Weaver Leather Savannah Collection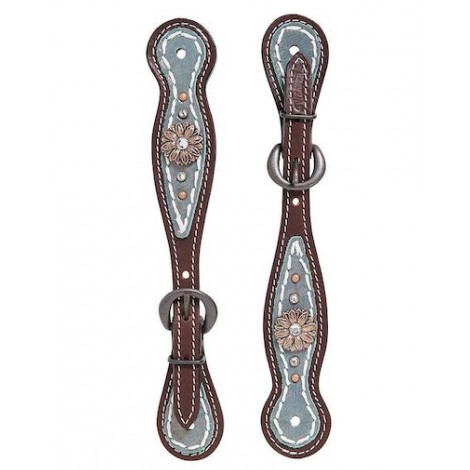 Genuine Swarovski crystals
Unique, colorful turquoise overlay
Floral accents
Handcrafted with supple leather
White stitching for vintage, Western, classic look
Reportedly difficult to attach to boots
Leather is initially extremely stiff and requires serious breaking in
The Weaver Leather Savannah Collection spur straps for women are eye-catching, beautiful straps that take any riding ensemble to the next level. While spur straps might not be traditionally thought of as sparkling, stunning or extra special, Weaver has truly outdone itself this time, with spur straps as elegant as a piece of fine jewelry. Accented with turquoise and genuine Swarovski crystals, for the fashionable rider, the Weaver Leather Savannah Collection spur straps are an absolute must-have.
Beautiful Accents
The Weaver Leather Savannah Collection spur straps feature fine-tooled black or brown leather with metallic copper and a turquoise overlay. Additionally, the Swarovski crystals make the straps truly shine. The straps are decorated with antique copper flower accents and white stitching, resulting in a beautiful, classic, Western opulence. These straps will add a little glamor to your riding experience, while still serving you well.
Unlikely to Detach
The Weaver Leather Savannah straps were designed with safety in mind. The straps fit securely in place, buckling nicely, and greatly reducing the risk of becoming detached. The Savannahs are fashionable, functional and safe. After all, as beautiful as they are, the Savannahs are not just for show. Like all Weaver products, the Savannahs are handmade in the USA, carefully crafted to stay together nicely with a snug, comfortable fit; not a single crystal will be out of place.
Cost and Value
The Savannahs are more expensive than the majority of spur straps reviewed here and are on the higher end of the market. That said, they are not your average straps. They are ornate, bejeweled and dazzling. With Swarovski crystals and turquoise, the cost of materials naturally increases. Is it worth the extra cost? Absolutely. The Savannahs would make an exquisite gift for the special cowgirl in your life this holiday season (or just because).
5

. Turquoise Cross Floral Carved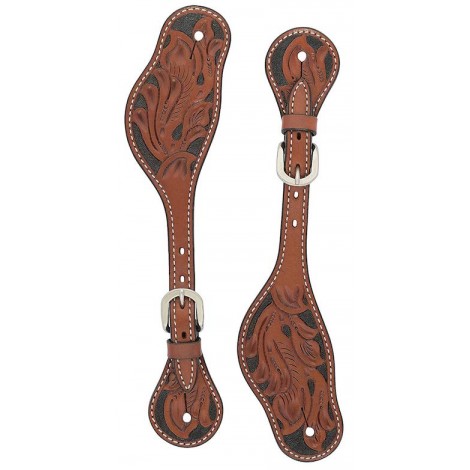 Gorgeous chestnut leather construction
Ornate floral carved design, accented with black stain
Easy to clean and maintain
Intended for heavy-duty, long-term use
Rust-resistant, stainless steel hardware
Some reports of leather being "plastic looking"
The pink/blue cross designs have religious connotations/overtones which may not appeal to some buyers
These are lovely, chestnut-brown leather straps that are elegant and understated. Less extravagant than the Weaver Savannahs but more ornate than the Weaver Dark Oils, the Turquoise Crosses offer an option for the rider that likes to accessorize in a subtle, classy way, while still wearing straps that are strong, durable and can take a beating while looking good.
Chestnut Leather
The Turquoise Crosses are constructed with handsome, eye-catching chestnut leather. The warm tone of the leather paired with the turquoise accents mix beautifully, the brown and blue-green tones complementing each other perfectly. The leather is also durable and sturdy, resistant to cracking and breaking, and suited for heavy-duty use. Whether worn at the rodeo or for a leisurely ride through the pasture, the Turquoise Cross is an appropriate, stylish choice.
Floral Accents
The Turquoise Crosses also feature floral designs with black stain accents. The straps also feature rust-resistant, stainless steel hardware. Rain or shine, the Turquoise Crosses can be worn without wear and tear. Periodic oiling and polishing is all it takes to keep these beautiful straps in mint condition.
Cost and Value
The Turquoise Crosses are on the more expensive end of the spectrum. This is largely due to the high quality of the materials used, such as chestnut leather and turquoise. Like the Savannahs, the Turquoise Crosses are akin to fine jewelry, while serving just as well as the sturdy, heavy-duty Weaver models. The Turquoise Crosses therefore are worth the extra cost due to their uniqueness and beauty, and would make a great addition to a stylish equestrian's closet.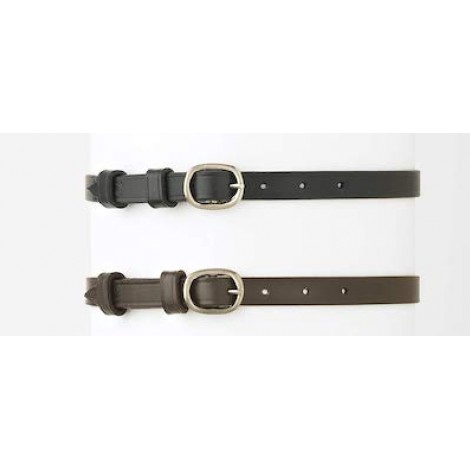 Striking, handsome appearance
Affordable and budget-friendly
Reputable manufacturer
Designed to exert optimal force with minimal effort
All-weather use
Some issues with buckles reported
Lack of variety
The Camelot Ladies Spur Straps are a basic, no-flares option that serve their purpose well. While the straps are not as ornate or interesting to look at as some of the other models reviewed here, they hold their own in the spur strap arena. They are manufactured with high-quality materials that can withstand heavy use, inclement weather, and regular wear and tear. While the design of the Camelots is not ornate or intricate, there is something quite appealing about their simplicity. Like a leather belt or a wool scarf, the Camelots are a staple.
Thick Leather
The leather that the Camelots are constructed with is considerably thick. This reinforces the strength of the straps, ensuring that they will last for several years with proper care. The straps are sturdy, making the Camelots the ideal choice for serious riders who need reliant spur straps that will not bend, break or crack, even when under considerable pressure.
Excellent Control
The Camelots are ideal spur straps for controlling and training an unruly horse. Due to the secure fit of the straps, the thick leather, the durability, and advanced design, minimal force is needed to exert just the right amount of pressure to properly direct and correct the horse. Training a horse or foal is much easier with the right equipment, and the Camelots do not disappoint.
Cost and Value
The Camelots are relatively inexpensive and are quite affordable. Considering how well they perform, how impressively they are constructed and the enthusiasm with which they are reviewed by customers, if you purchase the Camelots, you will undoubtedly get a lot of bang for your buck. The Camelots are an excellent investment that will last for years and are very budget-friendly, making them even more appealing.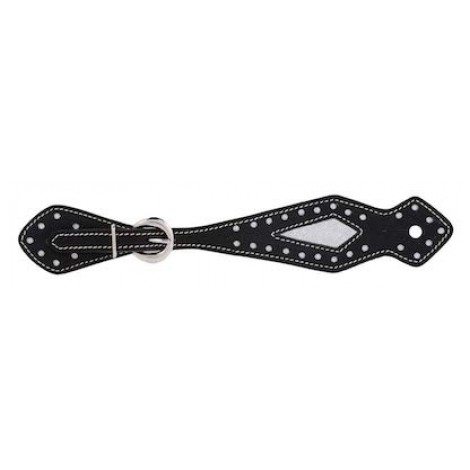 Handsome appearance; stylish, fine finish
Dot and diamond Western/Texan style
Industrial strength of stainless steel
Sparkling silver accents
Easy to attach; provides a secure fit
Reportedly difficult to break in
Complaints about length of strap (some customers have remarked that the strap is too long to fit a woman's boot)
The Metalab Adult Leather Diamond Western Spur Straps are classic, Texan-style straps that are a fashionable yet practical choice for the female equestrian. Handsomely designed with fine materials, Metalab does a great job of finding just the right mix of fashion and function without sacrificing one for the other. As an added bonus, the Metalabs are affordable, making them an overall pleasure to buy (and wear). Why not buy a pair in black and brown?
Western Style
The Metalabs are designed to embrace the classic, Western style favored by the riders of days past. In particular, the black leather straps complemented with rounded buckles look very fashion-forward when paired with dark riding boots. Eye-catching yet understated, classic and sophisticated, Metalab's design team has done a great job with these straps.
Sparkling Accents
The Metalabs feature sparkling silver accents that stand out against the dark leather material of the strap. The contrast of the materials makes the silver really stand out, like bright stars in the night sky. The silver accents catch the light when in motion, adding just the right amount of shimmer to the straps. The straps shimmer and sparkle without being ostentatious.
Cost and Value
The Metalabs are mid-ranged in price. Considering how well they perform, how great they look, how comfortably they fit and how popular they are, the Metalabs are an excellent investment available at a fair price. The Metalabs will exceed your expectations without breaking the bank.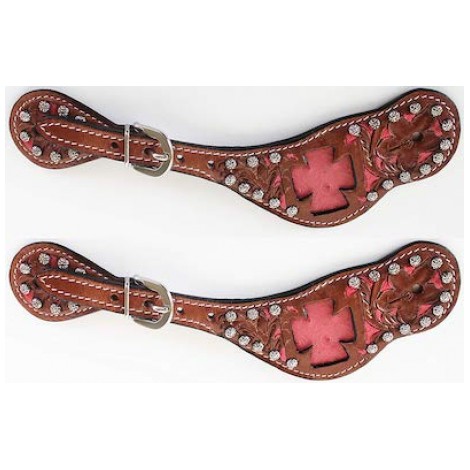 Pink or blue cross accents
Attractive, warm leather straps
Easily adjustable for a great fit
Exceptionally comfortable
Rough, tough and weather-resistant
Several complains describing strap as too short
Leather is extremely stiff during breaking-in period
These are women's straps that will take a riding boot from ordinary to extraordinary. With dazzling pink or blue accents, the straps are simply beautiful, with the pearl-like shine of the crosses complementing the warm leather straps. PRORIDER has delivered a product that is fit for a true rodeo queen, with an exquisite design, while strong, durable and sturdy, and fit for a serious rider. Don't be afraid to get the PRORIDERS dirty; they're easy to clean and take a beating, while still looking fantastic.
Easily Adjustable
A common complaint concerning this product type is that they are stiff and somewhat difficult to snap into place. The PRORIDERS, however, are easily adjustable. The leather is pliable, malleable and can be manipulated with ease for a perfect fit. The PRORIDERS stay in place, offering security and maximum control while riding. The buckles stay securely closed and will not corrode if exposed to moisture. The leather is crack-resistant and tough. Don't let the delicate appearance of the PRORIDERS fool you -- these straps are the real thing.
Options
The PRORIDERS are available in a variety of different shades of leather. Additionally, the accents are available in pink or blue. PRORIDERS are customizable and versatile. You can get a set for your black boots and another for your brown ones; why not mix it up?
Cost and Value
The PRORIDERS are on the higher end of the price scale. They are made with fine materials and are handmade, which explains why they are more expensive than other straps reviewed here. Considering the excellent reviews PRORIDERS consistently receives, the seller's guarantee, investing in a set of PRORIDERS is a smart (and stylish) decision. Ride like an expert, and look great doing it.
9

. Weaver Leather Children's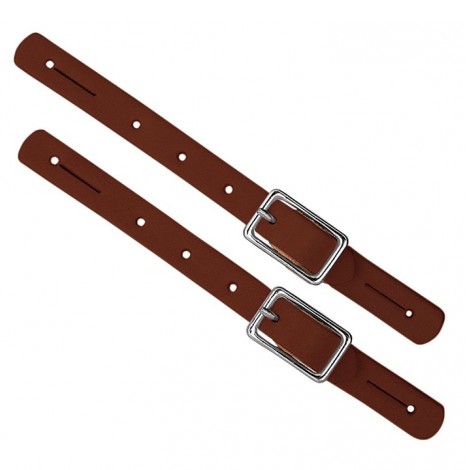 Unisex; designed for all young equestrians
Stainless steel flat buckles
Easy to clean and maintain
Withstands abuse and serious use
Doubles as a dog chew toy
Some difficulty snapping into place
Will need to be replaced as they will obviously be outgrown
This product is made specifically for youth are the perfect option for kids to learn on. Small but mighty, Weaver delivers a strong, reliable, extremely safe set of straps that young equestrians will enjoy wearing while they learn how to maneuver a horse properly. Secure, carefully constructed and made with the highest quality materials, you will feel confident that your little ones are wearing the best spur straps out there with this product.
Options
This product comes in two different styles - either honey bridle leather or dark chocolate skirting leather so the young child in your life will be able to choose a color and style that speaks to them. Both options come with buckles that are nickel plated for extra durability, which we all know is a desirable feature in products made for children.
Perfect Size
This product is 5/8" wide and young children should find that this small size is the perfect width for them.
Cost and Value
The children's Weaver option are very affordable; priced on the lower end of the spectrum. The reviews are fantastic, the seller is reputable, the manufacturer is highly rated and the price is right. These are well worth the cost, and will undoubtedly delight the young rider who receives them.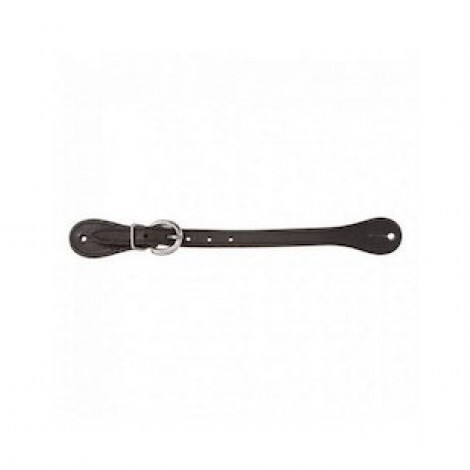 Simple, classic design
Rust-resistant
Malleable leather
Easy to clean
Versatile; can be used for multiple purposes
Problems with buckles reported
Only available in black
The Tough 1 Ladies Leather Show Spur Straps are elegant, classic and beautiful. With a simple design of black leather paired with stainless steel hardware, the straps are striking when paired with a set of dark boots. While the Tough 1 straps may not have any added flare, they don't need it. They are exceptionally well-made and it shows. With the Tough 1s, it's all class, no flash.
Sleek
The Tough 1s have a sleek, elegant, minimalistic appearance. Streamlined, elegant and to the point, the Tough 1s are meant for serious equestrians with a certain stylistic approach. While minimal, the Tough 1s are handsome and refined, and all-around respectable looking.
Safety First
The Tough 1s rank highly in all categories of rider safety. They fit securely and comfortably, allowing the rider to exert control over the horse. Spur straps that do not fit correctly can result in accidental injury to the rider or horse; a problem which can certainly be avoided by selecting a reputable brand of spur straps. In this case, Tough 1 has earned its reputation for constructing safe, well-fitting straps that you can trust whether in the arena, in the pasture or on the trail.
Cost and Value
The Tough 1s are relatively inexpensive, falling on the lower end of the price spectrum. Handsome looking, well built, made with fine materials, comfortable and safe, Tough 1s are a smart investment. They look and feel great and fit every budget.
Criteria Used for Evaluation

Comfort
Comfort is of the utmost importance when selecting spur straps. Ill-fitting spur straps can cause a multitude of problems, resulting in everything from discomfort to injury. Spur straps that do not fit will press against a boot the wrong way, resulting in pressure and friction against your legs, ankles and feet. This can cause chafing, blistering and general discomfort. Riding is meant to be a pleasurable experience, but ill-fitting spur straps can cause quite the opposite.

Ease of Use
Most spur straps are rather stiff and rigid before they are broken in. This can cause them to be difficult to secure and snap into place. However, breaking in straps should not be a difficult task. High-quality leather should become malleable and pliable after being treated with leather soap and oil a few times. Once the straps have been broken in, they should snap into place easily and stay in place securely. Securing spur straps should not be a difficult or arduous task.
Effectiveness
The effectiveness of a spur strap is paramount. Spur straps are designed to allow the rider to guide, direct, control and discipline the horse being ridden. Poorly designed spur straps basically defeat the purpose. You should never have to kick a horse with force; this will cause the horse pain and may put you, the rider, in danger. Spur straps should be engineered so that the horse will understand the commands being given; they are not meant to be painful or cruel devices.

Materials
The materials used to construct a set of spur straps are one of the main factors to be reviewed. Make sure that the straps are high-quality leather, rather than synthetic materials. If properly cared for, leather spur straps will last for years. However, if the straps are not cleaned, polished or oiled regularly, they will deteriorate and crack. Additionally, make sure that the buckles and hardware are made with high-quality metal. Rust-resistant metals are optimal, as all-weather straps are best.

Style
Like any accessory or form of apparel, spur straps are something that you wear and are therefore part of the way you present yourself to the world. Spur straps come in a variety of styles, from ornate to basic. It all comes down to personal preference. Spur straps need not be extravagant in order to be stylish; some are minimal and quite handsome. Spur straps represent an opportunity to add a little flare to your ensemble if you wish, whether it's Western-style stitching, floral markings in the leather, or even Swarovski crystals. There is a wide variety of spur straps available on the market, so you should be able to easily find something that reflects your personal style and you enjoy wearing, like a belt or a watch.
Expert Interviews & Opinions
Most Important Criteria
(According to our experts opinion)
Experts Opinion
Editors Opinion
Users Opinion
By Default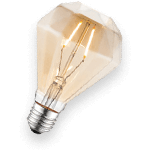 Design Matters
Well-designed spurs function to exert dominance and discipline over the animal without cruelty or pain; spurs should never hurt a horse, rather, they serve as a corrective measure. Spur straps are sold in a variety of styles and motifs. Some are more ornamental and decorative, even rising to the level of a fashion statement. Others are designed with a more minimalist approach; the spurs are designed to do a job rather than add flair to a riding ensemble. So, whether you're looking for a more effective way to train your horse or you just want to jazz up your riding boots, there is something for everyone.
Caring For Your Spur Straps
As with any leather product, spur straps should be treated with a sealant to protect it from water damage. Regular oiling and cleaning is also important. Leather soaps are also available on the market, which are ideal for spur straps. Periodic maintenance is all it takes to keep spur straps in good condition.
Other Factors to Consider

Weight
Some spur straps are quite heavy. For some riders, this represents a hindrance. Others prefer to wear straps that have some weight to them. For this reason, it is important to try on a variety of straps before making a purchase.

Brand
Before purchasing a set of spur straps, do your due diligence on both the manufacturer and the seller. Manufacturers are responsible for the products that are actually placed into the stream of commerce and the quality of the manufacturer's good workmanship, materials used, design and engineering that result in a set of spur straps that should meet a consumer's expectations, if not exceed them. The importance of researching the seller has more to do with customer service. Returning or exchanging a set of spur straps should not present a headache. Companies with good customer service are willing to work with you.
Frequently Asked Questions
q:

Are all these made with leather?

a:

No. There are spur straps made with synthetic materials. These straps appeal to some customers who prefer vegan/animal-free products exclusively. However, for the purposes of this article, the focus was on leather straps.
q:

What should I do if I purchase a set that is too long?

a:

Of course, straps can always be exchanged. However, in lieu of exchanging the straps, it is easy to punch a hole in the leather using a tool (such as an ice pick) for a more secure fit.
q:

Are all sold as sets?

a:

No. While this may seem counterintuitive, it is important to double check the fine print before making a purchase. Some straps are sold as single items rather than as sets.
q:

How much should I spend?

a:

The prices vary. The more ornate sets of spur straps, including those with crystals and other semi-precious stones, tend to be more expensive. Additionally, straps that are handcrafted may command a higher pricetag. A basic set typically costs around $15. An ornate, elaborate set might run closer to $50. There is something for everyone.
q:

Are these made in America?

a:

Some are. The spur straps made by Weaver, one of the most popular and reputable manufacturers and sellers of spur straps, does indeed manufacture its products in the US.
q:

How do I properly secure these to my boots?

a:

For best results, visit a sporting goods store, ranch, or equestrian farm and have a professional show you. Otherwise, you can watch demonstrations and tutorials online.
q:

What's the best way to learn how to use them?

a:

Without a doubt, it is best to learn from a professional. Investing in lessons is absolutely the best way to learn how to properly use spurs effectively and safely.
q:

What is the relationship between spurs and spur straps?

a:

Spur straps act as a belt, affixing the spurs to your boots in a secure manner. This is why it is important that spur straps are made using durable, thick material -- they are load bearing.
q:

Is it cruel to animals to use these?

a:

No. If used properly, spurs provide direction for a horse to follow and direction, and are used to get the horse's attention rather than to cause it any pain. For this reason, it is important to master the correct technique of riding with spurs. It benefits both the rider and the horse.
q:

If I have a problem with mine, can I return them?

a:

Every seller's return policy is different. However, most reputable sellers are extremely careful about maintaining a good reputation when it comes to customer satisfaction. As such, in most cases, a trustworthy seller with a good reputation will work with you when it comes to returns and exchanges. Just to be on the safe side, double check the fine print before making a purchase.
Subscribe to our Newsletter