Best Meat Slicers Reviewed & Rated for Quality
In a Hurry? Editors choice: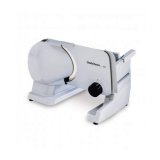 Test Winner: Chef'sChoice 609000

There are many reasons that you would want a meat slicer. First, the obvious reason: to slice meat. However; they will also slice a variety of other foods such as veggies, fruits, cheese, and even bread in some cases. Many consider it a
kitchen staple
and once you own one you will likely feel the same.
Foods are sliced quickly
, thinly, and consistently - more so than even the best chef could do. It also allows you to have better control of the food you buy, how thick you slice it so that you really are in charge of what goes into your body.
Standout Picks
Criteria Used for Evaluation
Accessories
One thing that will quickly determine what kind of unit you end up getting is the size of the blade. For reference, the size of the blade will determine the maximum height of what you want to cut. If the blade is 7 ½ inches tall, anything that is taller than 7 ½ inches won't be cut all the way through.
Most blades on our list fall in between the 7 ½ to 10-inch category, though there are blades available that are much bigger. As a somewhat general rule, the bigger the blade the more you will end up paying. This makes sense, as you will be capable of cutting bigger and potentially more things when you get a bigger blade so that is also something to keep in mind.
Ease of Use
Another thing to consider is what type of blade you want to get on your meat slicer. The options are typically serrated or straight, though there are other specialty ones as well such as a bread slicing blade. Not all units will offer the ability to change blades or make other types than what comes on the unit. Serrated blades and straight blades both cut some things better than others so if this is something that is important to you, make sure you choose one that you can buy different types of blades to go with it.
Value
There is a wide gap between the cheapest meat slicer available and the most expensive. A lot of this has to do with commercial vs. home use, but not entirely. As is the case with a lot of things in life, you are really getting what you pay for here. The more you are willing to spend initially, the better of a product you will be getting.
The good news with meat slicers is that the more you spend upfront also tends to mean the more you save in the long run. More expensive units will be able to cut more meat faster and, with the proper care, will last longer as well. Because your slicer will ultimately pay for itself no matter the model you end up choosing, the more expensive ones are definitely worthwhile, though will take a little more time to balance out.
Power Source
Something that goes right along with our last point, is how much power are you looking for? More power means more cost, but it also means more things cut in a shorter period of time. While all of the units on this list work very well and come highly recommended, more than one of them have the complaint that they are just slow.
Slicing through a big ham is no small task and if you have a small motor, takes a decent amount of time. A heavier duty motor will always take the task that a smaller motor is struggling with and accomplish it and beyond in less time. If you aren't a patient person, you may want to consider getting a unit that has more umph to it.
Safety Hazards
It goes without saying to a certain extent but it never hurts to point out the obvious that this is a sharp dangerous piece of equipment in the wrong, or in careless hands. So as we go through our list we're going to be looking for fail-safe features that will not only keep you with well-sliced meat but keep you out of the hospital.
Best Meat Slicers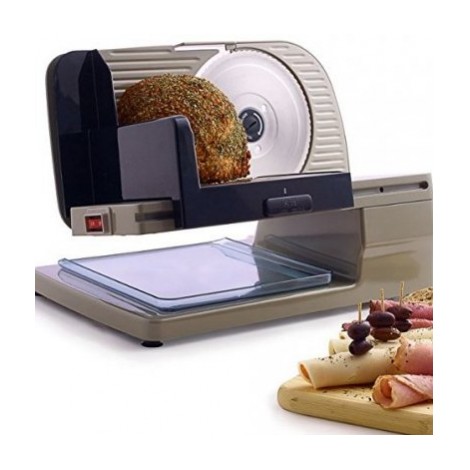 This is an electric food slicer that is made mostly of stainless steel and cast aluminum. In fact, all key components are made of those materials. It cuts a wide variety of thicknesses and will slice pretty much anything you want it to from meat all the way to bread. It comes with a serving tray, the total weight is around 11 pounds, and the motor is high torque, cool runnings, and has a solid 120 watts.
Choose Your Thickness
You have the opportunity to choose your thickness with this meat slicer. It will slice anywhere from the thinnest deli meat up to around ¾ of an inch thick. This allows you to vary your thickness depending on your needs and the specific dish you are hoping to achieve.
Food Carriage
If you were looking for a unit that would provide you with efficient and fast cutting, then this is it. The food carriage is tilted, is large enough to hold big roasts and hams, and is fully retractable. Additionally, the carriage can be locked into place when not in use to ensure safety.
Cost and Value
Owning your own meat slicer can really save you a lot of money if you put it to good use. You are more likely to use a tool that works well and requires minimal effort from you. This unit is that. It is electric, has a high power motor, and will slice very thin or much thicker. It can slice it's way through pretty much anything and by doing so, easily earns its somewhat expensive price tag. However; if put to good use, it will pay for itself in very little time and start saving you money after that.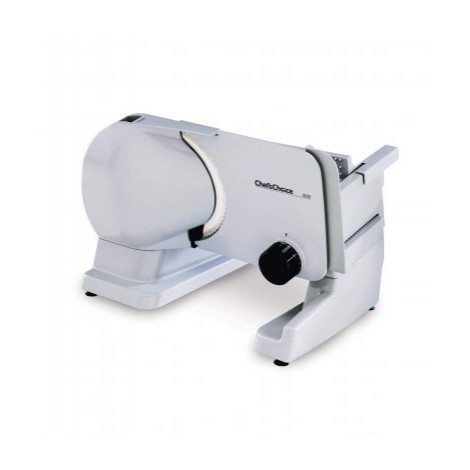 This is a great little slicer for home use. It is made of cast aluminum, measures 15x10.5x11 and weighs in at about 8.5 pounds. It sits and stays sturdy on your counter and feels similar to other sturdy kitchen products like stand mixers. It comes with a serrated blade but does have the option of changing that out for a straight blade if you prefer that.
Slice it Thin
Do you require your meat or cheese to be sliced very thin? This unit will do that for you. It'll also go thicker if that is more your style. You will often find yourself more than pleased with the fact that your meat is cut thinner than what you can find at restaurants for various dishes such as Hot Pot and Shabushabu.
Feels Safe
While wielding a large, spinning blade can feel a little apprehensive and not something you'd want to do in your kitchen on a regular basis, this slicer makes you feel safe while you are doing it. As long as you use the unit as it is intended, there will be no issues. It is sturdy and won't tip over and does come with a handguard.
Cost and Value
This unit comes to you at a very good price. It'll more than pay in a short period of time depending on how often you use it. It will effectively cut all of your meat, veggies, cheese, etc. for far less than they charge you at the deli counter or what you pay for a veggie tray. Ultimately, if you put it to good use, you'll be more than satisfied with your purchase and the money spent.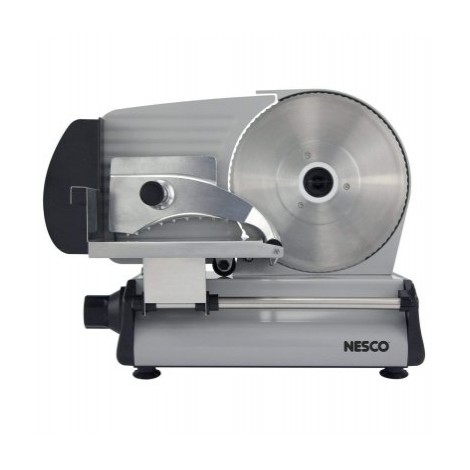 This stainless steel meat slicer is the perfect way to save yourself hundreds of dollars on pre-sliced deli meat and cheese. It runs smoothly with 180 watts and operates on 120 v. It has a detachable, large blade that is fully stainless steel and serrated. It will cut very thin - about ⅛ of an inch, all the way up to just over ½ an inch.
Easy to Clean
A big problem with owning your own meat slicer is that they can be a big pain to clean. This one addresses that issue because let's be honest, if you don't like to clean it you aren't likely to use it. This can be taken apart into three pieces - the blade, food tray, and the base which is where you find the motor. The blade and food tray can be immersed to be cleaned and should be thoroughly dried before putting back together. It is easily assembled and taken apart.
Slices it All
This unit will slice just about everything you need it to. The biggest, most obvious thing we're talking about slicing here is meat and it handles that like a breeze. However; it'll also do cheese and even bread and anything else that you might want to put in between. You can slice every piece of your sandwich here - which also means you have much better control about what goes into it and portioning.
Cost and Value
As is the case with all other units on this list, over time your meat slicer will end up paying for itself. However; this one is on the cheaper end of things, to begin with. You more than get your money's worth and will be much better, and healthier, for it.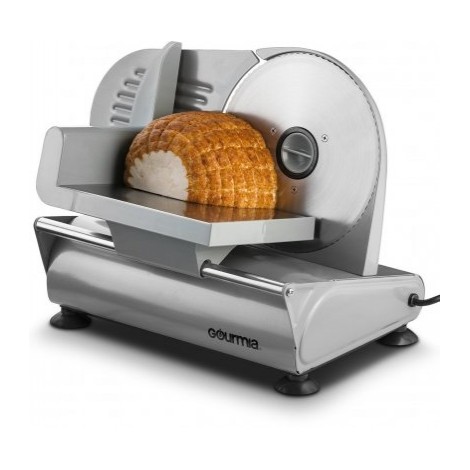 This meat cutter features a sharp stainless steel blade, a powerful 180 watts, and is easy and safe to both use and clean. It is made mostly of stainless steel and cast aluminum. It can slice anywhere from super-thin up to ¾ of an inch so that you get exactly the cut that you want and don't have to settle for something too thick or too thin.
Removable Blade
While it may never be appropriate to say that cleaning a meat slicer is easy, this one does come close to that. The blade is easily removed so that you can thoroughly clean and reattach it. This also makes changing it out not a terrible process either if you'd rather have a straight blade or like to switch between different ones.
Suction Grip Bottom
The bottom of this unit has a suction grip which means that it will grab onto your counter when it is in use. This allows you to feel safe and secure when using it. You won't have to worry about it falling or slipping or causing any sort of damage. In fact, you'll have to put a little muscle to move it - but not too much.
Cost and Value
This model allows you to get all the benefits of a quality meat cutter without all the upfront price. Not only will you be saving hundreds of dollars long term, but you will also save a significant chunk upfront. This Gourmia works like a dream and will satisfy any food slicing needs you may have at home.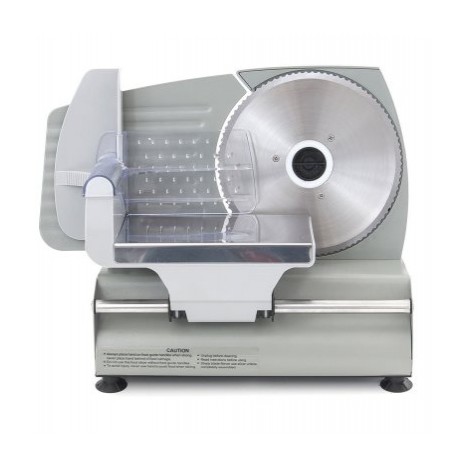 This unit is small and inexpensive but is a workhorse. It takes up minimal counter space but very effectively cuts meat, cheese, and veggies which makes it the perfect addition to your home or small business space. It features a corrosion-resistant 7.5-inch stainless steel blade that will maintain it's sharp edge very well.
Numerical Scale
There is a numerical scale knob adjuster on this slicer. It allows you to adjust the thickness or thinness of the cut and have a visual while doing so. Take the guesswork out of deciding how thick or thin your cut is. Adjust it easily and right to where you want it every time.
Sliding Meat Carriage
The sliding meat carriage here is a great addition for a number of reasons. First off, it allows the cuts that it makes to be neat and consistent every time. Secondly, it keeps your hands safely away from the blade the entire time it is cutting. This ultimately means better meat and fewer cuts of your hands.
Cost and Value
This is one of the least expensive units here. If you aren't looking for anything super fancy, but instead want a basic model that will take up minimal space in your kitchen or business this is your meat slicer. It will do any job you present to it with ease and will also be easy on your pocketbook both initially and as time goes on.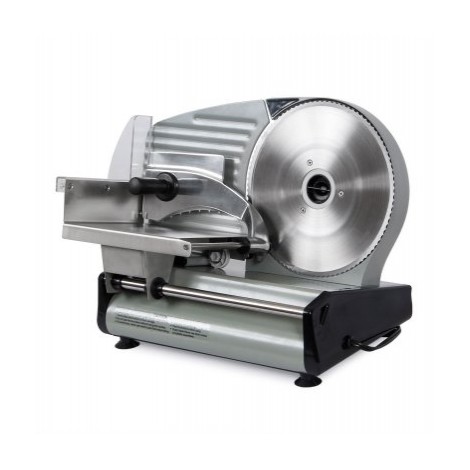 This meat slicer is perfect for home or commercial use. The blade is 8.7 inches and will easily slice through meat, veggies, cheese, and bread. It features a sliding meat carriage and meets and/or exceeds all safety standards. It will save you time, save you money, and help you to take greater control over what food you eat in your kitchen.
Spiked Meat Holder
An awesome feature found here is a spiked meat holder. It really goes a long way when it comes to keeping your meat in place. This helps to give you nice, consistent, cuts as the meat isn't wiggling around, and also helps prevent you from having to hold it in place which potentially places your hands in danger.
Bigger Blade
The blade that this unit uses is just a bit bigger than most of the others on this list. While others ring in at 7.5 inches, this one boasts a full 8.7 inches. This allows for it cut meat slabs that are just a little bit bigger than the others. This is particularly helpful when looking to slice bacon that often has to be cut or trimmed to simply fit through other meat slicers.
Cost and Value
The price here is exactly right. It's closer to the higher end price-wise, but the bigger blade and spiked meat tray make it more than worth the extra splurge. It can be used both at home and commercially and will more than pay for itself with even moderate use.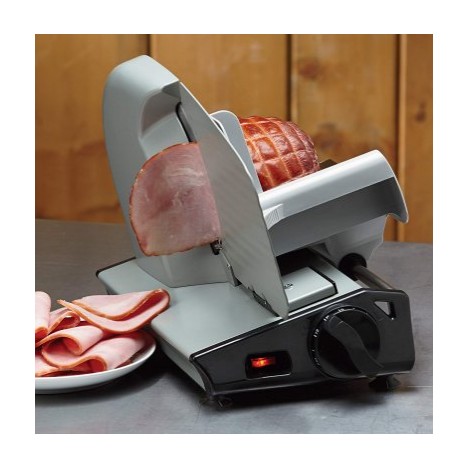 This is a heavy-duty meat slicer that is made of stainless steel and has a lot of power - 180 watts to be exact. It features non-slip feet which work well to hold it in place both while in use and storing. It will cut your meat from very thin up to 9/16ths of an inch.
Safe Design
The design on this meat slicer is such that it keeps your fingers safely away from the blade. It has an automatic meat tray and doesn't require any intervention from you while it is running. In addition to safety, the design is such it is also easy to clean - which is a big perk.
All Temperatures
Do you like to slice your meat when it is frozen or at least partially so? Or do you prefer to cook it and slice it warm? Either is an option with this meat slicer. It does both hot and cold extremes and anything in between with ease.
Cost and Value
This is an excellent meat slicer for the cost. It will do everything it says it will and everything you want it to. However; it does fall at a lower price point than the fanciest units available. If you want something that is perfect for home use, this is that. If you want something that is perfect for heavy commercial use, then this may not be your best bet. As long as your expectations are where they should be, you'll love this handy money-saving meat slicer.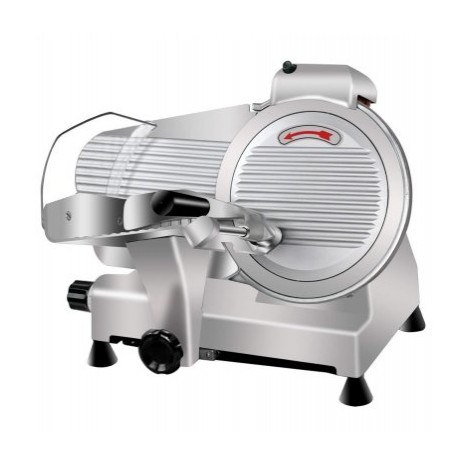 This is the first commercial-grade slicer we have featured on this list. It has ⅓ horsepower so you know that it has enough umph to slice through pretty much anything you throw at it. It can cut from 0-13 mm, which converts to very thin up to ½ an inch. It takes up a somewhat small piece of your kitchen real estate and every inch it uses is worth it.
Built In Sharpener
The best cuts happen when you have a sharp blade. A blade is kept it's sharpest when it can be regularly sharpened. What better way to ensure that happens than to install a dual whetstone sharpener right on the unit? This makes sharpening almost part of your meat slicing routine and will guarantee you get the best results possible.
Fixed Ring Guard
One way to ensure that you won't get any unintentionally cut fingers is by installing a fixed ring guard above your blade. That is just what you will find here and if safety is one of your biggest concerns, then you will likely be more than happy to pay the money to get this meat slicer.
Cost and Value
This easily ranks among the most expensive meat slicers on our list. However; it is commercial grade and has a more powerful motor than any other you will find here. It also has other features - like the built in sharpener and fixed ring guard - that logically cost more than it does to not include them. This is more than worth its price tag and if you want one of the fanciest for your home or perhaps own a coffee shop that makes sandwiches, you'll be well served by paying a little more upfront.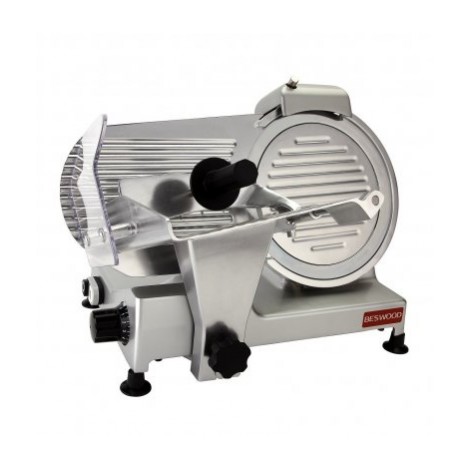 This is another commercial-grade meat slicer. It is big and powerful and has a 10" blade. The blade itself is made of Chromium Plated Stainless Steel and the rest of the unit is made with aluminum. It has a blade sharpener that is top-mounted, though it shouldn't need to be used often as this blade only needs occasional sharpening.
Less Sharpening = Longer Life
A great feature found here is the fact that this blade holds its edge very well and needs less sharpening than a standard meat slicer blade does. Not only does this require less hands-on maintenance time for you, but it also extends the life of the blade. While having a sharp blade certainly makes your life easier, having a blade that will stay that way for extended periods of time with little effort is even better.
Work Horse
This machine is capable of cutting anything you send in its direction. It is strong, quick, efficient, and relatively quiet. It will cut meat, fruit, veggies, bread, cheese, and really anything. In addition, it lasts a long time with minimal maintenance.
Cost and Value
There is no way around it, this meat slicer is expensive. However; it has amazing reviews and will really serve you well. It will last a long time and the quality of the machine will more than live up to the upfront cost. Like all other meat slicers, it will save you a lot of money in the long run as you'll replace a lot of store-bought sliced goods with your own.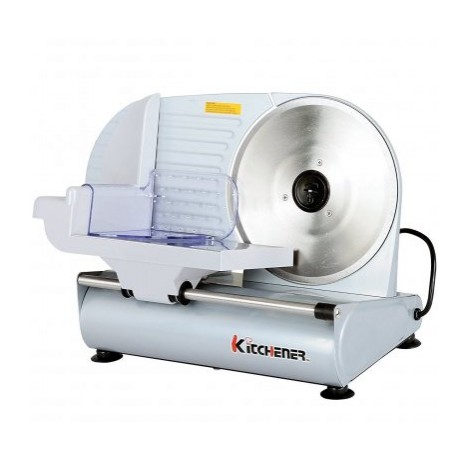 This slicer is a compact unit that weighs just under 15 pounds and takes up minimal counter space. It has a stainless steel blade that will slice any thickness from deli counter thin to ⅝ of an inch thick. In addition, all working pieces can be removed for easy and thorough cleaning.
Suction Cups for Feet
The feet on this unit are not your standard rubber nonstick or slip material. They are actual suction cups that will hold firm to your countertop so that there is no ability for it to slip at all. You also won't be left with ugly black marks on your counter where the rubber feet prevented slipping - because there are no rubber feet.
All Removable
A critical thing to take into consideration when buying yourself a meat slicer is your ability to clean it. When you are dealing with meat, raw meat, in particular, you want to ensure you get a nice, clean, and sanitized surface. This is not always possible with difficult to take apart units or hard to reach blades. Here, all moving parts (food pusher, food carriage, blade, thickness guide, and food deflector) can all be removed and cleaned. This ensures a sanitary surface and safe food.
Cost and Value
This unit comes to you low to midrange compared to those on this list. This is a powerful, sturdy unit that more than lives up to the price. You will get years of use out of it and ultimately save yourself a lot of money by slicing all of your own meats and cheeses.

Subscribe to our Newsletter