Best Waterproof Dog Coats Reviewed & Rated for Quality
In a
Hurry? Editors choice: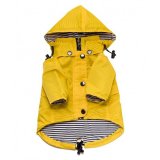 Test Winner: Ellie Dog Wear

Some dogs have been built for colder and wetter climates, but there some aren't as comfortable out in the rain. Buying a raincoat for those dogs would be doing them a big favor. A bit of rain might not seem like a big deal, but prolonged exposure to the elements won't be doing your pooch any favors. There are as many kinds of raincoats as there are kinds of dogs. Here lies a list of some of the best options on the market. Come on down and have a look at the best the market currently has to offer.
Standout Picks
Criteria Used for Evaluation
Water Resistance
If you are looking for a raincoat for your dog, then this is probably the thing that you are looking for. All of the coats on this list will do a good job of keeping your dog dry in any kind of rainy day. The waterproofing on many of these coats is achieved through two different methods. The first is to make the entire coat of a certain kind of plastic. Plastic is entirely waterproof and the water should just slide right off. The other option is to get a jacket that uses treated fabric. This might be a little less waterproof, but it will do a great job regardless. This material will be comfier, but more often than not, your dog won't even notice that. The higher the rating is in this category, the more certain you can be that your dog will remain dry in all kinds of weather.
Insulation
Another important element to buying a coat for your dog, is to make sure that your dog can stay warm when it goes out. There are different levels of insulation among these coats. Some don't have much insulation at all, and simply focus on keeping your dog dry. Others have pretty thick layers of insulation that will keep your dog warm as well. These coats are a good choice for if you live somewhere more wintry. If you are looking for something to fend off the snow as well as the rain then try to find one of the coats on this list that has a lot of insulation. Another important thing to remember when thinking about keeping your dog warm, is how much they do of that for themselves. The type of fur that your dog has may mean that it doesnt need any iunsyulation at all.
Features
Other features that can be attached to some dog coats can make the difference between a good dog coat, and a great one. There are a few features that will be in your best interest to look out for. One important one is how the coat accomplishes allowing you to attach your leash to the dog. Some of the coats have an external attachment. This is a good idea because it won't break the seal of the waterproofing. On the other hand, it will most likely hold onto your dog more loosely than if you attach the leash to their collar. You can also find coats that have slits that allow you to put the leash through. This is useful for a better fit. It is also a good idea, as long as they do a good job of keeping that slit covered up.
Fit
The fit of the dog coat that you end up buying is a good thing to look into. The amount of movement your dog goes through means that it is important to find a coat that doesn't impede their movement. There are a few ways to do this. Some coats drape loosely over the sides of the dog. This is useful because it means that your dogs legs can move freely while it walks around. Other ways that your dog coat can fit include having the coat simply fit around your dog's torso. This will provide less coverage, but it does ensure that your dog will remain free and won't trip over themselves.
Protection
Many times when you are taking your dog for a walk, it might end up being at night. This is fine as long as you bring the right coat along. Make sure to get a coat that comes with reflective stripes. This is useful for being able to see your dog at night, and also in bad weather. These stripes are most useful if you live in the city. If your dog runs out into the street, having reflective strips could be the major difference in keeping them safe. Make sure the stripes are visible from as many angles as possible. You want the stripes on the sides of your dog, and probably the top as well.
Subscribe to our Newsletter