Best Portable Grills Reviewed & Rated for Quality
In a Hurry? Editors choice:
Test Winner: Camp Chef Outdoor Oven

We've all felt a hankering for a warm cooked meal while being stranded in the middle of nowhere. Whether it's because you went camping, hiking, or really are stranded in the middle of nowhere, sometimes camping rations just aren't going to cut it, and you need something that will actually warm you up as it goes down. If only there was a way to bring the outdoor cookout with you, wherever you went, without having to lug around that gigantic grill you have stationed behind your house. Furthermore, we've prepared you a list filled with one of the best portable grills which were reviewed as an excellent option by many clients all over the globe, and by following it, we are completely sure that you will be able to find something that will fulfill your needs.
Standout Picks
Criteria Used for Evaluation
Effectiveness
This is also referred to as BTU, but not a lot of people use that nowadays as a form of measurement (especially not the British, odd considering British is literally in the name but whatever). But whatever you call it, how much heat a grill generates is likely one of the most important parts to consider when buying a new grill. After all, the heat is the literal reason why you're buying this thing, to begin with. Without enough heat, you can't make anything, but be careful not to chase a higher BTU count for its own sake. As we discussed with one of our first entries, a too high BTU count means that slow cooking is basically impossible. Slow cooking needs a nice, even heat that doesn't raise the temperature too fast. And if you have a grill that has a, say, 12,000 BTU output, then that's going to be a problem. It doesn't matter how much you make it simmer, it's going to raise the temperature of the food too fast.
Heat output is important, but as you can see, low heat output is not necessarily a deal breaker.
Size
But what is a grill without the space to actually cook anything on it? A glorified hot plate, that's what. This is actually a delicate balance that these grills have to walk between this and the previous entry, ease of transport. Too much cooking space, of course, and your portable grill isn't so portable anymore. But too little and good luck cooking much of anything on it. The average amount of cooking space afforded to consumers is a bit over 200 sq. in. Some go lower than that, others go higher, but that seems to be the average across the board.
Weather Resistance
This is the ultimate challenge when cooking outside. You'd be surprised (but then, maybe not) at just how little your big summer cookout matters to mother nature, who will send a thunderstorm to rain on your proverbial parade on a lark. And while there's nothing that even the most advanced grill can do about that, there are measures that it can take against the stray stiff breeze here and there that would threaten your cookout all the same. We saw this with our #8 pick and its wind block panels. These keep the wind from 3 cardinal directions (and trusting you to have the body mass and responsibility to stand in front of the grill while cooking, to act as the fourth block) thus keeping the wind from cooling off your cooking grid prematurely and ruining your meal before it's even finished.
There are plenty of other ways to go about this, of course. Other grills come with lids on top, meaning that you can just close the lid on the food when it's all seasoned and ready to fully cook. Being able to control the heat also helps a lot.
Versatility
Being a good grill is one thing but being a good grill and oven/stove is quite another. This is one that we deemed to be a situational criterion to judge. Because if a portable grill just wants to be a grill, there's nothing wrong with that, and we judged it purely on those merits. But if a grill also has the capacity to be an oven as well, then we would judge how well it accomplished that goal. Was the food that came out of the oven edible? Was it anywhere near as good as the food you can cook at home in a regular oven? How do you power it? These questions were all thrown at each potential entry.
Value
Barring certain exceptions such as the two penultimate entries on the list, portable grills are very expensive. Even the cheaply made ones sit neatly in the triple digit price range. So, like all items we judge that is this expensive by default, we instead chose to judge based on how well the items can justify being that expensive. This includes basically everything we've covered thus far because that is how you justify a high price tag: make an excellent product. Price is typically decided by how many features it has, or what it's made out of. For instance, though both will be expensive, a grill made from stainless steel will typically be much more expensive than one made from porcelain. Both will be expensive, but it costed more to make one than it did another, and thus that one will cost far more.
10 Best Portable Grills
1

. Camp Chef Outdoor Oven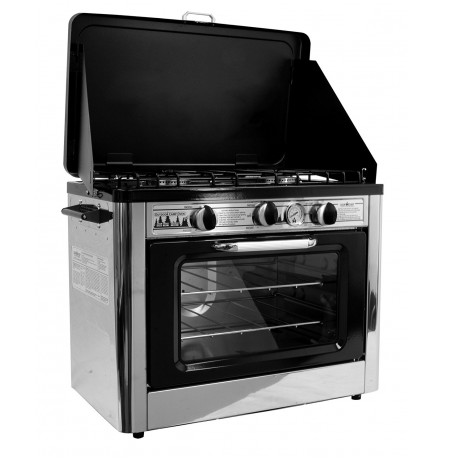 In the mood for some nice hot meals, but do not feel like rolling the dice on an old, beat up the hot plate? Then what you need is our first entry on this list, the Camp Chef Outdoor Camp Oven. So, what makes this camp oven such a great alternative to the hot plate? Well, let's take a closer look and find out.
Grill and oven
One trait you will often find with these larger portable grills is that the reason they tend to be larger is that they have much more to offer than simply grilling. In this portable grill's case, it offers both a grill, a cooktop stove, and a mini oven. Now you can pretty much cook whatever you want, so long as you don't mind eating it small.
Included propane tank
One hurdle you may have to cross with other portable grills is the fact that they still require propane, but you are the one who has to actually bring it with you. However, that is not the case with this portable grill, which includes its own, 1-pound propane tank. This propane tank is good for one full meal or a few, smaller meals.
Cost and Value
One thing you will have to get used to is that these are not cheap products, by any stretch of the imagination. The extra features may have something to do with it, but it still shouldn't be a surprise that this portable grill costs well into the hundreds range.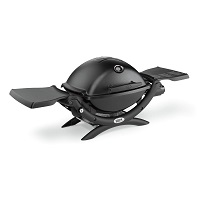 In second place, we have the Weber Liquid Propane Grill. This is the kind of portable grill you go with when you need something that's functional but also compact and stylish. Not only is the design sophisticated and sleek, but as we will show you, it has a lot going on under the hood.
Side trays
This may seem like a small thing, but you won't believe how much of a life and timesaver this can be unless you actually use it for yourself. No more setting food on the table where ants can get to it while you get the plates. Now you can just set any food that's ready on the side trays, safe and clean.
Convenient containers
Need a place to put your trays, pans, and other items that you put on a grill? Well, with the Weber grill, you have all the space you could possibly need. Underneath the trays on the sides of the grill are little shelves that you can use to not only store the trays for more convenient storage but also any pan or dish that you've brought along with you.
Cost and Value
Not only is this grill pricey, but it's also almost twice as pricey as the previous entry. However, this is one of the best portable grills on the market, so you are getting your money's worth.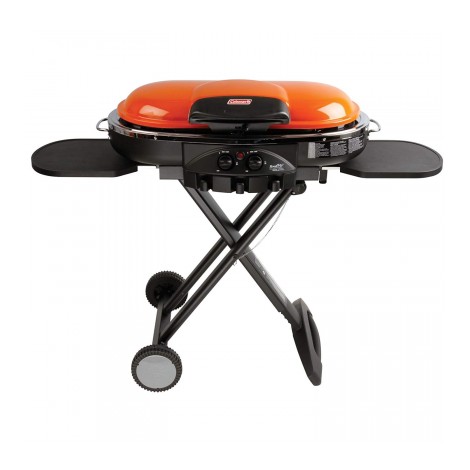 Finishing up our top 3 segment, we have the Coleman Roadtrip Propane Grill. This is a grill that's built for travel, whether you're hiking, camping, or going on a good old-fashioned road trip. So what makes it that way? Let's find out.
Personal stand
You can have the best portable grill in the world, but it will matter shockingly little if you don't actually have a place to put it. A problem that this grill promptly fixes by having its own personal stand that you can wheel around at will thanks to its own set of wheels. Don't worry, it also has a stopper on the other end of the stand that you can use to keep it in place.
Excellent control
This grill is a breeze to start up, and somehow even easier to control after starting it up. Starting up the grill is as easy as pushing an insta-switch button, and controlling heat are done via two independent, adjustable burners, which then put out up to 10,000 BTU's of heat.
Cost and Value
The price of this grill depends on what buyer you're getting it from, as it does tend to fluctuate. Sometimes it's reasonable, sometimes it's, well, not.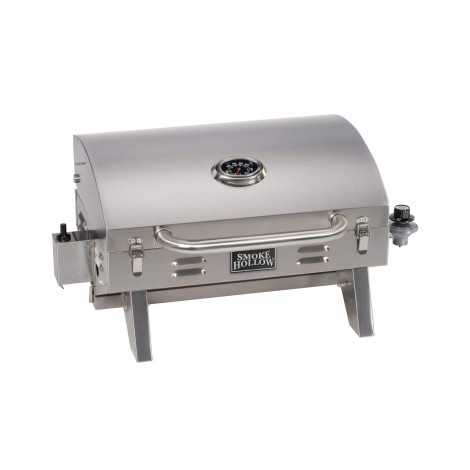 Coming in at #4, we have the Smoke Hollow Stainless Steel Tabletop Grill. The other entries on this list are excellent, but sometimes you want your top of the line, professional grade grill you have at home to follow you on your important business trip. Fortunately, with this grill, that is now possible.
Full cooking experience
Not only do you have a 10,000 BTU grill, but you also have 205 sq. in. of cooking space, for those big family meals, as well as a 105 sq. in. chrome plated warming
rack
. So whatever meal you want to eat, as long as it can be grilled, is yours to make.
Foldable legs
Not only is every inch of this thing made from pure stainless steel, but the legs are also foldable. So, if you have your grill on top of a table already, you don't have to also deal with the unnecessary lift of those legs. But if you have to put it on a lower platform, then you can use the legs, so you don't have to lean down too far to make your food.
Cost and Value
While still expensive, this grill will usually be found at a much more reasonable price than the other entries on this list.

5

. Cuisinart CGG-180 Petit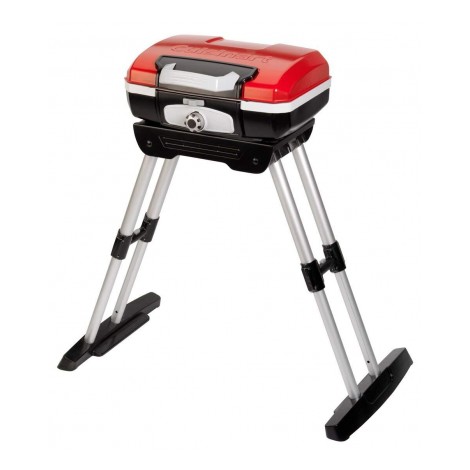 At #5, we have the Cuisinart Petit Gourmet Portable Gas Grill. While by no means the biggest or widest portable grill on the planet, if you're a solo camper, then this is about as perfect a portable grill as it gets. So, what does it actually have to offer? Well, to give you an idea.
Freestanding and tabletop
This grill isn't just foldable, it's straight up collapsable. The stands on this grill can be almost completely collapsed for those tabletop cookouts, or they can be pulled out until it's its own standing grill. The choice is up to you.
Easy to carry
The small size may also mean less power, and that may be a turnoff for some, but the upside is that this is one of the easiest portable grills to take with you, weighing a paltry 17 pounds and being able to be carried around like a briefcase. And since portability is the whole point of these grills, that is a big point in its favor.
Cost and Value
While not as cheap as the previous entry, for a high-class portable grill, the price of this grill, you'll find, is actually very reasonable.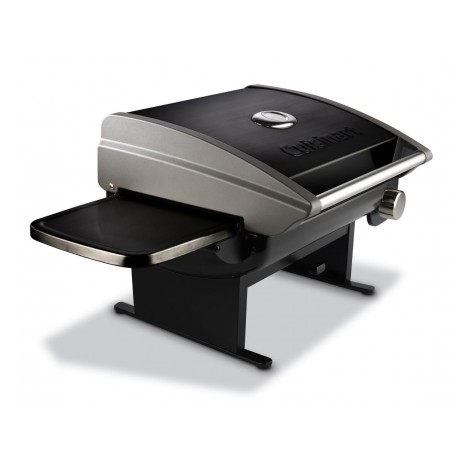 In the #6 slot, we stay on Cuisinart for a bit longer with the Cuisinart Outdoor Tabletop Grill. Unlike the previous entry, this one is strictly a tabletop grill. That may annoy some people since that does tend to limit what you can do with it, but nonetheless, this is still a very high-quality portable grill. Which we will explain the specifics of now.
Powerful
The most powerful we have seen from these grills thus far is about 10,000 BTU at most. That changes with this grill, which has an output of over 12,000 BTU. Meaning it has a higher heat output than the other entries seen so far on this list. Which is great for when you want to cook that meal crispy and fast.
Easy to set up
One thing you definitely don't want to deal with when you get a portable grill is the setup. Because setting up a normal grill is hard enough when you have all that space but dealing with its more compact counterpart is typically worse. However, this grill is ready to use pretty much right out of the box.
Cost and Value
Obviously, a grill this powerful wouldn't be cheap, and sure enough, if you want one of the best portable grills on the market, you'd better be ready to pay up.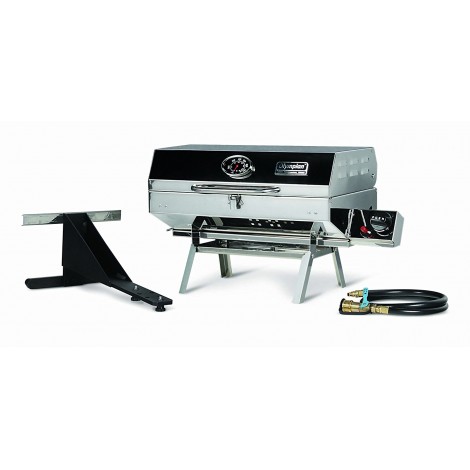 Coming in at #7, it's the Camco Olympian Stainless Steel Portable Grill. If you're traveling with a big family, then you need to buy this one. This grill is specially made for big camping parties, able to cook a whole bunch of food at once and sporting a few specialties that we think will sway your opinion a bit more.
RV/Trainer mountable
Why look all over the place for a spot to put down your grill, when you can just mount it to your trailer hitch or RV and use it from there? While you can just stand it up, if that isn't an option, this is definitely what the grill was actually built to do. And the best part is just how firmly it clamps down on the hitch, so you don't have to worry about it falling off.
Fast heat up
One trade off these portable grills tend to have is that, because they're smaller, they don't generate as much power as fast as the larger variety, so they can take a minute to start up really. Fortunately, this grill doesn't take very long at all to reach full power, so you'll not just be sitting there like a doofus waiting for the grill to get going.
Cost and Value
And once again, we're back to the prices for these grills being incredibly high. For this grill, at least, it makes total sense, considering all of the features it's sporting.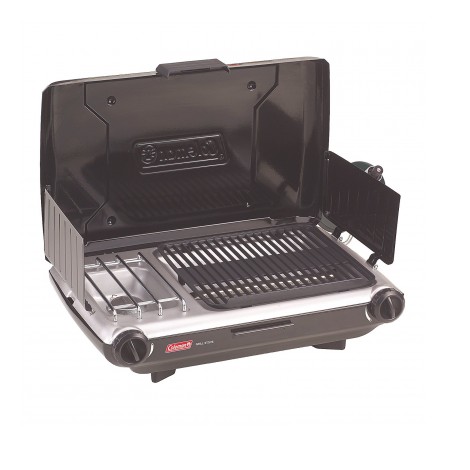 Kicking off our final three entries, we have another Coleman entry, with the Coleman Camp Propane Grill/Stove. Coleman has put out some excellent products in their day, but this grill is easily one of their best. Now, let's find out why.
Perfect flow technology
The main hurdle that every grill has to face, whether large or portable, is the fact that nature will often get in the way of their work. They have to keep every inch of that stove top consistently and evenly heated to extreme temperatures, no matter how cold it may be. Fortunately, this Coleman grill has a solution for this; PerfectFlow tech. This design philosophy makes sure that the entire grill top stays consistently heated no matter what.
Wind block panels
While not the main hurdle, this is still a big one. One thing that will definitely get in the way of that perfect outdoor cooking is the fact that the wind doesn't care what you're doing, it will blow as often and as hard as it bloody well pleases. Which can, of course, get in the way of a cooked meal being cooked evenly. Unless, of course, you have a few wind block panels that will keep the wind off of your burgers.
Cost and Value
This is probably the cheapest entry on this entire list. Costing well below the $100 range we've been comfortably inhabiting throughout this entire list thus far; this grill will give you top-notch performance for a very reasonable price.

9

. Char-Broil Performance 300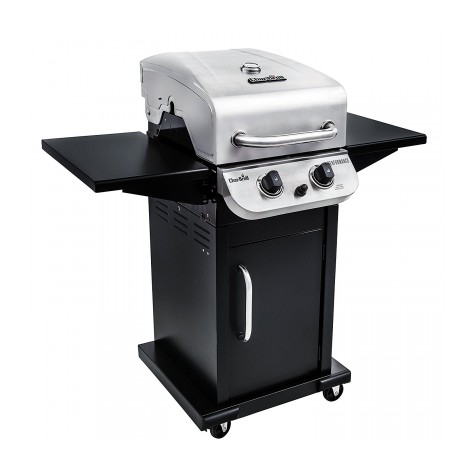 In our second to final entry, we have the famous Char-Broil, giving us their portable liquid propane gas grill. Char-Broil has been around for a long time and have gotten very good at making gas grills, so it's no surprise that one got on this list. Now let's see what it took to qualify this grill.
Easy to transport
This grill achieves an excellent balance of providing you with ample space to cook, while also keeping itself compact and easy to transport. Like other easy to carry portable grills, it's carried like a suitcase, with a handle at the front lip that you can grab onto.
Sturdy legs
This grill probably has one of the best leg designs on this entire list. Instead of being directly underneath, and thus easy to topple over, the legs are instead their own separate entity screwed onto the grill. This isn't just good for balance, but it's also great for keeping the heat off of the legs.
Cost and Value
Scratch what we said about the previous entry because this is the cheapest entry on this entire list. Regardless of what retailer you're consulting, you're likely to find this portable grill for very cheap, considering what it's selling.

10

. Napoleon TQ2225PO Travel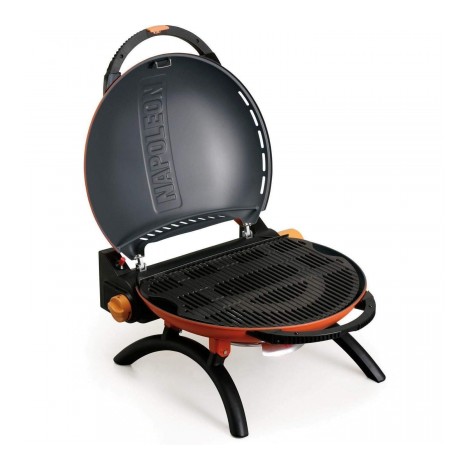 For our final entry, we're looking at the Napoleon Portable Propane Grill. Though not quite as impressive as other, more mainstream brands, Napoleon has turned in an excellent product with this portable propane grill. So, what does it offer in order to get onto this list? Let's take a look and find out.
Plenty of cooking space
Even though this grill can be carried around as easily as any other grill on this list, what sets it apart is the fact that it still manages to give you a whopping 285 sq. in. of cooking space, much more than most of the other entries on this list. Combine that with its toasty 12,000 BTU of power, and you have one tough grill on your hands.
Excellent cooking grid
The cooking grid is the most important part of the grill. Whether a flame is burning directly underneath it, or if the fire is generated by rapidly vibrating the grid, the grid is where the cooking magic happens. And this is a top notch one, made from porcelain zed cast iron.
Cost and Value
Our cheap streak is not only broken, but we've gone in the complete opposite direction. We've gone from one of the cheapest entries on this entire list to one of the most expensive. If you want this grill, you'd best be prepared to pay the price.

Subscribe to our Newsletter