Best Hunting Tripods Reviewed
Tripods are sturdy stands with mounts that hold up important equipment relating to hunting, photography, media and more. Hunting tripods are a little more complex in their requirements since they will hold everything from guns to cameras. A good hunting tripod is multifunctional and blends in with the environment rather than standing out. With the reliance on top grade hunting equipment to deliver, if the stand they are on is subpar then it negates whatever features that equipment has. So in many ways a hunter that depends on a stand needs the very best, since his entire seasons haul may depend on it.
Our Top 3 Picks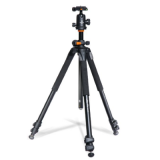 Vanguard Alta Pro 263AB

Our rating
Six different styles
Price:

See Here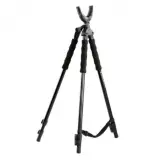 Vanguard Quest T62U

Our rating
Multifunctional
Price:

See Here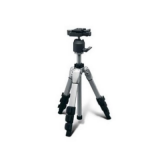 Leupold Compact Tripod

Our rating
Non-bulky
Price:

See Here


Best Brands
Bushnell, Primos, Vanguard and Bog-Pod come to mind. All four companies have a good eye for what makes a good tripod, and more importantly what features a hunter would be looking for. Vanguard is the best out of all the companies, with a large amount of their focus going to compatibility and stability. For the most part all brands make the finish/colors of their hunting tripods plain, or in camo. The reason all of them aren't in camo is because of the multiple uses for a hunting tripod. A well-equipped hunter can pack up his hunting tripod and use it for other activities if needed. It's all about keeping the options open when it comes to purchasing a hunting tripod.
Maintenance and Cleaning Tips
Tripod cleaning is simple enough, with the major parts to concentrate on being the feet. Since they will be implanted in the ground almost 100% of the time, there will be a lot of accumulation of dirt with extended use. Dirt on the feet that is left unchecked can lead to balance issues, and in a worst case scenario permanent damage. A tripod with bad feet is useless, since the entire point of the unit is balance. So always clean the feet first, and then move on to the rest of the tripod. Use a mild soap and water to do the cleaning, being very careful not to put too much force in place where dirt is a little stubborn. Hunting tripods are one of the easiest accessories to clean if you keep up with it from the start.
10 Best Hunting Tripods
1. Vanguard Alta Pro 263AB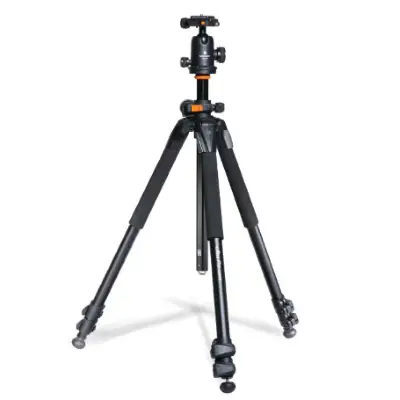 The best of the best is the Vanguard Alta Pro 263AB, and by a wide margin. It holds all of your equipment steady while giving you the best options to use when on the road.


Expand to see more
Different Styles

There are six different styles for this product, all focusing on unique features for their specific audience. Besides the one mentioned there is the Alta Pro 283CT. 263AGH. 264AB, 263AP and the 263AT.

Features and Specifications

26mm 3 section aluminum alloy legs
Magnesium die-cast canopy with anti-shock ring

Price/Value

This is the best built hunting tripod on the list but also the most expensive, and the only high priced one. Hunters that want the best the industry has to offer will find instant value in it as an investment that will improve their game hunting.

Decision Time

Vanguard outdid themselves with this model, providing enough options to make anyone happy. The price is high, and the equipment is one of a kind.
Legs can adjust to 25,50 and 80 degree angles
Has the highest load capacity on the list at 15.4 pounds
2. Vanguard Quest T62U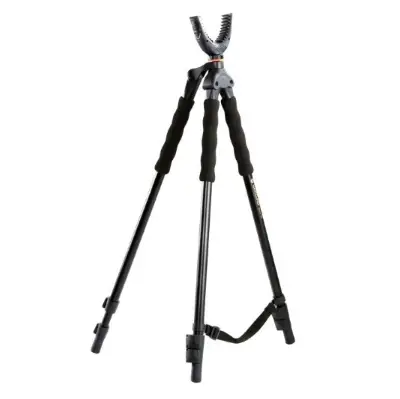 Vanguard takes up the last two spots starting with the T62U, the lower priced model. But just because it costs less than other Vanguard products, that doesn't mean it isn't top quality.


Expand to see more
Multifunctional

The T62U can work as a bipod, monopod or tripod. This should fill every conceivable need you have for all types, and makes this model an invaluable all around stand.

Features and Specifications

Removable U shaped yoke
Lightweight aluminum with soft rubber fins

Price/Value

With all the devices you get in one, the low price of this tripod becomes worth it. And the value gets higher if you own a lot of mountable equipment.

Decision Time

The T62U may not be the best Vanguard product, yet it may turn out to be the most useful. Hunters will get more use out of this than any other accessory under their ownership.
Can be used in more positions than any other tripod on the list
Quick flip lever controls the legs so you can move at will
Yoke needs to be more secure
3. Leupold Compact Tripod 56446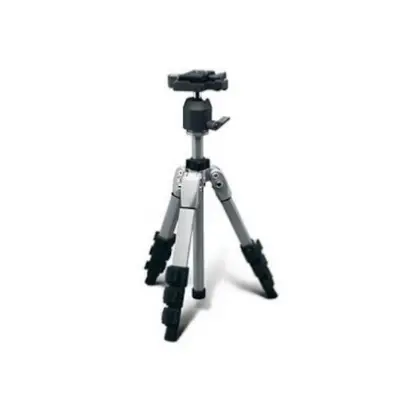 When a hunting tripod is an afterthought, then the Leupold Compact tripod will do just the trick. It is the tripod for hunters that only use them occasionally.


Expand to see more
The Smallest On The List

Non-bulky and compact, buyers will find that this is more suitable when a hunting tripod isn't the primary focus. At a smaller size it also gets a bonus to balance, so a tradeoff is being able to use it with heavier equipment.

Features and Specifications

Adjusts from 15 – 31.5
Four section legs

Price/Value

It goes for about average to low, so either way it stays away from the high priced category. This is the most unique item on the list, and should be in every hunter's bag-just in case.

Decision Time

With all of the great models on the list, this compact tripod takes a high spot for offering something that none of the others can. Buyers that are debating how portable hunting tripods can be will find some great luck with this purchase.
Ball head is adjustable
Quick release base saves a massive amount of time
Stops built into hardware prevent full movement
4. Vortex Optics HCOUNTRY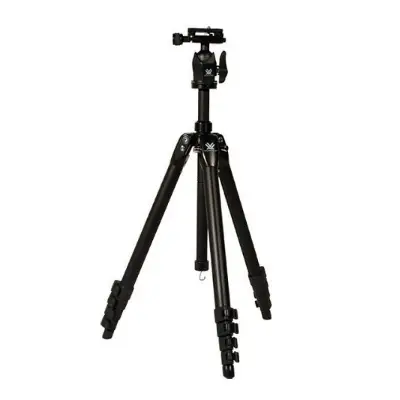 The sometimes hard to find Vortex Optics Country tripod is a deal that may flock to when it is available. It's built tough, and can take on a lot of weight without losing balance.


Expand to see more
Strong and Secure

Weighing 2.1 pounds, the thickness of the entire tripod was made to handle heavier loads. It is rated as being stable even when mounting the maximum of five pounds.

Features and Specifications

Height ranges from 14.8 – 53.8
Compact ball head

Price/Value

For what's being offered, the low price of this tripod is very competitive with the rest. It's good quality at a price that fits in with its features.

Decision Time

Other than the slight oversight with the chrome, this turns out to be everything you'd want with a hunting tripod. The price is just icing on the cake to what is an already great deal.
Legs are thick and can handle a lot of weight
Priced very well for a tripod of this durability
Chrome buttons are a turnoff for hunting
5. Hammers SP3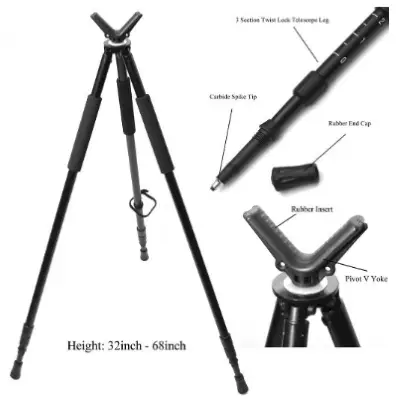 There is nothing particularly impressive that stands out about this Hammers model, yet that works to its advantage. Without any major weaknesses, this is the best tripod for the consumer that is having a hard time making up their minds.


Expand to see more
Works In Any Position

Whether you're standing, kneeling or sitting, this shooting tripod can work without a hassle. That's a big help to users that hate doing major adjustments when changing positions.

Features and Specifications

Can fold down to 25 and extend up to 68
Pivoting V yoke with rubber insert

Price/Value

This is the lowest priced hunting tripod on the list, and maybe in the entire industry. You can get really good value using this model as a primary or a backup.

Decision Time

When Hammers made this hunting tripod, they put a lot of thought into how it would be used in multiple settings. That research paid off, and makes this a very good choice on the list.
Comes with a nylon carrying pouch
Only weighs 38 ounces
Twists on the legs rather than quick release levers
6. Bushnell 784030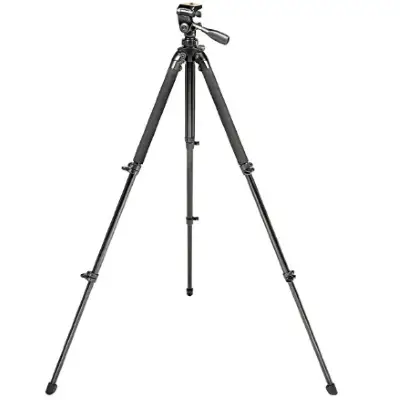 Bushnell makes the list again, this time with a lower priced option than their first. The difference is night and day with this model since it focuses on being compatible rather than superior.


Expand to see more
Compatible With Major SLR Cameras

The amount of hunting tripods that are great for guns yet so-so for cameras keeps climbing. This Bushnell model finds a comfortable mix between the two without losing any particular angles.

Features and Specifications

3 Way pan/tilt head with universal ¼ 20 mount
Legs are padded with foam cushions

Price/Value

As the lower priced Bushnell product on the list, this could be an alternative option if you wanted a wallet friendly Bushnell tripod. It has the same qualities as their leading models but with a much friendlier price.

Decision Time

For many this is a pretty cut and dry decision, especially with the Bushnell name attached. You'll get the quality you deserve at a price too low to pass up.
Aluminum legs work well in all weather conditions
Instantly compatible with leading Bushnell products
The legs are not quick release
7. BOG-POD RLD-3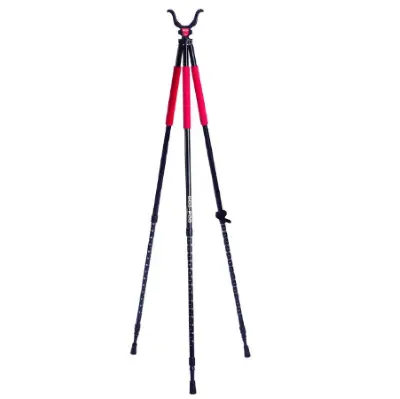 Bog-Pod makes the list again, this time with the RLD-3 shooting stick tripod. The thriftier of their hunting tripod models beats out some of the more accomplished competition by slipping in some manageable features.


Expand to see more
The Velcro Strap Is Built In

Forgetting to tie your tripod legs together can be a pain before going on a journey, since they can make some really bad noises as they clap together. Using the attached Velcro straps, you'll always have a secure way to transport this equipment.

Features and Specifications

Height markers on each of the three section legs
Non-slip insulated hand grips

Price/Value

Amazingly this is low priced, which is a pretty good value since it is #7 on the list. Hunters will find that it satisfies the bulk of their needs for a hunting tripod.

Decision Time

As the first low priced model on the list, it has a lot going for it. Buyers will have a tough time deciding whether they want to buy two of these or one of the other hunting tripods.
Available as different models- tripod, mono-pod and bi-pod
Hand grips make a huge difference when out in the field
Takes longer to set up than other tripods
8. BOG-POD CLD-3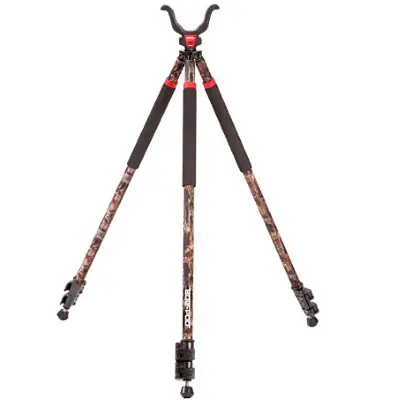 Bog-Pod and their camo trail tripod is a shining example of a company that wants to try something new. They didn't go overboard with the features, but made it interesting enough that customers would take a second look.


Expand to see more
Above Average Camo Design

It may seem like a small detail to most people, yet the high quality camo design makes all the difference in the world for hunters. This is especially true for something as portable as a hunting tripod.

Features and Specifications

Legs extend from 22 – 68
360 degree universal shooting rest

Price/Value

So far the theme seems to be average prices for the hunting tripods, and this model is no different. Hunters will get plenty of use out of it over multiple seasons, so the value will increase each season.

Decision Time

Bog-Pod succeeded in bringing something different to the hunting tripod industry, with many people comparing this to some of the top brands. It is a healthy alternative, and one you should invest your time in exploring.
Comes with a weather resistant travel bag
Tripod material uses scratch resistant rubber coverings
9. Primos 65807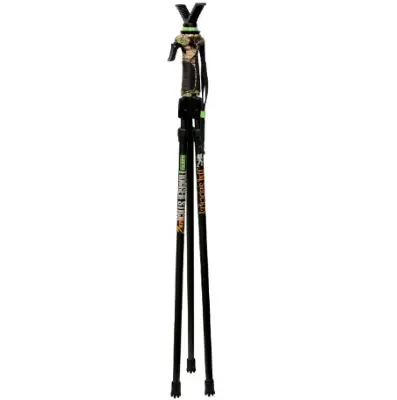 Improving on superior products in their lineup, Primos introduced the Jim Shockey Edition of their hunting tripod to a lot of positive reviews. There are some pretty fun ideas with this model, many that were sourced from older features.


Expand to see more
Gen 2 Improvements

While the first version of this was fantastic, the real critical acclaim was about how they improved the features of the original with this version. It's more portable, stronger, and better equipped to handle different brands.

Features and Specifications

Removable 360 rotating yoke
7075 Aluminum legs

Price/Value

This is another mid-priced product, and comes to about average with the others in the industry. Going off of how well the original Gen 1 lasted, this is a great value for all levels of users.

Decision Time

Even if you didn't purchase the original Gen 1, this is a safe bet as a reliable hunting tripod. It's strong, and has made several improvements to make it worth the buy.
Adjusts from 24 – 62
Handle movement is improved from previous generation
Legs make a lot of noise when transporting
10. Bushnell 784040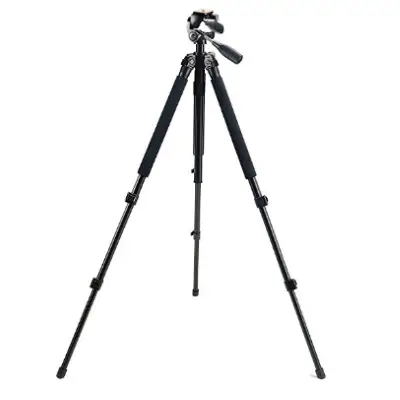 With all of the optical equipment at the fingertips of Bushnell, it's no surprise that they would also make one of the best hunting tripods available. This is a good start for any hunter that needs a reliable piece of equipment.


Expand to see more
Great Materials

Bushnell used quality materials to create this durable tripod, and it shows not only in how it functions but also the weight. At only 3.6 pounds, it will add very little to your accessory bundle.

Features and Specifications

Maximum height of 63 inches
Three way pan head

Price/Value

Buyers can expect to spend around midrange for this item, and will get a lot out of it. With the usual Bushnell quality, you'll get instant value from it on the first day.

Decision Time

Buyers can count on Bushnell to deliver a quality product, and this is easily one of the best hunting tripods you can get your hands on. Check out your equipment for compatibility and you'll maximize the purchase with no problem.
High durability even with heavy options mounted to it
Compatible with binoculars, range finders, cameras and spotting scopes
A bit of a headache to screw things into the tripod
How To Make The Best Decision When Choosing A Hunting Tripod
With all of the options available for a hunting tripod, choosing the best one for your trips can be difficult. They all share some similar qualities, with some minor differences here and there that sets them apart. Here are the things to look for most when you need to make a quick decision about a hunting tripod.
Price – There is only one expensive hunting tripod on the list, and it is the absolute best. How often will you use your hunting tripod? If only occasionally, then the #3 option would be the better choice since it costs a lot less and is ultra-portable. A compact model is great for hunters that are not sure if they will bring a regular sized tripod with them. By using this logic, paying full price for the best available shouldn't be a priority, as you'll never take advantage of its value.
Balance – As silly as it sounds, there are hunting tripods in existence with subpar balance. Without a solid base, hunting tripods won't achieve their full functionality. This is more to do with the weight that is on top with a gun, camera or whatever equipment you're mounting. Imagine mounting a gun to a hunting tripod that is not balanced. Not only will you miss your shot, but there is a good chance that something (or someone) else will get hit as a result. All of the hunting tripods on the list are balanced, and in the rare case you get a defective unit, send it back for a working one. Defects are nothing new and can happen from time to time. Never settle for less than optimal balance, since the manufacturers on the list didn't built the tripod that way.
Compatibility – Some equipment just isn't compatible with specific hunting tripods, and that can't be helped. Always play around with the settings to find out if your hunting tripod can meet expectations. Most of the provided models aren't overly complicated to set up, requiring only a few customizations.
Minimum and Maximum Height – They are all set by inches, so pay attention to that when doing your configurations. Minimum height will usually be more important than maximum height if you're using it to mount a gun. In fact buying choices for hunting tripods have been strongly tied to the minimum/maximum since it is all about usability for hunters.
FAQ
Should I Use A Full Size Or Compact Hunting Tripod?
Why not both? There are many situations where one would be preferable over the other. And a compact tripod has the lowest starting height of all models, which can turn into a bit of a bonus depending on the user. Prices for hunting tripods makes it easy to have a main and a backup, so as long as you purchase models that are fundamentally different from one another, you'll get your money's worth.
Do All Hunting Tripods Come With Bags?
No, and it's something that can be hit or miss depending on the brand. Always check the specifications and make sure that the hunting tripod you want comes with a bag. Sure you can use your own bag, but not having a custom fit bag can lead to some transportation issues with clanging sounds, messing up the tripod itself or having issues carrying it (if there is no shoulder strap). Buying a hunting tripod with a bag is important, so if that is out of the question then make sure they offer a customized bag for a it as a separate purchase.
If A Hunting Tripod Becomes Unbalanced Can It Be Fixed Manually?
For a product that is still in warranty, always contact the manufacturer. Take advantage of a warranty when it is available to save yourself the headache of modifications. For products out of warranty, yes, they can be fixed manually. The feet of a hunting tripod can be worked on if you're a skilled enough craftsman, or even if you have the slightest bit of curiosity. Use a leveler when you're done along with a heavy piece of equipment mounted on it. If all is well, then good job! But if it is off even by a little, then try to look at purchasing a new hunting tripod.
Is Weight A Big Factor With Balance?
The weight of a hunting tripod will help out a bit, yet it isn't the determining factor. Most of the hunting tripods on the list are lightweight but still have perfect balance. Because of the three point system, perfect balance for these products is more related to how they are designed rather than their actual weight. However, a heavier tripod is a great thing if portability isn't a big concern.