Best Hunting Tripods Reviewed & Rated for Quality
In a Hurry? Editors choice: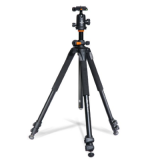 Test Winner: Vanguard Alta Pro 263AB

In ancient times, people needed to hunt as the main source of providing
food in order to survive
. But, as time passed by and farming became the main way to provide protein and vegetables, this activity lost some of its importance. It is now looked at as more of a leisure time activity. As technological developments continue to simplify every part of our lives, changes have occurred in this domain too. Not only have
hunting weapons
seen their quality enhanced, but the accessories that improve the experience have experienced upgrades as well. The best example, in this case, is represented by the hunting tripod. If you are not sure what you need, we've listed some of the top-selling models on the market that offer a wide variety of features.
Standout Picks
Criteria Used for Evaluation
Value
There is only one expensive model on the list, and it is the absolute best. How often will you use yours? If only occasionally, then the #3 option would be the better choice since it costs a lot less and is ultra-portable.
A compact model is great for hunters that are not sure if they will bring a regular-sized tripod with them. By using this logic, paying full price for the best available shouldn't be a priority, as you'll never take advantage of its value.
Effectiveness
As silly as it sounds, there are tripods in existence with subpar balance. Without a solid base, they won't achieve their full functionality. This is more to do with the weight that is on top with a gun, camera or whatever equipment you're mounting.
Imagine mounting a gun to equipment that is not balanced. Not only will you miss your shot, but there is a good chance that something (or someone) else will get hit as a result. All of the tripods on the list are balanced, and in the rare case you get a defective unit, send it back for a working one. Defects are nothing new and can happen from time to time. Never settle for less than optimal balance, since the manufacturers on the list didn't build the tripod that way.
Compatibility
Some equipment just isn't compatible with specific tripods, and that can't be helped. Always play around with the settings to find out if yours can meet expectations. Most of the provided models aren't overly complicated to set up, requiring only a few customizations.
That said when choosing a hunting tripod, you want to consider its purpose. For example, you want to consider its height and adjustability so that it is compatible with the way you plan to use it. If you are going to be standing while using the spotting scope, you'll want to consider a tall one depending on your height. If the environment you are going to be in is windy, make sure that the tripod has enough weight to keep it held down.
If you are going to be sitting while using the tripod, you won't need one that is tall. Look for a short and lightweight option that is easy to set up and easy to pack up and take with you. You can find of these style on our list.
Size
Tripod sizes start from a tabletop size, these are compact and easily portable, ideal if you know you have a firm base to stand them on when you're on your trip. They range from between 8 and 18 inches, they don't have the benefit of telescopic legs however, and adjustment can be at the least minimal; and often executed through the center column.
Usually, the next size up is the compact tripod, these are ideal for use when you're in your blind and you prefer sitting to do your hunting/filming. The size of the compact tripod makes it ideal for you to pack into a trekking pack and won't take up too much room or weigh too much. The downside, of course, is that it is not suitable for height or for heavier bits of kit.
Ultimately, the full-sized models are the way you want to go if you want the full experience when you're on your hunting trip. They are taller by design, and the telescopic legs allow you to adjust them to a convenient height for yourself. They are more bulky, and heavier but in return, you get a better height to complement your kit. There are usually always weight limitations, and it is advised you always double-check this capability before you put any expensive kit on the head.
Features
Fundamentally, when you go hunting and you don't want to be bogged down with an impractical shooting bench – the hunting tripod is the next best alternative for steady, accurate aiming. You may be considering one for the first time to assist you in either your shooting hunts or simply just to view game through a scope. Of course, you will have an idea of what you want to use yours for – and that is the first part of your choosing the right bit of kit.
If you are having the leisurely weekend hunting, chances are you may be setting up camp and have the bonus of a hunting blind. This is a big plus because you can ensure the tripod is set up on terra firma and will be as stable as you can make it. The last thing you want is a wobble on your tripod when you spot the ideal game. The tripod is there to be able to avoid unsteady makeshift supports that are not steady or reliable enough to do the job you want it to.
Top 10 Picks
1

. Vanguard Alta Pro 263AB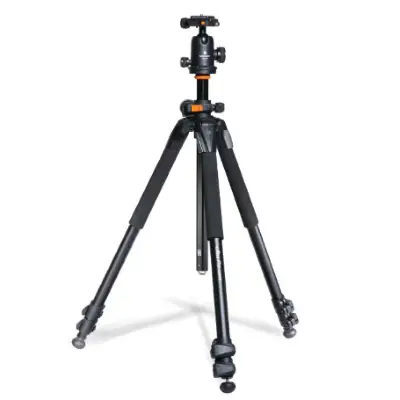 The best of the best is the Vanguard Alta Pro 263AB, and by a wide margin. It holds all of your equipment steady while giving you the best options to use when on the road.
Different Styles
There are six different styles for this product, all focusing on unique features for their specific audience. Besides, the one mentioned there is the Alta Pro 283CT. 263AGH. 264AB, 263AP and the 263AT.
Features
For those times when you need to follow your prey with your rifle, you need a tripod that will move with you and not restrict you. This model allows you to smoothly swivel the head so that you can adjust for the perfect shot.
Cost and Value
This is the best-built on the list but also the most expensive, and the only high priced one. Hunters that want the best the industry has to offer will find instant value in it as an investment that will improve their game hunting.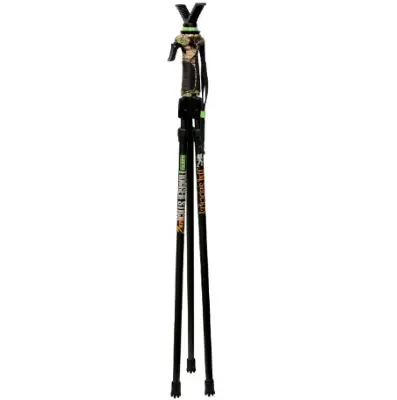 Improving on superior products in their lineup, Primos introduced the Jim Shockey Edition gaining a lot of positive reviews. There are some pretty fun ideas with this model, many that were sourced from older features.
Gen 2 Improvements
While the first version of this was fantastic, the real critical acclaim was about how they improved the features of the original with this version. It's more portable, stronger, and better equipped to handle different brands.
Adjusting
The need to adjust quickly is something that comes up frequently while hunting. Struggling with a piece of equipment is the last thing you need or want. With the flip of a switch, you can easily raise or lower this as needed. Then simply apply the lock to hold your adjustment in place.
Cost and Value
This is another mid-priced product and comes to about average with the others in the industry. Going off of how well the original Gen 1 lasted, this is a great value for all levels of users. Even if you didn't purchase the original Gen 1, this is a safe bet as it is reliable. It's strong and has made several improvements to make it worth the buy.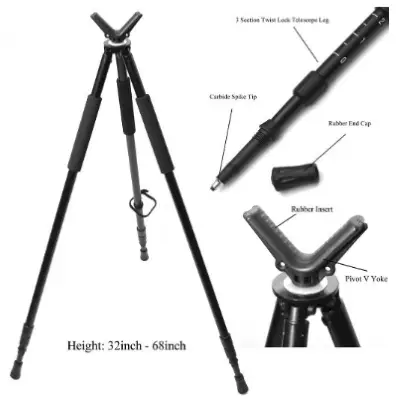 There is nothing particularly impressive that stands out about this Hammers model, yet that works to its advantage. Without any major weaknesses, this is the best tripod for the consumer that is having a hard time making up their minds.
Works In Any Position
Whether you're standing, kneeling or sitting, this shooting tripod can work without a hassle. That's a big help to users that hate doing major adjustments when changing positions.
Transporting
Transporting your gear can get to be a hassle, especially when some have what seems to be a mountain to tote along. Often times shaving some gear off the top to save time and trips. This model comes with its own bag making it easier to transport from one place to another.
Cost and Value
This is the lowest priced on the list, and maybe in the entire industry. You can get good value from using this model as a primary or a backup. When Hammers made this, they put a lot of thought into how it would be used in multiple settings. That research paid off and makes this a very good choice on the list.

4

. Vanguard Porta Gun Rest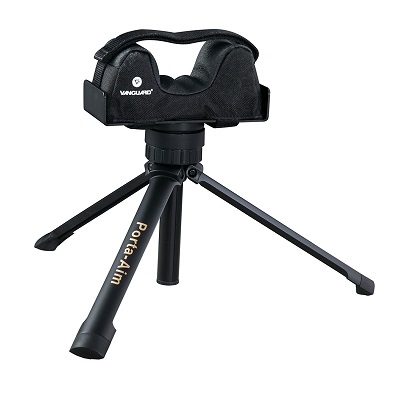 Looking for tripods can be a daunting task, especially for anyone who is not very well-informed about this type of equipment. One of the best for handguns is Vanguard Porta Gun Rest. Even though it provides an extremely stable rest ideal for hunting, it is versatile enough for other activities as well. Vanguard Porta Gun Rest has received rave reviews for its quality and resistance, helping place it among the best on our list.
Great for Travel
Its lightweight and compact design makes it perfect for traveling with and create little inconvenient due to its dimensions and weight. This is ideal for a relaxing trip into the woods by limiting access to weight and space.
Easy to Adjust
It doesn't matter whether you're a professional or first-time shooter, you won't find it difficult to install it. You can easily set it up and adjust its height using the unique center column adjustment system with only one hand.
Cost and Value
Comparing the Vanguard Porta Gun Rest to others, you can easily notice that the price-quality ratio is one of the best in this category of products. It has a strong build and is great for rifle enthusiasts.

5

. Primos Hunting Trigger Stick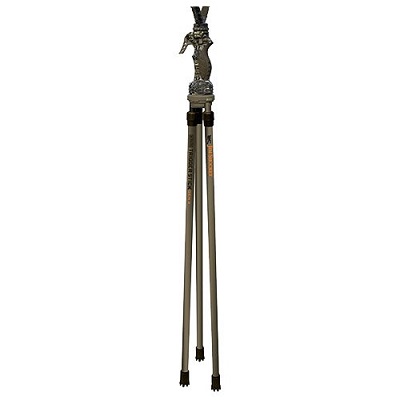 The Primos Hunting Trigger Stick comes with adjustable legs which allow you to use it from different positions. This comes with a series of improvements and new accessories, including a detachable yoke system and integrated lock, a real favorite with reviewers. Other new features include leg angle lock and contoured grip with no-slip backbone. With all the amazing improvements, you can enjoy hunting at a whole other level.
Won't Slip
This comes with an anti-slip system that allows you to maintain you your concentration without the worry of it slipping or not. All you have to do is find your target and shoot!
Integrated Lock
Safety and comfort are important when enjoying your favorite activity. In an effort to provide this, you get a quick detach yoke system with integrated lock, which helps lock it in place and prevent unforeseeable incidents from happening.
Cost and Value
Taking into consideration all the advantages and enhancements that the Primos Hunting Trigger Stick has to offer in comparison to others in its class, it's a great bargain. Take advantage of all its features to enhance your outdoor experience.

Bog-Pod and their camo trail tripod is a shining example of a company that wants to try something new. They didn't go overboard with the features but made it interesting enough that customers would take a second look.
Above Average Camo Design
It may seem like a small detail to most people, yet the high-quality camo design makes all the difference in the world for hunters. This is especially true for something as portable as this.
Something Different
Bog-Pod succeeded in bringing something different to the industry, with many people comparing this to some of the top brands. It is a healthy alternative and one you should invest your time in exploring.
Cost and Value
So far the theme seems to be average prices, and this model is no different. Hunters will get plenty of use out of it over multiple seasons, so the value will increase each season.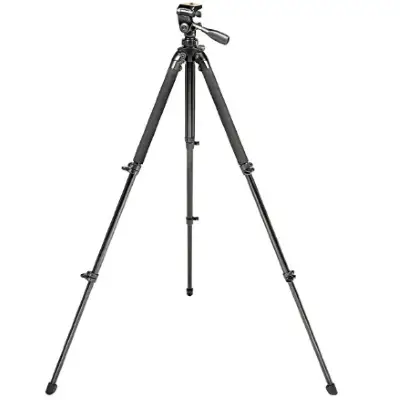 Bushnell makes the list again, this time with a lower-priced option than their first. The difference is night and day with this model since it focuses on being compatible rather than superior.
Compatible With Major SLR Cameras
The number of models that is great for guns yet so-so for cameras keeps climbing. This Bushnell model finds a comfortable mix between the two without losing any particular angles.
Trusted Brand
For many, this is a pretty cut and dry decision, especially with the Bushnell name attached. You'll get the quality you deserve at a price too low to pass up.
Cost and Value
As the lower-priced Bushnell product on the list, this could be an alternative option if you want a wallet-friendly Bushnell tripod. It has the same qualities as their leading models but with a much friendlier price.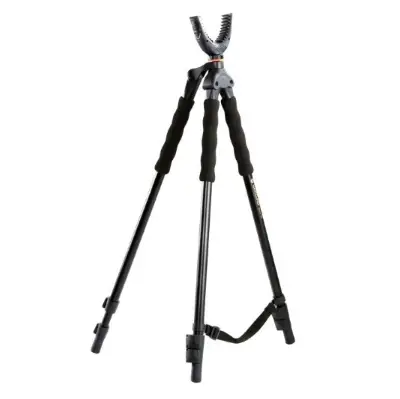 Vanguard takes up the last two spots starting with the T62U, the lower-priced model. But just because it costs less than other Vanguard products, that doesn't mean it isn't top quality.
Multifunctional
The T62U can work as a bipod, monopod or tripod. This should fill every conceivable need you have for all types and makes this model an invaluable all-around stand.
Lightweight
The last thing anyone wants to lug around is another heavy piece of equipment. No matter what you are using the tripod for, whether it is hunting or photography. You want something that is lightweight which this model delivers.
Cost and Value
The T62U may not be the best Vanguard product, yet it may turn out to be the most useful. Hunters will get more use out of this than any other accessory under their ownership.

9

. Manfrotto 190X Aluminum
This tripod from Manfrotto is a solid tripod, and therefore earns a place on our list. It is a taller stand tripod made for standing-use. It also operates very smoothly and is made well.
Taller tripod
The Manfrotto is a taller option on the list. It doesn't pack up and transport, as well as others, do, but it isn't too heavy. So, it's not a burden to carry. This one is best for taller hunters or hunters looking to stand instead of sit.
Smooth head movement
This tripod model has a film head that provides smooth panning motion. This feature is great for scanning and area or tracking wildlife. Once you get the adjustment knobs on the head set up just right, you will love the smooth panning movement.
Cost and Value
This Manfrotto is one of the pricier options on this list, but worth the investment. The durable build and smooth panning make it worth it.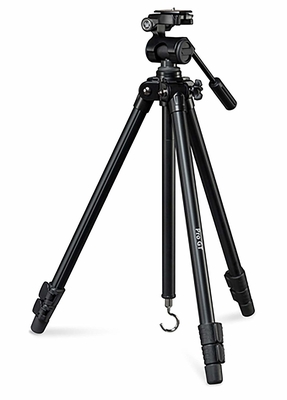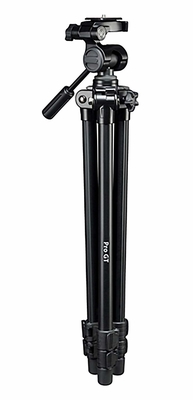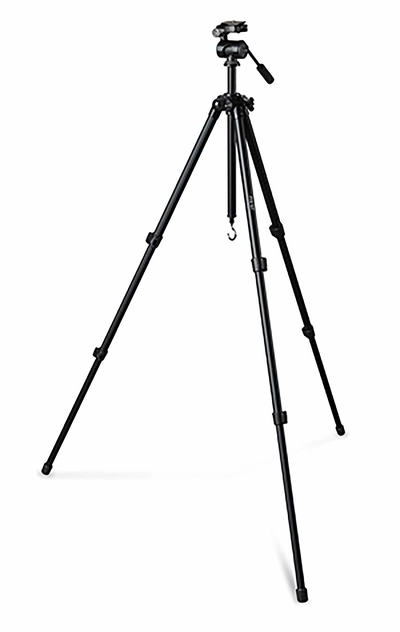 The Vortex Optics tripod deserves a spot on our list because it is solid, offers a lot of movement and control for the hunter using it. You can extend, adjust and tilt this tripod to work for you when tracking animals.
Adjustable head
The adjustable head on this tripod moves in three directions. The 3-way movement helps you quickly follow the action of animals in the area and adjust your viewing angle on the fly. You can choose between mounting your camera horizontally or vertically with the different plate alignments.
Adjustable legs
The legs are easy to adjust without any tools. You loosen the center column height adjustment knob and change the height. After adjusting the legs, you can lock them into place so that they are stable.
Cost and Value
This Vortex Optics tripod is not the most expensive on the list, but it's not super cheap, either. Regardless, it is a great option, since it is durable, has three-way head movement and extends to roughly 5.5-feet if you need it to.

Subscribe to our Newsletter