Best Baby Mobiles Reviewed & Rated for Quality
In a Hurry? Editors choice: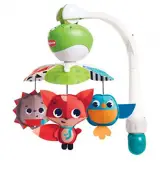 Test Winner: Tiny Love Meadow

It should come as no surprise that we all want the very best for our little ones. Luckily for us, we live in a time where research is king when it comes to developing products for our babies that encourage stimulation and emotional and mental development.
Featured on our list below are numerous baby mobiles designed, tested, and proven to increase your baby's focus, attention, motor skills, and emotional development. Plus, many of these also include musical options--and we all know how much
classical music
is touted as beneficial for raising little Einsteins.
But don't worry. If you're simply looking for a gorgeous mobile to adorn your precious newborn's room, we've got you covered there too with handmade beauties that are bound to touch your heart.
So take a peek at the wonders of baby mobiles below that are approved by parents and tots alike.
Standout Picks
Criteria Used for Evaluation
Style
It takes about 9 months to grow a baby, so that leaves a lot of time for expectant parents to plan and create the perfect room for their little bundle of joy to join the world in. That's why style was such an important factor when compiling our top 10 list of baby mobiles.
A few of the items on our list are simply there because their designs are stunning. They aren't backed by tons of research and they aren't made by the big toy companies but rather by small businesses who handcraft each item. These are more for decoration than anything else.
However, the large majority of products on our list work to mesh research driven baby mobiles with aesthetically pleasing designs. That means we tried to include functional mobiles that would also spice up the decor in your baby's nursery.
Regardless, whatever style you're looking for--purely decorative, or function meets design--there's a product for you on our list.
Features
Not all baby mobiles are created equal! As we mentioned above, some mobiles are merely meant as room decor while others combine function and design to create a product that both babies and parents adore.
When making our list, we made sure to point out each of the special features on every mobile. Some of the common features that appear are music options (from songs to nature noises to womb sounds), spinning options, interchangeability options that make the mobile completely customizable, projection features, versatility features, and portability features.
Some of the products on our list have all of these features, some have a nice mix. We made each of the features clear so that you can select the mobile that gives you all that you want.
Versatility
When compiling our list, we considered versatility in two ways.
The first way we looked at versatility was by considering how many different places the mobile could be moved. For example, some mobiles on our list are only meant to be attached to a child's crib. These products get a low score in versatility. Other products on our list have multiple clipping options that allow you to place the mobile on the crib or changing table, the car seat or stroller, and even the pack n play. These items got high scores in terms of versatility.
The second way we looked at versatility was by considering how long the product could be used. This means we looked at the intended age range of the product. Some products on our list were meant for 5 months and younger. That doesn't give you a ton of shelf life on the mobile (though of course, you could pass it along to another babe). But a few of our products reach beyond that intended age range and therefore got higher scores in versatility.
Materials
As with all baby and children's products, the materials each of the items on our list is made out of came into heavy consideration. We want to ensure that every product on our list is made from materials that are safe for children to be around. Because, let's face it, children just love to put things in their mouths. So the products on our list are BPA and lead-free.
Even the handmade items on our list pass our material quality inspection, and parents report positive experiences with these mobiles. But keep in mind that the handmade mobiles are more designed for decoration and should be kept out of reach of children for safety purposes.
Value
As always, we considered value which wraps all of our other main considerations up into one. The more stylish and versatile a product was, especially if it was handmade or made from quality materials, the more value that product has. Additionally, the more research that went into developing a mobile and the lower the price point compared to that research, the higher the value. Finally, the more durable the mobile was compared to the price point also gave a higher value rating.
Ten Best Baby Mobiles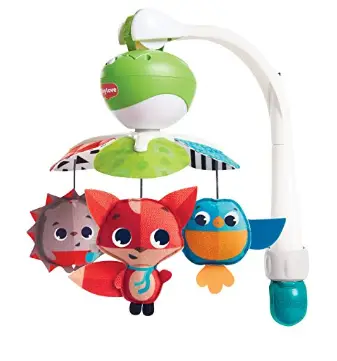 The first baby mobile to make our list is a hit among parents and babies alike. Tiny Love has been making research backed baby products since 1991, so parents know it's a brand they can trust. This particular baby mobile is meant for newborns to 6-month-olds.
5 Beautiful Color Themes to Choose From
The Meadow Days Take Along Mobile is a must-have for parents looking to stimulate their baby's senses, emotional intelligence, and communication skills at home and on the go. The mobile comes in 5 different color schemes--black and white, blue, green, pink, and grey--and each mobile comes with 3 adorable padded animal and nature characters that will catch any child's attention.
With 3 different attachment options, this mobile is amazing when it comes to versatility. There's a velcro strap option for any infant carrier, a two-part universal attachment arm that fits on practically any bassinet, crib, or playpen, and finally, a clip to attach to your baby's stroller.
30 Minutes of Continuous Music
This mobile features 30 minutes of continuous music consisting of 5 different soothing melodies that will lull your baby and keep them constantly entertained and engaged. Plus, the mobile rotates which encourages your child to maintain eye contact and focus, and also stimulates fine motor and gross motor control.
Cost and Value
For the versatility and cognitive stimulation this product provides--and especially for its super duper low price point--this mobile is a great value. It does require 2 AA batteries that are not included, so keep that in mind when purchasing. But great news! Parents give this product a 4.5 out of 5 ranking when it comes to battery life, so you won't have to replace those AAs every day.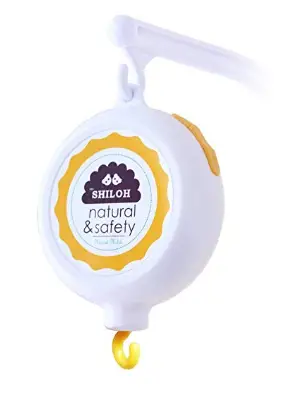 This amazingly unique baby mobile is made in China, but don't let that throw you. It is made with totally safe materials (BPA free, latex free, and lead-free) and is tested to be safe enough for baby to chew on (though they shouldn't!). This product is great for any kid that still sleeps in a crib or playpen, rides in a car seat or stroller, or just plain likes music.
Totally Customizable
The SHILOH Baby Crib Musical Mobile is music first. But that being said, this mobile is 100% customizable by parents and family. The unit itself is simply white and yellow, but the bottom hook stands empty and waiting for the family to attach any of baby's favorite toys or items to it and take it for a spin. That means that the baby will never grow tired of the same old characters on the mobile, and also that parents can attach different toys to stimulate different responses. You can attach this mobile on any crib with brackets or arms.
60 Amazing Songs
With 60 amazing songs, your child will be entertained for hours and will begin to develop skills for recognizing and distinguishing between certain sounds. Research suggests that classical music is extremely beneficial for babies to listen to, and this product delivers just that. Moreover, there are several really thoughtful features included in this product. You can pause a song, repeat a song or skip a song if you like. You can also adjust the volume so that it is just right for every environment. Plus, the music function and the spin function operate separately, so you have more control in that regard as well.
Cost and Value
This item is incredibly customizable and versatile and rings up at a price that won't break the bank, so we give it a gold value stamp of approval. It runs on 2 AA batteries that are sold separately, but the device comes with a built-in sleep function that turns the device off after 30 minutes of untouched use to conserve battery power.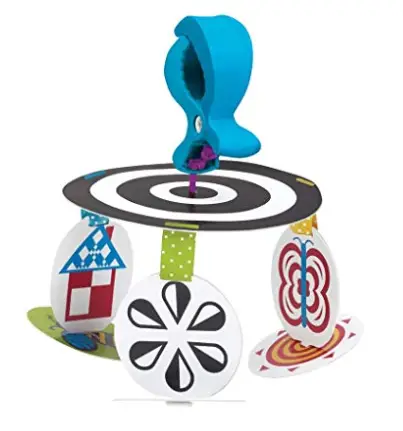 Wimmer-Ferguson developers were some of the first to innovate black and white toys for children in order to stimulate brain function and emotional intelligence, plus they have been making well-researched toys for children for over 40 years. This particular travel mobile is meant for children 0-5 months of age.
Reversible Cards to Grow with Baby
The development that this product focuses on is multi-sensory. It features 3 double-sided cards--one side in black and white, and the other side with the same images in color. The high-contrast colors and patterns help to strengthen focus and recognition. High-contrast is what grabs the youngest of young's attention first. After the 3rd month, infants typically start being able to process and focus on more colors. Thus, this set grows with your baby.
Ease to Take on the Go
This mobile will clip on to practically any carrier or crib. The widest top circle is only 7 inches wide and the product as a whole only weighs 1.44 ounces, making it extremely easy to pack up and take anywhere. Though it does not spin or produce music, it will stimulate your baby's gross motor functions, their awareness of object permanence, and their hand-eye coordination.
Cost and Value
This product is by far one of the cheapest on our list and perhaps one of the most heavily researched and backed by solid science. So it gets major thumbs up in the value department from us and parents alike. No batteries mean no extra costs, and the fact that you can reverse the cards to grow with your baby means that you're really getting 2 baby mobiles for one super duper low price.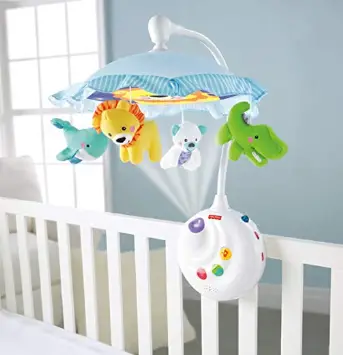 Fisher-Price is perhaps one of the most recognizable names in baby products and with good reason. They have been churning out amazing products for over 70 years--that's about 5,000 products worth of work. This 2-in-1 mobile is meant to grow with your baby and is suggested for children 0-5 months of age, though many parents used this product for their children far past 5 months.
Delicate Canopy for Close Up Images
The Precious Planet mobile is incredible for so many reasons. First, it comes with 4 fuzzy friends from different parts of the planet that are bound to keep your child company. With a lion, a whale, an alligator, and a polar bear, your baby will learn to start recognizing the differences between objects. These fun companions extend from a sweet canopy that keeps images close and easier for baby to focus on.
The new innovative handle allows the mobile to attach to even more cribs out on the market today.
Two Projection Options
Because it is hard for babies to focus on far away images when they are newborns, Fisher-Price included a sweet canopy to project images on for the first few months of development. This allows the projection images to remain closer so that baby can begin to focus on them. At about 3 months, the canopy can be removed and the projector can be converted to a wall and ceiling projector as baby will not be able to focus on images further away. The light show and animal projections will keep your child (and even you) fascinated for hours. Plus, the product comes with a remote so you can control the projections from outside of the room without disturbing baby.
If the visual experience wasn't enough, the mobile comes with 3 different sound options to fit you and your baby's needs. Whether it's classical music you crave, nature sounds, or womb and heartbeat white noise, there's a setting for you.
Cost and Value
This product is one of the pricier on our list, but it does a lot more than the other mobiles on our list as well. It's extremely well-researched and will grow with baby, so the 2-in-1 model promises great value. Keep in mind that the projector unit requires 4 D batteries and the remote control requires 2 AAA batteries. Parents rank the overall battery life at a 4.1 out of 5.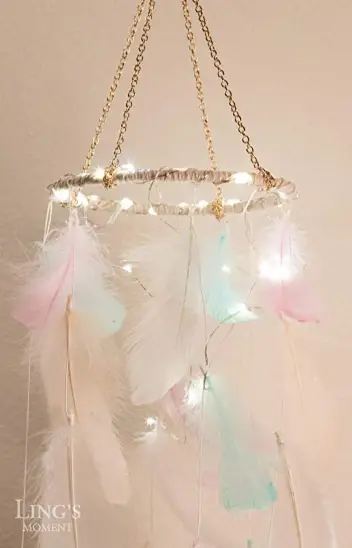 This mobile is almost too sweet and precious to put into words. Each mobile is handmade and beautifully and uniquely designed and bound to add boho flair to any nursery.
Beautiful Handmade Craftsmanship
This item is handmade and is absolutely beautiful. It doesn't come with years and years of research like most of the other products on our list, but it will still stimulate your child's brain and imagination. The main gold hoop is wrapped in rustic rope, and an abundance of dyed and glitter-dipped feathers hang gracefully from it. The feathers cascade and float, giving it a dreamy quality.
Fairy Lights for Added Flair
To add even more to its simple elegance, the Handmade Feather Dream Catcher comes with 10 feet of LED lights preattached and arranged on the product. The copper wiring and warm white lights make you feel like you're in fairyland.
Cost and Value
This mobile comes at an inexpensive price point, despite being handmade. It's also the item with the most longevity on our list as it can be used for babies all the way through the teen years. Even if your child outgrows the style, the LED lights can be taken off and repurposed. And the LED lights come with batteries and are long-lasting and easy to change.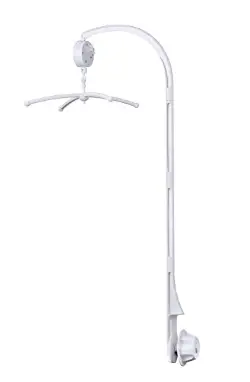 This product is another that allows you to fully customize the mobile for your baby's room. So get creative, because there are even more hanging options on this mobile than the other customizable music box we listed above. Plus, this product is great for newborns all the way to 5-year-olds, so you'll really get a lot of good use out of it.
5 Different Hanging Options
The OMORC Baby Crib Mobile features 5 different places where you can hang your baby's favorite toys. Whether you want to keep to a certain theme or mix it up, you can get creative and you can easily change items in and out to maintain your child's interest. And once your child is old enough to make their own selections, the possibilities are truly endless. The specially designed crib rail clip allows you to attach this mobile to almost any crib on the market today, and it provides excellent stability.
Spring Loaded Music Box
This mobile is different from others on our list in that you have to manually twist the internal spring to make it play music like an old school music box. This allows for some treasured close times with baby and you. The music box will play between 2 and 3 minutes when fully wound, and produces the tune "You Are My Sunshine." An added bonus is that you can pause playing to save up wound energy.
Cost and Value
This mobile is also a super inexpensive option, especially considering how customizable it is. If you add to that it's versatility and the amount of use you can get out of it, it truly is a best value product. What's more, no pesky batteries to contend with and replace, so no added costs.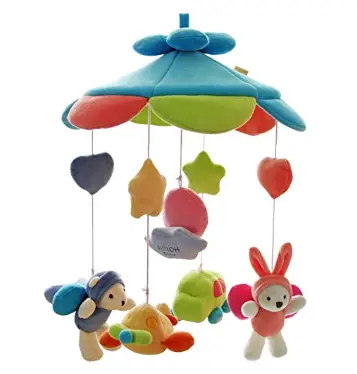 This is the second SHILOH product to make our list and for good reason. What they mastered previously in sound quality they have now branched out to wonderfully versatile plush designs that will keep your child entertained for time to come.
4 Fuzzy Characters that Can Detach for Further Use
If you have design in mind, the 8 color options that the mobile comes in are bound to tickle your fancy. This mobile features a lovely felt canopy that supports dreamy stars, hearts, and 4 fun-loving characters: a rabbit and bear dressed as butterflies, and a plane and a car. Each of these items can be removed once your child gets older and used as rattles and toys. The characters have either a bell, squeaker or music player inside so your child will have another layer of enjoyment from the characters they have been getting to know at nap time.
Easy Adjustable Arm
While most mobile arms are one size, this mobile features an arm that can be adjusted in length for just the right height on your baby's crib. The 360-degree spin function allows the canopy to turn gracefully with or without music. Plus, the music box comes programmed with 60 songs from around the world and is super easy to control with a pause button, back and forward button, and spin button. An added feature is that this mobile will shut off about 30 minutes if it isn't touched.
Cost and Value
This is one of the pricier items on our list because the mobile is so versatile. The characters can detach and become separate toys, and the whole canopy can be removed and replaced with items of your choosing. Considering the music box comes with 60 songs, you are getting a lot of bang for your buck. Don't forget you will need to shell out a few extra dollars for 2 AA batteries to keep this baby up and running.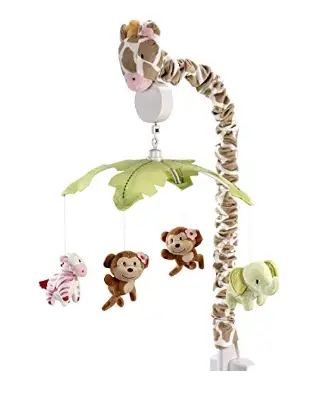 Carter's Musical Mobile is almost too cute for words. It comes in a variety of styles so you're bound to find the right look for your baby's nursery. It is designed to be used by children 0-5 months of age and is a huge hit among babies and parents alike.
6 Incredible Design Themes to Choose From
This mobile has the greatest factory design variety of any mobile on our list so far. You can choose from blue mood feathers, jungle theme, starry nights, under the sea, in the clouds, and in the forest. Plus, each mobile theme features a scrunchy bar cover for an added touch of flair. The bar is sturdy and easy to attach to almost any crib. Each of the fuzzy friends hanging from the mobile are made of safe materials and are delicate and soft to the touch.
Sweet and Simple Lullaby for Baby
The musical options on this mobile are straightforward--you get Brahms Lullaby. Unlike most of the other mobiles on our list, this mobile is hand powered which means you will have to turn the spring to get it to make music. Once the spring is fully loaded, you will get about 3 good minutes of music out of it.
Cost and Value
This item is in the mid-to-high range price in relation to other items on our list. The arm is sturdy so it will hold up for the suggested use time.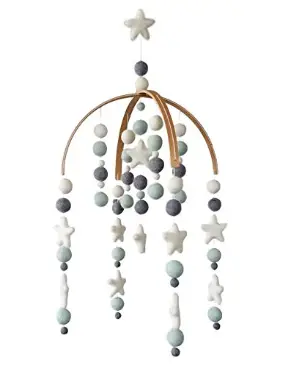 We are happy to add another handmade beauty to our list. This mobile by Tik Tak combines 100% New Zealand wool with gorgeous color palettes to make just the right mobile for your baby's nursery.
Over 15 Different Color Combinations to Choose From
No matter what the color scheme of your baby's nursery, you are bound to find a color combination that is just right for you. Each item is handmade and dyed, and each wool ball is hand rolled using traditional methods. Every color palette is trendy and modern, and you can even move the wool balls up and down the strings to create your own twist on the handmade design. The classic wooden arch is a throwback to simpler times, but it will still bring a lightness to your baby's room.
95 Inches of String to Hang
This isn't a traditional interactive mobile meant for children to play with. Though it will maintain your baby's focus and keep them entertained, it should be secured far enough above their sleeping or play space so that they cannot reach it. The mobile comes with 95 inches of string at the top to easily adjust the hanging height.
Cost and Value
This mobile rings up in the mid-price range of mobiles on our list. Because it does not provide the same kind of interactivity that most of the mobiles on our list do, we dock a little for value. But this mobile is undoubtedly lovely to look at and will brighten up any nursery.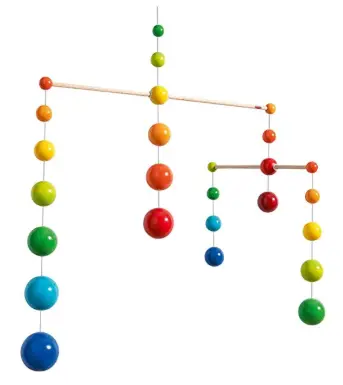 The last mobile on our list is also the only wooden mobile to make the list. With 100% sustainably grown German Beechwood, this mobile is bound to wow babies and visitor alike.
Colorful Wooden Design
The colorful wooden design of this mobile is unmatched by any other mobiles on our list. With all the colors of the rainbow included, your baby will stare in awe at the shifting and shimmering orbs. Made from 100% beechwood and finished with a non-toxic stain, it's design and style you can feel good about.
Built-In Weights for Easy Movement and Stability
Because the mobile features built-in weights, even a slight touch from an adult or older sibling can set the mobile in motion for upwards of 15-20 minutes. This also gives you the ability to shift and change the positioning of each of the bars for slightly different looks and movements. The makers suggest hanging it above cribs or changing tables with a teacup hook and the fishing line provided with the product (the teacup hook is not included). If you decide to use the teacup hook method, make sure the mobile is out of your baby's reach, as a big surprise movement from them could potentially knock the mobile off of the hook.
Cost and Value
This product is in the mid-range of pricing, but its craftsmanship is hard to match. While most of the other mobiles on our list are made of plastic, this pure wood design sends you back to simpler times. Plus, the ease with which it moves and its age neutral aesthetic means that it will be used for years to come.

Subscribe to our Newsletter