Best Action Cameras Reviewed and Tested
Action cameras are used in situations where using a normal camera wouldn't make any sense. Imagine a skateboarder using the same camera for professional photography as he would for recording his stunts-it just wouldn't work. Action cameras are built to handle gigs worth of high definition video, a lot of abuse and run for a really long time without stopping.
Our Top 3 Picks
Best Brands
Rather than concentrate on brands, it's better to look at the sensors. The best sensor is from Sony, and if you're looking at action cameras then a Sony sensor will always equal a quality purchase. Because they license their technology out to several companies, naming some of the best brands in the action camera game would be pointless.
Maintenance and Cleaning Tips
Treat an action camera just like you would a regular camera. Action cameras come with cases for waterproofing and to protect it from heavy damage. Without that extra protection, then your camera is as good as toast when you drop it. But that still doesn't mean you should neglect cleaning the case or the camera. A banged up case can cause some really weird artifacts to appear on screen while recording, so always keep everything spotless before using it again.
10 Best Action Cameras
1. AKASO EK7000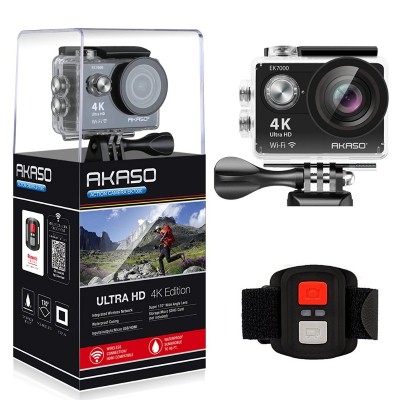 The best action camera on the list is the Akaso EK7000. Of course it had to go to a 4k camera, but there is a lot more to this model than meets the eye. The company took some really good choices from other cameras and improved on it.


Expand to see more
Possibly The Remote Control
This one was a toss-up since there are so many great features about the camera. But just like the Campark, the Akaso has included a wireless remote control. Unfortunately it is no different than the Campark model, missing yet another
golden opportunity
to create something special with the remote control. But it is still a great accessory to have around.
Features and Specifications
4k video recording
12MP resolution
2 rechargeable 1050mAH batteries
4GHZ wireless remote control
Waterproof up to 30m
5 tethers
7 mounts
Wi-Fi compatible
Price/Value
The EK7000 hovers around the mid-price range, but does come with a ridiculous amount of extras. The only step up from this camera would be the YI 4k as the only other completely balanced camera on the list.
Decision Time
Akaso has earned a lot of respect over the years for how it makes its camera models. With all of the accessories and extras they included with the EK7000, customers will always feel like they got a great camera.
Wide angles up to 170 degrees when filming
Comes with a really good waterproof case
AC charger is included
Tons of little extras like a lens cloth
Works with GoPro mounts
Time and Date issues with photos
Battery door can be a pain to open
2. YI 4K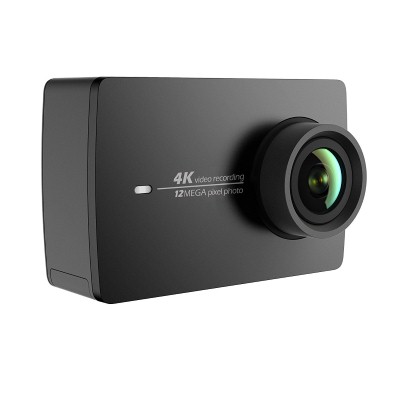 Now this is where things really start to heat up on the
camera
list, with the YI 4k Action Camera setting the bar high. High not just relating to price, but quality of all components as a whole. Balance is important with this action camera, and it has very little flaws.
Expand to see more
Professionalism

The design of the camera makes it look like a high class DSLR rather than an action camera. Just the black model in particular looks sleek, smooth and powerful. Other colors are available, and they all retain the same great professional look.

Features and Specifications

Available as camera only, selfie set, selfie set with memory card or waterproof set with memory card
19 Gorilla Glass LCD touchscreen
4k video recording
12MP resolution
Ambarella A9SE75 Chip
Sony IMX377 Image Sensor
1400mAH rechargeable battery
120 minutes video recording
Built in cooling system
Bluetooth and Wi-Fi support
Price/Value

The features are unmatched by any other camera on the list, even at #1. But the value for the normal everyday user that wants an action camera to record stunts may be lower. Factor in the features you will use, and decide whether it is worth getting the most expensive camera on the list.

Decision Time

The #1 and #2 cameras are interchangeable, with price being the only big change. When customers want a camera that can do everything with no flaws at all, then the YI will be their choice.
The Rolls-Royce of action cameras
Perfect HD videos with sound
Uses same protective screen glass as high end smartphones
Largest viewer screen on the list
One of the best batteries available
Powerful, fast and easy to use
Expensive
Accessories add to that expense
3. Gear Pro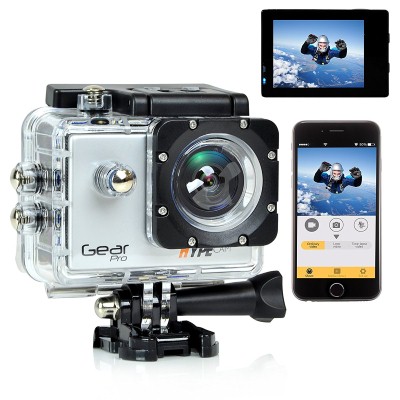 Gear Pro will blow a lot of people away with what it can do, which is why it's so high up the list. Taking the time to point out its many features would take days and shows how much love and care the company put into making this camera. If the durability doesn't make you want it, then the light weight will.


Expand to see more
Compact and 4k

The best feature on this camera is actually a combination of two things- its small size, and the 4k recording. A camera this size being able to handle 4k recordings is astonishing. And the video is really vibrant, colorful and full of life when you output it to a television screen.

Features and Specifications

2 Inch LCD display
4k video recording
170 degree wide angle lens
Wi-Fi compatible with free app
Waterproof up to 30m
One button recording ability
Price/Value

Customers will appreciate the low cost of this camera, and even if it isn't as accessory rich as some of the others, the hardware still remains superior. It's small, lightweight and really powerful.

Decision Time

Even without a backup battery, Gear Pro managed to make a tiny 4k camera that works really well. Action seekers will be really happy once they pull this little demon out for a test drive.
Almost as small as the Polaroid HD Cube
Uses the Sony Full Color 8MP CMOS
Comes with universal base mount, handlebar mount and fastening strap
16MP resolution
Great quality audio with integrated microphone
Only comes with one battery
Camera is picky with micro SD cards
4. Campark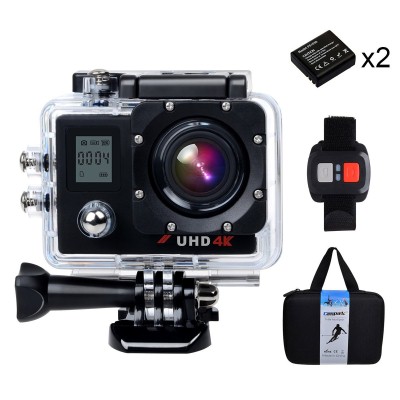 And here is another camera with Sony branded hardware in it. Sony is everywhere, and there is a good reason for that. Campark took action cameras a step further with their release of this model, and it looks like a lot of satisfied customers have nothing but praise for the company.


Expand to see more
Comes With A Remote Control

Just having Wi-Fi isn't enough with products that will be operating in busy sections of the world, where wireless interference could be a pain. The built in 2.4GHZ wireless remote control is the strongest on the list and will keep your signal strong even in extreme conditions.

Features and Specifications

Sony IMX179 sensor
4k video recording
16MP resolution
2 1050mAH batteries
2 inch LCD viewer screen
Mountable remote control
Wi-Fi compatible with free app
Price/Value

Buyers will note that this camera is really unique with the remote control, but they kind of capped its functionality. Even so, this is a great mid-priced product out of the box with some really cool upside.

Decision Time

The remote control really does make this a special purchase, and if CamPark had added some more options to it, this would have been #1. There are still plenty of people that will enjoy what this model has to offer, with hopes that a future version will improve on it.
Remote control can be strapped anywhere, even on your wrist
2 high performance batteries that don't take forever to charge
Crisp video recording thanks to the Sony sensor
90 minutes of recording on a single charge
XDV app is top of its class
Good remote, but a major missed opportunity by not adding more controls
Micro SD card is limited to 64GB
5. Miho SDV-8560Q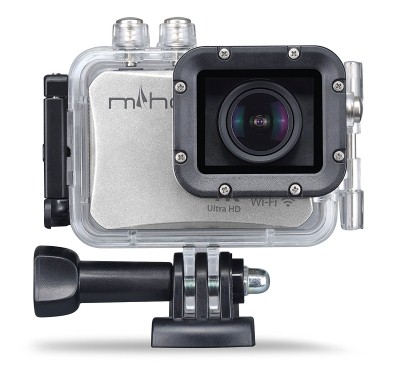 When buyers use the SDV-8560Q for the first time, they get access to a range of features to play with. The best of them is the
superior visual quality
built inside the camera, which is so powerful it rivals even the top camera on the list.
Expand to see more
Video Quality

Maybe it is the built in Sony CMOS sensor, but whatever it is this camera takes some fantastic videos. This is in all modes, and not just 4k resolution. Users will be able to catch all of the action with pure colors and not a single hitch in the video.

Features and Specifications

4k video recording
Supports micro SD up to 64GB
60 meter waterproof case
2 inch LCD viewer screen
130 degree wide angle lens
3 Extension mounts
Price/Value

You're pretty much getting a Sony branded camera for peanuts, so the value is extraordinary. Buyers that are turned off by the high price of Sony branded action cameras will find this a much better long-term option.

Decision Time

This is a high end camera masquerading with a low price point. Buyers would be wise to pick this up before people realize what a great deal they're getting with this equipment.
Gorgeous 4k video
Lots of mounts to get you started
Sony CMOS sensor is fast and starts without a hitch
Crystal clear LCD screen to play with options, photos and videos
Wi-Fi compatible
Max supported card is 64GB
No external microphone support
6. DBPOWER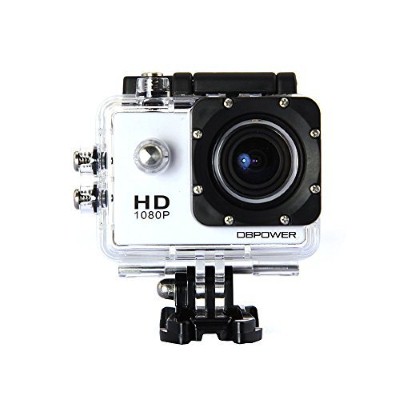 DBpower making it this far down the list means that their camera must be something special. It turns out that action camera kits are a big thing, and the company knows exactly how to please its customers. There are only a few cons to link to this camera, which does an excellent job in several categories.


Expand to see more
Lightweight

The company has gone to great lengths to make this one of the lightest action cameras on the market. They describe the weight of 58 grams to be equal to an egg, which is an astounding advantage for any action seeker looking for a camera. It has all of the lightness of the Polaroid Cube HD but with a heck of a lot more options.

Features and Specifications

2 Rechargeable batteries included
Supports TF cards up to 32GB
1080p video recording
HDMI and AV video outputs available
170 degree wide angle lens
Waterproof up to 30 meters
Compatible with Gopro Hero/SJCAM mounts
Price/Value

DBpower has included a lot of extra accessories in the box, and this is one of the harder to find cameras in the market. If you can get it for the low price that it is available at, you'd be getting a really good deal.

Decision Time

A lot of the choice for purchasing this camera will come down to whether you need 4k or not. Buyers that are still using 1080p will find this purchase one of the best available.
Comes with clips for the case, camera and a multifunction clip
Helmet and Bicycle mounts are included
TF cards are cheaper than micro SD cards
Video is crisp and clean with great audio
The lightness of the camera is unmatched
5 inch LCD viewing screen
No 4k
7. Polaroid Cube HD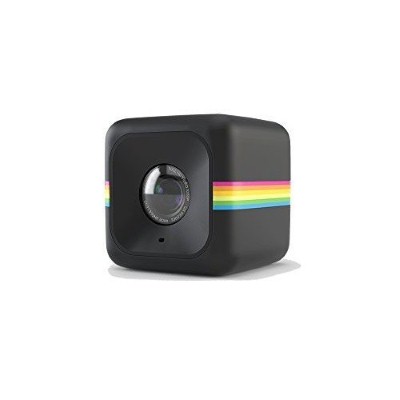 Turning people onto a Polaroid has never been an issue, but for an action camera? Before the company changed how it operated, the Polaroid Cube HD was one of the most in demand action cameras on the market. It is budget friendly, powerful and small enough to carry anywhere.


Expand to see more
Fun and Small
You can place it in the palm of your
hand
, in your pocket or even attach it to something that flies. It is light, small and made from the ground up to be portable. This is what an action camera should be, and Polaroid did a good job in emphasizing that.
Features and Specifications
Available in black, blue and red
6MP CMOS sensor
1080p video recording
124 degree wide-angle lens
Built in rechargeable battery
Can record up to 90 continuous minutes
Mounts magnetically or with included clip
Price/Value
Buyers will be looking at about the low-mid price range with this camera. It is still in high demand, with this specific model garnering some serious attention from action fanatics.
Decision Time
When portability is a big concern, the Polaroid Cube HD will come to the rescue. People swear by it due to efficiency, and it'll be more than enough to get you through some major stunts.
Small and powerful
Good wide angle viewing for such a small camera
Can practically go anywhere and be mounted on anything
Because of size can double as spy camera
Powerful built in rechargeable battery
No LCD viewing screen
No Wi-Fi
8. Lightdow LD4000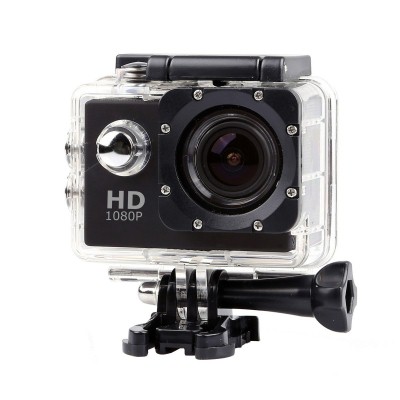 When Lightdow first introduced the LD4000, it was ahead of its time. Fast forward to today, and this is still one of the best action camera kits you can purchase if you are new to the scene. And if you already have a camera, there is nothing wrong with having this as a backup.


Expand to see more
Pricing

You know you're getting a bargain when an action camera costs half the price of a video game. This is one of the most easy to attain cameras in the industry, and it is backed by thousands of great reviews. You're not going to get a lower priced quality camera than this, although some of the others on the list come close.

Features and Specifications

Uses the Novatek NT96650 chip
12MP resolution
1080p recording
170 degree wide angle lens
Waterproof up to 98 ft.
1 year hassle free return
Price/Value

Although the lack of 4k may throw some people off of the purchase, 1080p is still the current standard that most people are rocking. For the price, you really aren't going to get a much better value.

Decision Time

Find a color that fits your style the best and gives this camera a go. It's a lot of fun, and has a price that will make it seem like a minor purchase.
The NT96650 chip is still a beast
Captures photos and takes videos at 30 fps
Audio quality is above average
Large capacity battery of 900maH keeps you going
Black, blue gold and yellow colors are available
LCD screen is only 1.5 inches
No 4k resolution
9. ThiEYE i60e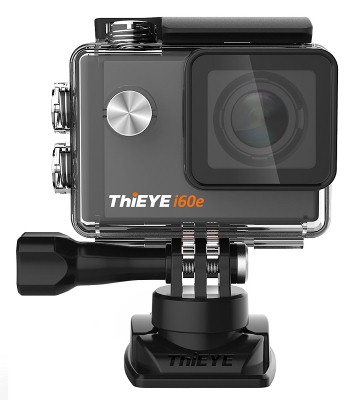 ThiEYE is one of the more polished cameras on the list. It has a great wealth of features found in high end cameras, and for the most part they take to this model quite well. The big takeaway from the i60e is that it is the next best thing to getting a more expensive action camera.


Expand to see more
App Compatibility
Most of the action cameras on the list have an
associated app
, but it's ThiEYE that does the best job with ensuring their ThiEYE App is fully compatible with both Android and iOS systems. It's a winning situation no matter what operating system you use.
Features and Specifications
Available in silver and black
4k 30fps recording
12MP resolution
Wide 170 degree view
Wi-Fi connectivity
197 feet waterproof housing
Supports up to 128GB micro SD card
Price/Value
The low price of the i60e makes it a tempting solution for buyers that need an action camera. With great hardware and a lot of hardcore features, the camera pays for itself in no time.
Decision Time
Don't let the 12MP resolution fool you since this camera takes wonderful 4k photos. With great
water protection
, it can become your go to camera for underwater action.
Great for underwater stunts
One of the best apps on the list
2 inch HD screen with good options
Catch a lot of the action with the wide angle or 4x zoom
Fantastic social media integration with the app
Good but not great resolution
Doesn't support an external mic
10. WiMiUS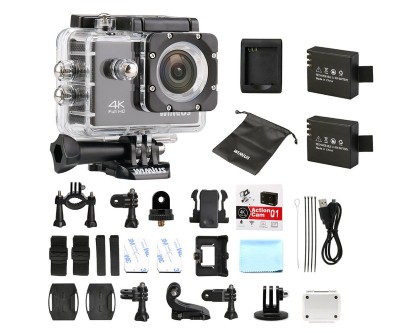 Buyers are getting just about everything with this action camera package, and it starts and ends with all of the multiple accessories they throw in. WiMiUs made a really good action camera for buyers that tend to participate in
high risk activities
, with a focus on giving them everything they need to get started.
Expand to see more
Extras And More Extras

When you count how many extra accessories you have to purchase when getting an action camera, by the time you tally up the final amount you'll be spending more than the price of the camera. Buyers can avoid this by getting a camera model like this that has the consumer prioritized. You won't be disappointed with what comes in the box.

Features and Specifications

4k HD recording
2 inch HD back screen
16MP resolution
CMOS sensor with 170 degrees
Built in Wi-Fi mode
Free app for tablets or smartphones
Colors available are blue, black and silver
Price/Value

You really can't beat the value of this set and everything that it offers. It is low priced, and has continually gained great reviews from many appreciative fans. If great audio is one of your sore points, then you may want to look at other cameras on the list.

Decision Time

There will be a lot of happiness for anyone that receives this camera as a gift. Think of this model as a beginner's kit to action cameras, with a price that is too low to pass up.
A ton of accessories
Waterproof case
Storage bag
Charging dock
2 batteries included
Helmet/handlebar mounts
Included micro card is not Mac friendly
Audio quality is subpar
How To Make The Best Decision When Choosing An Action Camera
Start with whether you care about 4k. If you don't care about 4k resolutions, then getting a 1080p camera would be a much safer play. There is no point in paying for a feature you won't use. The same goes for the cameras on the list with a lot of extra options. If none of those mounts or straps will be of any use to you, why pay extra and purchase a camera that has them? The best thing about action cameras is that they give you a lot of choices on all parts of the purchase.
FAQs
Is There A Big Difference Between 4k And 1080p?
Yes, but not everyone will be able to tell how big a difference. Try going into a store and viewing 4k televisions and then looking at one of their 1080p displays. If there is a massive difference, then you know what action camera you need to buy.
Will The Rechargeable Batteries Wear Out Over Time?
They'll wear out over time like all rechargeable batteries. It will take a long time for that to happen, and it's unlikely you'll even notice it since they are not under constant user like a smartphone.
Are GoPro Compatible Devices Important?
Customers that have or plan to purchase GoPro accessories will want a camera that is compatible with it. There are plenty on the list that are, so don't overlook them if you know what you want.
How Durable Are The Camera Cases?
They can take a lot of bumps, bruises, shocks and whatever you throw at them. Action cameras were made for a specific purpose, and they are at their best when you go all out with your stunts.