Alarm Clocks for Kids Reviewed & Rated for Quality
In a Hurry? Editors choice:
Test Winner: Travelwey

Waking up and going to bed are some of the hardest points in any parent's day. We all look for ways to try and make these points in our days easier, whether by sticking to a routine or trying to find things that soothe and prepare our children for life. Alarm clocks for kids are something most of us will eventually end up getting. Whatever the case, and whatever the age, we want to get something both functional and that works in our child's room to help with sleep and waking cycles.

Check out our list of top ten children's alarm clocks to find exactly what you want and not have to spend hours wondering if what you got was worth the money spent.
Standout Picks
Criteria Used for Evaluation
Durability
Anything you buy for a child has to be able to withstand some abuse, but our look at these locks was to check just how much they could handle if used correctly and taken care of. Even we can't expect companies to be able to promise that a tumble down the stairs won't break their products, but we can look for is that the occasional accidental bump or extended use and pressing of buttons won't bring the clock to a halt. That being said, we feel that all of these clocks met or exceeded the expectations in the durability department. They stand up to the 'hands of time' and work as they were intended for a long time.
Features
Fun
What clock would we even consider if it wasn't fun? With everything our kids already have to make them feel comfortable and happy, we want the item intended to help them to sleep, wake up, and tell when it's time to start getting ready for things to bring good feelings. A child's device that does not appeal to them won't be cared about and likely won't help in setting up a good mood towards is used. So when we chose these alarms we looked for the ones most likely to spark the imagination and leave a sense of well-being in the child they are bought for. Many of these offer a night light as one of their functions and for a child that can be amazing- especially the ones that change colors! While as adults we look more for if it does its job, a child is more interested in the fun factor, so when we looked we kept that fact close to our thoughts.
Effectiveness
Functionality
While fun plays a major part in this aspect, so does everything else that has to do with a clock. How well can you tell the time? What types of alarms does it offer and will any of them really help in waking your little one when they need it? What other functions are available with this particular clock? The answers to these questions all play into the functionality. If the clock appeals to the little one either in how it looks or if it has some form of light function, then it definitely gives bonuses to its usefulness and grabs our attention quickly.
If, however, the alarm itself is too quiet or doesn't work well in waking your little one up or letting them know when it is time to get something done, the functionality it has in other aspects can quickly lose their appeal. We are, after all, looking for alarm clocks mainly, and not just clocks for decoration!
Value
Cost and Value
While a clock may look great and appeal to our senses, we know it is extremely important that you get what you want out of the product and that it is worth what you paid for it. No matter how cool a glowing clock looks, if it keeps the little one up because it is too bright or doesn't wake them up in the morning as intended, the clock has not met the needs and lowers the quality of the product. The last thing we want to know is that we lead you to a product that wasn't worth the money you spent to receive it. All of the other things we looked at and anything extra the alarm clock offers plays heavily into is it is worth buying and if it will remain valuable beyond the first few days of receiving it.
Our Top Picks for Alarm Clocks for Kids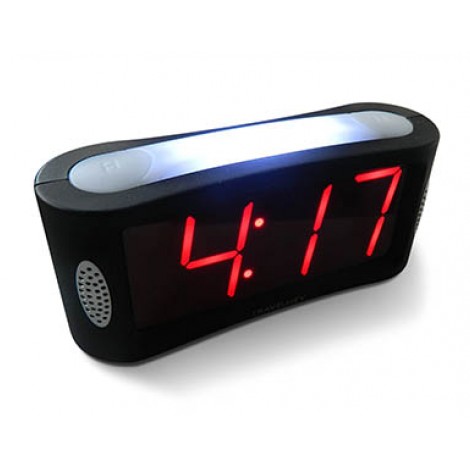 If you are looking for simple but reliable alarm clocks for kids, this is the clock you want. Not everyone needs something flashy, and if you are one that looks for function over flash, keep reading and you will see why this clock picked up our number one spot.
Learning time
Some alarm clocks may look cool but are hard to see the numbers on. When your little one is learning how to read numbers and tell time, you want everything to be easily read and the time not hard to figure out. This is the clock for learning how to tell time and help your growing student to start a routine of being responsible enough to wake on their own.
Stormy night knock outs
Where most alarm clocks lose their settings if something takes out the power, this one is designed to have batteries back up its settings. While it may not be easy to read in this backup state, at least you know that you won't have to reset everything when the lights come back on. This is especially useful when your kiddo goes on a trip and needs their clock to come with them.
Cost and Value
While it is a simple clock, it is incredibly efficient. It does exactly what you need it to, and even has a built-in night light that can be turned off and on as needed. It isn't too expensive either. We feel that between its normal functions and it's additional features, it is certainly worth it if you are looking for productivity and not just designer décor.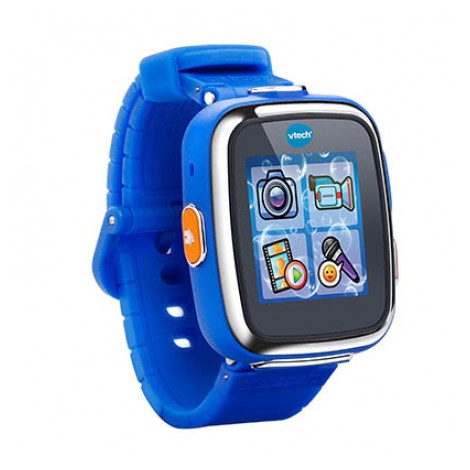 Want an alarm clock that goes with your child no matter where they are? This is a brand new and exciting take on the traditional use of an alarm clock. Who said your alarm had to be boring or stationary? Read on to find out more about this cool new product!
On the go!
Obviously, kids are some of the most on the go people you will ever know- so why should their alarm clock be sitting on a table or desk where they are not likely to use it most of the time? This nifty watch features as an on-the-go alarm clock as well as a mini-game device and camera! How cool will your kid feel as they learn to tell time and when to wake up?
Can we help you?
What is not to love about knowing you have great customer service backing you up is the item you bought is having an issue? Vtech is well known for its great customer service and reliability on helping when any of their products are having problems, and this watch is no different. This is a great thing to have as a parent to help give you peace of mind.
Cost and value
What isn't there to love about this watch? It's an alarm clock that travels with your child and can help keep them entertained when waiting for any period of time where they have nothing else to do. It also lets them carry around their own personal camera so that they can take pictures of both family and friends wherever they go- so in a way, it offers safety as well! With a great company backing it, the expense of the watch is well outshined by its uses and its extra features- including the one that got it number two on our list!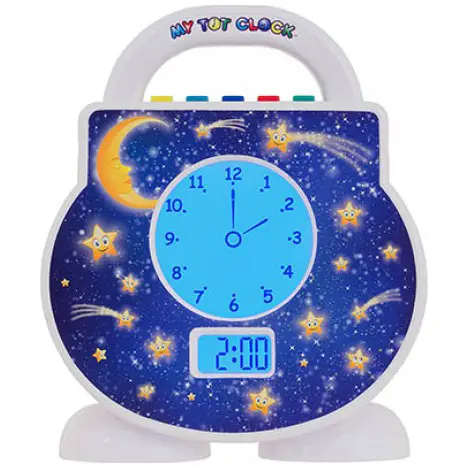 Nighttime can be rough, as can mornings, especially with a toddler. This little clock can help make it easier to teach your little one how to follow routine bedtimes and when it is ok to finally get out of bed in the morning. Be sure to check out this one at number three on our list.
Not so boring!
Most of the light up clocks can change colors- but what about one that completely changes its look? This cute little clock actually has an interchangeable faceplate so that you aren't stuck with a single image forever. The faceplate is also what makes sure your little one can't go changing the clocks schedule on you too, so changing its looks can be a great way to hide things when you go to change the alarm or time without giving things away!
Bedtime
Why just settle on a single sound setting to help get your little one to sleep? This clock features bedtime stories and lullabies to help set up your bedtime routine with a little extra fun. You can set the bedtime alarm to not just make noise, but to start telling a story so that your child can relax and enjoy heading to bed instead of getting upset at the fact the noise maker is telling him or her that time is up for play.
Cost and Value
Although a little pricy, we feel that all the extra features make this clock well worth looking into. Most clocks are only set to make sounds, noise or change light settings. This one actually has more to it and can help busy parents with making bedtime more fun. In addition to having so many features, this clock can also be requested to have a manufacturer's warranty added by talking with customer service so that if anything doesn't work right under proper use, it can be fixed or replaced. Well worth checking into!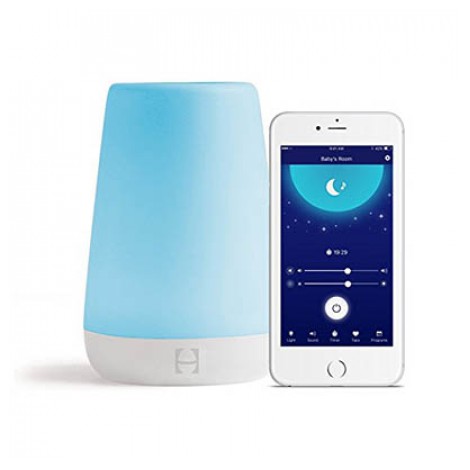 Want something that can be programmed in more than one way? Feel that your little one needs a way to tell time, but they aren't ready for numbers to be used? This Clock is made to help toddlers tell time differently and aid you in teaching them proper house routine. Read on to see how your little one can learn about time concepts from this beautiful clock!
Quick and easy
Sometimes you want a clock that is not only easy to set up but just as easy to adjust- not only that, but when it's your child, you want to be able to adjust things without disturbing them by having to go into their room if the alarm is not set right and you suddenly remember that after bedtime. This clock allows you to adjust it via your smartphone and lets you use it to choose all the features you want it to be set for. Easy all the way around.
Hear the result
This alarm clock is beautiful from the very first day. Not only can it help you teach your little one to be alright with a sleeping schedule, but the built-in baby monitor means you can hear if they stayed in bed or not. For most parents when they think of a baby monitor they think that it loses use after the little one is a toddler- but since this one is a clock as well, it is less likely to be intrusive seeming to the child and therefore allows for a longer time of mom and dad keeping an ear out for trouble.
Cost and Value
With the ease that this alarm and routine teaching clock offers, its durability and its great baby monitor featuring, we feel this clock meets everything you could want in a child's alarm clock and then some. The quality of this product is awesome, and you really will have a hard time finding a better quality of early childhood designed alarm clocks than this for those looking to help train a daily routine with their little ones.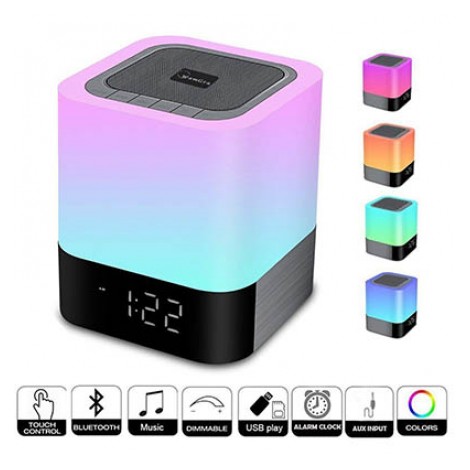 Want a little more than your typical nature sounds and radio calls for choices when it comes to accompanying your light up alarm? Have a teenager that doesn't exactly find the child friendly night lights appealing anymore? Check out this multi-purpose alarm clock to see if it fits what you want and need for the perfect grow-with-you style alarm clock.
Making music
This gorgeous night light also serves as a speaker for computers, TVs and Mp3 devices, so you don't have to stick with sounds or stations with noise or music you don't enjoy- instead, you can set it up with your own! This is great when the one you are getting it for is older and wants something they can use and enjoy and not just as an alarm. You can even use it to better enjoy your movies and up the ante on sound quality!
Batteries that last
Instead of many alarm clocks which you have to plug in or buy batteries for, this one comes with built in rechargeable batteries that are charged vi USB. This is great when you know you don't have to constantly buy batteries so that your clock doesn't have to be attached to a specific room, and if you want to use it for the speaker function!
Cost and Value
Considering all of its versatility, and the fact that this is useful at any age for being a great alarm clock, one would think it would be one of the most expensive as well. Fortunately, this products value far outshines its actual price. It isn't the cheapest on our list, but it is far from being the most expensive which is surprising. This is truly a deal for your dollar, all things considered.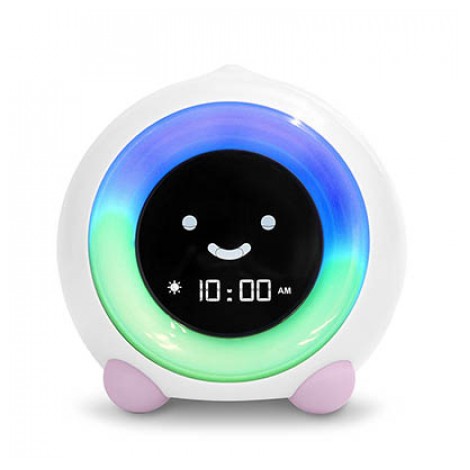 Want something unique for your little one to react with? Think colors and shapes aren't everything your child needs to know when things are right? Check out this unique design for a fun clock that almost seems to interact with your child throughout the day.
Expressive
Some little ones react better to expressions than they do to colors or sounds. After all, when mommy or daddy mean business, it is the look on their face that says they aren't playing around anymore. This cute little clock also has expressions for specific types of timers to let your little one know when everyone's sleeping, when they are awake, and when it is time to start paying attention. Combined with the colors you choose; this clock provides a unique teaching aid for little ones who simply need something different to react to.
Can I help you?
When you have a problem with any product you purchase, your first goal isn't usually to get rid of it. Most people go looking for some way to fix or figure out what is wrong with the item they bought, especially if it is purchased for a child and the little one likes it. Knowing that makes the fact that the quick customer service is there when you run across an issue means you have a peace of mind when you purchase this keepsake for your growing child. You can get answers if and when you need them.
Cost and Value
This clock is absolutely cute and built to be durable against minor tumbles with materials that are safe to have in your little one's room. While up there with some of the more expensive items on our list in price, the fact is that you can't say it isn't worth every penny. When you have a child, whose understanding is just a little different, and it is already hard to try and explain things, having a clock that expresses itself can be a help you can't put money on. With the added 1-year satisfaction guarantee, you will know quickly if it is the right one for them as well, so you can get quality without feeling like it is trapping you. With the great customer service as well, you can even turn to help if you need it in working with the clock- so you aren't just paying for the item, your guaranteeing you have service as well!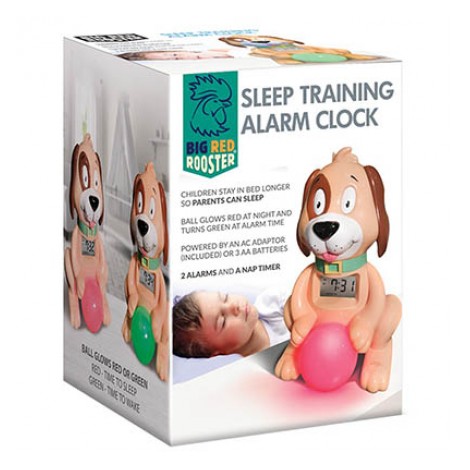 Want to add a little fun to your child's room and not take away from the overall feeling of playfulness? Why not get a clock that fits in with the rest of their toys and lets them feel like they are still a kid and can enjoy games even while learning! This is an alarm clock that can make bedtime and wake up into a game where the rules are easily understood, read on for more information!
Let's play!
This clock has a very child-friendly appearance. Looking more like a toy than a clock, it is likely your little one won't find any feeling of intimidation by its presence in their room. The toy ball the dog holds is also the very light that lets them know when it's time to sleep, and when it is ok to get up. With the red color being already so fastened to our society as a sign to 'stop' and the green being the color for 'go' it won't take much to teach your little one what exactly the clock is telling him. Because of its fun appearance, you can even turn it into a version of the 'stop and go' game so that your little one feels they are playing while they learn to go to bed and get up only when the time is right.
Nap time!
Most alarm clocks have a setting for bedtime, but if your little one needs a nap in the middle of the day, you don't want to have to mess with setting alarms over and over again to get the activity done. This clock has a nice nap time feature that allows you to have it ready to go no matter what kind of time it is to lay down.
Cost and value
One of the great things about knowing how nice this clock is, and all of it's settings, is in knowing you can have it all at a price that won't have you wincing too much either. The value of having something friendly and fun that helps with teaching your child how to sleep regularly and when to wake is something any parent will tell you is well worth it.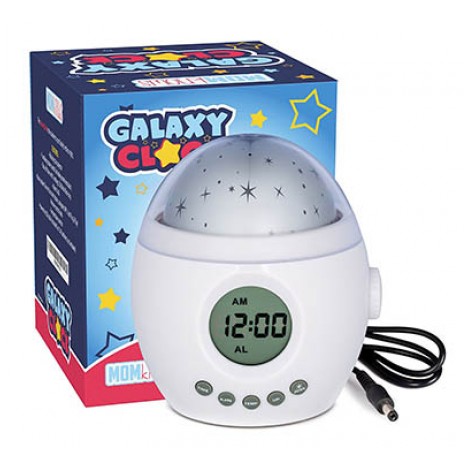 Have a child that absolutely loves science and outer space? This clock is designed to appeal to those children who can't get enough of stars! So if your little one might sleep better with stars to light up their room, check this cool rocket clock out!
Want to check for comfort?
Maybe the hard part of getting your little one to get good rest and go to sleep easily is not in lights or sounds, but in how warm or cold they are at bedtime. This nice little feature on the rocket clock will let you know if your child's room is the perfect temperature so that you can rest assured that they can sleep comfortably throughout the night.
Be satisfied!
If this clocks features are simply not enough, or you find that it didn't turn out as great for your child as you thought you can rest assured in knowing you can return it and look for something else. With the 100% satisfaction guarantee it won't matter why the clock didn't settle right in your home, you can always try again without this clock being a risk to your wallet.
Cost and Value
This durable multi-function clock for kids is not as expensive as some of the other clocks on our list, but while still a little pricey, it stands up and takes its place among the stars as one worth going after. Many night light alarm clocks just glow and don't add to the atmosphere of it being night time, but your child can enjoy feeling like they under the stars here. Add to it the fact you will know when they will be warm enough and can read the time easily to know when the alarm is set for and you already have a clock that has met its goal for being worth every penny. If you buy it and find you don't agree, this wonderful clock has a 100% satisfaction guarantee, so even in purchasing it, you aren't taking any risks!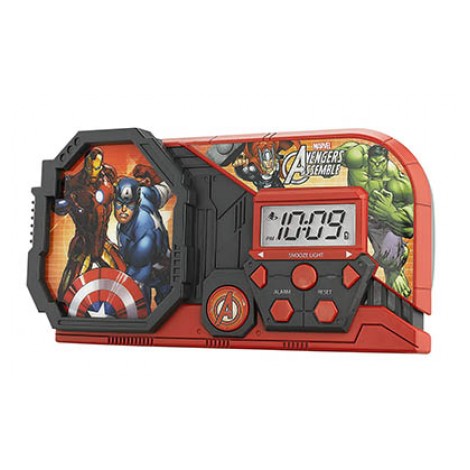 Avengers Assemble! It's time to get ready to tackle the realm of dreams and get that perfect amount of rest! With this clock at your Marvel fans side every night they are sure to get great rest and wake up ready to take on the day.
Look! A Signal!
This one features a nightlight with a little superhero flair. Instead of just shining a light from the top, or from the clock face, this light shines from the Avengers image to the left of the time. This feature will leave your youngster feeling as if their favorite characters are watching over the room as they sleep. What better way to make them feel secure than by knowing that they are not only able to see, but have a team of heroes ready to back them up?
Even in the dark
Want to have a quick look at the time without turning on the lights and having to start the bedtime process all over again? Well, the Avengers have you covered. Instead of having to turn the night light on, or shine a flashlight at the very least, this clock has a button press backlight for the time spot on its face. Being able to tell time without waking your child is priceless.
Cost and Value
This clock is one of the least expensive on our list, but one of the better values for it's price. With a timed night light, backlit face, and easy to set clock/alarm, this clock genuinely meets every requirement to be worth the money spent. Not to mention that if your little one loves the characters, this could be an instant win for everyone in both function and appearance!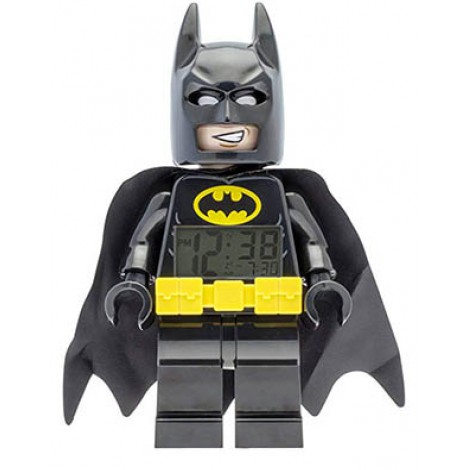 Who doesn't like Legos? Merge that with a favorite hero and it's a win with most every child. Well here's a clock that brings that to the full front! Why not bring home something your little one can play with and set up to be exactly what they need to ward off anything scary at bed time?
Why so serious?
With this cool Lego batman clock, your child can let their imagination go Instead of just setting their clock up and having it remain in a single pose, this 9-and-a-half-inch tall figure moves just like his Lego man counterpart! He can run, he can hold random toys and even sit around waiting to take out the boogieman. What a great way for your child to feel comforted at night!
Tough stuff!
Just like the superhero, this clock can stand up to the harsh realities of 'accidents happen'. Built to be moved around and able to take an occasional tumble, this clock is ready to take on the tough situation of being your little heroes clock. Keeping in mind the rough stuff comes with the territory, Batman just may outlast some of your child's favorite figures and still be able to get them up and ready for school.
Cost and Value
Can you call it a hero if they are a mercenary? Thankfully this hero isn't too hard on your wallet. He comes at a price that is nearly the least expensive we have on our list. Add to that the fact he comes with a two-year warranty and he definitely saves the day when finding the perfect alarm clock for your growing child.

Subscribe to our Newsletter