Best Deer Feeders Reviewed & Rated
In a
Hurry? Editors choice: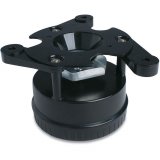 Test Winner: Moultrie All in One Deer Feeder

One of the most hunted animals is the deer, a vulnerable mammal mostly hunted for its meat and antlers. Because wild animals are likely to get frightened when people are nearby, finding and getting close to a deer is not as simple as it seems. One solution to this problem is to
lure the animal
to you with food. Deer feeders are widely popular to animal watchers as well as hunters. Feeders draw wildlife to one place good for viewing and hunting purposes. They come in a variety of sizes and designs: they can be small in size and simple or there are more advanced options, larger and automatic. Whether you choose to feed wildlife or use the deer
feeder as a trap
, in order to get the best results it's essential to pay attention to the feeder's features.
Standout Picks
Criteria Used for Evaluation
Durability
Durability was our first criteria and covered waterproofing, material quality, and longevity. You can truly judge the value of a feeder by looking at the materials used to make it. While we did show a preference for waterproof products, we were more concerned about the actual build quality. So there were some models with waterproof protection that didn't make a list. That's not uncommon and shows that the feature is nice to have but not the ultimate decider of what makes a good feeder. We also removed feeders that did a bad job of keeping bacteria out since it led to moldy and stale food.
But keeping water out isn't the only thing to worry about keeping out. The other is varmint, like small rodents, squirrels or raccoons in the area that love to get into the feeders. Once they have moved on from the lower hanging bird feeders, these small varmints like to get into the deer feed as well. This will not only spoil the food for the deer and keep them away, but it will also use of the feed a lot faster than you would probably like, therefore costing you more to constantly re-fill the feeder. A durable and well-designed feeder will help to keep these pests out.
Versatility
Feed support covered the type of food that could be used, the amount and of course the size of the feeding area. These three things together were hard to find in some products, which led to us cutting down the feeders on the list early.
There was no favoritism in the type of food that was compatible, and it was more about how many types the feeder supported out of the box. Having a diverse mix of food attracts more deer and also keeps their diet healthy so they come back for more. With the feeders that won out in this criteria, they had a higher chance of getting deer to come back to the same spot.
Advanced Features
Extras was another electric-only feature that we sorted through, mainly to look at how feeders handled scheduling. Some use simple scheduling features that didn't even require a read of the manual. Others were complex, doing a good job of mixing in preset and custom scheduling options. We rewarded products with the latter since they were the most useful, but there were only a few feeders with custom scheduling options. They were sorted on the list appropriately, gaining an advantage over a lot of the other feeders with default options.
Value
Price was the easiest criteria to go through since most of the deer feeders were low priced. With even the most advanced feeders having an acceptable price range, we were able to fully shape the top ten by removing overpriced products. If an expensive product was left on the list, it had a remarkable feature set that couldn't be duplicated by lower-priced feeders.
10 Best Deer Feeders
1

. Moultrie All in One Deer Feeder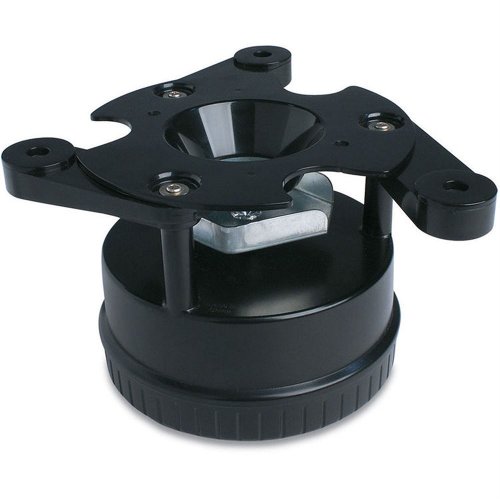 Guess who makes the list again? It's easy to see why, since Moultrie clearly knows how to make top quality feeder products. This one is a bit smaller than some of the others, and the motor isn't as powerful. However, if your feeding needs are less pressing, and you're looking for a low priced, efficient model with enormous battery life, look no further than this one.
Ready to go
I'm not saying that you're not a serious hunter if you don't go for one of the bigger models. What I am saying is if you want to spend your spare time hunting, and not worrying about your feeder, this one is ready to go as soon as you open it is a great thing.
Keeps on going
This feature is perfect for those hunters who have found their sweet spot a decent drive away from their homes. The battery on this feeder makes it so they won't have to travel back and forth to make sure it works.
Cost and Value
This feeder comes with a very good price attached to it for all the useful features and solid construction that it boasts. Since you can basically set it and forget it, it's perfect for first-time users.

2

. Deer and Livestock Z-200 Deer Feeder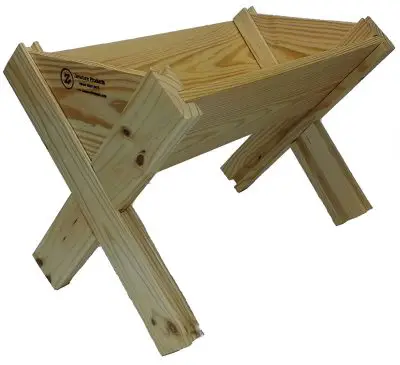 The biggest surprise of all comes from Zenature with their basic level deer and livestock feeder. It beat out Moultrie and other high tech feeders and is a champion at getting the job done.
Simple
There is nothing wrong with being simple if a product works as intended. Zenature took the most basic concept and made a feeder that attracts the most game.
Features
The bottom of the feeder comes off that that it is easy to fill and clean. This type is one that is placed in an open area for the deer to help themselves. No need for batteries which makes this option budget-friendly in the long run.
Cost and Value
Sometimes the old ways are the best, which is something that Zenature has proven thoroughly. This is the most dependable feeder you can buy with a price that is consumer-friendly.

3

. Moultrie Tripod Deer Feeder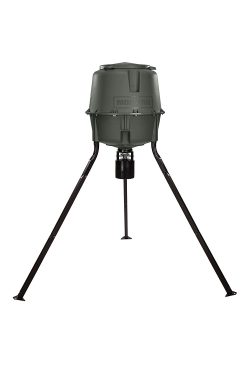 The Deer Feeder Elite Tripod lives up to its name and provides excellent feeding options. Hunters won't have any issues setting it up and using it for a full season.
Accurate Digital Programming
Within minutes you'll be able to program it to feed 6 times per day between 1-20 second increments. Once set, it is dependable enough to not get out of alignment.
Features
This one has locking technology that doesn't require tools to place or remove the feeding kit. Added UV protection makes for durability over time when exposed to the sun. Sturdy legs with added locks will ensure the feeder will stay standing.
Cost and Value
Even with a weak varmint guard, the mid-high price of this feeder is worth it. There is a lot of positive value behind this feeder and the company that made it. Moultrie comes through with a winner once again, proving that there is more to a feeder than the small things. It's close to being the best on the list, and with a stronger varmint guard would've been #1.

4

. Moultrie MFG-13104 Deer Feeder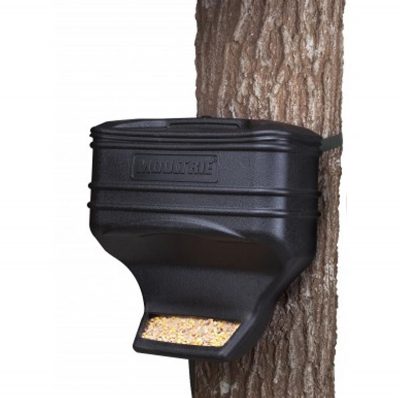 There is little hesitation when people make the decision to buy the Moultrie Feed Station. It's a practical feeder with a lot of traditional roots.
Mother Nature Is the Best Feature
There are no smoke and mirrors with how the unit operates, as it uses a gravity-driven design to disperse food. Not only is this method proven, but it is highly effective at getting the right amount of food out at all times.
Multiple Feeders
A selection such as this allows you to order in multiple quantities at a decent price. This lets you place feeders in different locations to scout out multiple locations.
Cost and Value
This is the lowest priced feeder on the list, but also the lowest-tech. Considering how well it works, that shouldn't be a problem in accessing its longtime value. With the right placement, this can be the best feeder you've ever purchased. It's simple and relies on gravity to get the job.

5

. Moultrie MFHP53764 Deer Feeder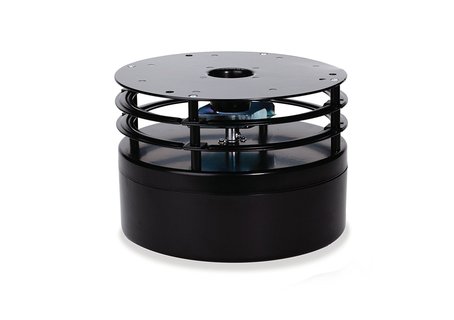 One Moultrie product comes after another, this time with the Pro Magnum. This is a more relaxed version of their bigger models yet still offers some really good mechanics.
Great Varmint Protection
Using an all-metal, diamond-shaped spinner plate, the Pro Magnum has superior varmint protection. There will be no worries about what is picking at the food you put out during the season on.
Great Features
This feeder comes with a Timer that allows you to set six separate feeding times. Which is great for luring in the deer at different points throughout the day. Plus the larger sized LCD screen reduces the stress and headache that comes with setting these up.
Cost and Value
At an average price, consumers will get a top grade feeder. You won't have any complaints about the setup or construction of the unit. The Pro Magnum has a healthy amount of fans that have used it for multiple seasons. It's a fair priced deer feeder that will get the job done right.

6

. Moultrie MFG-13053 Deer Feeder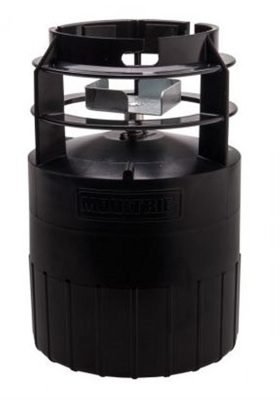 Moultrie makes the list again in what seems like the millionth time. This particular feeding kit makes it to one of the top spots by being small and quick, and a lot less of a hassle than the average feeder.
Useful Quick-lock Adapter
With the adapter in play, this feeder can be mounted to any hopper or barrel. That is insane flexibility, and can really help if you have something already set up near the hunting grounds.
Wind-Resistant
It can be frustrating to see your feed scatter to thinly because the wind took it right from the feeder. With this one, you are provided wind-resistance, which reduces the chances of the feed being scattered thinner than you desire.
Cost and Value
Make sure to get the first generation version of this and it will be worth it. The price is low, so there should be no problems worrying about wasted money. Speed can make a big difference when you have a lot to set up during the hunt. You can count on this model to not slow you down when it counts.

7

. Banks Outdoors Feed Bank Gravity Deer Feeder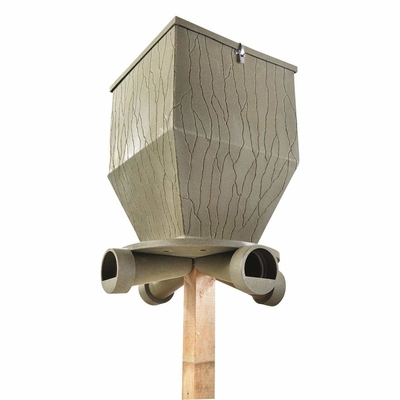 The Banks Outdoors feed bank made our list because it is heavy-duty, well-designed, and a great investment for you to make if you are serious about feeding all the deer coming around your property.
Heavy-duty design
The Banks Outdoors feeder feature four feeding holes and can hold up to 300 lbs. of food at one time. It mounts well on one 8-ft 4x4 post (not included), which may require having a vehicle to haul out to the feeding site.
Designed to reduce food waste
This feeder has a water-tight seal lid that keeps all of the food inside dry and fresh. With 300 lbs. of food in the vessel at one time, you don't want to risk wasting it and having to replace it often. With this feeder, you won't have to worry. The deer will get their feed for days at a time.
Cost and Value
This is definitely a pricier option (if not the priciest on this list), but we believe that it's worth the investment if you are able to make it. Considering that it can hold up to 300 lbs. of feed, has a water-tight seal to keep the feed fresh, and is well made, we get the price and the value.

8

. Redneck Outdoors T-post Deer Feeder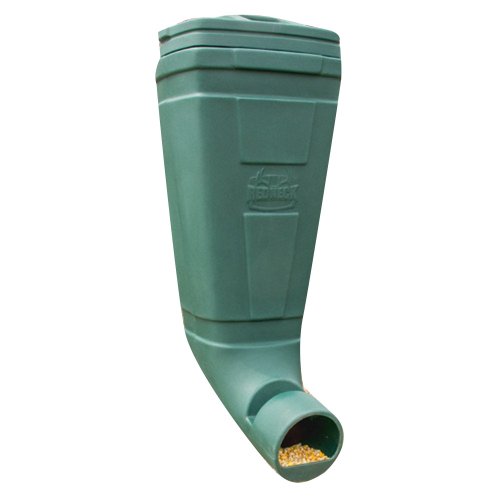 As a company, Rednek has enjoyed a lot of positive criticism with their T-post Gravity Feeder. It's small, efficient and is everything you'd want out of an entry-level deer feeder.
Adjustable Feeding Tube
Using a simple system, the height at the bottom of the feeding tube is adjustable. Users can angle it from 34-60 degrees without too much of a hassle.
Capacity
For those with a busy schedule, this one might be a great choice for you. The number of times you have to treck to the feeder will vary by the amount of feed it can hold. This one offers a capacity topping out at 80 pounds. That will most definitely cut down the number of trips you will be making.
Cost and Value
It hovers at around an average price, so the features fit the costs. With a very solid build, it will last for years without breaking. This is one of the low tech options on the list, and also one of the most reliable. A little bit of research will prove just how powerful this can be during the season.

9

. American Hunter 225lb Deer Feeder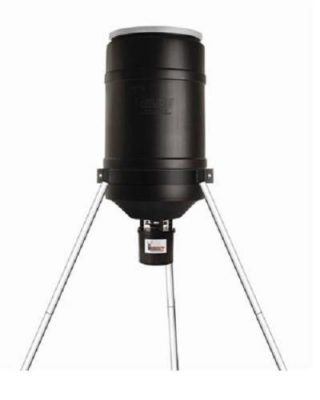 Large would be the best way to describe this American Hunter feeder. Hunters won't have any worries about having to refill this feeder during the season, and there will be plenty left over afterward.
225 Pounds
With 225 pounds of available feed space, this is a great choice for putting in remote areas. That way you won't have to travel out to refill it in undesirable locations.
Durability
Now we have come to a selection that can be left out all year round. This feeder had been built to last. Making it perfect for those who might live in areas that get a little crazy with the weather scenarios.
Cost and Value
A little bit of time with this medium-high priced feeder will show its value. There is a lot of potentials, and it can even be used without the included tripod. When there is a place that you don't want to keep checking upon, this is the best model to get. It has more than enough space to last a full season and beyond.

10

. American Hunter R-Pro Kit Deer Feeder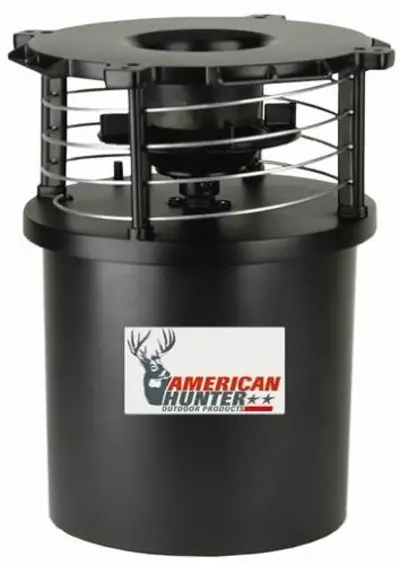 This American Hunter R-Pro kit made it on our list because it is built well and has nice features. This deer feeder can protect itself from unwanted guests and is designed to last a while.
Durable housing
One of the best features of this deer feeder is that it is built to last. The outer housing is made from a durable plastic that is designed to not only deter and keep out unwanted varmint but also to be weather-resistant in even the most extreme weather conditions.
Digital timer
The digital timer on this American Hunter deer feeder is a nice feature. With it, you can control the feeder and designate when its feeding time. This will keep you on a feeding schedule that you can design and can also help you save on food waste.
Cost And Value
This feeder is at a mid-range price point, and for its performance, design and digital timer feature, we think it's a pretty good deal all around.

Subscribe to our Newsletter