Top 10 Deer Calls & Rattlers Reviewed
In a
Hurry? Editors choice: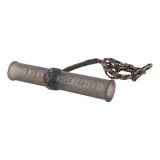 Test Winner: Flextone All-N-One

If there's anyone out there who hunts their own deer, then from time to time you're going to have to try and coax them into view with one of the best deer calls from our list. There are all kinds of calls on the market that are going to advertise their ability to make a deer come right up to your blind and wait patiently to become venison. But those of us who hunt know that the crazy thing about deer is that though they can seem dumb as rocks, they can also at times be extremely clever and they can smell, see and hear well enough to know when there's trouble around the corner. But calls do work if you use them well so we've dug through the collection of tools available and here are some of the best that we've found. Good hunting.
Standout Picks
Criteria Used for Evaluation
Ease of Use
The usefulness of such hunting gear comes down to the consumers' understanding of how to use it, along with the appropriate time to use a call. None of the included top ten are overly complicated, even the modern variants.
Usability was a criterion that led to us clearing out some of the options, leaving only the most customer-friendly options. Those that included helpful manuals or video instructions gained a favorable advantage when it came to our final testing. These were also the ones that ended up cracking the top five without much effort.
Durability
Durability was rated on the ability to withstand medium to heavy damage while being used. This was an especially important criterion that relies on the user to manipulate the unit to change calls. Quick degradation shouldn't come from using a core function of a deer call, so anyone that showed signs of early wear was removed from the list. A lot of the modern options were also removed when it was discovered how sensitive they were to rain. Withstanding a full thunderstorm isn't necessary, but it was expected that a top tier product could hold its own in some light rain.
Calls that are prone to damage will suffer majorly when put to real-world use. Material that breaks or warps can change the pitch of the sound. And for an electronic unit, the sound will cut out before it is finished playing. So both old and new types of equipment are prone to damage if their durability is not at an acceptable level. If you happen to purchase one with low durability, keep it away from other heavy equipment while traveling. Light maintenance can also do wonders for the longevity of the product.
Style
Over the years, a lot of feedback has been given by customers of both digital and traditional versions. Each has its own strengths and weaknesses, but traditional is still considered superior. What makes digital ones work in progress is the setup, expense, and upkeep. To be effective at a good range without a loss in quality, digital calls need to have quality speakers. For a more user-friendly solution, traditional still wins out for most users. Technical consumers may find options more customizable with digital systems, but they still shouldn't overlook the usability of the alternatives.
The style was more than just about aesthetics, at least for some of the products on the list. The Black Rack Calling system from Illusion Systems was innovative by letting you clash together fake antlers to simulate real battling sounds. It was only a part of their full system, with the other half using a camo color for the caller. Most on the list played it safe with their design, and the only other company that really went the extra mile was Primos with their Hardwood Grunter. It is still considered one of the best designs in the industry and well worth a look if you like good craftsmanship.
Value
The criterion that we spent the shortest amount of time on was the price. Not only were they all over the place, but some of the products that didn't make the list were lacking quality. We used the price criteria to rate the call while also looking at the overall value. This meant we simply had to compare quality, and then filter out the products that were rated above what lower-priced competing products offered.
Accessories were also included in this criterion and covered any extras that a company packaged in with the final product. This includes lanyards, bags, protective gear or anything in that category. Not a lot of choices on the list gained points for this, but a few stood out thanks to their forward-thinking. Comfort accessories like straps made them a much better choice for portability. The big winner with this criteria was Illusion Systems for including an instructional DVD. They blew away the competition and earned a solid place in the top ten.
Versatility
Since pricing included rating the quality of the calls, we created separate call criteria that favored diverse products. This is where the modern callers shined and provided the most in-depth, customizable and highest quality calls. Only a few of the traditional models were able to do more than one specific type, so their lack of versatility left them dead in the water by comparison. Hunters are more specific about the type of prey they are hunting during each session, so we didn't penalize products for their lack of variety.
10 Best Deer Calls and Rattlers


The #1 spot goes to All-N-One from Flextone, which narrowly beat out Primos. Hunters are familiar with both the brand and the model, yet it still doesn't get the recognition it deserves. The All-N-One is absolute perfection once you're used to it, with the company providing a pretty deep manual.
It's Like An Instrument
And plays like one too thanks to volume buttons and call buttons. Flextone puts the power of the call in the hands of the hunter but allows a more streamlined experience with the way they set up the buttons. Out of all the manual calling learning experiences, this one, in particular, keeps the user's interest. You'll wake up every day wanting to be better at using the calls.
Many Sounds
With the push of a button, you can make the sound of either a doe, fawn or younger buck. Just by blowing into this you can make the sound of a full-grown buck as well. That pretty much covers all the sounds you need to lure in the big one.
Cost and Value
So far it idles in the low-cost range with other competing products. Buyers pretty much get a 5-6 in 1 call when they purchase the All-N-One, so the value is tremendous.

2

. Primos The Original Can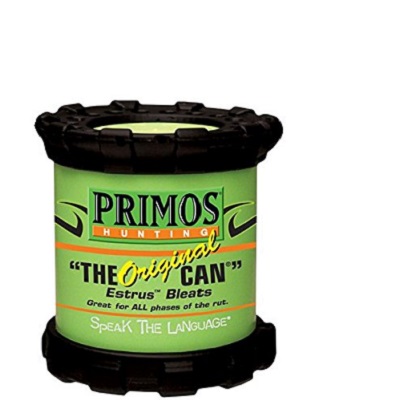 With all of the advanced units on the list, how does one of the older and simpler products in Primos' line make the list? It turns out this is still one of their bestsellers and is used by hunters daily. It goes beyond being a traditional choice and offers the most basic functions with the highest rate of success.
The Best Of All Time
Many have tried to take the title of best deer call of all time, but all have failed to match the lifetime sales of The Original Can. It is the single most bought unit in Primo's history and is still racking up impressive numbers.
Small but Mighty
Yes, this is a small unit but don't let that fool you. It is known for luring in several different species such as the mule, whitetail, and blacktail deer. That should cover plenty of options no matter what area you hunt in.
Cost and Value
At this rate, if you haven't purchased one of these for hunting then you're missing out. Any hunter that has never owned one should buy it, even if you'll be using it for backup. The price is low as always and gives off some really authentic sounds.

3

. Illusion Systems Extinguisher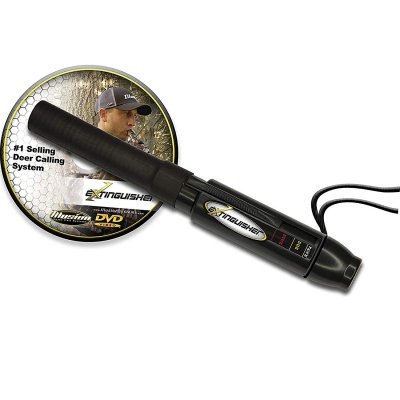 This adjustable call will allow you to change the tone to sound like whatever you need it to sound like: A doe, a fawn or a buck. That's pretty dang useful depending on what's out there. It's also highly directional and comes with a DVD that tells you exactly how to make it work the way you want it to.
Modislide
With a bit of practice, you can adjust this call to make it work and sound like every member of the deer family, doe, buck or fawn. We like this feature but it takes a bit of work to make it sound exactly right. But once you've mastered it, if there are deer around then with this call you can be reasonably certain they'll come your way.
Throat Tube
Simply attach this to the call and you've not got a way to make the sounds from your call highly direction. This is really helpful if you're stuck in a directional deer blind and the deer is behind you. The throat tube adjusts to get the sounds where you need it. Simply point the tube where you need the sound and let the call do its work.
Cost and Value
An easy and cheap piece of equipment with lots of great features we love the price on the Extinguisher. Like we said it does take some time to make it work right but that's going to be true on most of the calls on our list. But once you've got it down this call won't let you down, and soon enough you'll have deer meat galore.

4

. Extinguisher & Black Rack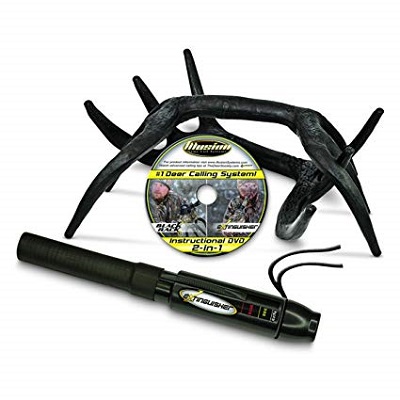 As Seen on TV items can be a bit flaky when they are not reviewed properly. So it comes as a surprise to see one of those items make it at #4 on the list, with the Extinguisher & Black Rack Calling System being on an entirely different level than others.
Take A Look At The DVD
The 2 in 1 instructional DVD is a requirement, even if you are an experienced hunter. They don't beat you over the head with simple stuff so it's quite enjoyable to watch-once. After that one time, you'll know everything important and how to use it.
Call and Rattle
Combining the best of both worlds, you get a call that makes several different sounds. When that doesn't quite do the trick, you can test out your rattling skills with the antlers. Those are sure to bring in something interesting.
Cost and Value
This is the most expensive on the list, but also the most advanced. People either love it or hate it, so the best way to figure it out is to try it for yourself. It's a really good product that automates a lot of important calls.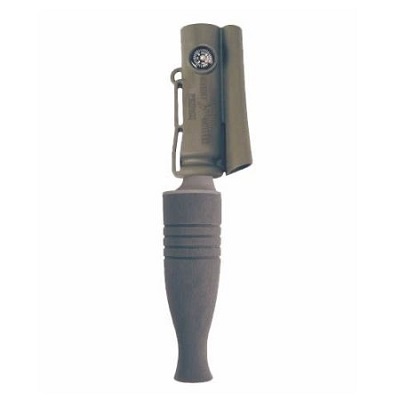 The Primos Buck Roar Call won't win any design contests, but it does the job just fine. Once again industry leader Primos has made the list, with this iteration of their product having some noteworthy improvements. It'll be up to hunters to decide if this product is worth replacing their current one.
Getting The Grunt Right
With all the talks of getting sounds correct, some in the industry only get close. The Primos Buck Roar is perfectly authentic, loud and aggressive. It's a pitch for pitch performance of a buck during the rut. The effectiveness is sometimes scary!
Portable
With this one there is no need to worry about how or where you will put it once in your stand or hunting spot. It comes with a strap for you to attach this to either your wrist or arm. Making it accessible at any point and time.
Cost and Value
Primos always does well when it comes to pricing their products. The Buck Roar is low priced and is a bit more forgiving than other manual options. Beginners will master this one faster than the others on the list.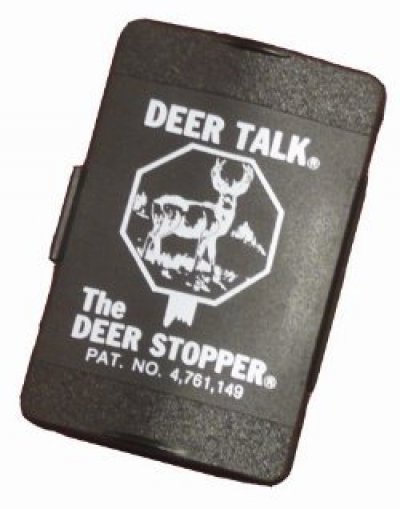 This simple but really effective call is made in the U.S.A. and gets results. It gets its unique sound from a simple plastic box with a rubber band that makes the deer sounds. It seems flimsy but this simple analog call works and works well. Plus if a band wears out it's easy to replace. This is a simple call that works.
Replacement Bands
This comes with a few replacement bands so if one wears out this call opens up easily and you can simply replace the old band with a new one and you'll be back out in the field in no time at all. The simplicity of use is really the calling card of the Elk DT.
Lightweight
This tiny little call can sit in your pocket. It's simple, it's easy to use and it's easy to carry. The perfect call for someone who wants to keep a light load.
Cost and Value
This costs just about as much as you think it should. Which is to say not much at all. The price though doesn't reflect the fact that this is a really effective piece of hunting equipment and if you want to make things simple but want a call that works this is a great choice.

7

. Harmon Scents Cass Creek


Another simple but really effective selection that is made with tough plastic and comes with its own lanyard but really the proof of its value is in the O-ring construction that really mimics a deer really accurately.
Versatile
Unlike a lot of other calls, this one is going to make you work to make the sounds you want and that's a good thing. The way it's built lets you manipulate the sounds in any way you want. If you need to make a doe sound, no problem, a doe? A buck? You can do it with this versatile simple to use call.
Tough and Durable
Sure it's plastic but that doesn't mean low-quality workmanship. It actually makes this call nearly indestructible so it can a real pounding out in the wild and not break.
Cost and Value
This is right up there in the running for the cheapest call on our list. But don't think it's a cheap product, it isn't it works really well and if you're looking for a cheap call but one that's going to get the job done the Cass Creek is a great option.
8

. Hunters Specialties Nemesis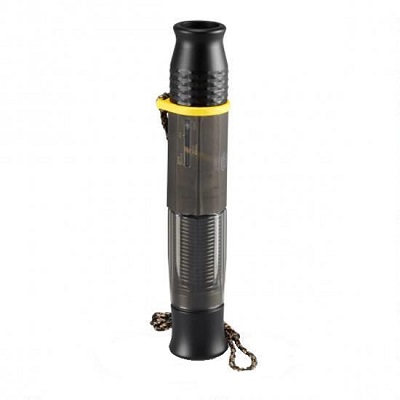 With a simple design to get the attention of your prey. This is a proven product that has a nice loud pitch to it and is pretty good at the one job it is expected to do. Since the sounds have to be as realistic as possible, practice makes perfect with this.
Pricing
It may seem simplistic, but the Nemesis is a good product that gets the job done, nothing more, and nothing less. Hunters Specialties priced it according to its usefulness and really did a great job in reading their customers.
Change the Sound
Offering an astounding number of different sounds this unit can be good for all deer hunting needs. But how can something so simple change its sound? The answer is with a simple twist of the tube. You can go from making the sound of a doe to a busk in no time flat.
Cost and Value
As mentioned before, the price is perfect. The potential of the value will come down to whether the hunter is experienced or new. An experienced hunter should be fine adjusting the few settings and making the call correctly.

9

. Flextone Headhunter Extractor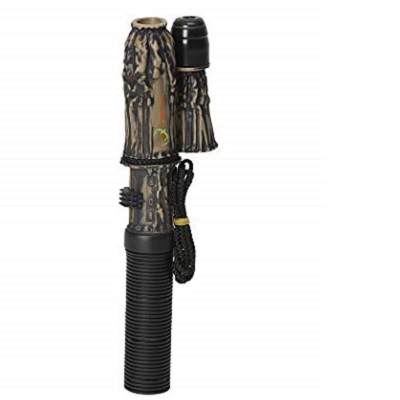 The Flextone Headhunter Extractor is a great addition to any hunter's repertoire, especially the hunter on a budget who requires a call with many different call options.
Variety of Calls & Inflection
This Flextone is very versatile, offering the hunter the option to imitate young or mature buck grunts, doe grunts, bleats, or bawls. Thanks to technology from Flextone, the Headhunter Extractor call can imitate actual tones while also adding a realistic inflection simply by squeezing the corrugated hose to adjust the tone.
Never Worry About the Cold
It can be frustrating to get caught in the cold with gear that just won't work. Often times making your hunting trip feel like a wasted amount of time. This unit offers you a freeze-resistant design ensuring that you can still call in the big one when the cold sets in.
Cost and Value
This is priced right for the hunter looking for a versatile option to take along with them on their hunting trips.

10

. Nationwide Scents Grunt Call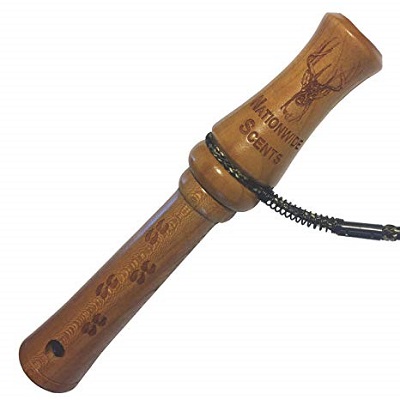 This Nationwide Scents brand is the perfect companion for the hunter on the search for whitetail deer. The Nationwide Scents team used their 28 years of experience with hunting to perfect this one for hunters everywhere.
Attractive Design
The Nationwide Scents is made from high-quality cherry wood for a beautiful finish. It's also laser engraved, making it an attractive piece that you won't be ashamed to hang around your neck.
Loud and Proud
It's been proudly perfected over the years for a custom-made feel by the Nationwide Scents team and features an extra-long tube to help control the volume and produce an accurate sounding throaty grunt.
Cost and Value
On the higher end of the spectrum, the Nationwide Scents deer call will require a bit of an investment on the hunter's behalf.

Subscribe to our Newsletter