Best Dog Feeders & Feeding Stations for the Family Pet
In a Hurry? Editors choice: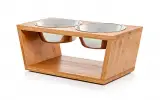 Test Winner: Premium Elevated Dog Feeder

Other dogs
have trouble eating from the floor and may eat better with a stand. Such stands are at a level with the dog's head so that they don't have to bend down very far and eat off of the floor. They can also help reduce bloating, but they are
especially helpful
for older dogs who can't bend down as much as they used to. Finally, there are automatic dog feeders that dispense food on a schedule and help control a
dog's portions
.
Standout Picks
Criteria Used for Evaluation
Features
Extra Features
Are you someone who likes it basic? Are you a minimalist who is satisfied with simply meeting your basic needs? There's a feeder, both automated and not, that will meet your needs. You have the option to dump your bag of dog food into it when you buy it and not worry about it until you need to buy another bag. Simple, easy, done. There are also some that are a little more automated and don't require any more effort on your part but allow you to feed your dog more on a schedule.
On the other end of the spectrum, are you someone who wants or needs all the bells and whistles in their lives – even when it comes to a simple task such as feeding your dog? Good news, there is also a feeder for you and your pup! Several models come with the option to make voice recordings so you can soothe your pet while you're away or call them over to get a meal or treat when it's time. There are also options with a webcam so you can not only check in on your pet throughout the day but can make sure their food is getting eaten by them – and not an unexpected visitor.
Perhaps you fall somewhere in between? There are also options on all levels in between. Decide what features are must-haves in your life and look for an appropriate model from there!
Dietary Requirements
One of the biggest things to take into consideration when buying a feeder is your dog's dietary and eating habits. Does your dog free feed? Eat for a certain amount of time or only a certain amount of food? All of this will influence which feeder you want. Some only allow for free feeding, where others only allow feeding on a schedule. There are pros and cons for either way, but ultimately you should choose a feeder style based on the way you feed your dog.
Another big consideration that falls under the dietary umbrella is does your dog have bowel issues? Perhaps they have a tendency to eat too quickly or too much? Or maybe they get an upset stomach if they don't eat every few hours. The more complicated your dogs' feeding needs, likely the more complicated your feeder will need to be. Fear not though, there are options all the way along the spectrum. There are even feeders that will allow you to give medicine on a schedule despite your ability to be home at the time.
Another thing to note here is portion control! Depending on the feeder, you can have very precise control over how much or little your dog consumes. This can be very important if your furry friend suffers from weight issues and needs to be on a diet. But, if you buy a free feeding type feeder, this will likely only make your situation worse.
What are you buying it for?
There are a lot of reasons to buy a dog feeder. The reason that brings you to this list will also likely be a determining factor in what feeder you get. Upgrading from your standard feeding dish is generally does for a specific purpose.
Do you need more hands-off feeding? Maybe the type where you just fill it up when you buy the bag of dog food originally and forget about it until the food is running low again would be your best bet. You can even get awesome feeders that will allow you to set a timer and still feed a certain amount at an exact time.
Or are you looking to more "helicopter parent" your pooch and strictly control both the timing and amount of each feeding while watching your dog eat? Maybe one with a removable tray that you carefully fill each day and record yourself calling your dog over to eat is more your style.
Perhaps you want one that can go outside? This will severely limit your options as many required the ability to be plugged in or need a battery – which makes them not weatherproof enough. However, there are several good options on this list that will work wonderfully outside.
Value
Price
While this isn't necessarily the case all the time, the more you spend the more you'll get. Lower in cost means lower in added features, period. Let me be clear though, that you can absolutely get something that you can be happy with at any budget. Just be sure that you know what your budget is going into it so you don't get attached to the fancy feeder with the webcam and voice recording if you only want to spend $20.
Versatility
Multiple Pets
The final thing to consider before you splurge is how many pets do you plan to feed with this feeder? Many dog owners have multiple dogs and need a feeder – or maybe feeders – to satisfy all their needs. Several feeders on this list are easily adaptable to multiple pets, have attachments you can buy to make them so or are cost-effective enough that you can get them in duplicate if needed. The solution that works best for you will largely depend on your living situation, how your pets eat, and what your style is.
Top 10 Picks
1

. Premium Elevated Dog Feeder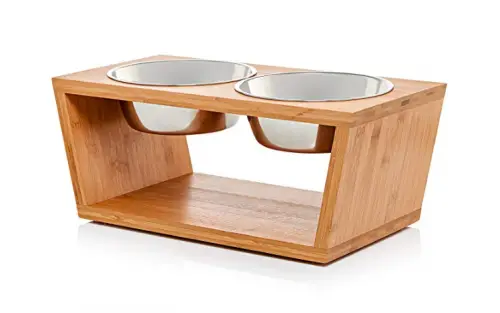 This dog feeder features four stainless steel bowls on a wooden stand. It is sturdy enough to make sure that even large dogs can't knock it over and make a mess and helps reduce bloating and neck strain in large dogs. It comes in four stainless steel bowls so that you can wash them on a regular basis. This feeder comes in models suitable for small, medium, and large dogs.
Heavy Duty
This dog feeder has a sturdy design which keeps your dog from knocking it over and making a huge mess. This can come from the dog nudging bowls to even just flat out knocking the stand over from wild play or eating.
Leak Proof
There are silicone rings located on the stand that keep the bowls in place. The bowls themselves are made from stainless steel and prevent leaking of food or water on the floor below the stand.
Cost and Value
The product has an above average price. Its value comes from its heavy duty wooden stand, four dog bowls, and silicone rings. All of which makes it a very high-quality product for its price.

2

. Outward Hound Fun Feeder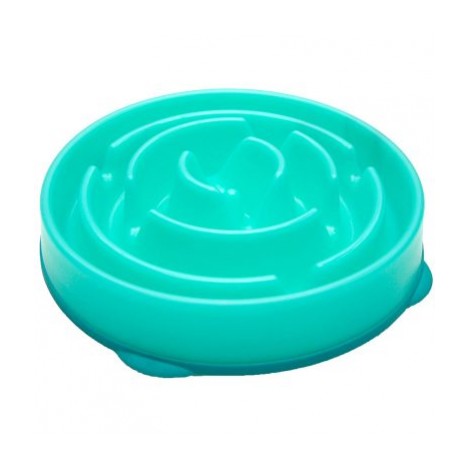 This is a puzzle dog feeder that forces a dog to slow down while it eats. The concentric rings inside of the bowl make the log lick up food between each ring. The result is reduced bloating because the dog needs to maneuver their mouth throughout the bowl while eating. Most dogs find this to be entertaining because it makes mealtime into play time for them.
Dogs eat up to 10x slower
The product fulfills its intended purposes by making a dog eat up to ten times slower. That translates into less bloating and weight gain for the dog, and therefore, a healthier dog.
Dishwasher Safe
The bowl can be washed in the top rack of the dishwasher, which makes it easy to clean. Clean bowls are less likely to hold onto harmful bacteria and dirt which helps keep your dog healthy.
Cost and Value
The Outward Hound Fun Feeder has a below average price which makes it an excellent buy. It's made from long-lasting material and provides your dog with fun feeding time, weight control, and reduced bloating.

3

. Iris Airtight Elevated Feeder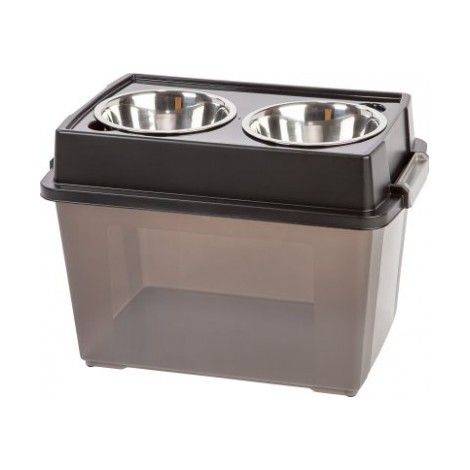 This elevated dog feeder works as a dog feeder stand and a food storage unit. It comes in small, medium, and large models so that you can pick the one best suited for your dog. The elevated feeder reduces bloating and neck strain on the dog and the storage space underneath provides a convenient place to store dry dog food.
Stores dry food
The dog bowls work as a lid for the plastic storage unit. This makes it an ideal place to store dry dog food because you can simply remove the lid and scoop food directly into the bowl. Then you just snap the lid back onto the stand.
Rubberized Feet
The unit features rubberized feet to help keep the unit from slipping around while the dog is eating. This is important because many dogs will push against the edges of the bowl while eating and could end up spilling their food and water.
Cost and Value
This dog feeder has a below average price. Its value comes from the fact that it functions as both a dog feeding stand and as a storage unit for the dog's dry food.

4

. Neater Feeder Deluxe Dog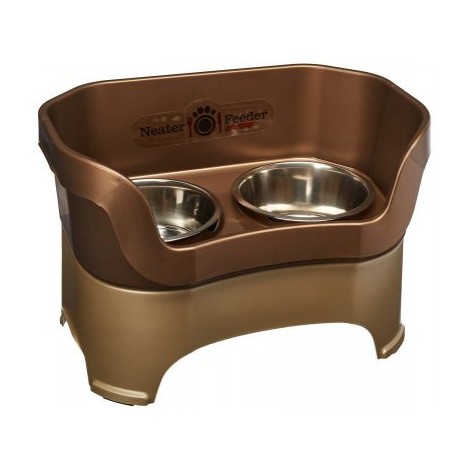 The Neater Feeder is another dog feeder that elevates the food and water bowls from the floor. This dog feeder features splash guards that help reduce the messes that dogs sometimes make from eating or drinking. It is compatible with slow feeder bowls that help a dog eat slower. The stand is advertised as spill proof and kick proof.
Splash Guard
There is a plastic splash guard that surrounds the food and water bowls. This helps reduce messes are caused by sloppy eating or drinking and helps keep your floor clean.
Separates spilled food from water
This product features a reservoir that spilled water can drain towards, which helps separate spilled food from spilled water. The spilled food and water are prevented from landing on the floor which helps reduce messes made from eating.
Cost and Value
The Neater Feeder has an above average price. It features advanced technology that helps reduce messes that dogs make from eating. For example, it has a splash guard and keeps spilled food and water from mixing.

5

. PetSafe Healthy Pet Simply Feed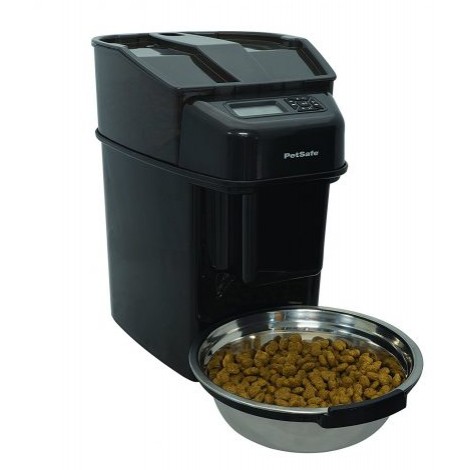 This is an automatic dog food dispenser that is capable of serving up to twelve meals per day. When serving meals that are more than ⅛ of a cup, the feeder automatically dispenses food slowly so that the dog doesn't eat too fast. It comes with a removable stainless steel bowl and has a locking lid to keep your pet out of the dry food storage unit.
Automatic Feeding
The product can be programmed to serve up to twelve meals per day. You can use this feature to adjust the timings and the portions that it serves to your dog which makes it an excellent choice for weight management.
Slow Feed Mode
When activated, any meals that are larger than ⅛ of a cup are dispensed over 15 minutes to make dogs who eat too fast slow down. This helps reduce bloating and weight gain in dogs.
Cost and Value
This is the second from the most expensive dog feeder on the list, but it is crammed full of features. The automatic food disposal helps you manage your dog's portions easily and you never have to worry about forgetting to feed your dog in a busy lifestyle.

6

. OurPets Elevated Bone Feeder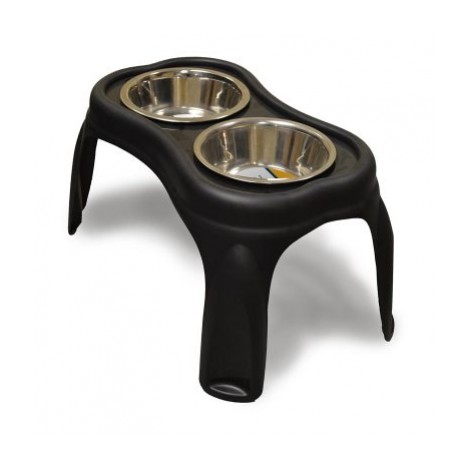 This is a basic dog feeder stand that is sold in different sizes depending on your dog's size. It offers comfortable dining for your dog and is dishwasher safe. It comes with the USA made stainless steel bowls that can hold up to 5.5 cups of dry food. There is also a spill ridge that prevents food and water from spilling on the floor.
Comfortable dining
This feeder has an elevated dog stand that provides a comfortable feeding experience for your pet. It helps reduce stress on bones and joints by raising the bowls off of the floor and nearer to your pet's mouth.
Stainless Steel Bowls
This dog feeder also comes with stainless steel bowls that hold up to 5.5 cups of food. The bowls are dishwasher safe and hygienic. They are even made in the USA.
Cost and Value
This is a below average cost dog feeder. It comes with features comparable to other similar dog feeders, but it offers a lower price than other dog feeders.

7

. Northmate Interactive Feeder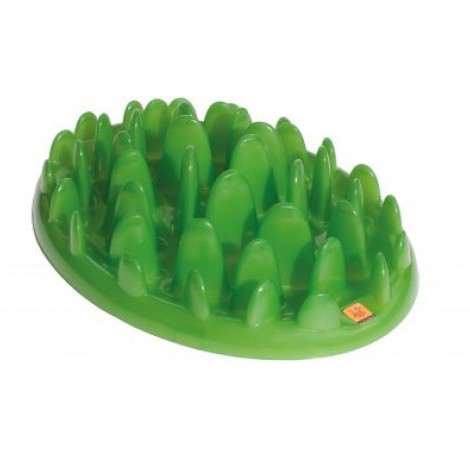 You can use this feeder to turn mealtimes in fun and challenging game for your dog. It works by spreading dry dog food throughout the bowl. Your dog will need to position their tongue and mouth to eat up all of the kibbles. Your dog ends up eating slower as a result and this helps reduce both vomiting and gas that is caused by eating too quickly.
Works with wet and dry food
This dog feeder can be used with both wet and dry dog food. It is fully dishwasher safe which makes it super easy to clean up when your dog has finished eating.
Slower Eating
The food is spread around in 'blades of grass' and your dog has to navigate the bowl to eat. This makes the dog eat slower and helps reduce gas, bloating, and vomiting.
Cost and Value
You will find that this is an averagely priced dog feeder. Its value comes from the fact that it improves your dog's digestion while making mealtimes fun for your dog.

8

. Platinum Pets Double Diner Feeder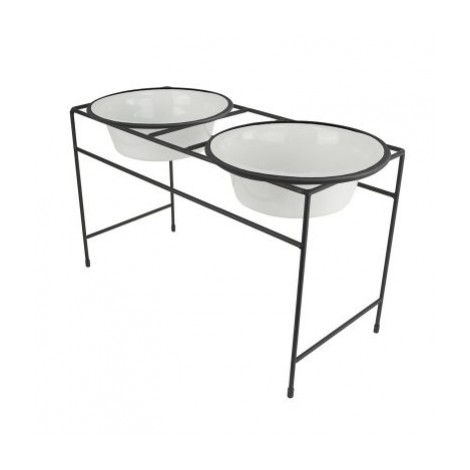 This is a basic raised elevated dog feeder. It comes with two large bowls that are made of surgical grade stainless steel. There are a large variety of colors to pick from so that it looks nice in your home. The entire unit can be washed in the dishwasher and it resists chipping, scratching, and rusting. There is also a removable rattle free rim.
Nontoxic, Surgical Grade Stainless Steel
The feeder is made out of nontoxic stainless steel, which helps it resist chipping, scratching, and rusting. This helps improve the life of the product which helps it stay long lasting.
Rattle Free Rim
There is a rattle free rim which helps keep the bowls from rattling around while your dog is eating. This helps reduce noise at meal times which keeps the house peaceful for both pets and owners.
Cost and Value
This dog feeder has a below average price. It is sold in a variety of sizes so that you can match it to your dog. It's a good value for its price because it offers many of the same features as similar dog feeders at a lower price.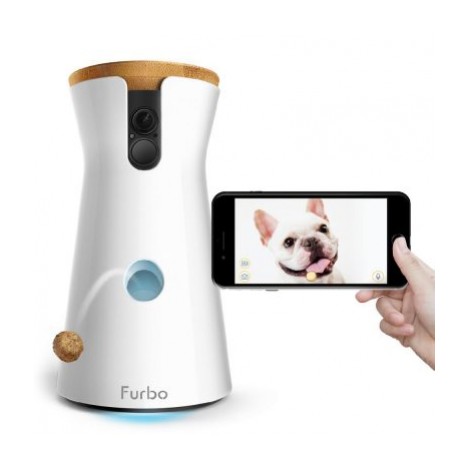 If you have ever wanted to video chat with your pet and then toss a treat to your dog, this would be the product for you. This dog feeder comes with a camera and an Android or iPhone application that allows you to control it remotely. It streams live audio and video between you and your pet and you can use the app to serve your dog a treat.
Live Stream Video Monitoring
The camera allows you to monitor your pet with live stream video. It also has night vision for after dark. This is useful for dogs that are training or get anxious when left alone.
Remotely Treat Your Dog
You can use your smartphone to talk to your dog and even toss your dog a treat. This is helpful for training and calming anxious dogs. The device stores up to 100 treats for your dog.
Cost and Value
You can expect to open your wallet to purchase this device as its the most expensive dog feeder on the list. Its value comes from its wireless streaming of audio and video.

10

. Petmate Pet Cafe Feeder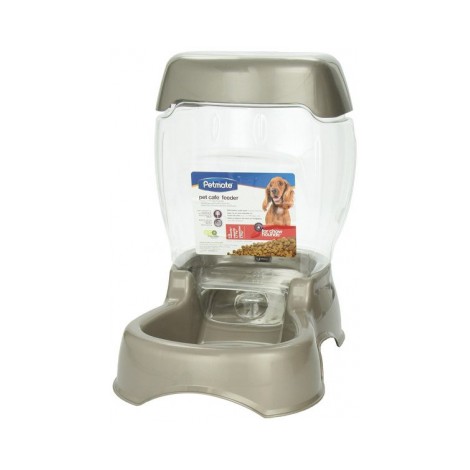 This is a gravity feed dog feeder. When your dog finishes the food, it automatically dispenses more food into the bowl. It's ideal for dogs that are free fed. The top lid can be easily removed for cleaning purposes and it's super easy to refill. This feeder is capable of storing up to six pounds of dry food at a time.
Gravity Fed
Since the feeder works on a gravity feed system, the food is replenished as your dog finishes their food. Your dog will always have food as long as there is food in the feeder.
Easy to Clean
The entire unit comes apart and it is easy to reassemble after cleaning. All parts can be washing with mild dishwasher soap which makes this unit really easy to clean.
Cost and Value
This is a very low-cost dog feeder and is ideal for dogs that are free fed. Its value comes from its low price and its ability to continuously supply your dog with food as it gets hungry.

11

. PetSafe 5-Meal Automatic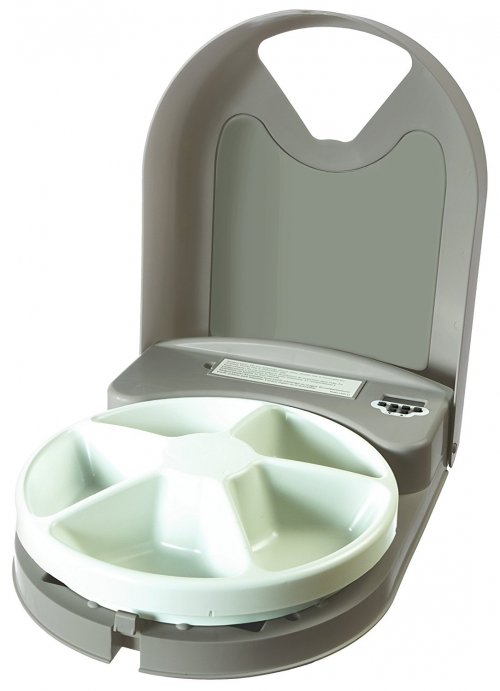 This programmable automatic dog feeder helps to ensure that your pet eats on a schedule. It is shaped like a clock and has 5 separate 1 cup capacity chambers to put food it. You can set it to feed 5 times a day, when you, or perhaps more importantly, your dog wants to eat. Because it has separate chambers for food, it also helps with portion control and weight loss if that is something your dog needs.
Removable Tray
The food tray inside this feeder is completely removable. That helps make cleaning it a breeze. Plus, it is dishwasher safe which makes your life a lot easier too.
Ability to Set Feeding Times
This feeder has an easy to set digital timer so that you can ensure your pet gets food when they want or need it. It's simple to use and can be customized to your desires. This works great for not only food but can be helpful for medication timing too if it's needed more regularly than you are home to give.
Cost and Value
This automatic feeder gives you a lot of bang for your buck. It's reasonably priced but has nice automated features. It's a little more expensive than a non-automated feeder but is worth the splurge if your needs are anything but basic. Compared to the other automated options, this one is definitely on the cheaper side of things.

12

. PetSafe Smart Feed Automatic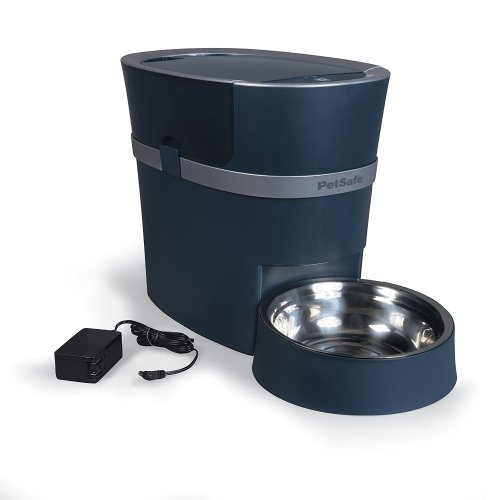 This feeder has all the bells and whistles. Anything you could want in a pet feeder can be found here. It is programmable for up to 12 feeds, you can control it with your smartphone, and all parts are dishwasher safe. It accommodates most shapes of food and rarely if ever, gets jammed.
Slow Feed Option
A common malady in a lot of dogs is that they wolf down their food the instant they see it. Not only does this feeder dispense only the amount you tell it to (⅛ of a cup up to 4 cups) when you tell it too, it also has the option to do it over a 15 minute time period. This will help ensure that your pup isn't eating too fast and making themselves sick or overeating.
Can Connect to your Smartphone
Perhaps one of the most exciting features of this feeder is that it is Wi-fi enable which allows you to control it at all times and in all places with simply the push of a button. There is an app for both iPhones and Android that gives you the ability to feed your pup whenever you want and also tracks feedings for a couple of weeks so you know exactly where you and your dog stand food wise. However; should your wifi go out it will continue to operate on the schedule that you have programmed into the unit itself.
Cost and Value
As with most things in life, you get what you pay for. Here you are getting a lot of features and you're going to pay for it. This is one of the most expensive feeders on the list, but if having complete control over your dog's feedings even when you aren't home is important to you then the price won't be an issue.

13

. WESTLINK 6L Automatic Pet Feeder


This is an automated pet food dispenser for cats or dogs, which holds 6L of pet food. The unit is powered either by "D" cell batteries or electricity. The unit can dispense food up to four times per day.
Multiple Power Sources
The WESTLINK 6L automatic pet feeder food dispenser for cats or dogs is equipped with a voice recorded which allows you to record a 10 second clip that will play each time the feeder is set to dispense food. The feeder is labeled as ultra-low power consumption giving the option of running either on battery power or electricity.
Portion control
This feeder can be programmed to dispense food up to four times each day. The meals can be further programmed to dispense 1-39 different portion sizes. The unit has an infrared sensor which will not allow food to dispense if there is still food left in the serving dish.
Cost and value
This unit is priced moderately for its dispensing abilities. The voice feature is an added benefit as well.

14

. Little Giant Galvanized Steel Chow Hound Dog Feeder, 25Lb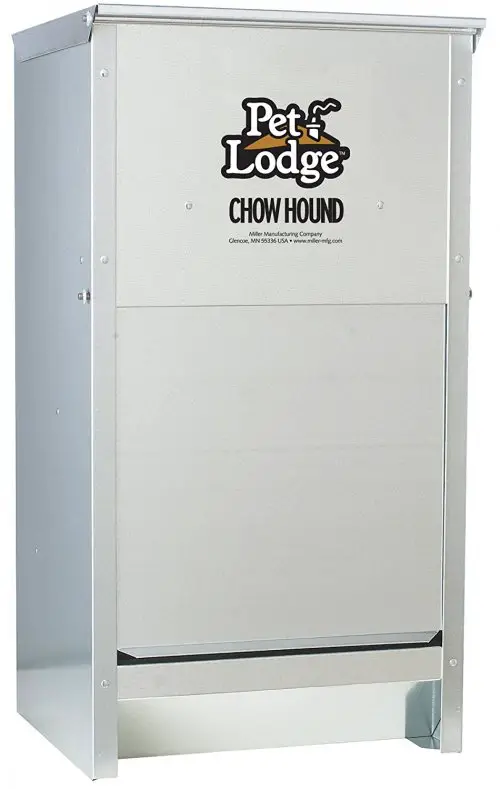 This is a simple, straightforward dog feeder. No frills here - just function. It is large and holds an entire big bag of food so there's no need to worry about filling it every day. It's made of steel and has a magnetized door so it stays shut, the food stays fresh, and no unwanted pests can get in.
Designed to Hang on a Wall or Frame
This feeder comes designed to mount to a wall. This allows it to hold a lot of food but also ensures it doesn't become a hazard that can fall over and cause serious damage.
Magnetized Door
The magnetized door that has to be opened in order to get to the food requires a learning curve for your dog to understand. It is easily learned but also helps to keep other unwanted pests or rodents out.
Cost and Value
Because this feeder is simple and straightforward, its price reflects that. It's very reasonably priced and is not going to hurt your wallet. It will allow you to reliably ensure your dog has food when you're away, potentially for days, without relying on technology and wifi to work.

15

. Arf Pets Automatic Dispenser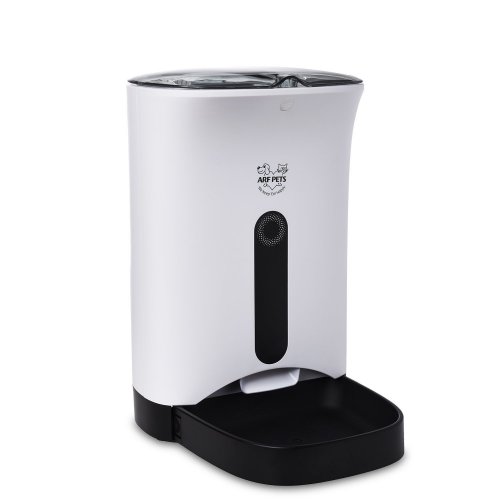 This is another automated food dispenser. It has a distribution alarm alerting your pup to when it is time to eat and comes with stringent portion control, allowing it to be customizable to your exact needs. It can be set up to feed your pup up to 4 times a day. It is easily adjustable with blue LCD lights and has a magnetized locking lid.
Can Run Plugged in or Battery Powered
While many of the automated dog feeders on the market only run on batteries, this one has the added ability to run on batteries, but it also comes with a DC power cord. This will ensure that your batteries never die when you are gone, resulting in your pet not getting the nourishment they need. Having a power cord is a huge benefit.
Portion Control
A big draw to this feeder is its portion control. You can feed 1-10 portions per feeding, each portion ringing in at 24 mils. This allows for really small portions but can extend up to much larger ones as well accommodating all sizes of dogs on all types of diets.
Cost and Value
As far as automated feeders go, this one is very moderately priced. There are some cool features included, but not so many that it makes it super expensive. It'll absolutely get the job done, with some added frills, but won't break the bank in the process.

Subscribe to our Newsletter