Best Bird Feeders Reviewed & Rated for Quality
Bird watching can be a very relaxing, yet entertaining experience. Maybe you enjoy bringing some bird seed along with you to the park, feeding the birds that are there. You can also enjoy this activity on a daily basis. Just by choosing to add a bird feeder to your own backyard. Bird feeders come in several different varieties each will attract different types of birds. To figure out which one you need, you will first want to take a look at the types of birds in your area.
Featured Recommendations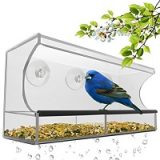 Nature's Hangout

Our rating
Easy to Clean
Price:

See Here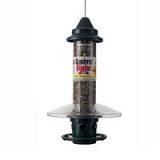 Brome Squirrel Buster

Our rating
Ventilation
Price:

See Here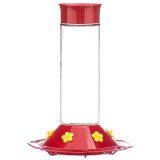 Perky Pet's

Our rating
Design
Price:

See Here

Bird feeders will also require different types of seed, for example, suet cakes really won't work in a feeder meant for seed. Smaller seeds such as Nyjer will require a tube type feeder, which helps reduce the amount of seed that gets knocked to the ground. Black oil sunflower seeds will need a feeder with a larger opening, so your feeder won't constantly become clogged. As you can see, there are many factors to choosing a bird feeder.
Not only will the bird feeder serve a practical purpose, it will serve as a yard decoration as well. When in the market for a feeder, select one that matches your existing decor within your yard. If your yard is a blank canvas, be sure to choose one that will be appealing to your eye.
Consider a feeder that is easy to care for, this will include the way in which it needs to be filled. Not forgetting to figure in the ease of cleaning the feeder. After all, a dirty feeder is less likely to see any activity at all. Try to take into thought the amount of debris that will collect under the feeder as well. Having a feeder designed to contain the mess caused by the birds is easier for you as well. It lessens the amount of time you spend cleaning the area around the feeder. Keeping a clean area surrounding the feeder can reduce the number of pesky critters, such as mice or chipmunks, you will see in the area.
Buying guides can be very useful when looking into items, such as bird feeders, that require research before your purchase. In this guide, we have chosen what we have found to be the ten best bird feeders available to consumers. Each feeder comes with a brief review, followed by criteria we found important for choosing the ten feeders. This should help you decide which feeder may be the best fit for your yard.
10 Best Bird Feeders
1. Nature's Hangout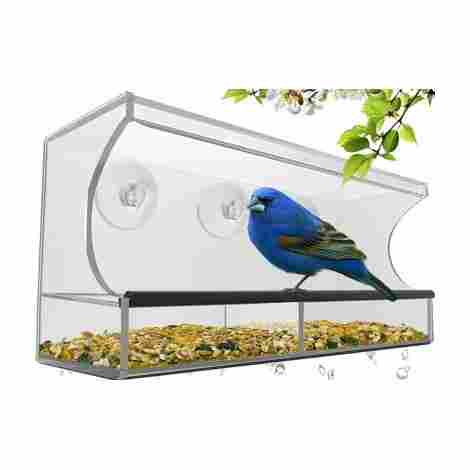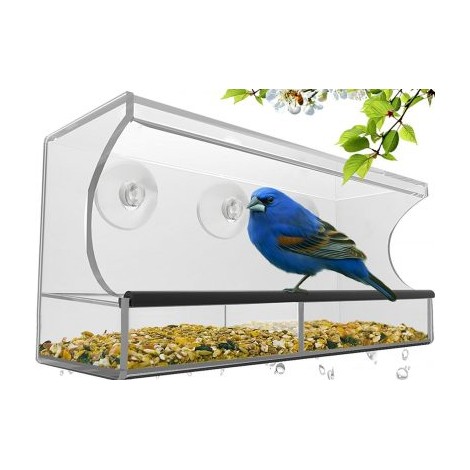 The first feeder on our list is one that everyone in your home will enjoy. Window feeders allow you to watch birds while kicking back in your easy chair. A bird feeder should be easy to fill as well as clean, making your routine as simple as possible.
Expand to see more
Easy Clean
This feeder was designed with cleaning in mind, simply pull out the tray provided. This will allow you to dump the old seeds, wipe the tray clean, then replace the tray for refilling. Routinely cleaning your feeder ensures the health of the birds you are feeding.

Entertainment
Window style feeders can provide your entire family with entertainment right from your living room. This feeder is made from an acrylic that is totally see-through, giving you a better view of the birds you are feeding.

Cost and Value
A feeder like this one is a great find, perfect for families with smaller children as well. Simply attach the feeder to your window and fill it with seeds. Then all you have to do is sit back, watch the birds fly in and out of your feeder.
Totally see-through
Comes with 3 suction cups
Easy to clean
Fun for all to watch
Suction cups let loose over time
Larger birds have a hard time with this feeder
2. Brome Squirrel Buster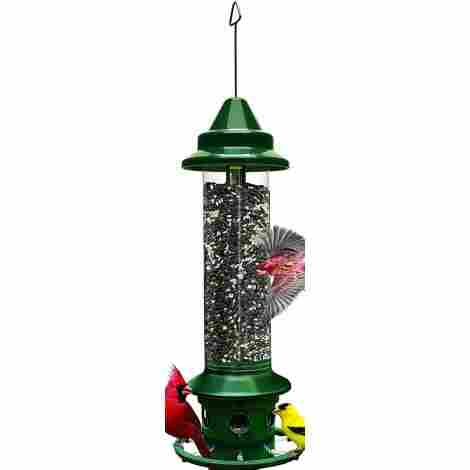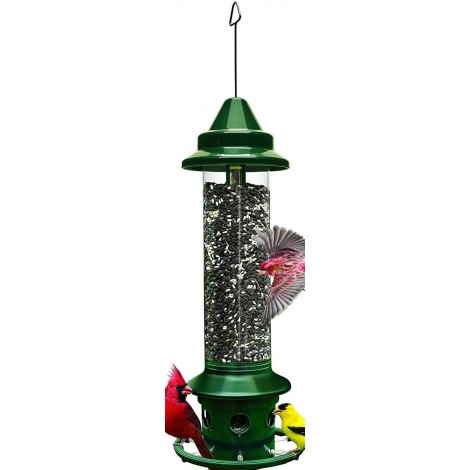 A squirrel resistant feeder can seem too good to be true, but this one has the market cornered for being squirrel proof. Added to this feeder is a foolproof design for ensuring that your seeds stay fresh for days.
Expand to see more
Squirrel Proof
When a squirrel attempts to access this feeder, the weight of the squirrel closes the opening the seeds come from. This denies the squirrel of their food source. This function works great for larger birds that tend to scare off smaller birds. To add to the squirrel resistance all parts of this feeder are 100% chew proof.

Ventilation
The design of the ventilation system permits warm and stale air to exit from the vents at the top. These vents also allow fresh air into the seeds, letting the air circulate through the seeds. Keeping the seeds in the feeder fresh for a longer period of time.

Cost and Value
This bird feeder is one of the more costly options on our list, but it does come with a couple of bonuses for the price. The first is the fact that this company will repair your bird feeder whenever it is needed for the life of the feeder. Besides the resistance to squirrels, this feeder comes with a special ring known for attracting cardinals.
Squirrel proof
Good ventilation
Lifetime warranty
Weight feature can be adjusted
Doesn't work well with sunflower seeds
3. Perky Pet's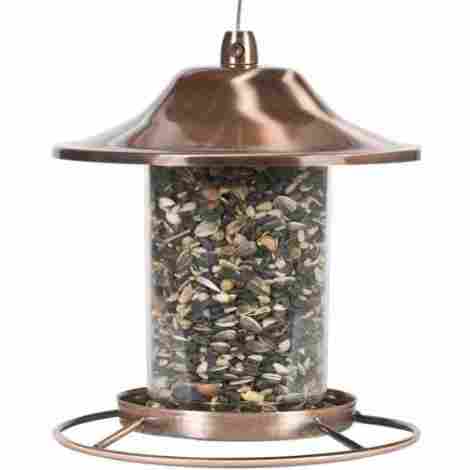 A feeder like this one can be fully functional while looking attractive at the same time. The design of the feeder makes it easy for birds to use and the finish of the feeder makes it easy on the eyes.
Expand to see more
Design
This feeder utilizes the concept of tray feeding, only in a different shape than what you think of. The tray turns in a complete circle which creates more room for birds to feed.

The Finish
Not only is this feeder pleasing to the birds you have attracted, it is pleasing to your eyes as well. The antique copper look is beautiful while hanging from your porch or tree. So much so that you won't even hide this one in the backyard.

Cost and Value
A feeder design like this one offers more feeding space to keep your birds happy. While being visually pleasing to keep you happy, you can hang this feeder in any area of your yard.
Offers more feeding space
Holds plenty of seeds
Antique copper finish
Cap locks into place
Seeds tend to clog easily
Doesn't hold up to rainy weather
4. Droll Yankees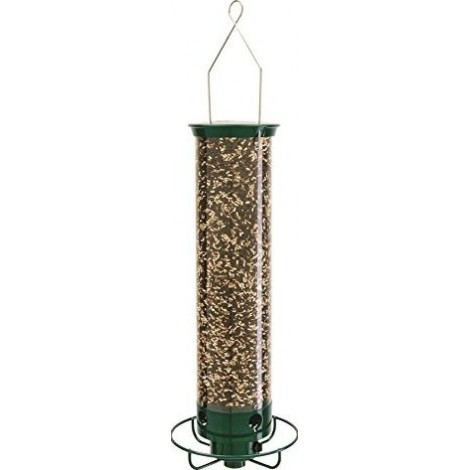 Another great option for those who have issues with squirrels feeding on their feeders. This feeder offers a form of defense against squirrels. With a large holding capacity for seeds, you won't be out there every day filling this feeder.
Expand to see more
Squirrel Defense
Once a squirrel steps onto this feeder the weight of the squirrel triggers a motor. That motor causes the base of the feeder to spin throwing the squirrel off balance. This will prevent the squirrels from gaining access to your seed supply.

Seed Capacity
The tube of the feeder holds at least five pounds worth of seed. Making it easier to keep your feeder full while your away for a few days. With a larger capacity, there is no need to run out to fill your feeder on a daily basis either.

Cost and Value
A good quality feeder should have plenty to offer your birds as well as you. Keep in mind that those qualities will come at a higher price. If you think of it this way, squirrel proofing a feeder will cut down the cost of food. You will see that the initial cost is worth the investment.
Large seed capacity
Squirrel proof
Four feeding holes
Durable
Batteries don't hold up
Motor may break within the first year
5. Nature Anywhere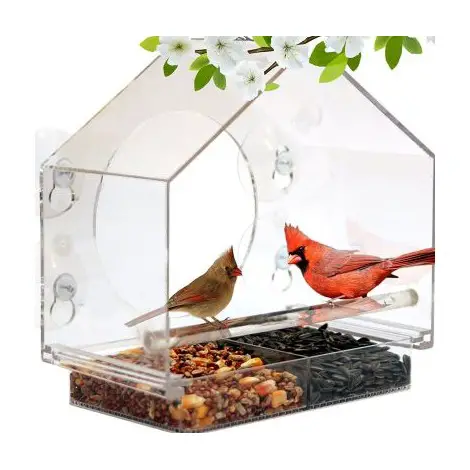 Next on the list of feeders is another great window feeding option. This one offers slightly different qualities than the first window feeder on the list. Making it great for all those watching the bird activity at your window.
Expand to see more
Material
This feeder offers a large amount of durability created by the material used to construct the feeder. The acrylic this company uses to make their feeder is thicker than most other window feeders. Which means it will last longer and has better resistance to damage.

View
Once this feeder is attached to your window, you can be sure that you will have a great view of the activity. Other feeders will cloud over with time, making it harder to see the birds at your window. This feeder has done away with this issue by leaving you a circle window in the acrylic.

Cost and Value
The potential this feeder carries makes it a great investment for years to come. With a tray that allows for easy cleaning, you can be sure that you are offering the freshest seeds possible. This leads to better bird activity for you to enjoy.
Easy to clean and fill
Thick material for durability
Obstruction free viewing
Comes with suction cups for hanging
Comes with poor quality suction cups
Not good for larger birds
6. Woodlink Going Green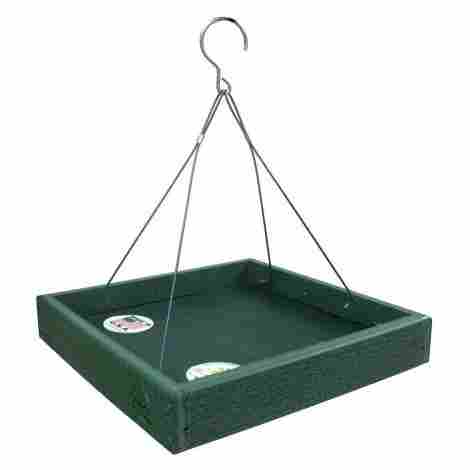 Platform feeders are a great low maintenance option for feeding birds. You can use several types of feed, as there are no openings that can get clogged. These can be hung in any location in your yard using a shepherds hook or tree branch.
Expand to see more
Think Green
Not only is this feeder great for the bird population in your area, it is also beneficial to the environment as well. This platform feeder is made from recycled materials making it easier to clean. The materials used for this feeder won't absorb moisture preventing the growth of mold.

Mesh Bottom
One issue comes to mind with platform feeders, most of them will have little to no drainage capabilities. To alleviate that problem, this feeder has a bottom made from mesh. The mesh bottom gives the feeder proper drainage needed to keep your food fresh for longer.

Cost and Value
Platform style feeders can be less of a hassle when it comes to cleaning and filling your feeder. You can use all different types of food with this feeder as well. Designed to drain water after the rain, your seeds will remain fresh for longer periods of time.
Made from recycled materials
Mesh bottom for drainage
Comes with hook for hanging
Easy to clean and fill
Cover sold separately
Hanger seems weak
7. Gray Bunny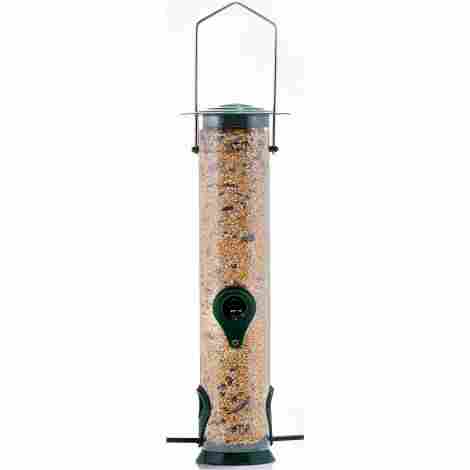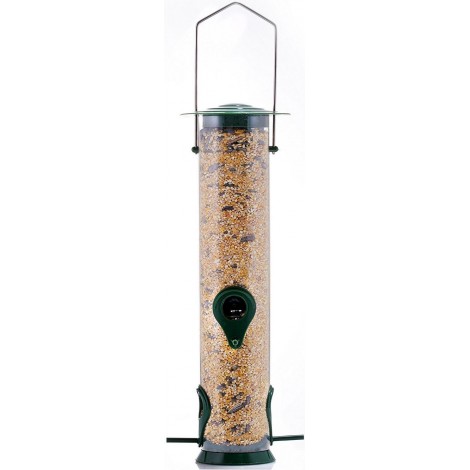 Taking another look at tube style feeders, this one has plenty to offer for you and the birds. Works well for attracting smaller, more active birds. Easy to fill with plenty of openings for feeding multiple birds.
Expand to see more
Birds
The design for this feeder is geared toward the smaller species of birds like titmice or finches. These birds are far more active than their larger counterparts. With four places to choose from, you can bet you will see several birds at your feeder at once.

Easy to Fill
Filling some tube style feeders can be a huge hassle, this one keeps things simple. When ready for a refill, all you need to do is lift to the top to add your seeds. You can add up to four cups of seeds at once so the filling won't have to happen as often.

Cost and Value
A tube feeder is perfect for those who enjoy watching more active birds. Since the tube is clear, there will be no confusion as to when you need to fill the feeder. This is a less expensive form of entertainment right in your own backyard.
Easy to fill
Holds plenty of seed
Has four feeding stations
Great for smaller birds
Tube seems flimsy
Easy for squirrels to damage
8. North States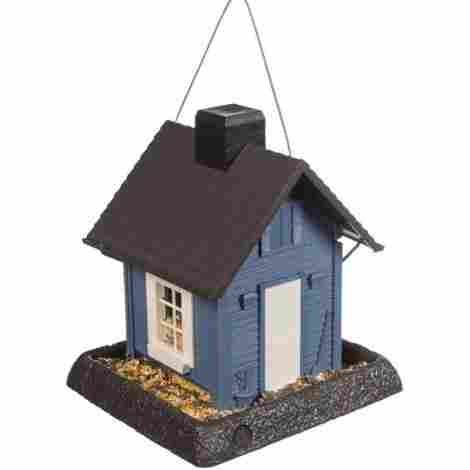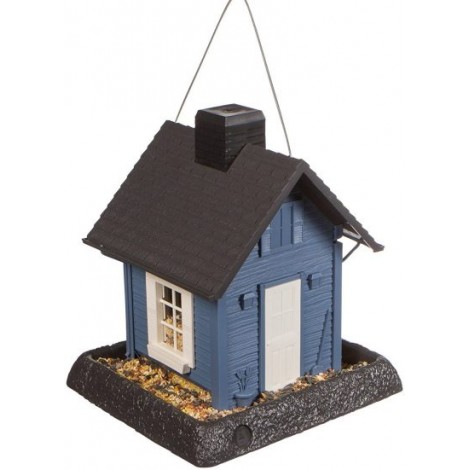 This feeder is one of the more decorative options on our list. But don't let that fool you, it is still as fully functional as the other feeders. You can enjoy the company of the birds while keeping up the appearance of your yard.
Expand to see more
Decorative
This feeder comes in a multitude of colors and design options. Simply choose one that fits into the theme of your yard decorations. This allows you to contribute to your communities beauty as well as the bird community.

Functional
Not only is this feeder beautiful, it has plenty of potential in the feeding department as well. With a capacity to hold five pounds of seed, filling this feeder won't need to happen often. The seeds are held within the decorative structure protecting them from the rain. Which keeps your food supply from growing mold or bacteria.

Cost and Value
With several design options available, at a decent price point, you are sure to find a feeder that will fit in perfectly with your yard decor. Aside from its beauty, these feeders function fully holding plenty of food.
Comes in many designs
Holds plenty of seeds
Easy to fill
Can be hung or mounted to a pole
Coplaints of damage during shipping
Hanger is not adjustable
9. Stokes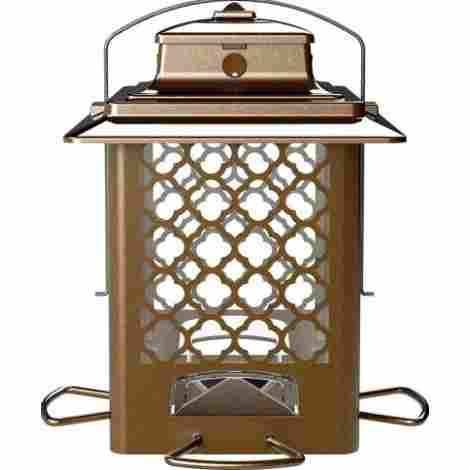 A hopper feeder like this one cuts the mess caused during filling, which is great for your yard and pocketbook. The design of this feeder makes it more visually pleasing than some of the competitor's versions available.
Expand to see more
Filling
Filling a hopper feeder can cause a huge mess from over pouring and spillage. With the one-touch open design of this feeder, it makes filling a breeze. You can purchase there specially design a tote for filling to make filling even easier.

Design
Designed to be a more ornate option for hopper feeding, you don't need to worry about hiding this feeder in your backyard. Made from copper finished metal, this feeder is attractive to the eye and the birds.

Cost and Value
Falling in the middle of the pack as far as cost is concerned, this hopper feeder has the potential to outdo the competition. With room to hold an efficient amount of seed, the hopper has a one-touch concept for filling. Pair that with their specially designed tote and you won't be wasting as many seeds when you fill the hopper.
One touch filling
Four feeding places
Holds a large amount of seed
Reduces the amount of wasted seeds
Tips easily under the weight of the birds
10. Audubon Red Barn
The last feeder on our list also brings us the largest option on the list. A great attractant for those little songbirds that bring pleasure while watching. You can feel free to buy your feed in bulk when using this feeder.
Expand to see more
Capacity
This hopper-style feeder holds up to seven pounds of seed, which makes this feeder the largest on the list. Many people find this to be a more hassle-free feeding style. These are also great for those of you who enjoy feeding birds but are gone often on vacation.

Songbirds
When looking to attract those beautiful singing little birds, feeders like this one will do the trick. These active little birds can keep you entertained for hours on end.

Cost and Value
As large as this feeder is, it won't put a large dent in your wallet when you purchase it. These are practical for buying feed in bulk or for those who are not around to fill their feeders as often as needed. Fill your yard with hours of entertainment, watching those little songbirds swoop in for food.
Hold seven pounds of food
Attracts songbirds
Easy to hang
Looks great
Not squirrel resistant
Resting place for feeding seems narrow
Once you have selected and purchased a bird feeder that seems right for you, be sure to keep it filled with food. As you will notice that birds can be quite healthy eaters. Here is a little more food for thought, having several types of feeders will heighten your bird population. Every species of bird likes different types of food, as well as having their food at different levels. Increasing the amount of feeders, paired with strategic placement, will attract a wider variety of birds for your viewing pleasure.
Criteria Used to Evaluate the Best Bird Feeders
Types of bird feeders
There is a wide variety of bird feeders, each one will differ on the type of food it will accommodate. Each species of bird will have their own preference as far as which feeder they like the best. You will also find that some feeders are more decorative than others. Some will offer defense from intrusive pests like squirrels and chipmunks, which are both notorious for pigging out on your seeds. It is best to choose a feeder that will attract the birds known in your area, as this will lead to more activity at your feeder.
Tray feeders
A tray feeder is exactly as the name states, a tray that can be secured to a pole or porch rail. These by no means are anything fancy but are fully functional as far as feeding goes. If you choose to use a tray style feeder there are a few key features to look for. One of the leading issues with tray feeders is they don't have proper drainage, which can cause your seeds to sprout or get moldy. Look for one that has a wire bottom, held slightly above the wooden platform, this will give the seeds the opportunity to dry after a rain.
You will want a tray feeder that allows for cleaning, so finding one where the bottom piece slides out or off will be beneficial. Tray feeders are known for collecting bird waste, which can contaminate your seeds, so regular cleaning is a must.
When this type of feeder is suspended from a tree or secured to a pole you may find that it will attract pigeons, starlings, and grosbeaks. When not properly guarded against, tray feeders are also great attractants for squirrels as well. Should you choose to have this feeder closer to the ground, you may find doves or blackbirds feeding on it.
Hopper feeders
The hopper-style feeder is those you see that look more attractive hanging in yards in your neighborhood. These are larger and can hold more seeds than that of the tray style feeder. Hopper feeders shelter your seeds from the weather, making the food last longer than in a tray as well. It is best to look for a hopper feeder that can be both easily filled and cleaned. It is best to hang this type of feeder either from a chain or secured to a pole, but don't forget your squirrel protection. You will find that bird who like to perch and eat, like the cardinal, may visit your feeder from time to time. A few other types of birds that enjoy these feeders are finches, buntings, and titmice.
Window feeders
A window feeder can be very entertaining to watch, as they secure to your window with suction cups. Window feeders are typically made from a clear plastic, this is helpful for knowing when to fill your feeder. These are easy to fill and cleaned but should be maintained on a daily basis. Finches, chickadees, and sparrows will enjoy feeding on your window feeders daily.
Tube feeders
A tube style feeder is basically a cylinder tube that will hold the seeds. Some will be equipped with mesh to hold in the seeds, while others will have a plastic tube. These will come in varying sizes, some will hold smaller seeds like Nyjer or thistle. While others will have bigger openings to accommodate larger sized seeds like sunflower seeds. When you choose a tube feeder with smaller perches, you will most likely attract smaller birds like finches. Blue jays and grackles will be deterred from feeding at these as they won't have room to perch.
Suet feeders
Suet is a type of bird food that comes in the form of a cake, as it is a combination of rendered beef fat and seeds. A suet feeder is mainly found made from strong wire to form a cage, that will hold your suet cakes within. You can hang these from a tree branch by using a chain or attach them to the trunk of your tree. Some hopper feeders will have a place included on the side for hanging a suet feeder as well. Suet feeders can be left out for year round feeding, which helps the birds maintain their body fat in the colder months of the year. You may find that putting out a suet feeder will a wider variety of bird for your viewing pleasure. Woodpeckers, nuthatches, starlings, and chickadees are just a few examples of what birds you can expect to see.
Hummingbird feeders
Most hummingbirds will only feed on a feeder at the beginning of spring before our flowers are in full bloom. Offering them a feeder helps them maintain their strength and stamina until their favorite food is available. Hummingbird feeders come in several forms, most of which are made to hold a solution type food. You can buy this as a pre-made mixture or search for a homemade recipe. Just be sure that when offering a feeder to the hummingbirds you maintain cleanliness, these tend to mold easily. Washing them before each filling with a mild detergent will prevent mold from growing.
Fruit feeders
Another way to feed those picky types of birds, such as the oriole, is a fruit feeder. With these, you can offer them fresh fruit like oranges, which happens to be the Orioles favorite. Keeping food on hand for these types of birds can promote nesting in your yard as well. Some varieties of fruit feeders will also offer a space for nuts, giving those picky eaters another option to munch on.
Seeds
When you want to attract a wider variety of bird, black oil sunflower seeds are a good option. These are easy for birds to remove from the shell, so even smaller birds can eat these. Nyjer seeds are smaller in size, so using these with a hopper style feeder probably isn't wise, due to the amount of waste. Finches are highly attracted to nyjer seeds, but squirrels are not. Suet will attract a wide variety of birds as well and is great for feeding birds all year round. When using a tray style feeder feel free to pick up those bags of mixed seeds, as many birds enjoy feeding on tray feeders. Should you choose to feed your birds on the ground, cracked corn is an inexpensive way to do this.
FAQ
Frequently Asked Questions
Q: Is the location of a bird feeder important?
A: Yes for a couple of reasons, one being the vulnerability. Birds are sought after by both cats and larger birds, for this reason, they look for feeders that offer them some type of cover. This can be done by locating the feeder near trees or shrubbery. The second reason, squirrels, they tend to scare off the birds you are attempting to draw in. You can buy feeders that will help to deter squirrels, but those aren't always successful. Try placing your feeder 12 feet from trees or shrubbery, this will still give the birds protection while making it harder for squirrels to access.
Q: Can bird feeders spread diseases in birds?
A: The true answer to this question sparks large debate among the bird lovers community. It is believed that an unclean feeder can cause the spread of diseases among birds. With that being said, there is no actual proof that feeders cause the spread of disease any more than in the wild. To protect your bird population in your yard, be sure that you are changing your food supply regularly. Along with changing the seed, be sure you are cleaning the feeder regularly well. Taking these preventative steps will reduce the chances of infection.
Q: Will the birds become dependent on my feeder for food?
A: Although you will notice daily visitors to your feeder, there is no need to worry about dependency. When your food source is empty, the birds will look elsewhere for food. However, if you are feeding in the wintertime, it is best to keep up with filling your feeders. Due to the time of year, food sources can become scarce for birds.
Q: Which type of feeder is easiest to maintain?
A: Maintaining a feeder isn't a hard task at all, a tray feeder is open so cleaning is relatively simple. Hopper feeders off protection form the weather but can be harder to fill and clean. The real answer to this question is whether or not you have the time and patience for a regular maintenance schedule.
Q: What can be done to prevent less desirable birds from using your feeder?
A: When referring to house finches, try using a feeder that doesn't offer a perch. You can also remove the existing perches from the feeder you have in place. For larger birds that are known for their aggression, use a feeder that has mesh surrounding it. This will keep them from gaining access to the seeds. Cracked corn will attract sparrows and black birds, avoid using this when possible. Doves and sparrows enjoy those mixed seeds, using less of those will reduce the visits from these birds
Q: How do you keep birds from crashing into your windows?
A: You can move the feeder away from the window when that is possible. In the event that isn't possible, you can try a few things to make the window more noticeable to the birds. Pulling the curtains closed or hanging something bright and decorative in front of the windows is sometimes helpful.
Q: Is there a way to keep the seeds that hit the ground from sprouting?
A: In order to keep the seeds on the ground from sprouting, they will need to go through a sterilizing process before being placed in the feeder. This by far is not as complicated as it sounds and can be done at home in one of two ways. You can bake them in your oven, lay them out on a cookie sheet. Place them in a 300 degree oven for at least 30 minutes. For a faster method, using a brown lunch bag, put the seeds in the microwave for at least 5 minutes in high. Remember to allow the seeds to cool completely before adding them to your feed, as not to harm the birds.
Sources
All About Birds, How to Choose the Right Kind of Bird Feeder
Gardeners, How to Choose a Bird Feeder
Wild Bird Watching, Types of Bird Feeders- What You Need to Know