Best Patio Storage Benches Reviewed & Rated for Quality
In a Hurry? Editors choice: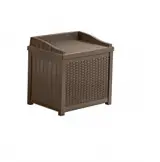 Test Winner: Suncast SSW1200

We've all seen these kinds of benches in our lives, usually when we're little. They look like regular old benches, but a simple flip of the switch and presto: the simple wooden bench reveals toys, tools, and other assorted things used in the backyard, pool, or wherever else it's being used. And we're counting down the top 10 here today! So, roll up your sleeves, grab some friends, and start looking for secret compartments in everyday objects, because we're counting down!
Standout Picks
Criteria Used for Evaluation
Capacity
Criteria for Choosing the Best Patio Storage Benches
In the end, there is one question, a bit of curiosity that, no isn't necessarily important, but is worth discussing nonetheless: why even combine a container with a bench at all? At the end of the day, what real purpose does it serve? To that end, a few points. One, it's cheaper to buy one chair that also happens to be a container, rather than buy both a chair and a container separately. Two, it helps the atmosphere of wherever you put the container. For instance, say you put it by the pool. A pool container is nice and all, but it sticks out like a sore thumb, and if it's right next to the pool, then one could argue that it's just taking up space and breaking the feel of the area. A storage bench gives people room to sit, while also being convenient storage for whatever items may be needed in that area. It should be stated again and made all the clearer, that none of the items here are bad. They were chosen from among the best of their business, as the ones that stand out in the market today. If one catches your eye more than the others, there's nothing wrong with that. If one interests you, buy it up and enjoy how it brightens up your patio. As with any ranked list, there are certain criteria that the items on said list need to follow in order to qualify and to help determine where they get placed on the list. Here are those criteria now.
Durability
You'd likely feel ripped off if your patio storage bench fell apart on your the moment you brought it home. Or if it blew into pieces when a powerful gust of wind was shot its way, along with everything that you kept inside it. Durability is the most important thing for anything you primarily keep outside of your home. Because when it's outside, then it's at the mercy of the elements, as well as any outside critters that may grow curious about the strange new box. And if the internet has taught us anything, it's that animals and boxes for them to fit into are a love affair. So when choosing your patio storage bench, make sure that it can stop anything that tried to breach its walls dead in its tracks.
Material Used
One of the biggest factors in durability? The material used to make the bench in the first place. This is a balancing act that many companies just don't feel the need to risk walking, since the better the material, the higher the cost will have to be, and that can easily turn people off. The companies that find the good balance between durability and affordability are the ones who get ahead, while our #10 spot just barely managed to get on, hampered by its very large price tag. If you can afford it, try to get a bench made of genuine wood, as those tend to be the best.
Storage space
This one is obvious. If the main selling point of your bench is storage, after all, you better make sure that the storage space is something worth bragging about. Otherwise, you're in for lost profits and general embarrassment. However, it gets tricky depending on what style the bench is going for. If it wants to lean heavier on the storage portion, then the bench attributes will be sacrificed so that the container can store more. However, if the bench wants to be more of a bench, then storage will have to be sacrificed in favor of more bench-like qualities. So how much storage space it has should be best judged by how much storage space is available based around what it's trying to actually accomplish.
Seating
It would be a really crummy bench if you couldn't actually sit in it, wouldn't it? If a storage bench is actually trying to resemble a bench, then the seating should be firm but comfortable and not feel like you're sitting on a box with a headrest. This is why storage benches will typically come packed with seat cushions. No one likes sitting on a hardwood bench if they can help it, it's uncomfortable, hard, and can make your backside hurt after too long. So any seat worth its salt will bring a seat cushion or two as part of the package deal.
Weatherproofing
Can't call your item fit for the outdoors if it isn't prepared for what the outdoors tend to bring with them, can you? This is why weatherproofing is such an essential part in any outdoor item, including patio storage benches. Patio storage benches put up with a lot from the weather, especially if you live in a tropical area where rain is very common. Not only rain, but also snow, hail, and other quirks of the weather that will ruin your patio storage bench if you let it. Weatherproofing is the process by which the materials used to make the bench are reinforced with special resins and other coatings that help it better resist moisture and other weather assaults.
Convenience
What does the bench in question do to make using it easier than its peers? Does it have handles which you can use to carry it easier? Does it have multiple compartments based on how many "seats" it has? These are both little innovations that put the benches that use them far ahead of their peers based on novelty alone. Anything a patio storage bench can do to make itself stand out is a plus, especially since the average consumer can't really tell any of them apart otherwise. Ask yourself when browsing for a patio storage bench "what would I love to have from my patio storage bench?" and if what you come up with sounds reasonable, then try looking for it.
Cost
Finally, we have cost. Cost is an interesting topic to broach with this niche since there really isn't a set average price. Sure, if you study prices long enough, you'll eventually find some kind of a pattern based on statistics, but in terms of intentional, deliberate averages, there isn't much of one. So the only choice available to you is to look over each choice you come across carefully, to see if it's worth the price being given to you.
Top 10 Picks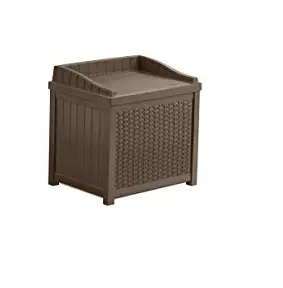 Sometimes, though, you don't need anything big for your storage. All you need is something that resembles a bench for aesthetic purposes that can hold some loose items that you don't have a place for anywhere else. For this, you turn to the Suncast Patio Storage Seat. It doesn't have the storage space of the other two top 3 entries, but it has more than enough going for it to make up for that.
Stay dry design
The problem with a lot of these boxes is that their flat heads made it easy for rainwater to collect on top, which can be a problem, even for weatherproofed storage boxes. The Suncast, on the other hand, uses a stay dry design, with a lot of slopes and strategically placed cracks in the design that slopes and guides water off of the seat and away from the box's contents.
Convenient
Because of its small size and seat-like design, this storage container can be placed almost anywhere. If you don't have a place for it outside, whether on the porch or the backyard, you can even put it inside if you want.
Cost and value
The best part about this container is the price. With most retailers you consult, you'll find this container worth a very modest price for the quality being offered.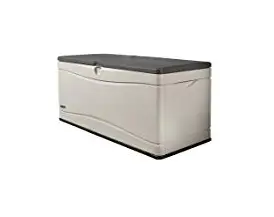 Kicking off the list, a poolside classic. If you had a pool, chances are good you either had one of these, or had something that looked a lot like it. The Lifetime Extra Large Deck Box doesn't look much like a bench, but it more than makes up for that with pure efficiency in its design and functionality.
Lockable lid and spring hinge
There's always that part of you whose nerves are racked by the prospect of closing one of these things. Big boxes like this almost always close with a loud slam, flashing images through your mind of what might have happened had you not moved your fingers in time (nothing, since it's made of plastic but that's beside the point). However, the Lifetime Box has spring hinges that ensure that closing is always a gentler, quiet experience. And on top of that, the lid is lockable, with a tough enough hole for the padlock that it can't be broken off and rendered useless.
Tough as nails
Many plastic containers such as this one aren't made from the sturdiest stuff. However, the Lifetime Box differs in that it's made out of high-density Polyethylene plastic, with powder coated steel hinges. This makes the Lifetime Box one of the sturdiest boxes of its kind on the market.
Cost and Value
The main problem for many will be it's cost. While not the most expensive box on this list, it isn't exactly cheap either. Still, though, what it has going for it more than make the cost worth paying if you want a good, sturdy deck box.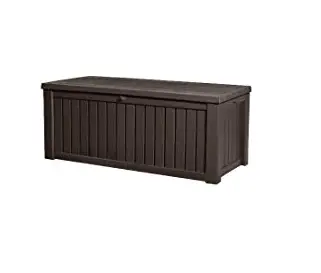 In our #3 spot, we have the Keter Rockwood Plastic Deck Storage Container Box. Just rolls right off the tongue, don't it? Cumbersome name aside, Keter are masters at making good quality storage containers of all kinds, and this box is no exception to that rule, bringing quality storage at a reasonable price.
Weather resistant and ventilation
There are two eventualities you need to consider when planning on which of these boxes you're going to buy: can it stand up to rain? And what happens if I leave it open while it's raining? The Rockwood answers both of these concerns through weatherproofing and ventilation. Weather proofing is outfitting the box to be resistant to most types of weather it's likely to encounter, from rain to snow. And ventilation is a backup plan in case the lid is open during those times, leaving tiny little holes and cracks in the bottom which the water would drain out of.
Easy to maintain
When you own one of these boxes for a while, like any other object, you are right to expect it to begin peeling, staining, or outright breaking with sheer age. However, not so with the Keter Rockwood. As long as you treat it with the most basic of decency, it will not warp, peel, dent, or stain at all for as long as you continue to own it.
Cost and value
The Keter Rockwood is rather reasonably priced for a box of this type. Which is to say it isn't the cheapest thing in the world, but then these boxes rarely are. When you look at the quality and craftsmanship of this box, however, you realize that it is completely worth whatever the price tag may be.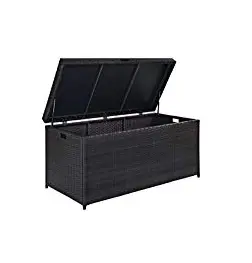 Kicking off our #4 spot is the Crosley Furniture Palm Harbor Storage Bin. This container may not be as great as the top 3, but make no mistake, this is still one of the absolute greats. Made by Crosley, considered superstars in the furniture and home storage business, this container will help you in all the ways you expect and in some that you don't.
UV resistant
It's important to weatherproof your storage container, but also to realize that the sun has other tricks to throw at you. For instance, we have UV rays, the radiation that comes off of the rays of the sun. This is what primarily causes sunburn, and you'd better believe it can mess up a storage container, fading the paint and even damaging the box over time. Thankfully, the UV resistant covering that this storage container utilizes keeps the box safe.
Steel frame
Don't let the wicker exterior fool you, this box is anything but delicate. Pop open the box and you'll instantly see this box's little secret: a stainless steel inner frame that can stand up to almost any form of punishment you can reasonably throw at it.
Cost and value
The price of this storage container can vary depending on the price you go with. It can be either very reasonably priced, or it can jump up to very expensive territories. Though, with such expensive materials used to make this container, that should come as no surprise.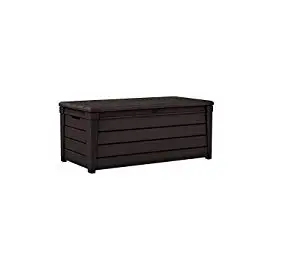 Landing at the halfway point for our list is the Patio Seat Bench Pool Deck Storage Box and Bench. Yet another mouthful, but thankfully like the last one, it makes up for the lack of a creative name with high quality performance and plenty of storage space for all of your pool gear.
Piston hinges
Not only is this storage container large enough to seat two people, it utilizes a special piston system that makes opening and closing easy. The top practically shoots open when you lift the lid, yet closes just as easily, making a far superior system to pneumatic hinges.
Always looks brand new
Using a mix of weatherproofing, UV protection, and very good paint, this storage container will keep looking like you just brought it home from the store, no matter how much time passes between then and now. Ensuring that this container is always a classy and beautiful part of the home furnishing.
Cost and value
This box is surprisingly cheap in most retailers, at least considering the standard fare of these sorts of boxes. The price will rarely cost you as much as the more expensive entries on this list.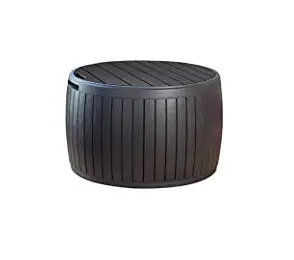 For the number 6 spot, we decided to bring you a little something different. Measuring at 26.7 inches in width and 16.5 inches in height with 37 gallons of internal storage, this round storage bin is the perfect addition to your patio space. Created to appeal as if it was made out of wood, its contemporary appeal is one of our favorites in this guide. Not only does it hold your necessary accessories, but it looks great as part of your décor.
Multipurpose
As stated above, this storage bench not only holds your outdoor necessities, but it looks great as well. The multipurpose feature comes as it doubles as a seat for one adult or as a coffee table. You can ultimately use it as both if you desire to do so. Having this flexibility makes it an excellent investment to own.
Water Resistant
In order for any furniture piece to stand the test of time outdoors, it needs to be water resistant and/or waterproof- this one is both. Having a water resistant and waterproof storage is perfect for those that leave their unit outdoors all-year-round. Additionally, this bin is also UV protected, to ensure it does not fade even when the sun is out on the warmest days.
Cost and value
Like most of our picks, this one is reasonably priced for what you are getting. However, it is a bit smaller, so if you have a lot of things to store consider having this as an additional storage unit, that doubles as furniture.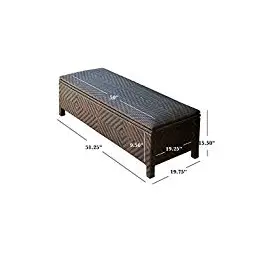 In the #7 slot, we have the presumptuously titled Best Selling Santiago Ottoman. Like other containers, this one is meant to be used around the pool area, holding cleaning equipment and other such tools. However, the Santiago goes for a more stylish Ottoman design rather than the big bulky box design. What else does it have to its name? Let's find out.
Natural, organic design
Not only is the design, meant to invoke the Ottoman type of chair, more casual and fits in better with the environment of a pool area, but its natural, organic hues perfectly accent nearby plants and landscapes.
Spacious
One advantage of the Ottoman design is the width that design gives. With this width, you can store longer objects that you would otherwise have had to roll up and potentially warp in the process. Now those objects can be laid flat and kept in their natural shape.
Cost and value
The main drawback is the price. It's not the most expensive item on this list, but its features don't necessarily lend itself to costing as much as it does. If you buy it, you'll by no means be disappointed, but you will feel like you could've gotten this for less.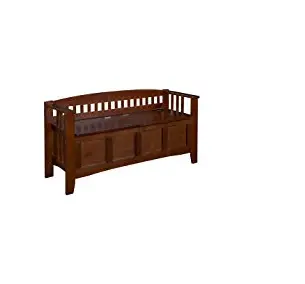 Starting off our final 3 with our #8 pick, we have the Linon Home Decor Storage Bench. Returning once more to an actual bench design for our containers, this container has several qualities that set it apart on this list. So what are these oh so special qualities? Well, the following are definitely the most important ones.
Split seat storage
For the organizers reading this, a storage bench probably sounds to you like a nightmare. Indeed, things can get awfully cluttered if you aren't careful. However, the split seat storage, that is to say, both seats have their own storage compartment underneath, separate from the other, fixes that problem somewhat by allowing for further organization.
Solid construction
For the purists out there, you'll be pleased to know that the wood furnishing on this bench is not the fake stuff, but the real thing. Constructed from genuine rubber wood, this bench is durable and able to take a lot of punishment.
Cost and value
The price can jump up significantly higher depending on what type of this chair you're getting. Under normal circumstances, this bench won't cost you much, but if you choose expert assembly, that price tag practically leaps into the pricey territory.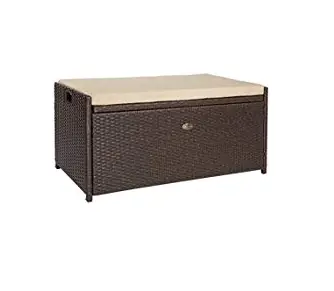 To finalize our guide, we have the Barton Outdoor Storage Bench. This container comes with a classic bench aesthetics without the backing most benches tend to have; therefore, it's a bit more versatile than those who do. Measuring at 40 inches in length, 17 inches in height and 19 inches in width this particular bench can hold up to 400 pounds of outdoor accessories. This makes an excellent outdoor addition for any home.
Sturdy
When selecting your patio bench, you want to ensure it is sturdy and compatible with the items that will be placed inside. This bench was created to be sturdy and withstand heavy items. Therefore, if you want that classic bench appeal with durability this is the one for you. Additionally, it offers conveniently placed side handles that are sturdy for easy mobility and an extra layer of durability.
Easy to Put Together
Having to put together any type of furniture is always a hassle, no matter how big or small it may be. However, the brand thought of a solution to this and created an easy put together storage bench. Not only does it come with all the parts and tools that you need to put it together, but the instructions are easy to read and comprehend, a win-win for everyone.
Cost and value
The price for this bench is a bit on the pricier side, yet it is well worth it. Featuring the ability to hold 60 pounds of accessories and having the ability to be used for seating this bench is the perfect addition for your outdoor space. Therefore, even though it is priced it bit higher, the cost isn't as significant when you take into consideration the quality that you are getting.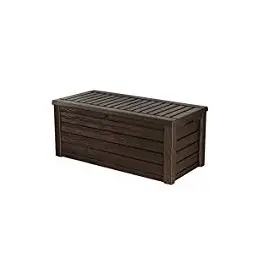 Continuing our trend of unnecessarily long and cumbersome names, we have the famous Rubbermaid with their Patio Chic Outdoor Storage Deck Box. We considered making acronyms for these long names, but that just opened up further problems. But in any case, if you know anything about storage compartments, you've likely seen Rubbermaid's name watermarked on at least one container in your life. And their Patio Chic Deck Box is one of the best products they've put out.
Built in side handles
It can be hard having to reach all the way down and carry one of these big containers where you need them to be (especially if they still have stuff in them) so any added convenience for people who need it is appreciated. Which is why this container comes equipped with built in side handles, a surprisingly rare occurrence with these kinds of boxes. Now anyone with a bad back can carry these boxes no problem.
Weather resistant construction
Not only is the material outlined with weather resistant materials, it's also constructed in a way that will stand up to the elements rather nicely. It's firm, boxy design will stand tough against most strong winds. And when it has actual materials in it, it's almost unmovable.
Cost and value
The main drawback for this box is its price. It simply doesn't do enough special of unique to be worth what most retailers will charge you.

Subscribe to our Newsletter