Best Coat Racks Reviewed & Rated for Quality
In a Hurry? Editors choice: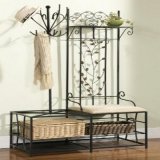 Test Winner: King's Brand

If home is where the heart is, then the front hallway must be our aorta. It's the entrance way into the home; it's where we meet, greet, and put on that last touch of lipstick before heading out the door. Kids grow up going in and out of our front hallways, which is why we need to keep them neat. Coat racks aren't just for Grandma's house anymore. It might feel a little old-fashioned, but trust us when we say that this is a product that homeowners and home renters need. Cheaper than remodeling a closet and less permanent than hanging a set of hooks, coat racks keep your jackets and bags up and off the floor without requiring much set up effort or permanent change. Now let's take a look at list and find the best one for you!
Standout Picks
Criteria Used for Evaluation
Durability
Strength and durability are incredibly important when deciding between coat racks. We've looked at a variety in this list, and we feel confident recommending each and every one. You need a coat rack that's going to be able to handle everything from backpacks full of books to the light and flowing date night duster jacket. When a variety of people live in a home, the items in the home need to have the capacity to fulfill a variety of needs.
Durability is based on not only the materials used, but also how they're put together. In order to be able to call a product durable, we need to look at the strength of its manufacturing. All of these coat racks have been made with the utmost care by their manufacturers. This means that the materials these are made out of aren't going to warp. The spots where the prongs meet the pole aren't going to snap, and the base isn't going to wobble or tip.
These coat racks are tried and true; they aren't going to fall over from one winter parka unbalancing the rack, and they aren't going to snap from a slightly heavy bag. Rest assured that your items are safe when it comes to the durability of these coat racks.
Style
This is always the hardest criteria to judge. The styles that we enjoy might not be well liked by someone else. Aesthetic value is difficult to articulate, simply because of the variety of products that are out there. To put it in simple terms, aesthetic value is basically how the product looks. It's based on the design of the product, rather than any sort of practical aspect of the item.
In this case, the coat racks were judged based on how well they were made, as well as how pleasing they were to look at. We attempted to find a variety of coat racks for this list, as we want to ensure that everyone is able to get a style that they connect with. The front hallways is an important place when welcoming people into your home. It sets the tone for the rest of the house, which is why we want it to be neat and tidy. With these coat racks it's easy to achieve that.
When the coat racks aren't burned with jackets, you likely want something that's pleasurable to look at. These coat racks were judged based on how nice they would look sitting beside a front door, either empty or full. If it's not perfect for the space, why bring it into the home? These coat racks are the best of the best visually, and we hope there's enough variety here for everyone.
Value
Cost is always an issue, especially for homeowners that might be on a tight budget. Maybe you're seriously considering tearing apart a wall and putting in a closet; if that's the case, go for it! Renovations are much more expensive than coat racks, though, which is why we would suggest picking up one of these coat racks in the meantime. Most of them are incredibly reasonably priced and will bring much more happiness than saving the money would.
For those that are renting or don't want to go through the hassle of renovations, coat racks are a cost-effective option as well. We've included a variety of prices in order to hit a variety of budgets, and are confident there's an option that will work for everyone.
We support anyone who wants to reach out and research other options. It's very important to not only compare the price to the product, but also compare the prices and product capabilities with other products of the same type. That's why we measure the price against the product's actual capabilities. We don't want you to be unhappy!
Materials
Coat racks can be made from a wide variety of different materials, including wood, metal, and plastic. This is an important factor to consider because it plays a role in the model's strength, durability, and look. Obviously, metal is the strongest, but it may not have the most aesthetic appeal and there is also the possibility of rusting after storing wet, coats on it. Wood looks great, but can be expensive and not as durable as metal. Plastic and other material may be more cost efficient, but may not last as long or be able to hold as much weight as other materials. Think about your needs and your budget when deciding what material would be best for you!
Size
When choosing a coat rack, you should already have an idea of where you are going to put it. That being said, make sure you choose a size that not only fits in the space you plan on putting it in, but also also fulfills your storage needs. If there are a lot of people that stay in the house or you regularly have guests, something with more hooks and space would be the right choice. If it is just one or two people that will mostly use the rack, then something smaller and more compact would do the trick. Also try imagining the rack in the space you plan on putting it in so you can have an idea what size would look best in that spot!
10 Best Coat Racks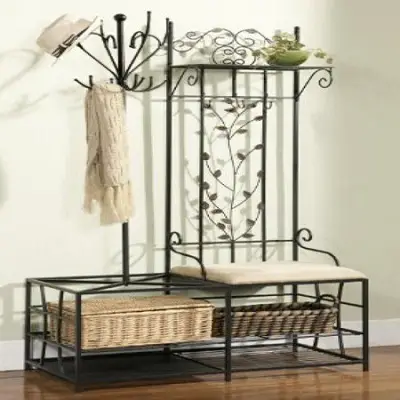 It's hard to imagine a list where a product is called "King's" and it doesn't make the top spot. So you can't really blame us for putting this fantasy-like coat rack on the throne. Speaking of fantasy and thrones,, this Black Finish Metal Coat Rack is far more than just that on which to hang your hat, or your sash, but rather an "everything you could ever need" at the door.
Royal Bounty
If you're not prepared to dress like the snotty King Joffrey, then maybe you'd just like a bit of entryway furniture that is more suitable on the set of Throne Games (or … whatever it's called). The King's Brand Black Finish Metal Coat Rack looks like a Tolkien-inspired chair for your favorite character. The skinny metal frames, and vines leading up the back, give it a wonderful visual appeal.
Rack it Up
One of the best parts of the King's Brand Metal Hallway Bench and Coat Rack is just that, it's not simply a coat rack. To be honest, it's not often one thinks about throne possibilities when they begin shopping for coat racks, so we're excited to show you the same surprise we came across. There's a top shelf, a chair, multiple bottom storage shelves, and of course, a coat rack. Get far more than you could ever want with this
Cost and Value
Nothing this meticulously made, or built from metal, with this many additions to your hallway game is going to be that cheap, and rightfully so. There's no good to come from going for a budget version of something this glamorous. A king sure wouldn't allow that to happen, so why should you? But you'd be surprised how much the total package costs, considering how epic it looks, and how much of a piece of furniture it is.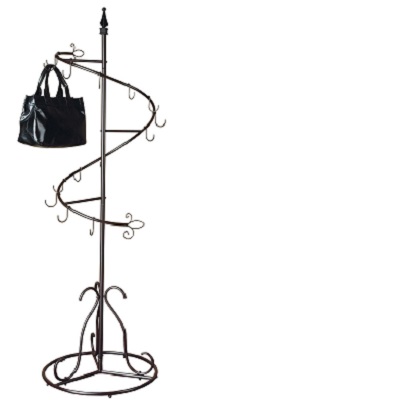 Possibly the most unique looking coat rack on our list, the Display Tree Stand from SunRise is an astonishingly neat piece of furniture, and would be Dorothy from the Wizard of Oz's worst nightmare. The twister effect, much like a tornado of hooks, gives this piece one of it's best qualities, it's eye-catching.
Tornado Effect
Beginning near the middle of the rack, the Display Tree Stand from SunRise pops out of the stem and begins twisting its way up to the top of the unit, going all the way around just a little bit more than once. It's a wonderfully unique visual design that also uses that design to lend itself towards holding more things for you.
Hang All The Things!
With fifteen beautiful crafted hooks for hanging, all living along the vine that climbs this stunning display stand, you've got more than enough room to hang a ton of clothes, or purses, or scarves, or hats. It's a playground for hanging things, and has one of the highest hook counts we've seen on the entire market.
Cost and Value
There's no shame in expecting difficult prices when it comes to extremely unique furniture designs. But you don't always have to accept it, just because it's expected. Yes, the SunRise Display Tree Stand nears the top of our list when it comes to cost, but there's a stunning reason for that, and to see why you just have to look at those product shots.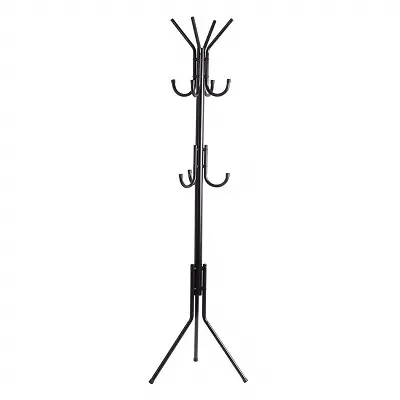 Another one of those wonderful standards, this time from Langria -- guaranteed not to read your mind -- and nominated as a "bestseller" in the category. Known for their basic furniture manufacturing, Langria takes their background in household comforts to the rack, with one of their designs that closely resembles that of which we spoke to earlier; the detective-style coat rack.
Hooks for All
Much like the Mind Reader coat rack, the Langria one comes with a great build of eleven total hooks, at three tiers, including the top for hats, the near-top for coats and scarfs, and the middle of the rack for … well … other things. There's a lot of hooks, is what we're trying to get at, and you shouldn't be running out anytime soon. If you do, perhaps it's not a coat rack you should be shopping for.
Avengers Assemble!
With less than a dozen parts, and a few handfuls of screws, the Langria coat rack is insanely simple deconstructed, making for a painless and easy assembly. The instructions are clear, and perfectly designed for those trying to put their new product together. The entire process takes only a few minutes, and then you've got your own beautiful coat rack.
Cost and Value
When something gets listed as a "bestseller", it's usually for one of two reasons. It's either an extremely budget friendly option, or it's extremely well made. So it would surprise you how well made this budget coat rack is from Langria. There's plenty to love with the Entryway Coat Tree.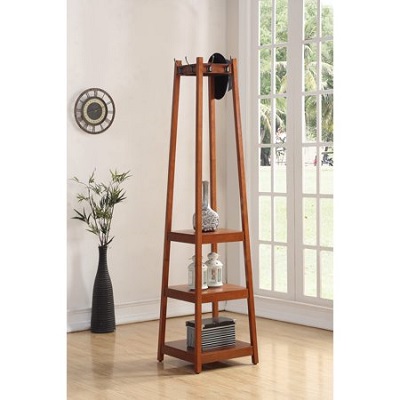 The folks at Roundhill Furniture weren't playing any normal-paced games when they designed their 3-Tier Coat Rack Storage Shelves, because it almost doesn't look like a coat rack at all. Riding in on the back of Roundhill Furniture's amazing pedigree in excellence when it comes to the make and manufacturing of specialized furniture pieces, this is a must gawk piece for your potential coat rack solutions.
Premium Thought
Now we've seen plenty of hipster, and frankly cool, shelves on the marketplace that sort of resemble the Roundhill 3-Tier Coat Rack, but never one that is also a coat rack! The three layers of shelves near the bottom of the rack are a great place to store shoes, or as the product photos demonstrate, many other household things like vases, baskets, etc.
Color Me Intrigued
It takes a lot of patience and strength to put an odd piece in your home, and it's even further complicated by the fact that many couture furniture shops stick to a single base color, or worse, just wood finishes. The 3-Tier Coat Rack from Roundhill comes in four colors, guaranteeing that you find one that will fit in your space without hesitation.
Cost and Value
The premium build, and eccentric yet simple design aren't going to come at a budget price in any market, but this rack from Roundhill is surprisingly affordable, landing roughly in the middle of our market price range. Get something unique for your space, at a fraction of the price you'd have to pay at one of those boutique design furniture shops.



We hear you, loud and clear, sitting there, reading this list, asking your computer if this rack can really read minds. Well, the answer is … we don't know. If it does know what we're thinking, then hopefully it will order the pizza for us and we won't have to do anything. This amazingly classic coat rack from Mind Reader is straight out of the movies.
For Private Eyes
You're very right if you've considered that this coat rack looks like it's something from the offices of a private investigator, and that's where it gets all of its charm. The old-timey coat rack appeal is something that has been drilled into our subconscious by countless private investigators tossing their brimmed hats atop one of the hat hooks, and watching it spin. Or maybe it's their navy blue or black duster coat that they throw over a jacket hook. Either way, there's a classic slickness with this coat rack.
Get Hooked
This coat rack for badge wielders from Mind Reader is an "Amazon's Choice" product, and that's highly due to it being simple, elegant, and useful. The Standing Metal Coat Rack from Mind Reader comes equipped with eleven hooks at three separate tiers, for all of your hanging needs.
Cost and Value
Oh, hello budget coat rack! This extremely inexpensive piece of movie history can be yours for less than a meal for two out at a fast food joint, and comes packing all of the detective stylings of the 40's through the 70's. Get your case files ready, and head down a smooth avenue with this rack.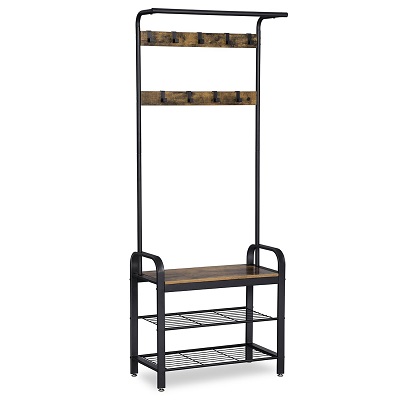 Here is the exact opposite product from the King's Brand Rack (and throne), because it essentially does the exact same job, but a whole lot more simplified than the previously mentioned fantasy trip. The SONGMICS (yes, you probably recognize that name, they've been around a long time and make stellar budget-friendly stuff of all sorts) Vintage Coat Rack and Bench is a wonderful and clean looking piece of furniture.
FUNdamentals
Often, one does not need to go all out. Just look at the minimalist movement shaping millennial lives all across the globe. Well SONGMICS shares some opinions there, and they don't throw fluff at the rack to see what sticks. There's essentially nothing of added value here, and that's the best part. There's a top bar for hanging things, there are two rows of hooks near the top, there's a bench to help you put your shoes on, and two racks for said shoes. It's beautiful.
Vintage Advantage
I don't know about you, but I sure like things with a vintage flare. Just ask my shelf of Hemingway novels, and my sticky-keyed Remington Typewriter. SONGMICS doesn't spare any time invoking that nostalgic flavor we've come to expect from vintage style furniture. The dark stained wood, with the black finished powder metal compliment each other in ways most married couples do not.
Cost and Value
If you consider that it's marked as a "#1 Best Seller" then you've got to understand that you get all of this beautifully constructed, vintage glory for your coats and shoes at a very good price, though not quite in the budget-zone compared to other market products. The slightly higher price point comes on the back of the pedigree it brings, and the solid manufacturing put into the works.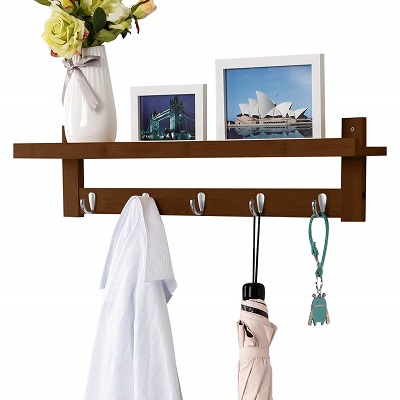 Another unmissable product from our friends over at Langria, this model is one of the modern essential items. It's perfect for your hallways, or living space. Even your bathroom or bedroom would benefit from an upgrade with one of these racks, and with Langria behind the wheel, you know you're going to get a relatively cheap, but well-crafted product out of it.
Space Saver
Unfortunately for us, living in the twenty-first century means that we aren't necessarily afforded a whole lot of floor space in our homes. Most conventional coat racks cost floor space to have up and built, whether it's just a stand display, or a full-on mud-room type bench and rack set-up. That's where a product like the Langria Coat Rack Shelf comes into play. Fully mounted on the wall, you don't have to sacrifice an inch of floor space in order to find something to hook your jacket or your hat on.
Essentially Perfect
Yes, there is crazy amounts of beauty in the simple and refined, but the best part of the simplified nature with this product is that you still get all of the essentials, and some in more quantity than other products. You're got five, fairly spaced, hooks, and you've got a top shelf for all sorts of things with a lip on it.
Cost and Value
The premium nature of Langria's manufacturing, has once again run straight on into the train that is saving you the most money possible. The amazingly clean, and floor-saving coat rack that Langria has on offer here won't break the bank, and would even be considered in the "budget" category for this list.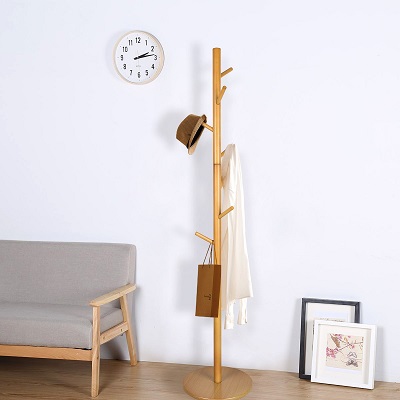 Have you ever seen the movies where the awesome karate martial artist has the incredibly powerful montage of training? Perhaps right before their big fight? Well this rack might look familiar to some of you out there then. But it's for hanging your stuff on, not viper-strike training. Though, the enthusiast of both would be delighted to add this to their abode's list of useful decor.
The Martial Law
In today's age, it's crucial that manufacturers and designers offer more than the standard single option for their products. That's something that should be left for the couture world. And as we're not subjecting this list to expensive one-offs, we have to praise LCH for offering customers four distinct (some with slight variations on style) models of this coat rack.
Think of the Children!
There's an obvious appeal in the classic, distinct, and beautiful statement that a wooden coat rack makes. This, the Sturdy model from LCH is made from high-quality Rubberwood, for just that reason. But more importantly is the use of environmentally-friendly lacquering. Something that is an often overlooked part of the wood treatment process. LCH is doing right by you, by doing right be we. And good on them!
Cost and Value
Sitting just outside of the budget circle (don't worry, we still love you LCH) there isn't much to hold you back from considering this amazingly clean and wonderfully wooden coat rack. It has eight hooks for all of your hanging needs, and a classing aesthetic that will look swell in almost any surrounding.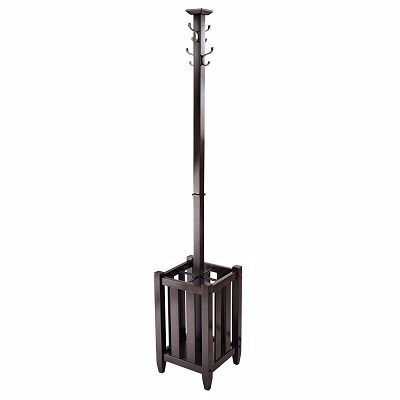 If something in the name of this product makes you think of a bearded man, seeing the ghost of Elvis, sitting at a piano all in black and white, then I'd say you're a Marc Cohn fan. But this rack has nothing to do with that song. Or walking. Or Memphis really. What it does have, in droves, is style. And it's a great coat rack (plus some) to boot.
Memphis Makeup
We may not be completely sure what this rack has to do with the best city in Tennessee, but we sure do know that it is made out of the same grit, and polish that some of the best musicians in the world, who heralded from Memphis, had. The premium wood -- built from solid pieces and composite wood -- mixed with the cappuccino finish is delicious and flawless.
More Than Coats
The top of this rack tree is perfect. You've got four zinc alloy hooks (double hooks to be particular) ready and able to hang on to your things. But even better is the wonderfully constructed bottom end of the rack that has a wooden slat box for umbrella storage. It's straight out of a motel lobby. But the kind of motel that you'd want to stay at, not be forced to stay at because you took the wrong turn and gas is running low.
Cost and Value
This product is extremely well made. Which is precisely why you'll be surprised at how little you will have to pay to get one. It's well out of the budget circle for our list, but it lands safely, if not slightly below, the median price range we've come to collect. With eight hooks, and a ton of storage for umbrellas, or canes, this is a masterpiece awaiting a home.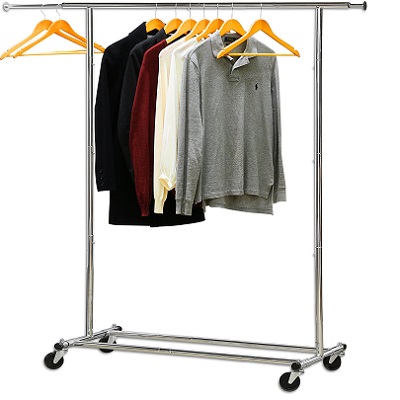 It's right there, in the title. If you're thinking about why we would add something like this to our list, it's because it's simple. We're always getting at you with our preaching of the overcomplicated, and the extra simplified. Both ends of that stick are superb. Anywhere in the middle and you might fall to sleep. But here is Simple Houseware, doing what they do absolutely best.
Find Your Way
The wonder that is a garment rack is that it's basically a moving closet. You're able to swish about all of your hung-up affections in the form of apparel, and see almost all of them at once. They're easy to move, easy to pick through, and extremely simple. Which is why places like wardrobe departments in film, tv, or stage, use them always. It's a wonderfully simple version of a closet without the walls, and usually with wheels on the bottom.
The Make And The Escape
It's not uncommon in the game of garment racks that some manufacturers try and make the cheapest rack they can, both for your benefit and theirs. But the folks at Simple Houseware wouldn't dream of it. The heavy duty steel frame, and chrome finish are sturdy and strong. Add to that the ability to easily disassemble the rack and take it with you when you leave, and you've got yourself a secret weapon for any of your garment hanging needs.
Cost and Value
Slightly higher than the cost of some of our budget coat racks, the Simple Houseware team have put together a formidable, if not always necessary garment rack to rival the bunch. The style on wheels approach, the attention to quality, and the manufacturing all add up to one single beautiful product.

Subscribe to our Newsletter