Best Hunting Boots Reviewed & Rated for Comfort
In a Hurry? Editors choice: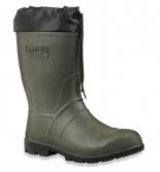 Test Winner: Kamik Men's Hunter Boot

We talk a lot about footwear here are the Gear Hunt. And the reason why is that because we think that if we're not moving, we're not doing what humans are meant to be doing. That means all of you desk jockeys definitely need to get out more, breathe some air,
go for a run
, a walk, or even better learn to be one with the land and learn how to hunt and bring home your own food to the dinner table. But here's the thing when you decide to get moving you need to take care of those two boats on the end of your legs and that's where hunting boots come in. And if you're hunting or hiking, you need great boots. Ones that will take a beating, and hold up to bad weather,
keep your feet warm
so here are our favorites.
Standout Picks
Criteria Used for Evaluation
Materials
There are quite a few different materials available, with each boot using a blend of different textiles and foams in order to create customized boots to fit every need. Some of the most popular options are outlined below:
Canvas
While typically thought of as an outdated material, boots made with canvas have a few clear advantages. First, the canvas is breathable and relatively lightweight. It dries quickly when wet because of its excellent airflow. Canvas can also be sealed, either by the manufacturer or at home, in order to boost its waterproof qualities. Boots made with canvas tend to be more affordable and slightly heavier than other options.
Suede
If you're looking for a well-insulated, attractive, and flexible option then you'll likely choose suede. It's a premium, soft leather that's very warm and flexible. It needs to be treated to repel water or else it can stain and even rot. Suede is typically used in the uppers of a boot in order to aid in flexibility. It can also be used as a lining to help keep your feet warm in especially cold conditions, although it is being replaced by Gore-Tex for that purpose. Suede tends to be heavy, but they are attractive, flexible, and warm.
Leather
Tanned leather is one of the oldest and most popular materials. Despite the fact that it isn't very breathable, leather offers a lot of protection from moisture as well as an exceptional foot support. Leather uppers are popular in classic designs where, despite the weight, the protection, durability, and stiffness of leather offers plenty of support and protection. Leather boots should be sealed yearly in order to prevent them from discoloring or rotting when exposed to moisture.
Nylon Mesh
One of the most affordable and advanced new materials on the market, nylon mesh or webbing is widely used in some of the best. It's incredibly durable, weighs next to nothing, resists water, and allows for excellent ventilation. Hunting boots made with nylon mesh are lightweight and flexible, although unless they're lined with a warmer material they tend to be chilly due to a large amount of airflow.
Gore-Tex
This advanced textile takes the biggest benefits of nylon and adds exceptional insulation. Gore-Tex is widely used both as a liner and a material for the uppers. Not only does this advanced textile allow for plenty of ventilation, but it's also completely waterproof. If you're out hunting in the fall or winter it's likely that you'll choose Gore-Tex boots.
Rubber
Often thought of as a relic of the past, rubber boots are perfect for hunting in swamps and marshes. Nothing on the market repels water as well as rubber does, although nearly everything lets your feet breathe better. Rubber tends to be thick inflexible, but it provides superior protection from water, as well as plenty of support for your feet. Those made with rubber tend to be extremely durable, although they're also very heavy.
Closed-Cell Foam
Available under a wide range of different trade names, closed-cell foam is a lightweight, surprisingly sturdy material that cushions your feet. It's typically found only in the insoles of hunting boots, and the wide range of different formulas means that there are foams tailored for all sorts of different purposes. In general, closed-cell foam is moisture-proof, supportive, springy, and lightweight. All of the best ones incorporate closed-cell foam in the insoles.
Neoprene
One of the most popular sorts of closed-cell foam, neoprene is often used as both a liner and lightweight material on the uppers. Neoprene is exceptionally warm but not at all breathable, it's completely waterproof and offers the same protection as rubber at a fraction of the weight. Neoprene is frequently bonded with another material since it isn't very durable all on its own.
Upper
The upper, of the height of the upper part of your boots, is super important for stability and support, especially when hiking uphill.
Depending on how much hiking you have to do in order to get to your spot, you'll want to select a different height for the upper of your boot.
In general, if you have to walk a long distance, try to pick a boot with an upper that just comes up over your ankle. The flexibility that you gain from a short upper is important if you have to walk a half-mile or more to get to your spot.
The exception to this is if you're carrying a heavy load on your back. The extra support and stability of a tall upper, one that extends past the ankle, can really help to reduce the fatigue in your feet and legs when you're carrying a large pack. Taller uppers also help to keep water and debris out of the boot, which helps your feet stay dry and comfortable.
Water Resistance
Obviously, if you're planning on hunting in swampy areas, either for fowl or deer, you'll want to have a pair of waterproof boots. The best waterproofing will let you walk through puddles and streams without getting your socks wet, but it also tends to cut down on airflow. Some premium materials like Gore-Tex offer a mix of waterproof protection and breathability, but you'll pay more for the privilege.
Flexibility
The most important consideration when it comes to the sole is whether you need flexibility or support. The insole and outsole work together to cradle your foot, supporting your arches and enhancing stability.
Along with the upper, choosing the proper sole is important for hunters who carry heavy packs with them in the woods. If you can travel light, then pick a thinner sole with more flexibility.
Lacing is another important consideration. In general, every pair has lacing that comes up at least to your ankle. Ankle-height lacing is great for general-purpose hiking and hunting boots since it provides a moderate amount of support without restricting movement.
Often rubber and leather boots will use full-height lacing that comes up to your calf. This adds a tremendous amount of support, as well as stiffness, and can be very useful on uneven terrain, or with heavy packs, in order to help prevent ankle injuries.
Fit
Men's fit:
One of the most important things about finding the best pair of hunting boots for yourself is to make sure that they fit properly. This can be difficult, but not impossible when buying online.
Check the comments and reviews from other users to make sure that the boots run true to size. If possible, visit a local shoe store to have your feet measured by a professional before you begin shopping. Custom insoles can make up for an imperfect fit, but if the boots are uncomfortable don't hesitate to send them back. Improperly fitting hunting boots can lead to very painful blistering.
Women's fit:
Women need to pay special attention to the fit of their hunting boots. In addition to all of the considerations above, it's important for ladies to find a pair of boots that are warm and light.
Women should also spend extra time lacing their boots tightly since often they have slimmer calves and lacing them too loosely can allow debris to find its way down into the boot.
The best hunting boots for women are typically made of nylon mesh, suede, and Gore-Tex because of their lightweight flexibility. Since women's feet are smaller than men's, moleskin blister pads can be used to perfectly tailor the fit of your boots.
Top 10 Pairs of Hunting Boots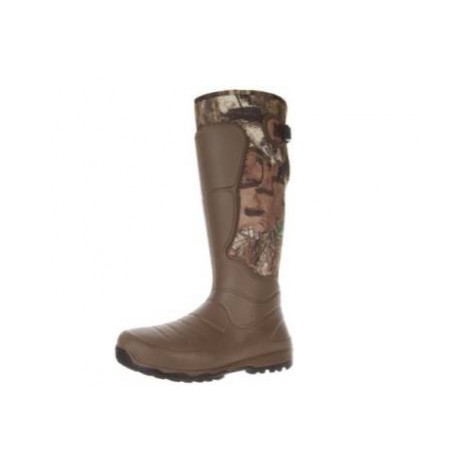 These boots from LaCrosse are a very popular option for hunters who have to get right into the thick of things. The AeroHead boots sport waterproofing, with rubber soles. The whole boot will keep the water out, at least up to your knees.
No Laces
These boots eliminate laces and use a strap in order to make it easy on and off. The closure also keeps water from entering via the top part of the boot. If you go waterfowl hunting in the swamps or wetlands then this is the perfect pair of boots to take with you.
Quiet Comfort
When wearing a pair of boots out on a hunt you need to be sure that they will not make any noises that could spook your prey. But you also need a pair that feel great on your feet, that is where the Aerohead boots come in. The materials used in the design give you the stealth you are looking for and your feet the cushioning they deserve.
Cost&Value
These offer potential in both the quality and functionality department. The cost for these will fall into the average bracket, while the value pushes this choice further up the ladder.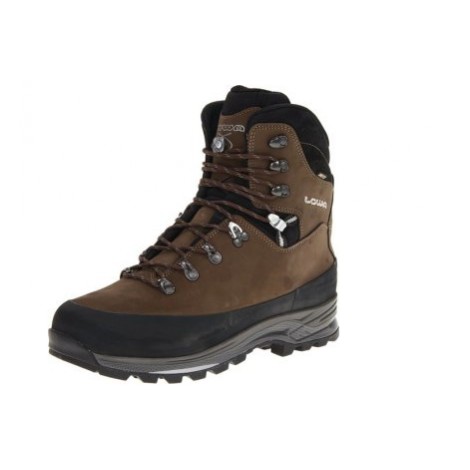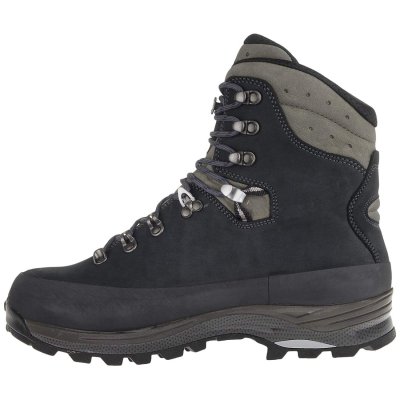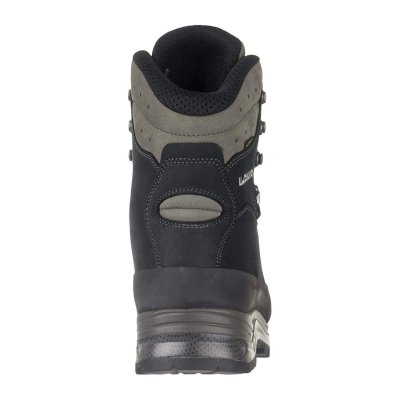 The next brand offers these popular ankle-height leather boots for use in relatively dry terrain. They've included a foam insole, and a load-bearing outsole in order to protect and cater to your feet when carrying heavy loads. They are also lace up boots, so the size around the ankle is completely adjustable.
Insole
When your "dogs are barking" it is a good sign that your boots just aren't offering you enough comfort or support to make it through the hunt. Good thing for you, these use an insole made from a foam that will contour to your feet. Making both you and them happy.
Durable Upper
The leather used to construct the upper portion of the boot adds a whole new level of durability to them. Born to be tough and take on rugged terrain, these will defend against rips, snags and even resist some water so that your feet stay in pristine condition.
Cost&Value
The Lowa Tibet GTX also offers exceptionally flexible soles, especially considering that they're geared toward hunters hauling a heavy pack. These general-purpose boots are an excellent choice for anyone who needs a good pair of boots year-round.

3

. Kamik Men's Hunter Boot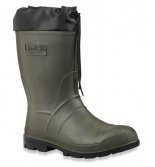 As with a lot of our other options, the best snow boot in the world ain't worth scat when half of that snowdrift you didn't see ends up inside your boots. Hence the snow collar. An adjustable snow collar is indispensable if you're working in or near deep snow, don't think of these as an addon, think of them as a necessity.
Snow Collar
When you were younger you like most, probably enjoyed your time out in the snow. Most likely it never bothered you then when snow would find its way into your boots. Eventually leading to wet and cold feet. But how about now? For those that answered no, these have a collar at the top to reduce the amount of snow that can enter the boot.
Waterproof
Having boots that are waterproof can be very beneficial. You don't have to worry if you are out in a downpour and the puddles start to form. Both your feet and your socks will remain dry in these boots.
Cost&Value
Now, this boot is a deal. A really good deal, coming in at way under the price point of a lot of other boots on this list the Kamik gives you a huge amount of bang for your buck. It's got a lot of the bells and whistles of some of the more expensive boots on this list, and it's rated to -40 degrees Fahrenheit thanks to a removable thermal guard liner.

4

. Irish Setter Men's 2870
These have the military-style looks and style and the reason they look so much like tactical boots is that tactical boots work, our military has proved it, so Irish Setter's just took a great idea and with some adaptation made a great selection so you can be comfortable out in the wilds.
Built for Safety
Cushioned Heel? Check! High Ankle Support? Check! Extremely Durable? Check! Everything about these shoes screams safety and functionality. The high ankle gives you protection on unstable ground, the cushioned heel keeps plantar fasciitis at bay, and the incredible waterproofing keeps trench foot and frostbite at a distance.
Rubber Sole
This not only helps with the waterproofing but also provides a bit of bounce to your step and keeps you out in the wild just that much longer. Everything about these is designed to keep you walking and keep you moving as you wander.
Cost and Value
This is a really nicely priced pair of boots and they come with so many features they feel like a steal to us. The high ankle, the rubber sole, the cushioned heel, and the durability speak volumes about how long this pair of shoes is going to last. And the last little bit of greatness is that these come with the ScentBan scent control just because after a while every show ever is going to get dicey but at least ScentBan keeps the funk away for as long as possible.
These heavy and warm boots made by Kamik are perfect for the cold when you need to haul heavy gear through the snow. They feature soles made from a material that will keep your feet dry, as well as a liner that will keep you warm even in the brutal cold.
Durable
Kamik Camo is built to be durable, so you can bet that these big boots will last year after year. Whether you're out stalking your prey or just enjoying the woods while it's cold, Kamik has made an excellent, affordable, and warm pair of boots.
For the Little Hunter
These are the first on our list that is geared for youth hunters. Let's face it we all know those little feet need more attention than ours as adults. Adding these to the list mae us feel like we were creating a stepping stone for potential youth hunters out there.
Cost&Value
Here is an option for youth that is practical in the price department. No one wants to spend a fortune on growing feet. While maintaining its ability to provide both warmth and comfort to those tiny toes.
6

. Kenetrek Men's Mountain Extreme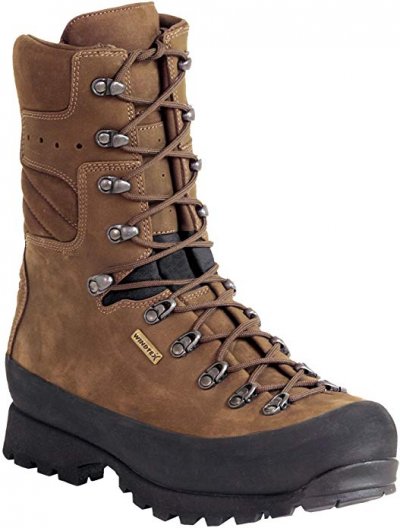 An extremely high ankle will protect you from weather uncertain terrain and even the nastiest of snakes. The brushed suede outers make them look delicate but don't let that fool you this boot is meant for business. It has an incredibly high heel to keep the water out and great traction heels to keep you moving. This is just a great boot.
Leather Outers with Single Seam
A big one piece of seamed leather that ensures that there are no seams between the top of the shoe and the toe of the shoe, just one big piece of leather that remains resistant to water and weather and makes these boots easy to take care of and tough as nails.
High Rubber Sole
The sole rides much higher than a lot of other shoes on our list. That means it won't get randomly damp on a dewy morning. The sole also has wonderful ground-gripping traction that will make sure you keep your footing on the toughest iciest most slippery ground.
Cost and Value
This is one expensive pair, but it is also an incredibly high-end selection. Everything about them screams quality and if you have the money and you are outside a lot then think of these boots as an investment. Treat them well and they will treat you well for a long time.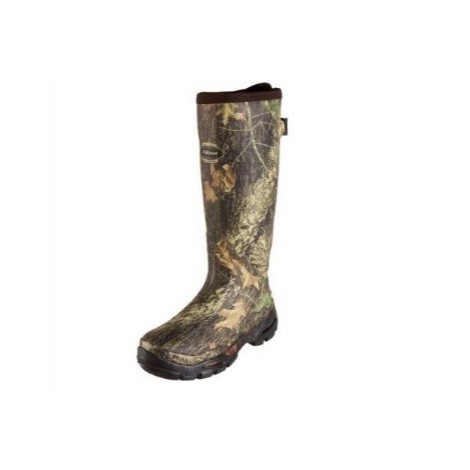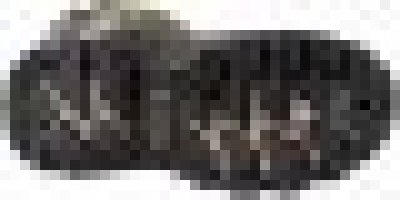 LaCrosse has bonded neoprene with an external layer of rubber to make these lightweight, full-height boots. These are some of the best for wet terrain since the combination of neoprene and rubber make them completely waterproof.
Reduce Odor
These boots are a poor choice in hot weather since they don't allow for any airflow at all. LaCrosse has done their best to counteract this with an absorbent anti-bacterial insole but the fact remains that your feet will heat up fast in warm climates.
Waterproof
The combination of materials used with these makes them 100% waterproof. Giving you the ability to tramp around even in the wetlands to track your game. And still, go home with dry feet!
Cost&Value
Falling in the middle of the scope as far as price is concerned, they deliver a heck of a punch in the value department. Keeping your feet dry and odor-free with every trip.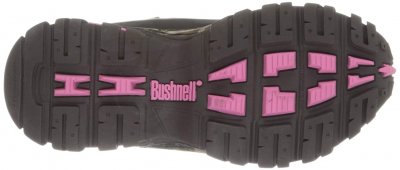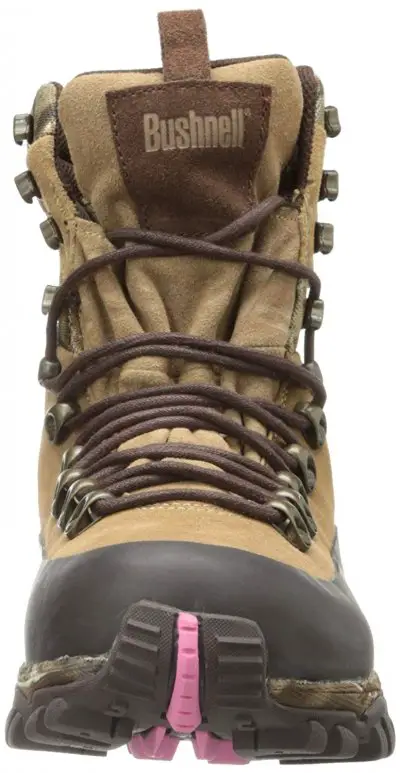 Bushnell is a great choice if you're spending time in the mud. They use a mixture of materials, including rubber lowers and a combination of canvas and leather for the uppers, which makes these excellent all-purpose boots for wet weather.
Quick Lacing
The system used for lacing these makes them quick and easy to slip on and slide back off at the end of the day. These laces are said to stay secured while also keeping your boots secured tightly to your feet.
Good for all Weather
Whether you're out after waterfowl or stalking a whitetail deer through a marsh, you'll be glad to have the warmth and protection of Bushnell boots. Perfect for hunting in both warm and cold types of weather.
Cost&Value
Bushnell boots are also a great value, with their low price and high-quality construction, which makes them the best boots for a hunter on a budget.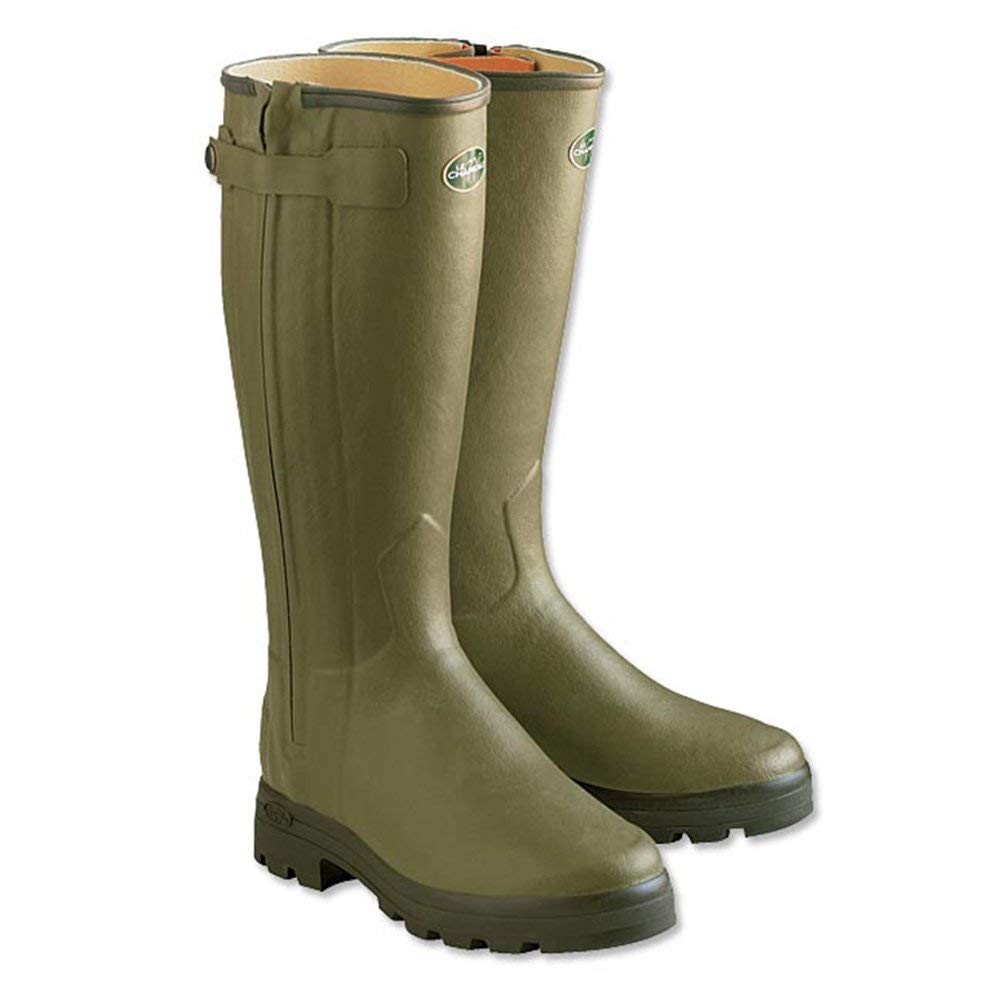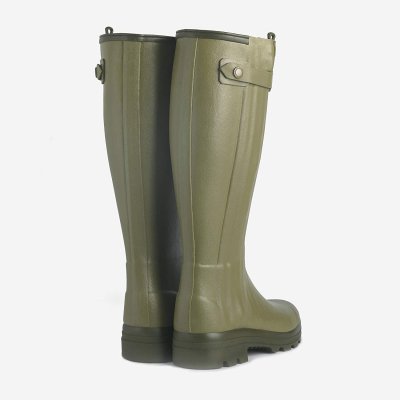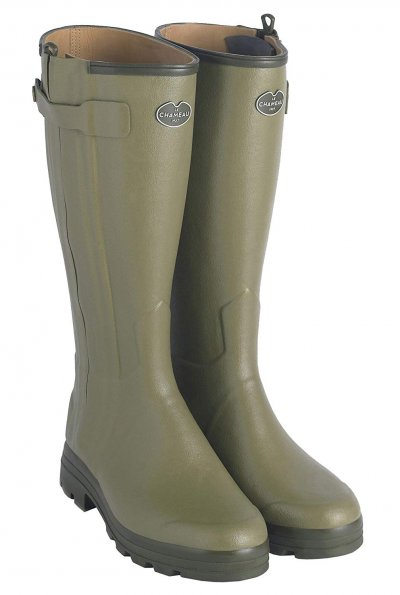 With their complete rubber uppers and outsoles, Chasseur boots from Le Chameau are entirely impervious to both water and snow. They're also exceptionally durable and resistant to the problems with cracking and splitting that has plagued traditional rubber boots.
Grip
The thick soles and deep tread pattern makes these excellent boots for cool and muddy spring hunting. Deeper tread leads to more traction on those slick, muddy surfaces. Reducing the chances for a fall or worse a suctioned foot into the mud.
No Cracking
Boots of this style and materials will sometin=mes tend to crack with the number of times they get wet and then dry out. Once they start to crack you may as well toss them out because you are going to have wet feet. These boast of using a material combination that reduces the chances that they will ever crack.
Cost&Value
While they aren't at all breathable, they will keep your feet warm and dry in any weather, and they'll do it year after year. Keep in mind that these boots tend to run large, so order a half-size smaller than you're used to for a perfect fit.

10

. Bogs Mens Classic High No Handle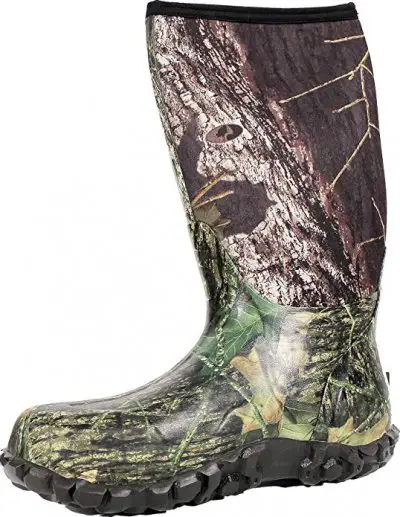 One thing you can say about the Bogs is that there's no question whether or not they're waterproof. Simply put, there's no water getting in these babies unless it comes in over the top and these ride so high up on the calf you really have to work at getting water into the boot. Plus they're just one big piece of plastic so there are no seams to leak. A great outdoor boot.
Bogs Max-Wick Lining
Sweaty feet? No problem because the bogs have a Max wick lining that's going to keep the moisture away from your foot.
12" Shaft
That's right there's a foot of boot between you and wet feet. But the best thing about these is that even though you've got all that room to wade through water these boots are still easy to get on and off.
Cost and Value
A great price for a great boot. Get these and frolic in the rain showers or put them to the test on your next hunt without any problem. Plus they last forever.

Subscribe to our Newsletter