Best Vortex Binoculars Reviewed & Rated for Quality
In a Hurry? Editors choice: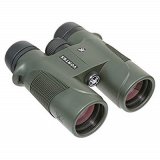 Test Winner: DiamondBack Spotter

Whether you are a serious hunter,
hiker
, camper, or avid outdoors person sighting
birds
and other wildlife, you may be ready to dive into your purchase. Or, if you are taking a leisurely trip, you might be reserved to spend a huge amount of cash on a high-end pair of binoculars. Rightfully so. However, the importance of your individual needs and requirements should set a line to start looking from when researching the best set. When it comes to credibility in binoculars, Vortex is a well known and trusted brand for quality products. In this guide, you will discover the 10 that we found to be their best. All of them have been reviewed for individual capabilities and features. The guide will provide you with a broad overview of Vortex
binoculars
, with different aspects included.
Standout Picks
Criteria Used for Evaluation
Visibility
So, does a greater strength of magnification mean a better set of binoculars? Two sets of numbers on binoculars define two important aspects. It is usually similar to 5 x 20 and this signifies how many times closer the chosen image is to you. And the second usually measures across the objective lens. The difference in the size of the lens will determine how much light is let into the body and can affect the brightness and sharpness of the view of the image.
This can mean the difference not only in the overall quality of the images but also the weight of the binoculars. The bigger the objective lens, the bigger the body requirement. However, smaller, more compact binoculars are lighter and are improving in quality. Of course, if you are a big-time serious about your needs for a perfect close-range view, then the larger can be seen as more suitable for you.
Durability
Whether you're an avid hunter or just like taking in ht e sights while hiking through nature, a durable pair of binoculars is important. Since you will most likely be using them outdoors, then they will be exposed to everything Mother Nature throws at you as well. They will also experience some bumps and falls along the way as well. Since these products can be costly, then you'll want something that is built to last. When checking out different models you should find out what type of material it is made of, especially the shell since it needs to hold everything together. Look for high-quality build and reviews that are positive.
Style
There are a variety of basics you need to take into consideration when looking for a pair of binoculars: the design, the magnification, the price of course and the overall quality. It is easy to pick up a less expensive pair, this doesn't immediately mean they are lower standard, but it can compromise the performance. A major design difference is a choice between single focus binoculars and center focus. The majority of the market seems to be the center focus because they are easy to use and quicker to focus. But, any pair of eyes will differ slightly and chances are the view will not be the best and focus will alter.
A greater magnification means better binoculars right? Not necessarily; the more a pair of binoculars is magnified, the less light is allowed into the workings – and this means reduced overall visibility. Sometimes – less is definitely more. And another point to note is the choice between American style or European 'Z' style. The European style has the objective lenses screwed into the body which can alter alignment but with the American style; these lenses are an integral part of the body and thus are more solid and secured against movement.
Value
The binocular history is rather sketchy but it is thought the work involving glass and prisms began thousands of years ago. A patent was filed in 1854 by Ignacio Porro, although this was not the beginning for the binocular – it was more it coming to fruition. The rest, as they say, is history; the binocular was well on the way to becoming a specialized piece of equipment. Vortex was founded as a DBA of Sheltered Wings Inc in 1989 and became Vortex Optics in 2004.
The company has built a market around producing high specification equipment for a variety of causes, the binocular side of the business relies on high tech research and aims to deliver the best optical aids as they can. They offer monoculars, binoculars, spotting scopes, and rifle scopes to name just a fraction of the overall merchandise. The individual workmanship is developed to provide the ultimate experience you need when you're on your favorite pastime
Top 10 Picks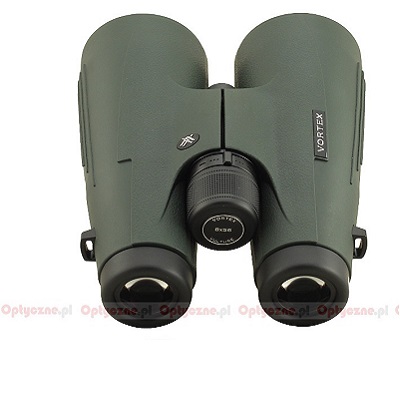 These Vulture HD binoculars are 15 x 56 and use high-density extra-low dispersion glass. This combined with XR fully multi-coated lenses enables superior images that are brighter and offer crisp clarity. They have a center diopter for full adjustability to focus any differences between the eyes. They boast argon purged barrels that are O-ring sealed to improve durability, reduce fog build up and makes them waterproof. These combined qualities ensure these binoculars are not just for the fair weather and are tough enough for any hunting trip.
Armor
The binoculars are rubber coated and this tough armor makes them even more robust in outdoor conditions. The lenses benefit from having a hard, scratch-resistant Armortek coating to help prolong life and maintain a clear and clean view.
Eyecups
A boost for these binoculars is the twist eyecups that are standard, they allow for improved comfort for use with or without glasses. And because they are able to disperse light in a superior fashion - they are suitable for use in most light conditions.
Cost and Value
The relative expense of these binoculars is well matched and equally balanced when consideration is taken regarding the high quality, the robustness of the design and the features like the anti-scratch coating - ensuring these are great value for the money.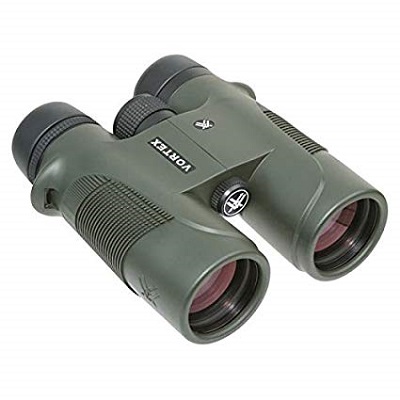 These DiamondBack binoculars are sleek in design and have rubber armor to improve durability. It offers indents for thumbs to provide an overall more comfortable grip that doesn't restrict movement and helps to reduce slipping and loss of grip. It boasts having one of the largest field views in its group which has the ability to improve the level of clear, crisp vision in many terrains. It also benefits from having fully multi-coated lenses to improve the clarity and brightness of the images.
Performance
These binoculars boast argon purging which offers improved waterproofing and reduces fog production, overall making them ideal for use in any weather condition. The quality of the casing and the durable combinations give them possessive performance.
Features
The DiamondBack binoculars boast a multi-position eyecup that can be twisted and adjusted for individual comfort. They combine this with a diopter for equalizing differences in focus, making them functionally adaptable and personable.
Cost and Value
The overall cost of these binoculars is, on balance totally justified and of equal significance with the features and quality combined in them. The extra comfort features like the thumb indents and diopter maintain both great value and cost.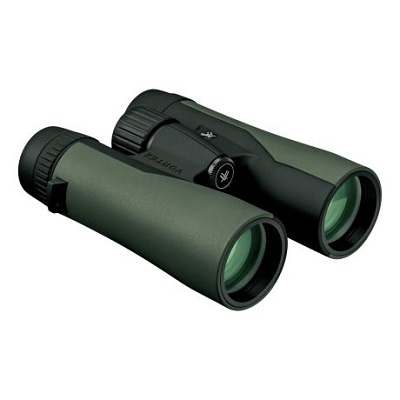 The Crossfire binoculars are produced using roof prisms for better light transmission and have the benefit of being purged in nitrogen to improve impairments like fogging and are also waterproof. This makes them ideal for most weather conditions.
Center Focus Wheel
They offer a center focus wheel for ease of use and have twist-up eyecups for individual adjustments. They boast a wide field of view with improved field depth to assist when looking for the elusive target. They are rubber armored which provides a comfortable and non-slip grip.
Clarity and Versatile
These binoculars are versatile enough to be used in all weather conditions and have the bonus of a tripod adapter socket, They also have a handy strap attachment so they can be kept secure.
Cost and Value
The high-quality materials and specifications that make these binoculars an excellent buy include the clarity offered by the fully multi-coated optics within them and the roof prism design ensure they are well worth the money paid for them.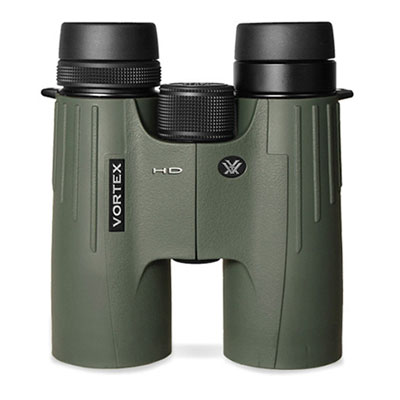 These Viper HD binoculars boast a high-density optical system that combines quality light transmission and a lens coating that provides an anti-reflective feature. They also have multi-position eyecups for optimum comfort that is fully adjustable to suit individual requirements; this gives them the benefit of being user-friendly for use with glasses. As standard, they are equipped with a locking diopter over the right eye so they can be fully adjusted to sit comfortably between the eyes.
Roof Prism
The Viper HD binoculars are produced with high roof prism quality, this improves contrast and resolution through the coating on the lenses. This also helps with color clarity and focus for a greater, brighter and clearer image - a must for those hunting trips.
Proofing
The binoculars are boosted with argon purging and a specially placed sealed o-ring to improve the performance related waterproofing and resistance to fog build up that can so easily impair images and vision. This enhances the performance no matter the weather.
Cost and Value
These Vortex Optics Viper HD binoculars have great features including the roof prisms, sealed unit, and adjustability; these combined with the overall quality and versatility of the product ensure they are great value for the money paid.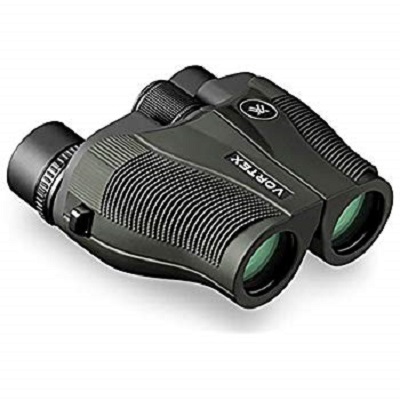 The Vortex Optics Vanquish binoculars are made using reversed Porro prisms, and this allows them to be super light, compact and comfortable to use. They boast being Vortex's smallest binoculars, and no compromise is apparent with the 8 x 26 specifications. The fully multi-coated lenses improve light transmission and better resolution that offers crisper, clearer images and allow enhanced clarity of objects/targets.
Tough
Even though these binoculars are small and light, there is no compromise on the toughness and durability in the design. They are coated in rubber armor to prevent slipping and are nitrogen purged with o-ring seals to further improve the product.
Proofed
The quality of the design also compensates for various weather conditions, and these attributes help to keep the binoculars waterproof and reduce the risk of fogging. The unique twist and lock eyecups can also be adjusted to suit individual requirements.
Cost and Value
This lightweight, compact and small binoculars have all the features expected of a larger, heavier pair. The cost-based in relative terms to the overall value is excellent and ensures they are made with quality and durability in mind.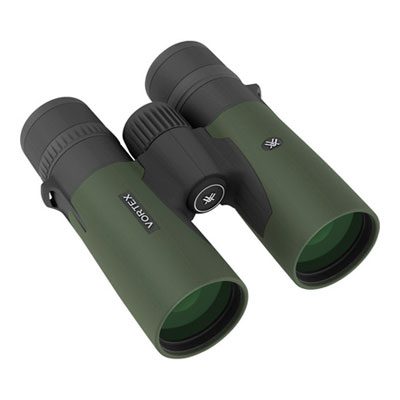 The Razor HD binoculars are boosted with hand-selected prisms and use top quality, premium high-density glass for optimized performance. This helps to produce great clarity and high definition images with improved resolution. They comprise an open hinge magnesium chassis which has been developed for strength and lightweight quality; they also boast being ergonomic for comfort in use and are more durable. They also benefit from the rugged armor that has indents for a more secure grip and steady hold in most conditions.
Multi-position
The eyecups on these binoculars are boosted by being multi-positional for individual fit and comfort, and this makes them ideal for use with or without glasses. They incorporate a locking diopter for full focal adjustment between both eyes.
Argon
These binoculars are argon purged for superior toughness and durability, and this is combined with o-ring seals to enable them to be used in a variety of weather conditions without the concern for water intrusion and possible lens fogging.
Cost and Value
These binoculars are at the higher end of the market, but the overall features and combinations including the anti-reflective coatings and plasma technological application; ensure they are equally balanced in terms of both great value and a reasonable price.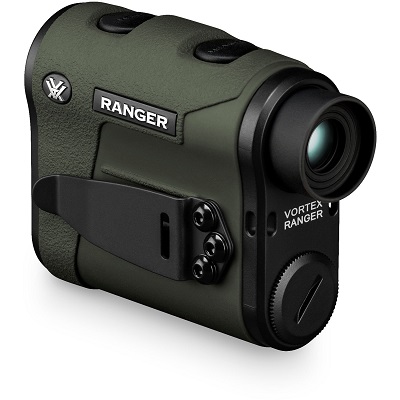 This Ranger 1500 model has an overall range of up to 1,500 yards, an ideal pack when the hunt is on. It combines a scan feature for continuous readings to enable accurate target tracking; and variable light settings for multi light conditions. It boasts both HCD mode to display distances that include angle compensation and LOS mode to enable the long-distance calculation to enhance precision when it's needed most. It comes complete with a neck lanyard and an extra removable clip so it can be stored and carried in safety.
Coated Lenses
The ranger laser offers ultimate light transmission through its fully multi-coated lenses. This also benefits from improving changing light and increases versatility because they are not limited to pure daylight in order to work properly.
Accurate
The menu allows target ranges from 9 to 1500 yards, and is clearly observed through a clean, informative display. The ranger also has the ability to accurately measure distances in either feet or meters - and so enables greater precision and target finding.
Cost and Value
The features that are standard with the Vortex Optics Ranger Laser are well balanced with the price. The adjustability of the features, the scan and tracking feature all ensure the great value for the price - and this is further improved with the durability and versatility they offer.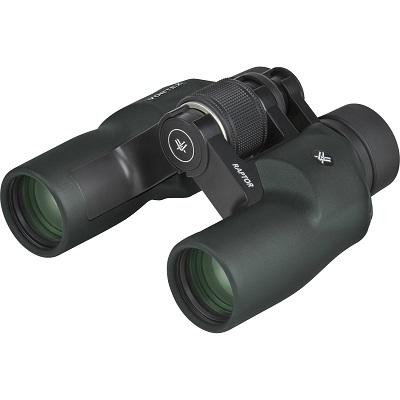 The Raptor binoculars are designed with Porro prisms and this improves the overall flexibility of them and makes them comfortable for most. The fully multi-coated lenses offer clean, crisp clarity and great color enhancement. The incorporated right eye diopter allows for individual adjustment between both eyes, and this increases comfort in use and allows them to be used for longer periods. The standard rubber armor and nitrogen purging increases waterproof qualities and reduces fogging.
Center Focus
These binoculars benefit from a center focus wheel for a simple, quick adjustment that works over both barrels and speeds up set up time. The o-rings added help to keep moisture out and keep a constant line of vision, and they benefit from an accompanying neck strap and carry case.
Anti-Reflective
All glass used in these binoculars is anti-reflective coated for better vision which can improve light transmission further, and reduce the risk of blind spots through reflective flashes. They also come complete with rain tethered lens caps for better protection.
Cost and Value
The relative cost and value of these binoculars is equally balanced and ensures they are a great all rounder for all the family to use. The durability offered by the rubber armor and the straps mean these are great value for the money.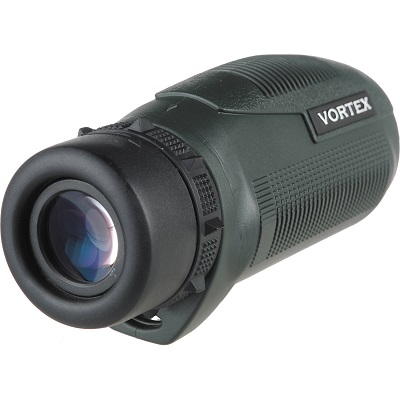 This Vortex Optics Solo Monocular is small and compact without compromising on the overall quality. It offers a 10 x 25 specification and benefits from having a full, multi-coated lens which improves the light path and gives a clearer view. It boasts being fully protected with a rubber coating and this improves its longevity in continued use, it also proffers a sealed body which maintains water-proofing and resistance to fog build up inside the unit.
Compact
The design is not compromised in this solo monocular, it's lightweight and comes complete with its own lanyard and soft carry case for making traveling less of a hassle. It weighs in at a mere 5.6 oz, it is only 4.4" long and a tidy width of 2.2" for convenience.
Ease of use
The design of this monocular makes ease of use, and it is compact enough to hold steady in the hand and the adjustable focus is effortless to move. The overall quality of both the brightness and the magnification make this an ideal addition to any viewing pleasure.
Cost and Value
Taking into consideration the quality and construction of this monocular, combined with the feature lanyard, coming cloth and carry case that comes as standard, make this an excellent buy and great value for the price.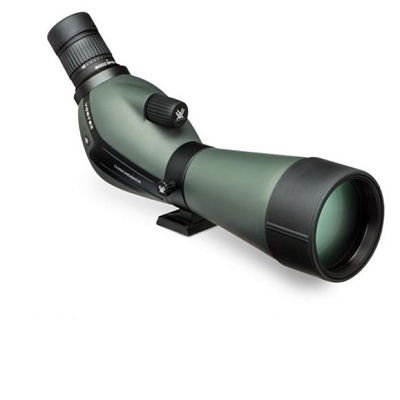 The DiamondBack Spotting Scope is made with ArmorTek for the exterior, which improves its overall robustness and durability. They incorporate XR anti-reflective lens coatings to improve not only light transmission but also clarity and crispness. The dielectric prism coatings allow precision performance and are responsible for enhanced brightness. They are available either as a straight scope, or an angled one for individual preference. They come complete with an eyepiece cap, lens cover and a view-through carry case.
Quality
The superbly offers a superbly crisp and clear view whether it is aimed at either life targets or still landscapes. The magnification is second to none and allows a precision view through its high-quality products, and can even allow closer images of intricate targets.
Functional
The scope is fully functional for a variety of activities and is especially useful for game hunting. It allows great spotting over long distances and is easy to adjust to suit individual requirements, the performance is enhanced by its easy to handle body.
Cost and Value
The overall cost of this scope, when balanced with the performance related features it offers, means it is an excellent purchase for the money and offers imagery expected from a higher priced scope. The design and ease of use improve the value relative to the cost.

Subscribe to our Newsletter