Best Kids Binoculars Reviewed
Sometimes the best part of hunting or just being outdoors is the views you get. And not all the views are accessible to the naked eye. To spot birds, unique formations, and the nuances of the forest, you'll want a good set of binoculars, this is especially true for any kid out there in scouts looking at earning some badges or getting into outdoor sports. You need the best and right gear to make the most of your experience.
Below are some of the best kids binoculars available out there.

Feautred Reccomendations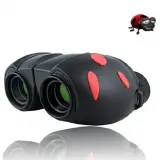 ATTCL

Our rating
Good magnification
Price:

See Here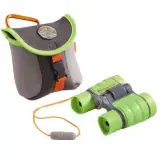 HABA Terra

Our rating
Comfortable to use
Price:

See Here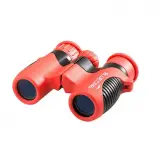 BlueCabi

Our rating
Easy to maintain
Price:

See Here

10 Best Kids Binoculars
1. ATTCL Beetle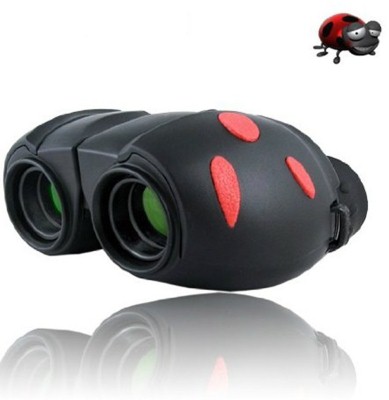 Just looking at these, they have the most unique design and shape of any of the binoculars on this list. They're very compact with soft eye cups and a nice 8x magnification. They're great for the child looking for some exploration out in the wild with a "real" pair of binoculars.


Expand to see more
Great Optics

These feature some of the best optics of anything on this list at an 8x magnification at 30mm with power crystal optics for the most detail you could want out of binoculars of this make.

Rugged and Easy to use

These are built for some rough and tumble use with impact protection and a compact design to keep them safe. They're also easy adjust from the focus wheel to the spacing on the eye cups.

Features/Specifications

These are recommended for children ages 5-12 and weigh 6.4 ounces. They feature foam grips and a sturdy carrying strap for solid handle and easy transport. There's also soft, rubberized cups at the eyes for comfort while in use

Price/Value

These are a solid purchase for any beginning outdoorsman or scout. They're certainly not toys but still easy to use for a younger kid, which makes them a solid investment.

Decision Time

These are an awesome purchase for kids making a hobby or lifestyle out of being outdoors and exploring. They'll be a good investment until they're old enough to use more high powered and bigger binocular options.
Good magnification
Good grip design
Rugged
Focus can be difficult to maneuver
2. HABA Terra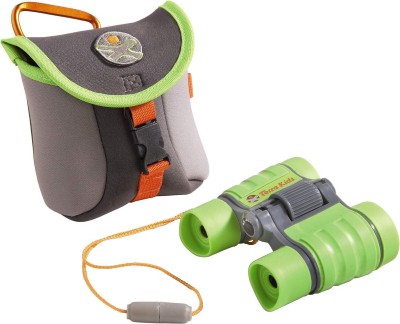 We're back to binoculars that are more in the realm of toys for kids than for any real finding. And with that you might want to use your discretion on what is actually going to work. These have rubberized lenses and 4x magnification as well as some other nice aspects for kids, but you'll want to compare them to the other binoculars for young kids on this list.


Expand to see more
Comfort

These have rubberized lenses and feature guard bumpers and adjustable, soft eye spacing for the most comfort you could want out of a pair of binoculars.

Grips for Kids

These come with a nice rubberized grip so kids can keep a good handle on them. They feature an easy to use focus knob. It also comes with a neck strap for easy access and safe transportation.

Features/Specifications

These are heavier at 9.1 ounces and measuring around 11.1 x 8.3 x 1.6 inches all around. They're suggested for 5 years and up and feature rubberized grip and coating on the lenses over some durable plastic over the rest.

Price/Value

For what they are, they are priced a little higher than some of the other comparable toy style binoculars. So, again, you'll want to compare before you decide on a pair.

Decision Time

These are good for a curious youngest just getting into exploring their own backyard. They'll serve as a nice gateway into bigger and better binoculars in the future.
Compact
Comfortable to use
Easy to use focus
Can cause objects to appear very small
The strap can break
3. BlueCabi 6x21mm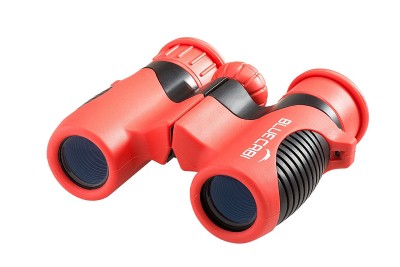 These are another pair that work pretty well as a first time buy for real binoculars. They're nothing exceptionally high powered, but they're also not a toy and will hold up a lot better. They've got a nice magnification and feature prism lenses.


Expand to see more
Optics

These magnify 6x at 21mm, which is a pretty nice rating. The lenses are rubber coated for some extra safety and comfort of use. They also feature prism technology found in the best binocular designs.

Easy to Carry

In the spirit of being designed for kids, these come with a nylon carrying bag and a belt loop to hold on to. There's also a neck strap to keep them safely secured and easy to access. It also comes with a cleaning cloth for care and a 2 year warranty for protection of purchase.

Features/Specifications

These are the most lightweight of any of the binoculars on this list yet. They weigh only about half an ounce while measuring 4.4 x 5.1 x 2.2 inches all the way around. They've got a 6x21mm magnification and a nice make with resistant plastic, even though it doesn't have any grip.

Price/Value

Like most of the others on this list, these are right smack in the middle of the typical price range. You get a nice quality product for them though that'll work well as a first time gift for the budding outdoorsman.

Decision Time

These are another pair that bridge the gap between exploration toy and real binoculars. They're a nice investment as your child grows and works their way into real, high powered binoculars.
Easy to transport
Easy to maintain
Lightweight
Good magnification
Neck strap can wear down
They run pretty small
4. Pictek Mini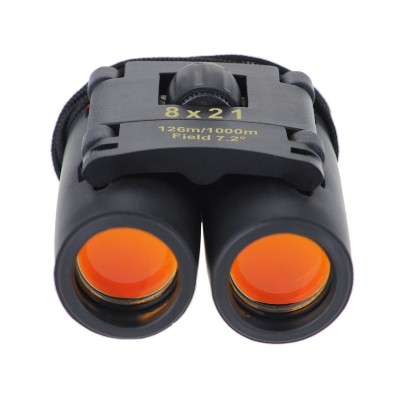 So, these are great for virtually anything you could need to do out in nature. These are great for sports, hiking, and hunting for any young adventurers. They're high quality and great for multifunction use. They've got some impressive sharp optics for children's binoculars.


Expand to see more
Multifunction Use

These are designed to be used in a number of settings. The obvious is out in the great outdoors for some hunting and hiking, as well as any scouting trips. But they're also great fro sports games and birdwatching with some impressive high def optic specs.

Great Optics

The telescope lenses offer a sharp and incredibly clear vision field with a magnification of 8x. They're fully coated for increased brightness and ability to see detail. The brightness also adjusts to the scenery to keep you seeing as much as possible.

Features/Specifications

At 6.8 ounces and 3.2 x 4.4 x 1.9 inches these are still fairly compact and not the heaviest options on this list. They're wide angle with a magnification rating of 8x21mm for some great up close looks at far off details. They don't come with any carrying case or lanyard, however.

Price/Value

These are priced nicely for the intended use and amenities that come with. The value here is pretty good for the optics. They're a good first buy for a young outdoorsman.

Decision Time

If you've got a young camper or hunter in need of their first pair of binoculars, these aren't a bad choice. They're not a toy but also not high powered and heavy. It's a great way to introduce them to nature for a low cost.
Great optics
Compact
Coated Lenses
Focusing can be slightly difficult
5. ExploreOne 6×21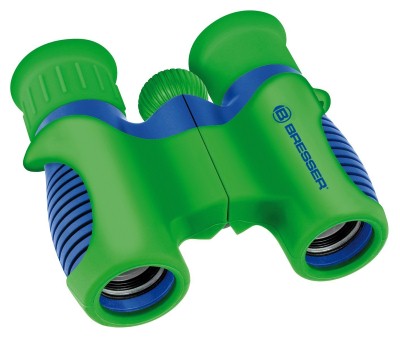 These are a nice bridge if you're not sure whether or not to get your child a toy or something more serious. They're built with small kids in mind but also have a fairly good magnification to be considered just a toy. They've got some nice durability, with kids in mind, and come with a bag and lanyard for easy mobile use.


Expand to see more
Kids in Mind

These binoculars, unlike many others, are designed to get a little banged up. They've got an impact proof rating and they're made to be tumbled about while kids are out exploring and having a good time.

Good Lenses

These binoculars feature prism lenses that can explore a 6x magnification at 21mm. They feature optical glass and rubber coated lenses.

Features/Specifications

These are a little bit heavier at 9.1 ounces and measure 2.5 x 6. X 8 all the way around. They're designed for kids 7-15 years of age and feature nice, impact proof material and prism lenses.

Price/Value

These are right in the middle of the price chart for kids binoculars, which is pretty nice for these and everything that comes with them. They've got nice magnification and nice durability for a pretty low price.

Decision Time

If you want something that's more than a toy but not quite a full on pair of binoculars, these aren't a bad choice. They've got good optics, even if they're not quite full on binoculars.
Durable
Good magnification
Good make of materials
Can be used by multiple ages
The focus knob can be hard to use
6. Luwint 8 x 21 k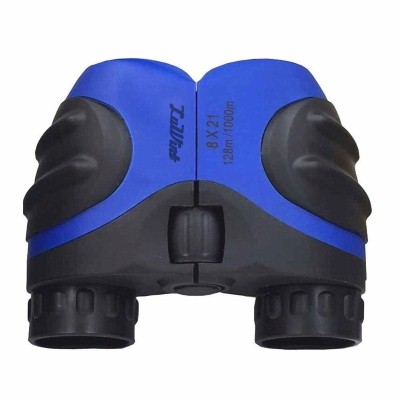 Getting out of the realm of educational tools for the younger kids, these binoculars are meant for kids, slightly older, looking for some actual magnification and outdoor use. These are a compact, lightweight, and easy to use pair that magnifies will and can even be used at night.


Expand to see more
Compact

Unlike some of the other binoculars aimed for kids, these are much smaller and more compact in design so they can be easily transported while out hiking or hunting. This also makes them pretty durable with some impact ratings and non-slip scratch.

Magnification

These magnify at 8x and are specifically designed for outdoor use, birdwatching, or hunting, as well as some other outdoor activities like golf or other sports. They have a 128m field of view and the lens had red broadband coating for great views.

Features/Specifications

These weigh 5.3 ounces and measure 4.3 x 3.4 x 1.6 inches all the way around. They come in several color options including red, blue, green, white, orange, and yellow. The lenses have a 21mm diameter. The material used in construction includes high quality rubber and non-slip plastic.

Price/Value

These are little bit more expensive but that's also because they're not toys like many of the others. Here you're paying for the value of your tool so the couple extra bucks are very much worth it.

Decision Time

If you've got a little one getting into hunting or hiking or in need of some binoculars for a scouting trip, these are a pretty good option. They have great capabilities and make that are designed more for a child's first pair of real binoculars and not just a toy.
Good magnification
Aimed at outdoor use
Good make of materials
Includes cleaning implements
The compact size can be small
7. Educational Insights GeoSafari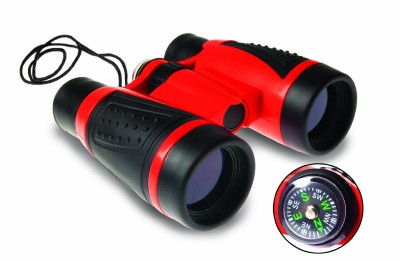 This is a step up from our previous education orientated binoculars. These are for when you've got a slightly older child. It's a great STEM learning experience and has a built in compass for some extra fun with a nice introduction to orienteering.


Expand to see more
A Step Up

The previous Educational Insights binoculars were designed for much younger kids. But this is an option for those kids who are slightly older and ready for some more interesting and in-depth ways to look at their natural world. And with the built in compass they can out of the backyard and into a wider exploration space.

Learning Features

These binoculars are all about endorsing learning through actual experience with the natural world. So your child, depending on age, can get a head start on learning or supplement what they're learning already with looking at the trees and animals around them and not just in a textbook.

Features/Specifications

These measure 4.3 x 4.3 x 1.6 inches all around and weigh 6.4 ounces. They're recommended for ages 5 and up and feature a sturdy leather grip over the plastic for easy use. There's a built in compass along one edge and a lanyard as well. It magnifies 30mm at 4x.

Price/Value

Like many of the others, these binoculars do better classified as a learning toy than actual binoculars for a child's use and they're priced accordingly. So you don't have to worry about breaking any banks to get your child learning materials.

Decision Time

These are a good learning tool for slightly older kids and come with some nice extras. But, if you want something that's going to provide more magnification or use, you might want to look into something designed for more use and less as a toy.
Good educational tool
Grip for easy use
Built in compass
8. Backyard Safari Field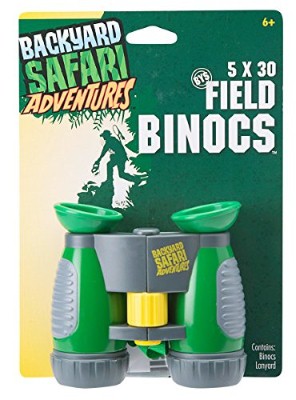 This is another set that's great as a first time exploration gift for younger kids (specifically kids 6 and up). They've got a nice easy grip for kids and some nice magnification for young eyes. Many parts of it are adjustable to make it perfect so they can get out there and explore without worrying too much about messing with the settings.


Expand to see more
Comfort

These plastic binoculars have a rubberized grip to make them easy and comfortable to hold for small hands. There's also rubber eye cups so using them is easy and comfortable/ The focus is adjustable to prevent headaches and eyestrain.

Wear and Tear

These are durable little binoculars that are waterproof to prevent damage to the eye chamber in the rain or snow or if they take a tumble into a creek. They also come with a strap to keep them secured around the neck for easy transport without damage.

Features/Specifications

These are 2.5 x 4.8 x4.5 inches all around and weigh 6.4 ounces. They're made of plastic with rubberized grips and eye pockets. They come with a lanyard for carrying and transport ease for little ones.

Price/Value

These are the lowest price binoculars so far. You get a fair amount out of it though, sturdy grip, lanyard, and some other nice amenities. But again, this is more a toy for exploring children than someone going on a hunt or hike in the real wilderness.

Decision Time

These are a great buy for slightly older young kids who want to explore their surroundings but aren't a great options for those going on longer trips or working on some scouting badges. But for the curious kid's first pair of binoculars, it's not a bad option.
Good make of materials
Comfort of use
Durability
Storage and mobility options
View through lenses can be narrow
9. Educational Insights EI-5260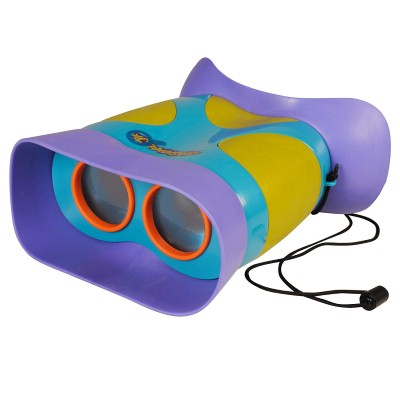 If you have a very tiny explorer, these are best for some very small kids. They won't serve for a scout in training, but for any small kid out there showing an early interest in nature, these are great educational tool and toy for any curious kid.


Expand to see more
STEM Learning

Curriculum and school can never start too early. And these binoculars will help with teaching them about the natural world in preparation for school subjects. They can experience animals, plants, and terrain patterns to get a headstart on learning.

Focus Free

With kids in mind, these binoculars are focus free to help them see as quickly and well as possible. There's nothing for them to worry about toggling buttons, switches, or nozzles.

Features and Specifications

These binoculars are 8.5 ounces and size at 6.9 x 5.5 x 2.8 inches all around. The material is plastic for easy use and grip and the color style can be used by kids of all genders and color picky preferences. They're designed for Pre-K kids to get out into the wilderness and explore.

Price/Value

These are nicely priced for their status as an education toy for kids. They come with a lot of benefits and work as a great hand-me-down for future generations of kids in your family.

Decision Time

These are for first time explorers, and not hunters or hikers in the making. They only magnify 2x for young eyes, so if you want something for scouting trips, look for something for an older child. But if you've got a curious and active 3 year old, these are a great choice.
Focus free
Educational
Easy to use for kids
Lightweight
Includes replacement parts
They can be prone to cracking
10. Carson Hawk 5x30mm HU-530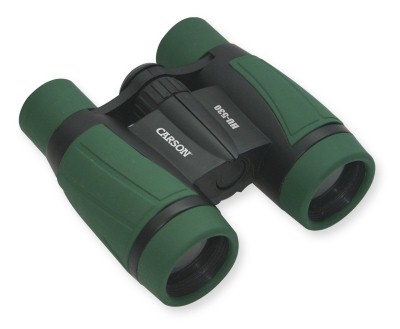 These are a pair of nice, lightweight but highly durable binoculars for the younger outdoorsman out there. The magnification is impressive for the size and it comes with a pouch, strap and, and lens cloth for cleaning. And, since kids are accident prone, there's a one year warranty as well.


Expand to see more
Made for Kids

These are binoculars that are designed with kids in mind. They're small and lightweight with some solid durability for any rough and tumble use. They also have a warranty to protect them from any permanent damage.

Great Magnification

These are 30mm object lenses that magnify 5x. For the size and the make, that's a pretty impressive magnification and great for a pair of kids binoculars.

Features and Specifications

The whole size of the product is 4.2 x 4.5 x 1.5 inches all around and weighs about 1 lbs. They're designed for aggressive outdoor use and are easily transportable thanks to a strap and pouch included. There's also a cleaning rag to help keep them looking good and functional after every use.

Price/Value

These are on the very low end of price for binoculars, which is nice. But you'll also be getting exactly that for your money, so keep that in mind. The magnification is not excessive for binoculars, though it's nice for kids. So the value and price match up here pretty well.

Decision Time

If you want a first pair of binoculars for your little outdoorsman, these aren't a bad choice to help them get the hang of how to use binoculars.
Light weight
Good magnification
Easy to store and transport
Lenses can come loose from rubber insulation
Criteria Used in Evaluation
Getting your children to have an interest in your hobby is always a worthwhile experience, particularly if it is educational as well. Think about it, what could be better than taking your kid outdoors, learning about and revel in the wonders of nature?
Children pay more attention to what their parent is doing, and they will want to participate and do whatsoever it is you are doing, even if as it was in this case just copying their dad by pretending to use binoculars by using a couple of toilet rolls! But there will be periods when pretending to use toilet roll bins are not sufficient, and the apparatus that you are making use of may not be suited to small, tacky hands!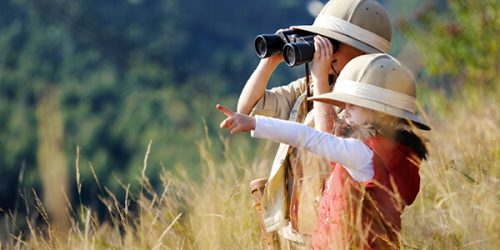 The best substitute for having your children use your exorbitant optics is to get them a pair of what you are using which is not only less painful for you should they damage them, but the ones that are designed specifically to suit a child so that they can get the maximum use and pleasure out of them.
There are several binoculars for children on the market today, lots of which are very cheap models that do slightly more than blur the image when you gaze through them! With a pair of these binoculars, don't be flabbergasted if their interest is very short lived. The criteria used in selecting the best binoculars above are explained below:
Optical Quality
One of the criteria used in evaluating the above binoculars is the optical quality. With any optical creation, you, want, to begin with, the precision of the image you will see. The kind of prism that is used in producing the binoculars is how we measured the quality, which made the evaluation a lot easier from the beginning. Superior prisms invariably meant top optical quality, and from there we were capable of finding which product made the most out of the entirety of its parts. In trivial cases, it took a number of fiddling with the configurations to make sure the kid's binoculars were functioning at maximum capacity but tweaking those settings did not mean anything contrary to the clarity grade. Nevertheless, it did count against the class we used to determine how easy to use the binoculars were. Fiddling with various settings isn't a concern if they are laid out very well. In some circumstances, these great settings were soiled by the odd placement of the button, something that can be an utter agony to get around when you are in a rush. Products that were easy for the average kid were given a high grade, as there is no profit in making simple controls that are tough to reach for children.
Magnification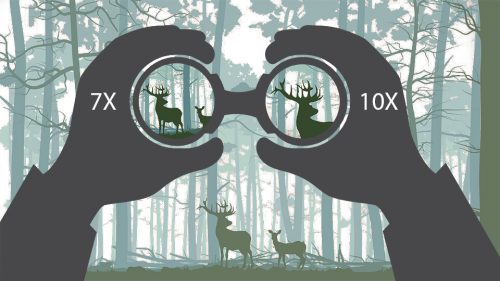 The magnification quality is also one of the significant things we considered and gave points out, for kid's binoculars that both hide a complete field of view and did not lose much when zoomed in. Children should be capable of finding a target and then zoom in on the target while it is at full speed. None of the binoculars on the above list suffer from any problem that would make this function inoperable. The image quality was also measured at a good distance when it was zoomed in the furthest, so the rating with the magnification did not favor which binocular zoomed in the farthest. Binoculars that upheld the paramount image quality when at their maximum zoom were awarded the highest points, and would be considered the most useful for most parents trying to get binocular for their kid.
Brand Reputation
Brand infamy was part of our sorting system established on the effect a particular brand had in the binoculars industry. The more common the brand, the more guides online and mentions there were for the children's binoculars. The popular a brand is beneficial in lessening down well-hidden quirks of some of the binoculars that made a list. Points were given out to binoculars with positive quirks, and points were taken away if the quirks were negative. Having tons of accessories to add to your new binoculars is a cool way to motivate consumer attention, and it all begins with the most popular brands. Some brands have a lot more accessories than the other binocular producing companies. It is a matter of excellence over quantity, and one of the driving forces that helped the popular brands to score so high in this classification.
Weight
The weight also came up as a concern with some of the kid's binoculars, so we made it a topic to look for children's binoculars that were lightweight, but not compact. Not every child will like to hang their binoculars round their neck with a rope. Some kids prefer to have the binocular attached at the hip or waist, which we think it's a lot comfier if the binocular does not weigh too much. A couple of ounces made a lot of difference in how we selected the binoculars, and splitting the hefty binoculars from the lightweight ones took little or no time at all. Also, we ran into no stalemates while doing weight, but we were also ready to use dimensions instead of weight if that comes to pass. Out of the package, kid's binoculars are projected to be durable. They can take a reasonable amount of mutilation to the non-optical portions and still have years of life left in them which we believe is great considering the fact the binoculars are meant for kids. Weather and water resistance was important for the lasting life of the binoculars, so we gave points to only the binoculars that lay emphasis on this point with greater protection. We also looked at the optical portions too, which could be broken if the binoculars didn't consist of some protection.
Price

The price of a product is somewhat personal, and I presume relative option as what may be costly to someone might be deemed cheap to someone else! We would, on the other hand, like to acclaim that you don't go for the very low-cost binoculars in any class as they will regularly only end up infuriating your child and put them off using the binoculars at the end of the day.
Eye Relief
Eye relief was also crucial to our evaluation. Eye relief is the space behind the ocular lenses of which the image you are wanting is in focus. Since kids who wear eyeglass cannot move their eyes near the lenses, long eye help will project the image further than their glasses. With adequate eye relief, commonly no less than 14mm, kids who wear eyeglass can be able to see a full image. Long eye relief will typically decrease the field of view.
If you are shortsighted or longsighted, you can make use of your binoculars devoid of wearing glasses and the binocular's focus will pay off. But, if you are an astigmatism patient, you will need to make use of your glasses.
Close Focus Of A Binocular
All binoculars can focus at endlessness. The actual trick in binocular design is how meticulously it can be made to keep the focus. Any birder that started out with a cheap pair of binoculars must have experienced standing 10 or 14 feet behind the remainder of the group to look at a bird that was inside their close focus ability. Multi-purpose binoculars possess a close focus around 21 to 26 feet. An outstanding birding binocular should have a close focus of 12 feet or less, with the existing close focus champ coming in at a mere 4 feet.
Design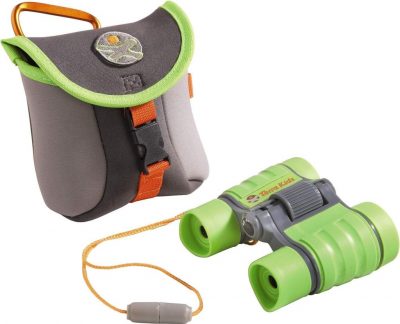 Design is one of the criteria we used in evaluating the above binoculars. Porro prism binoculars are less costly to produce than roof prism binoculars. You can acquire the same quality for considerably less money. Nevertheless, they are weightier and tougher to weatherproof. A roof prism binocular which possesses the similar optical quality will be lighter and have a smaller amount of problems. Even though they are expensive, they will most likely be more rugged, and ultimately, they may well be more cost effective.
Types of Kids Binoculars
There are different types of binoculars on the market today, but the most common ones are those used for birdwatching, hunting, stargazing, outdoor adventure, etc. In this article, we will focus on binoculars for bird watching.
When it is time to see a different bird up close, a pair of binoculars is the go-to tool for virtually all serious birders. Unrivaled portability and handiness make the binocular one of the top devices obtainable for seeing and identifying birds in their natural habitations.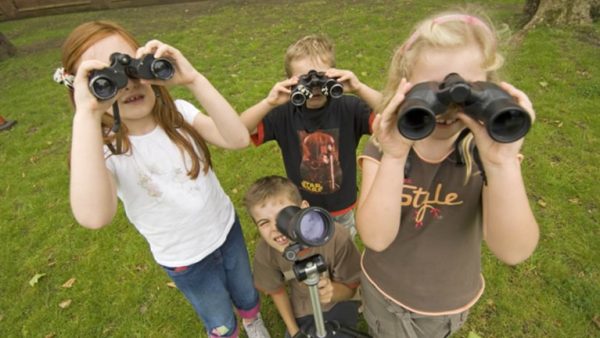 Binoculars are more or less necessary for anyone looking to see birds in the wild. A number of birders use spotting scopes while others use a device like cameras that have telephoto lenses, but you may be pushed to find a serious birder devoid of a pair of binoculars at the ready.
There are endless advantages of binoculars for birders over the distinctive optical options. Binoculars are essentially more ambulatory and lighter than spotting scopes and hefty telephoto camera lenses. Also, binoculars give you a more natural 3D view of the bird you are watching, as you are looking for two optical tubes and, consequently, viewing the birds with both eyes. Human reverie is stereoscopic, and sighting over two optical devices gives a birder the most ordinary view.
Last, a significant amount of spotting scopes and telephoto lenses entail the use of a tripod or alternative support to guarantee a stable view. This necessitates the birder to bring along more equipment into the field on journeys.
The binoculars in this article are all great for your kids to watch birds in their natural habitat. So, you do not need to concern yourself with anything as we have done the major work for you by writing this article.
FAQs
Frequently Asked Questions
Q: Which binoculars can you buy for your kids?
There are numerous binoculars specifically designed for younger ones. All the above binoculars are for children; you can choose anyone you like and purchase it on Amazon
Q: Are kid's binoculars expensive?
A: The definition of expensive is different to every individual because what is expensive for an individual might be cheaper for another. In general, children's binoculars are relatively cheap.
Q: Do they need to be waterproof?
A: It is advisable to buy a waterproof binocular for your child as they will not fog up on the inside. Waterproof binoculars are also more sealed than ones that are not waterproof thereby keeping out dirt which is unavoidable considering the fact that the binoculars are for kids.
Q: What is the best magnification for binoculars for bird watching?
A: Deciding between various types of magnification of binoculars is a private choice. But in general, binoculars with10x magnifications are superior at distance birding. However, it regularly also means a slimmer field of view.
Q: What are coatings of a binocular?
A: Coatings of a binocular are covers of material included to glass exteriors to increase the performance of the binocular optics. They are mainly used to escalate the quantity of light that gets in the optics and into the eye. If these coatings are not included, almost half of the light that comes into the objective lens might by no means make it to the eye. Great coatings hence mean we can use a lesser objective to collect the same quantity of light and therefore a smaller, lighter weight binocular can be made use of.
Q: If my kid wears eyeglasses, do I need to purchase different binoculars?
A: Probably, depending on why your kid wears the glasses. If your child wears glasses to correct far or short-sightedness, he/she might not require wearing glasses when making use of the binoculars because the focusing mechanism will tolerate adjustment. On the other hand, if your kid wears glasses for other reasons, you should perhaps look for binoculars with a higher eye relief than conventional binoculars. You may also need to look for optics that have eyecups made out of a flexible material like rubber that can be rolled down and back over the ocular lenses to reduce the space in the middle of the ocular lenses and the eyeglasses.
Q: How can I clean my binoculars?
A: First, blow off any large rubbles and dust. Next, use a soft cloth and lens cleaner or alcohol for the external glass and a soft cloth with warm water to clean the outer metal, plastic, or rubber. Be extra careful when cleaning the lens of the binoculars as coatings can scratch off easily or get damaged.
Q: Should I purchase binoculars with huge objective sizes?
A: It rests on numerous factors such as in what way you will be making use of the binoculars. Binoculars with larger objective sizes indicate heftier optics while the ones with smaller objective sizes indicate lower optics. If you expect to hold and carry your binocular for quite a lot of hours, then the additional weight should impact your decision. Otherwise, if you intend to do lots of low light watching such as dawn or dusk, the larger objectives will be beneficial since they possess a higher light-gathering ability. The size of the objectives has no influence on the size of the binocular's field of view though.