Best Trundle Beds Reviewed & Rated for Quality
In a
Hurry? Editors choice: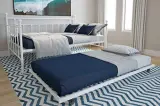 Test Winner: DHP Manila Metal Daybed

As a child, I can remember spending the night at my godmother's house and her diligently pulling the trundle out from under her ancient daybed for me to sleep on. There was something magical and safe about sleeping on that bed, and I have to admit, sometimes I wish I could travel back in time for just one more sleep there.

Trundle beds have come a long way since then. There are still metal and iron trundles, of course, but also wooden and couch-like trundles too! And they come in such an array of styles and colors, there's definitely one out there just for your room.

Whether you're a college student looking to save space in a dorm, a city dweller in a pricey yet tiny studio apartment, or an entertainer looking for guest sleeping space, we've got you covered.
Standout Picks
Criteria Used for Evaluation
Style
As with most household items and furniture, style is key. That's why style was one of the most important criteria we used when looking for the best trundle beds. Our goal was to find a complete list of trundle beds that fulfilled both fashion and function.
We give several metal options in multiple colors that are simple, yet sophisticated. We also have several wood options on our list. The wood trundle bed sets vary greater in style as some are bunk beds, some have built-in extras like bookshelves and extra storage drawers, and some are basic and simple in design. We even throw in a faux leather trundle set for good measure.
Of course, not everyone is looking for a new piece of furniture, and the average looking trundle set might not be to one's aesthetic. For that reason, we included a simple one-piece trundle that can be stored under almost any bed you find in your home.
The products we listed range in style for Victorian to minimalist, but all provide the convenience of space-saving sleeping accommodation.
Size
One of the main reasons consumers look for trundle beds is because they are looking for a space-conscious was to provide more sleeping room for guests. Thus, it was very important for us to consider size dimensions when compiling our list.
While one or two of the items on our list are large, most of them have a relatively small footprint for the service they provide. Most are no bigger than a full bed, and the ones that are bigger reach upward and not outward.
Plus, many of the products we listed serve multiple purposes, whether they have extra storage space or a built-in bookshelf.
Many of the reviews we poured over came from college students and city dwellers living in studio apartments who purchased their trundles with space conservation in mind. The products that passed their tests made our list.
Capacity
Trundle beds and their daybed set partners are not designed and built in the same way normal beds are. This means that they can't necessarily hold up to the same kind of wear and tear or weight.
For that reason, we tried to list as best we could the exact weight limits that each unit could hold (both on the daybed and on the trundle bed).
All of the trundles on our list can hold at least 250 pounds (not including the mattress), which is enough for your average human. Some, however, can hold up to 400 pounds.
Ease of Use
Because trundle beds need assembly, and because they have moving parts, we wanted to get a good look at how easy each product was to use.
We read hundreds of reviews about the ease of assembly. Were instructions included? Did the necessary tools come with the unit? How long did each unit take to assemble? Were all parts included? And so on. Those units that were sturdiest and easier to assemble made our list and a few that were reviewed as harder to assemble were flagged in the CONS section for the reader.
Additionally, we look at how easy the trundle movement itself was to manipulate. Because several of our trundle sets are geared towards kids, we wanted to make sure that kids could handle operating them. The kid trundle sets featured on our list are all kid operated and approved. Some kids even helped with assembly!
Value
And of course, we considered the value of each product we reviewed. We did this best by comparing like items made from like materials.
Metal items were generally cheaper, though they held up for less time than their sturdier wood counterparts.
Wood items were generally more expensive. However, inside that category, we found some pretty reasonably priced units that often included added features like bookshelves and room for extra storage.
We also look for warranties and money back guarantees to sweeten the value pot. Those items are flagged in the PROS section.
10 Best Trundle Beds
1

. DHP Manila Metal Daybed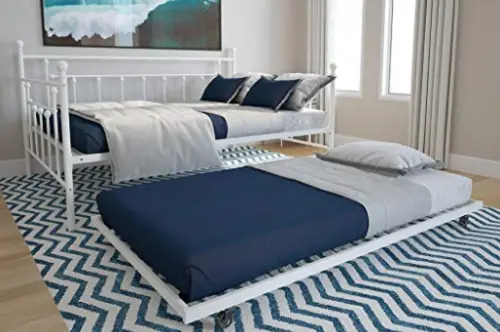 We jump off our list with a beautiful Victorian inspired daybed and trundle. The DHP Manila Metal Daybed and Trundle is great for those with limited space or simply for those looking for the extra sleeping room for guests. Either way, with its classy design it is sure to wow your visitors. This set comes with everything needed for hassle-free assembly in the box.
Elegant Victorian Style
The DHP Manila Metal Daybed and Trundle was inspired by Victorian design and is beautifully crafted. Though the bed looks delicate, it is made from strong metal that can stand up to heavy use. With rounded finials and extra slats to provide ventilation and a cool night's sleep, you or your guests will feel sophisticated and well-rested. The set comes in bronze and classic white--both of which are flattering in almost any setting--and is available in twin-twin and full-twin models. The twin trundle mattress (sold separately) must measure six inches or less. So if you are living in a studio apartment and looking to conserve space with a couch/bed combo, or if you are in the market for extra sleeping space for sleepovers and visitors, this is the bed for you.
Four Casters that are Easy-Glide
This daybed and trundle combo features a four-caster sliding mechanism that ensures an easy-glide when pulling out the twin sized trundle bed. Two of the casters lock in place while the other two do not. Once put together, this daybed and trundle measure at 77.5"L x 56" W x 41.5" H. The weight capacity for the daybed is 450 pounds, while the capacity for the trundle is 225 pounds.
Cost and Value
As with most home furniture, trundle beds vary greatly in pricing depending on the size of the unit and the materials used. Typically wooden trundle bed sets are more expensive. Because this product is made from metal, it won't break the bank. It rings up at the lower end of the price range, and because it is a couch and two beds all wrapped up in one, it has super sweet value.

2

. Zinus Eden Twin Daybed


This Zinus Daybed and Trundle Set features a simple yet sturdy design. Meant for maximizing space in the room while providing extra places to sleep, it is a great space-saver for those awkward rooms in your house or for a studio.
Simple Yet Stylish Black Steel Design
The Zinus Eden Twin Daybed and Trundle Set is made of super sturdy, black steel which means it can hold up to daily use. The set features no real frills but nonetheless gives a simple elegance to the room. This product is only available in a twin-twin model. The twin trundle roll out mattress (sold separately) must measure less than 9.5 inches thick.
Premium Steel Slat Support
With premium steel slat support on both frames of the set, this bed will hold up against heavy use. The trundle rolls easily on four wheels, but only locks on two of those wheels. This set comes with all tools needed to assemble the frames and can be put together in practically no time. When fully assembled, the product measures 77 x 39 x 38 inches.
Cost and Value
This bed also falls at the lower end of our price range. Plus, it comes with a 5-year, no questions asked warranty. Users love this product and its durability, and it comes highly recommended.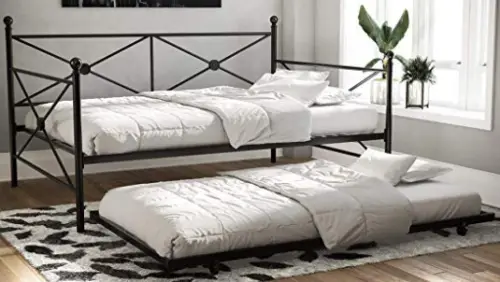 This DHP Lubin Daybed and Trundle bring stunning simplicity to any room. With a minimalist design and sizes and colors to choose from, you're sure to find just the look for your space.
Minimalist Style Great for Any Room
The DHP Lupid is made from sturdy metal to hold up against wear and tear. It comes in two gorgeous color options--black and gold. The design is simple yet sophisticated, featuring metal crisscrosses and circular finials. You can choose to scoop this frame up in a full-twin or twin-twin set. For both sets, the twin trundle must measure six inches or less.
Easy to Assemble
One of the greatest features of this daybed and trundle set is its easy assembly and long lasting durability. Multiple users reported having their children help them to assemble, with all parts included in the box upon delivery. The trundle comes with four wheels on the bottom--two that lock and two that do not. When fully assembled, the unit measure in at 77.5"L x 56"W x 43"H.
Cost and Value
This daybed and trundle set is slightly pricier than the first two items on our list. Though it is made from the same material as our number one product, you are paying more for design here.

4

. Discovery World Furniture


This is the first wooden product to make our list and she is a beauty! Not to mention a bunk bed as well. The lovely finish on this frame and it's many features make this a great addition to any child's room or vacation home.
Beautiful Merlot Wood with Bunk Bed and Trundle Design
The stunning merlot wood finish of the Discovery World Furniture Staircase Bunk Bed with Trundle with know your socks off. This set features a built-in staircase to reach the top bunk and it also houses 4 pull out drawers for storage. Both bunk beds and the trundle bed (all sold separately) can support 8-inch twin mattresses.
Extra Sturdy for Kid's Rooms
This set is not only nice to look at--it's real quality wood too which is especially important if you're considering getting this for a kid's room. Many reviewers report it standing up to quite a beating from heavy use by multiple children. The trundle glides easily and won't slip and slide around on the floor. This product was purchased by several city dwellers living in small apartments where space is a premium. These reviewers reported a small footprint, especially considering all of the integrated features the set provides.
Cost and Value
This set costs a pretty penny and lands it at the middle of our price range, but you truly get what you pay for. Made from genuine wood, this product won't break down under heavy use. Plus, it's a bookshelf, dresser, bunk bed, and trundle bed all built into one, so you're getting a lot of bang for your buck.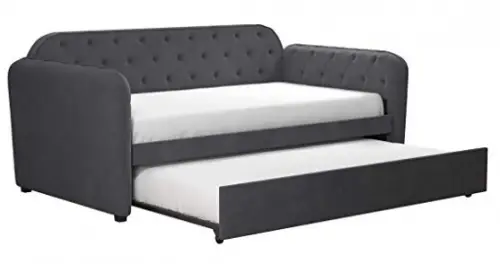 The elegant, old school design of the Novogratz Tallulah Tufted Daybed and Trundle set will leave you and your guests feeling pampered and serene. It is far more couch than any of the other items on our list, and the trundle pull out option is hard to detect when it's pushed in. This is definitely a more sophisticated trundle than most.
Tufted Velvet Old School Design
This daybed and trundle set is made from wood and ultra soft tufted velvet. It comes in three beautiful color options--blue velvet, grey velvet, and pink velvet--and it looks more like a genuine couch than any of the other trundles on our list. The overall style is softened by curved edges that aren't blunted like many trundle beds on the market. This product is only available in a twin-twin set.
Easily Concealable Trundle
As we already mentioned, at first glance you hardly notice that this piece of furniture is actually concealing a trundle underneath. The trundle slides easily in and out without being a pesky eyesore. Additionally, this set can hold some serious weight. The daybed can hold up to 400 pounds, while the trundle can hold 200 pounds. The measurements of this unit are as follows: 85.5"L x 48"W x 37"H.
Cost and Value
In terms of cost, this daybed trundle set falls in the lower-middle range. Again, you're paying for quality materials here, and a durable and fashionable product.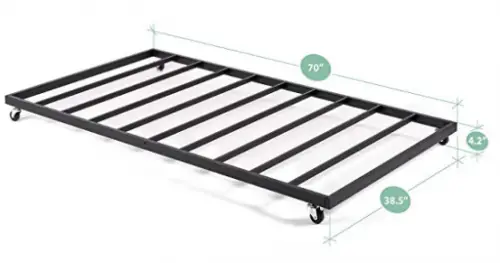 For the sake of providing our readers with some variety and flexibility, we've included this Zinus Eden Trundle Bed Frame. This product does not come paired with a daybed, but rather comes sold only as the trundle bed frame itself allowing the buyer to slide this baby under any bed or couch already in their home.
Can Slide Under Most All Household Beds
Most of the items on our list are daybed and trundle combos. This product is a wonderful exception for those who are not looking to add new pieces of furniture to their homes. Measuring at 70 x 38.5 x 4.2 inches, the trundle frame can slip under almost any average sized household bed and even many couches. There's no muss and no fuss when it comes to this steel framed design. This product supports a twin mattress, and because it does not come paired with a daybed, the inch number on the mattress depends on where you will be storing the trundle.
Made from Sturdy Steel
This durable steel trundle will hold up for years to come and can support 250 pounds. It is easy to assemble and requires no tools for assembly.
Cost and Value
This product is super affordable and is the cheapest on our list. It is sturdy and versatile as it is not paired with a daybed, so you can move it around your house with ease.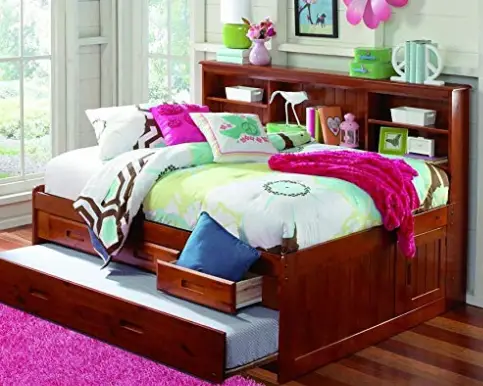 This is another great product that includes multiple different features in one single unit. Not only is it pleasing to the eye, but the Captain Bookcase Daybed Trundle is durable and highly functional, essentially acting as 4 different pieces of furniture in one piece.
Bookcase, Daybed, and Trundle In One
This unit is made out of real, durable wood with a merlot finish. It features a bookshelf that spans the length of the bed, three drawers that pull out under the bed and above the trundle, and a twin trundle bed that call pull away from the main bed itself. This unit is meant to fit a full mattress on top and a twin mattress on the pull-away trundle.
Impressively Durable Design
Because this unit is made from real wood, it will stand up to even the heaviest use. But despite being heavy, it's remarkably easy to use. This item is regularly purchased for kids' rooms, and most reviews report that the trundle was easy enough for even small children to move in and out with ease. When fully assembled, this unit measures in at 79L x 62.5 x 49.5h.
Cost and Value
This trundle unit is definitely one of the most expensive on our list, pricing in the midrange point. But you get what you pay for. The materials are strong and beautiful, and this unit provides the convenience of 4 different pieces of furniture in one.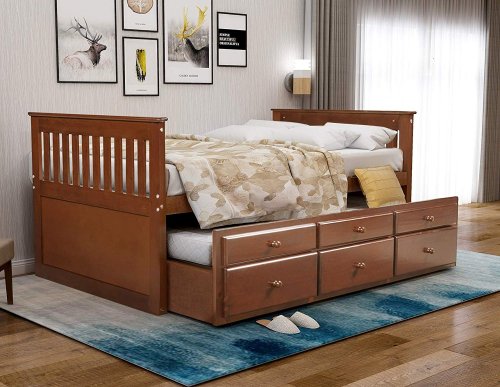 This simple yet stylish pure wood bed and trundle set is a welcomed addition to any child or teen's room. It comes in multiple colors and sizes and holds up for years.
Two Different Finishes
The Rhomtree set is kid's furniture done right. It comes in two color options to suit your child's bedroom decor. Choose from maple brown or white. The bed features a strong wood construction that doesn't even require the use of a box spring.
Storage
If you're looking for more ways to add storage to your child's room, look no further than the Rhomtree. It will provide you with three additional drawers for extra space (which we all know kids "need").
Cost and Value
For what you're getting, this unit is a great value. It is about half the cost of other wood trundle bed units on our list, and just as durable.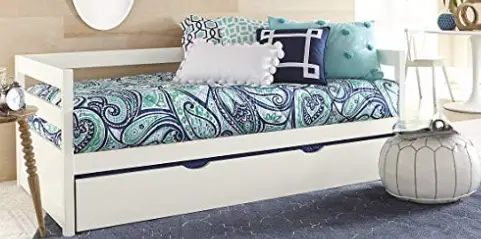 This kid's and teen's simple, classic daybed and trundle set is straightforward and dependable. It's great for daily use, or in a playroom or home office. There aren't frills in terms of design, but it is well made and can mesh with almost any room aesthetic.
Simple Yet Classic Design
Sometimes less is more. This classic daybed and trundle set proves that adage to be true again. With double slotted sides and back, one can lounge in simplicity on the daybed. This model comes in a twin daybed and twin trundle. The trundle has cutaway hand slots for easy removal. The trundle is on 4 wheels, can separate totally from the bed, and must have a mattress measuring less than 8 inches. The unit comes in chocolate, gray, walnut, and white, so there's a color for everyone. The Caspian is made of genuine wood.
Small Footprint Ideal for Small Rooms
Measuring in at 30H x 79.5W x 41.75D, this unit won't take up a ton of space so it is ideal for small offices, playrooms, or bedrooms.
Cost and Value
This is another less-expensive wooden option. Ringing up at very low mid-range, this frame is a great value and addition to any kid or teen's room.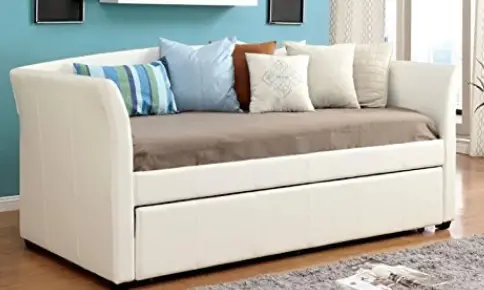 This unit is another on our list that looks more couch than daybed. It's the only faux leather item on our list as well, which allows us to round out our top ten with a little diversity.
Couch-Like Design
This white, faux leather unit is padded and super comfortable. The trundle lays flush with the daybed, so it's nice and camouflaged in with the unit. The trundle rolls out easily, and the unit is meant for 2 twin mattresses. Assembly is so simple that young teens can manage it.
Supports Thicker Mattresses
A great feature of this unit is that it can support thicker mattresses than most of the other products on our list. Both the daybed and trundle can support a 12-inch twin mattress. Some reviewers suggested using a slimmer mattress for the trundle so that the extra space could be used for storing blankets and pillows. Fully assembled, this product measures in at 43 x 89.5 x 37.5 inches.
Cost and Value
This product is in the low mid-range for its style. Reviewers report that it is durable, functional, and fashionable, and it has only received 4 and 5 stars on Amazon.

Subscribe to our Newsletter