Best Camping Pillows Reviewed & Rated for Quality
In a Hurry? Editors choice:
Test Winner: Therm-a-Rest

Camping is one of those activities that are able to be enjoyed by almost anyone (granted that you do like the outdoors). Families, young kids, couples, solo travelers, and retired folks can find themselves camping outdoors and
enjoying every minute
of it. Depending on where you live, camping can also be a year-round activity, so you and your loved ones can enjoy this bonding activity multiple times a year. Even if you're a seasoned camper or brand new to this experience, there are essential items you must pack to make the most of your trip. Obviously, you need a
tent
, but a good night's sleep can come down to having or not having a camping pillow. So, why not get a good one? Here are ten top choices for you.
Standout Picks
Criteria Used for Evaluation
Comfort
This is key to a good night's rest. Some backpackers tend to forgo using a camping pillow because of the added storage and opt to use their dirty folded clothes or scraps of fabric to rest their head-on. Remember that the human head weighs about 8-12 pounds, and we're holding this upright for pretty much the whole day until the moment we rest it down at night! A good camping pillow will not only provide the comfort you need to fall asleep quickly but also the support your neck needs, so your head is supported throughout the night.
Have you ever woken up with a strain in your neck after a bad night's sleep? You might have fallen asleep in a strange position that caused your neck to pull a muscle. There is no worse feeling when you wake up in the morning, unable to move or rotate your head, causing a lot of discomfort and pain. You might have had to consume painkillers or purchase muscle-tension relieving patches to get rid of that pain.
When you're camping, you don't have a drug store around you to relieve these symptoms if you wake up with that kind of pain! Then your fun activities for the day like hiking, canoeing, and even stargazing are shot for the day because you are unable to move. Talk about a mood-killer. Unless you have packed a first aid kit with you, you might have to ride the pain out until it goes away, which can be a few days depending on the muscle you strained.
You can avoid all this unnecessary pain and suffering simply by bringing a comfortable pillow that is shaped to support your head. You want to look for the words "ergonomically designed" in the description of the camping pillow, as many of these camping pillows we've listed has. Ergonomics itself means that there is an applied science and design to whatever it is you're using so that it best supports the user safely.
Style
Camping pillows come in three different types: inflate, compressible, or a hybrid.
Compressible pillows mean that they are made in a type of material that can be compressed into smaller shapes but are not able to be flattened completely. These are typically more comfortable and soft because they are made from pillows similar to the ones we have in our bedrooms at home. Down feathers are naturally the most convenient and most lightweight (also the most compressible) but tend to be higher in price. Since you're taking these to the rugged terrain, you might not want to soil a down feather pillow.
Synthetic fibers like foam are heavier than down feather feathers but a lot more affordable. Although compressible pillows are more comfortable, they might provide as much ergonomic support. Sometimes these pillows don't contour to the shape of your head and may flatten under the weight of it. Depending on the model, the sizes of the compressible pillow may vary. These pillows cannot be deflated so that it can be a bulkier item than an air inflating camping pillow. However, some may like to sacrifice space in the car or trunk for their comfort.
Air inflatable camping pillows are among the most common of camping pillows because they are the lightest and most portable of them. They can be filled with air, either manually or by itself. Since they fill with air, they are firmer than some compressible pillows and can provide the additional ergonomic support for your head that you need.
When deflated, they can easily be stored and because they can be flattened and take up very little room. These are ideal for backpackers to maximize storage in their backpacks, and leave additional room for other necessities. This may be a preference, but inflating camping pillows may not be comfortable to some because of the firmness.
Look for ones where you can adjust the airflow and ones with comfortable covers or covering. You don't want one that caused squeakiness or constant noise through movement throughout the night. Most inflatable air pillows now are uniquely designed with a dip or groove in the middle for your head once it has been inflated. What's good about this is that you can fit it in your pocket and virtually be ready for a nap any time of day!
Hybrid camping pillows are a mixture of the two for those who can't decide or want to test the waters. These come with a compressible top layer for the head to rest comfortably on while coming with an inflatable bottom or side layer to increase firmness and decrease the volume when packing. These should still provide an ergonomically correct design and comfort.
Effectiveness
We all have different ways of sleeping- on our sides, on our backs, and on our stomachs (not saying these are the only ways of sleeping but are the top three ways). Not all pillows provide the same amount of comfort for each individual. So it is essential to consider how you will be using the pillow to sleep to see if it will be comfortable for you.
Whichever way you sleep determines what type of pillow you need to keep your spine aligned. Like mentioned above about neck support during sleep, you want to make sure that if you are a side-sleeper, your spine aligned to prevent muscle strains or damage the next day. Side sleepers wish to a thick pillow that supports the head and limits movement so that muscles are not in discord throughout the night.
Side sleepers may also benefit from an additional pillow between their thighs or legs for additional spinal alignment. Stomach sleepers need the least amount of support and can get a good night's rest from thin, comfortable pillows. Back sleepers can benefit from the pillow with medium firmness and will get quality sleep. Of course, these are general findings and can vary from person to person. Find out what kind of pillow you get a good night's rest from at home, and what kind of sleeper you are, and purchase your camping pillow accordingly.
Materials
Camping pillows will understandably get dirty after a camping trip. You want to look for camping pillows with a slip-on covers that can you can wash, a camping pillow that is machine-washable and dryable, or one that is entirely waterproof. You don't want to soil it and have to throw it away after one vacation, simply because the fabric inside the pillow is not meant to be washed. Look for those keywords above to make sure that you're getting the most of your purchase.
Size
When it comes to camping, there are a lot of extra equipment and packing that you have to consider. There's the camping tent, the food, blankets, outdoor gear, etc. If your car is chock full of camping equipment already, you want the lightest and most compact type of pillow that doesn't take up much room. The heaviest and most bulkiest of the pillows tend to be compression pillows, but these can be ideal if you're going car-camping and have additional room for storage because you're not shoving a tent in your car.
10 Best Camping Pillows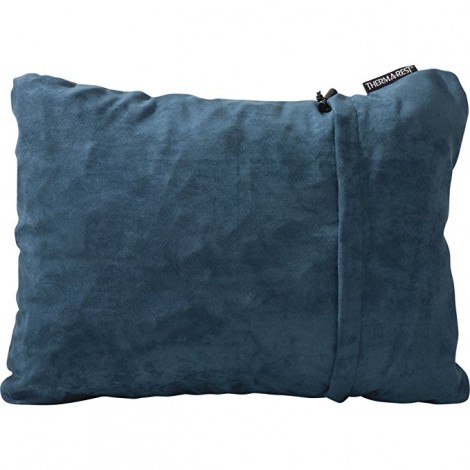 To start off our list is a highly rated and popular travel pillow amongst many campers. When you're packing for an outdoor camping adventure, you're sure to find that your car is already chock full of equipment, food, and gear. The last thing you want to bring is a bulky item, and this travel pillow is compact, lightweight, and most importantly, super comfortable.
Compressible
This comes at a whopping 15 ounces and can be compressed down into a super compact travel bag because of its soft foam filling. This makes it perfect for carrying with you everywhere, as it's small enough to carry in your bag or purse.
Expandable Foam Filling
This super comfortable foam filling can expand once it's released from the compartment case into a thick 4 inches, perfect for your head support, or even for your back, joints, and feet.
Cost and Value
This product is offered in 8 different colors and styles, from patterns and prints, and is even offered in 4 different sizes- small, medium, large, and extra-large. Prices can vary depending on the size, with the larger size increasing in price. Given that you can use this pillow for not just camping, but for flights as well, this affordable product is well worth the price.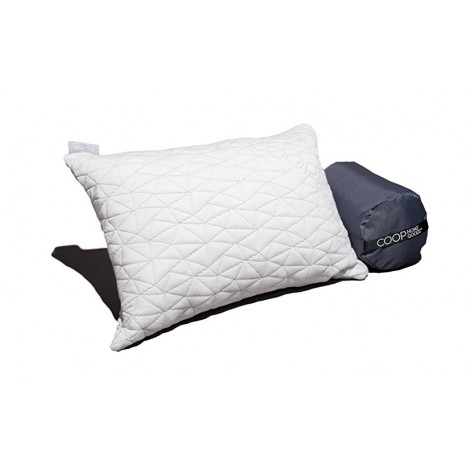 This pillow is so comfortable and provides such a good night's rest wherever you are that the company will even offer a money-back guarantee if you are not satisfied with this pillow- that's how confident they are that you will enjoy this pillow. This also comes with a Bamboo Derived Viscose Rayon Cover, and if that doesn't sound comfortable, I don't know what does.
Free Personal Customization
Everyone has their preferred method of pillows to rest their head-on. Some like a very firm pillow, and some like there's to mold into their head shape. Some like if fluffy, and some like it flat. With their amazing customization offer, you can decide how you want your pillow to be and receive your very own personal foam blended pillow.
Stay Cool Cover
I think it's safe to say that although people have varying degrees in their preferred preference of pillow firmness, everyone likes the cool side of the pillow. WIth their Bamboo Derived Viscose Rayon Cover, the fabric naturally is meant to thermo-regulate, ensuring an even temperature that is ideal, especially during warmer weather.
Cost and Value
This product is personally customizable, breathable, compact, and machine washable. This means that you're sure to bring this pillow with you everywhere. Because this is made from premium material and is meant to last, the price point seems very reasonable. You'll be getting many uses out of this pillow, that's for sure! You can even use it for other parts of your body if you're not a back sleeper. Use it below your stomach if you're a stomach sleeper or between your legs if you are a side sleeper!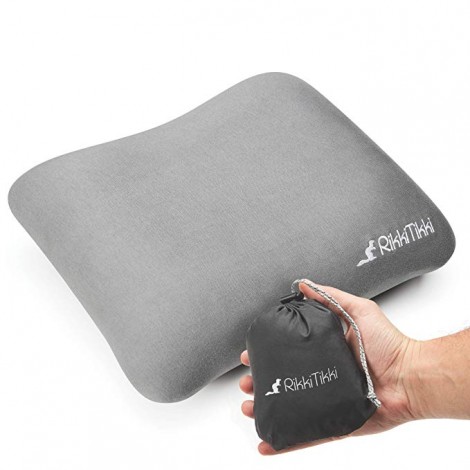 If you want to maximize on your travel space, you might be prone to purchase camping gear that can be air-filled. This RikkiTikki Travel pillow can be compressed down to as small as a pair of socks and comes with its air inflator, making this the most compact portable pillow out there.
Inflatable
Besides the benefits of saving space, this inflatable pillow is quite comfortable for a lot of campers, and some people even prefer the firm feeling of an inflatable pillow or mattress. This also isn't going to cause you to bend over backward, or forwards, out of breath trying to fill up the pillow. This should be able to be filled up within 3-4 breaths.
Self Centering Design
This unique design has an ergonomic dip in the middle once it has been inflated. The dip is perfect for your head to stay comfortable while you have a good night's snooze.
Cost and Value
This product is the most inexpensive of the three so far and is offered in two colors- gray and blue. However, just because this product is inexpensive does not mean it's cheap. It is made from high quality durable thermal polyurethane, which means that it is resistant to oil and extremely durable. Very well worth the price.

4

. Memory Foam Camping Pillow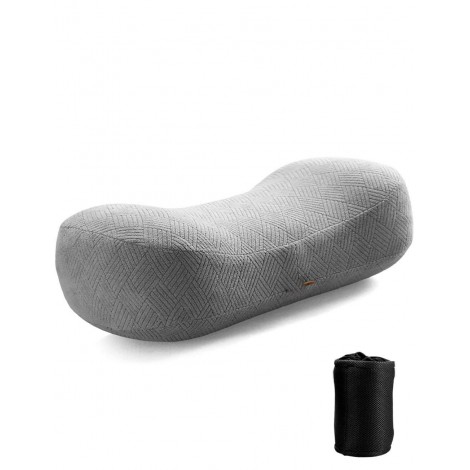 If you've ever imprinted your hand on a high-quality memory foam mattress, you know what high quality is. Leaving a handprint should leave deep imprints that contour to every crevice of your fingers. This pillow is made from such material- made from pure memory foam, you may find yourself replacing your pillow at home with this super soft and comfortable camping pillow.
High Quality Memory Foam
Because of the high-quality foam of this camping pillow, it contours to the exact shape of your head and memorizes it so that your head stays supported and stable throughout the night. This also reduces pressure on your neck, so you're able to save your energy for the camping activities the next day.
Compact
This material, even though it's thick, high-quality memory foam, can be compressed into a small pillowcase, measuring only 11.8 inches by 5 inches, and weighs only 1 pound total. You can easily carry this with you wherever you go and have a luxurious night's rest.
Cost and Value
Given that this is made from high-quality memory foam that can be very costly in regular bedroom pillows, the price for this very affordable for this camping pillow. It's unique shape, breathable inner cover, plush memory foam, and soft polyester cover makes this item a worthy purchase.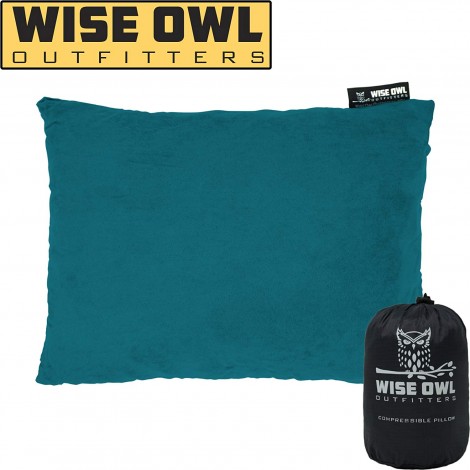 Suede is probably one of the softest, comfortable fabrics out there and this pillow comes with a micro-suede cover that makes you feel like you're sleeping on a cloud. Who says that you can't travel in luxury while you're camping outdoors?
Memory Foam Cushion
Not only is the outside of this camping pillow covered in micro-suede that feels oh-so-soft against your skin, but the inside foam is also memory foam. This ensures that the pillow follows the mold of your head and conforms to your every move. Talk about comfort!
Carrying Case
This pillow can be compressed down into a small carrying sack, which makes it perfect for clipping onto other camping equipment, or travel cases! Hands-free is the way to be when you're on the go.
Cost and Value
This product is offered in a small (12" x 16"), and a medium (14" x 18") and is offered in 5 different colors so that you can find the perfect match for you and your camping gear. The prices only vary in a few dollars per size, is very affordable, and even comes with a money-back guarantee if you're not completely satisfied!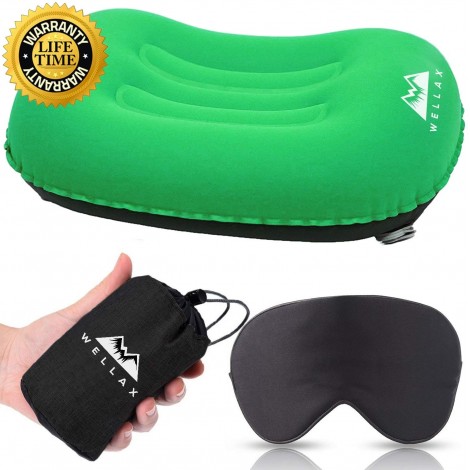 This might be the smallest, lightest camping air pillow we have on this list. Not only is this ergonomically designed to help your head and posture structurally sound, but it is also super easy to inflate and deflate. You can get many uses from this air pillow, and with its tiny compact size, you may find yourselves sneaking this into the movies, using it at your work desk, or driving around with it.
Tiny Compact Size
When deflated and put into the carrying case, the size of this camping pillow is roughly the size of a soda can. You can put this in the side pocket of your backpack where a water bottle would go, and still have extra room! When expanded, this air pillow inflates to 16 x 12 x 4 inches, which is a great size for adults to rest their heads on.
Special Valve
Some campers are opposed to air mattresses or pillows because they can deflate during the night- the specially designed two-way valve prevents air leak, so you don't have to worry about deflation during the middle of the night.
Cost and Value
WellaX boasts a Lifetime Guarantee from this product- if you are unsatisfied for any reason, they will refund or replace your pillow no questions asked. You most likely won't even feel the need to return this, from the positive, glowing reviews and super affordable price point.

7

. MARCHWAY Ultralight Compact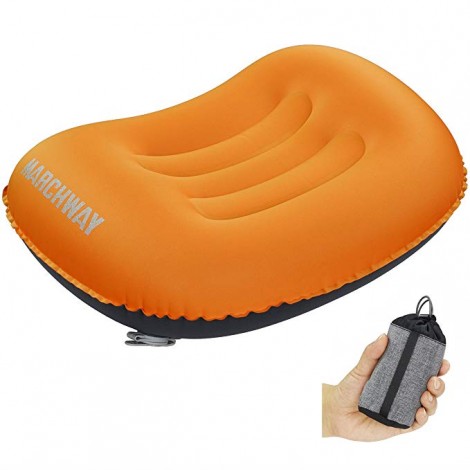 This is also an inflatable pillow that is popular amongst not just campers, but hikers, backpackers, and travelers who have long distances. This too is ergonomically designed to contour to your head, side, or legs (depending on which way you prefer to sleep), and only weighs about 2.8 oz, making it the perfect side companion. With it's fast inflating process, you can save your time on setting up.
Ergonomic Design
This has a unique curved design to it when inflated, and provides a contoured cradle to the shape of your head that prevents slipping. The arced bottom also contours and supports the base of your neck, ensuring a very comfortable, safe way to sleep so that you're refreshed and good as new in the morning.
Versatility
This pillow not only supports your head, but it can be used in to support the back. This can also be used when sitting upright or during large areas of sitting to protect your lumbar and prevent injuries to our lower back.
Cost and Value
This product can be used in a variety of ways in several different scenarios and can be inflated and carried with you wherever you go. Finally, this pillow is very inexpensive, coming in at the most affordable pillow on our list! With its versatility and quality material, you won't find a better deal!



The name of the pillow says it all. Are you the type to like to be cocooned by large amounts of pillows and blankets when you sleep? Then you might want to try this larger-than-average camping pillow. With its cute flannel cover, this pillow can provide the comfortable feel of your home away from home while camping.
Large size
These come in an extra-large size of 20 inches by 14 inches, but because they are inflatable, can be compressed into as small as the size of your wallet. If you find yourselves thinking all the camping pillows out there are made for ants; you may have finally found the pillow of your camping dreams.
Good for Hot Sleepers
Air pillows are specifically great for people who tend to have a higher body temperature and heat up during their sleep. Heat can trap in certain fabrics, causing an uncomfortable night's rest, but this pillow helps you stay cool.
Cost and Value
This air pillow is also one of the more inexpensive items on this list and comes in three different flannelled colors- red, black, and blue. This also comes with a money-back guarantee, and Relentless Recreation prides themselves on customer satisfaction, so you know you won't be disappointed!

9

. Trekology Self Inflating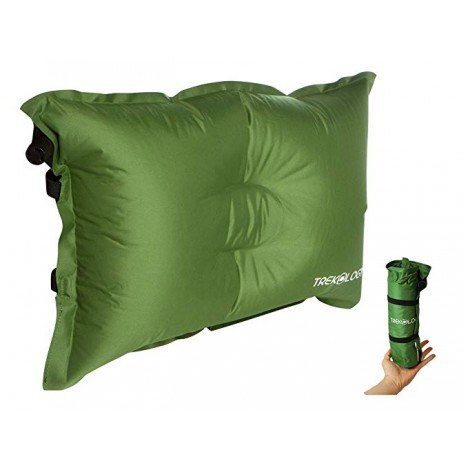 If you want to sit back, relax, and let the pillow do the work for you, this pillow self-inflates so you don't have to lift a finger. With a large size, comfortable fabric, and contoured design, you surely won't regret purchasing this product. The color and style of this pillow exude camping vibes, setting you up for the right ambiance.
Self-inflating
Most air pillows or mattresses require an air pumping device or manual blowing into the valve. What's amazing about this is that it is self-inflating. All you need to do is open the valve, and the pillow will inflate itself. You can blow additional air manually depending on preferred firmness.
Multiple Designs
This pillow comes in two different variations- regular and New Design. The regular is the original self-inflating design that is quite comfortable, and the New Design is shaped to contour to your head.
Cost and Value
The cost of this self-inflating air pillow is also one of the most affordable products on this list. Customers rave about the quality, comfort, and price point of this self-inflating air pillow, and if your part of a large family or camping with a large group of people, ordering multiple of these self-inflating air pillows won't break the bank!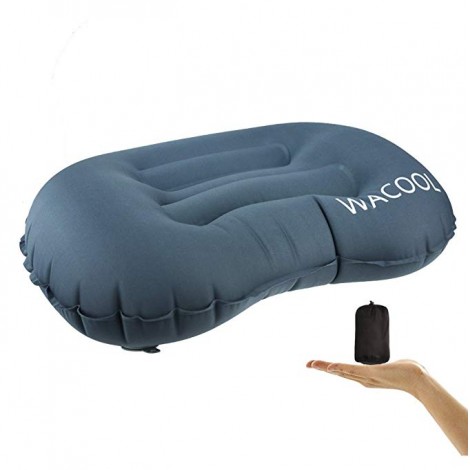 For our last item, we have listed the most affordable and smallest camping pillow on this list.
This tiny camping pillow has all the characteristics of what makes a right camping pillow on this list- it's small, portable, able to be air-filled, ergonomically designed, and last but not least, comfortable!
Compact size
This can be deflated and flattened into as flat as a sheet of paper, then rolled into its self-carrying compartment- which comes out to smaller than a soda can! It also comes with instructions, which make this the perfect item to send your kids if they go camping!
Durable
This is made from sturdy, but comfortable TPU coated ripstop fabric, which makes this resistant to tear or leakage. Because it is also water-resistant, it's easy to clean with just a damp washcloth or wipes.
Cost and Value
This comes in at our Best Value product, as it is the most inexpensive item on this list, but you're still getting all the benefits of a quality air inflating camping pillow. Because of its versatility, you won't have to wait until camping to use this pillow, which makes this a worthwhile purchase.

Subscribe to our Newsletter