10 Best Kids Cots Reviewed and Rated
In a
Hurry? Editors choice: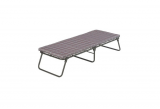 Test Winner: Coleman ComfortSmart

Kids think sleeping bags are cool until the floor's muddy and the tent becomes a late-night river. What's a camper to do when these things happen? Well, we recommend camping cots.

We have all been there! Now, if you are like many other parents, one of your biggest concerns is making sure that, wherever you travel to, your children have a comfortable bed to sleep on. And that's the thing about this list, it's not just about camping. It's about comfort, out in nature, or in front of the TV, or just for quick makeshift nap time. Also, a lot of our picks of the best kids cots on our list do double duty as a kid and adult beds so feel free to use them as guest beds when one surprise guest too many shows up at your door.
Standout Picks
Criteria Used for Evaluation
Ease of Use
Criteria Used to Evaluate Kids Cots
We made it! When we first began our adventure into researching and evaluating the market for children's cots, we must say, we were quite taken back by the vast amount of options to look at and analyze. In this, we could not see the finish line! It was then that we realized why so many parents resorted to impulsively purchasing a cot or settling for a cheaper product, like an air mattress. However, with our experience, we know that making such a purchase can only result in more stress and frustration. So, we made it our dominant intention to fill this guide with highly-valuable content so that parents can make well-informed decisions and get the absolute best kid's cot based on their needs.
Now, in our article today, we explored 10 products, all of which were evaluated on a specific list of criteria, which we will discuss below. Our genuine intention was to ensure that you get your pennies worth for the purchase. So, we took the time to make sure that each product would not only surpass our standards but yours. With that, we have a question for you,
What product spoke to your needs?
As we have discussed in this article, there are so many different children's cots to pick from, which evidently has its advantages and disadvantages. As a responsible consumer, there are a few different things that you can do to ensure that you are receiving a high-quality product before even purchasing it. There is one thing in particular that most consumers fail to do – which typically results in frustrating phone calls trying to get a refund or a product that ends up breaking. Our goal with this article was to avoid all of this by showcasing only the very best products. To do this, we invoked this "one thing" to show you how effective it is. Do you happen to know what we are talking about? It's all about evaluation and thorough research. Now, the reason why people don't like to do this is that it does take time. However, with this article, we did all of the work for you! In fact, we scanned all online markets and in stores and, what you see in this article are the very best kids' cots out there. Each product was rated and analyzed based on a standard list of criteria, which we are about to share with you. In this, we have learned a wealth about the market – and which is why we were so excited to share it with you. So, if you are interested in learning more about our process and thoughts, keep on reading!
Build Quality
When it comes to children's cots, one of the most important features to parents is the build quality. They want to make sure that, whatever their children will be sleeping on is high-quality. In this, when we began to create our list of the best products for you to consider, we took this thought into consideration. As we looked at each product, we carefully looked at each product, how the manufacturer talked about the cot, and what previous customers said about their experience, whether positive or negative, in their reviews. In this, we were able to get a deeper understanding of the quality of the cot. What we can say, after spending a wealth of time studying these cots, is that all of the products featured on our list are most notable for their build quality.
Travel Use
Depending on your specific needs, you might need to consider the travel use of a kid's cot. With this, we wanted to make sure that we offered parents a wide selection of products to match everyone's needs. What we learned was that each cot that is designed is created for specific reasons. In other words, there are specific cots for travel, specific cots for camping, and specific cots for daycare. So, as we evaluated the market we carefully looked at these features and evaluated them based on what previous customers were saying regarding their experiences.
Comfort
The whole purpose of a cot is to make sleeping more comfortable, especially for children. With this being said, we were evaluating the market for the best children's cots, it was important for us to figure out what products offered the best comfort. Now, what we learned, was that the very best brands on the market ensured parents their products were comfort with high-quality, soft, and durable materials, alongside warranties. For a product to make our list, they needed to be made from the very best materials and be praised by numerous previous customers in their reviews.
Ease of Clean
Let's be honest, how much time do you want to spend cleaning a cot? Chances are, if you could simply wrap a cot sheet around the bed, you might be okay with cleaning the sheets one per week, depending on your cleaning standards. However, what many parents might not realize is that children's cot still may need some additional cleaning to prevent the build-up of bacteria. There are many different products that you may use to clean the exterior part of the cot. When we were evaluating each cot for our list today, we wanted to make sure that each product was easy to clean, so you are not spending any large amount of time doing the cleaning. This meant, not having to take apart the cot, unscrewing parts, or anything of that nature.
Durability
The last thing you want is to purchase a children's cot that breaks down after a few uses. In efforts to avoid this problem, we carefully ensured that any product that earned the "best in class" title was highly durable. Now, as a consumer, there are a few different ways that you can make sure a product is durable. For one, always look at the quality of the materials. Look at the product description and pictures and see the structural integrity of the product. You can also look at previous customer reviews to see if anyone is talking about durability, whether positive or negative. This is precisely what we did. In this, each product that we shared with you today is known to offer some of the best value as far as durability on the market today.
Cost to Value
In our professional opinion, one of the most important parts of the evaluation is measuring the cost to value relationships. This is a very simple process that most consumers tend to skip over because it's time-consuming. However, this could make the difference between a high-quality cot that can handle a camping trip and one that rips the moment a stick falls on it. To figure out the cost to value relationship, we highly suggest looking at the price of a product, in comparison to the rest of the competition. Knowing where a product is positioned as far as pricing is already a strong statement. From there, if you begin to break down the value of the product, you might be able to start understanding why the product is priced at a certain point. From there, we advise consumers to compare many different products doing the same thing. In this, you can figure out what products are priced fairly and others that are not.
Design and Color
For parents, when purchasing a children's cot, it's all about the value and the features. You want to make sure that the product is comfortable and supports your child when sleeping. However, children are very different. The last thing they are probably thinking about is the comfort and value of a cot. They care more about design and color. If they had their choice, they would pick a cot that had their favorite cartoon character on it. With that being said, when we created our list of products, we wanted to ensure that each product came in some unique color options for children, while also boosting the value that parents are looking for.
10 Best Kids Cots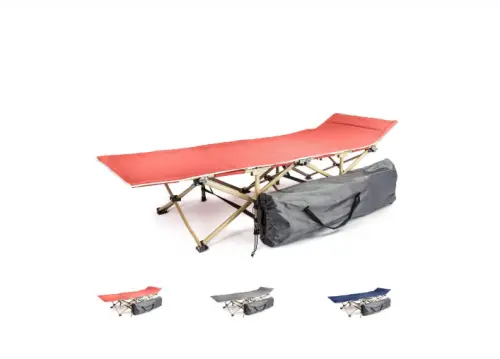 The best thing about the KyRush It is that it works for everyone. It's lightweight, It's durable and it works for both kids and adults. It's comfortable and it's really quite good at doing what we want from camping cots, it gets you off the ground. It also has a tiny footprint at less than one square foot of space so you can get it in and out of the great outdoors without a whole lot of trouble.
Durable
This cot is built to last, with wide metal feet and easily foldable metal legs. The bed itself is made of tough non-rip fabric so it should stand up well to whatever nature and you throw at it.
Lightweight and small
The total weight of the cot is about 15 pounds, that's light but if you're doing some big hiking and camping you'll have to take that into account, but it doesn't take up much room and folds up to about square foot of space.
Cost and Value
A bit pricey but worth it as this is one well put together product. Its footprint is tiny and it's a great way to guarantee a good night's sleep on the range.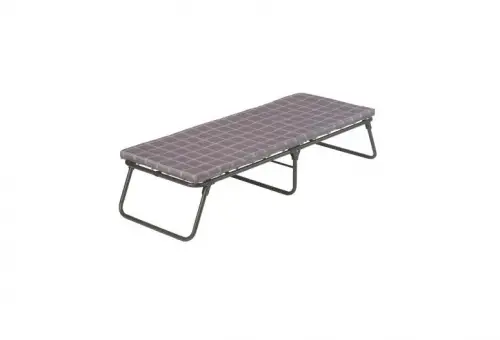 Known as one of the most reliable brands of outdoor gear and active equipment, this outdoor gear manufacturer has produced one of the best cots in the industry today. With plenty of reviews to back up its premium comfort, this cot can withstand up to 275 pounds and accommodate a person five to seven inches in height. Let's talk about the Coleman ComfortSmart Camping Cot perfect for both adults and kids.
Support
A proper coy should always have the best support system. Design with superior quality in mind, the support system includes a coil suspension design that allows for plush comfort. Other than that, the material is made from a durable steel frame to wit practically any individual. With a design such as this, this serves as a perfect example of superior craftsmanship and construction quality.
The Mattress
As one would expect from a cot, the material used to create the mattress has to be of the best quality to ensure premium comfort. Therefore, this manufacturer has included a camping cot. Bed-like comfort thanks to the thick foam mattress. Other than this, this cot is easy to unpack, refold, and store away, making the ideal portable cot.
Cost and Value
When one takes the cost to value into consideration for a product that will be used outdoors, it is important to look at the durability and comfort of the product. What's that in mind, we can say that this cot is built from one of the most durable materials in the industry. For the price, we can say that this cot is easily one of these most affordable out there today, making it easy to reach premium comfort even while you are camping.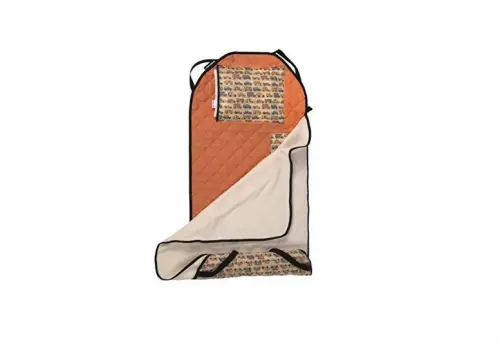 For parents that want to ensure their child comfort and well-being, this manufacturer has produced a tot cot that is of premium quality that can practically be taken anywhere. Whether it is for preschool or used as a daycare bedding a solution, a parent will rest assured that their child is safe, comfortable, and enjoying their new sleeping mat. Let's talk about the Urban Infant Tot Lot Bedding Solution.
Easy Solution
This premium tot cot is known as one of the best nap mats in the industry today. The reason being is that it offers an easy solution for all-day comfort for any child. Easy to carry, and easy to unpack, all a child has to do is unroll it and begin enjoying it. With a quilted lining, an added blanket, and a small removable pillow, a child will have the best slumber.
Attachable Qualities
Once a child unrolls the bedding, all they have to do to secure it is attached for elastic corners to the cot legs or the mat corners. With this type of design, an individual is ensured that the batting will not slip off of the cot. Perfect four children that roll around a lot in their sleep.
Cost Per Value
When considering the cost to value for a product such as this one, comfortable materials, and durable design are of primary importance. I mean, if a child is going to be sleeping on this it has to be made from some of the most comfortable materials to ensure a good slumber. With that said, we can say that this is one of the best-designed child cots available today. With eight colors to choose from, a parent can gift this to their child while receiving a gift in return, knowing that their kid is comfortable and happy sleeping in their new cot.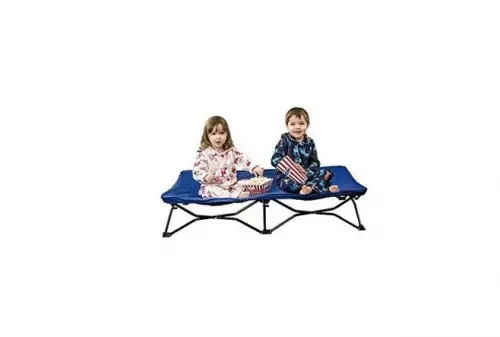 When it comes to a parent's number one priority, their child's well-being and health are at the top of the list. Therefore, this brand completely understands the importance of creating a reliable product that is meant to last. We are eager to share with you the first of many great products on this list that are designed and manufactured with comfort and reliability in mind to ease a parent's worry. Let's talk about the Regalo My Cot Portable Toddler Bed.
Design
A toddler cot bed is used as an easy to set up a method for sleepovers or camping. With that in mind, the design of this toddler bed is portable and folded down in seconds making it easy-to-carry cot for any camping excursion without losing excellent comfort. Made from a canvas material that is considered extremely sturdy, the liner of the bed also includes reinforced stitching to handle a child's weight.
Comfortable
Other than a reliable design, this manufacturer understands the importance of a child's comfort. Therefore, they created a portable cot that can be taken anywhere without losing comfort. In fact, the material is made from a plush and durable fabric that adds extra comfort and snuggles the child. Also, a parent can add a fitted sheet for added comfort.
Cost and Value
When taking the cost to value into consideration for something as important as a toddler bed, can a parent really put a price on their child's comfort? With that in mind, we can say that this cot and portable toddler bed is designed with some of the best materials that make it a heavy-duty cot for any child to enjoy. Perfect for sleepovers at Grandma's or a picnic at the park, a child will be comfortable in this product.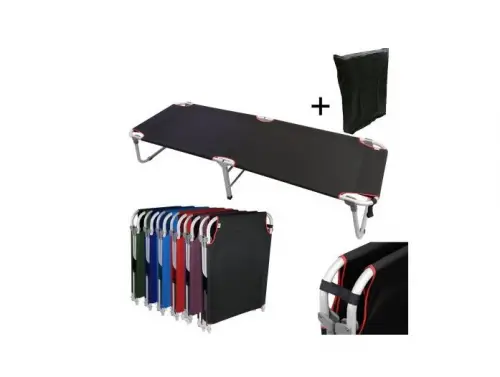 It is time to talk about the big boys of the cot industry. This manufacturer not only creates and designs comfortable and easy to use bed cots for camping, but they are also made from military-grade materials. Let's talk about the Magshion Portable Military Fold Up Camping Bed. Let's cover two of the most important points!
Portable
As one would expect from a camping cot, the ability to easily pack and go is essential. With that said, this manufacturer has included a free storage bag that allows for an individual to easily take it with them wherever they go. Whether you plan on camping or want an easy sleeping solution for an overnight stay at a friend's house, the best portable military cot is comfortable and easy to carry.
Military Materials
Now, what makes this brand extremely notable is that this car is made from military-grade materials. In fact, it includes military-grade steel and the cloth is made from an Oxford fabric that allows for a maximum weight of 300 lb. With that in mind, an individual can rest assured that their cot is made from some of the most premium materials in the industry.
Cost and Value
When talking about a product made from such quality materials, it is important to look at the details behind the manufacturing process. With that in mind, we can say that this cot is made of from some of the best and premium materials out there today, allowing an individual to easily purchase a military-grade and portable camping bed. When the cost to value is concerned, we are extremely and pleasantly surprised at the new low price of this cot, making it one of the most recommended sleeping solutions out there.

6

. Disc-O-Bed Youth-O-Bunk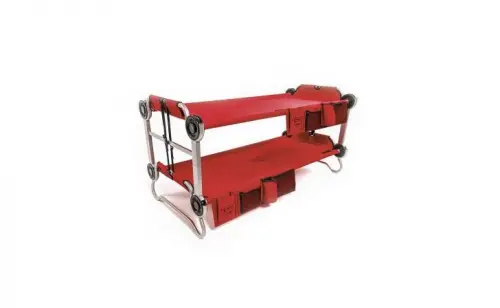 Alright, it is time to switch gears and introduce one of the most innovative products on this list. This child cot offers multi-use function alongside a well-manufactured design with premium construction. Not only that, but your child will thoroughly enjoy sleeping on one of the coolest cots available today. Let's talk about what makes the Disc-O-Bed Youth Kid-O Bunk one of the best child cots in the industry today.
Design
Overall, we have never seen anything as cool as this cot. In fact, the multi-use function makes it one of the most versatile items that a child will thoroughly enjoy. A child can easily either use it as a versatile bunk bed or two single cots. Other than that, a child can also use it as a sitting bench thanks to the ultra-strong and durable manufactured materials. Lastly, this multi-use bunk, cot, or bench includes two organizers so a child can play with his or her favorite toys at a moment's notice.
Take It Anywhere
Now, a parent would expect that there would be some form of assembly included. Well, there isn't! In fact, this multi-use bunk and cot can be easily transported and stored anywhere for perfect indoor and outdoor use. Actually, this manufacturer has also included a durable easy to carry zippered bag with a strap. Alongside these features, this cot can withstand up to 200 lb of body weight per single cot.
Cost and Value
Now, before taking the cost of this product into consideration, it is important to look at the solution that it offers. And not only serves as a single-use cot, but it can also be used as a bench and bunk bed system. With that in mind, the cost reflects the quality build and durability of this product. As one of the most high-end child cots in the industry, the price is considered more expensive than many other cots on this list. However, for the quality, compact design, and functionality, we can say that it is worth it.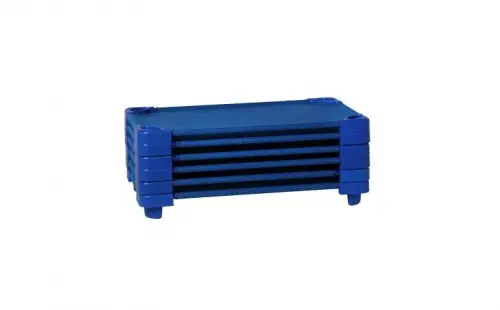 If you are a preschool teacher, then we have one of the best products for you to ensure that the kids are comfortable and happy with their experience. When it comes to nap time, it is essential for all kids to have the best possible slumber. Otherwise, you are the one that has to go through the wrath of a cranky child. With this in mind, we want to share with you a wonderful solution, the Sprogs Stackable Daycare Cot.
Frame
This manufacturer makes it easy for any preschool teacher or daycare to have the perfect stackable and easy to use nap time cots. The design includes a 16 gauge steel material that provides maximum durability. Other than that, the cots are stackable for an easy storage solution. With 150 pound of bodyweight capacity, every child will have the perfect nap.
Perfect For Daycare
The primary reason this item is perfect for daycares other than the solution it solves is the construction materials that went into creating it. The kids can sometimes have accidents and are known to leave a trail of messes. Therefore, this manufacturer created the mesh fabric to be easy to clean and nonflammable which features a vinyl coating to ensure long-lasting use.
Cost and Value
When taking the cost to value into consideration for an item such as this one, we believe that comfort and strength are the most important aspects, especially when it comes to child safety. With that in mind, we can say that the construction qualities of the stackable daycare cots are made from some of the best materials in the industry today. Not only are they easy to clean, but they are also easy to store and easy to use. When looking at the cost, an individual should notice that it comes in a pack of six.

8

. REDCAMP Folding Camping Cot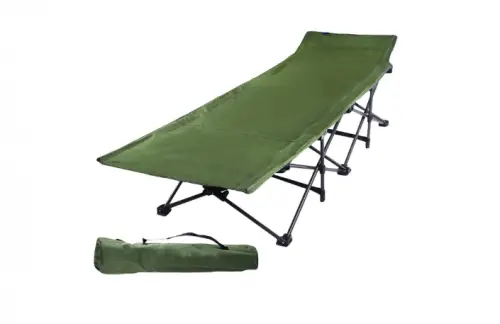 I know I know, again with the adult, kid crossover, with the nice raised headrest. But hey we're all about finding quality and low cost and these great versions of kid/adult cots just keep crossing the transom. The Redcamp comes with steel construction, breathable polyester construction. It doesn't quite fold down small enough to get into your pack but it'll easily fit into your trunk if you're up for some car camping.
Fabric Materials
The polyester fabric is breathable and easy to clean. It also supports up to 250 pounds so if the kids all want to hop on and sit together on this great movie-watching bench it's up to the challenge.
Multi-Use
A makeshift bench. A simple guest bed, and easy to set up. Just keep this handy as the more people you need to set somewhere you'll find as many uses for this versatile piece of equipment.
Cost and Value
We can say that this product offers the same features as many other cots on this list. But the price is a bit past midpoint. We think it's still a good value considering everything you're getting for the money.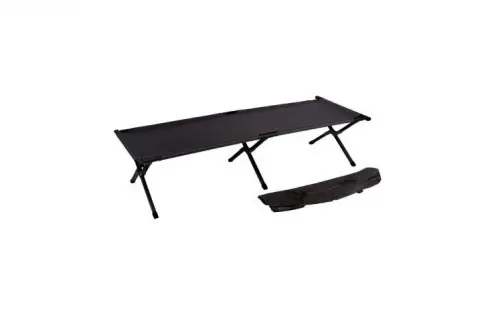 From one of the leading-edge companies dedicated to providing quality products for both home and outdoors, we are eager to share with you one of the best portable camping beds and cots on this list. With a simple design that includes no assembly, let's talk about the Trademark Innovations Portable Folding Camping Bed and Cot.
Lightweight Design
When it comes to developing and manufacturing premier products, this brand knows exactly what people within certain niches are looking for. With that in mind, we can say that this premiere quality outdoor camping bed and cot is made from some of the best materials in the industry. In fact, the design of this cot is engineered to fold in half to ensure maximum portability. As an added bonus, this brand has included a soft and easy to use carrying case.
Comfortable Durable Materials
Now, when talking about something as important as an item that a person will be sleeping on, it is vital to include materials that are both durable and comfortable. We can say that this product is made from some of the best and long-lasting materials that ensure the longevity of this product. Whether an individual uses this cot as a camping bed or for a college dorm, comfortable sleep is not even a question.
Cost and Value
It is without a doubt that this product is made from some of the best materials in the industry today. However, it is the trademark innovation's long positive relationship with consumers that make this a trustworthy product. When it comes to the price of this product we can say that it is considered a medium-grade priced item. Essentially, the price of this item is competitive but also worth it.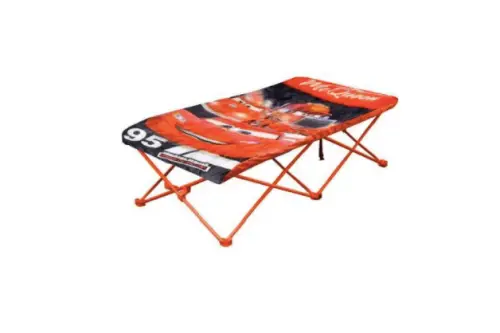 Finishing off this list of some of the best kid cots, we wanted to share with you what we think is the cutest cot of them all. This portable travel cot is ideal for any princess to have the perfect slumber party. Made from Disney, let's talk about the Disney Kids On the Go Portable Cot.
Design
Now, to a child, the most important aspect of this product is going to be the beautiful graphics. However, to a parent, the most important aspect is the durability and design of this item. With that, we can say if you are a parent you can rest assured that your child is sleeping on one of the best quality cots created today. The design allows for easy storage and is great for traveling on the go. Lastly, when children are involved everyone knows that messes are bound to happen. Therefore, the material is made of 100% Polyester that is easy to clean.
Graphics
What might be the coolest aspect of this sleeping cot is the graphics. Manufactured by one of the world's most famous brands, an individual can choose between Nickelodeon characters or Disney characters. For the princess of the party, why not go with Sofia the First? For the aspiring race-car driver, why not go with a cool look from the movie Disney Cars?
Cost and Value
When taking the cost to value into consideration for an item such as this the durable material and comfort is what is of primary importance. With that said we can say that anything that Disney puts their name on is going to be made of quality materials. Therefore, we believe that for the cost this item is completely worth it. I mean, where can you get such cool graphics that all kids will love?

Subscribe to our Newsletter