Best Futons Reviewed & Rated for Quality
In a Hurry? Editors choice: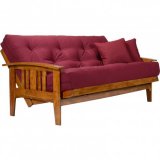 Test Winner: Nirvana

There are a solid handful of reasons why you need to replace a couch with a futon. Gone are the days when futons and
pull-out beds
were considered acceptable only in dorm rooms. Also gone: the era of the boring and simple wooden framed futons. Space isn't in abundance for most young adults, and there's a whole industry out there looking to make multi-use furniture in order to solve that minimal space issue.  The other big use for futons or
"hide-a-beds"
in the modern world is for guests, expected or otherwise. Here is a list of the ten best futons on the market right now, with a bit of flavor thrown in for the sake of an expansive and varied selection.
Standout Picks
Criteria Used for Evaluation
Features
As the futon was invented to be a cheap alternative for a chesterfield with a pull-out bed within it, they, unfortunately, got the reputation of being cheaply priced, but more abhorrently, cheaply made. This just isn't the case anymore -- not entirely anyway. We do have a few budget futons or sofa beds on this list, but we made sure to only include them if the product specifications and user reviews stated that they were well made.
We don't have time to go flushing away money on futons that are so poorly made, that they won't last a few nights, so why should you. Even the simplest and most cost-effective options on our list come with glowing recommendations from all those that took the leap. The build quality can differ from product to product based on so many different factors. In no particular order, you want to keep your eyes on the quality and materials used in the framing, metal is a great choice, and reliable in most cases, while solid wood will nearly never fault and remains cream of the crop. The additions to the standard array of futon ideals should also be made with those high-quality materials.
The mattress (removable or permanent) should be scrutinized harshly because therein lies (futon pun) the majority of what you're investing in. Get something with comfortable padding, springs if you can, and that comes in a delicious covering that will suit your space. All of our choices exceed most standards in quality -- yes, even our budget-friendly choices -- and nothing you deem worthy of your time and money should dip below that.
Brand
There's a whole lot of competition in the furniture design and manufacturing world. Which is a delightful thing for a consumer, because you wind up getting a much wider range of products to pick from. When narrowing down our list, we often looked for futons that didn't just come as a simple sofa bed, but rather offered the consumer something a bit more.
Examples include side armrest trays or shelves, under sofa storage, or extremely modern flares. Those flares in the design are what most people will spend the majority of their time shopping for furniture picking through. After all, it's got to fit in a space you've more than likely already got picked out, therefore the options must present the ability to fit within it. The modern take on a lot of these designs help bring the tried and true fashion of the futon into the twenty-first century, and in a lot of cases, completely disguise the guest bed as a beautiful piece of sofa goodness.
Size
It's no surprise that futons are designed to be both sofas and beds, which is why the size of the thing comes into play in a big bad way when discussing what options you should be looking at. There's a wide range of sizes on the market, from twin beds, to doubles, all the way to king sizes. These will help you narrow down your search, as you (or a guest) may need to sleep on it, you've got to make the call on how big you want that bed to be.
Math geniuses will understand that both the sofa and the bed are the same measurement, and for that, we'd like to offer you a single gold star sticker. The size of the bed will obviously translate directly into the size of the sofa you will get. The biggest thing to consider when weighing options for seating it how many it will comfortably sit. Loveseats and singles are usually good for a maximum of two, but if you're looking for a king or queen-sized bed, you might end up with a three-seater sofa. Keep that in mind, as we did, when plucking the items for our list.
Value
As with all things, price is a major factor in both your ideals for shopping in the marketplace and our guides when putting together these kinds of lists. There has to be some disparity in the prices across the board, but we generally try to keep the ranges within the contemporary ideas of the "everyone" framing.
At the top end of the everyday futon marketplace, you're looking at the rough price of a cheap-ish couch. Nearer the thousand dollar mark. And it's here that you will find extremely long-lasting (often accompanied with a lengthy warranty from the manufacturers), and often more unique pieces of furniture. You'll generally get more options out of your futon at the top end of this price range, and all of the build materials (the ones we spoke of earlier) will be of the highest order. But it's the budget and or median prices where our selection of futons truly shines.
There is a history of futons being cheaply prices, and for the most part, that still upholds today. Unfortunately, the stigma around their quality remains attached to that fact, but that's for a different section to explain. The cheaper end of the scale has a whole lot going for it, as this is the common end of the marketplace, you will see far more risks taken by designers and manufacturers.
Everyone, at this crowded end of the price range, is looking to stand out, and that makes for a plentiful field of clovers to pluck from. Along the same lines as nearly every other kind of market, the money you spend on the product you buy can usually be translated directly into the quality of the product you wind up with, so we suggest not dropping below the few hundred dollar marks, and being cautious of anything south of it.
Durability
If you're going to spend the money on a nice futon you want it to stand up well to your life. It needs to be strong enough to handle cousins, kids, and your uncle who really likes cake and wine. And let's be honest some futons have a reputation as being a bit flimsy.
So part of what we're looking for here is futons that are not only strong but also lightweight and easily portable. These things don't necessarily follow, but we've worked really hard to find futons that will adapt to your lifestyle and stand up to the beating that life tends to hand out.
Best Futons
1

. Better Homes & Gardens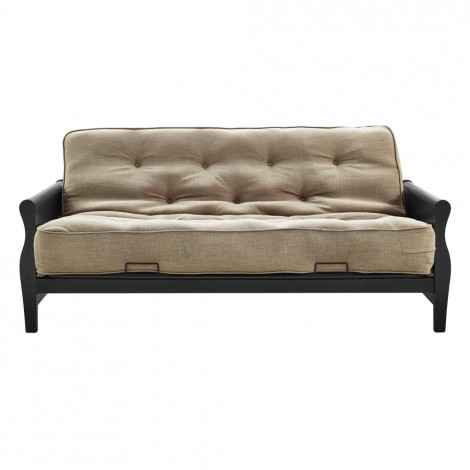 The fine folks at Better Homes & Gardens aren't strangers to winding up on GearHunt lists, and their premium selection for futon options deserve to repeat their past successes. Here's we've got a bright spot on the market, which is exactly why it has found the number one spot on our guide. The Solid Wood Arm Metal Futon with Oatmeal Linen is a superb example of the evolution seen in the design and development of modern futons.
The Couch
As an upright chesterfield (our couch for all of you Yankees reading this), the Better Homes & Gardens Solid Wood Futon is a gorgeous addition to any home. It's got that beautiful wood structure that can become the centerpiece to any living space or room. The side panels on the arms of the couch have a wonderfully simple, and classically retro "magazine shelf" which was often used, back in the day, for holding your TV Guides.
Mattress Business
When considering futons as an option for either your own bed, of a guest's stay, we don't normally believe that there can be options that are comfortable. It's a common jest that when someone offers a futon to sleep on, you're in for a rough night of semi-sleep. But the Better Homes & Gardens Solid Wood Futon has an amazingly comfortable, and surprisingly thick mattress.
Cost and Value
Playing the game is easy, but being the master of the game is a lot harder. Better Homes & Gardens have really proven what they've mastered here with the addition of this futon to their line-up. One of the best couches on our list and one of the best beds on our list combine for an obvious number one, even at a slightly more middle-ground price tag.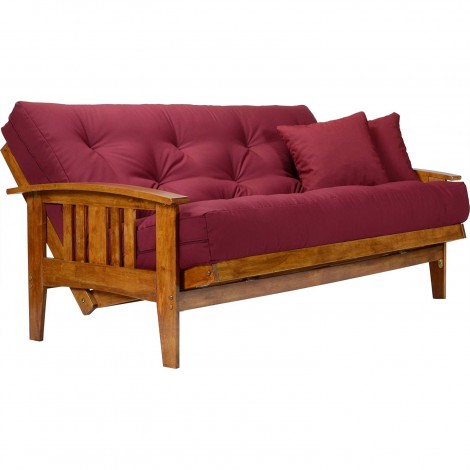 In a come as you are type of way, the Nirvana futon might be the most brilliantly beautiful piece of furniture you could buy for your living space. There's a gigantic shipping container just oozing with class, and charm in the form of a futon couch and bed with their Westfield Futon Frame. It speaks of an old-time, a past day, an aesthetic that is greatly underappreciated in the often minimalist sensibilities in today's furniture designs.
Wooden Decor
Often we overlook the days gone for the ones that lay ahead of us. In almost all cases, this is a benefit to our lives and a real voice for the every-growing manufacturing and design industries. But we've moved away from solid wood, with a real wood look and feel. It's an aesthetic that has been generally lost in time and crops up only in that exposed-brick kind of lofts. The solid wood frame of the Nirvana Futon makes it one of the most gorgeous couch/beds on earth.
Pole Position
Excuse us while we use a racing term on a list that is numbered. It just fits too well. The Nirvana Westfield Futon makes a high pole position due to its unique ability to have more than just the two standard positions of its frame. It can, obviously, be a sofa or a bed, but there's a lounger position in the middle for a relaxing semi-sitting position.
Cost and Value
The design and construction of meticulously crafted, and solid wood furniture is not a cheap path to take, and the slightly above average price for the Nirvana Westfield is going to reflect that extra little bit of love and care that has gone into this product. It's a wonderful piece and brilliantly beautiful addition to any home.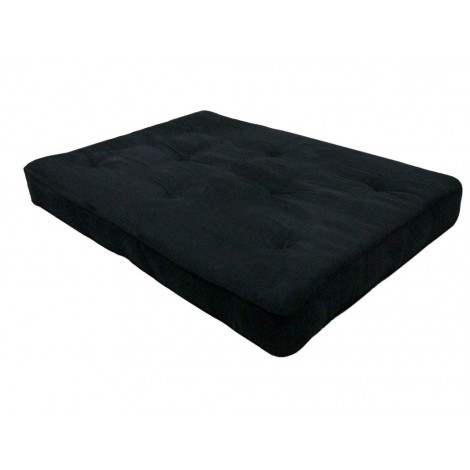 There's always room at the top of our lists for the classic and contemporary, and that's exactly where the DHP mattress comes into play. Sure, it's not a futon all on its own, but this full-size mattress is designed to fit on any standard full-size futon frames.
Comfort and Coils
Made with comfort in mind, the DPH 8-inch coil mattress houses 15-gauge solitary encased coils for a premium spring. On top of that, there are dual-layered foam and polyester, topped with a wonderfully soft and easy to clean microfiber cover. All of this makes for an amazing end product, that is the perfect addition to any futon frame old or new.
Colors for Creature Comfort
With six completely beautiful color options, the DHP Futon Mattress becomes a really compelling option for those just looking for a new futon mattress. The colors available from DHP are also a collective of rather adult options as well. There's nothing, name or shade that you'd ever dare to find in a dorm room. Rather, you've got options like Chocolate, Charcoal, and Merlot. They're absolutely stunning.
Cost and Value
Many of the reviews on this list consist of complete packages. With most of the futons on the market, you get both futon and frame, which is why the DHP Premium Futon Mattress is an exquisite bite to eat at an affordable price. The quality of the mattress, and the sensational color options to choose from making it one of the best options out there for mattress replacements.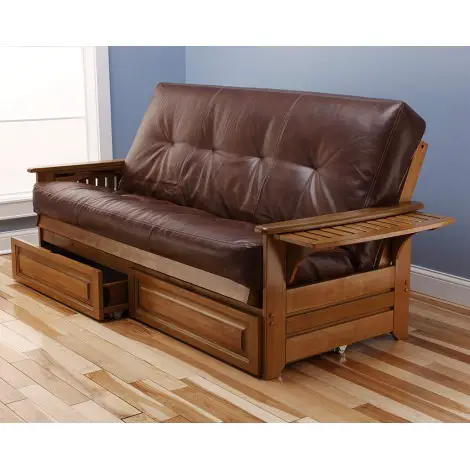 Well, that's a real winner for the worst product names in the history of the term products. What may look like the laziest attempt at a Scrabble word that wouldn't get past any of our aunts, actually turns out to be a stunning premium futon, built for luxury, and to push past all of the boundaries provided to it by the twenty-first century.
Mattress Envy
Much like our last entry, the beautiful and absurdly-named Kodiak Futon has inarguably one of the best selections of mattress options in any market, futon or not. We're talking nearly twenty varied picks from the cream of the crop that range greatly from faux leather (like the one we chose to highlight here, the Oregon Trail Saddle), to suedes and linens. They even have some pretty great patterns on top of those various covers.
Under and Sides
One of the best features of the Kodiak Futon Bed is the abnormal additions to the couch and bed itself. The underside of the futon houses two sliding drawers that are surprisingly large and raised off the ground, being attached to the bottom of the frame means that there is no damage done to the floor below your futon. The sides of the couch, the arms in particular, also have lofted shelves to act as side-tables without the need for additional furniture.
Cost and Value
The Kodiak *insert disgustingly long and irrational set of numbers and letters* is one of the most premium futon beds on the market, this side of the "absolutely niche and couture furniture" line. It's not cheap, but you get a futon that doesn't cut a single corner either, matching the price tag.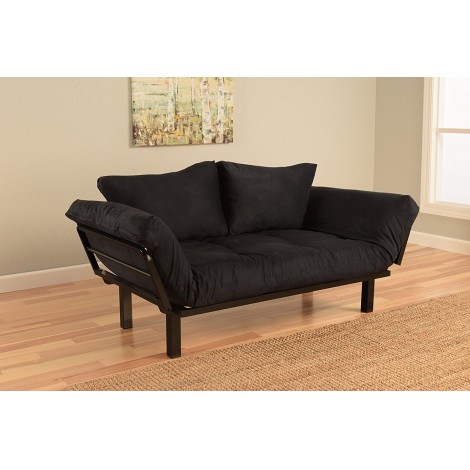 Into the breach of the middle-grounds of our list and we've got another Kodiak product to brag about. This is yet another fine display from the furniture manufacturers and designers, and it comes in a unique fashion when you compare it to most of what you'll find scouring the marketplace for futons. Kodiak has already proven to us that they're willing to go slightly above the call for their futons. The Futon Lounger is no different.
Lounging
Instead of packing in a bright and spectacular futon within the normal confines of standard and tested sofa designs, this lounger from Kodiak is more of a deep love-seat, or day bed when folded upright. The deep-set sofa allows for more of a lounging and relaxing atmosphere when you're on it, and this can drastically change the way you enjoy your space, or enjoy some entertainment.
The Spice of Life
Much like the previous Kodiak offering you see on this list, there is a distinct, and deep-set of options for covers and patterns with the Best Futon Lounger from Kodiak. Twenty-three options in total listed on the main product page. Ranging from classic shades to crazier patterns, making this futon one of the most versatile futons there is. You're almost guaranteed to find one that has a pattern to fit your space.
Cost and Value
The overall build of the Lounger from Kodiak is a slightly more simple, and unique shape, and there is zero option for things like leather (faux or otherwise) for coverings, which translates into one sweet budget futon. Mix that with the manufacturers track record in care, and attention to details and the value is nearing absurdity with the Lounger.

6

. MEBLE FURNITURE & RUGS


Calling all Andy Warhol fans! If you're looking for a chic and extremely practical piece of furniture without breaking the bank or buying a one-off couture design, then this is the futon for you. The Meble Furniture Vegas Futon Sofa Bed is an astoundingly brilliant, and elegantly edgy piece of furniture.
Paris is Burning
The haute couture era of fashion, art, and design may have begun and fizzled off somewhere near the end of the '80s, but everything around us out in the world suggests that millennials have had enough of a universe without the trends, as a lot of those aesthetics are back in a big way. The Vegas Futon Sofa Bed from Meble Furniture is a prime example of that extraordinary revamping of a day-long gone.
Queen or 3
It's not very often that you can find yourself glaring at a futon sofa bed that can not only comfortably sit three people when in full couch mode, but also fold flat into a queen-sized bed. Generally, the world of futons and guest beds average around the love-seat and double bed area, making the Meble Vegas a wickedly gorgeous, and an extremely useful futon.
Cost and Value
There's a hefty premium price tag attached to all of the glorious perks you get with the Vegas Futon Sofa Bed, and that may scare some off, but at the cost of removing one of the best futons ever (let alone on this list) from your choices. This is a piece of furniture that takes practical and contemporary and fuses for one brilliant futon.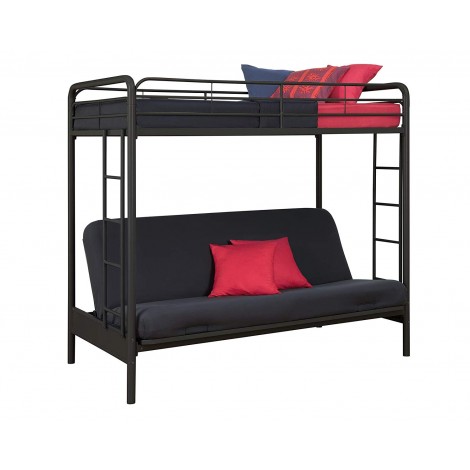 Another DHP wonder to add to our list. As it turns out, there are a few select manufacturers and designers out there absolutely slaying the marketplace for inexpensive, but high-quality futons. This one happens to be a slight cross-over with another guide I'm writing (sneak peek), but fits the bill here just fabulously.
The Bunk Mates
Most of the time you're going to be searching for a futon sofa bed because you want to put a bed -- or at least the potential of a bed -- in a certain space within your abode. The Twin-Over-Futon from DHP does that amazingly, with the sofa bed on the bottom, but on the top, there's an entire twin bed ripe for the napping, or youth. You might not necessarily conceive that whilst shopping for futons, you'd adventure into the bunk bed territory, but DHP gives us one grand reason to do just that.
Structural Emotion
This is the perfect example of having your cake and eating it too. In the busiest of situations, you've got two beds here. In the least crowded, you've got a full sofa, and a bed to climb up onto. The metal frame, with precision construction and meticulous design, is strong, and stable for all of your sitting, lying, or sleeping needs.
Cost and Value
You'd think that the DHP Twin-Over-Futon being a piece of furniture in the buzz-world demographic of "small space living" that it would come with a cool tax, and the price would be just enough over the median that you wouldn't feel bad springing for it. But you'd be wrong. This is almost as budget as futons come, and it has an entire bed floating above it.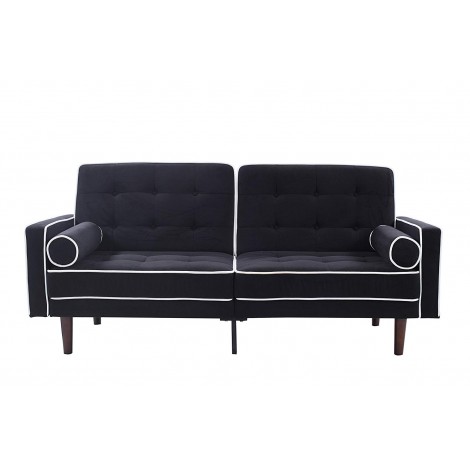 If you've ever wanted to pick up a piece of furniture that your parents probably threw out when they "grew up", or find something that would fit on the set of an Austin Powers movie, then you've wound up at the right place. The Divano Roma Splitback Tufted Velvet Futon is just that sort of thing, and it folds down into a bed!
Modern Retro
We spoke briefly about the resurgence of a retro-chic style, and this Divano Roma sofa bed is not shy on the throwback aesthetic, but there's also a ton of modern elegance to this sofa. The fastening of the cover, the sleek lines on the pinstripes, and the fold-flat design of the sofa bed are just a few standouts that bring this old-school couch into the modern era.
The Split Flat
If there's one thing that the design of this sofa has over most of the other competition on the market, it's the split back of the entire piece of furniture. It may look like it's simply an aesthetic choice, but the split back of the Divano Roma Futon can be dropped or raised separately, meaning that one person can sit up, while another lays down. It's all about comfort and choice, while still looking slick, with this futon.
Cost and Value
On the surface, you'd expect this velvet futon to be pricey, but it's not. The modern design aspects of this distantly styled sofa bed pack one of the lightest punches to the wallet that you'll find on this list, and it comes with the benefits of the split-back design, and the modern-retro styling that people fawn over so much these days.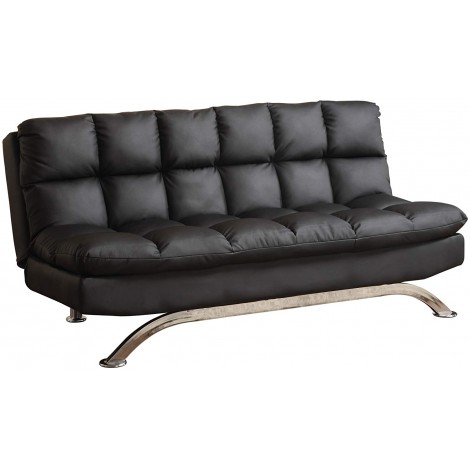 When you ask someone to picture -- in their mind -- what a futon would look like, you'd probably have them conjuring up mental images of something similar to this. But the Adelle Futon from Furniture of America kicks up the class a notch and evolves it to feel a little bit more like it belongs in the twenty-first century.
Big. Comfy. Couch
We used to throw caution to the wind and just lay down and accept our fate when it came to sleeping on a futon. We expected it to be a poor night's rest because they were designed to be practical and adaptive, not comfortable. But thanks to the tufted back and bottom of the surface with the Furniture of America Adelle Convertible Sofa, you get both a comfortable couch and a comfortable platform for sleeping.
Stripped
One thing that you can obviously give Furniture of America some major kudos for is the ideals they put into the design of the Adelle Convertible's look and aesthetic. They took the basic idea and structure of a simple futon and made it modern. They made it sleek, and chic. It's a stunning peacock of beautifully simple edges, slight curves, and tiny metal accents.
Cost and Value
Around the median price for the market of reasonable futons, the Adelle Convertible Sofa Bed from Furniture of America is a fantastic value. It's wonderfully modern and painfully pretty. There's a ton of comfort and padding to go around, and the entire thing won't break your wallet in half in order for you to acquire one.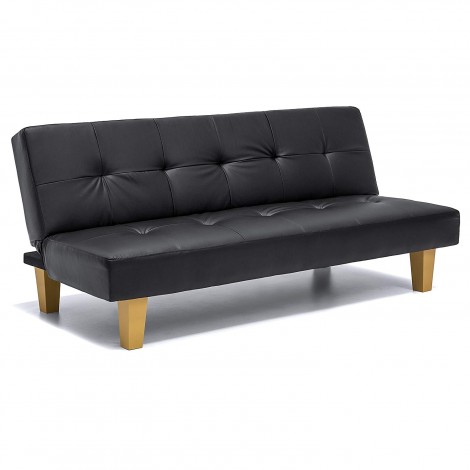 Now here's the poster boy for futons! You thought we would go through the whole list and not put something you're at least partially expecting to see? Ha! Well, thanks to our good friends at Best Choice Products -- and by friends, I mean … we've never met before, and we'll never know them -- we've got the most quintessential of all futons for you, and just in time to round out the bottom of our list.
Uncomplicated Glory
The simple things in life are often the most beautiful. We sure think so. And so does most of the world, what with the booming trend of minimalism in living, and simplicity in the designs and redesigns of everything around us in our everyday lives. Futons, however, started rather simple and grew more complicated. But the game has never changed, and the futon here on offer from Best Choice is playing that game to a tee.
New Tricks, Old Dog
It may be the run-of-the-mill design for a futon. It might be at the forefront of your mind as you embark on your journey to acquire a new sofa bed for your abode or another's. But Best Choice came to bat with a new trick, and that's the ability to put the futons back at a halfway point. Not only do you get an extremely comfortable couch to sit on, or a bed to sleep on, but now you've got a reclined seating arrangement for lounging or the viewing of entertainment.
Cost and Value
It straddles the line between budget and median, and when you consider that it's bringing the classing futon abilities to the table, with a single (albeit, fabulous new addition), then you've got to love the value you get out of this piece of furniture. Best Choice Products really didn't skip out on the design of this classic sofa bed.

Subscribe to our Newsletter