Best Tool Sets Reviewed & Rated for Quality
In a Hurry? Editors choice: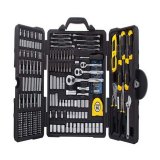 Test Winner: Stanley 210-Piece

A good toolset is necessary to have around for all those times when you need to
fix those various little things
in and around the house. Whether you only need a basic toolset to get you through most common projects, or a slightly more diverse one for the occasional emergency repairs, you have to think about quality and durability. Also, make sure that the toolset you're looking at has the main essential pieces before you make the purchase. For most of us, a tape measure, slip-joint pliers, adjustable wrench, vise grips, a utility knife, needle-nose pliers, a level, hex keys, screwdriver, several bits, and a hammer - is all that we need. The toolsets below offer you a range of choices from higher to lower end price points and different numbers of tools, so that you'll be able to find the perfect choice for your needs.
Standout Picks
Criteria Used for Evaluation
Durability
As is expected, the durability of the tools is definitely one of the most important features for you to pay attention to when purchasing a toolset. If the tools aren't made to be durable, then they won't be worth the money, regardless of how high or low the price is set. The last thing that you want is for your tool to start to warp over time or for the grips to wear down and reduce the torque strength. Hence, it's recommended that you seek out the tools that are either made of steel or allow material as they will last for years (if not decades), which means that you can rely on them for much longer.
The durability of the case is also a factor that you should check, because if the case breaks it will be quite difficult to maintain organization while working on various crafts.
Brand
Many users choose to buy cheap tools over and over again, simply because they are cheaper to replace when they break or wear out. Or they simply choose to purchase an expensive set once. Generally, you tend to get what you pay for. So, opting for sets from a reputable brand can have various benefits attached to it -- if the set is in your budget. With more expensive tool sets, you can usually expect a longer tool life, improved peace of mind, and a better warranty coverage.
Ease of Use
The tool grips are can what make or break a tool set. If they aren't comfortable, then you won't have an easy time using them, nor will you be able to use them for long periods of time. Smooth tools provide better value, but it's important to have a grip that ensures that there will be no slippage - which means that there is a very fine line between a smooth grip that's slippery and a grip which is just uncomfortable. Typically, many manufacturers have grips that are texturized to provide traction. They also generally use materials like rubber to act tackiness to the grip. Whether you're a beginner or an advanced user, the grips of your tool will matter.
Accessories
A tool set generally contains three sizes of ratchets, ½", ¼", and ¾", along with an extensive range of sockets in both metric and SAE sizes. Ratchets can be used to loosen and tighten bolts. Below are tools and accessories that are commonly included in even the most basic of sets.
Wrenches are exceedingly helpful for DIY crafts, and they are a necessity for any tool set. Fortunately, a wrench is extremely easy to use. Size-wise, wrenches can go from 6mm up, but the ideal size for most tasks is something between 24mm and 21mm.
Ratchets are usually found in three sizes: ½", ⅜", ¼". These tools normally include sockets of a variety of sizes, so that the fastener or nut being loosened or tightened fits perfectly inside its socket.
A screwdriver is a star-shaped or flat tip for tightening or loosening screws. Common ones include torx drive, Phillips, slot head, Robertson, and Allen-head.
Pliers are pinchers with parted jaws that may be parallel to one another. Common ones include needle-nose, lineman's, slip-joint pliers, locking pliers, and water-pump.
A hammer is a handheld tool which has a heavy metal head attached to a handle. Hammers come in various forms. The main types include framing, rubber mallet, clawhammer, ball peen, dead blow, tack, club, and sledgehammer.
Features
There are two basic size systems for Allen bolts and bolts - metric and SAE - and a parallel two-size system for hex keys, wrenches, and sockets.
Handheld tools are generally made of chrome vanadium or steel. While both are sturdy, chrome vanadium is less prone to fracturing due to it being more ductile.
Although tools are made out of many different materials, such as chrome vanadium, steel alloy, or steel, the best tools are usually backed with a lifetime warranty. So, they usually come with a warranty against wear, defects, and breakage - but, it's important to note that not all tool sets warranties are created equal. The pricer, higher-end brands tend to offer their customers with better coverage, whereas the other, less-expensive brands tend to offer more short-term, simpler warranty coverages.
It's important to weigh the difference against your own budget and needs. If you're only going to be using the tools for basic, occasional repairs - then do you really need the higher-end brand? If you're a professional mechanic, how hard are you on your tools? If the answer is very hard, then it might be worthwhile going for the better coverage options.
If you find you need a larger variety of tools such as pliers or ratchets, you should look for tool sets that have those items or more. You should also keep in mind your budget for a tool set because the price range can vary greatly.
Many tool sets contain both measurement sizing, so you will never be given the incorrect size system, but it is wise to only work with one measurement system. That way you will avoid the task of converting the measurements back and forth.
The durability of the case is also a factor that you should check, because if the case breaks it will be quite difficult to maintain organization while working on various crafts.
10 Best Tool Sets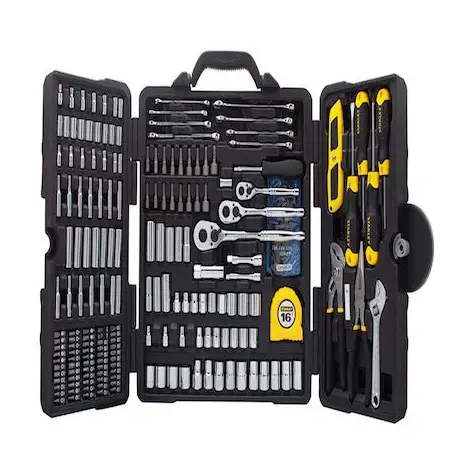 Stanley 210-Piece Mixed Tool Set is the best all-around mechanic tool set. It offers you plenty of flexibility and variety to allow you to tackle any projects. In this set, you will find the small parts featuring both metric and imperial measurements. It offers 210 separate imperial/metric tools along with drivers/sockets that will be enough for most bolts, nuts, and screws. With the tools forged from high-strength steel and a comfortable grip due to the ergonomic design, this is the ideal tool set for all.
Having over two hundred tools in one set is no easy feat. This Stanley set features the usual universal screwdriver and socket wrench set. However, they are further supplemented by a utility knife, a pair of pliers, a useful 6-inch adjustable wrench, and tape measure, along with various drives and bits.
The chrome vanadium forged body of the tools enhances and promotes durability, strength, and torque. It's also coated in a chrome finish to ensure that the tools do have protection from corrosion - further enhancing their durability.
This item is decently priced for a set that includes 210 tools. You will find many others that have the same or a similar number of pieces priced much higher than this item. In terms of the products on this list, this item is a mid-range product.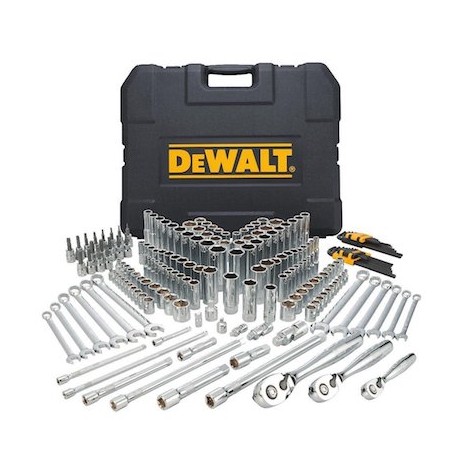 For those times when you need a more specialized mechanic tool set, the DeWalt 204-Piece Mechanics Tool Set is a great set to have. It offers you 204 tools and pieces with a greater focus on ratchets and sockets rather than other tool sets. The set is meant for those who work on projects or parts with large amounts of bolts and nuts. The sockets in this set come in virtually any common size that you could possibly need.
The slim body design of the ratchets allows you to use it easily even in places that are normally difficult to reach. It is also designed to allow you the ability to do one-hand operations with quick socket changes.
The ratchet in this set has a 72-tooth gearing system. This allows you to have precise control over the amount of torque that you are applying at all times. The primary ratchet is the standout part of this set and can work with all sockets included in the set.
In terms of the other products on the list, this tool set is the most expensive one. Stanley is a well-known and trusted brand, so you know that the products will be of good quality. It also comes with a case that keeps all the tools organized.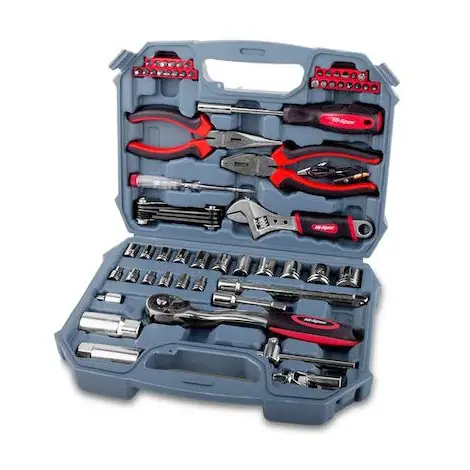 If you're in the market for a starter set, it is best to start with a budget tool set to get all the basic supplies. The Hi-Spec 67-Piece Auto Mechanics Tool Set is the perfect starter set for all those looking to get all the basic pieces. Though this set will not give you any of the specialized tools, you will get all the most commonly used pieces. The set also provides you with a pro-grade ratchet and a decent set of sockets.
Though this set will not be able to offer you tools of the same quality as the expensive sets, it still has great quality tools for its price point. It includes all the common tools that are required by any professional worker along with those who are interested in home engineering.
All tools in the Hi-Spec 67-Piece tool set are manufactured from high-grade steel alloy. To resist corrosion, they are chrome plated and feature non-slip comfort grip handles to provide you with extra torque. With normal use, these are sure to last you a lifetime.
In terms of the products on this list and generally on the market, this is one of the lower-priced products. You are able to get a fair number of tools that are commonly reached for. In some situations, the lower the price means the lower the quality - but that is not the case for this product. Buyers of this set rave about how well it works and its durability.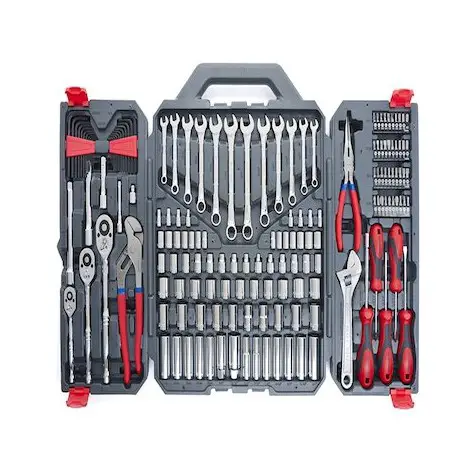 It is the dream of DIY enthusiasts and professionals alike to just have one tool set that allows you to do it all. This way, you do not have to stock up your garage with all the different types of tools, when you can just have one set. The Crescent 170-Piece Mechanics Tool Set has that capability. You can get virtually any project done with the tools included in this set. From pliers to ratchets, the Crescent 170-Piece Tool Set has it all and in a convenient storage container.
The set includes all the necessary tools that you could want. From combination wrenches to magnetic bit driver - you will find it all in this set. It also includes screwdrivers, pliers, drivers, driver holders, and key holders.
The storage case of the Crescent 170-Piece Tool Set is one of its best features. The inside compartments within the case make it easy for anyone to organize and use these tools. Each tool makes it easy to reach any spot. When the case is closed, the conveniently placed and executed handle allows you to easily carry it along with your wherever you go.
The pricing of this set is similar to that of the 210-Piece set by Stanley. It is a relatively mid-range price, but it leans more towards the higher end. However, with the number and variety of tools and accessories that are included in this set, it is worth the price.

5

. Stanley 201-Piece - STMT71654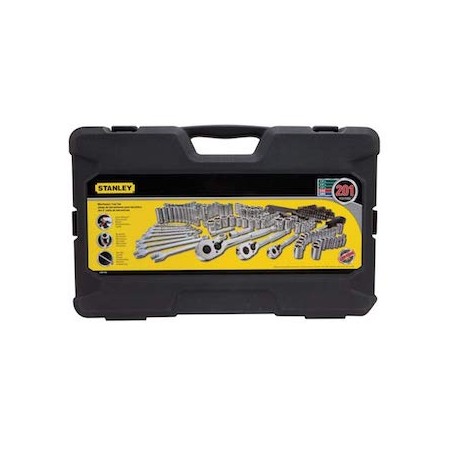 A small to medium-sized tool set makes it easier for you to keep track of the common or most important tools that are used regularly. For something manageable, Stanley 201-Piece Mechanics Tool Set focuses on quality rather than quantity. Though it has just over 200 pieces, it is still considered mid-range in terms of the number of tools in the set. For all typical projects around the garage and home, the Stanley 201-Piece set has everything.
The ratchets in this set feature Stanley's Max-Drive Design. The design enables them to increase the amount of torque that is delivered while tightening fasteners and nuts. It also helps to ensure that the tools last longer as it's minimizing the contact with fasteners.
The Stanley 201-Piece Mechanics Tool Set features tools that are forged from the highest-quality steel. They are also finished in a high-polish black chrome or nickel chrome. Some of the ratchets also feature handles that are ergonomically designed to have an ease of use along with a thumb-operated, reverse-switch mechanism.
In terms of the other products on this list, this set can be considered in the lower mid-range in price. If the products on this list were arranged by price, it would be on the fifth spot. Stanley, being the well-known brand that they are, often meet and exceed ANSI specifications, so you know that you'll be getting good quality items.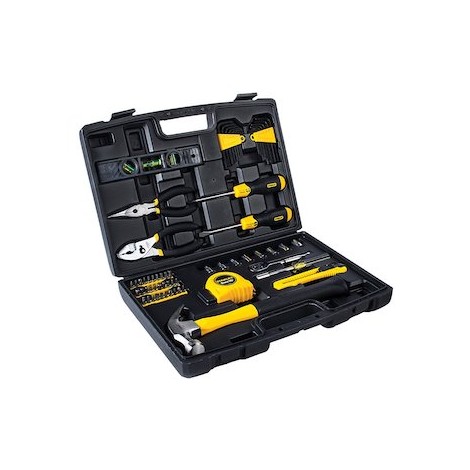 If you are looking for a set that contains all of the essential tools, then the Stanley 65-Piece Homeowner's DIY Tool Set is your best bet. It contains all the essential tools, including a hammer, pliers, screwdrivers, and more. Though some are not happy that it does not have an adjustable wrench, it does have everything else. With the price, it is easy for you to purchase that separately without creating a big dent in your wallet.
This tool set has everything from a measuring tape to a hammer. The set includes a tape measure, hammer, snap-off knife, torpedo level, long nose pliers, slip joint pliers, screwdrivers, and mechanic tools, thus making it a small but mighty tool set.
The tools in this Stanley set are ergonomically designed to offer you the utmost comfort while you hammer away. The ergonomically designed ratchets have a thumb-operated reverse switch mechanism and are easy to use. The extensions and sockets remain locked until you disengage them with the low profile, easy to reach, quick release button.
With the products on this list, this Stanley set is in the lower range in terms of price. Though it also has one of the fewer numbers of pieces than some other options, it's the best option for those that are looking for a basic set that has all the necessary tools and attachments to undertake any DIY or repair.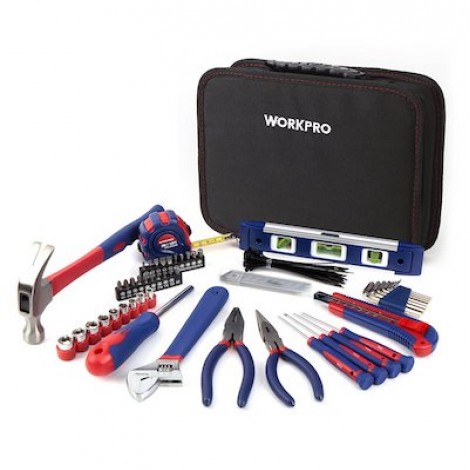 If you are someone who wants a tool set within easy access and reach at all times, or you do not want to continuously make the trip to your garage for your tool set - then this WorkPro 100-Piece Kitchen Drawer Tool Set is the perfect option. The set is able to pack a fair bit of utility in a small package. The small set even includes a hammer for your convenience along with 99 other pieces.
For the price, this is one of the best quality tool sets you can get at this price range. The zippered case that it comes with ensures that you are able to keep everything neat and tidy. It is also small enough to keep everything stored away in a drawer within your home.
For such a compact package, this tool set is able to provide users with all of the commonly used tools. It includes a hammer, a set of hex keys, specialty bits, nine sockets, bit holder, screwdrivers, tape measure, adjustable wrench, a level, utility knife, and pliers. However, users have reported that the hex-key selection is quite limited and there are no wide-jaw pliers included in this set.
In terms of the other products on this list, this set is the second cheapest option for you to buy. With 100 pieces included, that makes it a great value piece to have. The accessibility and portability of this set make the value of the set even higher and more interesting than some other tool sets.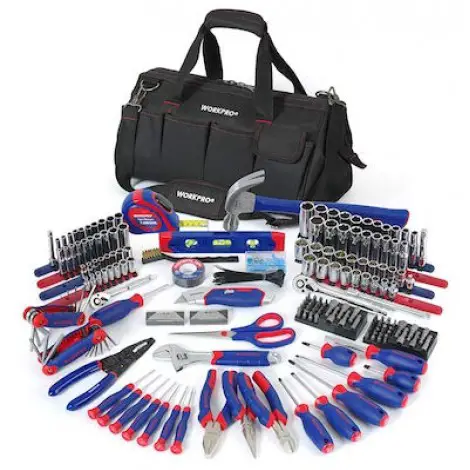 For those that are willing to spend more on a tool set to ensure that they have all the tools necessary, the WorkPro 322-Piece Home Repair Hand Tool Set is the best option for you. It covers all of your needs by offering you a set with a staggering number of tools (the highest number of tools offered from the sets on our list). It even comes complete with a bag that makes it easy and simple to carry around your tools if need be.
A feature that many users rave about this WorkPro set is that it comes with a convenient and well-designed nylon bag that features a shoulder strap and exterior pockets. If you are not one for having a structured organization system for your tools, then this tool bag is a great option as you can just toss your tools without needing/having proper slots for each one. However, a downside to having this amount of tools is that the set gets quite heavy when you are lugging this around with you. In fact, with all the products in, this set can weigh just under 25 pounds.
This WorkPro 322-Piece Home Repair Hand Tool Set comes with a variety of different tools and accessories for all your DIY and home repair needs. It includes cable ties, insulated tap, brush, scissors, an adjustable wrench, a folding hex key, tape measure, a utility knife, hammer, a level, precision screwdrivers, full-size screwdrivers, pliers, and a large socket set.
This product is on the higher end of the spectrum with it being the second most expensive tool set on our list. However, it does come with more tools and their accessories. In fact, it is the largest set on our list - which means that you're definitely getting your money's worth of tools.

9

. Black and Decker Cordless Drill kit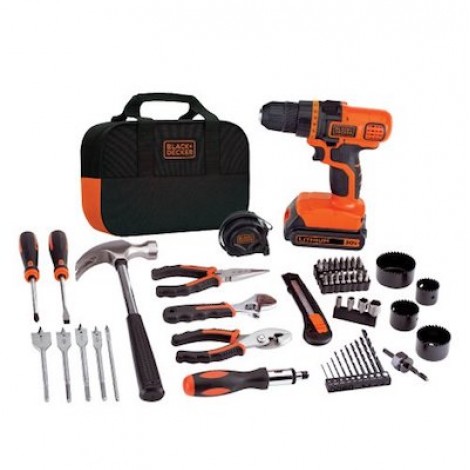 If you are a new homeowner, then the Black and Decker Cordless Drill and Battery Power Set are a must-have for your new home. The rechargeable, 20-volt power drill is just the icing on top of an already great set. In addition to the drill, the tool set also features 68 other accessories that make this set ideal for home projects and household repairs. Thus, making this great for the seemingly endless tasks that homeowners generally face.
Users of the Black and Decker Cordless Drill and Battery Power Set rave about the power drill. Since you normally don't get a power drill in tool sets, they are quite pleased about this inclusion. The drill is powerful for most household jobs. However, it has been stated that the drill is not ideal for heavy-duty use.
This set features all the basic needs of a tool set, including a mandrel, four hole saws, spade bits, general drill bits, magnetic bit tip holder, nut driver, screwdriver bits, ratcheting screwdriver, a utility knife, an adjustable wrench, pliers, screwdrivers, and a hammer.
In terms of the rest of the products on this list, the Black and Decker set is considered in the mid-range. If products on this list were listed in order of price, it would place sixth out of the ten products. You also have the option to purchase a 109 drill bit and screwdriver bit set to further add to this set.

10

. Apollo Tools 39-Piece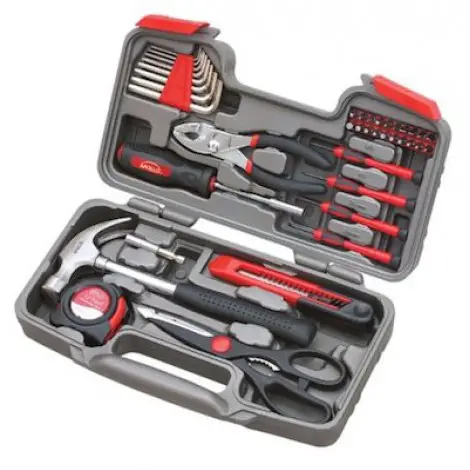 For dorm rooms or first apartments, it is important to have a toolset that you can just whip out when anything you need to repair anything small. This set is perfect for those situations. It is a great choice for those that are looking for a toolset that has the basic tools that you need. It is a great option for those looking for an option, but who have no interest in needing to take this out too often.
Though this set will not win any awards for its quality, it does provide its users with enough quality to appease the rare/occasional DIYers or fixers. It's great for first-time apartment owners, who just need a simple and convenient set that they can use in emergencies.
The set comes in a plastic case that helps you keep the tools organized at all times. There are too many bits and pieces in this, so it is easier to keep everything in one, neat place. Buyers of this set noted that the set does what they need it to, but they know what they are paying for with budget tool sets.
In terms of the products on this list, this is the cheapest option, which is why this is our budget tool set pick. It features just enough products for it to be a complete set without having any special or task-specific tools. It's perfectly sufficient for the occasional home improvement or repair tasks that you might need to do.

Subscribe to our Newsletter