Best Toddler Beds Reviewed & Rated for Quality
In a Hurry? Editors choice: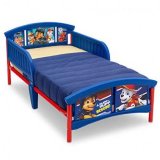 Test Winner: Delta Children

When you have a baby, it seems like the only constant is change. Your baby grows quickly, learns to babble, develops teeth, starts to crawl, the babble turns into fully formed words and before you know it, your baby has become a toddler, all in the blink of an eye. Being a toddler means taking some big steps (literally, learning to walk!), potty training, and of course, transitioning from a
crib
to a toddler bed. The transition can be difficult, but there are many toddler beds that will make your little one feel as secure as he or she did in a crib, and you will have the peace of mind knowing that your toddler is resting safely.
In this article, 10 popular toddler beds are reviewed. There are pros and cons to all 10; however, these 10 particular beds were selected for their popularity and good reputations, respectively.
Standout Picks
Criteria Used for Evaluation
Effectiveness
A toddler bed has several purposes. First, it must provide a safe, secure environment for your toddler to sleep. The risk of accidentally falling/rolling out of bed must be minimized if not eliminated altogether. All safety standards and regulations must be followed.
Additionally, a toddler bed is meant to ease the transition from a crib to a bed. This can be a very scary time for a toddler. Cribs offer safety, security, and familiarity, making a child feel cradled and protected. A bed can seem scary and unfamiliar, causing insomnia and even leading to night terrors. The ideal toddler bed is a bit of a hybrid. The safety and security of a crib with the general structure and design of a bed, getting your toddler ready to finally transition to a big kid bed in the next year or so.
Style
While function is more important than fashion when choosing a toddler bed, the way it looks is nonetheless something to consider. Your toddler is old enough to have favorite colors and characters. He or she will have a good idea of his or her likes and dislikes, and this will undoubtedly help to guide your decision.
A perfect example is the Batmobile. Let's say your little boy (or girl) is a huge Batman fan. What could be better than a fully functional toddler bed that looks like the Batmobile? It provides the safety and security that you, as a parent, are looking for, while still looking awesome and amazing, attracting instead of repelling your toddler.
Safety Hazards
Make sure you do a lot of research before buying a toddler bed. Check the specific manufacturer's record for recalls and/or complaints. See which manufacturers are on the cutting edge of advanced features and safety measures.
Do not cut corners when it comes to buying a toddler bed. Yes, it can tempting to buy the most affordable bed available, but doing so is not necessarily advisable. There are several beds that are reasonably priced and still safe and not hazardous, and it's worth spending a little bit more to purchase a safe bed versus something substandard and risky.
Value
The Cost and Value of a toddler bed is determined by several other factors. First, the average customer rating is evaluated, including the number of customer reviews submitted (a very small number of ratings is not particularly helpful). Multiple independent websites are checked to get different perspectives on the bed in question.
Once a general idea of customer satisfaction is determined, the advanced features and manufacturer's specifications are reviewed. Does the bed pass the safety and security checklist while still remaining appealing to a toddler? Then, of course, the actual cost is weighed in. A high pricetag does not rule out a bed, but it must be worth the price. Beds that command high prices but have no redemptive qualities are not considered good values. Spending a lot of money can be justified in some, but not all situations.
Durability
A toddler's bed is going to be jumped on, played on, slept in, rolled on, it will be subjected to temper tantrums, spills, accidents and so forth. It cannot be delicate. In fact, it needs to be strongly reinforced to withstand a toddler's fierce wrath.
That said, the bed cannot be made of reinforced industrial steel. Otherwise, your toddler is inevitably going to injure him or herself. The tricky part is finding a bed durable enough to withstand the abuse a toddler will subject it to, yet not pose any sort of physical hazard to the toddler. That is one reason why durable plastic frames which are padded and washable are attractive choices. They can stand up to the wrath of a toddler, they are washable, and they will not hurt your little guy or girl.
10 Best Toddler Beds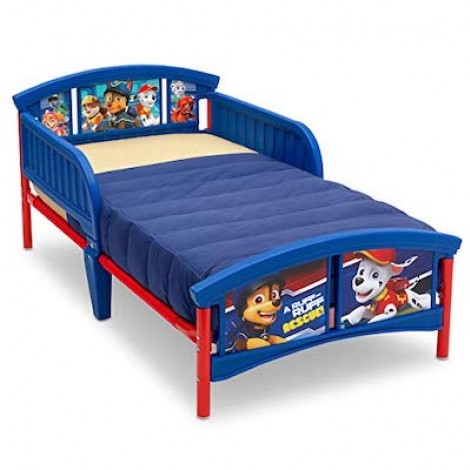 The Delta Children Plastic Toddler Bed is a bright, cheerful, inviting toddler-sized bed with a headboard available in multiple colors, equipped with dual side safety railings. The bed is available in multiple "trims," different colors and schemes to match with your child's favorite colors and characters. The headboard and footboard feature cheerful, friendly, familiar characters, making the bed appear to be guarded by friends.
Strong and Well-Built
The Delta is strong, well-built and supportive. It is suitable for toddlers aged 15 months and up. It supports weights of up to 50 lbs., so there is room for your child to comfortably grow. The bed is supported by a durable steel frame along with industrial-strength plastic construction. Assembly is easy and the instructions are easy to follow.
Customizable
The color of the frame, dual railings, headboard and footboard range from dark blue to light pink. Pink, purple, blue, red and green beds with green and white accent colors; this is not a "one size fits all" bed. Toddlers tend to be quite passionate about their favorites. As for the characters who appear on the head and footboards, your child can choose from the stars of Minnie and Mickey, Frozen, Teenage Mutant Ninja Turtles, Sesame Street, Spiderman, Cars, Paw Patrol, various Disney princesses, and more. Your little one will go to sleep with his or her favorite characters guarding and watching over them at night.
Cost and Value
The Delta has earned 4.6 out of 5 stars based on over 1500 customer reviews. The cost is very reasonable, and it would be fair to say that the bed is affordable for most parents. While 4.6 out of 5 stars is not a perfect score, considering that it's based on 1500 reviews, it's quite respectable. With such a high number of reviews, there are inevitably going to be the occasional negative comment or complaint, or the rare defective product that arrives in less than perfect condition. All things considered, the Delta is an excellent value; worth exponentially more than its meager cost.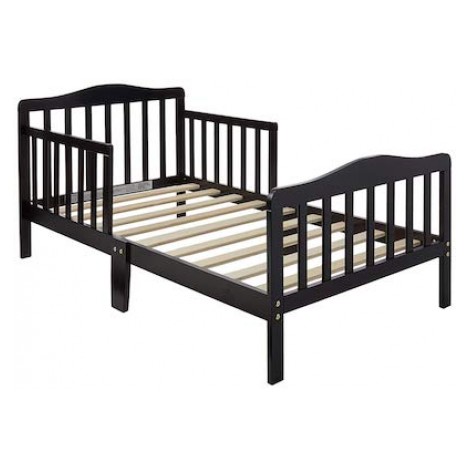 The Orbelle is much more sophisticated in appearance than many of its contemporaries. Finished with a dark espresso coating, it looks handsome and stylish, while still having the requisite safety and security features necessary to keep your toddler safe. It is constructed with solid wood and includes two side railings, all made in the same contemporary fashion.
Solid Wood Construction
Unlike other options, the Orbelle is not manufactured using metal or plastic. Instead, it is completely made of solid wood, finished in a dark, rich, espresso brown. From the frame to the side rails, the bed looks quite stylish and modern, and is certainly timeless. For the toddler who is eager to get into a "big kid" bed, the Orbelle is ideal. Nothing about it is babyish; it looks like a miniature version of a chic adult-sized bed.
Safely in Bed, out of Bed
The bed is designed so that your toddler can safely get in and out without assistance. The distance from the bed, including the mattress, is low enough to the ground, that he or she will have no trouble climbing in. There are protective guardrails on either side to prevent an accidental fall. The side railings are also extremely sturdy and can be used to stabilize your toddler in the event he or she should become off balance while either getting into or out of bed.
Cost and Value
The Orbelle has earned 4.2 out of 5 stars based on over 1000 reviews. The price is quite affordable. If you are looking for a stylish, contemporary toddler bed that looks great and still has all of the safety features to keep your little one secure at night, the Orbelle is an excellent choice and a very good value. It's also timeless, and will not go out of style at any point, so if you plan on having more children, or if you have a friend or family member who is, you might want to keep the toddler bed in storage for them; it's a keeper.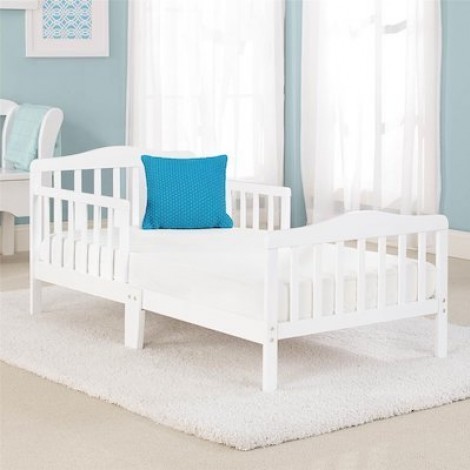 The Big Oshi is bright, cheerful and contemporary. It's spacious for a toddler bed; yet still the appropriate size to securely fit a crib mattress. The overall look of the bed is clean and minimal, and it would look great in virtually any nursery. If you are a fan of light, bright, clean decor, the Big Oshi is something to consider.
Attractive Design
There is something quite appealing, attractive and inviting about the bed's design. The paint is ultra-bright, and the bed looks welcoming and comfortable. The frame and railings look almost like a freshly painted white picket fence; new, well cared for, and full of possibilities. Transitioning from a crib to a toddler bed will be easy with a bed like the Big Oshi; it's perfectly comforting, inviting and warm.
Versatile
The bed is unisex and would be perfectly appropriate for a little boy or girl. In terms of decor, it would fit in perfectly no matter what design scheme you're working with. It's hard to go wrong with basic bright white. In the event the frame is a little too plain for your toddler, it is easy to find stickers and vinyl decals that can be applied to the frame without damaging the paint; it can be treated as a blank canvas upon which your toddler can begin to explore his or her artistic creativity (with supplies pre-approved by his or her parents, of course).
Cost and Value
The bed has earned 4.2 out of 5 stars based on over 300 reviews. The cost is right in the middle of the market, making the Big Oshi right in line with its contemporaries. The bed has earned a respectable score and is sold at a reasonable price. There is nothing exceptionally fantastic about the bed, nor are there any glaringly obvious problems. Therefore, it's a decent value; a respectable product sold at a fair price.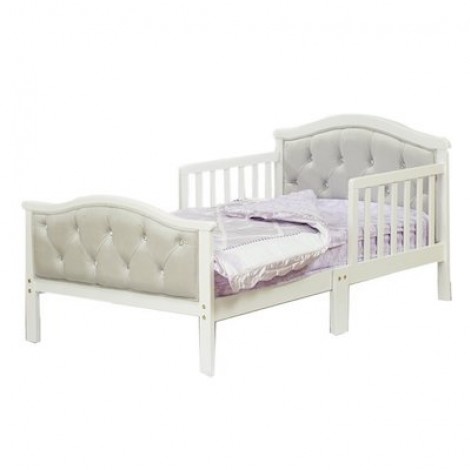 The Toddler Bed with Soft Tufted Headboard, also manufactured by Orbelle, is quite a pleasant choice, with a few embellishments that make it a stand out choice. From the soft tufted headboard to the overall elegant, feminine appearance, the words that come to mind are "darling," "princess" and quite simply "beautiful." It's a smaller version of a gorgeous bed that any adult would undoubtedly enjoy sleeping in, cushioned and safe, in a bed suited for royalty.
Soft Tufted Headboard
Soft tufted headboards are certainly not just for children. If you go to a high-end furniture store and peruse the various beads, you will see that tufted headboards are very chic, and very sought after. Yes, they are stylish, but they are also functional. Should your little one accidentally bump her head on the headboard, the surface is cushioned, thus reducing the risk of a headache-inducing injury.
All White
The bed and headboard are gradient shades of white to light gray. While linens and blankets of any color would look great, the bed really stands out when the white and light gray color palette is played up. The bed looks utterly heavenly with white linens, on a fluffy white area rug, in a room with bright white decor. It lends itself to an overall ethereal, dreamy appearance, and your little one will feel like she is a princess sleeping on a cloud.
Cost and Value
The bed has earned 4.5 out of 5 stars based on over 150 reviews. That said, it is considerably more expensive than the majority of beds reviewed here. This makes sense, considering the more complicated construction, the additional materials used, the fact that the bed is imported, and the simple fact that it's an upscale piece of furniture. In terms of value, the vast majority of customer reviews are overwhelmingly positive. The bed is a beautiful piece of furniture and is well-built, and it looks wonderful. All things considered, it's a high-value item that is well worth the cost, and more.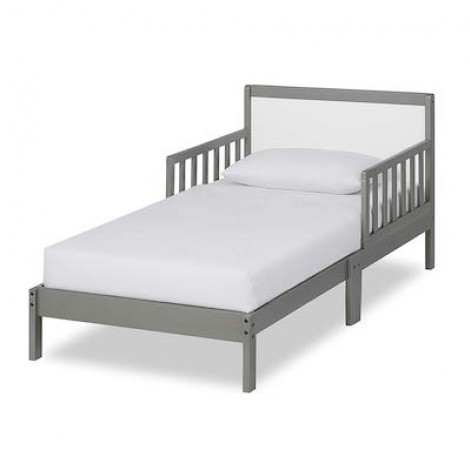 The Dream on Me is a basic, dual-rail toddler bed. It is very minimalistic in design and is quite modern. It meets all safety standards and regulations and is low enough to the ground for your toddler to be able to safely climb in and out. The bed is designed to be simple and smart; no bells and whistles, no embellishments; just a safe, sturdy toddler bed to keep your little one secure and comfortable during the transition from crib to bed.
11 Colors
The overall design of the bed may be simple and sparse, but it is also versatile. It is available in 11 different colors; allowing your little one to choose his or her favorite. Like some of the other models reviewed here, the beds can be further customized with paint-friendly stickers and decals. Think of the bed in terms of usefulness, safety features and practicality. It can be dressed up (or dressed down) as much as you and your toddler like.
New Zealand Pine Wood
The bed is constructed with imported New Zealand pine wood. This particular wood is known for its strength and is used for a multitude of uses. From construction to the manufacture of furniture, New Zealand Pine Wood is an excellent material with which to build a crib. Sturdy, durable and long-lasting, it's also sustainably sourced; materials you can feel good about using.
Cost and Value
The bed has earned 4 out of 5 stars, based on 95 reviews. It is quite competitively priced, falling right in the middle of the market. There is nothing that makes the Dream on Me particularly stand out, either positive or negative. Overall, it's an average product of average value. There is nothing that should make you rush to purchase it, nor is there anything that should make you steer clear of it at all costs.

6

. RUSSELL CHILDREN Harrisburg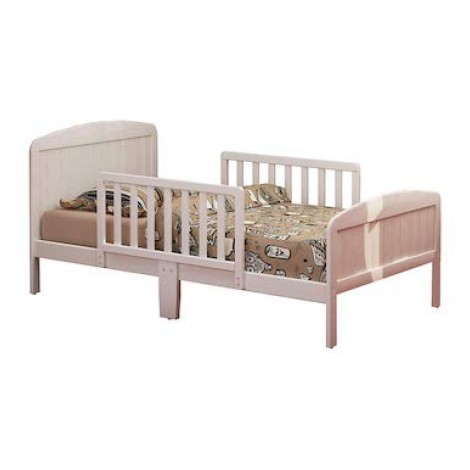 The Harrisburg is a beautiful, stylish bed that is somewhat upscale in both its design and construction. It is handsome and unisex, and would work in a little boy or girl's room. It's gray and would match well with virtually any linens and blankets. In terms of safety, it meets and/or exceeds all regulations, making it the perfect choice for careful, choosy parents.
Easy Care
The Harrisburg is light, bright and easy to take care of. It's bright, but not so bright white that every single smudge will be obvious and apparent. Daily cleaning is simple; the bed simply needs to be occasionally wiped down with a damp cloth. Nothing about the Harrisburg is delicate; after all, it was made with toddlers in mind. Toddlers like to climb, swing, hang and jump. The Harrisburg is designed to keep them as safe as possible, and no matter how rambunctious your toddler should get, the bed will not tip or break.
Center Mount Guard Rails
Instead of having side-mount guard rails, the Harrisburg's rails are placed more in the center. This engineering and design decision was made based on research and data collected based on accidental falls that affect toddlers. Rather than placing the railings directly on the sides of the bed, the railings are more toward the center. Historically, this is considered to be the "fall zone," or the area of the bed where your child is most vulnerable.
Cost and Value
The bed has earned 4.7 out of 5 stars based on 29 customer reviews. Granted, that is a very small sample size on which to base an opinion; however, it is nevertheless an impressive score, and the customer reviews are quite enthusiastic. The price is somewhat on the higher end of the spectrum, but not unreasonably so. The bed is an impressive, well-made product sold at a reasonable price; a very good value overall.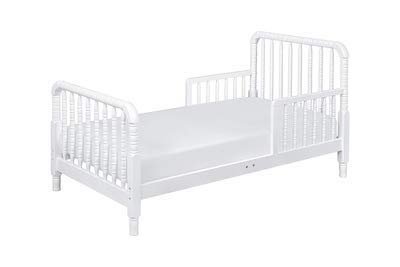 The DaVinci is a stylish, minimalistic, handsome bed that may be intended for toddlers, but is quite mature looking. It is unisex in design and is constructed with New Zealand Pine Wood. The reviews are notably positive, and overall, the DaVinci appears to be quite promising; perhaps it is an emerging brand in a very competitive market.
Unisex
As with several other models reviewed in this list, the DaVinci is both unisex and timeless. It is painted with a bright white finish that would fit just about anywhere. There is nothing either masculine or feminine about it; however, there is something whimsical and inviting about it. Minimalistic, yes, but there is an undeniable warmth to the bed's overall appearance, making it inviting to your little boy or girl.
Superb Safety Ratings
The bed has excelled in all safety categories and beyond. No harmful or carcinogenic materials or substances were used during the manufacturing process. In terms of safety standards, the bed meets all of the rigorous criteria and standards set out by the relevant governing bodies. The engineering and design team at DaVinci went above and beyond to make an incredibly safe, reliable, trustworthy toddler bed that will give you peace of mind, knowing that your little one is sleeping soundly in a state-of-the-art bed, safe from harm.
Cost and Value
The bed has earned 5 out of 5 stars based on 21 customer reviews, an admittedly small sample size. However, despite the small sample size, the bed has nevertheless earned a perfect score. 21 perfect 5 out of 5 star reviews is nothing to sneeze at; it's an accomplishment. The customer reviews are thorough and well thought out, and provide useful information. The price is on the high end of the spectrum, but based on the advanced features of the bed, incredible safety and excellent reviews, the bed is a superb value and well worth the cost.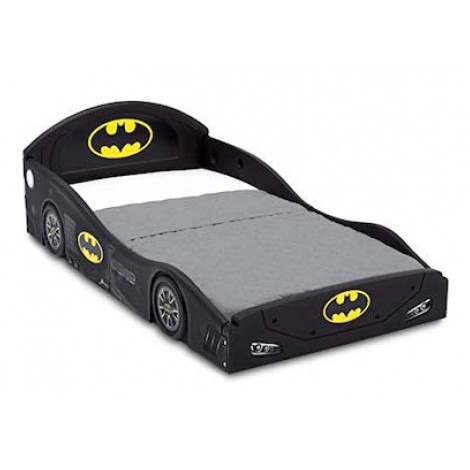 Does your little boy or girl love Batman? If so, then he or she would probably be thrilled to sleep every night in the Batmobile (honestly, who wouldn't?). The bed, officially endorsed by DC Comics is as fun as it is practical. Your little one will actually enjoy going to bed...or, rather, the Batmobile.
Bring DC Home
DC is one of the two giants of the superhero industry. DC is responsible for Batman, Batgirl, Superman, Wonder Woman, Aquaman and so forth. Now, your little boy or girl can sleep in the Batmobile at night, and wake up ready to fight evil in the morning. The bed is conducive to both sleeping and playing. There will be no more bedtime battles once the Batmobile enters the game. Who knows, you may consider buying a full-sized Batmobile for yourself.
Durable Plastic Design
The Batmobile is made of durable plastic that is safe, sturdy and practical. The Batmobile's exterior serves as an all-encompassing safety rail, keeping Batboy or Batgirl safe from accidental falls. The plastic is also quite practical and low maintenance. All it requires is the occasional wipe down with a damp cloth to stay in pristine condition.
Cost and Value
The bed has earned 4.3 out of 5 stars based on 21 customer reviews. Again, this is a very small sample size upon which to base an opinion. Nevertheless, 4.3 is a good score, and the customer reviews are primarily positive. The cost is reasonable; it is slightly on the more expensive side of the spectrum, though not by a considerable margin. Overall, it's a good, fun product sold at a fair price, making it a very good value.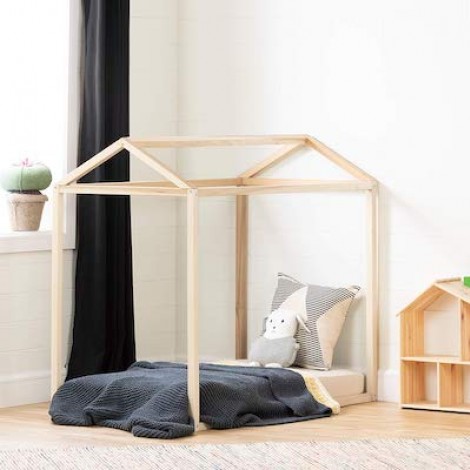 The Sweedi is not for everyone; but if you are a fan of the distinct look and appearance of Scandinavian design, the Sweedi may be something to consider. It is certainly unique and eye-catching, with clean lines and a natural look.
Scandinavian Design
Scandinavian-designed furniture has a distinctive, minimalistic look. Clean lines and natural materials are often utilized, and the bed is no exception. The frame, which extends to a tent-like shape over the mattress area, is bare and unfinished, though it does not look incomplete in any way. It looks raw and natural, as intended.
Popular
The bed is constructed with poplar, a strong, durable type of wood. If you like the unfinished look, you will appreciate the poplar's overall appearance along with its safety. You will not have to worry about a cheaply built bed potentially failing and injuring your child; this bed is built to last.
Cost and Value
The Sweedi has earned 3.9 out of 5 stars based on 17 reviews. In terms of cost, it is quite expensive compared to the other models reviewed on this list. To reiterate, 17 customer reviews is inadequate for a formative opinion. Nevertheless, based on the information that we do have, the bed itself falls somewhere between adequate and good, but there are no redemptive qualities that appear to justify the high price. Therefore, it is a product of average value, not necessarily worth the cost.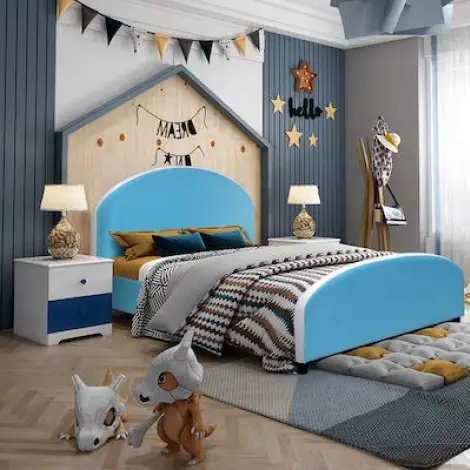 The Costzon appears to be a newcomer to the toddler bed game, but it is certainly a worthy contender for the competition to be wary of. The Costzon is a beautiful, unisex toddler bed that is both stylish and functional, inviting, comfortable, and above all else, safe and reliable.
Meticulously Built
The bed is built using state-of-the-art engineering and design techniques, applying the principles of physics to get the angle of the bed just right to keep toddlers from accidentally falling out. The frame, made of premium plywood, is described as ultra sturdy, stable and stays effortlessly in place.
Headboard & Footboard
The headboard and footboard are upholstered with a soft, foam padding. The upholstery is available in a variety of colors, so you can select your little one's favorite. The padded head and footboards will prevent accidental injuries, along with the side railings and other features that make the bed soft, secure, cozy and with the required safety regulations, standards and guidelines have been followed and exceeded, for a bed that meets even the highest standards.
Cost and Value
The bed currently has 4.7 out of 5 stars based on 13 customer reviews. As aforementioned, a larger sample size is needed to truly get an understanding and appreciation of how satisfied customers are with the bed. The price is a bit on the expensive side, though this is to be expected given the high-end materials, meticulous, state-of-the-art construction, detailed design and overall upscale quality. Therefore, the bed is an excellent product sold at a rather high price, though it is undoubtedly worth it; a great value.

Subscribe to our Newsletter