Best Tankinis Reviewed & Rated for Quality
In a Hurry? Editors choice: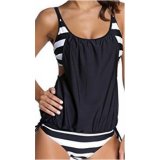 Test Winner: Dokotoo

When it comes to swimwear, there are different styles to choose from. Some like the coverage that comes with the one-piece variety. While others enjoy the freedom to flaunt that the bikini provides.  In the 1990s a new line of swimwear was designed to offer you the best of both worlds. You still get the coverage that the one-piece design has to offer, and a wider variety of style designs like the bikini has to offer. The tankinis received its name from the overall look of the suit, the top closely resembles a
tank top
, while the suite provides a sense of style you can't always get in a one-piece.
Standout Picks
Criteria Used for Evaluation
Materials
The materials you choose will affect several aspects of your apparel choice. Some will change the way in which the suit will fit and feel. While others will provide breathability and quick-drying capabilities. Here you will find what each material is along with the potential it has to offer. Polyester has benefits including breathability and quick-drying potential. Spandex is a material that can be stretched for a more contoured fit. And then there's old reliable Nylon which is a durable lightweight that adds flexibility to the suit.
Comfort
This can be the most stressful part of the shopping experience for many. Finding the perfect fit to flatter your more positive areas while drawing attention away from your problem areas. The end result often times ends in you leaving without the suit you went shopping for. Below you will find some tips that will show you what or what not to look for according to your body shape.
Weather Resistance
When choosing a suit for use in the sun it is also helpful to choose one that will offer a line of defense against the rays of the sun. Sunburn can happen rather quickly and can be a painful experience altogether. There are a number of suits that come with UV protection built-in and we're big fans so when we find some that hit the mark we'll be sure and let you know.
Style
We assume you're getting a tanking because of its stylishness. So we'll make sure and find you suits that not only flatter all kinds of body types but also make you look great while doing it. We're not you so we can't make the decision for you but we can make sure we give you a great cross-section of all kinds of suits made in all kinds of materials and all kinds of styles.
Value
We want you to look good but we don't want you to go to the poor house doing it. We're always keeping an eye on the price tag because even folks who have no money troubles don't like to spend exorbitantly on products for no reason. So, we'll watch the dollar signs as we're digging through the thousands of tankinis that are vying to make our list.
10 Best Tankinis Rated & Reviewed for Quality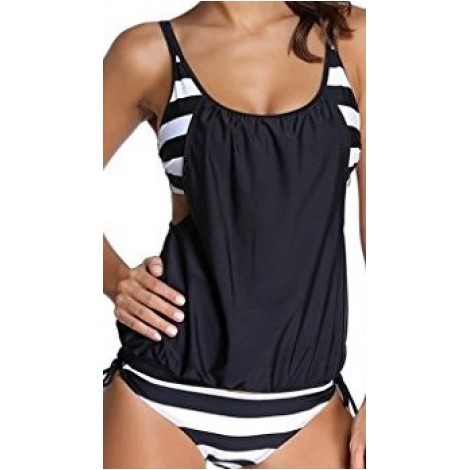 First up is an option that was cut to give you a flattering look and feel. This option can be used for many occasions as it pairs well with any ensemble.
Flattering
Not everyone has the confidence to sport a two-piece fashion. Here is a selection that offers you a similar look while providing you added coverage to the midsection. You essentially get to show off a little sense of style without exposing too much.
Versatile
This option does come as a set but the possibilities for creativity are endless. As the top can be paired with any pants type of your choice. Try it out with some leggings for a day at the gym or jeans for a more relaxed style.
Cost and Value
This can be valuable as a wardrobe addition, as it can be used for just about any occasion. You get the coverage you need to feel comfortable in your own skin, while still having the ability to strut your stuff a little.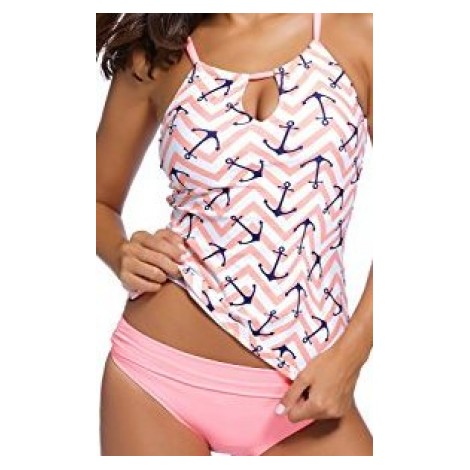 Next one on the list is of the stylish variety. Added to the style are some amazing features that will provide support in the areas you need it the most. You will definitely have the potential to turn some heads with this selection.
Stylish
Each top has a uniquely cut neckline, allowing you to show a style as unique as yourself. The material for the top will also have a fashionable design printed on it. Putting some flare into your apparel choice.
Support
Each top comes with a shelf style bra that will support you while your swimming at the pool or beach. The bra will have removable padding that you can choose to use or simply take it out. To control the level of support you can adjust the straps of the top to your liking.
Cost and Value
This is an option for those looking for a little more support from their swimwear without sacrificing in the fashion sense. You can choose from several colors and pattern designs all at an affordable cost.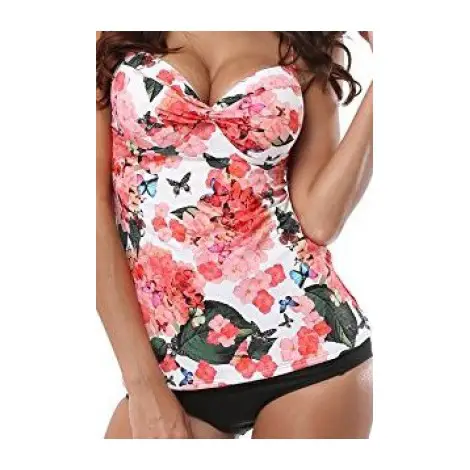 This one isn't just about the style or fashion sense. With this design, you get some quality attributes that are needed for a day spent in the water. You will look and feel amazing in this selection.
Functional
The materials used to create this product will provide you with a suit that is functional. The material blend used for the top portion will allow the fabric to dry quickly when you get out of the water. Making you more comfortable for a day at the beach or poolside.
Comfortable
The top was designed to provide you with a comfort fit. The bra will feature an underwire for added support. While the straps can be adjusted to fit the top to your standards. One final feature that is quite popular, the top is designed to offer you support in the belly region.
Cost and Value
Here we have a functional and affordable selection for you to choose from. The materials will offer you a quick-drying option for those times you are in and out of the water. With a fit this comfortable you won't even realize you are wearing a suit.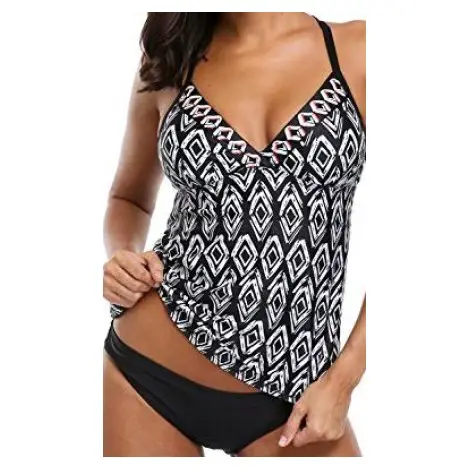 A suitable selection for any trip to the beach or vacationing poolside. Here is a selection that will set you apart from the rest where fashion is concerned.
Fashionable
Here we have an option that will come in several choices for both color and pattern. Pair that with the design of the top and you will be the center of attention while on your vacation.
Adjustable
There is nothing worse than constantly having to reposition the top of your swimwear. This option can minimize that issue for you as the straps can be adjusted to your liking. This will help to keep the top positioned where you need it.
Cost and Value
Falling in line with the earlier selection on the list as far as cost goes. This selection will have you looking and feeling great while enjoying some time in the sun.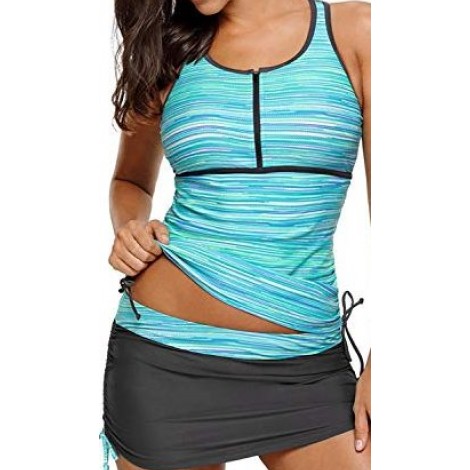 Now comes an option that has several different characteristics that we have not yet explored. Offering you more coverage than ever before, this one will give you a real sense of security.
Zip Closure
To control the amount of exposure that you're comfortable with, this top has a one of a kind feature. There is a zipper installed right at the neckline, which allows you to expose as little or as much skin as you are comfortable with.
The Bottoms
As a means of changing up the style a bit, this option comes with an entirely different designed bottom. Typically found in the shorts variety or even to resemble underwear. With these, you get a totally different look, as they come in the form of a skirt.
Cost and Value
With this choice, you can dare to be different than everyone else. For the more modest, this offers you a way to enjoy yourself without exposing more than you are comfortable with.



Next comes a product that suits those who prefer a little more room in their apparel choices. This one will keep you covered no matter what activities you are participating in.
The Fit
Often times we find that clothing that clings to us can be annoying. It leads us astray when seeking some beach or pool apparel choices. With a fit like this one provides, you no longer need to worry about the cling factor. As this one is designed to be slightly roomier than some of the other options.
Elastic Band
At the bottom of the top is an elastic band that will keep this from riding up. When at the pool or beach there is no need to stop to fix the top of your suit.
Cost and Value
When seeking an option that provides you with a little freedom, as far as adjustments go this is the selection for you. For those who like a more comfortable feel, this selection has your back.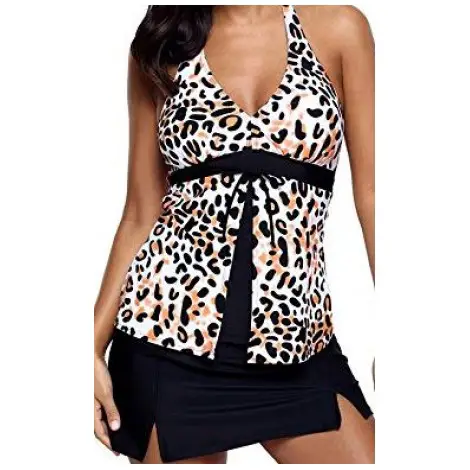 Here we get to take a look at a new style design for the top portion of this swimwear. With this option, you will definitely be the envy of the pool.
Different Look
Made to be more of a flyaway design, this adds some depth and dimension to your suit option. The flyaway potion of the top is more of an open design or providing more of a flap to put a spin on things.
The Strap
With this selection, you get choices for the straps. One of which will be around the neck fashion, eliminating the actual straps being on your back. For those seeking something more supportive in fashion, try the straps that criss-cross in the back.
Cost and Value
This one offers you a way to be different for the rest of the pack this summer. With plenty of color and design option to choose from. Here is an option that could become the next valuable possession in your summer attire.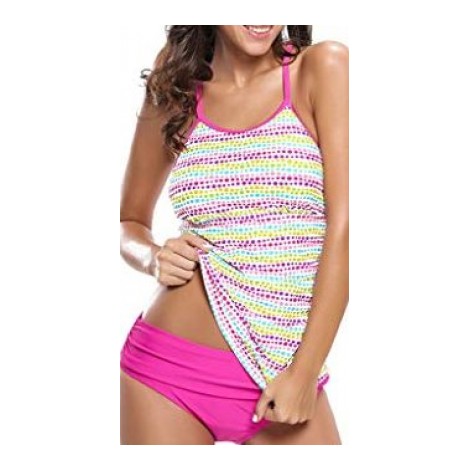 Another great option when comfort is what you are seeking. Made to offer you the highest amount of coverage from the top to the bottom. The size ranges offered will ensure that there is one to fit almost everyone.
Comfort Fit
Made to provide you with the most comfortable fit possible. The back is of the racerback design which cuts back on the annoyance of having straps. The materials used will provide for a looser feel. for some, that alone offers a large amount of comfort.
Size Options
For some, shopping for a summer suit will be the most frustrating experience ever. It can be hard to find just the right size to fit the shape of your body. With this option, there are plenty of sizes, from big to small they seem to have them all.
Cost and Value
When comfort is what you seek, this one has plenty to offer you. The strap design will minimize the irritation that can be caused by straps. There are plenty of sizes to choose from so finding the right fit should come easy.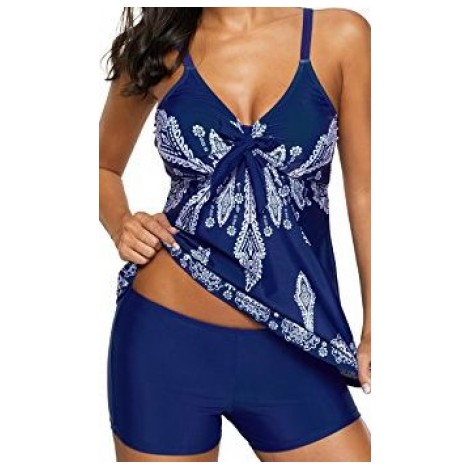 Next on the list is one that promises to deliver in all the right areas. Here will take a look at a different style bottom to fit your comfort needs.
The Delivery
As we briefly stated above this one was created to deliver in all the right areas. Here we will point a few of those areas out for you. Take for example the breathable material. This will allow the suit to dry rather quickly and reduce the amount of sweating. TO boost things up a bit, the bra is designed with padding to lift the bust line for a more flattering look.
The Bottoms
One of the biggest issues with the bottom portion of swimwear is the fact that they tend to ride up. It gets embarrassing when you are constantly digging them out of unwanted areas. These are designed to prevent this from happening to you. With this boy short design, you can feel free to run around with confidence.
Cost and Value
This selection can add a ton of value to your summertime fun. The best part is you won't break the bank making this purchase either. Offering you the right amount of support in the places you need it the most.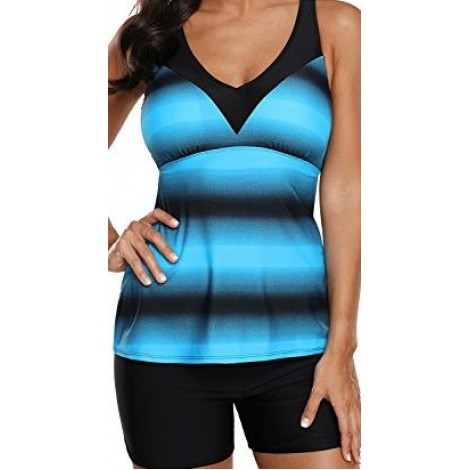 The last product that we have come to offers you a little modesty when the situation calls for it. Available in many size selections there is definitely something for everyone.
Modest
The materials used will provide you with a more form-fitting option to choose from. The design is cut to provide you with a modest amount of coverage for those occasions when it is needed.
Sizing
This one comes in a large variety of size options to choose from. Making it easier for those who have trouble finding the right fit. The better the suit fits the more likely you are to be comfortable.
Cost and Value
This is the perfect selection when you need a more modest approach to your beachwear. These are offered in a wide variety of size selections. This makes it easier for those who have issues finding suits they can be comfortable in.

Subscribe to our Newsletter