Best Paddle Boards Reviewed & Rated for Quality
Many people love to spend a majority of their spare time out on the water. Some of the more popular activities are fishing, kayaking, or surfing. Watersports can be one of the most addicting forms of recreation for many families. Paddle boarding is an activity that is gaining popularity at an alarming rate, whether it is for fun or as part of your fitness program. Stand up paddle boarding (SUP) can be a great form of exercise for your core muscles. Although to get the full benefit you will have to put a more effort than just a leisurely paddle around the lake. Your back and abdominal muscles will get a good workout from the rotating of your upper body while maintaining your balance on the board.
Featured Recommendations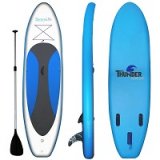 SereneLife

Our rating
Wide Hull Design
Price:

See Here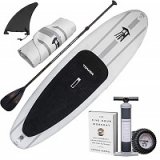 Tower

Our rating
Non-slip soft top deck
Price:

See Here

Pathfinder Inflatable SUP

Our rating
bungee for securing on-board cargo
Price:

See Here

The first step to choosing one is to know what you have to decide upon. Knowing the different features and what they can do, will aid you in finding the right choice for you. For beginners, this can seem like more hassle than it is worth. That is where we come in, handling the hard work for you. We have gone ahead and done the research portion for you, compiling it into this buying guide for you. Here you will not only find a list of what we have found to be the best options on the market as of lately. You will also find that we have dropped the information you need to make an informed decision right here in one convenient location.
10 Best Paddle Boards
1. SereneLife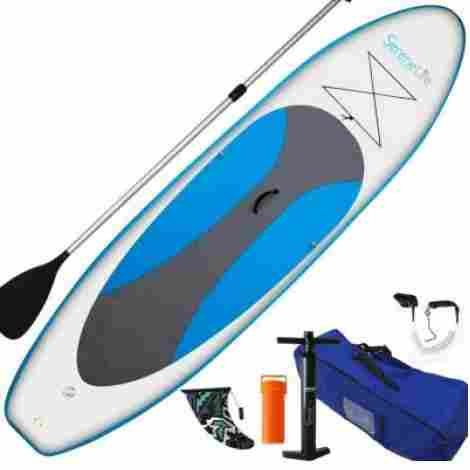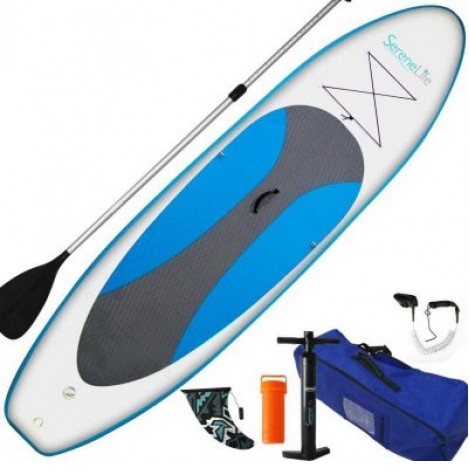 This selection comes with everything except the kitchen sink. Which makes it the perfect option for those just starting out. A
craft
that offers stability and all the tools you need to get there.
Expand to see more
Stability
The hull design is a wide one, which offers a higher amount of stability. This can come in handy whether you are just starting out or have a plethora of experience. After all what good is the craft if you can't stay on it.

What's Included
As we stated earlier this option comes with plenty of bells and whistles to get you started. You get the pump for inflating, a paddle, and even an ankle cuff. Which by the way this cuff can come in handy for keeping you and your equipment together. Let's not forget that you get a bag for storage and transporting your equipment.

Cost and Value
This option comes with plenty of potential benefits for the price. Giving you a better sense of overall stability. You will receive just about everything you need to get started in one quick and easy purchase.
This is an inflatable option.
Comes with many extras.
Made to offer more stability.
The top has a non-slip design to help reduce falls.
Users have reported having problems with the pressure gauge not working.
2. Tower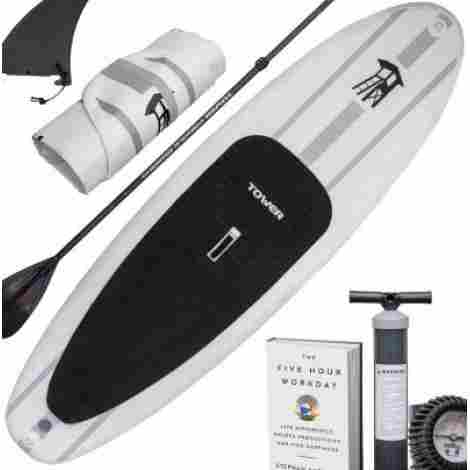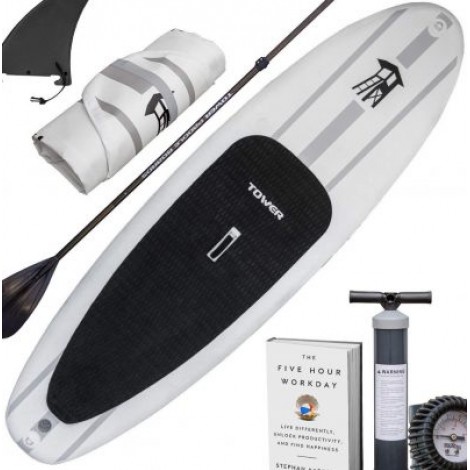 Next on the list is one that offers a high amount of durability through its design and materials. Paddle your way through the water with ease as this option was also built for your maneuvering needs.
Expand to see more
Durable
Here is an option that is made from military grade material. Which to me means it has to be tough. You won't have to worry about letting others use this product, as it was made to withstand plenty of abuse.
Maneuverability
The shorter length of the craft paired with the hull design offers you a better sense when it comes to maneuvering this through the
water
. The composition of the fins helps you stay the course once you have achieved your direction of travel.
Cost and Value
When looking into a higher quality product, it should not come as a surprise that it will come at a higher price point. The amount of durability alone will make up for the added cost. Plus with this, you also get plenty of added amenities.
Made from durable military grade materials.
This is an inflatable option.
Comes with the paddle, pump, and carrying bag.
Easy to maneuver on the water.
This option is not built for speed.
Some users have stated that the paddle that comes with is heavy.
3. Pathfinder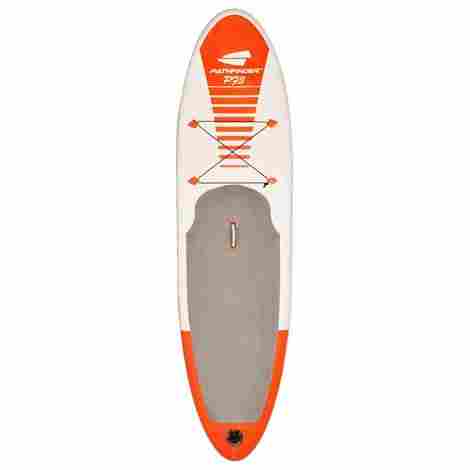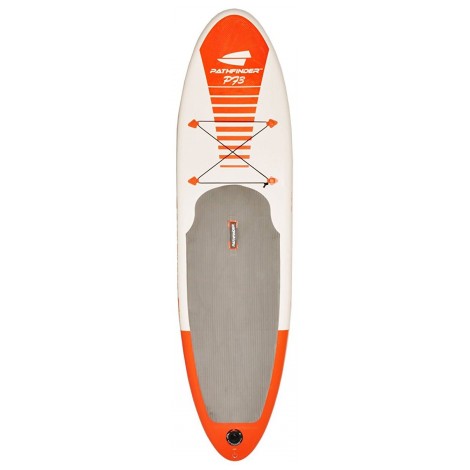 A great choice for those with or without experience with the
sport
. Built for speed and longevity you can use this craft for all your water traveling needs.
Expand to see more
Speed
For those with more experience, this option can take you where you need to go at a relatively fast rate. The fin design helps you track your way through the water at a faster rate of speed than some of the others.

The Feel
At first glance, you notice this is an inflatable option but don't let that turn you away. Once this is inflated, you will notice that it feels more like a solid option. This is great for beginners, as it gives you more of a sense of stability without the added cost.

Cost and Value
Here is a craft that comes at a lower cost than the others we have looked at thus far. It will offer you a decent amount of speed during your travels and comes with the extras you need to secure the gear you will take along.
Made from materials that create durability.
The hull shape is wider for stability.
Once deflated, this can easily be stored until the next use.
Includes the accessories needed for starting out.
Some users state that the directions for inflating are confusing.
4. Isle Airtech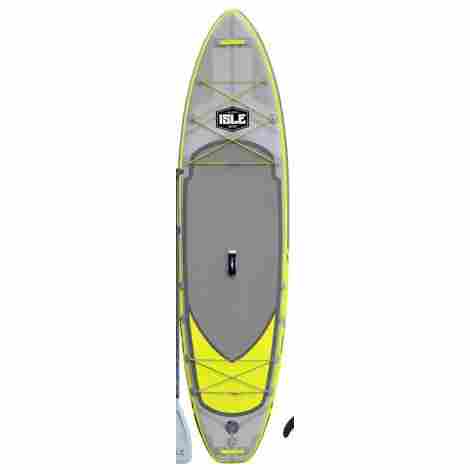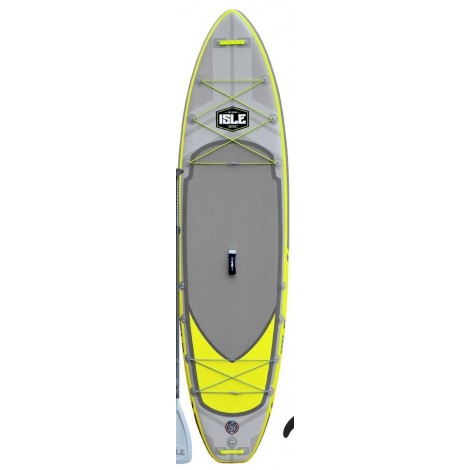 The next selection we come to is one that is rated to carry a heavy load. Which is great for those who are planning to carry extra gear for their trip. You get all you need in one bundled package making startup a breeze.
Expand to see more
Weight Load
Here is a watercraft that can hold up to 275 pounds and still keep you afloat. You can plan your next camping trip on a remote island and use this craft to get there.
The Paddle
With this craft comes a paddle that is made to be both lightweight and adjustable. This type of paddle comes in handy when the craft is used for more than one person. As each person will need a paddle at different lengths. The weight allows you to paddle without the worry of fatigue.
Cost and Value
For the amount that you will be investing, you obtain a
board
that can withstand the weight of a heavy load. With this purchase will also come some of the equipment you will need to travel the water and carry the craft.
This option is rated for a heavier weight load.
Has room to store extra gear.
Comes with a lightweight and adjustable paddle.
Has a one year warranty on the materials.
Customers have stated that this is a very wobbly option.
5. Keeper Sports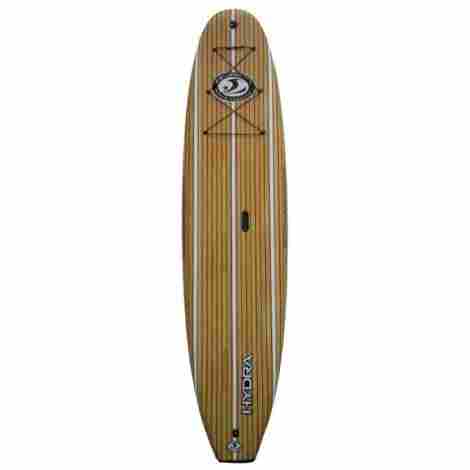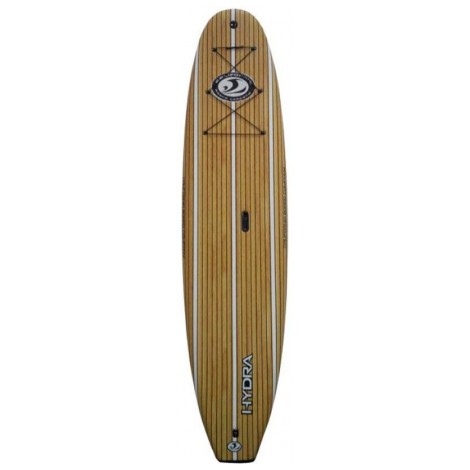 This is the first craft we have on the list that gives you an entirely different material selection. Aside from the materials, this will also give us a first look at a different construction type as well.
Expand to see more
Solid Construction
For the first time on the list, this craft is one of solid construction. A solid construction can provide a better sense of stability for some users. The solid design is also known for being better suited for those who take longer trips down the waterways.

Materials
The materials used to construct this option are entirely different than what we have seen yet. Made with a foam core for buoyancy then wrapped in a laminate to protect that foam core. This makes the core 100% waterproof so that it won't absorb water causing you to sink the craft.

Cost and Value
As far as solid construction selections are concerned this one comes as a more cost-efficient option. I'm sure while doing your search you have seen some higher prices out there. This one will suit your paddling needs at a more affordable price.
Made from foam that is wrapped in a laminate.
This construction is 100% waterproof.
It has a mount for your camera.
This also has a 300-pound weight limit.
There are complaints that these will obtain dents easily.
6. iROCKER CRUISER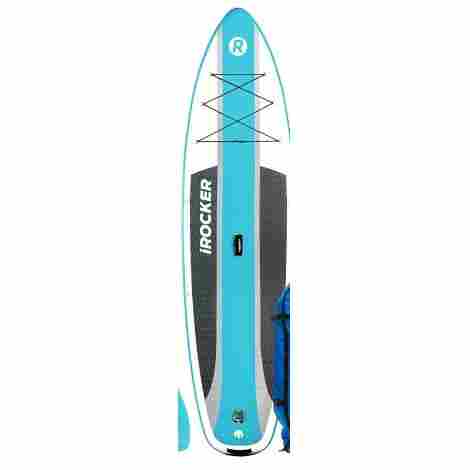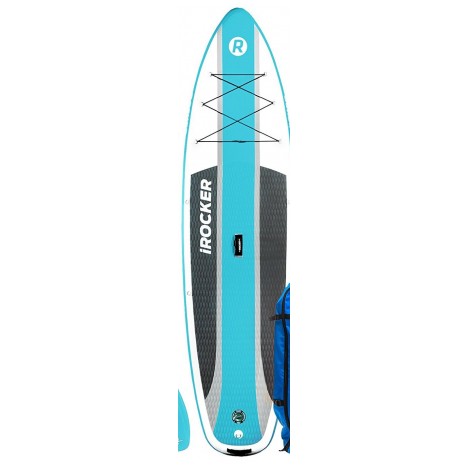 Here is a selection that provides you with the stability and durability you need. Great for those just starting to learn the sport or for those who have done it before.
Expand to see more
Thickness
This option is thicker than some of the other inflatables available. Being that it is six inches thick, it provides better stability. With the added thickness comes a heavier load that can also be handled.

The Pump
Here is a pump that we have not quite seen before. Most of the inflatable options will come with your average pump. This one has plenty more to offer the users. It can be adjusted to the amount of air that will be pumped at once.

Cost and Value
Coming as one of the more expensive products on the list, this one has some amazing potential as well. The thickness will provide a with a stable place to carry a heavy load. The action of the pump is also worth the added cost.

This option is thicker so it will hold more weight.
The pump has three different air settings.
Overall the style of the body is wide.
The paddle is made from fiberglass and is adjustable.
Some users have found that the lock for the fin doesn't work well.
7. Aqua Marina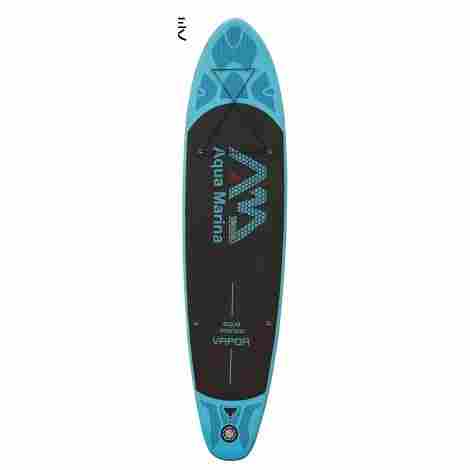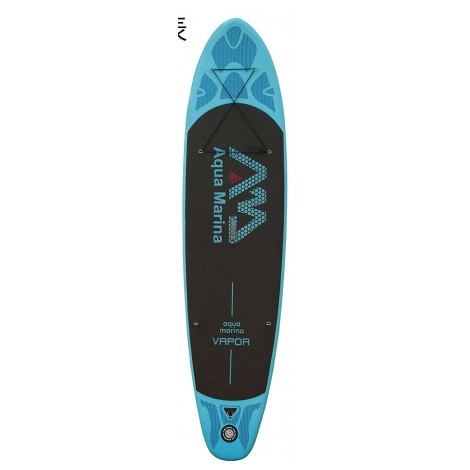 A product like this one is built to withstand the beating that the water can sometimes give our equipment. Added reinforcements to the product will give you a durable option that you depend on again and again.
Expand to see more
Reinforced
The sides of this option have been reinforced with drop stitching to prevent weak spots. As the sides of these inflatable options can at times cause some problems.

Traction
Everyone's goal for this sport is to stay on and standing. In order to achieve this goal, you need a place to rest your feet that will provide you with traction. The deck of this selection will give your feet a firm grip to stay planted for the ride.

Cost and Value
When it comes to sporting equipment the most valuable pieces will offer both dependability and performance. With this option, you will see that you will get the best of both of these attributes.
This option has reinforced sides for durability.
The deck has added material for traction.
This is an inflatable option.
Comes with a paddle, pump, and carrying bag.
Some customers have questioned the quality of this product.
8. JLF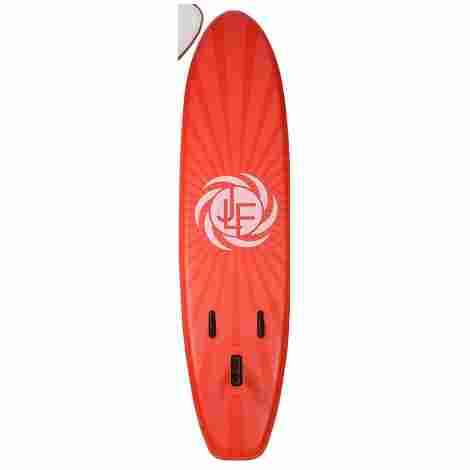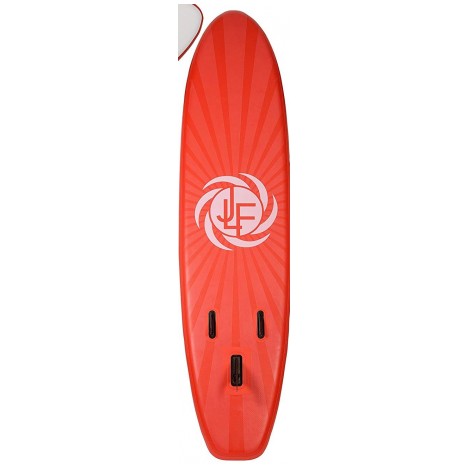 Next on the list is one that offers any skill level a dependable product choice. Whether you are seeking an option for performance or dependability, this selection has something to offer everyone.
Expand to see more
Size Matters
This option is proof that size really does account for something. The width of this will provide the beginner with a great sense of balancing ability. While the length will give the performance junkie their speed fix while on the water.

Paddle
In order to navigate your course, you will need the correct toll to succeed. Here you are given just that. The construction materials are used to offer you a lightweight option for paddling. With an adjustable handle, this piece of equipment can be used by many.

Cost and Value
This particular item has potential benefits to the user no matter what their skill level actually is. A means of entertainment that can be enjoyed by many.
The wide body style offers balance.
The length will add to the speed at which you can travel.
It comes with a strap for carrying.
The paddle is lightweight and adjustable.
Some have found the directions for inflating to be somewhat confusing.
9. Peak


Next is another preferred board for the beginner, as it helps the user maintain their balance while traveling. This is an all around good option for any skill level.
Expand to see more
Balance
When you are just starting out in this sport, maintaining your balance can be the trickiest part to master. The design for this option is wider which gives you the room you need to maintain a good stance. Having a better stance will give you a better sense of balance.

Comes With What You Need
Upon making this purchase, you will receive all the equipment you need to go for your next trip. The pump, for inflating your pride and joy with just the right amount of pressure. A bag to store this piece of equipment during your offseason.

Cost and Value
For those just starting out, this could be a valuable addition to your sporting equipment. It can be a way to cut the cost down as well. You see with this you get what you need to start yourself out. Perfect for cutting down the expenses of having to buy extra gear.
This is perfect for those just starting out.
The deck has material to great better grip.
Everything you need to get started is included.
Can be easily transported from one place to another.
This is not a good option when looking for something with speed.
10. Bic Sport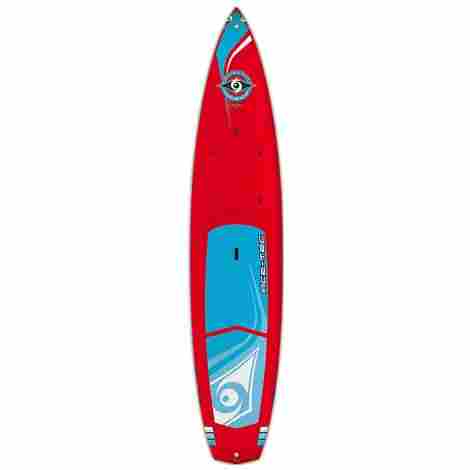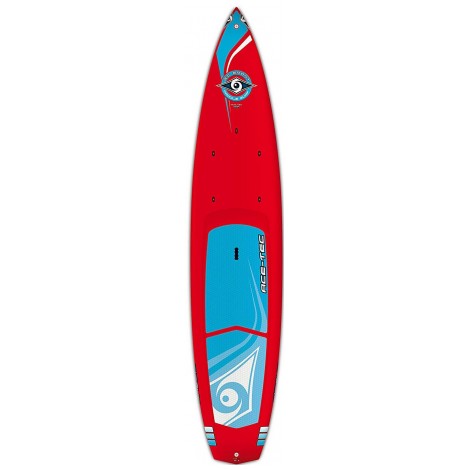 The last option for this list is one that was built for speed and longevity. This sleek design will have you racing across the water to reach your destination.
Expand to see more
Fast
The design is a sleek one which makes this a great option for those who dabble in racing. If racing isn't your thing, but you enjoy long rides, this is also a great option for you as well. You can travel across the water a little faster than on a wider design style.

Carrying
You will notice that incorporated into the design is a unique handle. This handle is meant for you to use to transport your vessel. It allows you to easily move from your car to the water or vice versa.

Cost and Value
The last option we have given you is one that comes with the highest price tag yet. A good quality product will come with a hefty price but you really shouldn't skimp on quality when seeking performance.
The sleek design is built for speed.
Has a deck pad for comfort.
There is a handle built in for carrying.
The fins are removable.
This option can be slightly heavy for some people.
Now that you have had a moment to familiarize yourself with the list we have created, we can scoot along to the next section of the guide. Here you will find the information we referred to in order to provide you with the list we have. This is the area of information that can help you deduce which of these options will best suit your needs. There is a chance that you will need one totally different than the ones we have provided for you.
At the end of the guide, you will see that we have included a frequently asked question section. We added this to try to absolve any questions you may have right off the bat. It is our hope that upon finishing this buying guide you can find exactly what you are looking for. There is really no greater than the time we get to spend outdoors with family and friends.
Criteria Used in Choosing the Best Paddle Boards
Little did you know that there are plenty of decisions to make when choosing which craft will better suit you when out on the water. Some of these can get to be quite confusing at times when you don't really know what you are looking at. Each choice you make will determine how your experience will go. Here you will find the information you need to be sure you are choosing the right features to make for an enjoyable day on the water.
Body Shape
Much like a boat, this type of watercraft will also have a hull. For those who are unfamiliar with the term hull, it simply refers to the shape of the body. With that being said, you have to choices to main choices to take a look at. Before you choose which design you feel will work the best for you, consider what type of activities you will be doing on the water.
Planing Hull: This option is designed to be both flat and wide. Which allows it to perform much like its counterpart that is used for surfing, riding on the top of the water. The design for the hull makes them easy to control, making them great for beginners and leisurely sessions around the lake.
Displacement Hull: These will be shaped slightly different as it comes to a point at the front. Some will claim that this design is easier when it comes to paddling, one thing for sure is they are built better for speed. Although they are a little tougher to maneuver when on the water. Most people will go with this design for the simple fact that is is better for long distances than the planing hull.
Construction Choices
Here there are two different choices, each with its own good and bad aspects to consider. Keep in mind that the construction of your equipment choice should be made based on several factors. Aside from the type of water activities, you plan to participate in, there is storing and caring for equipment as well.
Inflatable
The inflatable variety is typically constructed from heavy duty material making it a sturdy design for use in the water. Most of the time these will come with either a hand pump or one that can be run from your vehicle. Having an inflatable version can come in handy when your storage space is limited or you plan to hike your way into the lake. Since these can be folded and placed into a bag, they are simple to bring along on any trip.
The materials used to construct these are extremely durable making this construction style perfect for taking on whitewater as well. With the positive aspects will also come some negative as well. For this variety, stability plays a factor for a user that is heavier than average. The design makes these sit higher in the water, so controlling them can be an issue at times.
Solid
One thing that all solidly constructed options will have is foam in the center. The differences between this construction type will vary by the materials used to wrap the foam core. An example of one built for both durability and budget-friendly is the fiberglass wrapped selection. On the more expensive side of the scale, you could choose to go with the carbon fiber option. It will provide you with the lightest and most durable craft available. Keep in mind that it also comes with one of the highest price tags as well.
Many who travel longer distances will choose to go with the solid construction. This is due to the fact that they provide much better stability and control. Now for the bad part, some can take a real beating while others won't hold up to the task at hand. These are also larger in size so some users will run into storage issues.
Understanding How One Floats
The floating ability will depend on the actual volume of the board and the weight of the user. Where volume is concerned, the higher the number the more weight it can effectively hold while still remaining afloat. The amount of weight that each watercraft can hold will vary greatly. Just be sure to take into consideration the total amount of weight the craft will carry. When you add to this the shape, the weight and volume become extremely important to the performance of your equipment choice. The displacement variety needs a weight and volume combination that is just right in order to perform to the best of its ability. Where it's counterpart is more lenient, so as long as you do not exceed the weight limit, it will still float.
Length Options
Before settling on the length you wish to have, there are a few things for you to know. As far as affecting performance, longer ones tend to be faster and can add a more stable feel for the user. Going with the longer selection is best when planning extensive trips on the water. Due to the fact that they are faster and will require less work. Choosing one that is shorter in length gives you better control over your movements and are easier to find storage for. Often times people have a hard time storing and transporting longer options. Just be sure that you can accommodate the length you have chosen.
Width Options
The width you choose will also play into your ability to use the craft. One that has a little girth to it will certainly have more stability but there are times that the girth can also get in the way. One that is too wide can make it more difficult to actually paddle. Here are some factors to consider when looking for the perfect width:
The Why: For this, we look at what you will be doing on the water with your watercraft. When planning for a camping trip that will lure you across the lake, choose an option that is wide enough for both you and your gear. Another great reason to go with a wider option, when doing yoga on the water. You heard us right, people now use their watercraft to do yoga as well. A narrow option is beneficial to those looking for speed rather than stability. Making the narrower selections best for racing as they are also easy to maneuver.
Your Size: Your physical size will also be key to choosing a width. A person with a smaller sized frame should be choosing a more narrow selection. This makes using their selection on the water that much more efficient. A person with a wider framed body will be more comfortable on a wider option. It creates a better sense of balance for the user since a wide option creates a wider platform for them to use.
Your Skill Level: A user with more experience may have developed a better comfort level on different width options. As for those just starting out, a wider selection can give you a better feeling of stability for balancing.
Fins
The fins will not only aid in stability but they also help with tracking the direction you are traveling along on the water. There are several configuration patterns to choose from. The size of the fins will affect how the tracking and maneuvering in the water will work. Some material choices are more durable than others but most of the time the fins can be removed and replaced when the obtain damage.
The most popular fin configurations are either one fin or three. A single fin is as the name states, one larger fin placed in the middle. Allowing you to keep on the straight track over the calm water. The three fin style is a set of three smaller sized fins. The pattern and size allow you to easily maneuver the craft over the water. In the event that whitewater is your thing, the three fin configuration will be beneficial to you.
The Extras
There are also a few extra amenities that will sometimes come included with your selection but if not you may want to consider one that does have them. The first one that comes to mind is having tie downs or bungee straps. This allows you to secure your extra gear when traveling over the water. When choosing one of these crafts as your means of travel on your next fishing trip a pole holder or camera mount may come in handy. You can also include what is called a leash. This is great for those with little to no experience using this watercraft. As it keeps the craft close by in the event you fall off. These things are typically sold as accessories which are sold separately from the actual product.
Equipment to Consider
Before heading out on your adventure, there are a few other key pieces of equipment for you to take a look at. Some of these will be a necessity while the others can be an option to make your experience a better one. Two things that come to mind as being a necessary piece of equipment are a paddle and flotation device. Although there are some models that will come complete with a paddle, not all will. You need to be sure that you know a few things about them in order to choose the correct one for the job. Here are some key features to consider when looking into your options:
Consider the materials that they are constructed from. For beginners, an aluminum shaft and a blade made from plastic is a more cost-effective option. These will get the job done when out for a stroll on the water. For those who are looking for performance, try seeking out an option made from carbon fiber and fiberglass. This selection will come at a higher cost but are better for those long days on the water.
Size matters when it comes to the blade. Smaller sized blades will allow for more maneuvering making them a perfect match for whitewater traveling. Some who use a one with a smaller blade have even stated that they notice less fatigue in their arms from paddling. Larger sized blades pair well with racing as they tend to displace more water. This water displacement delivers a more efficient stroke each time the blade enters the water.
The shape of the blade will also affect the performance of the paddle. When looking for one to produce speed choose one that has a long and narrow blade. A wider shaped blade is built to deliver power with every stroke.
You will need to consider the height of the handle as well. Which by all accounts is purely a preference, some like a handle that is longer while others like them to be shorter. Some come as adjustable, while others can be broken down for transport. Depending on the amount of convenience you are looking for, either one could be a good option.
As for your flotation device, you will need to wear one, as these by law are considered to be a vessel. Always check with laws and regulations to be sure you are wearing the proper protection. You will also need to be sure that the flotation device will fit you properly. One that is too small can restrict your movements when you need them the most. While one that is on the larger size can slip off without a moments notice.
FAQ
Frequently Asked Questions
Q: How does my weight factor into my board selection?
A: The weight with which the product can hold will reflect how well it will sit on the water. The heavier the user the more it will sit below the water. For example, someone who is within the lower range for the weight limit will have less displacement while on the water. This makes for less work on their part when it comes to paddling. Versus someone at the high end of the weight spectrum. The craft will sit lower in the water, which will require more effort when it comes to paddling.
Q: Which is the better option inflatable or solid?
A: This will boil down to the user's preference combined with the intended use of the craft. The inflatable version tends to hold a little extra in the area of durability. Since the air can be removed, they are also easier to travel with and store. Although some will find that reinflating them can seem somewhat time-consuming. The options you have for solid construction can prove to be more versatile than the inflatable ones. Mainly due to the fact that the body styles can vary greatly with this type. The solid ones will take some ingenuity to travel with and need more space for storing.
Q: Where can you use a paddle board?
A: This type of watercraft can be used in any body of water really. Some will even use them for rougher water conditions. You just need to be sure that the water you choose is deep enough for you to move around in. To judge the depth for use with your craft, the water will need to be deeper than the longest fin on your craft.
Q: Which paddle should I choose?
A: When searching for a paddle for those just starting out one that is lightweight is a good choice. Until you get the hang of things and acclimated to the motion that goes along with paddling. A lightweight selection can reduce the amount of fatigue you will feel. For those seeking performance options, one made from a combination of carbon fiber and fiberglass will suit you perfectly. They are not only built for speed but longevity as well. This option will definitely come with a higher cost.
Q: Are these safe to use?
A: In most cases, it is a safe watercraft to use but you need to pay attention to the weather conditions before heading out for your adventure. You don't want to be caught out in a storm or when the wind can carry you out further away from the shore. Check currents for the water in which you will be traveling, never head out in water that is faster than your paddling capabilities can handle. In the event you fall off, remain calm. Panic can be the leading cause of drowning accidents. When you can't seem to get back onto the craft, use it as a means of flotation to kick your way in toward the shore.
Q: Can an inflatable board be repaired?
A: Most inflatable options will come with a repair kit for patching holes or small rips in the material. It is best to follow the directions in the kit provided for patching the product. In some cases when a board needs to be ordered online and shipped, the glue will be omitted from the kit. This is due to federal mailing laws and requirements. Most manufacturers will recommend a glue for you to pick up in the event that you should need it.
Q. Is Stand up Paddle boarding an aerobic workout?
A. Unless you are going at an extreme rate SUP would not be considered and aerobic workout, BUT it is good way to work your core muscle of your back and abdomin. Many people do yoga on the wider paddle boards.
Sources