Best Synthesizers Reviewed & Rated for Quality
In a Hurry? Editors choice: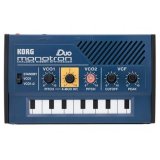 Test Winner: Korg Monotron Duo

Though synthesizers first made their musical debut in the 60s and 70s, there has been a sort of synth-renaissance in recent years with the birth of EDM (electronic dance music)--though there's still a definite psychedelic, jam-band foothold in the synth scene. While some of the sounds created seem animated, spacey, and even silly cheesy, the way that these devices function is truly incredible. True, some of the devices on the list to follow are smaller, introductory units that are easier to learn and use, but others are incredibly complex devices with literally thousands of possible programming options and sounds. However, there are still others that you can mature and grow with as you learn, allowing you to access more complex functions over time as you gain experience. So no matter what you're looking for, you are bound to find the perfect product for you on this list.
Standout Picks
Criteria Used for Evaluation
Ease of Use
When making this Ten Best List, we took ease of use into major consideration. We provide a nice mix of simple products and more sophisticated products to manage the range of experience of our readers. We also feature some products that can be used in a simple manner and then amplified with software and practice to be more elevated and involved devices.
We love products that have intuitive and easy to navigate interfaces--especially those with single button-single action capabilities so you don't find yourself sifting through endless menu options to arrive at the synth sounds your looking for.
We also love products that come with easy-to-learn software, and products that can be adapted to the software you might already know to fight against steep learning curves.
Features
All of the products on this list are loaded with features and boast nearly endless possibilities and combinations with the only limit being your imagination.
Some of the features we love most include: simplified switch and knob boards, products that work on batteries as well as AC power, myriad pre-set options, full-sized keys, chromatic scales, arpeggio capabilities, vocoders, program blocks, loopers, Gate and CV outputs, MIDI and USB controls, VCO designs, engaging and easy to maneuver software, and compatibility with other devices.
Connectivity
With any music or electronic device, we are always sure to look at connectivity. Here we consider what programs and software each device is compatible with and which work with PC, Mac, and iOS. We also look to feature products that can be paired with other devices similar to it for a fuller range of sound and a more complete set. We look to see whether devices are stand-alone or need to be partnered with other devices for functionality (or if they're both). And finally, we consider Bluetooth and wireless capabilities for even great flexibility in playing and programming.
Sound Quality
Most of the products on our list feature built-in speakers. Most of these speakers boast a modest sound that is in line with their size. Again, most of the products on this list feature standard headphone jacks that you can plug your standard headphones into. Some may offer a larger headphone jack so you will either need to use larger headphones or buy an adapter. All of these products can be hooked up to external speakers and receivers or monitors for full, heavy sound.
We also considered tone when looking at sound quality. We feature products that boast a range of tones from deep bass notes to wildly imaginative space noises. We also feature devices that can be modulated, filtered, and arpeggio-ed. And we love keyboards that open up multiple level octaves as well.
Value
Products in this category vary in cost pretty widely. We work to provide a nice mix of high-end and affordable products so that you can compare the features of each and find a device at a price point to suits your needs. It is worth noting that we by no means included the most expensive units out there because they can get beyond incredibly expensive and are meant for only the most serious professionals. That being said, products that are more inexpensive yet still have features of more expensive devices score highly, as do those inexpensive products modeled after super expensive devices that actually do a good job at replicating at a lower cost.
10 Best Synthesizers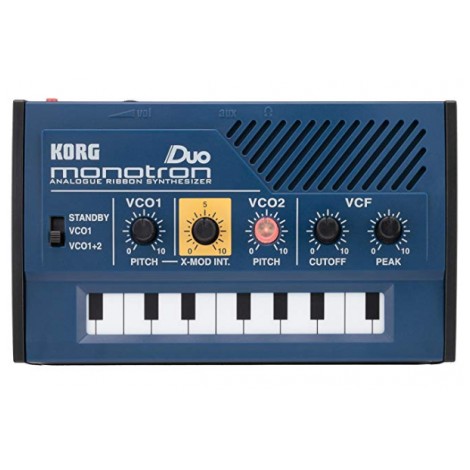 The Korg Monotron Duo is the first to make our list as is adored by music enthusiasts worldwide. It is an analog ribbon synth and is the younger sibling of the original Korg Monotron and borrows from key features of this device while also adding a modern twist. This little guy is amazingly portable, weighing less than half a pound and measuring 9 inches long by 6.4 inches wide by 1.6 inches tall.
1 Switch and 5 Knobs
The Korg Monotron Duo features an extremely simple interface with just 1 switch and 5 knobs. It has 2 VCO analog oscillators that can be controlled independently or cross-modulated (X-Mod) for an even greater effect. Plus, it also includes the original VCF filter which allows you to control both the cutoff and peak. The switch allows you to easily alternate between VCO1 and VCO1+2, as well as standby. Plus, this product is controlled by a ribbon keyboard that gives you the option of choosing between 4 different keys: major, minor, chromatic, and off. The chromatic scale plays just as a piano would with exact notes. The major and minor scales allow you to play musical phrases that are coherent by sliding hands over the keys. With this device, you are able to create classic analog sounds that are thick and rich, as well as razor-sharp edges to electronic tones--and a whole bunch in between.
Built-In Speaker
This product comes with a built-in speaker as well as a ⅛ inch headphone and AUX jack so you can plug in your favorite headphones or into an external speaker. The built-in speaker is disabled as soon as you plug into the AUX or headphone jack. By plugging into the AUX jack, you are able to manipulate sounds of any source going into the AUX. This device runs on 2 AAA batteries and gets about 8 hours of use per battery set. Korg recommends using alkaline batteries.
Cost and Value
This Korg Duo rings up at the very bottom of our price range and we absolutely love its value because it is incredibly easy to use and is a great intro device for anyone looking to explore the word of synth music and tone creation. Plus, you can take it on the road with you wherever you go.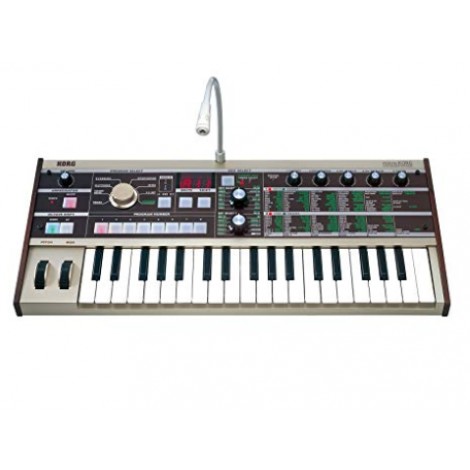 This is yet another Korg that is a gamechanger for those in the electronic music world, but this one is far from pocket-sized and has tons of features to play around with. It is an analogy, multi-timbral device. It weighs about 8 and a half pounds and measures 26 inches long by 12 inches wide.
Easy to Operate Program Panel
This Korg is way more involved than the previous one on our list, but it is still convenient and easy to operate. All program functions are clearly displayed on the panel and easy to manipulate. Plus, there are 8 customizable preset buttons that you can edit by selecting from 128 options. This product features velocity-sensing 37 miniature keys that will play the real notes of a piano. You will get to enjoy 4 analog voices and 6 different arpeggio types (trigger, random, down, up, and alt1/2). This allows you to play with scales and patterns in myriad ways. Plus, this device comes with 3 effects (phaser, ensemble, and chorus), as well as 2 bands of EQs and 3 modes of delay. 5 intuitive knobs for editing at the top of the device allow you to fluidly modify output. It is powered through an AC adapter or by 6 AAA batteries (sold separately).
Features a Vocoder
This device features a vocoder with a gooseneck microphone and 8 bands as well as hold and shift formatting for maximum control. With this feature, you can oscillate tonal characters and make them sound like they're speaking or even singing. This unit does not have internal speakers and will need to be connected to external speakers or to your headphones for sound. It is able to process external audio. This Korg is compatible with Windows and Mac OS.
Cost and Value
This Korg synth rings up in the middle of our price range and we love its value because while offering tons of cool features and options, it still boasts an incredibly easy user interface that is laid out intuitively and amenable to customization.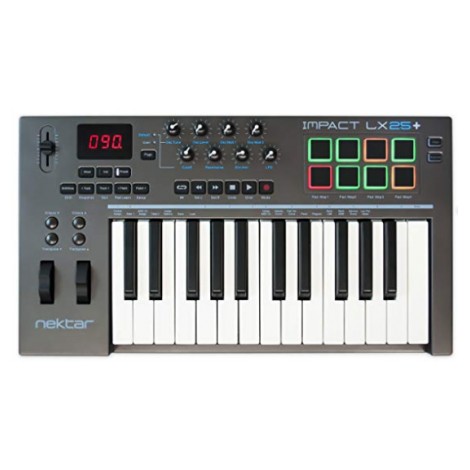 The Nektar IMPACT is a MIDI controller that boasts super connectivity and compatibility with tons of features while still being compact and portable. It weighs about 4 pounds and is 18 inches long by about 10 inches wide.
Velocity-Sensitive 25 Note Keyboard
With a velocity-sensitive 25 note keyboard that has piano keys that are full-sized, you will be able to manipulate sounds with precision and control. Transpose and octave buttons allow you to choose between 4 functions during play that can be combined with keys to change MIDI messages and channels or to gain access to the 5 presets on the device. You can easily make beats using the 8 color-coded, super-sensitive pads. You can set the pads to specific MIDI notes or messages. You can also use the 'Pad Learn" function that allows you to play a note on the piano and easily save that note to the pad. And once you have loaded your pads, they will remain there even in the device powers off. Plus, there are 4 pads that can save functions long-term.
DAW Interface with 8 Pots
The control panel features 8 pots and a 30mm fader that can be programmed to send MIDI messages and works with software and hardware alike. Integrating the system with Nektar DAW allow the controls to be flexibly pre-mapped. You can fully customize each of the 5 presets, and instrument presets are mapped automatically with Nektar. Plus, this device features shortcuts for closing and opening DAW interface so that you can free up more space on your screen.
Cost and Value
The Nektar IMPACT rings up on the lower end of our price range and we love its value because it has tons of customizable options and is compatible with both Macs and PCs (and even iOS).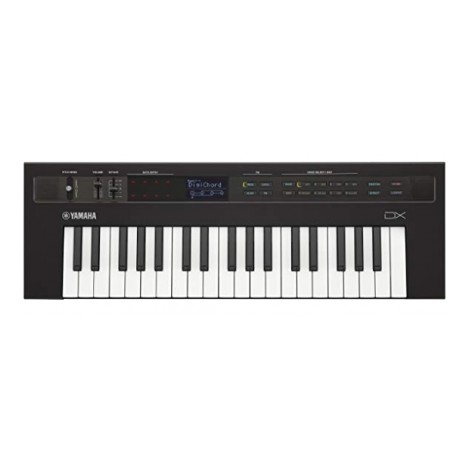 The Yamaha REFACE is an analog model synth that has reimagined the classic Yamaha keyboard and integrated some modern features that will blow you away. It only weighs 6 and a half pounds and measures about 30 inches long by about 10 inches wide making it super easy to transport and carry with you to your next gig or practice.
FM 4-Operator Sound Engine
The Yamaha REFACE features an FM 4-Operator Sound Engine with 2 program blocks that can hold up to 7 selected programs for blocks (a total of 14 programs). The control surface gives you access to all your parameters so you don't have to search through multiple menus to get to the function you desire. There are 37 keys that respond quickly and naturally, as well as 32 programmable memory locations for storing different voices. You will enjoy working with the phase looper, the VCM Touch Wah, Phaser, and Flanger, as well as reverb, delay, distortion, and chorus. This product is powered by 6 AA batteries that will typically provide about 5 hours of playing life.
Equipt with Soundmondo
The Yamaha REFACE comes equipt with Soundmondo which allows you to share, discover, and pair reface voices. With the USB connection, you can hook up directly to your computer or iOS compatible device and the creative possibilities are endless. The line outputs also allow you to connect to mixers and DI boxes, and the AUX input will allow you to listen to and distort audio input. With built-in speakers, you can enjoy sound on the go or plug in your headphones to enjoy a more intimate experience.
Cost and Value
The Yamaha REFACE rings up at the low middle of our price range and we like its value because it is super portable and because it offers lots of custom options and access to Soundmondo.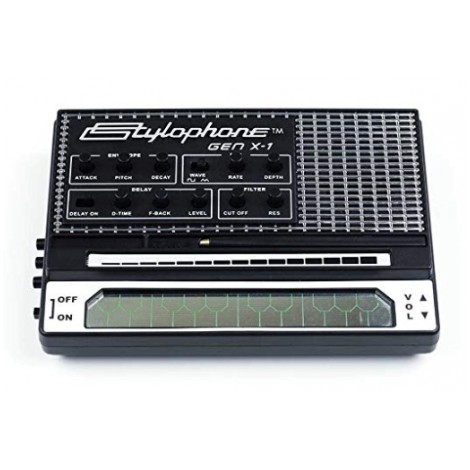 The STYLOPHONE is a portable analog synth that allows you to create sounds using a stylus. This product only weighs about 1 pound and is about 8x6 inches.
Make Sounds with Stylus
The STYLOPHONE is an artists dream. The keyboard screen allows you to tap each displayed note on the keyboard with the stylus to get specific notes, or you can slide the stylus above the keys at the top of the screen to move between notes in a scale. The LFO features triangle waves and square waves, the Envelope can be decayed or attacked, and the low pass filter offers resonance and cutoff. Plus, you'll enjoy access to Pulse-Width Modulation that creates something of a chorus effect, as well as sub octaves of -1 and -2 that play below the notes you register.
Play with Audio Using AUX Line
The STYLOPHONE has built-in speakers so you can enjoy playing this device on the go. However, if you need to keep the volume down, you can plug in your favorite pair of headphones and keep the jam going. The device also features an AUX line input so that you can work with different audio files coming into the device. This unit runs on 4 AA batteries.
Cost and Value
The STYLOPHONE rings up at the bottom of our price range and we love its value because it provides a unique way to play with sound and because it can tag along with you anywhere you go.

6

. Roland Synthesizer (SYSTEM-8)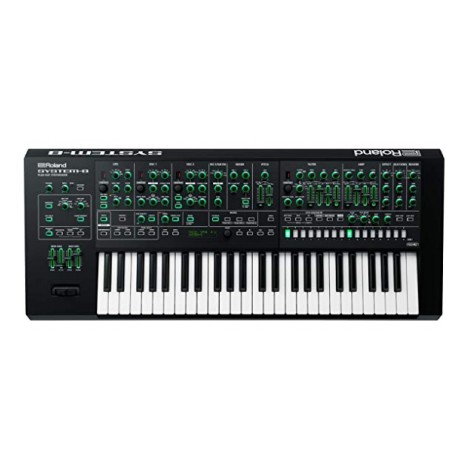 The Roland Synthesizer is the most mack-daddy synth on our list by far. This device is super sophisticated and offers tons of majorly cool functions. It weighs 13 pounds, is 35 inches long and 13 inches wide.
ACB Engine
The engine is powered by ACB (or analog circuit behavior) and features the filters and effects of 3 oscillators, 8 voices, and LFOs that are super versatile, side-band, high-pass, and low-pass filters, and the high-res sliders and knobs give you control over all of this magic at your fingertips. The device comes with 49 keys that are actually full-sized and can deliver both classic analog and modern sounds. The step-sequencer is polyphonic (as are the memory chord functions), and with both vocoder and arpeggio options, your creative possibilities have no bounds.
Serves as Host to Up to 3 Plug-Out Synths
Juno-106 and Jupiter-8 Plug-Outs actually come with this device though the device itself can hold up to 3 plug-out synths at a time. Gate/CV outputs work to pair with older, dated gear and allow modular synths to interface with this gear. This device features a MIDI/USB interface that pairs to your computer and functions seamlessly with the software. Plus, the control panel with direct control and one-touch responsiveness allows you more power and maneuverability in the moment so you don't ever have to worry about missing a beat.
Cost and Value
The Roland rings up at the very top of our price range but it does everything that every other product on our list does all in one package. Plus, it continues to work with current software while still accepting dated synths so it really can do it all.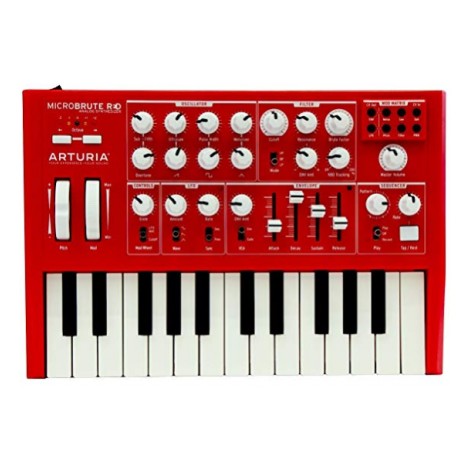 The Arturia MicroBrute is renown for is Arturia Analog Synth Sound and features some amazing software capabilities that will allow you to expand your creative horizons. It weighs about 6 pounds, is 13 inches long and 9 inches wide.
Steiner Parker Filter
The Arturia MicroBrute comes loaded with the Steiner Parker Filter that provides unparalleled and contoured sound, and the step-sequencer pairs flawlessly with rhythm patterns and basslines alike. This device features patch bay, mixable waveforms, audio-processing, and Gate and CV all at a fraction of the price of other units with these capabilities. It is semi-modular and comes with everything you need to get that sound you're looking for.
Analog Lab 2 and Lab 3 Software
The Arturia MicroBrute comes with Lab 2 and a free Lab 3 update through Arturia's website. These programs give you access to 21 virtual instruments (from organs, to baby grands, to different synth styles) and over 6,000 sounds to choose from that can be tested and programmed with incredible ease. With access to over 6,500 of the most sought after presets, you'll be busy for years to come working your way through this program.
Cost and Value
The Arturia MicroBrute rings up in the low middle of our price range and we love its value because it is a compact device that comes with a major software upgrade for endless creative ventures.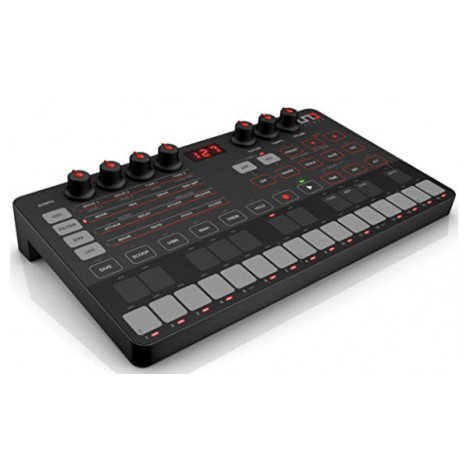 The IK UNO is a little guy that packs an all-analog audio punch. How's that for some alliteration? With incredibly advanced technology, this is the perfect device to start with because it has the capacity to grow with you and will continue to open up new possibilities as your skills develop and you become more comfortable with your art.
Pure-Analogy Audio Path
The IK UNO features a pure-analog audio path that provides and rich, uncompromised sound that you won't find in other devices of this size and at this price point. It has a multi-mode filter and 2 oscillators and can be set up and programmed with 100 presets to choose from. The keyboard is multi-step, functions in 2 octaves, and comes with a step-sequencer and arpeggiator. This product runs on batteries or can be powered via a USB cord.
UNO Synth Editor
This device comes with the UNO Synth Editor that can be used as a stand-alone editing platform or as a plug-in app. The editing features allow you to access more complex programming options than what is accessible by the control panels on the front of the device. This technology is compatible with Mac, PC, and iOS. You can use this device as a stand-alone instrument or as a MIDI controller when you hook it up to your computer.
Cost and Value
The IK UNO rings up towards the lower end of our price range and we love its value because this product is like an onion--it has layers. You can use this product in its simplest form or you can enjoy more in-depth explorations of the device and its software. This product will grow with you over time.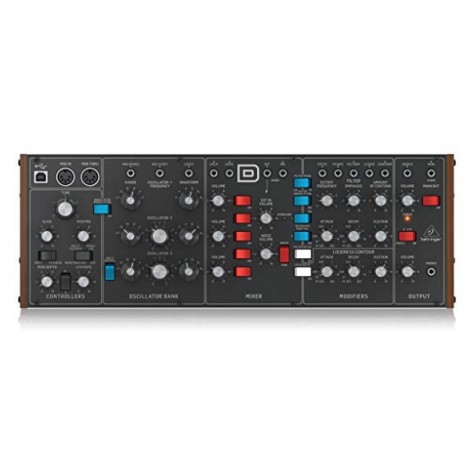 The Behringer is an analog synthesizer that has been producing fat, full tones for years. It weighs just about 4 pounds, is 15 inches long and 5 inches wide.
Triple VCO Design
The Behringer features a triple VCO design and a signal path that is pure-analog to allow you to get those deep, fat tones that you're looking for. VCA, VCO, and VCF ladder filters pair incredibly with the LFA analog square and triangle waves. Conjur up lead tones and super-thick bass notes or blast into outer space creating sounds whose only limit is your imagination. Enjoy 5 waveforms and a 6-octave range. And though this device can only play one sound at a time (monophonic), it allows you to combine up to 16 different synthesizer voices fo crazy big sound you'll love.
Euro-Rack Capable
The Behringer can be enjoyed by novices and experienced players alike. That's why the device is designed to be compatible with a Euro-Rack case so that you can easily add it to your on-the-road stage set up. This product can be used as a MIDI through USB or DIN. It has 19 switches and 29 knobs in all.
Cost and Value
The Behringer rings up towards the middle of our price range and we like its value because it is intuitively designed to go on the road and because it boasts a thick, textured sound that will inspire your imagination.

10

. Teenage Engineering PO-14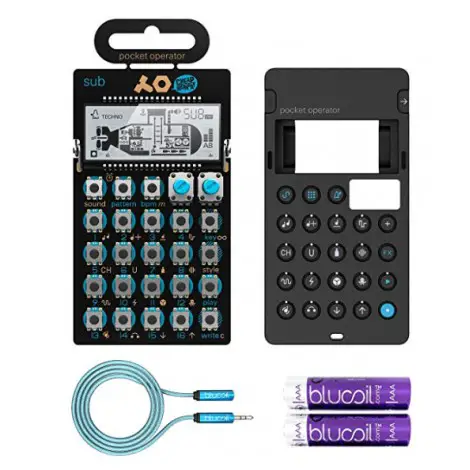 The Sub Pocket Operator is a teeny tiny bass synth that you can literally take with you anywhere. Great as an addition for larger rigs, this little guy weighs just .15 pounds and is 4 inches by 2.5 inches. It is basically the size of a calculator.
16 Effects You Can Punch In
The Sub Pocket Operator features 15 bass synthesis (from FM to wavetable to micro-drums) and 16 different sound samples. Plus, with 2 locking parameter functions that allow 16 effects that you can punch in, you can generate entire bass lines with filters, crushers, and delays all on a device that fits in the palm of your hand.
Take Jams On The Go
This tiny device even features a built-in speaker for sound that you can carry anywhere. Obviously, it's a small speaker, so you can plug your headphones or an external speaker in for greater sound volume. This device can sync with other Sub Pocket Operators and third-party devices with syncing audio pulse to create a whole-band sound anywhere you go.
Cost and Value
The Sub Pocket Operator rings up at the bottom of our price range and we love its value because it literally comes with everything you need (including batteries) to generate beats anywhere you go. And because it can actually fit into your pocket.

Subscribe to our Newsletter