Best Electronic Drum Kits Reviewed & Rated for Quality
In a Hurry? Editors choice: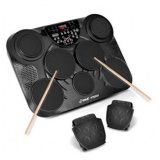 Test Winner: PylePro

Raise your hand if you remember engaging in many rousing kitchen musical productions in which you banged the absolute life out of your mother's poor pots and pans with her wooden spoons. While this may be just a noisy phase for some, others will move on to full-sized and even louder sets that will continue to plague their household (and their neighborhoods) with noise--lots and lots of noise.

But there's another way! Welcome the glorious arrival of the electronic drumkit. This list is chock full of different electronic kits designed for the youngest, budding drummers all the way up to the most experienced players. With headphone jacks (bingo), MIDI controlling synthesizer capabilities, 10+ drum pads, built-in coaches, songs to play along with, personalized kit tones, and tons of preprogrammed percussion voices you'll be able to find your beat here on this Ten Best Electronic Drum Kits list.
Standout Picks
Criteria Used for Evaluation
Size
When compiling this Ten Best List, we took a good look at size. We provide a nice mix of full-sized kits to small, portable kits. We love the portable kits made from flexible silicon that roll up and fit in your bag nicely--especially those that weigh less than 3 pounds. We also love the full-size kits that can be put together and collapsed in a sinch for easy it portability to shows and practices.
Features
There are so many cool features we found in the products on this list.
We love pads that are able to make more than one sound (dual zones on snares and toms, and choke and crash capabilities on cymbals). We also love the products that come with multiple pre-programmed kits, as well as the capability to program your own personalized kits.
We love products that run on rechargeable batteries and AC power. And we especially love those units that can run on both.
Products that come with kick pedals are winners, as are the kits that come with sticks. Plus, those devices with tons of demo songs and percussion sounds rank highly on our list.
And we are wild about the devices that come with coaching technology and apps to help you practice and to up your skill level.
Sound Quality
Almost every one of the devices on our list comes with dual built-in speakers, though a few of the full-size sets need to be connected to a monitor. Plus, most of our sets come with headphone jacks so you can enjoy intimate sound without disturbing the rest of the house or neighborhood. We also love those units that can be hooked up to external speakers as well for even great volume. It's worth noting that many of these speakers are not meant to be super loud, so extra volume may be necessary when jamming with others.
Connectivity
We absolutely love that most of our products can be connected to your computer and function as MIDI controllers. We also love those units that come with recording capabilities and those that come with apps and instructors to help hone your practice.
Value
We always consider value. We included 3-4 more expensive devices on this list (though they are by no means the most expensive units on the market), but most of our units are super affordable. We love the smaller kits that have advanced features of more expensive units. Plus, we love kits that can connect to your computer and serve another function. And of course, we love those devices that can stand up to heavy beatings.
10 Best Electronic Drum Kits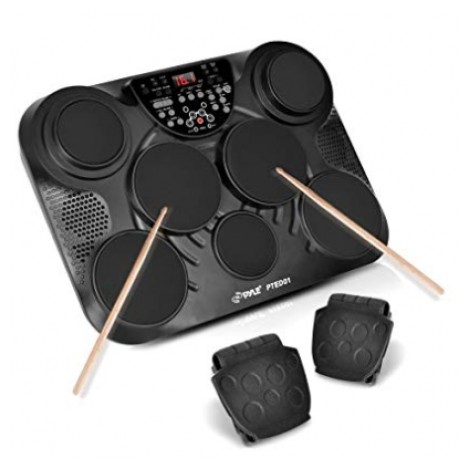 The PylePro Portable Drums pack a whole lotta wow in a super small, portable punch. The whole kit is 20 inches long and 14.5 inches wide and weighs in at less than 7 pounds so it's easy to throw into your bag and take the party anywhere.
Preset 5 of Your Own Custom Drumkits
The PylePro feature an LCD display control that is intuitive and easy to navigate. With 7 pads that are individually touch-sensitive, this product is responsive and crisp. There are 215 different percussion voices and the device comes with 25 preset drum kits. If none of these kits are quite right for you, you can make up to 5 of your own preset drum kits using the 215 percussion voices on the device. Plus, the kit comes with 2 pedals so you can feel like you're really playing a high-hat and kick drum. This little guy also comes with 2 different metronome systems and 128 GM voices. The Pyle comes with internal speakers, though you can also plug your headphones in for some intense surround sound, or into external speakers for even greater volume. You can take this guy on the road using its battery-powered feature, of you can save your batteries and plug it in using the AC adapter.
Works as a MIDI Controller
The PyleProis super easy to use and versatile as well. Use it in your lap or on the tabletop, or connect it to your computer for even more amazing features. Once connected to your computer via a USB cord, it will work as a MIDI controller on almost any software making the possibilities with this device virtually endless.
Cost and Value
The PylePro rings up towards the lower end of our price range and we love its value because it is lightweight and portable, has tons of features that more expensive devices have, and because it can connect to your computer and act as a MIDI controller.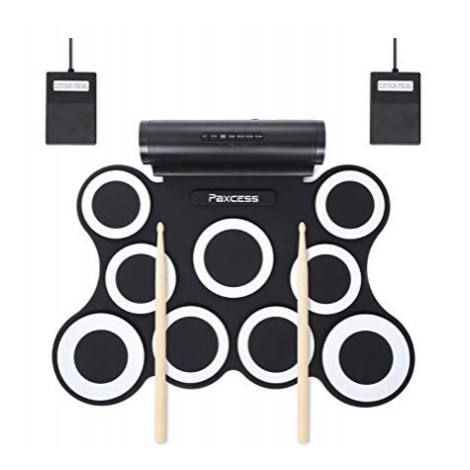 The Paxcess is a great starter set for young ones looking to practice their skills or for any beginner who is seeking an intuitive way to learn. It is lightweight (weighing only about 4 pounds) and rolls up nicely so it's super easy to roll up and take on the road.
9 Pads
The Paxcess comes with 9 pads that are touch-sensitive and include 2 hi-hats, 3 toms, 1 snare, 1 kick, 1 crash, and 1 ride. The set also comes with 2 drum sticks and 2 pedals so that you can synthesize the real feeling of kicking drum pedals. The sound of the built-in speakers on this set is less intense than other sets intended for adults which means that your child can practice at any time without disturbing you or the neighbors. That being said, with the 2x3W speakers you will still get to enjoy some real bass notes. You may also plug headphones into the device or connect the device to external speakers if you're looking for a surround sound experience. This product is powered by rechargeable batteries that typically last about 8 hours before needing to be recharged. Charging takes about 3 hours. And one more thing! This baby is waterproof. We don't suggest taking it swimming, but it can handle a few spills without suffering damage which is always a welcomed design flair for those products made for the kiddos.
MIDI Capable
The Paxcess is designed for kids and is extremely intuitive and easy to use. The sensitive pads respond nicely so that you always get a rich sound. It can also be plugged into your computer via the MIDI USB output. That means you can play games with the set or use it to create music with different software programs. Paxcess even has a full video tutorial that explains how to set up the MIDI controller function for your convenience.
Cost and Value
The Paxcess E rings up at the bottom of our price range and we love it because it is a great little starter kit for all of those young rock and rollers. Plus, it's waterproof and can roll up which make this guy a durable and portable win.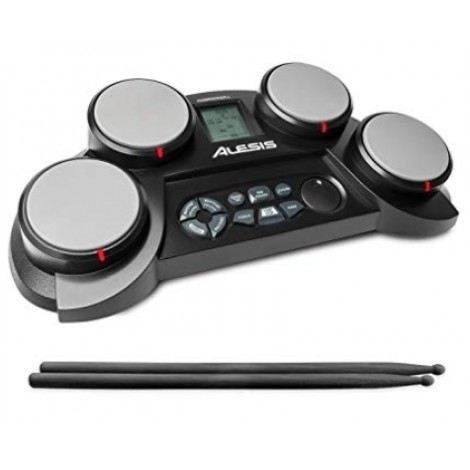 The Alesis CompactKit 4 is a super affordable option for any young drummer looking to hone their skills. We love that this unit comes in a 4 kit and a 7 kit. It is designed to sit on a tabletop and weighs about 3 and a half pounds so it's easily portable.
4 Hyper-Sensitive Pads
The Alesis CompactKit 4 features 4 super sensitive drum pads that are responsive and give the feel of playing a real set. The set comes with 70 percussion voices, 50 different songs to play along to, and 10 different effect voices so you'll be sure to find the sounds that you're looking for. The built-in speakers are enough to fill a room, but you can also plug in your headphones or external speakers for an even more intense sound. The set comes with drum sticks so that you can get started right away and is powered by AC or can be loaded with 6 C batteries to take this puppy on the go.
Comes with a Coach
The Alesis CompactKit 4 includes a built-in coach which might be one of our favorite features about this product. With 20 preloaded coaching tracks and an LCD screen, you can follow along with your coach to make sure that you're playing the right beats and notes. You can also plug this set into your computer for gaming fun by using the set as a MIDI controller. We love how easy this product is to use and set up, and how detailed the instructions are that come with this product. The company is super helpful as well.
Cost and Value
The Alesis CompactKit 4 rings up at the very bottom of our price range and we love it because it is great for beginners who may need a little coaching and because it offers dual-power options for ease in taking on the road.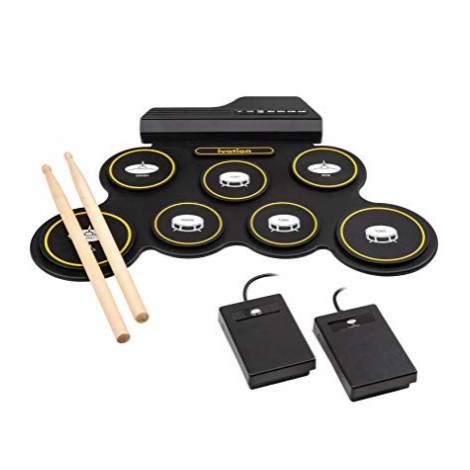 The Ivation is another inexpensive and wonderful option for beginners out there looking to develop their skills. Made from silicone that is super flexible, this little 2.5-pound guy can roll up in a sinch so that you can take your show on the road.
Convenient Pictures on Each Pad
The Ivation comes with 7 pads that each feature a picture of the drum component that the pad corresponds to making it a great set for beginners to learn with. With this set, you get 1 snare, 3 toms, and 1 crash, ride, and high-hat cymbal. Plus, the kit comes with 2 sticks and 2 pedals to mimic the feel of real bass and kick pedal. Choose between 5 different drum tones, 3 different rhythms, and 8 different preloaded songs to play with. The unit comes with built-in speakers, but also provides the option of plugging your headphones or external speakers in for greater sound. The Ivation is battery powered and takes 2AAA batteries to function.
Hooks Up to Your MP3 Player
The Ivation allows you to hook your MP3 player up so that you can play along to your favorite songs. It also will connect to your computer via the USB jack and function as a MIDI controller. We love how easy this device is to use and that it comes with pictures to help even the youngest drummers gain skills rapidly.
Cost and Value
The Ivation rings up at the very bottom of our price range as well and we love it because it is super easy to use and because it comes with handy pictures to help youngsters learn quickly.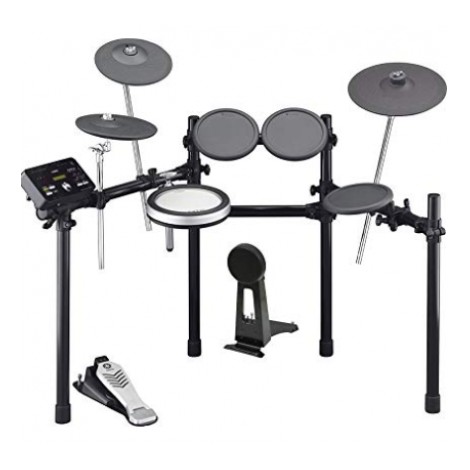 The Yamaha DTX522K Kit is the most expensive item on our list and it is an absolute unit. With full connectivity, this product boasts options that are literally endless. This set is meant for those with some experience in using electronic drum kits already and is not super portable and it features several separate pieces.
3-Zone Texture
The Yamaha DTX522K Kit comes with some incredible proprietary features that you will only find on the DTX Yamaha. The 7 pads feature a snare, 3 toms, and 1 cymbal each of high-hat, crash, and ride. We love that the cymbal pads have 3 zones that allow you to get different tones based on whether you hit the edges, the cup, or the bow and you can even mute the sound with the available software that comes with it. That's something that other sets on this list and on the market simply cannot do. Plus, this product comes with 32 different tone generators, 691 percussion sounds, 50 preset kits, and endless possibilities for creating your own personalized kits. This Yamaha runs on AC power and it does not come with the pedal pictured. That must be purchased separately.
Free iOS App
The Yamaha DTX522K comes with more wave ROM than before and also comes with a free iOS App for even more possibilities and connectivity. Use any one of your Apple devices to get in the moment coaching on how to play along to some of your favorite songs in time. The app has more than 1000 pre-loaded songs, but you can also load songs directly onto the DTX module so that you can practice playing by slowing down the tempo of the music or by only practicing with one hand. This app also allows you to easily create and store beats so that you can get your creative juices flowing.
Cost and Value
The Yamaha DTX522K rings up at the tippy top of our price range but it truly takes electronic kits to the next level. With superior sound quality and tons of options through the iOS apps provided, this is a kit that will bring your music game up to the next level.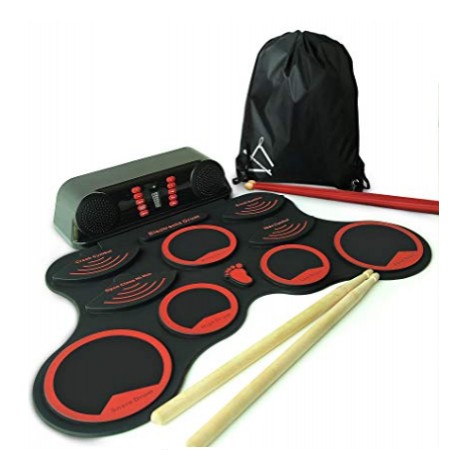 The MINIARTIS Roll Up is another great mini-electronic drum to hit our list. It is great for kids and novices alike and is designed to be taken on the go. Weighing just about 2 pounds and coming with a convenient traveling case, you can roll this kit up and take it with you anywhere.
9 Different Pads
The MINIARTIS Roll Up features 9 separate pads that are all labeled for your convenience. With this set, you get 1 ride cymbal, 2 crash cymbals, 1 open and close high-hat, 3 toms, a bass drum, and a snare drum. The kit also comes with 2 pedals and 2 sets of drumsticks (one regular wood set and one maple red set). The sound quality of the internal speakers is decent and you can even plug your headphones in for a more intense sound. The product comes with a carrying case and travel bag so you can take it anywhere you go. It runs on a rechargeable lithium battery.
Compatible with Mac and PC
The MINIARTIS Roll Up comes with a USB hookup and audio cable so you can plug this unit into your computer and use it as a MIDI controller or use it to create tracks with your favorite software. With 11 songs you can play along to, 9 demos, and full control over tempo, you can practice along at your own speed until you get the hang of things.
Cost and Value
The MINIARTIS Roll Up rings up towards the bottom of our price range and we like its value because it has a wide range of pad sounds and because it is so easily portable.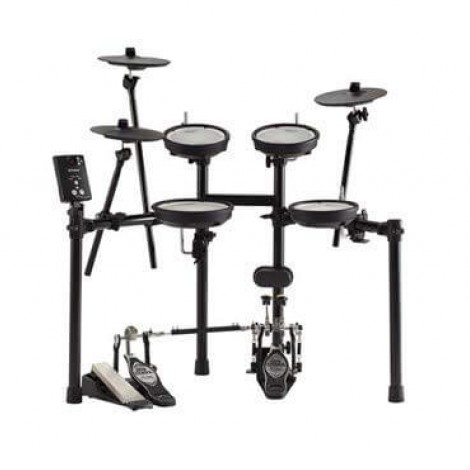 The ROLAND TD-1DMK is a heavy-duty kit that can serve as a great kit to grow into or as a practice kit for those who are a little more experienced. This is not a portable product though it is easy enough to break down and move if necessary or when playing a gig.
Dual-Ply Heads Made from Mesh
The ROLAND TD-1DMK is great for beginners and experienced drummers alike. It includes 3 toms, a snare, a kick, a high-hat, and its control pedal, a ride, a crash, and the stand. We love that the pads are made from dual-ply mesh that you can adjust the tension on so that resistance can be amped up as you get better and better. You will need to hook this up to a monitor for sound, but you can plug your headphones into the jack and enjoy your kit that way. This product comes loaded with 15 pre-set kits, 256 notes, and an adjustable metronome. It runs on AC power.
Coach Onboard with Melodics
The ROLAND TD-1DMK comes with built-in Melodics coaching technology that helps you along your way to becoming a more accurate and technical drummer. It works sort of like a game so it's super engaging and will propel your skills to the next level. The kit itself is intuitive to use and it's easy to set up right out of the box so you'll be grooving in no time.
Cost and Value
The ROLAND TD-1DMK rings up at the high end of our price range and we like its value because it features adjustable pads and because it comes with a built-in coach to help boost your confidence in playing as well as your skills.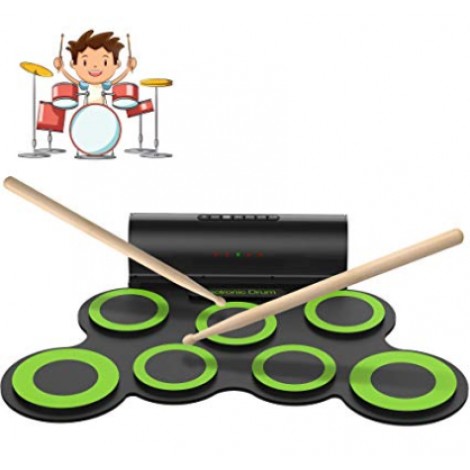 The ORASANT is a quality set for the budding drummer in your family. With customizable features, this is a great first set to practice on and experiment with. Plus, this little guy weighs less than 3 pounds and is waterproof so you can feel comfortable when taking it on the road.
Interchangeable Snare and Hi-Hat Positions
The ORASANT is complete with 7 pads: 1 snare, 1 hi-hat, 1 ride, 1 crash, and 3 toms. We love the special feature of being able to change the position of the snare and hi-hat to suit the user's needs--something you won't find on every fixed set. This product comes with 2 pedals and 2 drumsticks. It comes pre-loaded with 8 demos, 5 timbres, and 3 different rhythms to play around with. The 2 built-in speakers provide nice quality sound, though you can always connect an external speaker or your headphones for an extra boost. It runs on a rechargeable battery that will provide about 10 hours worth of play time per charge.
Pause Enabled on Demo
The ORASANT has a super intuitive interface where each port is clearly labeled so you can be sure you're plugging each of your devices into the correct place. This set is compatible with external speakers, MP3 players, your phone, headphones, and your computer as a MIDI controller. Plus, we love that you can pause a demo while playing in case you need to take a pause and slow down.
Cost and Value
The ORASANT rings up at the bottom of our price range and we like its value because it offers customizable features that other products at this price point do not.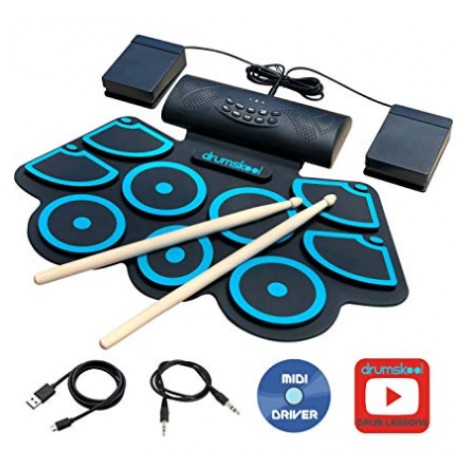 The Drumskool is laid out like a real kit and comes loaded with tutorial options so you'll be ready to move from this set to a real set in no time.
Layout Like a Real Drum Kit
The Drumskool comes uniquely laid out like a real drum kit with 3 toms, a bass drum, a snare, a high-hat, a ride, and 2 crashes. This layout is great for practice and for transitioning onto a standard drum kit. The two woofer speakers deliver a nice bass and range of sound, and the device features a headphone jack and external speaker option. The kit comes with 2 drumsticks and 2 pedals. It is powered by rechargeable batteries, and every chord that you need comes with the device.
Connect Phone for Drumskool Tutorials
The Drumskool comes with some really great training features. Simply connect your phone to the device to access different tutorials from Drumskool and to also play along with your favorite music. You can even play to youtube videos so it feels like you're actually part of the band. This kit is MIDI controller capable.
Cost and Value
The Drumskool rings up at the bottom of our price range and we like its value because it offers tutorials and because of its intuitive pad arrangement.

10

. Alesis Surge Mesh Kit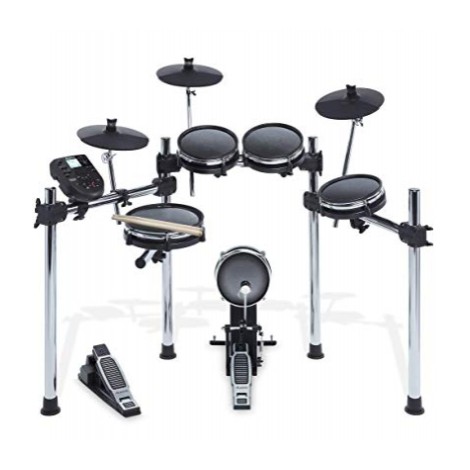 We round out our list with another Alesis product--the Surge Mesh Kit. This is a full-sized kit that offers great sound and features at a lesser price than the other full-sized units on our list. While it isn't designed to be portable, it is easy to set up and take down so you can bring it with you to any gig or practice with little hassle.
True to Form Kick Drum and Pedal
The Alesis Surge Mesh Kit comes with 1 ride, 1 hi-hat, and 1 crash cymbal, each of them 10 inches in diameter and equipt with choke and crash capabilities. Plus, you get a 10-inch snare and 3 8-inch toms that are equipt with dual zone technology for more nuance in your playing. Plus, the kick drum and pedal mimic a real live drum set. We love that everything is included with this kit. You get the chrome rack, AC adapter, all necessary connecting cables, drum key, and drumsticks.
Built-In Sequencer for Recording
The Alesis Surge Mesh Kit comes with 40 pre-loaded kits, 385 percussion sounds, and 60 different tracks that you can play along with. Plus, it features a built-in sequencer so that you can easily record your tracks as you play. This unit is compatible with Mac OS 10.7 and later, as well as Windows 7 or later. With AUX and USB inputs, you can connect to your MP3 player or phone and use the USB as a MIDI controller.
Cost and Value
The Alesis Surge Mesh Kit rings up in the middle of our price range and we like its value because it offers tons of great features at a lesser cost than other full-size sets on our list.

Subscribe to our Newsletter