Best Tactical Boots Reviewed & Rated for Comfort
In a Hurry? Editors choice: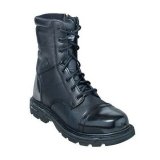 Test Winner: Thorogood Jump Boot

Whether or not you really need a pair of tactical boots, (because you're in the military, or the police force, or do a lot of hunting) isn't really the point. The point is that these boots are well made, they're waterproof, and they're weatherproof. If you want a pair of boots that are going to stand up to just about anything the world can throw at you and
keep you warm
and dry and smiling through it all then a pair of these boots are going to be what you're looking for. They're expensive, sure, but a good pair of boots like these are a special purchase, like a car, it's a purchase that you can buy expecting for this pair to last you for a long, long time, and with care perhaps for decades. So, think of them as a specialty purchase and get you some.
Standout Picks
Criteria Used for Evaluation
Use
There are times when you know a regular pair of trainers, shoes or boots won't cover the requirements for full comfort and protection. Commonly manufactured footwear is practical for day to day uses but does not provide adequate versatility for specific high activewear. If you are looking for a pair of boots that can protect your feet for long periods; and still be comfortable it is best to decide what purpose they serve. Different activities and uses will define what style of footwear is best for you, the last thing you want is to buy a pair only to find them inappropriate and flimsy. For high activewear such as law enforcement, trekking, security roles to name but a few; it is imperative to buy a decent hard-wearing pair of boots.
If you are traveling on foot for extended periods over rough terrain, the design of the boots will ultimately determine the comfort you will feel. The boots will ideally be manufactured with a hard-wearing interior and exterior; an insole/midsole support is crucial because it will give an amount of shock absorbance when on rough ground. The durability is as important if your footwear isn't up to a job – it will reflect on your ability to do the job.
Materials
Priority should always be given to check the materials the boots are made of if you purchase a regular style and design. Chances are the materials that will not be top quality, might be flimsy and will not offer the protection you need. Man-made materials are cheaper not only by design and production but will not provide comfort for long time use. A decent boot will take some breaking in; this ensures that they mold themselves to your foot and therefore increase your comfort. It may be tempting to buy a lesser quality pair because they break in quicker – but these will inevitably wear out faster and are not up to the job.
Tactical boots can be made with full-grain top quality leather which is often treated for water-resistance and water-proofing. Nubuck leather and suede are also preferred materials used in them; and by the very nature of it; is tough, hardwearing and breathable. The midsoles in a good pair can be made with a suitable quality material such as ethylene-vinyl acetate and Polyurethane, these materials give not only comfort – but will provide an even balance of weight and reduce stress on your feet.
Protection
If you are looking for a pair of tactical boots, then chances are you won't be wearing them just for everyday activities. They are designed to protect not only the foot but also every extremity on your foot that could be at risk of injury.
Your ankle can be an area that is prone to damage, and an excellent pair will provide padded protection and extra stability and support. This support is priceless if you are on rough terrain, or wearing your boots for extended periods. They also provide a snug fit around your ankle keeping warmth in, and water and chills out.
The rubber outsoles should be thick enough to protect from spiking and reducing the intensity of feeling uneven surfaces. A decent chemically safeguarded sole should have enough tread to enable free movement with confidence, and to avoid slips and turns on smooth, wet or icy surfaces. A lighter or less adequate sole can make for a dangerous trek, they may be lighter and more comfortable to start with – but the overall inadequacy of them will bring down your comfort and can be the difference between a successful day or not.
Features
There is a range of features, and these provide more comfort than they are given credit. If you are using your boots for trekking; then chances are at some point you will be facing some steep downwards areas.
Heel breaks are placed hitherto so you can bear down on them to help your descent slower, this is not only a useful safety feature but can also give you more confidence to take on trickier routes. Good boots will have good a lug pattern. These are designed in different ways for increased traction and grip.
If your use involves an amount of heavy work or heavy lifting – then you could benefit from a pair with toe-protection. A decent toe-cap is made with either steel or some form of strengthening material to stop your toes from getting crushed or pulled out of shape. This will increase the overall weight of the boot but is useful and essential for safety; there should be no compromise when staying in one piece is a prime objective.
Fit
A significant part of getting the right boot is making sure you get the fit right. You may find a pair that feels as though they fit just right, but there are a few factors that need to be taken into consideration. There are specific pressure points on our feet that will, with a pair of poorly fitting boots, make life very uncomfortable.
Around the toes, (especially the big toe), the sides of the foot, the heel, and the lower calf. If the boots are tight, then chances are your feet may swell after prolonged use and cause any of a multitude of problems including blisters. It is always recommended to wear the socks you would typically use when trying on boots, they may be thicker or thinner than regular socks which will mean you get a better idea of a correct fit.
A comfortable heel cup is another thing to look for, and even buy special wide-fitting boots as necessary to avoid tightness. Of course, the boots should not ride around your foot, this can cause as many foot problems as a tight-fitting boot can generate. They won't keep you stable and provide the support you need.
Best Tactical Boots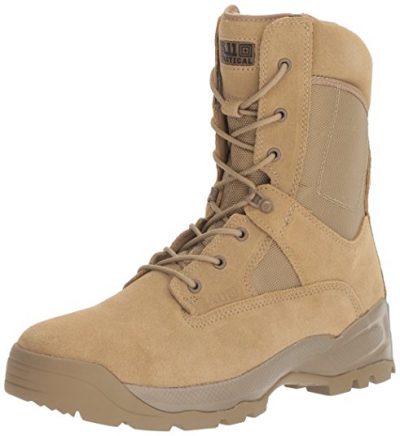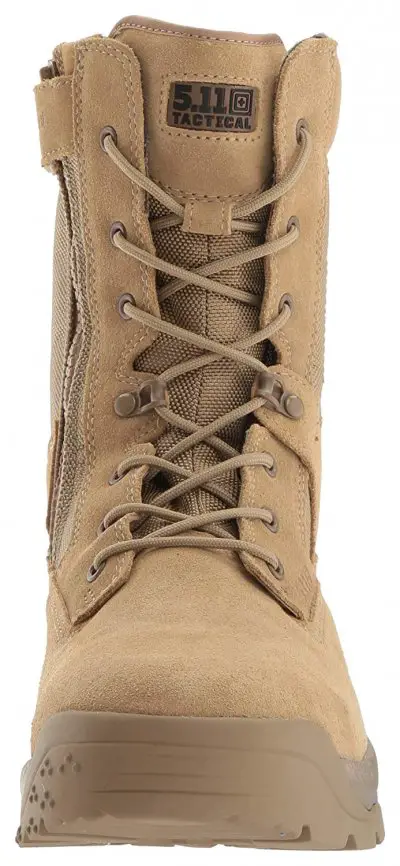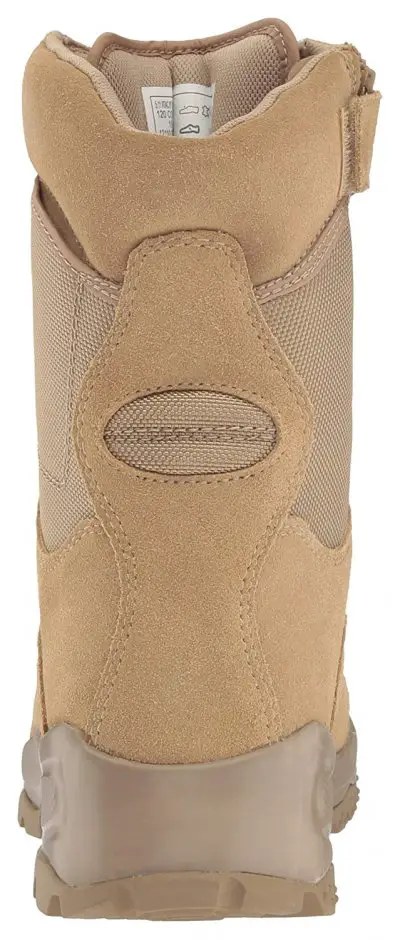 5.11 products are produced with military and first responders in mind. The 5.11 ATAC boots are some of 5.11's best selling. Made from leather and synthetic rubber, the ATAC's are built for performance and longevity.
Side Zipper
Something you wouldn't normally think of about responding to an emergency is the minutes added to response time due to getting your boots on. This is particularly true for footwear with higher profiles. 8" and 9" boots offer the best support, but fumbling with laces is not something that you want to be doing in the middle of the night if you are called. The side zipper allows boots to be slipped on and ready to go at a moment's notice.
Full Grain Leather
The 5.11 ATAC is manufactured from leather. While some boots on this list are made from different types of material, the 5.11 ATAC features classic tried and true leather. Leather molds around your feet overtime giving your boots a fit that feels customized.
Cost and Value
The 5.11 ATAC is a set at a very attainable price. The leather will not break as easily as other materials. These 5.11's are built to last and are worth the mid-level price.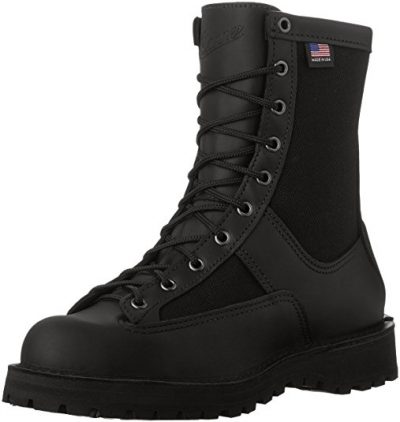 Danner has been the choice of law enforcement personnel for decades. Founded in 1932 (a good year for boot manufacturers apparently) Danner features an insanely solid product that may even outlast the person wearing them. Danner has a patented stitch technique that keeps the boot working and ready.
High-Quality Construction
The Danner Acadia features Gore-Tex lining for a waterproof boot that is also breathable. The Acadias also has a fiberglass shank and a non-metallic composite reinforced toe. This solid construction is one of the reasons why the Acadias are a choice of law enforcement and special tactics teams. Leather and abrasion and shock resistant Vibram is also used in the Acadia's construction
Narrow Profile
The narrow profile of this boot makes it one of the more sturdier boots on the list. This keeps your foot from sliding around on the inside while you are conducting operations. Wider sizes are also available upon request.
Cost and Value
Danner Acadias are built with some of the highest quality materials. This makes it a boot that can be considered quite a high-end boot. While you may be paying more for Danner Acadias, they are worth every penny.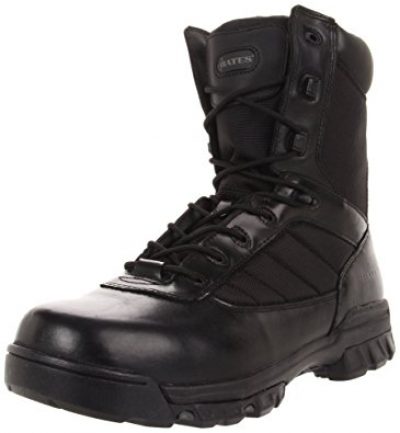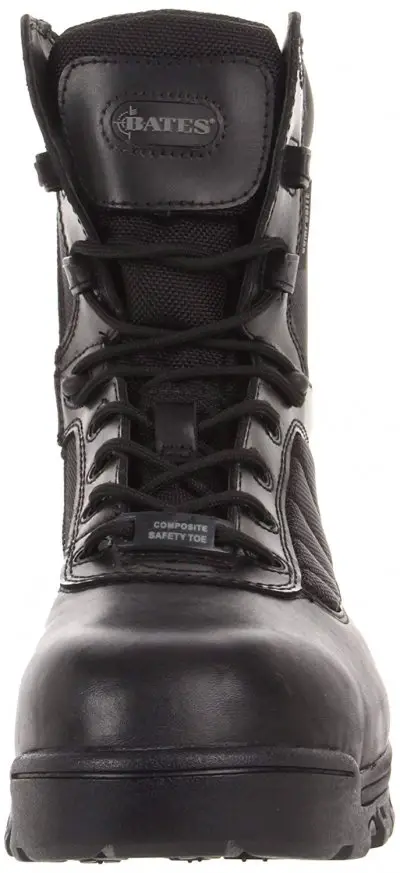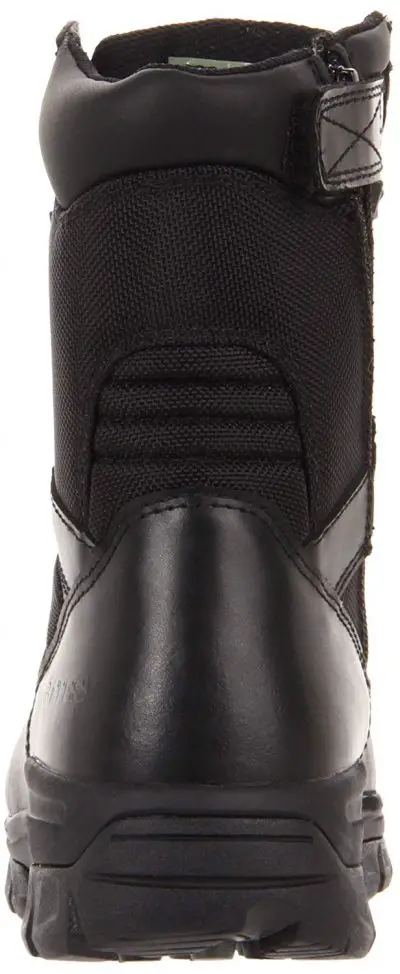 Bates's footwear was once a formal dress shoe manufacturer. Today, Bates has become a name well known with uniformed personnel. Bates makes boots and shoes that are both aesthetic enough to pass uniform inspections and functional enough to answer whatever challenges they are put through. The first of two bates boots on this list is the 8" Tactical Sport.
Not Just a Name
The Bates Tactical Sport is built for performance. While it is an 8" boot, it feels like your wearing sneakers. These boots are a part of the bates Ultra-Lite line which is part of the Enforcer series. The bates Ultra-Lites are 30% lighter than other boots from the Enforcer series and feature a slip-resistant sole. The Tactical Sports will rise to any challenge whether it be scaling a wall or supporting your feet and ankles while lifting equipment or people.
Let 'em Breath
The Tactical Sport 8" boot has a mesh top to allow for ventilation. This keeps your feet from overheating, providing comfort that lasts all day. While the boot is not waterproof, they do keep out a lot of moisture. The mesh material is thick so it helps keep your feet cool in the summer, they will also stay warm in colder months.
Cost and Value
At its price point, the Bates Tactical Sport gives you a lot in return. With a relatively low price point, you can put these boots through a lot of abuse and not have to worry about breaking the bank IF you need new ones.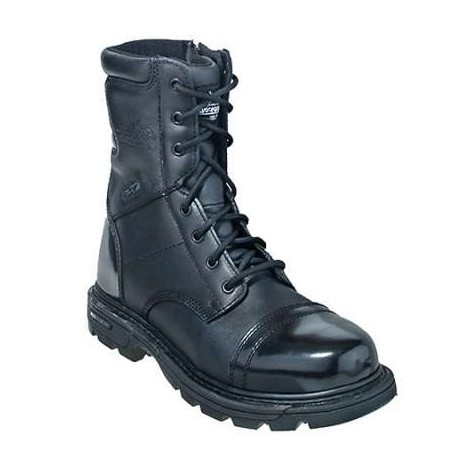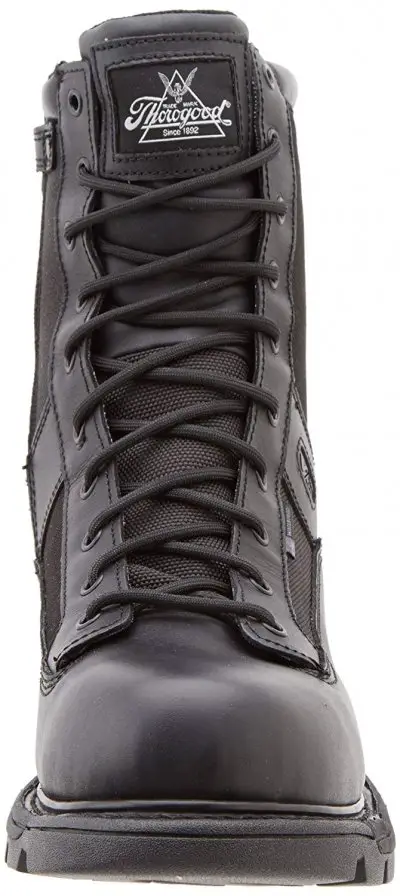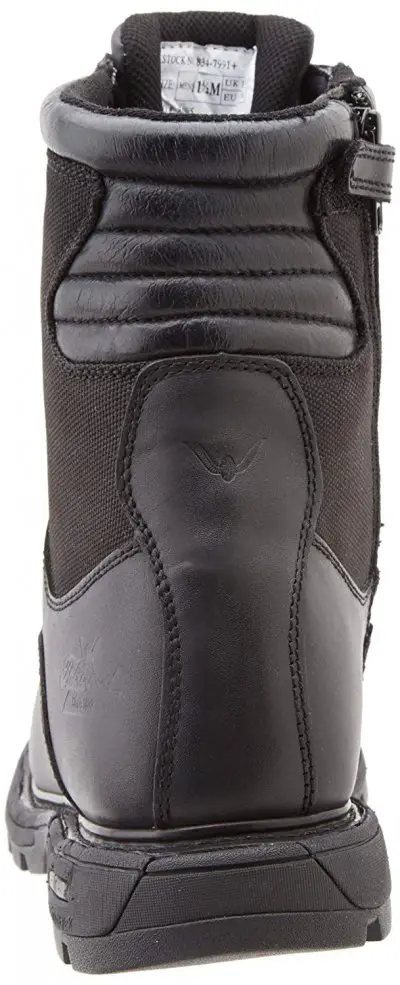 The Thorogood Jump Boots are manufactured with quality leather and have a rubber sole. The sixteen-eyelet closure system is complemented with an eight-inch side zipper for ease of putting on and taking off. The toe is polished for a smart stylish finish and the overall boots are oil-tanned leather which is hard-wearing. They have a substantial eight-and-a-half inch shaft from arch for ultimate comfort and are designed to fit snug around the ankle. The overall base is a mere one inch but still provides maximum comfort over rough terrains and for long periods of wear.
Foot-bed
The boots have a removable polyurethane footbed which has the benefit of being EVA cushioning for flexible, comfortable support around the arch of the foot. This is particularly useful when the boots are used over longer days because the pressure on the arch is comfortably supported.
Rubber sole
The quality rubber sole boasts being non-marking and slip-resistant, the nature of the design makes them ideal for many outdoor pursuits or activities. They are comfortable and help to reduce the risk of shocks and impacts when on uneven surfaces.
Cost and Value
These Thorogood Jump-boots are designed to be multi-use and suitable for a great number of active pursuits, the benefits and comfort features included as standard mean they are a very good value for the money. The high-quality materials and stylish design ensure they are equally well balanced on both cost and value.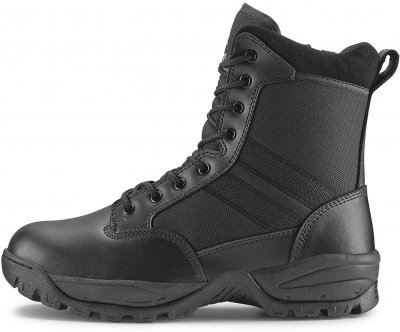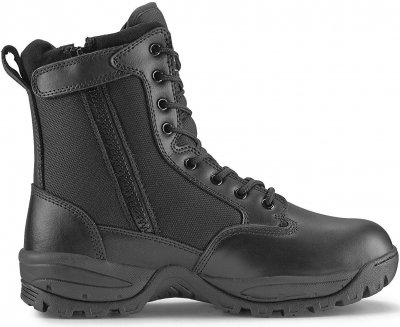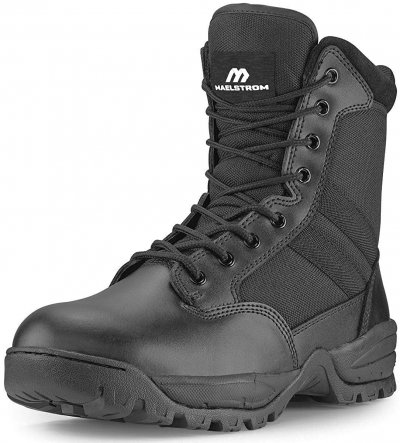 A classic nylon leather combination tac boot that's designed to keep you on your feet, warm and dry no matter the terrain, the sole is rubber and built to keep a strong grip on the ground no matter the terrain. It's also built with extra heel cushion to keep you walking all day long. The boot is built to be water-resistant thanks to a waterproof membrane designed to keep water out and your feet dry.
Water and Weather Resistant
While the out boot is made of nylon and leather the iH2o waterproof tech membrane keeps water away from your feet so no matter the kind of miserable weather you're slogging through your toes and your socks are going to stay dry, and warm.
Super Grip Sole
The Rubber Sole is meant to ensure that you keep a strong grip on your terrain and the non-slip grip is going to keep you on your feet even if you're walking on an ice-skating rink. The company says this boot has aggressive treads and they're going to keep you on your feet no matter the environment you get dropped into.
Cost and Value
These boots come at a great price. A steal really and we're shocked that we found them at this kind of price. You're getting super grip treads, an extra bounce in the heel to fight fatigue, water and weatherproof, and easy breathing nylon outer all for a price that almost defies belief. If you're looking for simple entry into the Tac boot arena this is the shoe for you.

6

. Under Armour Valsetz RTS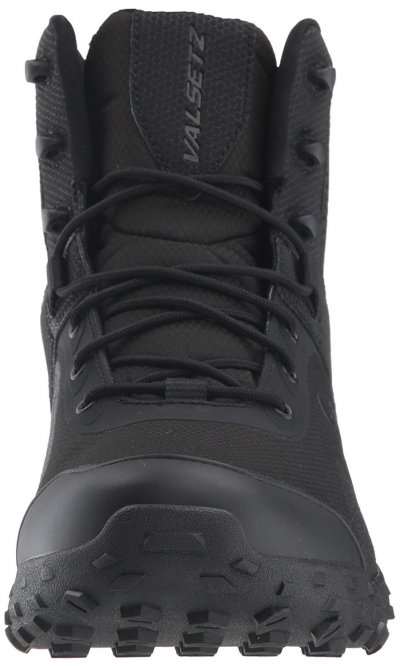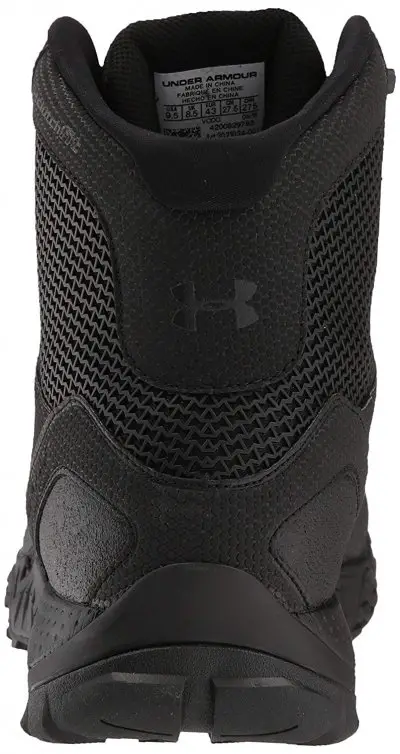 Under Armour is a company that had humble beginnings. The founder, Kevin Plank, began Under Armour in his grandma's basement. Now, Under Armour is a multinational company that is known for their high-quality sporting apparel. The Under Armour Valsetz RTS feels like your wearing a running shoe but has the support and construction that resembles a weightlifter's shoe.
No-Slip Grip
The tread of the Valsetz features a tread that is made for optimal gripping on slick surfaces. The Valsetz will keep you on your feet in wet weather and will even give you an advantage on icy surfaces.
Comfort and Function
The Valsetz incorporates memory foam into the sock liner and a Micro G insert that will give you both support and comfort. The top of the Valsetz is wrapped in a non-abrasive material to save your ankles from irritation
Cost and Value
Under Armour is known to be professional-level apparel. That being said, these boots sit at a moderate price level. Given the lightweight material and Under Armours lifetime warranty, the Valsetz RTS is a great buy that you won't regret.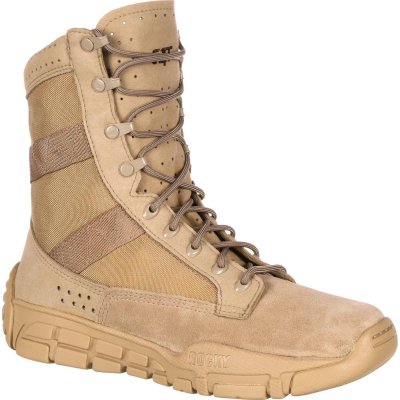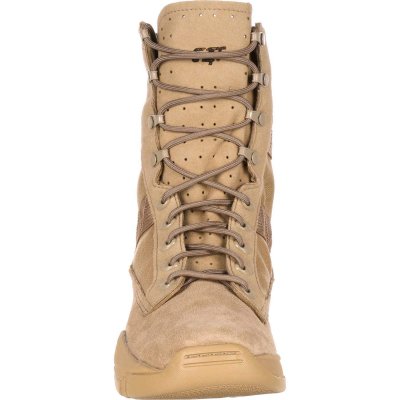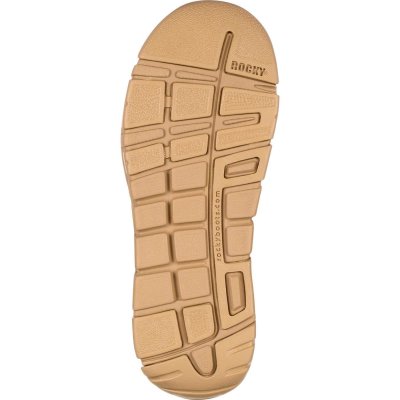 We like this particular Rocky boot just because it rides so high on your ankle and it has all the other bells and whistles that you're going to find in more expensive boots. Waterproof Membrane? Check! Cushioned Insert? Check! Leather and Nylon Outer? Check again. When all is said and done this is just a great entry and we're glad we found it for you.
Waterproof
While the outer soles of this shoe are nylon and leather there is a waterproof membrane on the interior that's going to keep the water well away from your socks and toes. And we all know how tough life gets once water finds its way into your boot.
Easy On and Off
We find this in a fair amount of our boots, while they do come with laces there is also a zipper that's going to ensure you can get these boots on and off quickly. In some cases, there's also a Velcro strap that covers the zipper just to make sure it's going to stay in place and these boots have that as well.
Cost and Value
A nice price but far from the cheapest on our list. These Bates come in at about midrange when it comes to price and we're perfectly happy with that considering all you get with this boot.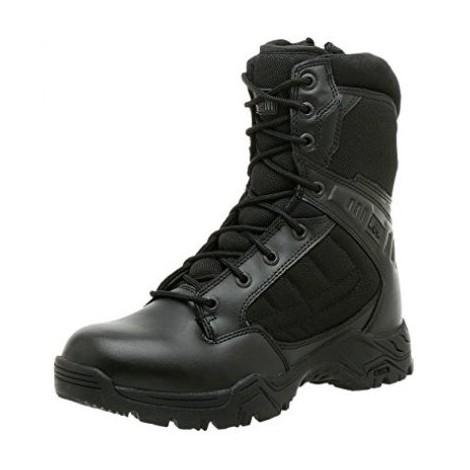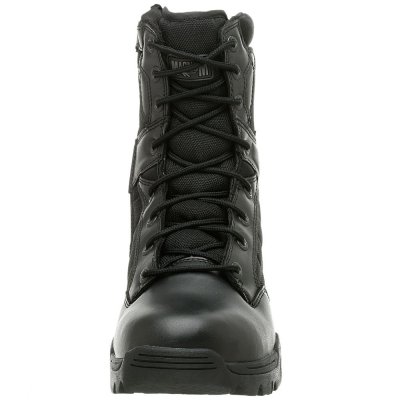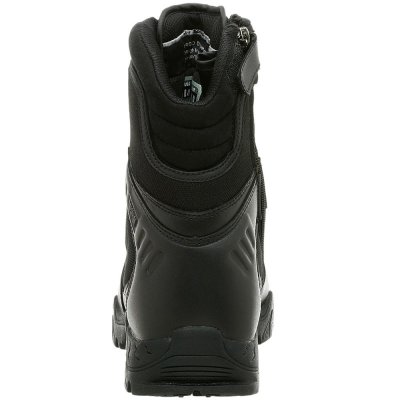 These Magnum Response boots are practically and stylishly designed using both leather and textiles in their manufacture. They boast an eight-inch curved side zipper for extra comfort and ease removing, and the rubber sole is slip-resistant so wet days and tough terrains are less dangerous underfoot. Flexible support and protection are provided to the ankle giving extra confidence when on longer treks and for hard days working, the exterior benefits from abrasion resistance.
Padded
The boots have extra comfort built-in with the padded heel collar and insole, this is complemented with a steel shank to ensure not only comfortable wear – but a supported one. This integral addition means these boots are versatile and hardy for a variety of activities.
Velcro
The eyelet components are easy to release and this is doubled with the eight-inch side zipper, a bonus here too; it is a Velcro safety strap. These boots are also equipped with a moisture-wicking lining to reduce dampness and reduce the risk of sores and blisters.
Cost and Value
These Magnum Response boots are very well balanced in terms of relative cost and value. The comfort and support provided are an invaluable addition when they are worn for long periods. The stylish design and mixed material/leather upper give them an edge over competitors, and they are a good value product.

9

. Belleville TR960ZWP WP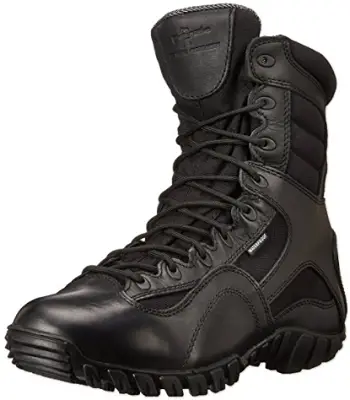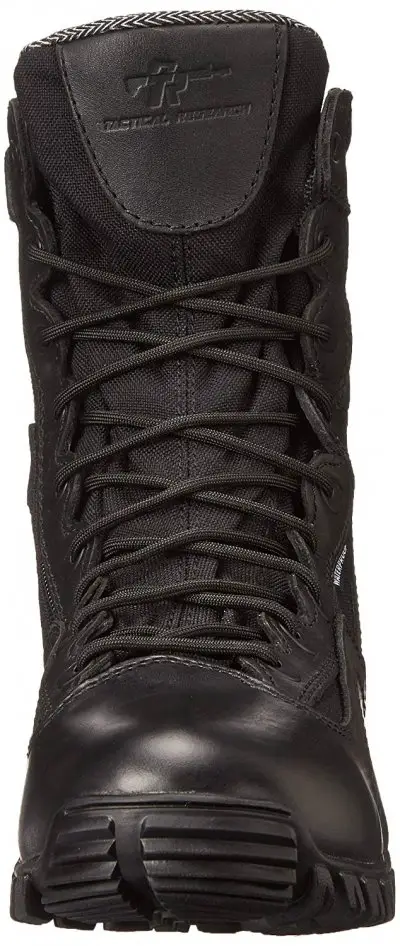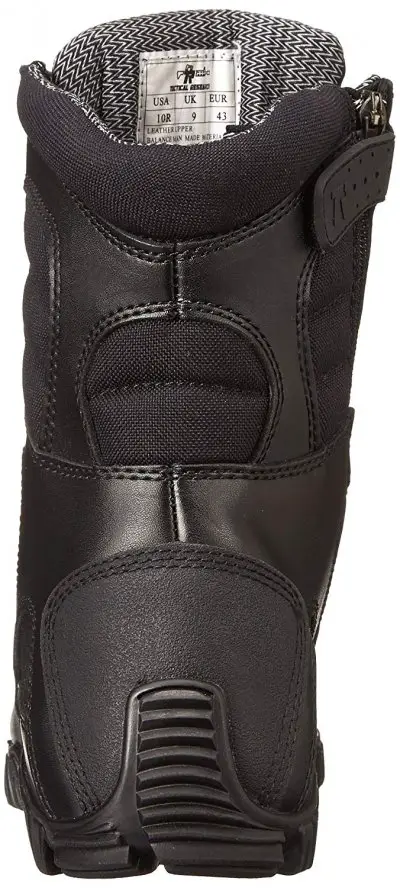 Belleville Shoe Manufacturing Company began in 1904 with 50 workers. At the time, the founders did not know a lot about shoe manufacturing. Thanks to the marketing skills of the founders and the excellent shoesmiths they hired demand for Belleville shoes grew rapidly and the company has done the same.
Putting in the Work
The Belleville Tactical Research series features boots that were meant for the tactical operator. Many military and law enforcement personnel who have owned a pair of Belleville's swear by them. This is due to the high-end material and advanced design that goes into this line of boots.
Form and Function
The Belleville TR960ZWP combines both the worlds of form and function. The superior design leads to a great looking boot that is a medium weight. With the side zipper, oil slick resistant sole, and waterproofing technology, Bellville has created an incredible piece of footwear that will not let you down.
Cost and Value
With high-end materials come high-end prices. These are no exception to this rule. While they are some of the more expensive boots you can find they may also be the most reliable.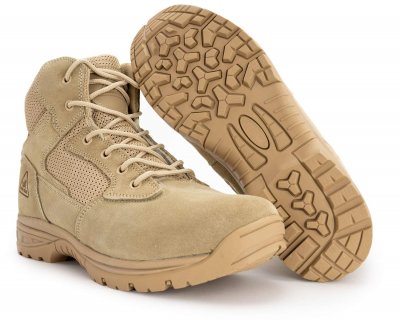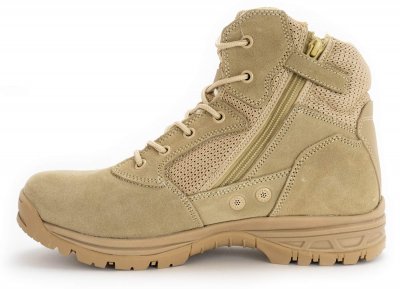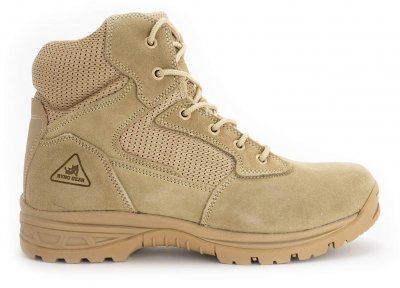 These Ryno boots are a new entry into our top ten and they deserve their place. Not only do these come with a great looking nylon and brushed leather outer but they also have an impressive tread system that's going to ensure you keep moving no matter the leather.
Breathable
The mesh interior ensures that you'll get some air into this boot so you're feet can breathe no matter the weather. The boot also has a water-resistant membrane that'll let the air in but keep the water out.
Comfortable
These boots have a heel insert that ensures a sweet ride no matter how far you're hoofing gear.
Cost and Value
Another incredibly cheap pair of boots. As we've done our research on tac boots we've been shocked to discover just how many of these boots come in at prices that challenge a nice pair of running shoes. The fact is, we expect to pay more for a pair of these and were pleasantly surprised to find some options that weren't that expensive.

Subscribe to our Newsletter