Best Ski Poles Reviewed & Rated for Quality
In a
Hurry? Editors choice: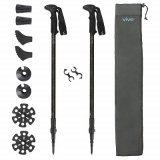 Test Winner: Vive

When preparing to go
skiing
you want to have all of your necessary items including a warm,
waterproof coat
, a snug hat, thick gloves, non-slip
ski boots
, and sturdy ski poles. Ski poles are the perfect addition to any ski trip due to how versatile and resourceful they can be. However, not many skiers know how to properly use a ski pole or how to purchase the right one for their specific needs. In fact, many ski lovers tend to overlook the benefits of having a ski pole as part of their ski trip necessities. Here, we will cover all the information you need to choose the right pair for you!
Standout Picks
Criteria Used for Evaluation
Materials
The shaft is the long portion of the equipment, which can be made from a number of different material types. The material that the shaft is made from is where you will receive your potential benefits. Below you will find the different material types you have to choose from.
Aluminum:
When these are made from aluminum, depending on the quality, are typically the most cost-effective choice. On the contrary to this, higher grade aluminum is a little more costly but the thicker aluminum adds to the durability of the product. Aluminum is used most often, as the material tends to bend rather than shatter or snap. In some cases, a bent aluminum can be maneuvered back into place.
Carbon:
Equipment made from carbon materials is mainly made for higher performance activities. Due to the cost of this type of equipment, someone just starting out will want to look into a more suitable option. The carbon variety is known for its ability to flex slightly when pressure is applied. One possible downfall to a carbon material is rather than bending, the carbon is known to snap instead.
Fiberglass:
You may notice that you have a tougher time finding these made from fiberglass. That is due to the fact that fiberglass has such a low durability rate. Since fiberglass shares the same flexibility trait that carbon does, only at a lower cost, it is often highly sought after. It is best to seek out equipment that has both fiberglass and aluminum mixed to form the shaft. That way you get a higher level of durability with a certain level of flexibility as well.
Comfort
At the top is the handle or grip, which can be made from a number of different materials. You will find that some are plastic while others might be rubber or a blend of the two materials. On rare occasions, you may even find the grip made from such materials as cork.
What grip you should choose will actually boil down to your personal preferences. What we can tell you, is that both rubber and plastic grips will not allow for moisture absorption. It has been noted that most users find rubber to have the most comfort when it comes to grip. Depending on the manufacturer you may find added layers of foam under the grip for extra comfort. Some will even include a more specialized grip pattern for your uphill battles.
Effectiveness
The piece located toward the bottom is known as the ski basket. This basket is the part that controls just how far down you will go into the snow. Baskets can be found in all different shapes and sizes but will fall into one of two categories.
One of those categories is called a powdered basket, They are larger in size to prevent them from sinking too far into the soft snow. The second category is the standard basket, which is sometimes known as hardpack baskets as well. You will find that these baskets are much smaller than the powder baskets and work best for downhill skiing. There are some that will come with both types of baskets. You can change out the basket according to the type of snow or skiing you will be doing.
Weight
Weight is an important factor for both backcountry skiing and those who enjoy racing on their skis. The weight of each will vary according to the shaft material. Often times it is taken for granted that the carbon variety will be the lightest option. Don't let the material weight fool you, you must also factor in the size of the shaft and the quality or grade of shaft materials used. In an effort to clarify this for you, if you have found that carbon is lighter than an aluminum option, check the size of the shaft. If the aluminum shaft is smaller in diameter, then the aluminum one will indeed be the lighter option.
Style
Alpine
An alpine is typically the most popular choice among skiers, as they are suitable for different skiing styles. They offer a shaft that has a straight design, with a handle that allows for comfort in your grip. The bottom piece, or more commonly known as the snow basket, will come ready for use on hard snow. There are options out there that will come with an interchangeable snow basket. So you can change them when you need to.
Powder or Backcountry
Options labeled for backcountry or powdered snow work well in areas with softer snow for skiing. A larger snow basket at the bottom section prevents it from sinking into the soft snow. The shaft of these is typically found to be slightly thicker than alpine variety. This gives them a little extra durability for skiing in the backwoods areas. You will find that most of the powder or backcountry options will be adjustable. This makes it easier to pack and store them when they aren't needed.
Racing
Racing options are for the more advanced skier, oftentimes one of the more expensive types. They are made to be lighter in weight than the other options we have gone over. The design is made for speed, fitting the contour of the skier's body when they are tucked in next to the skier. At the bottom you will find a smaller sized snow basket, this prevents you from becoming snagged, as to not interrupt the racer.
Nordic or Cross-Country
Some equipment designed for cross-country skiing is also labeled as Nordic. Not only are they great for skiing, but many will also use them for hiking or snowshoeing as well. The shaft is far more narrow than that of the backcountry or alpine variety. The snow basket is radically different shapes as well, with a spike as a tip at the bottom. This tip lets you plant them so that you have leverage for shoving yourself off.
10 Best Ski Poles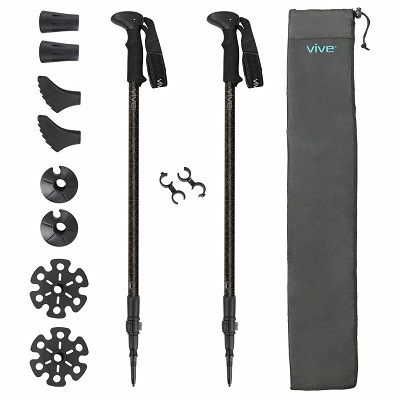 The first set that we have on the list will supply you with endless possibilities. These can be used for several different activities and not just in the winter months.
Adjustable Length
The shaft for this option is adjustable for the length. This allows you to switch the lengths when you need it the most. Headed into an uphill climb? No problem, with this choice, all you have to do is adjust them.
Attachments
As we stated earlier, these can be used over any terrain you are up against during your travels. You can use them for hiking through the woods or mountain trails. Bring them along on your next ski trip as well. The versatility of this option is due to their ability to have the attachments changed out. You simply need to match the attachment to the terrain you will be traveling.
Cost and Value
Making a purchase such as this one can be of value to all your sporting goods equipment. The attachment variety alone can reduce the amount of gear that you need on hand for all of your activities. These can be made to match the terrain you are traveling. Eliminating the need to purchase another set.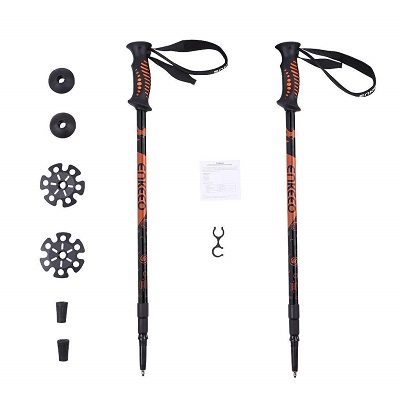 This next set is made from a different type of material than some of the others that we have seen on the list so far. The different material option will hold different potential for both the product and the user.
Carbon Fiber
Made from carbon fiber are said to be one of the most durable options on the market. Carbon fiber has the ability to flex under pressure rather than bend like aluminum. This gives them the ability to withstand a few more bumps and bruises.
Multiple Uses
People who have purchased these are known for using them for more than just skiing. The basket construction is known for its durability, so it will hold up against all terrain types.
Cost and Value
These come with a high level of value. Made from carbon fiber you will get a huge amount of durability from these. The basket construction will hold up to all different terrain types. Which allows you to use them for more than one activity.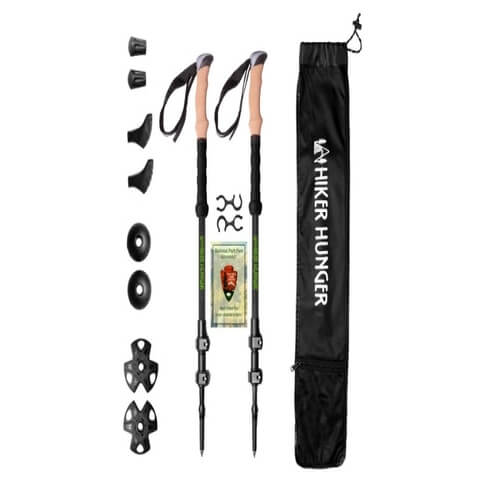 Hiker Hunger made sure their product would be able to withstand a multitude of conditions due to its impressive construction. Made out of 100% carbon fibers this pole is one of the sturdiest ones on the market. Not only due to its impressive construction but due to how efficient they are when faced with a multitude of weather conditions. With that being said, there is no doubt these ski poles were constructed with the adventurous consumer in mind.
Extremely Light Weight
If there is one thing active skiers will tell you, is just how much having a lightweight pole makes life so much easier. Due to these being composed of carbon fiber they are extremely lightweight. Weighing at about 7.6 ounces per pole you are getting less than a pound for both. Furthermore, these are collapsible poles. Which means there is no need for you to carry them as their original form, instead you can collapse them and carry them in their carrying bag.
Multifunctional
When most hear the word "ski pole" most of us think just that poles that are used for ski; however when you get a well-constructed product such as this one you can be used it in multiple different areas. Featuring air ventilated, extra padded, adjustable wrist straps paired with shock-absorbent material that helps you tackle any type of ground while being light on your joints.
Cost and Value
While the Hiker Hunger pole is on the pricier side, it comes well equipped with everything you need to tackle your favorite sport. Though you are paying a little bit more you are also paying for the quality you are receiving. Furthermore, you're also getting a carrying bag, flip lock, and snow baskets that make traveling in the snow a whole lot easier.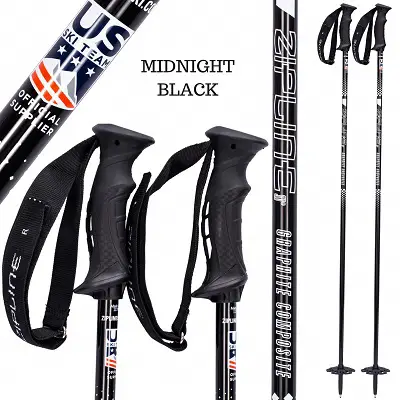 This is the first set that we come to that is not of the adjustable variety. For some, this is a positive thing, as not everyone will like that they can adjust their length. Here you get to choose which length will best suit your needs.
Swing Weight
The shaft has a tapered design, which lowers the swing weight of the product. This makes it easier to travel further distances while skiing. Let's face it lugging heavy equipment around can certainly become a drag.
Fun Colors
Sometimes the best part of skiing is the ability to accessorize. If this fits the bill for you, then these are for you. They are offered in five different colors. Each color is bright and shiny, so you will be able to set yourself apart from the rest.
Cost and Value
All good things come at a price, these are no different. For some, the benefit of having non-adjustable equipment will outweigh the cost in itself. The light swing weight will please your arms on those extended ski weekends. While the bright colors will have you standing out in the crowd.

5

. Black Diamond Trail Trek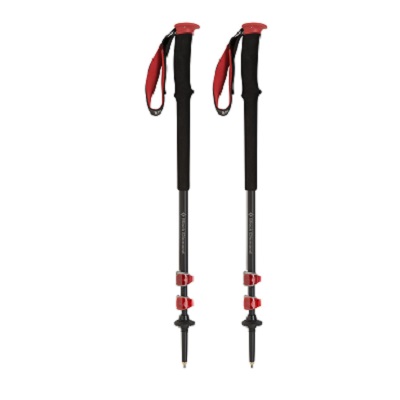 Here is another look at an adjustable length variation. Options such as these will suit your needs for hiking, skiing, or even snowshoeing. The possibilities seem to be endless for these.
Dual Lock System
To do away with the issues seen with other adjustable options on the market. These will include a double lock system, which is known for holding the length you set them at. It eliminates the stress of it sliding around.
The Grip
Designed for your comfort, the handle will include foam to keep your hand comfortable while using them. This foam has an added non-slip protection to ensure your hold on the grip is a solid one.
Cost and Value
With these will come a quality design and construction. With that quality will come an added cost, but keep in mind that good things come with a higher price tag.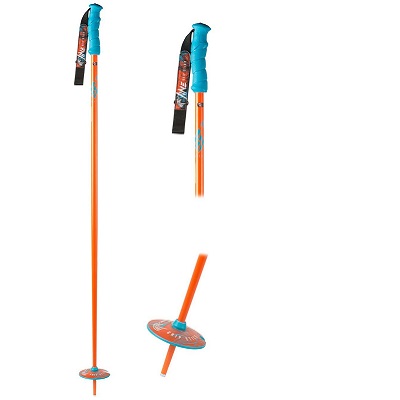 One of the most free-spirited ski brands- Line, designed these midrange ski poles with the idea of having a pair of flashy ski poles that are fun yet functional for those that enjoy skiing at different ranges. You get a sturdy aluminum pole with a killer design for a much more personal feel. The Line did an excellent job bringing a unique touch to a rather simple sport.
Baskets
The Line gives its customers the option of using powder, or hardpack baskets by providing both with each purchase. This allows you to easily screw off and swap out your preferred basket, depending on where you are skiing, this is an excellent option to have if you enjoy skiing in different weather conditions.
Multiple Uses
As stated above, these ski poles are a great option for those that enjoy using a durable set of poles that will get the job well done regardless of how steep or light the snow may be. They are flashy, durable ski poles that simply work.
Cost and Value
Considering that you are getting two different baskets, these ski poles are priced at an exceptional cost. They are quite affordable but having those added baskets make them an even better idea.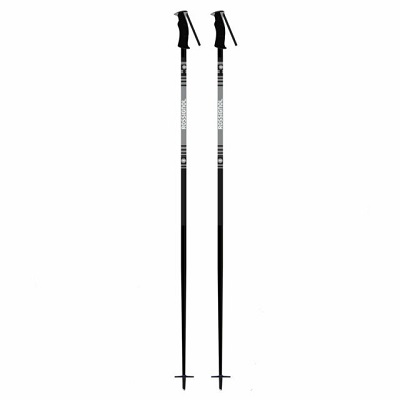 This option is designed to withstand a high level of punishment. These can be used by the beginner or by even the most experienced skier. Quality materials go into the construction of the product so you know they are made to last.
Every Skill Level
This design has features that will suit all skill levels from beginner to expert. The baskets at the bottom will handle even the hard snow found on the steepest of hills. When this is more than you can handle, no need to worry these are equipped to handle the bunny slope as well.
Handles
The handles have a very user-friendly design, allowing you to place a firm grip on your equipment. This is great for those instances when you accidentally take a tumble to the ground. The strap and the grip will keep these within your grasp, so you won't be searching the snow for lost objects.
Cost and Value
These will hold a potential amount of value to the right user. No matter what your skill level these will provide you with a sense of self-esteem while hitting the trails or slopes.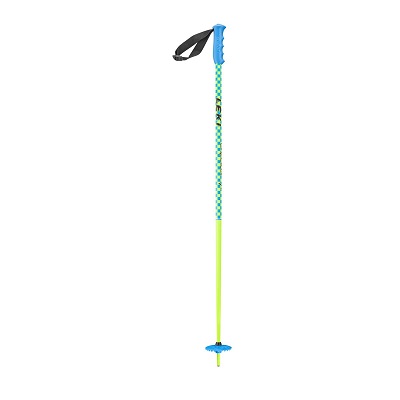 This set has been designed to cut the extra weight without cutting the benefits the product has to offer. Whether you are a beginner or someone with experience these will hold plenty of benefits.
Shaft Design
The shaft has a design that will shave some of the extra weight off of them. The design is tapered making it smaller toward the tip of it. No need to worry, this does not affect the durability.
The Snow Basket
The bottom, or snow basket, is designed for harder packed snow. Which you will typically find on the slopes, but the basket will also get you through the soft snow when it is necessary.
Cost and Value
These will come to you at an affordable price while holding a decent amount of value. These work well for beginners or for those who are more experienced cruising down the slope. The snow basket is easy to assemble and holds well even in the hard snow.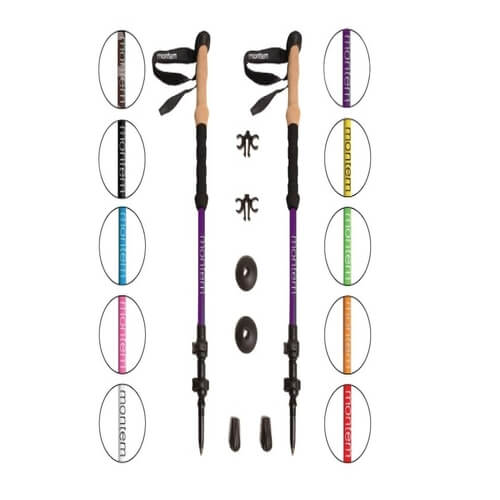 Designed for those that love being outdoors these ultra-strong poles by Montem bring you a unique variation to what common ski poles are known for. Not only will they help you move through heavy snow while keeping your balance, but they will ensure you can travel to multiple areas without missing a beat. Think of these poles as the perfect addition to your ski trip essentials.
Essential Durability
Constructed out of aircraft-grade Aluminum 7075, these poles are ready to tackle any mission. Due to being made of aircraft-grade material they are extremely durable and easy to handle. Do not be fooled these are not heavy or get in the way of your traveling. They are easy, durable and can be collapsed if you truly would like to carry them with you anywhere you go.
Carbide Tip
Thanks to having a sturdy carbide tip, these offer exceptional traction when you're walking or hiking through heavy snow, ice, or even a mixture of both on a trail. This feature allows you to have a seamless approach when walking. Furthermore, you also get the ability to know you have added balance through those rough walking areas.
Cost and Value
The best part about these poles is just how cost-effective they are. You are getting an excellent quality product for an even better price point. Think of them as an essential item to have the best skiing trip possible. Not only that but they work great for other outdoor activities making them a win-win item. Additionally, they come in multiple colors, allowing you to personalize them to your liking.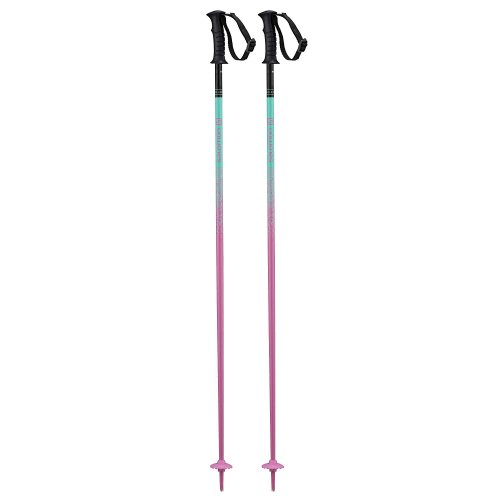 The last set on the list is a lightweight design that allows you to cruise downhill with a new sense of balance. Don't get weighed down with heavier versions that are on the market.
The Grip
One of the most common complaints that people have when using this type of equipment is that the grip is too wide. Often times people with smaller sized hands will struggle to hang on to them. The smaller diameter of the handles on these will allow for better grip.
Lightweight
We all know that heavy equipment can become a burden to use. You maneuver them around for the entire trip. This set has cut some of the weight down so your arms will thank you later.
Cost and Value
These won't break the bank should you choose to purchase them. They are lighter than some of the other models on the market. The handle design will allow you to keep a comfortable grasp. These could be the next skiing possession that you value.

Subscribe to our Newsletter