Best Ski Goggles Reviewed & Rated for Quality
In a
Hurry? Editors choice: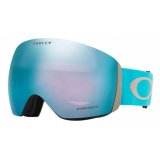 Test Winner: Oakley Flight Deck

Whether you're planning on using ski goggles for actual winter sports, or to just
protect your eyes
, there are a lot of fantastic options out there. There are depth and complexity to this market that will surprise and plenty of options. It may seem perplexing because what we're really talking about is a simple way to protect one's eyes and allow them to see as they
race down a mountain
with blasts of cold wind flooding the eyes. But designs of the modern age are complex and complicated, with too many options to wade through. But we're here to help so dive into our top ten list of
goggles
.
Standout Picks
Criteria Used for Evaluation
Best Ski Goggles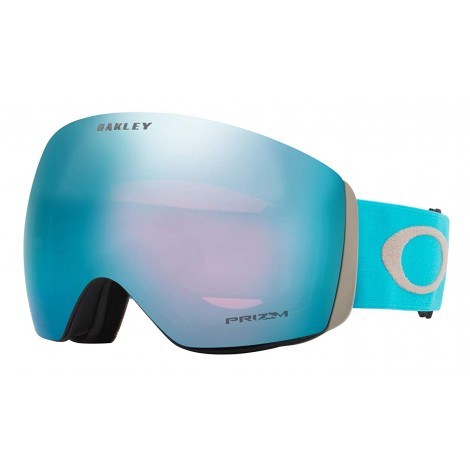 The Oakley company has been at the top of or near the top of the goggles game for decades now, and they sure don't look like they're slowing down anytime soon. The Oakley Flight Deck Goggles are the Rolls Royce of goggles. They're the most revered, respected, and desired ski goggles the entire world over. They're uncomplicated, stylish, and made to the highest order of quality.
The Lens
One of the ways that companies like Oakley have really revolutionized the world of protective sports goggles is the technology they have developed in manufacturing lenses. Much like the sunglasses game, Oakley original goggles boast an impressive Prizm technology that allows for clearer vision, and ease of strain on your eyes while riding at such quick speeds.
Luxury Comfort
There's something about a top-tier pair of riding goggles, and it's in all of the little details that are made to make the wearing of them that much more comfortable. With the Oakley Flight Deck pair, you get a flexible ridge, and lens that keeps the pressure from the wind pushing in on your eye sockets, a thick strap for a nearly unnoticeable tension, and discreet frame notches in the side foam so that those with prescription eye-wear can rock these stunning goggles with ease.
Cost and Value
We can't deny it, the price of a really good pair of ski goggles is a tad outrageous. Standing on this side of the purchase, it might almost turn you right back around. But with that intense price tag, you get an absolutely stunning piece of equipment. One that will protect your vision, assist your sight, and last you for years.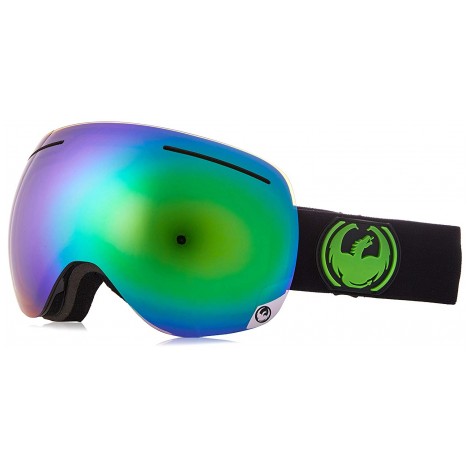 The other mainstay at the top of the charts is Dragon, a company that hasn't been around as long as folks like Oakley, but have become just as well known for their insanely well-made and designed ski goggles. They began as an apparel company but found a well-underserved niche in the glasses market. Now, with decades of Dragon frames around, they're one of the most well-respected goggle and glasses companies in the hip world.
Protect and Defend
The X1 Ski Goggle from Dragon Alliance isn't the most premium in their line-up, but it is the most recognizable pair. And they have a long-standing tradition of giving the wearers a 100% UV protection from the sun, as well as a "super" anti-fog coating on the lens, making for a crisp and clear view regardless of how bright the sun is, or how much air might get in it.
Bonus Night Lens
Most ski goggle manufacturers just don't consider what happens to their riding customer base when the sun goes down. It gets to be super dangerous and difficult to see things when the world goes dark, especially when you consider that most ski goggles are tinted, making the world even darker. Dragon Alliance, however, offers a free yellow-blue tinted replacement lens that you can swap out at night so that you can see even clearer during dark hours than you would with your naked eye.
Cost and Value
Like we mentioned before, Dragon Alliance makes more premium goggles than the X1 Ski Goggles, but these are their most iconic, and honestly, there's almost no real reason to head up the ladder when you've got something this great on offer. It's a great deal for anyone looking for an amazing pair of goggles.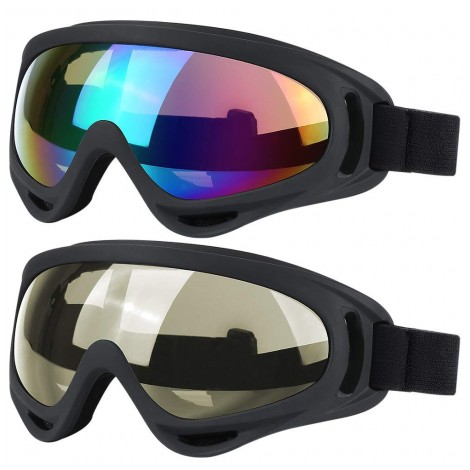 Chalife comes in here absolutely swinging from the bottom of the barrel. These aren't meant to really battle it out with the absolute top-tier of the ski goggles market, but they are on Amazon's Choice list for a really good reason. They are absolutely amazing (for the price point they are being listed at). We've scoured, and not many things compete with the Chalife Ski Goggles in their price bracket.
Two Fer
Most of the value that comes in the package for ski goggles are just the glasses and how they're made, but the best part of this extremely budget-friendly pair of ski goggles from Chalife is that it's not just one pair, it's two! That's right. You get two pairs of ski goggles for the price of one, but actually for the price of far less than one because dang are these extremely cheap.
Got the Goods
Normally when you play the "cheap as sin" game, you're throwing all normal comforts out the window. But that's not the case with this 2-pack of Chalife ski goggles, no. Rather, you get two pairs of well made, shatter resistant, clear vision, UV400 protected ski goggles. There's almost no need for Chalife to include all of that quality in a pair of goggles this price, but who are we to argue?
Cost and Value
If you haven't noticed, we brought up the price at every turn. That's because this package from Chalife is on this list because of the price tag. They could easily have charged ten times this amount, but didn't. You get not just one, but two amazing pairs of ski goggles for less than a Big Mac meal at the golden arches.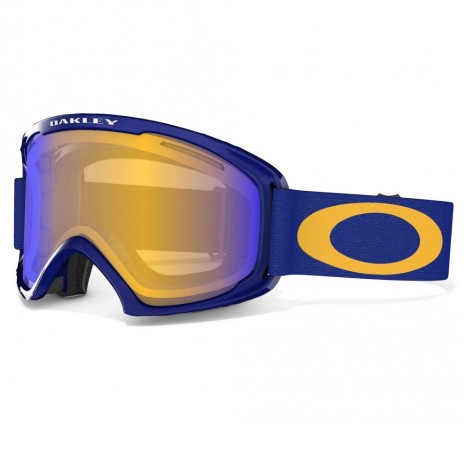 You know we had to do it. We just couldn't boast about Oakley and their dominance in this space whilst relegating them to only have one spot on this list. Which is why the O2's have snuck all the way up to number 4 on this chart. These aren't the quintessential Oakley's that everyone knows, but they are a stunning, cheaper pair in their line-up. One with just as much to offer as all of its competitors at this price.
Flexible Chassis
It's really standard for goggle manufacturers and designers to use cheaper, harder plastics for their goggle frames. What that causes is a rigid frame (or chassis as Oakley likes to call it). This is the exact reason why some people get headaches after wearing goggles for too long. They're just uncomfortable. But the Oakley O2 has a flexible frame that conforms easier to the curves of your face, for a longer, more comfortable fit.
No Strain, All Gain
The Lexan lens on the Oakley O2's provide the wearer with not only 100% UV protection, but it's all ambient UVA, UVB, and UVC ray protection. These goggles offer more protection than most thousand dollar sunglasses. Even more amazing, is that they also filter out harmful blue light, which is the leading cause in eye-strain.
Cost and Value
At less than half the price of the famous Oakley Flight Deck goggles, these O2 Ski Goggles are a match made in heaven for those looking to get the best out of every dollar they spend. They may be number 4 on this list, but they're also one of the best values for the price on the entire market.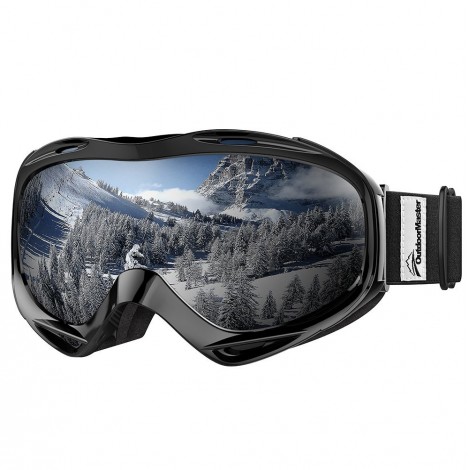 It seems like Amazon is at it again, or at least, the shoppers on Amazon are, because they've bolstered these beautiful OutdoorMaster Ski Goggles to the number one best seller's list, and that's for a whole slew of reasons. Technically, these might be the best budget ski goggles our species has ever known, and they so closely resemble some of the stylings you'd see at the north end of this market as well.
OTG
It's surprising that, in a world where prescription goggles or masks aren't really a thing, that so many manufacturers make things like helmets, or goggles without a single thought shed for those that wear glasses. The OTG in the OutdoorMaster ORG Ski Goggles name stands for Over-The-Glasses, an internally patented design that ensures absolute comfort for all those with spectacle.
The Flex and Fit
Normally, at this end of the price range, you're going to put up with a whole lot of discomfort or ill-equipped gear in order to get away with the money you're shelling out (or rather, saving). But that doesn't mean OutdoorMaster takes that for granted. The OTG goggles from OutdoorMaster have a thick comfortable foam, a long elastic strap, and a very flexible lens and frame for the most comfort on your face.
Cost and Value
It's pretty shocking to find this much value at the cost of just a few meals at a fast-food joint, but here it is, staring us right in the face. Or maybe it's just looking at itself in the reflection of our goggles. Who knows?! Either way, for a single pair of goggles, there is nothing south of a twenty that is better than the OutdoorMaster OTG line-up.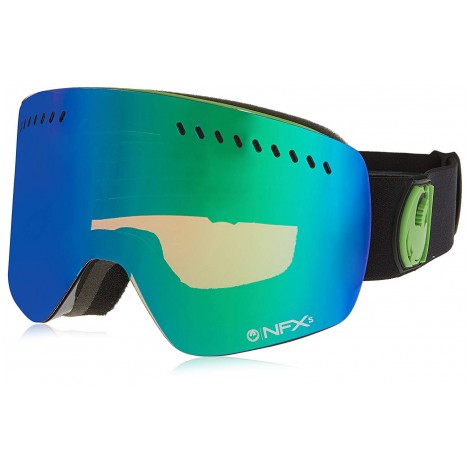 Don't worry Dragon clan, we couldn't do ya like that. You know we had to revisit the blaring pages of the Dragon Alliance to see if they had something else to offer us as the cream rose to the top of the market during our search. Of course, like they have been doing for over a decade, they didn't disappoint. The Dragon Alliance NFXS Ski Goggle might be my favorite looking pair of ski goggles to date. That's right, of ever.
Plenty Venting
The absolute late thing you want while you're flying down a snow-covered slope going god-knows how fast, is to lose vision thanks to a foggy lens. No matter how much anti-fog coatings are treated, you still can't do better than just having some airflow. It also keeps your eyes from getting all sweaty. We need that fresh air ya'll! As you can see in the photographs, the Dragon NFXS ski goggles are equipped with plenty of eyebrow venting to keep your vision clear, and your brow cool.
Foaming
Dragon also went a little too far with their foam. Something that might be most manufacturers last thought. These goggles have a triple-thick padded foam goggle lining that is completely hypoallergenic, with microfleece. It's washable, soft, and doesn't carry germs. That's outstanding.
Cost and Value
We've gone back up into the nearly three-digit price range here with the Dragon NFXS Ski Goggles, but everything about this pair was meticulously drafted for peak performance and ultimate perfection. The NFXS line is worth every penny it costs.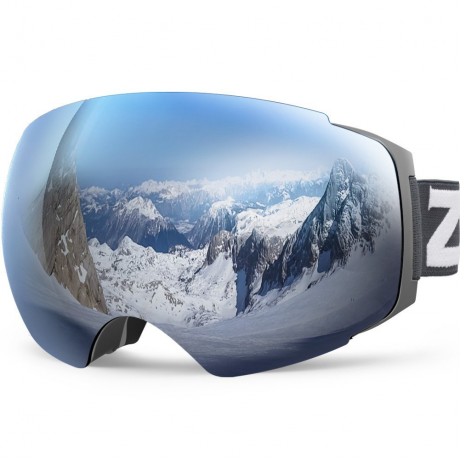 Here we have another relatively unheard of brand attempting to play the hit tunes that the chart-toppers do, and let us tell you, they're really nailing it with these covers. Zionor just isn't joking around with their budget-friendly pair of ski goggles, and it shows in almost every inch of their design for the X4 Ski Snowboard Snow Goggles.
The Quality
It might be slightly above the rest of the budget-priced ski goggles on our list, but that is completely justified. The team at Zionor have made a flexible TRU frame that has to give, but will last a long time. They have a wide-angle of view with their gigantic lens. And they have even made a dual-layer design that allows air to flow freely without the need for big glaring vents.
Lens Swapping
One of the coolest things about these goggles -- and possibly the single reason they caught our eye, to begin with -- is their magnetic lens tech. With a bunch of magnets on the lens and attractive magnets on the TPU frame of the goggles, they can quickly be swapped. Change over to a different color in seconds, or, switch from day riding to night with ease. The strength of the many magnetic spots ensures that your lens won't pop off during riding.
Cost and Value
At somewhere between the budget end of our list, and the cheaper options from the big names, the Zionor X4 is really hard to place, except it's not. This is a stellar pair of ski goggles, and you won't be paying any premiums for names, logos, or historical prowess. The folks at Zionor aren't messing around in their attempt to bridge these two ends of the market.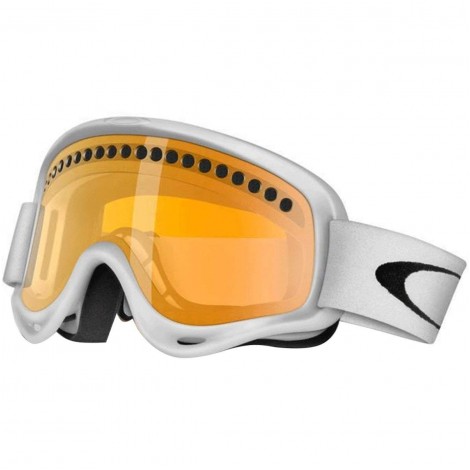 It's possible that the ski goggle market is the only one where you will see top brands offering a wide range of products, with a vast difference in prices. Our number one on this list is almost two hundred dollars more than this pair. Obviously, it shows in the design, the tech, and the "coolness" of it, but that doesn't make goggles like the Oakley O Frames any less valuable or viable.
Frame Tested
Oakley says that their goggles are "backed by decades worth of innovation" and for the most part that is true. It's most evident in their frame technology and the growth of their designs and manufacturing. These, the O Frame goggles, have a Urethane frame that is extremely conforming, comfortable, and most importantly, holds its strength and integrity of the structure in the freezing cold weathers it was designed to be used in.
Foam Dreams
Oakley's triple-padded face foam is only ever outdone by their ability to add multiple layers of exhaust and ventilation in their lenses. This makes for an extremely breathable, but also surprisingly soft and comfortable fit over your eyes. The foam is a dream come true, and you can never go wrong with dual-ventilated lenses.
Cost and Value
Now we're playing with fire. Yes, we're telling you that you can snag a pair of Oakley goggles for almost as little as you can those other budget-friendly goggles we have listed above it. If you're after the name brand and all of the experience and quality that comes with it, it's great knowing that there are viable options out there for us.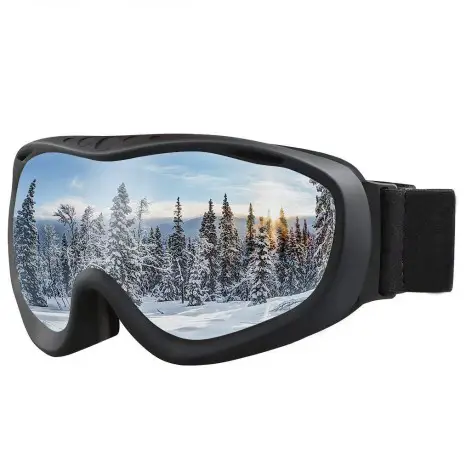 What's that saying, the one about the wisest of humans being that which care not for exuberance, but rather the simplest of perfections? Well if you own a piece of fake wood with that saying on it, hanging somewhere in your home (perhaps right next to your "Laugh, Live, Love" painting) then we've got the pair of ski goggles you want right here.
Now We're Just Venting…
One of the best designs of frame vents we've ever seen, the Alkai Ski Goggles from Akaso is just a dream if you have a knack for fogging up your goggles or struggling to have any air reach your eyeballs. The sheer openness of the bottom and top of these goggles means that cool air easily moves into the bottom of the frame, while hot air is free to leave through the top. There is hardly any frame here in comparison to the venting.
Anti-Slip Straps
One thing a lot of companies do but is rarely mirrored in the unknown budget department is the non-slip grip of the strap. Most intelligent skiers, or snowboarders, or anyone moving fast enough to need goggles, wear helmets. So, their goggles will have to go around them (hence the large straps on most goggles). But if your helmet doesn't come with a goggle hook on the back, then you'll need your goggles to have sticky anti-slipping straps, and that's one thing Alkai didn't forget when designing this budget pair.
Cost and Value
For a budget pair of ski goggles, you can't really go wrong by picking up one of these stunners. They're less than the price of two meals at any drive-thru and have enough premium features (have we mentioned how big the vents are yet?!) to keep you wondering why they are sold at such a low price.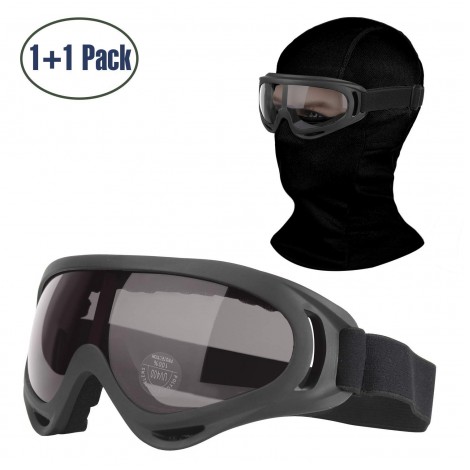 Cooloo is here to give you everything you need to make your trip down a mountain as smooth, as clear, and as warm as they can. With this, their double pack of both a pair of ski goggles and a premium balaclava, you'll be all set for the slopes right out of the box. Though we do suggest wearing a helmet because we like safety.
Abbra-Balaclava
A lot of folks that find it fun to hurl down a slope on some sort of manufactured slippery board-like device, will wear a face-mask or scarf at the very least to keep more of their face warm. The harsh cold air in your lungs is rather uncomfortable, and your face gets cold! Cooloo looks to solve that problem with their polyester balaclava that can be worn as a full-face mask, an open-face mask, or a neck gaiter.
The Goggles
Cooloo has really tried to make the most out of this package, and it shows in the oddly fantastic pair of goggles that come with this balaclava. Or is it the balaclava comes with the ski goggles? Who knows. There is a really comfortable foam lining, an anti-fog coating, and a ton of side ventilation that keeps your vision both clear, and undisrupted by the wind.
Cost and Value
If you're heading to carve some pow (that's how mountain sport enthusiasts talk, apparently) with your buddies, and you've got the choice between keeping your face warm, and your vision uninterrupted, or buying a burger meal at any joint in town, you'd have to be starving to choose the food, because there's so much long-term and quality value in this dual package from Cooloo.

Subscribe to our Newsletter