Best Sit on Top Kayaks Reviewed & Rated for Quality
last updated:
Jul 01, 2019
Tired of being stuck on dry land? Yearning for salty seas or fresh water? With tons of different recreational watercrafts out there, it may be hard to know where to start. Let us help!
For some basic 101 info, the differences between a canoe and a kayak are as follows: The rower typically kneels or sits on an elevated seat on a canoe and wields a paddle with a blade on one end. On a kayak, the rower sits inside or on top of their craft with their legs out in front of them and steers with a paddle that has blades on both ends.
This list is Team Kayak and we feature sit-on-tops. These crafts are sturdy, versatile, and most can be used in all water types. So if you're looking for a single rider or a 2-3 seater for fishing, we've pulled just the crafts for you.
This is the best product on our list that is currently in stock: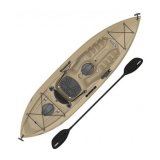 Lifetime Tamarack Angler 100
Why is it better?
2 6-inch storage wells
3 rod holders
Adjustable seat and multiple foot positions
Crazy inexpensive and 5-year warranty
UV treated polyethylene
In a
Hurry? Editors choice: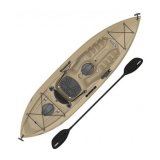 Test Winner: Lifetime Tamarack Angler 100

19
Researched Sources
1500
Reviews Considered
10
Hours Researching
10
Products Evaluated
Capacity
Size
Comfort
Features
Value
By Default
10 Best Sit On Top Kayaks
1

. Vibe Kayaks Skipjack 90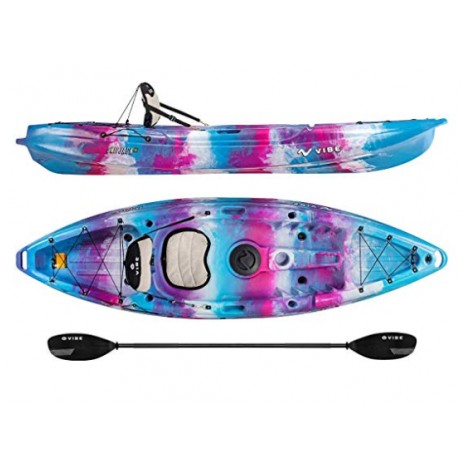 Medium sized 9-footer
Lightweight with easy-to-carry handles
Cushioned seat and backrest
Built-in bungee and dry storage
4 rod holders & 1 cup holder
Not meant for heavier users
The Vibe Skipjack is the first to make our list because it's an excellent fisherman's companion and it has an intuitive design with fishermen in mind. Use this guy for "throw and go" fishing or simply for recreational purposes on the lake or ocean. Whatever you're water needs are, this is a versatile option that will get the job done.
4 Rod Holders
The Vibe Shipjack is a great fisherman's companion. It features 4-rod holders that are flush-mounted at the 4 corners of the seat. Plus, each side features bungees for holding spare rods. As for storage, the stern and bow of the boat have cross-bungee storage and there is also a 6-inch dry storage well that is accessible while sitting. The dry storage well has a secure screw lid to ensure that your important items don't get wet.
This product also features a cushioned seat and a backrest with an ergonomic design for your comfort. The backrest flips down and can be adjusted according to your preferences. This product comes with a paddle.
9 Footer
The Vibe Shipjack is a nice medium size option that measures 9 feet long. It weighs 42 pounds and can hold weights up to 300 pounds. It is only meant for one person to use at a time. It's constructed from 1 piece of polyethylene (high-density).
It features 4 built-in handles to make it easy to carry, as well as 2 molded foot placements. And as a bonus, enjoy a built-in cup holder.
Cost and Value
The Vibe Skipjack 90 rings up in the middle of our price range and we love its value because it is an amazing option that meets the middle of everything: size, weight, cost, and capacity. With excellent craftsmanship and durability, this is a product that you will be able to enjoy for years to come.
2

. Lifetime Tamarack Angler 100
2 6-inch storage wells
3 rod holders
Adjustable seat and multiple foot positions
Crazy inexpensive and 5-year warranty
UV treated polyethylene
Issues with leaking storage wells
The Tamarack Angler 100 is one of our favorite products on this list by far. It is super affordable (in fact one of the most inexpensive on our list) and it is loaded with features and design components that make steering, storing, and toting a breeze.
2 Storage Wells
The Tamarack Angler 100 is loaded with cool features that come in handy time and time again on the water.
It has 2 flush-mounted fishing rod holders to either side of the seat as well as 1 top-mounted fishing rod holder at the front of the seat. For your convenience, a paddle dock bungee is located on the left-hand side of the seat and 1 paddle (adult size) is included with your purchase.
This product features bungee storage at the bow and at the stern of the boat, as well as two 6-inch storage hatches at the front and back of the seat for easy access. These hatches are screw-closed and will keep sensitive items dry.
To top off your comfort, the Tamarack Angler 100 comes with an adjustable backrest and bottom cushion that can be angled to suit your needs. It conveniently flips down when not in use.
Multiple Foot Positions for Users with Different Heights
The Tamarack Angler 100 is constructed from high-density, UV treated polyethylene which is super durable and designed to resist damage and warping from the sun. Its flat bottom and hull are stabilized by its multi-chine design and functions to be resistant to flipping over. Plus, the integrated skeg makes tracking almost effortless.
With multiple foot positions to accommodate users of different heights, you will be able to get the body positioning you need to create the most leverage while rowing and to guard against sore joints and muscles.
Rear and front t-handles, as well as u-handles on either side of the seat, make toting this 52-pound, 10-foot long beauty easy. The Tamarack Angler 100's capacity is 275 pounds.
Cost and Value
The Tamarack Angler 100 rings up at the very bottom of our price range and we love its value because it has tons of features that more expensive kayaks flaunt while costing about ⅓ as much as those products. Plus, it comes with a 5-year limited warranty.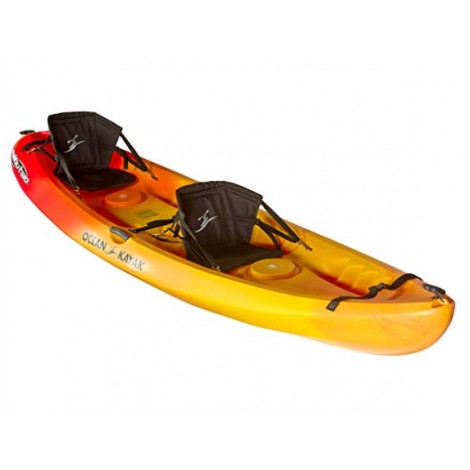 Multiple Comfort Plus seating configurations
Holds up to 425 pounds
Overlapping footwells
3 adjustable gear straps
Easy-carry handles at ends and sides
The Malibu Two Tandem is the first two-person kayak to make our list. With multiple different seating configurations available, as well as handy personalization options, this product can be adjusted and modified to fit your exact needs.
3 Different Seating Arrangements
Not only does the Malibu Two Tandem provide seating accommodations for 2, but it also allows you to mix and match those seating arrangements to your specific needs. You may choose to ride in the middle and use the Malibu as a one-seater, or you can share the ride with another in the back. You can also configure the seats to accommodate an average adult rider along with a child rider or a furry companion.
Because the Comfort Plus seats can be adjusted at 4 different points, you are able to have more control over the seat shapes which can accommodate more body sizes and also serves to provide more comfort during long outings.
Consideration of your comfort doesn't stop there. With a unique footwell design that features over-lapping footholds, you have more flexibility in your positioning. This design element is key in generating leverage and preventing achy backs.
The Malibu Two comes standard with 3 gear straps (one at the front, one at the back, and one behind the middle seat). The tension on these straps can be adjusted. Plus, if you wish, you may install up to 3 different dry well portals.
Holds Up to 425 Pounds
The Malibu Two Tandem measures 12 feet long and weighs in at 57 pounds. It can hold up to 425 pounds. Please remember to adhere to suggest weight distribution in terms of seating arrangements.
Carrying the Malibu is made easier with 2 t-handles at the front and back as well as 2 inlaid u-handles at the middle of each side.
Cost and Value
The Malibu Two Tandem rings up in the middle of our price range and we love its value because it offers up tons of versatile seating options so you can enjoy it with different configurations.
Fits in a backpack
Sets up in 5 minutes time
Durable materials to fight against punctures
Comes with paddle
Backrest and multiple footrests
Some dislike paddle, called flimsy
The Sevylor QuikPak K1 offers up a totally different product than the others on our list--it's inflatable! You can have this puppy out of your pack and in the water in about 5 minutes time and it is durably designed with lake contours in mind so it can withstand rock encounters. To be safe, this product is not intended to be used in the ocean.
Many Air Chambers and Tarpaulin Bottom
The Sevylor QuickPak K1 has a bunch of cool design features that make it a great companion for any river adventure. Constructed from PVC (21-gauge), this product is heavy-duty. And with many separate air chambers and a tarpaulin bottom, it is rugged and durable enough to thrive on the river and resist punctures from sharp rock encounters. But if you do happen to experience a puncture, multiple air chambers ensure that your boat will stay afloat.
The backpack that the Sevylor comes in actually converts into your seat! The body of the raft features a sturdy backrest and the backpack is secured to two attachment points to give you a nice padded bottom. Plus, there are multiple footrests to ensure comfort.
There is a large area with bungee storage in the front and the raft comes with one adult-sized paddle. Two u-handles in the bow and hull make toting easy once the product is inflated.
Weighs Just 18 Pounds
We are wild about this product because it is super portable and easy to get up and running. It fits compactly into its own travel backpack and weighs just 18 pounds. Once you've pulled it out of its bag, you can inflate it with the pump that comes with it in just about 5 minutes.
Valves with double locks and air-tight technology ensure that your Sevylor is easy to inflate and deflate and that air won't escape and water won't penetrate.
When inflated, it measures 8 feet 7 inches long and can hold up to 400 pounds!
Cost and Value
The Sevylor QuikPak K1 is the most inexpensive product on our list and we love its value because it is super portable and easy to set up all while still being able to tote a massive 400 pounds.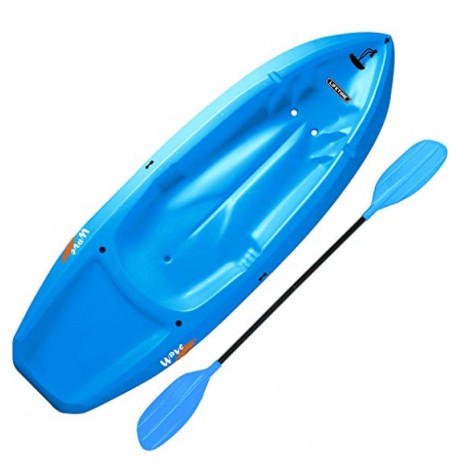 Swim-Up step
Comes with paddle
Can hold 130 pounds
Super safe and flip resistant
Scupper holes that are self-draining
The Lifetime Youth Wave is the second Lifetime product we feature on this list and it is designed specifically for younger users. Meant for water lovers 5 years of age and up (with adult supervision, of course), this is an excellent product for any child who's tired of tagging along in a tandem. It's approved for ocean, lake, and river use.
Swim-Up Step
This product is made from polyethylene (high-density) and has a ton of cool features to ensure that it is safe for younger users. The twin fin at the back helps with tracking, the reverse chine design works to make the boat even more stable, and the hull is hyper-flip resistant. You can feel confident that your child will be safe using this raft, but make sure they always wear a life vest!
The Youth Wave also features a cool swim-up step at the rear of the boat. This is basically a large flat area that makes hopping out of the water and onto the raft super easy--a feat that is not easily managed on other watercrafts. And if water is taken on board, there are 2 scupper holes that are self-bailing to keep water out of the cockpit.
Molded-In Handles
The Youth Wave is 6 feet long and weighs just 18 pounds. While this is still a lot of boat to handle for a 5-year old, it's light enough and small enough for kids to begin helping unload from storage and set up in the water. With molded-in handles and a t-handle at the front, a child can pull the raft easily or carry it sideways like a surfboard or stand up paddleboard.
The Youth Wave comes with a paddle and even has a built-in paddle rest. It can hold up to 130 pounds in passenger weight.
Cost and Value
The Lifetime Youth Wave rings up at the bottom of our price range and we love its value because it is the perfect introductory raft for kids and because it is extremely safe.
6

. Brooklyn Kayak Company UH-TK219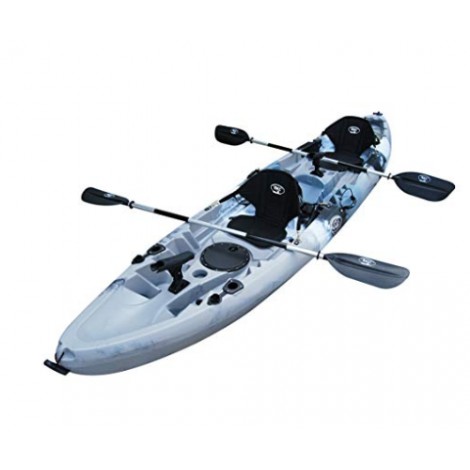 6 total rod holders (2 adjustable)
Sits 3 people up to 440lbs
2 dry storage wells
4 built-in handles
Paddles and secure holders
Seats less than comfortable
The BKC UH-TK219 delivers another great tandem kayak that was designed specifically for fishermen--but this guy takes it up a notch because it can actually seat 3 people. With tons of innovative features, BKC has thought of everything you could want and need while you're out on the water fishing.
6 Rod Holders (2 Adjustable)
This product from BKC is literally a fisherman's dream. It comes with 4 flush-mounted rod holders and 2 rod holders that are adjustable. These are all strategically placed so that you can have multiple lines in the water at once without getting them tangled.
There are two water-tight storage hatches on this craft that are located in front of each seat. They are guaranteed to keep your valuables like chips and sandwiches (and your phone and wallet) dry. Plus, there's a large bungee storage area in the back as well.
This product comes with 2 paddles and 2 places to secure the paddles when not in use to the side of the craft. These will remain there securely no matter if you bump them or if you encounter some rough water.
Seats 3 Up to 440 Pounds
This BKC is a large 12 footer and weighs almost 70 pounds. That being said, it can accommodate up to 3 passengers at a time so long as their combined weight doesn't exceed 440 pounds. With 4 built-in u-handles and 2 t-handles at the front and back of the craft, carrying it on land is a breeze.
While this BKC can accommodate 3 passengers, it is lightweight enough to be steered by 1 solo rider. It comes with 2 seats that are adjustable and have backrests for your comfort. The third party sits between the two latched seats and would be advised to bring a cushion.
What's unique about this tandem design is that both the first and last seats feature multiple footrest options so that you can get just the torque you need for rowing in order to avoid soreness after being on the water for hours.
Cost and Value
The BKC UH-TK219 rings up towards the top of our price range but we love its value because it is a wonderful multi-seater option that provides as many features for the rear seater as it does for the front seater.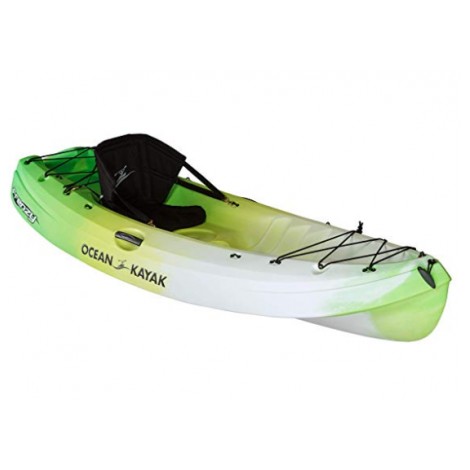 4-way adjustable Comfort Plus seat
Bungee storage in front and rear
Multiple footing options
Molded-in handles and cupholder
Holds up to 325 pounds
Does not come with paddle
This is the second Ocean Kayak to make our list and we love it because it was designed to take on churning ocean waters but can perform just as well on calm surf or on your milder lakes and rivers. Made with comfort and ease in mind, the Frenzy is a great companion for any water lover.
Comfort Plus Seat that's Adjustable 4 Ways
The Frenzy has tons of features that we're wild about. Starting with the Comfort Plus seat, you can adjust this bad boy at 4 different points so that you can truly achieve a customized fit for your body that will have you sitting on the water in comfort for hours. Plus, the Frenzy features multiple different footing options so you can rest your feet in a position that is ideal for your height.
With bungeed storage wells at the front and rear of the craft, you'll be able to safely secure all of your gear without worrying about losing it to the sea. That being said, there are no dry storage wells aboard this craft--but you do get a cup holder!
Tri-Form Hull for Stability
This craft was specially designed to handle the rough and tumble waters of the sea. Its tri-form hull makes it both stable and responsive at the same time so it works with you rather than against you in the water.
It's 9 feet long and weighs about 45 pounds. With molded-in side handles and t-handles at the front and rear, carrying this load on dry land is not a problem. The craft can hold up to 325 pounds
Cost and Value
The Frenzy rings up in the middle of our price range and we love its value because all Ocean Kayaks come with lifetime warranties on their hulls and because these crafts were designed to be able to handle the choppy waters of the sea.
8

. Elkton Outdoors Tandem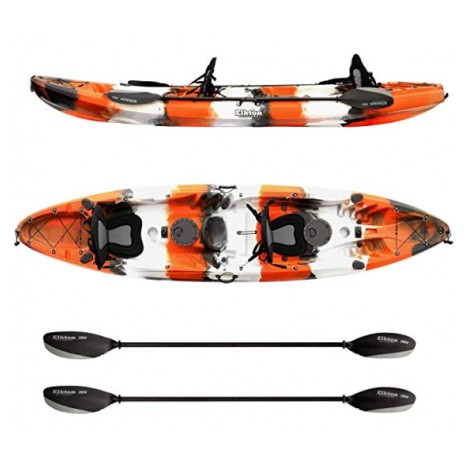 Seats 3 people up to 650lbs
Super comfortable seats
Tons of storage (dry and bungee)
6-rod holders & 2 cup holders
2 paddles and paddle holders
Issues with seat configuration
The Elkton Outdoors Tandem is another incredible option for fishermen and their buddies. This craft has the capacity to sit up to 3 riders and has all of the storage you need to enjoy long days on the lake or river (or ocean) without having to come back to shore for left-out supplies.
Tons of Storage and Accessories
The Elkton Outdoors Tandem has everything you need for a long and happy day out on the water. To start, the Tandem features 4 cap-covered fishing rod holders that are placed on either side of each seat so you won't have to reach or worry about your lines getting crossed. But that's not all! You'll also enjoy 2 adjustable rod holders at the front of each set, coupled with 2 handy cup holders.
The Tandem features one large dry-storage well that is accessible via two water-tight hatches at the front of each seat. Keep in mind that the storage compartment is linked so items you place may shift to the front or the back. The craft also comes with bungee storage at the front and rear.
You'll get 2 paddles that are totally adjustable standard with your purchase. And with two storage bungees on either side, you can store your paddles safely when they're not in use without having to worry about them floating away.
The seats on the Tandem are top notch. They are fully adjustable and come up higher than many of the other seats of products on our list. Higher seatbacks and more cushioning means you just extended your stay on the water. Plus, this craft also accepts the Elkton Hard Kayak Seat (sold separately). There is an additional seat between the front and rear seats that does not have a cushion.
Made from Rotomold UV Treated Polyethylene
The Elkton Outdoors Tandem is made from rotomolded UV-treated polyethylene which all but guarantees that your craft won't ever puncture or crack so that you can keep enjoying soul-cleansing days on the water for years and years to come.
It's just a touch over 12 feet and a little wider than other models on our list at 3 feet. It weighs 60 pounds and with 2 built-in handles (one on each side) as well as 2 t-handles at the rear and front, toting the Tandem is easy to do.
This craft accepts weights up to 650 pounds and can hold up to 3 people.
Cost and Value
The Elkton Outdoors Tandem is the most premium quality product on our list and we love its value because it is loaded with all the essentials and goodies you need for a long day off-shore. Plus, the premium materials it's made with ensures its longevity and your enjoyment for years and years to come.
Comfortable, adjustable seat
Bungee storage in front and rear
9.5 footer weighing 45 pounds
Holds up to 300 pounds
Does not come with a paddle
This craft from Perception Tribe is a wonderful little boat that performs well in all bodies of water. If you're looking for a small, lightweight craft that's easy to transport, then look no further.
Customize Your Seat
This Perception Tribe craft features super comfortable seating that is highly adjustable to your body and height. It also offers multiple different footing options so you can rest your feet in a well that feels natural and comfortable during long outings.
The craft features bungee storage in the rear and front. There is no dry-well storage on this boat. There is, however, a nice oversized cupholder to accommodate your favorite seafaring beverage. It does not come with a paddle.
9.5-Foot Hull
This craft measures 9.5 feet long and weighs about 45 pounds. With 2 molded-in handles as well as t-handles at the front and rear, this craft is as easy to maneuver on dry land as it is in water. It can hold weights up to 300 pounds.
Cost and Value
Perception Tribe's craft rings up at the low middle of our price range and we love its value because it's compact and easy to steer.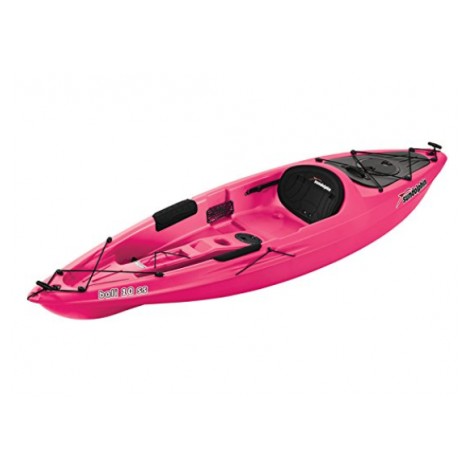 Versatile storage options (removeable PAC)
Adjustable backrest and foot braces
Cup holder and paddle holder
Hard to control in rough water
The Sun Dolphin Bali SS is a wonderfully compact water companion that is designed to glide across lakes and rivers. With versatile footing and storage options, this craft will cater to all of your diverse needs.
Versatile Storage Options
This craft features a load of different storage options that we are wild about. The watertight Portable Accessory Carrier in the rear of the boat can be popped out for extra storage space. Once the PAC is removed, you can store additional gear in the bungee storage remaining. And what's amazing is the PAC floats and can be attached to float alongside the craft. There's also a dry storage well in the front of the seat and smaller bungee storage well at the front.
This craft comes with a paddle holder that is secured via bungee cord as well as a conveniently placed cup holder in front of the seat.
Adjustable Foot Braces
The Sun Dolphin Bali is constructed with a built-in backrest, but it also comes with an adjustable back pad so that you can get the right seat set-up for you. This is the only craft on our list that features adjustable foot braces rather than molded-in footings.
It also features protective webbing to keep your thighs from digging into the side of the boat.
This craft measures 10 feet long and weighs just 40 pounds. There are t-handles are the front and rear to ease in transport and carrying. It can hold up to 250 pounds.
Cost and Value
The Sun Dolphin Bali SS rings up at the low end of our price range and we love its value because it is compact and provides tons of customization options to fit your needs.
Criteria Used for Evaluation

Capacity
When compiling this Ten Best List, we wanted to be sure to highlight each product's capacity. While a few of the products on our list are designed to carry lighter weights (130 pounds for the Lifetime Youth Wave and 250 pounds for the Sun Dolphin Bali), most of the crafts on our list can carry over 300 pounds. In fact, one the Elkton Tandem can carry over 600 pounds of weight distributed among 3 seats and tons of storage space.
Before selecting a craft, think about your needs and what you usually take with you out on the water. And always remember to adhere to seating configuration suggestions. Weighing down the wrong part of the boat or distributing weight unevenly can result in your craft capsizing.

Size
The size of each product on our list was important for us to consider as well. After all, you will likely need to account for storing and transporting your craft, so you need to know how big it is.
Crafts on this list range in size from 6 to 12 feet long. The 6 footer is the child-sized craft. We love products that are medium sized and easy enough for one person to carry on their own. Most of the products on our list are between 9 and 10 feet. The tandem crafts are longer.
We also considered weight. The lighter a craft for its length, the higher it scores in this category. And likewise, the lighter weight a product for its load capacity, the higher it scores.
We thought about the number of seats per product as well. Both tandem kayaks on our list have 3 total seats each, though only 2 of the seats come with cushions and seatbacks.

Comfort
When thinking about comfort, we mainly took seat design and footrests into consideration.
We love products that feature seats that are adjustable in multiple areas so that you can construct a seat that is molded to your needs. We also love seats that come with bonus padding at the bottom so your backside can get some love too.
To the same effect, we love products that have multiple different footholds so that you can naturally place your feet at the correct footwell for your height. This allows you to maintain proper posture and gives you the resistance and torque you need to paddle most effectively.

Features
We love all the features that the products on this list offer.
Some of our favorites include dry-well storage that's easily accessible, as well as bungee storage for things that can get wet without worry.
We love products that come with multiple fishing rod holders (flush and adjustable), as well as those with cupholders and paddle holders. And we love a craft that comes with its own paddle.
Products with built-in handles for easy transport score highly on our list, as do those with built-in footrests and adjustable seating.

Value
We love a good deal backed by a great company! The products on our list range in price pretty widely but we include a good mix so that you can find the right product for you on any budget. And we highlight those companies that offer warranties, as well as those that offer bonus gear (and those that don't).
Expert Interviews & Opinions
Most Important Criteria
(According to our experts opinion)
Experts Opinion
Editors Opinion
Users Opinion
By Default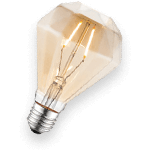 Longer Kayaks for Open Seas
If you plan on hitting the ocean with your kayak, especially seas that are known to be rough and choppy, you are going to want to get a longer kayak. These provide more control and stability and will help to keep you from tipping.
Tandems are Easier to Steer
If you're new to kayaking or if you're looking for a more relaxed experience, we suggest going with a tandem. These can be operated by single users as well as multiple users and they are easier to maneuver and steer. Plus, your average tandem will cost you less than purchasing 2 individual crafts.
Other Factors to Consider

Use
We highlight where each product on our list is intended to be used. It is important to note that some products are not meant for ocean use. While they will float on any water, they are more likely to capsize and result in a dangerous situation. Pay attention to these specifications.

Stability
We work to give you a clear picture of how stable each product is. The shape of the hull mold and weight distribution determines the craft's stability. So use each product only for its intended purpose and adhere to all configuration suggestions in your user's manual.
Frequently Asked Questions
q:

Can 1 person steer a 2 person style?

a:

Yes! In fact, the larger a craft, the easier it is to control (especially for a novice).
q:

Can my dog ride on my 1 person boat?

a:

Yes! So long as you and your dog's combined weight doesn't exceed the boat's capacity, having a furry companion on board is no problem.
q:

What happens if I flip over?

a:

Because you aren't belted into your craft, you can easily swim out from under it. If you are wearing a life vest, you should be able to easily flip it back over when in open water. If you are close to the shore, float or swim with it back to shore if you can't get it flipped back over.
Subscribe to our Newsletter