Best Waterproof Cases Reviewed and Rated for Quality
In a Hurry? Editors choice: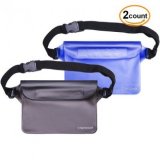 Test Winner: Crenova BP-02

We've all been there, your
suitcase is packed nicely
, and you have your latest must-read novel tucked inside for the relaxing afternoons by the pool. Then, you get to your destination and open your case only to find your shampoo has popped during transit and your book is covered in shampoo. Or, how about when you're out on a boat and need to protect your belongings, like phone and keys from the water and other elements? You need a waterproof case. In this review list we give you 10 of the best we've found.
Standout Picks
Criteria Used for Evaluation
Materials
Centuries ago linseed oil was the go-to addition for attempting to make clothing waterproof, going back to the fifteenth century this approach was initiated for the use by sailors who needed to keep water out more so than regular land dwellers. Moving forward came the traditional Mackintosh rain coat, this was great at keeping water out – but unfortunately didn't let water or moisture out so wearing one was uncomfortable, hot and wet.
Modern fabrics use a layering system that includes a waterproofed layer, this may use polyurethane, polyvinyl chloride or rubber, wax is also a good proofer. These materials have an edge over traditional forms because they allow moisture to expel from the inside at the same time as keeping the exterior elements out. Various advancements in technology and in new inventions, mean that there is now a wide array of waterproofing that is designed specifically for designated reasons. And our modern electronics are fast becoming a priority for excellent protection, even with the emerging 'water-proof' gadgets; a heavy summer storm may still give cause for concern.
Style
A big chunk of the water-proof case market tends to send your thought train to you traveling cases, when you go on your well-earned holiday you don't want to run the risk of a soaked wardrobe when you arrive. That is only the beginning, there are waterproof backpacks, clothing and footwear of course, and more contemporarily – smaller waterproof cases for our personal electronics or papers we have to have with us weather the sun is out or not.
Waterproof cases are available in a variety of types, clear cases with a locking mechanism on them are more common today than ever before, this is safer because you can always have a visual on your personal pride and joy when you're out. A big thing you need to think about is do you need a waterproof case or a water-resistant case? For obvious reasons, you should be clear on this before you buy – especially if you want to take your cell phone swimming with you and you only have a water-resistant case.
You can also find a great array of solid fixed waterproof cases that attach snuggly around your tech without giving you too many obstructions when you want to use it in the damp. As ever, it's your call at the end of the day as to whether you opt for a full blanket waterproof answer or a clear practical and versatile waterproof case. But as long as you plan ahead and anticipate the worst-case scenario – then your choice should protect your tech and other precious personal items from the dreaded water.
Versatility
It may be appealing just to buy a fitted waterproof case for individual items, but when you consider how many personal precious items you have; or are likely to want to take with you on a trip – the practicalities of lots of separate cases may lose its appeal. For one, each case will add onto and increase the overall weight you are going to be carrying around with you, not to mention any weight restrictions you must adhere to on airplane flights.
There are many waterproof bags you can purchase too, these are useful for when it is more practical to have all your things in one place, for instance, if you are back-packing to a destination, or on a shopping trip when you know you are planning to buy lots of goodies. But for shorter trips, or for a daily walk – you may want to consider the versatility a waterproof case can offer you.
Size
The sizes available of waterproof cases are vast, and you are sure to find one that suits your personal requirements. You may just want one for your paper maps and cell phone for example, or a single size for taking your camera on an underwater adventure. You may be better to consider a suitable size that can be as useful for one activity as it can for another. Larger waterproof cases are practical because they are lightweight, functional and are easily stored when not in use.
Features
There are useful features to be found on a good number of waterproof cases and these can be very useful when you haven't got enough hands! There are varying sizes of attachments including carabineer catches, elastic straps, belt clips, and rope or twine ties. These multi-functional additions are great when you're trekking up a tough incline and need your hands to keep you steady, but you still need your map handy just in case you go off track.
This can also be a good way to keep your food within reach without having to stop completely and unpack your bag, not always a good idea if your dry clothes are tucked away for later. Keeping important items dry is important no matter what you are doing and it's not just tech that needs to be protected, choosing a good sized, and a versatile waterproof case can make the difference between calling your sodden trip off, or carrying on through whatever the levels of moisture there are around you.
So, this simple guide will hopefully have given you a little food for thought whilst you are shopping for a waterproof case. They are really practical and are useful for storing and carrying a huge variety of personal precious items that wouldn't benefit from being in water or getting damp.
Ultimately, always check the level of waterproofing you need before you buy, and if you are using a waterproof case for your tech and intend taking it into the water – make sure the tech can safely be used in or under water to save expensive mistakes.
10 Best Waterproof Cases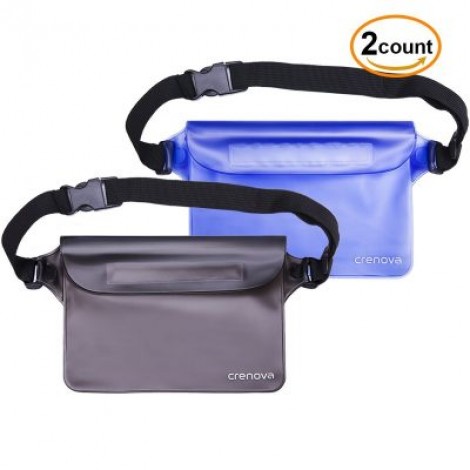 This Crenova waterproof pouch is versatile enough to be worn in a variety of ways which makes it suitable for a large number of activities and sports where waterproof essentials are required. It boasts a triple seal for ultimate protection against water penetration to protect all personal valuables. It is rated at IPX8 which means it is suitable for depths of up to thirty-two feet safely and securely. A good size to hold a cell phone, keys, and other important personal effects.
Practical Design
The pouch is manufactured with soft PVC that offers both durability and a non-intrusive strap, the higher density protection it offers covers water, snow, mud, sand, dust, and dirt. The design incorporates a pouch specifically for easy visual of ant cell display.
Functional Closures
The triple seal is complemented with a heavy duty overlay in Velcro assisting in the protective properties, it offers plenty of room for smaller personal effects that benefit from being in watertight conditions.
Cost and Value
Overall the equality between both cost and value is well balanced, the versatility that is offered with this Crenova BP-02 combined with the practical versatile strap ensures that this pouch is great value for money and is designed for durability.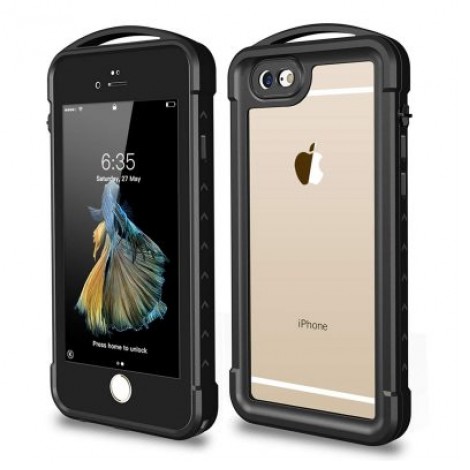 This SNOWFOX waterproof case is designed specifically for an iPhone 6s and iPhone 6, it boasts allowing full access to all buttons and even offers a flip cover for attaching chargers and headphones without having to remove the phone from the case. It has an IP68 rating that boasts being fully certified and suitable for submersing. It offers protection from dust and dirt particles, water, snow and ice which increases its overall versatility and makes it functional for a wide range of sports and outdoor activities when protection is vital.
Tough and Durable
This waterproof case has been designed to be tough enough to withstand drops from over six meters and boasts never losing its overall waterproof capabilities even after prolonged and continuous use; and the snap closure is easy to use.
Lightweight and Practical
The case is clear so it doesn't hamper visibility and it benefits from being scratch resistant with a built-in screen protector, it also boasts a transparent rear side and has anti-slip and scratch protection to give it a longer life protecting tech.
Cost and Value
When taking into account considerations between both cost and value, and combining the added shock absorbance and complete waterproofing, it is equally balanced in both areas and this offers great value for superior tech protection.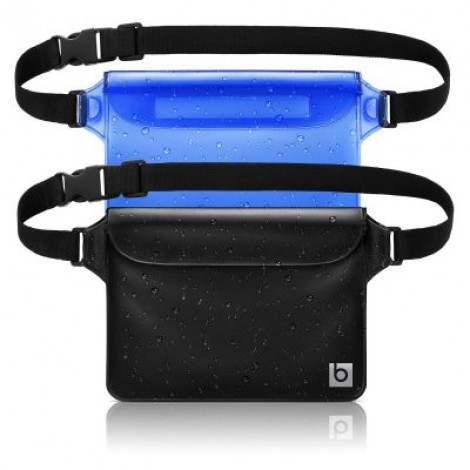 This blue sky basics waterproof case/pouch comes in a useful pack of two for improved cost-effectiveness, the strap allows a multi-way positioning and increases its overall versatility. The pack is offered in two choices; two times black or one black with one ocean blue; the size, at nine by six point seven inches is a practical addition to any day tripper and is large enough to hold not only a cell phone but personal valuable effects such as money and credit cards. The bag is handy and it is easy to use a cell phone through the touch sensitivity that means it doesn't need to run the risk of water contamination when out of the case.
Functional Seal
This set of waterproof cases have a triple seal that boasts being immersible in depths of up to thirty-two feet, this improves its multi-use capabilities and means it can be used for a wider range of sports or outdoor activities.
Practical Addition
The case has a long set of fully adjustable carrying straps that mean it can be worn in a variety of different ways, and it also benefits a one hundred percent lifetime guarantee which increases overall confidence when protecting valuable and personal effects.
Cost and Value
Considering this set comprises two waterproof cases, the cost is well justified; combined with the functionality offered by its practical triple seal, this floatable waterproof case and versatile capacity makes it excellent value for money.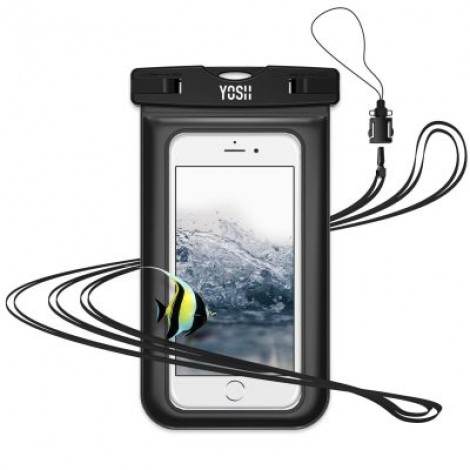 This waterproof case boasts being submersible for up to two hours without risk to the contents and is rated IPX8 for depths of up to two hundred feet. The fully waterproof case is complemented with a handy twenty-one-inch lanyard so enables an easier use for hands-free accessibility. The transparent case gives clear visibility and makes touch screen use a breeze through the material allowing photographs and even videos to be taken underwater. The case measures a substantial one hundred five by one hundred seventy-five millimeters and is universally sized to fit a wide range of effects that require protection from the elements.
Effective Clip
The YOSH waterproof case has a practical and effective sealed clip that is easy to use and prevents any water seepage even under water, and as a bonus – the case comes with lifetime protection; so any queries will be dealt by YOSH themselves.
Multi-use Size
The functional waterproof case comes in a versatile size measuring six point seven by three point nine by two inches; and weighs in at a mere one point six ounces, the size is suitable for most modern cell phones for multi-purpose use.
Cost and Value
The great functional and practical features that this YOSH waterproof case offers, with the confidence in product and customer service ensures that hard earnt money spent on this is money well spent, and the balance between both cost and value is equal.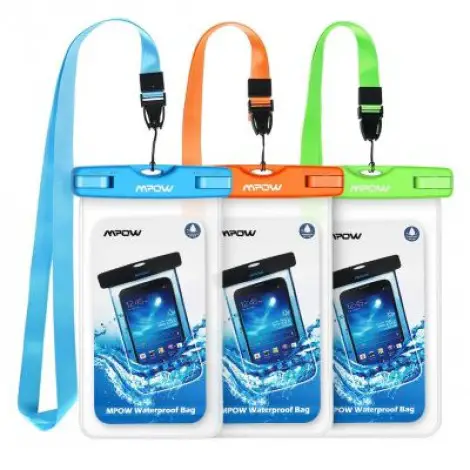 This waterproof case is ideal for protecting a cell phone from snow, dust, and water. It is available in a three-pack with a choice of different color variations. It boasts having an IPX8 rating that enables the use in water and even through water spray without damaging the contents. It is versatile for a number of cells, and benefits being completely compatible for any phone up to six inches long. The clear design allows visibility even in water and allows photographs to be taken underwater with the touch method and through using volume buttons.
Lock Safe
The ABS materials are embedded within the locking system and are simply completed with a quick turn of the switches on the top. It prolongs use and increases durability with scratch resistant and wear resistant manufacture.
Stylish Design
The Mpow waterproof case is designed to be functional but still stylish, the color combinations in the packs will appeal to most and it has a useful lanyard to keep hands free for better safety and quick access.
Cost and Value
The overall cost and value of this set of three waterproof cases are well reflected with the features including the wear resistance, scratch resistance, and touch-sensitive capability ensures that this case is excellent value for money.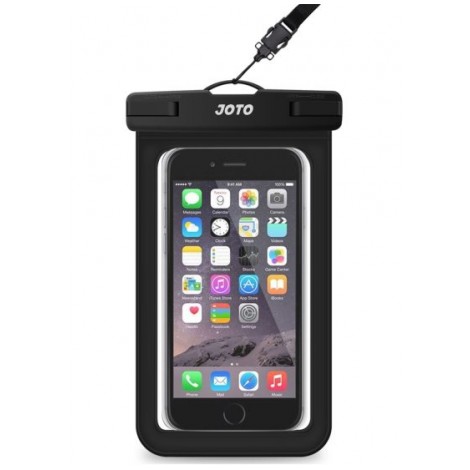 This practical and functional waterproof case is universal and benefits being suitable for a range of different sized contents, it is available in a huge range of colors and measures in at a decent size and can fit cell phones with a six-inch diagonal length. It weighs a light one point six ounces and has its own functional lanyard to enable hands-free carrying. The case has an IPX8 rating and boasts being protective in depths of up to one hundred feet.
Practical Visibility
The JOTO waterproof case has a clear front side and rear side and makes visibility a breeze, and it benefits from offering multi protection against water, snow, and dirt which makes it useful for a number of outdoor sports and activities.
Easy to Use
The waterproof case is easy to use, with a simple snap and lock feature that allows quick and easy access, the case also enables full touch screen enablement so is ideal for taking photographs under water and out in inclement weather.
Cost and Value
This practical universal waterproof case has features including the ease of use and the full functionality of its versatile usability. The balance between cost and value is well matched and overall this case is a good value for money.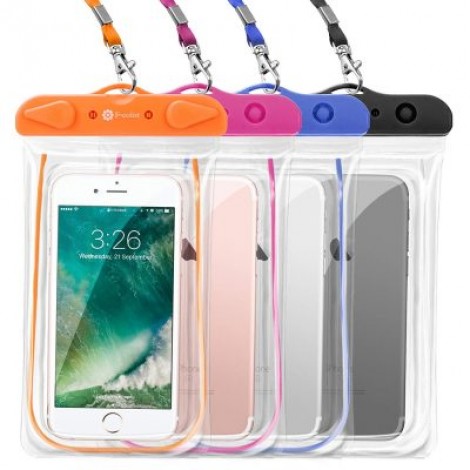 This practical waterproof case comes in a handy set of four and contains stylish colors, and they are offered with a rating of IPX8 which is waterproof for up to twenty meters below. They boast being protective against not only water but snow and dirt proof too, this increases its versatility because it allows a multi-purpose use for any number of sports or activities.
Functional Practicality
The clear TPU covers allow full visibility and boast a full touch screen experience that makes taking photographs underwater or in wet and damp conditions safe and with a substantially reduced risk of damaging valuable tech.
Easy Use
The easy to use waterproof cases have a snap and lock design is fast and effective to open and close when it's needed. It has a handy strong strap that enables a hands-free carry and also ensures the waterproof case and its contents are always close to hand.
Cost and Value
The cost and value are balanced well in this case, and the features that include it floating capability and a handy luminous strip that improves visibility even when used at night – ensures that this is overall great value for money.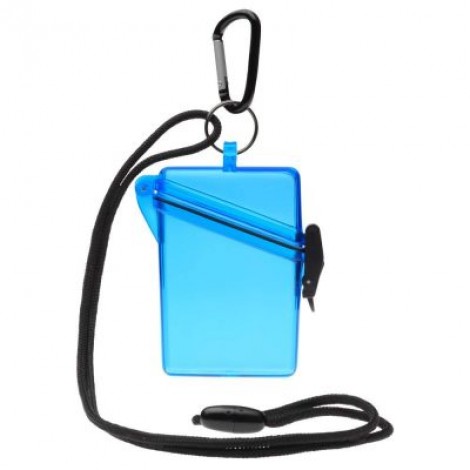 This handy-sized waterproof case is perfect for keeping the ID and other important and valuable personal effects. It is available in three shades, blue, purple and natural clear. The unique design is just the right size not to be cumbersome and heavy when worn around the neck on the safe lanyard, meaning the secure placement of the case is out of sight. The complete waterproofing it offers make it versatile enough for wearing during wet and inclement weather and is also safe enough to wear during swimming or other water sports.
Practical Design
The flip-top lid is held securely shut with a durable latch, and the molded o ring holder is robust enough to withstand knocks and scrapes. It is produced with ABS plastic and boasts being crush resistant so is suitable to take on most activities.
Functional Features
The Witz waterproof ID case has the versatility to be clipped onto backpacks or belts when the lanyard is not practical. It is fully watertight and this means it floats when in water so shouldn't create uncomfortable drag around the neck.
Cost and Value
The balance between both cost and value is reflected well with the tough and robust design, the added waterproofing and crush resistance, and the easy to open and close action makes it a must have a safe and versatile bit of kit for any journey.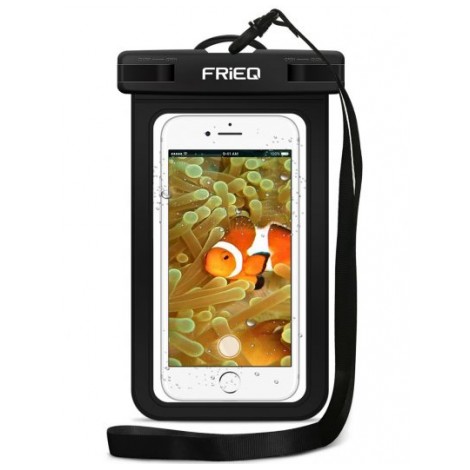 FRiEQ offer this lightweight universal waterproof case with an IPX8 rating for safe submersing to a depth of one hundred feet. It has a detachable strap that is easily attached for when walking, swimming or taking part in most outdoor activities with confidence the contents will not be contaminated by water or dirt. The case is easy to use and creates a perfect seal against water and still allows touchscreen functionality when enclosed within, it is clear on the front and rear allowing clear vision for taking underwater photographs.
Easy to Use
The FRiEQ waterproof case is easy to use and simply snaps to lock ensuring a full protective seal around any contents, it is fully functional for a wide variety of different sized cell phones or other personal effects that require protection from the weather.
Practical Size
The case itself only weighs two point four ounces, and measures eight point three by six point five by point seven inches and this gives a greater versatility around a multitude of items that can be placed inside.
Cost and Value
Considering the IP rating and immersible depth, along with the universal size and lightweight design, are the functional opening and closing system and the touchscreen capability – this represents both good value and a great price.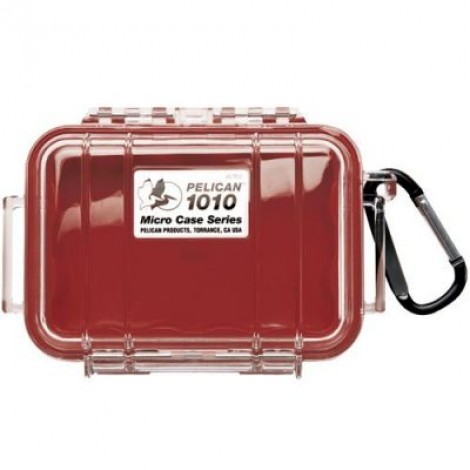 This tidy waterproof micro case is available in five stylish colors; red, yellow, black, aqua and blue, each has a contrasting durable black handle. The case measures a useful four-point three seven by two-point eighty-seven by one-point seventy-one inches so is roomy enough for a wide range of small personal items that need protection from water and moisture. The case lid is clear poly-carbonate and this makes checking kit a breeze and without the need to risk moisture penetration through opening the lid.
Durable Design
The Pelican 1010 waterproof case benefits from durable stainless-steel hardware that includes hinges and pins, this makes it longer lasting and reduces the risk of water damage that can disable the functioning of the case.
Functional Features
The case has a practical rubber liner to provide improved protection for items stored within, the double feature also acts as an 'o' ring seal for better protection against water seepage that can ruin electronic gadgets.
Cost and Value
The full functionality this Pelican 1010 micro waterproof case represents great value, and this is balanced with the additional stylish design, and the choice of colors - the stainless-steel hardware further improves the value when compared with the cost.

Subscribe to our Newsletter