Best Rifle Rests Reviewed and Tested
last updated:
Sep 25, 2019
There are a wide variety of accessories available that you can use to enhance your shooting abilities – scopes, sights, and ammo are all necessary when using a gun for hunting or target shooting. Everybody needs a rest to increase the accuracy of their shots and to pull the most potential they can from their weapon. Guns shooting rests do the job of holding your weapon rock-solid, eliminating user error, while making final adjustments to sights and optics. The best gun rests are precision engineered to keep your gun stationary and consistent with target practice and sighting in the cross-hairs. Here you'll find the best rifle rests on the market!
In a Hurry? The test winner after 15 hrs of research
Caldwell Steady Rest NXT
Why is it better?
Steady shooting platform for both long-range rifles and sidearms
Sturdy 3-piece design for easy adjustment to the desired length
Contoured rear support keeps gunstock finish intact
Elevation adjustment for accurate shots
Stable shooting rest for precise shots both on and off the field
In a
Hurry? Editors choice:
Test Winner: Caldwell Steady Rest NXT

14
Researched Sources
13500
Reviews Considered
15
Hours Researching
15
Products Evaluated
Safety Hazards
Materials
Comfort
Versatility
Style
By Default
10 Best Rifle Rests
1

. Caldwell Steady Rest NXT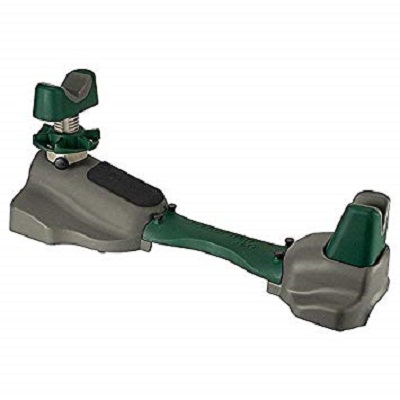 Steady shooting platform for both long-range rifles and sidearms
Sturdy 3-piece design for easy adjustment to the desired length
Contoured rear support keeps gunstock finish intact
Elevation adjustment for accurate shots
Stable shooting rest for precise shots both on and off the field
Plastic moves very easily, even with light-recoil weapons
Rearrest is too low
Rearrest doesn't work well with some collapsible stocks
The bridge must be removed when using high-capacity magazines
Jazz up your hunting game with the very handy and durable unit from the house of Caldwell. It provides a stable platform to rest your rifle, shotguns, or pistols for making consistently accurate shots.
3-piece Design
The 3-piece sturdy design allows you to rest your firearm in 1 or 2 piece configurations for a steady platform to make that perfect shot. Because every shot counts out there you have to make the best out of your shooting and this sturdy device delivers a great performance whether you're out there hunting your next big game or testing your shooting skills in the range.
Non-Marring Finish
You prize your weapon and it's important that you maintain it and protect it, especially while in use. The special non-marring finish protects against scratching and dinging.
Cost and Value
This is Ideal for seasoned hunters and serious outdoors-men who really want to improve their accuracy. It comes from a reputable brand at a great price and is sure to leave you satisfied.
2

. Primos Group Anchor Rest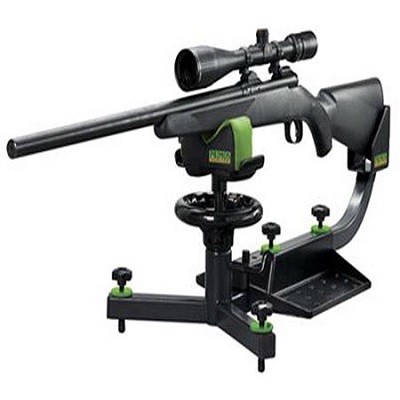 Front shooting rest helps take out your target with ease
Dedicated accessory tray for additional storage and weight bags
Butt-plate guard to eliminate recoil while shooting
Elevation adjustment for perfect alignment
Soft-touch grip for adjusting coarse
Bad wheel threads
Rear buttstock holder is too wide, no clamp
Stockholder on the rear may need padding on sides
The Primos Group Therapy Anchor Rest provides a stable shooting platform to enhance your shooting experience out in the woods. Now take your shooting game one step further with this solid design and keep your tactical gear or weight bags within easy reach, thanks to the very handy accessory tray that comes along with the rest.
Lightweight
It's lightweight for easy carry yet sturdy enough to take the daily wear and tear of time without putting any extra bulk while on-the-go. The durable all-steel design makes carrying and transporting a breeze.
Great for Everyone
Its unique design makes it the ideal high-performance shooting bench for both left and right-handed shooters. Plus, it eliminates recoil for superior shooting performance thanks to the front rest and a solid butt-plate for a precise shot.
Cost and Value
The frame features Heavy-duty steel construction for long-lasting use, saving you money in the long run. The price is no very high and it provides a solid shooting platform for precise shots.
3

. Caldwell Deadshot Boxed Combo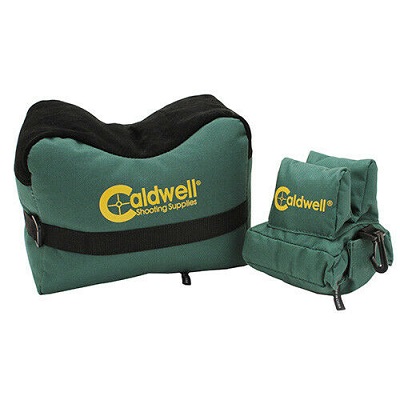 Waterproof treated for all-season durability
Steady shooting rest for maximum performance
Great for rifles with fixed stock as well as a collapsible stock
Great value product worth the price
Works great for stability
The bags do not come filled with anything
Not ideal for AR-style rifles
The fill hole for the smaller bag is much smaller
If you're looking for a versatile and steady shooting platform to rest your rifle for maximum shooting performance, the Caldwell Deadshot Combo won't disappoint. It comes from a well-respected company and designed for easy portability.
Easy to Carry
The quick-connect feature makes carrying and transporting a breeze, making this a perfect travel companion for the hunters on-the-go. this sturdy design not only aids in easy carrying and transporting but also provides a steady sighting for increased accuracy both in the woods and in the range.
Heavy-Duty Material
The 600D heavy-duty polyester makes for lasting use and is waterproof treated for long-term durability. Carrying and transporting is a breeze with the easy-connect features.
Cost and Value
This was made with the seasoned hunter in mind, ready for all the challenges that Mother Nature has to offer. The material is treated to be waterproof and last.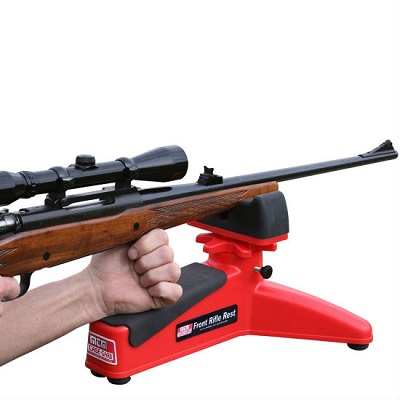 Precision dialed adjustments in 3-inches of vertical alignment
Rock-solid stability for superior performance
Non-marring shooting pad for any stock rifle or barrel
Handgun support for short-range shooting
2-point rear footing provide more stability
Great for sighting handguns
Poor adjustments
Not ideal for high caliber firearms
If you're looking for an all-around option at a budget-friendly price, the MTM Front won't disappoint. A solid shooting platform for precision accuracy, the MTM is designed with the most demanding shooters in mind.
Three-Legged Design
The three-legged design allows for precision accuracy for long-range shots but equally favored by handgun enthusiasts looking to enhance accuracy. The three points of contact provide incredible stability for beginners as well.
Accuracy
A solid shooting platform for precision accuracy, the MTM is designed with the most demanding shooters in mind. It's lightweight yet sturdy to stand the test of time plus easy to set up for a solid shooting platform.
Cost and Value
If you're looking for an all-around device at a budget-friendly price, the MTM Front won't disappoint.
5

. Caldwell Lead Sled FCX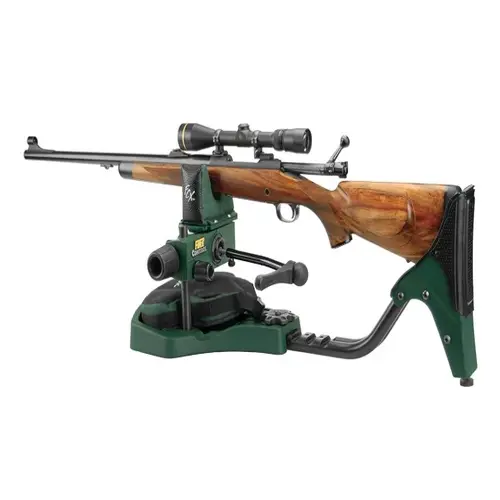 Durable construction
Easy to use and adjust at your convenience
Smooth function all around
Versatile allowing you to use the gun of your choice
Can even be used for crossbows
Recoil reduction of 95%
Weight bags are not as sturdy
Not as easy to use with an assault rifle
Coming in hot at number 5 we have another Caldwell, but this time it's the Caldwell Lead Sled FCX shooting rest. Measuring at 35 inches in length and 13 inches width, weighing approximately 22 pounds this shooting rest is stationary. Meaning you will have to use it on a flat surface or a table for comfortable use. You could take the risk of using it on its own without being on the ground, but you will come across the idea of needing it to be extremely leveled to get the right accuracy.
Sturdy Construction
Any product that will help you shoot, keep your gun in place and/or do both needs to have a good, sturdy construction. The Caldwell Lead Sled FCX shooting rest offers that and more. With a removable control arm handle, perfectly paired with multiple elevation adjustment features, this was designed to be one of the best on the market. The construction is sturdy enough that you can handle it roughly without having to worry too much.
Versatile
While this is marketed as a rifle stand, it can practically hold any gun. This is mainly due to the 2-piece design where you can adjust the rest to fit your desired gun without missing a beat. With both fine and coarse elevation knobs, you get to adjust the stand to the length of your gun. Furthermore, the knobs lock, giving you that additional peace of mind that you need when shooting. Whether your barrel is extremely long or classic in size having an adjustable stand will make shooting easier and more accurate.
Cost and Value
When it comes to the cost and value of this product, you are looking at a higher price tag. But, it's important to keep in mind, the quality of the product you are getting. Caldwell is known for being a quality brand that gets the job done and this one does not disappoint. Furthermore, you are getting a reduction of 95% recoil which is essential when you buy a quality product like this one.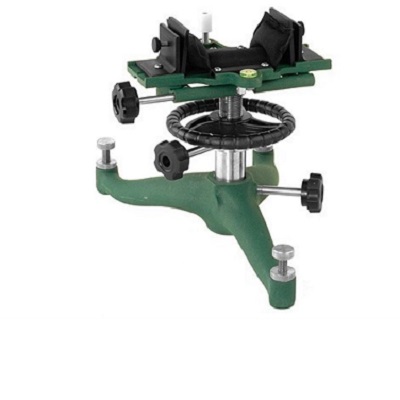 All position shooting performance with precision accuracy
Lightweight and sturdy design for lasting use
Precise elevation adjustment for pinpoint accuracy
Two-point elevation adjustment for steady shooting performance
Superior performance with stability and ease of movement
Compatible with all Caldwell Deluxe Front Rest Bags
The rest is not stable enough
Bags are poor quality
A heavy-duty selection for all-around performance in any environmental condition, the Caldwell Rock BR is built to perfection. If you're looking for a fully-adjustable shooting platform to improve your accuracy, the Caldwell won't disappoint.
Easily Adjustable
Not everyone is the same height and your rest needs to adapt to meet your needs. You can easily adjust to your desired height so that you get that perfect shot in all position - whether in prone, standing or in sitting position.
Wind-Adjustable
This features a wind-adjustable cradle for smooth, precise adjustments to make up for wind shifts. This is important during those days when the weather is not in your favor.
Cost and Value
At a budget-friendly price, you'll get all the robust features and quality performance you'd expect from high-quality. Now take out your target with precision accuracy and fine elevation adjustment with this heavy-duty model and enhance your shooting performance with ease.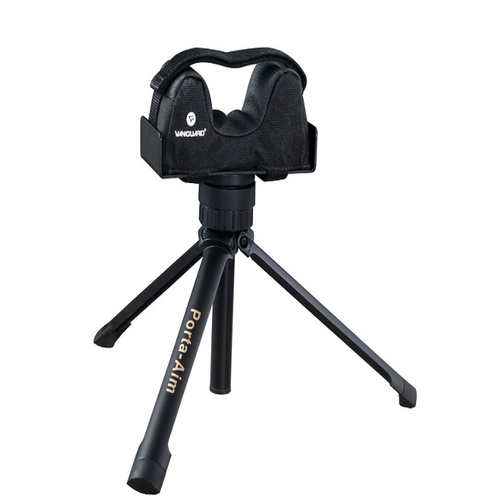 Extremely portable due to being so lightweight
Better accuracy as you have that anti-vibrating bag
Durable
Adjustable elevation
Built to last with its 5-year warranty
Not ideal for larger rifles
Can be a bit too compact for some
Easy to be weighed down
If you are looking for a rest that is versatile, durable and specifically designed for steady shooting the Vanguard Porta Aim might be the one for you. Featuring a unique height of 8.8 by 12.6 inches this tripod is easy to carry, easy to use and even easy to work with. Making it a top contender for those that want something they can assemble in minutes and takedown just as fast.
Highly Portable
As stated above, the Vanguard Porta Aim comes in a very unique, compact design so much so the height itself makes it highly portable. Though it is foldable, it is also lightweight and compact further emphasizing its portability feature. Its design comes in handy when you are hunting or traveling or even doing both regularly and want a more accurate approach.
Exceptional Accuracy
Thanks to having a 360° swiveling paired with a classic anti-vibration bag, you are getting a better form of accuracy. Its all about having the best possible accuracy method. The bag itself enables you to place your rifle, select a target and remain on that target the entire time. You do not have to worry about your rifle moving as the bag will remain exactly where you place it every time. Furthermore, by having an anti-vibrating feature, even when shooting the rifle will not move.
Cost and Value
Though it is packed with essentials that will ensure you get the most out of your purchase, you will not be paying the big bucks for this product as it is quite affordable. The Vanguard Porta Aim gives you what you need at the best price possible. Furthermore, it's portable a win-win for all.
8

. Hyskore Gas Dampened DLX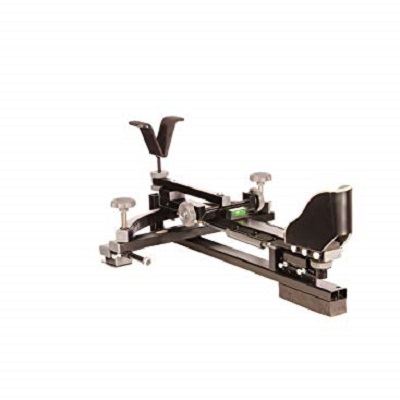 Compression damper technology to eliminate recoil while shooting
Precision accuracy for a superior performance
Easy carry design for convenient transporting
Lightweight and durable to withstand daily wear and tear
Handles long-range rifles and handguns with ease
The remote trigger assembly is not well made
Takes some getting used to readjusting
Not so smooth adjustments
Not great for high caliber rifles
This one from Hyskore uses state-of-the-art technology to create an option that is lightweight, yet durable enough for the toughest environments. The frame is made from heavy-duty welded steel that is powder-coated for all-season efficiency.
Compression Technology
Unlike the conventional gun rests that require heavyweights, the DLX Precision Shooting Rest leverages compression damper technology to literally eliminate recoil while shooting for superior on-field performance all while delivering unmatched accuracy without damaging your firearms or stocks. It gets back to battery after each shot so that you'll be right on your target without compromising on your stance.
Remote Hydraulic Trigger
For added safety and accuracy, this model includes a remote Hydraulic trigger which allows you to fire the weapon from a distance.
Cost and Value
This is more expensive than most of the others on the list, but if you're serious about your marksmanship, then this is the one for you. It's lightweight enough to carry around with minimal effort and sturdy construction makes it a great fit for the rugged outdoors.
9

. MTM K-Zone Shooting Rest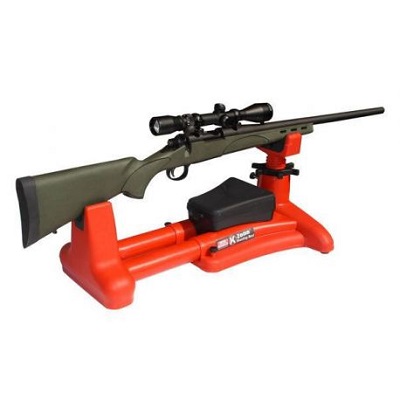 Quick and easy-adjust bench rest style elevation system
Ideal for rifle sighting in
Sturdy shooting platform for precision accuracy
Ideal for hunting rifles and AR's, slug guns, and handguns
Four-position rest pad for handguns, removable
Alignment up to 7.5 inches for most guns
Rubberized rests are not molded correctly
Great for regular rifles but doesn't fit an AR well
Nothing feels better than a pack of ammo and your favorite rifle to sight in on a sunny day. This sturdy gun rest makes the best of your shooting venture by providing just the right tool for making each shot count.
Stable Shooting Platform
It provides a stable shooting platform for pin-point accuracy and testing ammo and reloads. A steady shooting rest for long-range rifles and handguns alike, the low-profile design stands out and is quite versatile, thanks to its easy-adjust bench rest style.
Vertical Adjustments
This rock-solid rest allows for easy vertical adjustments and leverages four-foot stance to make consistently accurate shots. It's quite lightweight for easy carrying and moving around and is durable enough to withstand high caliber weapons with ease.
Cost and Value
This is a great model for beginners. It is easy to use and provides very stable rest for a great low price.
10

. Remington Shotsaver Bench Rest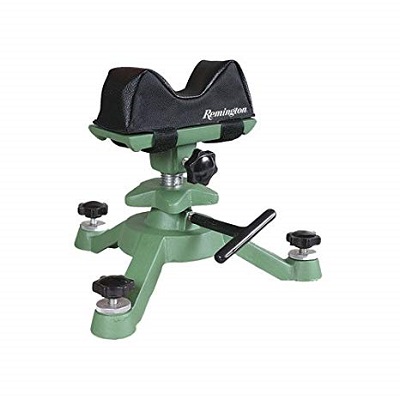 Sturdy construction to withstand heavy usage
Precision accuracy with each shot in the range
Adjustable front gun rest for mobility
Lightweight aluminum frame for balanced and steady shots
Adjustable feet and screw-type anchor pins to hold it securely in place
Easy to carry design for portability
Poorly made base pads
Sloppy locking rings
Whether you're shooting with a rifle or a pistol, the Remington Shotsaver Bench Rest puts you at a greater advantage over your target and helps you take consistently accurate shots. As a brand, Remington has a long history of producing high-quality guns, rifles, and accessories, and this is no exception.
Very Versatile
In the field, each shot counts and this solid gun rest ensures precision accuracy for an ultimate shooting performance. This easy carry gun rest is versatile enough to handle your long-range rifles plus your handguns with ease. It's lightweight so that you'll always be ready to pack and move to the outdoors or shooting range.
Iron Base
This was designed for the heavy user. It features a steady iron base for a stable shooting platform that will last for a long time to come.
Cost and Value
Although this model is at the end of the list, you can always count on a good product from this brand. It is made strong and durable, but not ideal for the beginner.
Criteria Used for Evaluation

Safety Hazards
Safety should always be everyone's main concern whenever firearms are involved. Although firearms are used safely every day, the reality is that they are deadly and can lead to tragedies when they are not used properly. This rule does not only apply to the gun itself but also to the equipment that you are using the gun.
In this case, you will want to pick out one that is the most compatible with your gun so that you can use the gun with your rest in a safe fashion. Safety should always be your top priority whenever you are enjoying your gun regardless if it is at the gun range, competitions, or when you are hunting.
One of the first things that you want to make sure when you are using a rest if it works with your gun. It should be able to grip your gun tightly throughout your entire shot. Your gun needs to be held securely from the time that you first put it on to start aiming until after you have finished taking your shot. Under no circumstances should your gun slide around.
Your rest should also be strong enough to support your gun without moving or sliding around itself. Part of using one is to make sure that you have placed the rest on a solid and flat surface where the rest is unlikely to tilt or slide around.

Materials
Quality of material is an important part of any purchase and this would include a few different reasons. Your safety is one of the main reasons why you should look for one that is well made and has good quality since a rest that fails while you are shooting a gun can turn into a hazard unexpectedly. A quality tripod will also protect your guns from getting damaged as well which will help your guns last longer. Finally, owning a high-quality device will help you save money because you will not be spending money on purchasing or repairing.

Comfort
People are at their best when they feel comfortable so naturally, it matters that you are comfortable when you are shooting your gun. If you feel uncomfortable, anxious, or tense, then you are likely to feel distracted and this can cause you to miss when you take your shot. When you are picking out the rest for your rifle, you should always take the time to make sure that you feel comfortable using it. The rest should help support you when you take your shot but if it feels wobbly, unstable, or makes you hold a position that you do not feel comfortable shooting in, then you will want to look at a different kind for your gun.
One of the things that you will want to consider is where you intend to use the rifle rest. This criterion matters because you will need to make sure that the area you pick will work. For example, if you intend to use this in a deer stand, then you will need to make sure that it will work with the deer stand. You may have to pick one based on its size and weight for such an application and make sure that you can set it up in a fashion that allows you to hold a comfortable shooting position.
On the other hand, you may want to have one that is highly mobile which means that it should be lightweight. You will have a difficult time taking a good shot if you feel winded or exhausted from carrying heavy gear. For this reason, if you are planning on using yours in a variety of different areas, then you will need to make sure that all of your gear isn't too heavy for you to carry. A mobile rest should be easy to move and allow you to set it up quickly when you need to use it. This could mean that you will want to make sure that it has important features such as handles.
The height will also be something that you will want to take into consideration. If one is too high or too low to the ground, then you will have trouble getting into a comfortable position for your shot. Once again, you should be able to feel relaxed when you are shooting your gun which means that your rest will need to work with you and not against you. You may want to look for one that has an adjustable height so that you can position yourself correctly when you are using the rest.
All of the controls on them should be easy for you to use without you having to take your eyes off of your target. This means that controls that are used for adjusting for wind and elevation should be accessible without you having to reach too far or look for the controls in hard to find areas. You should be able to use all of the controls with your fingertips without having to twist really hard or have the controls stick. Instead, all of the controls on the rifle rest should move freely and easily in order for you to take the best shot.
The gun's recoil will be another factor that you will want to consider when you are picking one out. It is hard to shoot well if your shoulder is hurting from the gun. Eventually, enough pain on your shoulder may cause you to feel tense when you are firing which will make it hard for you to shoot accurately. If this is a concern, then you will need to make sure that yours can reduce shock to your shoulder as much as possible so that you do not need to worry about the gun's recoil. This can be especially true when you are using a high caliber gun that has a recoil that is stronger than most other kinds of guns.
A rest can help you shoot more comfortably which will mean that you will shoot better and more accurately. Taking a comfortable shot is important because you are more likely to hit your target and you will use the gun in a safer fashion than what you might otherwise. You will need to make sure that it supports a comfortable shooting position for you so that you are at your best when you are using your gun. The rifle rest should have a height that is proper for your body and it should support the gun well. You will also need to consider the amount of recoil that is produced by the gun as well as where you plan on using them. If you have done your homework properly, then you will have a rest that lets you feel your best when you shoot with it.

Versatility
One of the ways that you can save on the cost is to make sure that it is flexible. Flexibility increases the value because it means that you can use it in multiple situations and for different purposes. This saves you money in the long run because you do not need to keep purchasing additional pieces for the different areas that you plan on using your gun as well as the kind of guns that will work with the equipment.

Style
While you are shopping, you may notice that there are a few different kinds that are available. Knowing about the different kinds will make it easy to pick out one that is best suited for your needs. Each kind is best suited to a different task so it is important that you match yours with the type of activity you are planning on doing. One kind is useful for when you are moving around to different areas. Another kind is better suited for absorbing recoil caused by high caliber guns. The type that you pick out will determine the best use case for the rest as well as what sort of features and benefits you should expect.
Expert Interviews & Opinions
Most Important Criteria
(According to our experts opinion)
Experts Opinion
Editors Opinion
Users Opinion
By Default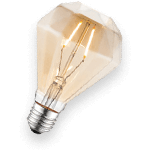 What Is A Gun Rest?
A solid rest is just the right tool you need to make sure you don't miss out on your target anymore. It's a solid foundation for your gun which helps you take consistently accurate shots with utmost precision by providing a rock-solid shooting platform to rest your gun. It not only enhances your shooting performance but also helps to sight in your long-range rifles for improved accuracy. In addition, the buttstock helps maintain consistency even in the harshest of conditions and rough terrains, plus they easily fit all size rifles.
Reduce Recoil!
A rest not only allows for better accuracy but also do so by effectively reducing the recoil with each shot. It effectively eliminates the recoiling effects while shooting high caliber weapons, the effects of which can impact accuracy in the field. A stable shooting platform reduces the effects of a bad recoil to a large extent, the effects of which could be detrimental if used otherwise.
Other Factors to Consider

Value
As with any product you plan on purchasing, taking a look at the cost is important. Not only do you want to know what you are getting into but it's important to keep in mind just how much you plan on invest and what your budget is. While many will argue that more affordable items aren't always worth it, that is not the case here. When it comes to the price, we took a close look at what you are getting compared to what you are purchasing. The more perks you get the better the value is for your item. Think of it as an investment that will help you hunt with exceptional accuracy.
Frequently Asked Questions
q:

What should I use to fill rifle rest bags?

a:

The bags should be conforming to the rest but they also need to be heavy as well. Sand is a popular material to use to fill a bag because it is heavy and the ability to mold the sand to conform to the rest. If you are looking for even more weight, you may want to consider using lead or gravel as this will weight more than sand while still providing shape.
q:

What shooting positions work with a rifle rest?

a:

If you are putting the rest on the ground, then you will most likely need to lay down to shoot since most are not very tall. Many people will mount them on a bench or a table-like structure that will allow them to sit or stand while they are shooting. If you are mounting the rifle rest to a structure, then you must make sure that the rifle is mounted in a secure fashion.
q:

Why should I shoot with a rifle rest?

a:

At a minimum, it will stabilize your gun so that you are more likely to aim and fire with more accuracy than what you might otherwise. This can be especially true for large and heavy rifles where your muscles have to work harder to stabilize the gun. They provide you with support for the gun so that you can focus on aiming rather than having to hold the gun steady in your arms while you aim.
q:

Are these difficult to assemble?

a:

You should not experience any difficulties when assembling. Many are designed to be set up quickly with as few steps as possible so that you can focus on shooting rather than messing with your rest. You should always follow the setup directions that are provided and the more you practice with using them, the better you will be when it comes to setting it up and taking it down.
q:

How do rifle rests differ from handgun rests?

a:

Rifle rests hold the barrel and possibly the stock of the gun depending on what sort you purchase. A handgun rest will need to hold the entire gun by the handle since a handgun is a small weapon. There are some of the rifle variety that works with both rifles and handguns but you will need to do your research to see if there is cross-compatibility.
Subscribe to our Newsletter