Best RC Cars Reviewed & Rated for Quality
last updated:
Oct 08, 2020
Remote Controlled Cars (RC cars) as a hobby is a very in-depth, and astonishing past-time. But we're going to try and steer clear of the extremely serious hobbyist RC stuff. Instead, we're going to set our sights on the ready-out-of-the-box angle, putting together a solid list of amazing RC Cars that demonstrate the eccentric end of the marketplace, and the simple glories of racing around a miniature vehicle.
While there is a wide variety of terrain out there — which the RC industry has adapted too — we're also going to ignore RC options for things that aren't the ground. We won't be exiting the highway at RC Boats, or RC Planes though, there's no promises that crossovers can't happen. With that said, here's a list of ten of the best RC Cars on the market today.
In a Hurry? The test winner after 11 hrs of research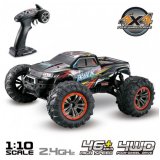 Hosim Large Size 1:10
Why is it better?
Almost 50kph!
Metal frame
2.4GHZ remote control
Premium quality
4 wheel drive
In a
Hurry? Editors choice: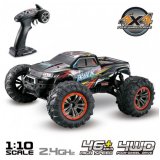 Test Winner: Hosim Large Size 1:10

3
Researched Sources
11
Hours Researching
10
Products Evaluated
Durability
Style
Responsiveness
Power Source
Value
By Default
Criteria Used for Evaluation


Durability
Build
No one buys an RC Car thinking that they're going to break it anytime soon. But trust me (as someone with a grumpy, but understanding grandfather), these things can and probably will happen. It may be a simple accident, or a miscalculation by the driver, but collisions are a thing, and there are plenty of objects out there made with far more solid materials than your remote controlled car.
The make and materials of your RC Car are going to vary widely depending on the brand and manufacturer. Some of these RC companies aim for a more serious market, or a more narrowed down use case, and those might be made out of far stronger metal or plastics than something Toys R Us might market to six year olds.
Things to look for are the grips and tread of the wheels. Both off-road and on, you're going to want some high-quality grips if you're seeking a thrilling and controllable ride even in the slightest of un-dry weather. The type of plastic or rubber (the latter being the more premium, and far more reliable option) used on said tires also makes a huge difference between getting a few great summers out of an RC Car, versus a few sessions.
Body and chassis are great places to check up on the build and quality of the car as well. Is the chassis, frame, or drive train made from steel? Or is it another composite of metals that may be less structurally sound than steel?
Other build notifiers are things like the type and strength of a motor. It is generally considered common that if a manufacturer designs a car to go fast, that they will build the car to be better able to withstand conditions or accidents at that max speed. Sort of like supercars in their full-size counterparts, the fast your RC Car can go, the more you can assume it is well made or designed.


Style
Variety
Strangely, the variety in the RC Car market is rather wide. Which is only strange because at the end of the day, all of these things are motorized frames with four-wheels. Yet designers and manufacturers have come up with some really cool ways to distinguish themselves and get ahead of the pack (another sly racing pun).
Things like, some manufacturers will focus on producing a RC Car that is more capable of handling off-road conditions over slick road racing. You'll see a higher lift on the kit, bigger tires perhaps, and a wider stance of the car. Most RC Cars come in four-wheel drive, but it's essential in this situation because you need all the grip and propulsion you can find on the gravel or dirt.
Other teams will seek utter dominations on the straight. Kings and Queens of the pavement game. These cars might have slick tires, with little air in them for a more rapid expansion and a higher concentration of surface area meeting the concrete. They will design a faster rotation (or RPM) of their tiny motors mixed with their drive-trains, to propel the car faster off the line.
Many of the world's best RC Car makers are simply aiming to please the five to ten-year-old within us, creating weird, or offbeat variations of what we would come to assume that a remote controlled car would be. Things like climbing walls, or flipping backward. These are the RC Cars most people remember, the ones that dared to be a little different than the rest.


Responsiveness
Input
Unlike a lot of other "toys" — and we feel weird calling them that considering the level of enthusiast that can often be found at RC events or races — RC Cars have a direct manual input controller that speaks to the vehicle remotely. Hence the name, remote-controlled cars.
In order for an RC Car to be an effective product, and a blast to pilot, one must have a very good amount of control over the vehicle. This can vary extremely depending on the level of seriousness the designers are marketing towards, or the budget of the car itself.
If you're seeking a pretty serious set-up, you're going to find yourself wielding a rather complicated and extremely useful remote in your hand. One that gives you access to things like forward or reverse driving, steering trim, speed or power modes, or even brakes (not a standard thing on most RC Cars) believe it or not.
Heading towards the back of the budget race, you'll most likely find a lot of cars that have a simple forward, or backwards driving control (either in the form of a trigger like mechanical lever, or arrow buttons on a controller), and steering (often seen as a wheel-shaped input control, or in the worst of cases, a left and right arrow) but nothing more. If you're lucky, you'll have an on and off switch for both the remote and the car, but you're more than likely to have to turn them both on and off separately.
Depending on the level at which you wish to participate in this pastime, the input methods and controller design for these RC Cars is going to play a big factor in your choices.


Value
Price
Given that we went ahead and cut off the feet of the marketplace, and took out the option to get insanely crazy RC Car gear, there's a lot smaller of a price difference across our list, than there is in the marketplace as a whole. Serious aficionados will pay thousands for individual kits, and it will show once you put tiny rubber on the road.
We also cut off the other heads of the hydra, by sticking with the four-wheels car based remote control hobby line-up. These two factors drastically narrowed the price range on our picks. And much like any other market, narrowing down your ideals will ensure that you also have an easier time comparing prices of your options.
Plenty of the three things we spoke of in this section will lend a hand in determining how much you're going to spend on your RC Car, and as with all electronically inclined markets, you're going to "get what you pay for" so there's a real purpose in doing the work of finding an ideal product, in an ideal price range.
The budget end of this market will only please the youngest of us, and might not even last more than a single session. But as everything on our list is roughly a hundred dollars apart from top to bottom, there's not a lot of those things that go into the choice of one or the other. Which is why price-point was such an important factor in the products we listed.
Expert Interviews & Opinions
Most Important Criteria
(According to our experts opinion)
Experts Opinion
Editors Opinion
Users Opinion
By Default
Frequently Asked Questions
q:

What is the max speed?

a:

These sorts of things are often giant numbers that manufacturers and designers truly pride themselves in, so it is often advertised more than once on these kinds of RC Cars. It's also a highly irritable point of contention in most circles, as the max speed is dependant on a lot of variables, including the level of charge or size of the battery, the surface you're driving on, or the drive of the vehicle (two-wheel drive vs four-wheel drive is a contentious point in the comments section). All in all, if there's no speed posted on the vehicle, you might be better off not knowing, because you probably won't ever get there. If it is posted everywhere, then make a note to yourself that it doesn't matter as much as the manufacturer might say it does.
q:

What battery does this car use?

a:

This isn't a question that can be answered with a single model. These cars vary so much in make and manufacturing that almost all of them use different batteries out of the box, though some aficionados claim that you're going to want to buy stronger batteries for the same connection regardless of what comes in the shipped product. But if it's speed you're worried about, you should note that bigger or more batteries will drastically change the speed of the car.
q:

What is the battery life?

a:

Many of the products on this list and plenty of the options available on the marketplace use small batteries because as far as vehicles go, you want the lightest thing possible for the speed. So there's a general understanding that at a full charge, most of these cars won't be putting out top speeds for more than half-an-hour or so. But if you get back-up batteries, you might be able to anticipate longer play sessions and bring some spares outside with you.
q:

Can I order replacement parts?

a:

Depending on the level of hobbying that these manufacturers are putting in their sights, you probably won't be able to order replacement parts for an RC Car in this rough price range. Anything shy of a devoted pilot type of RC Car isn't going to have a warehouse of parts. This, however, does not count manufacturers defects or problems. Those should be repaired or fixed by them, and you should contact the maker for more details.
q:

Will is be good on X surface?

a:

Probably. There aren't a lot of RC Cars out there that won't do well on at least the timidest version of all surfaces (the surface of water does not count, stop asking me Jeremy!) but as you've read countless times in this list, there are cars better suited, and purposefully designed for specific types of terrain. For the benefit of all those involved, you should narrow down your desires, to ensure that the RC Car you're looking at can withstand the potential terrain you're going to put it through.
Subscribe to our Newsletter