Best RC Cars Reviewed & Rated for Quality
In a Hurry? Editors choice: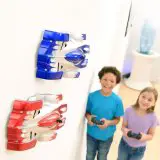 Test Winner: Force1 Wall Climbing

Remote Controlled Cars (RC cars) as a hobby is a very in-depth, and astonishing past-time. But we're going to try and steer clear of the extremely serious hobbyist RC stuff. Instead, we're going to set our sights on the ready-out-of-the-box angle, putting together a solid list of amazing RC Cars that demonstrate the eccentric end of the marketplace, and the simple glories of racing around a miniature vehicle.

While there is a wide variety of terrain out there — which the RC industry has adapted too — we're also going to ignore RC options for things that aren't the ground. We won't be exiting the highway at RC Boats, or RC Planes though, there's no promises that crossovers can't happen. With that said, here's a list of ten of the best RC Cars on the market today.
Standout Picks
Criteria Used for Evaluation
Durability
Build
No one buys an RC Car thinking that they're going to break it anytime soon. But trust me (as someone with a grumpy, but understanding grandfather), these things can and probably will happen. It may be a simple accident, or a miscalculation by the driver, but collisions are a thing, and there are plenty of objects out there made with far more solid materials than your remote controlled car.
The make and materials of your RC Car are going to vary widely depending on the brand and manufacturer. Some of these RC companies aim for a more serious market, or a more narrowed down use case, and those might be made out of far stronger metal or plastics than something Toys R Us might market to six year olds.
Things to look for are the grips and tread of the wheels. Both off-road and on, you're going to want some high-quality grips if you're seeking a thrilling and controllable ride even in the slightest of un-dry weather. The type of plastic or rubber (the latter being the more premium, and far more reliable option) used on said tires also makes a huge difference between getting a few great summers out of an RC Car, versus a few sessions.
Body and chassis are great places to check up on the build and quality of the car as well. Is the chassis, frame, or drive train made from steel? Or is it another composite of metals that may be less structurally sound than steel?
Other build notifiers are things like the type and strength of a motor. It is generally considered common that if a manufacturer designs a car to go fast, that they will build the car to be better able to withstand conditions or accidents at that max speed. Sort of like supercars in their full-size counterparts, the fast your RC Car can go, the more you can assume it is well made or designed.
Style
Variety
Strangely, the variety in the RC Car market is rather wide. Which is only strange because at the end of the day, all of these things are motorized frames with four-wheels. Yet designers and manufacturers have come up with some really cool ways to distinguish themselves and get ahead of the pack (another sly racing pun).
Things like, some manufacturers will focus on producing a RC Car that is more capable of handling off-road conditions over slick road racing. You'll see a higher lift on the kit, bigger tires perhaps, and a wider stance of the car. Most RC Cars come in four-wheel drive, but it's essential in this situation because you need all the grip and propulsion you can find on the gravel or dirt.
Other teams will seek utter dominations on the straight. Kings and Queens of the pavement game. These cars might have slick tires, with little air in them for a more rapid expansion and a higher concentration of surface area meeting the concrete. They will design a faster rotation (or RPM) of their tiny motors mixed with their drive-trains, to propel the car faster off the line.
Many of the world's best RC Car makers are simply aiming to please the five to ten-year-old within us, creating weird, or offbeat variations of what we would come to assume that a remote controlled car would be. Things like climbing walls, or flipping backward. These are the RC Cars most people remember, the ones that dared to be a little different than the rest.
Responsiveness
Input
Unlike a lot of other "toys" — and we feel weird calling them that considering the level of enthusiast that can often be found at RC events or races — RC Cars have a direct manual input controller that speaks to the vehicle remotely. Hence the name, remote-controlled cars.
In order for an RC Car to be an effective product, and a blast to pilot, one must have a very good amount of control over the vehicle. This can vary extremely depending on the level of seriousness the designers are marketing towards, or the budget of the car itself.
If you're seeking a pretty serious set-up, you're going to find yourself wielding a rather complicated and extremely useful remote in your hand. One that gives you access to things like forward or reverse driving, steering trim, speed or power modes, or even brakes (not a standard thing on most RC Cars) believe it or not.
Heading towards the back of the budget race, you'll most likely find a lot of cars that have a simple forward, or backwards driving control (either in the form of a trigger like mechanical lever, or arrow buttons on a controller), and steering (often seen as a wheel-shaped input control, or in the worst of cases, a left and right arrow) but nothing more. If you're lucky, you'll have an on and off switch for both the remote and the car, but you're more than likely to have to turn them both on and off separately.
Depending on the level at which you wish to participate in this pastime, the input methods and controller design for these RC Cars is going to play a big factor in your choices.
Value
Price
Given that we went ahead and cut off the feet of the marketplace, and took out the option to get insanely crazy RC Car gear, there's a lot smaller of a price difference across our list, than there is in the marketplace as a whole. Serious aficionados will pay thousands for individual kits, and it will show once you put tiny rubber on the road.
We also cut off the other heads of the hydra, by sticking with the four-wheels car based remote control hobby line-up. These two factors drastically narrowed the price range on our picks. And much like any other market, narrowing down your ideals will ensure that you also have an easier time comparing prices of your options.
Plenty of the three things we spoke of in this section will lend a hand in determining how much you're going to spend on your RC Car, and as with all electronically inclined markets, you're going to "get what you pay for" so there's a real purpose in doing the work of finding an ideal product, in an ideal price range.
The budget end of this market will only please the youngest of us, and might not even last more than a single session. But as everything on our list is roughly a hundred dollars apart from top to bottom, there's not a lot of those things that go into the choice of one or the other. Which is why price-point was such an important factor in the products we listed.
Top 10 Picks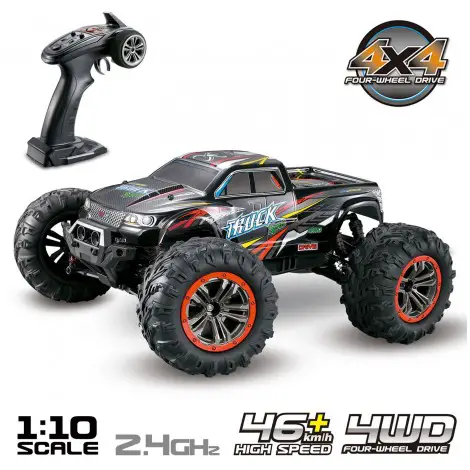 Hosim really kicks the door down with this offering from their RC Car line, and there's a half-dozen reasons why it tops our list. The best of which we will get to in a second, but the premium cheddar off the top of the drag strip is the stance. This beastly beauty of an RC Car has the body of a pick-up truck, atop an extremely wide-set wheelbase that grants pilots extra sharp turning, and handling at top speeds.
The Fire
On the back of their impressively intuitive, and amazingly sharp connection to the remote control, is a dual motor internal system that rapidly puts power to the pavement. The "hobby grade" Cross-country Car can reach top speeds of up to fifty kilometers per hour, all whilst connecting you to the speed via their beautiful controller that comes equipped with steering trim adjustments, reverse and brakes!
The Sauce
Everything about this consumer level, but hobby-grade RC Car is designed to sustain and impress. The body is made out of fully-proportioned steel structure, and using all metal, sealed ball bearings. The heavy-duty anti-skid wheels are great on many terrains (though this isn't a rock climber by any stretch), and can put some serious speed onto any road out there.
Cost and Value
Hosim is offering an astounding product at the top of our list. With meticulously planned, designed, and manufactured parts that come together to form one of the best fully pre-built RC Cars on the market right now, they back everything up with an extensive thirty day money-back warranty, a ninety day parts warranty, and a sea of parts to purchase should things break further down the road. For the money, you get a blistering RC Car, which is why it tops out our list.

2

. DOUBLE E No 4WD Rock Crawler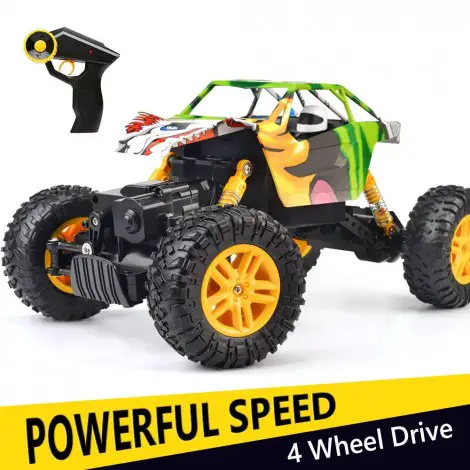 The beast is here! Other cars might want to steer clear of this one, because it's rabidly stylish, and intimidating. The Rock Crawler from Double E is an essential choice if you're looking to conquer hard terrain. And, in order to not force you to suspend your disbelief all that much, they've even thrown in a little figure of a driver glued (probably) to the driver's seat, so you can use your imagination to come up with all sorts of inner monologues as you flip and slide this RC Car around the dunes.
Personalized Graffiti
Could be that our chosen headline might be the weirdest oximoron to date, but it's more likely that it's just a selling feature from the manufacturer. Which it is. Every order comes with a unique graffiti paint job that means your child (or you … we don't judge) will get a one-of-a-kind look to their brand new Double E Rock Crawler RC Car.
Fast & Furiousproof
Equipped with a stunning dual motor set-up, the Rock Crawler is as powerful as it is mean looking. It's got a high-capacity, and quick charging 800mAh battery under the hood, and the twin motors ensure that you won't get hung up on any of the terrain you throw it at. To keep it all safe is a body and chassis made of hard plastics, and a completely waterproof body seal.
Cost and Value
It's above the budget window we're about to establish in the rest of this list, but it by no means is aggressive with the price tag. When you consider that this beast comes with a unique paint job, a waterproof body, a one hundred meter remote range, and it's all less than the price of a meal out for two at a restaurant, you have to see the value in the Rock Crawler from Double E.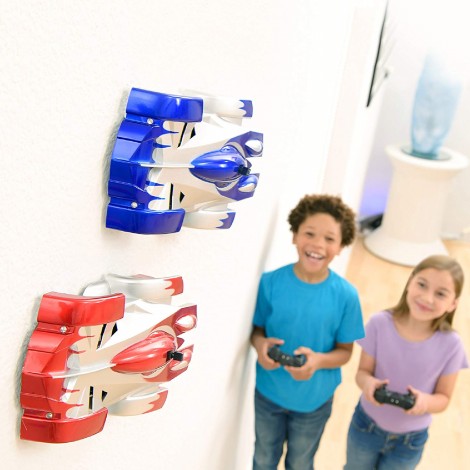 Yup, you guessed it. This car can climb walls. But how did you know? It's as if the manufacturer put the toys biggest selling feature glaringly into the products title so that you wouldn't miss it. Well, we sure didn't miss it! You better bet that we're going to talk about it too!
Mini Bats
There's really no use in denying it, the Force1 Wall Climbing RC Car looks a lot like the Batmobile, and for that, we salute you (with a bat signal shone into Gotham's sky of course.) But better than that, is that these wall-climbing RC Cars are tiny! Both the remotes and the cars themselves are about a tenth of the size of a "real" remote controlled car, and that makes them a whole lot cooler (for some reason.)
Gravity? Who Need It?
No, this isn't a plug for that one movie where George Clooney completely abandons Sandy B in space, but rather, the fact that this car doesn't give a darn about which angle it's surface, it needs to drive. Thanks to a suctioning vacuum motor on the underbelly of the car, it sucks its way onto any surface (even on the roof!) and can drive just as well on that vertical surface as it can on the solid ground.
Cost and Value
At budget prices, these little tiny gravity-defiers are well worth their weight in gold. Luckily for us, they don't actually weigh as much as gold, otherwise they might not drive on walls very well. Give these neat, unique little RC Cars a drive, because no matter where they go, they do it with style, and often where other cars can only dream of driving.

4

. Best Choice Products Lamborghini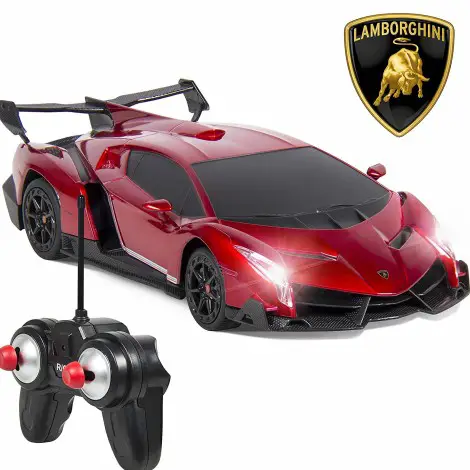 Welp! Our work here is done before it starts. The name of this company is Best Choice Products … so who are we to tell you otherwise, because we won't. You might as well jump on board now, because we're hoping in one of these luxurious rides and hitting the streets in style. Some of us might not be able to drive the real things ever at full-size, but there's nothing stopping us from going ham with these little scale versions.
The Simple and the Precise
The controller for the Best Choice Products line-up of replica hyper-sports cars is insanely simplistic. Normally, this is a bad sign, but there's some beauty to this set, as the simple controller uses joysticks rather than directional arrows (which is almost always a bad idea). In addition to that, the rubber tires, and shock suspension on these model cars translates into crazy precise steering and control.
The License (Not Your Drivers License)
We may have selected the Lamborghini as the model of choice here, but the beauty of this product is that it comes in so many other, fully licensed, luxury supercar models. There's a Maserati, an Audi R8, and plenty of color options for the Lambo body shape (including, but not limited to an awesome police car version!)
Cost and Value
Probably the cheapest, and most epically fantasy fulfilling RC Car you'll ever find, even if you took months to research (which wouldn't be the best use of your time), which is why we're here to save you. The Best Choice Products line-up of luxury sports cars with working lights, and zippy controls has more value to the dollar than anything else on our list.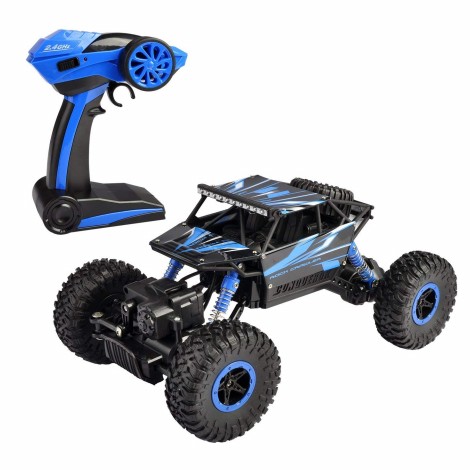 We've finally gotten to the "Amazon's Choice" RC Car, and right out the gate you can see why Amazon might have made this their pick. Spoiler alert, it's because it looks tough and awesome. The RC Car from Hapinic pairs both happiness and picnics in their name, so it must be awesome right? Correct. This chopped-up dune buggy RC Car is a stylish, and slick way to spend some time buzzing around any sort of terrain.
Double Power
You thought having one 700mAh battery was an outstanding manufacturers choice, well the Hapinic RC Car comes with a dual battery motor, putting out 4.8Volts each! That's 9.6 Volts total, folks. Pair that with those rugged wheels, and you've got a beast on every platform.
The Band, Elwood!
We've spoken a lot about the important of the RC Car remote, and we will speak of it still, but Hapinic truly comes to the game ready to race with their 2.4GHZ radio system reaching as far as one hundred meters away! The system also includes an anti-interference technology wave meaning that you can pair multiple RC Cars to their controllers and drive them all within range of each other.
Cost and Value
If we've learned everything, it's that Amazon themselves are good at plucking out a very strong suspect for their "choice" products, and the Hapinic is no exception. This budget-friendly RC Car can hit any terrain possible, and do it with an extensive range and up to fifteen miles per hour speeds. It's a value at twice this price!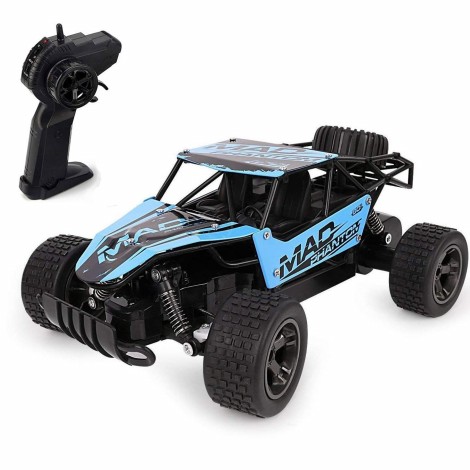 Sometimes it's the right time to get a little MAD, and that's exactly what Lazaga brings to the party with their All-Terrain RC Car. Though, we think they dropped the ball a little bit by putting these sweet decals on the side that read "MAD PHANTOM" and leaving both of those words out of the product title. Who wouldn't want to buy their child a crazy mad phantom for the holidays?
Tearing Up Terrain
Although we wanted to give this company points for their hilariously bad image of how the car goes forward, backwards, and turns, we decided to instead, focus on the terrain part. The Lazaga Mad Phantom (see? How much cooler does that sound?) can race on sand, grass, carpet, hardwood, and pavement with ease thanks to some spiffy all-terrain tires, and a great suspension.
Life of a Phantom
There's nothing better than getting a rather great RC Car and having it last more than five minutes on a full charge. Which is why the Lazaga Mad Phantom is a hype-beast, because unlike a lot of other RC Cars on the market, it comes boasting a 700mAh battery pack, at 4.8V outputs, making for a quick, and long-lasting radio-controlled driving experience.
Cost and Value
The Lazaga Mad Phantom sure does skirt the line between budget and medium-range, though if you consider how well it is made, and the quality of the battery it comes equipped with, you'd probably (like we were) be convinced to bump this bad boy out of the budget basement, and into the "cheapest awesome car you can buy" category.

7

. GPTOYS Off Road Monster Truck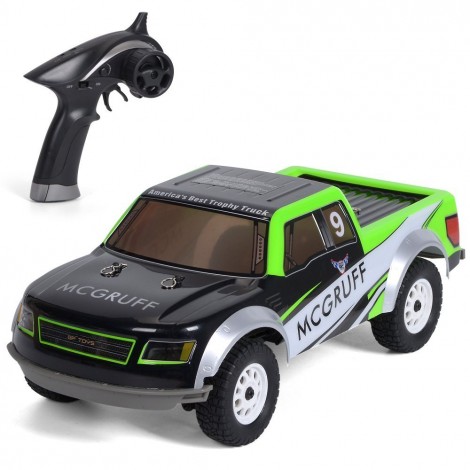 You might read that title and think that you're going to be getting a replica of one of the many iconographic Monster Truck vehicles, because that's what they put in the title, but you'd be wrong. That doesn't make the offering any less awesome, however, because you do get a monster of a truck, but it's more of a rally pick-up truck, than a car crushing, big-wheeled monstrosity.
Check the Speedo
If you've never seen footage of those insanely heart-racing, and hair-raising dune rallies where super-powered pickup trucks fly through the air over sand, and rock, then you might be surprised to learn that the Off-Road Monster Truck from GPToys can top out above twenty miles per hour, which is pretty zippy for a one/one-hundredth scale truck.
Outstanding Control
In an almost unparalleled move, GPToys have developed a powerful, and far distance remote using the 2.4Ghz frequency system originally designed for walkie-talkie communication. The full scale of the reach of this remote control is over sixty meters, which leaves most other manufacturers scratching their heads.
Cost and Value
For quite a bit more than all of the RC Cars that will immediately follow this item on our list, you get a rugged, slightly waterproof, extremely capable, and almost too fast little remote controlled race-ready truck. The GPToys Monster Truck is flush with value, and will see many moons of dune races to come.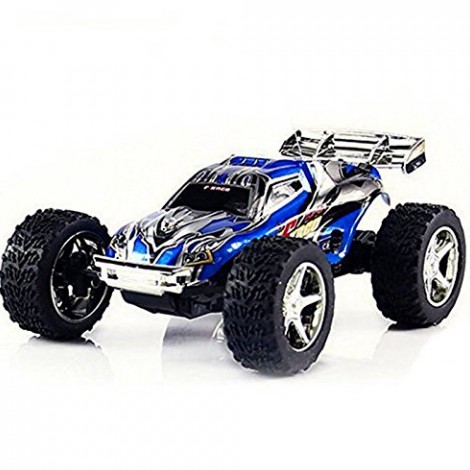 DeXop has taken their extensively high-praised past and put it to work in this budget-friendly RC Car that almost resembles some of the cars in Rocket League (a video game where you play soccer with rocket-powered battle cars). To the amazement of many, the DeXop Two-Wheel Drive racing car comes with far more attention to detail, and dynamic design than the price tag would indicate.
High-Speed
Built with rougher terrain in mind, the DeXop RC Car comes stock with a vibration system designed to keep power to both propelling wheels no matter the ground surface. With that, comes it's ridiculous top speed of thirty kilometers per hour, for a whip quick RC Car at a fraction of the price of some others.
Life and Charge
With an easy to use USB plug system, the built-in battery (a 3.7 Volt) holds a 240mAh charge (not a whole lot), and is exclusively designed not to over-charge, which is the death of many a battery powered toys the world over. The battery is also regulated on the output, and will not blow all of its charge without proper use.
Cost and Value
It's imperative to seek the most varied selection of RC Cars on the market to get a fair list, and as budget RC Cars go, you can't do much better than the DeXop 2WD system with it's high-speed drive-train, and extensively over-designed battery system. It's easy, it's fast, and it's pretty cheap.

9

. Midea Tech Bugatti Veyron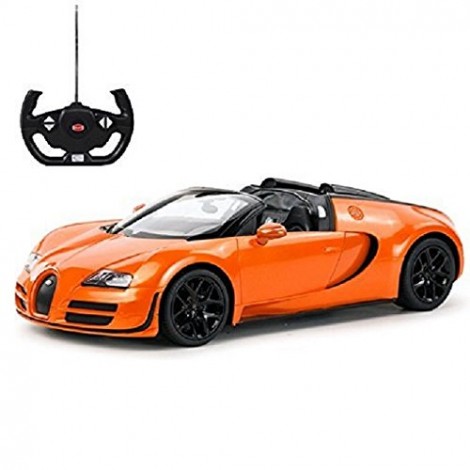 Perhaps you're flying around the parking lot with your RC Car for the thrill of driving because you never got your license (we don't blame you, if you live in any of the central metropolis cities around North America, is there even a need for one?) Or maybe it's because you're ten years old and got tired of looking up from your race car bed at the luxury sports car poster on your wall, and you went out and picked up a remote model. Both of those call for a Midea Tech Bugatti Veyron.
The Car of Your Dreams
If the wonderfully luxurious Bugatti Veyron is your dream vehicle, then you might be extensively disappointed when you wind out that one of the world's most expensive production cars will run you anywhere between one point seven million US dollars, and two point seven million US dollars. It's one of the fastest, and most easily recognizable automobiles ever made, and they'll come after all your pennies to prove it. So getting a miniature version, at a fraction of a fraction, will be almost everyone's only chance to own one.
The Speed
It might be a bit of a budget RC Car, but the folks at Midea Tech have gone out of their way to provide purchasers with a speedy little RC Car, far faster than anyone could rightfully expect at this price range. Some reviewers have stated this feisty little Bugatti can reach up to fifteen miles per hour, which is far faster than most of its competition.
Also worth reading bike odometer
Cost and Value
Again, this is relatively a budget RC Car, and out of that deal you get a replica of one of the greatest motor vehicles that the human race has ever conceived, and a very quick one at that. There's not a lot of pomp and circumstance in this product page, but we assure you the quality of the car far outweighs the price they're asking for it.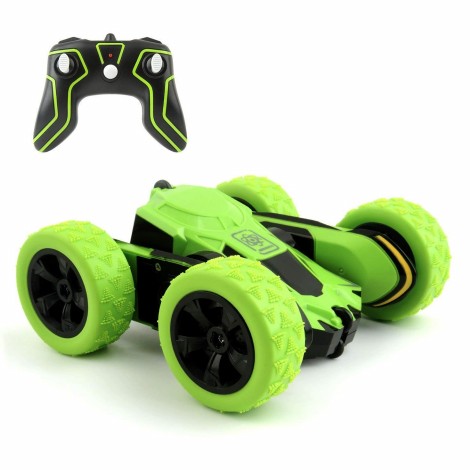 The final entry on our list was going to be reserved for something near the top end of the price range, but the Rodzon car truly caught our eyes with both its bright color, and by the fact that Rodzon markets it in the RC Tank department. It's pretty beefy looking, and a little alien. It's sure to be true love at first sight for more kids, and for some adults looking to have a little off-beat fun with an RC Car
The Flipside
The one thing that will stand out right away when looking at the Rodzon RC Car is that it has the unique ability to flip completely around, giving you full three hundred and sixty degrees of control over your driving. Each wheel is also powers separately (not that you have to worry about that or anything) so there is a distinct zippiness in the steering and acceleration of the Rodzon Car.
Made for All Things
Let's quickly ignore the fact that this budget RC Car can reach a top speed of twelve kilometers per hour (a pretty high top speed for most RC Cars), and jump right to the part where Rodzon has designed and manufactured a remote vehicle that can handle its own indoors, and on almost all outdoor surfaces. Take it to the beach, or the field, or the rocks, the Rodzon green machine can slay them all.
Cost and Value
Here we've got one of those gems. One of those products that far outweighs what anyone would expect from the marketplace, and absolutely leaves everything else at its price range in its dust. You can pick one of these terrain slayers up for less than a meal out, and it will last you a heck of a lot longer than nearly any other RC Car at this price.

Subscribe to our Newsletter