Best Pet Shampoos Reviewed & Rated for Quality
In a
Hurry? Editors choice: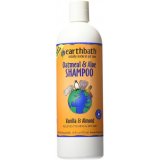 Test Winner: Earthbath All Natural

Giving your
animals a thorough clean
should be a routine practice. Not only does this keep them looking sharp and clean, but it also helps to get rid of pests that love to hide in their fur. Like their owners, the skin of pets has different needs and requirements. Some are dry and itchy, while others are normal or sensitive. Picking the right shampoo for your pet can help to alleviate the symptoms of the nature of their skin and make bath time fun and beneficial to you and your pet. Since there are thousands of options on the market, we thought we would save you the time and effort of having to sort through them and went out and researched the best ten products you can use on your pet.
Standout Picks
Criteria Used for Evaluation
Brand
When it comes to pet products, some brands have poured resources into research and have built a reputation as a leader in pet products. Such brands enjoy the goodwill have and have earned the trust of all pet owners.
That is why checking on the brand it is important. Some pet owners will only look at the brand and pick the product without checking any other details. Buying from reputable brands gives you the comfort of knowing you have quality. However, there are also some lesser known brands that are quite diligent. Some of these have been highlighted in our reviews.
Materials
These refer to the ingredients. Choosing pet shampoos that have the right ingredients is important. Ideally, you want to stay away from pet shampoos that have chemicals like sulfates which dry out the skin of the pet and can lead to break out.
The best pet shampoos are those made from quality natural ingredients and are soap free. These not only clean the pet's skin but they also offer other benefits like soothing the skin and moisturizing it.
Potency
Your pouch should get nothing but the best. While most shampoos and other products are fond of claiming to be the best, only a few are capable of delivering on the results they promise. That is why you need to check on the potency of a product before purchasing.
You can rely on the reviews of other pet owners to get an idea of how the same shampoo has faired with their pets and if it has made any difference. That way, when you make the purchase, you're guaranteed of the results you and your pet are hoping for.
Comfort
Just like their owners, pets can react adversely to some shampoos. One of the most common reactions in pets is eye irritation. It can make bathing times difficult and messy. When choosing pet shampoos, choose varieties that are cruelty free and are soap-free.
These are more comfortable for the pet and they don't cause irritation. Some shampoos can also cause skin irritations or worsen pre-existing conditions like rashes. If your pet happens to have a sensitive skin, the best option is to go for hypoallergenic shampoos.
Size
You definitely don't want to be shopping for a new shampoo for your pet after every bath. The size and quantity gives you an idea of how long you can use the shampoo before you need to buy another one.
The quantity is also a great way to assess the value you are getting for your money. If the bottle is too small, it might only last a couple of baths before you need to buy a new one.
10 Best Pet Shampoos Reviewed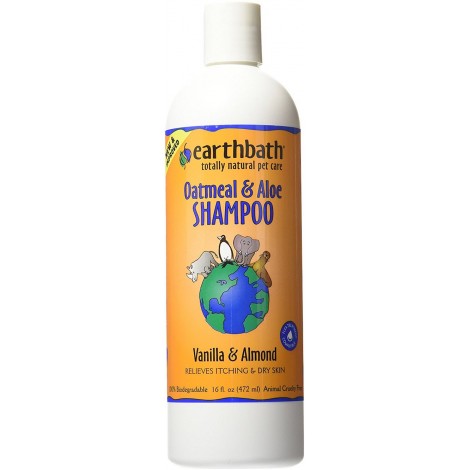 This product is designed to not only clean but to also soothe the skin. It is fortified with oatmeal and Aloe Vera to curb skin irritation caused by dryness. The shampoo is all natural and kind to the environment and has a balanced pH to clean and leave your pet smelling heavenly and with soft and plush fur. It is also a great option to consider if you recently applied a topical flea solution to your pet because this does not wash it off.
Natural Ingredients
Even with pets, opting for a shampoo that is made from natural ingredients has plenty of benefits. Pets have equally sensitive skin and having too many chemicals can leave the skin dried out and itchy. With natural ingredients like Aloe Vera and oatmeal, the skin is moisturized which helps to alleviate itching.
Diverse Application
Because of its natural ingredients formulation, this shampoo can be used on a variety of pets at home as long as they are older than 6 weeks. It is non-perishable and with its balanced pH and soap free features, you're assured of great results in all your pets with no irritations.
Cost and Value
There are more affordable options in the market. But, considering the benefits that this shampoo has to offer to pets especially those with a dry skin, the price is commendable. It is reasonable and the amount of shampoo in the bottle is substantial.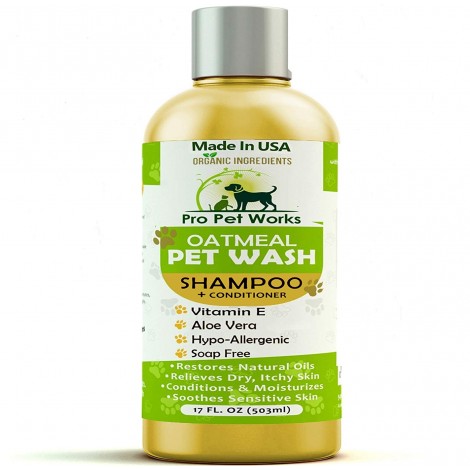 This is another great alternative for natural shampoos and works great with both dogs and cats that have dry and itchy skin. It is formulated for pets that have food, grass and flea bite allergies. The shampoo can be used for rabbits, cats, ferrets, among other pets. It has no alcohols or sulfates and it has a balanced pH. It doubles up as a great conditioner for your pet's fur and its aloe enriched to moisturize the skin and make bath time relaxing. This is also fortified with almond oil, and Vitamins A, D, and E to reduce irritation to the dog's eyes and it is 100% biodegradable so it is also kind to the environment.
Eco-friendly
With global warming threatening to change the dynamic of the planet, every little effort that can help reduce the carbon footprint and improve the well-being of the environment is greatly appreciated. Even though eco-friendly pet shampoos like this one might cost you more, they are kind to the environment and this particular one is 100% biodegradable.
For Dry and Itchy Skin
If your pet has skin allergies or dry skin, this will not only help to get rid of the dirt. It has a variety of natural ingredients that will help to soothe and nurse your pet's skin back to health. These ingredients include aloe extracts, almond oil and Vitamins.
Cost and Value
Compared to the Earthbath, this is more pocket-friendly. Being an all-natural option, the slightly higher price is expected but, you can rest assured that you get value for your money. What's more, the product is backed by a 100% money back guarantee.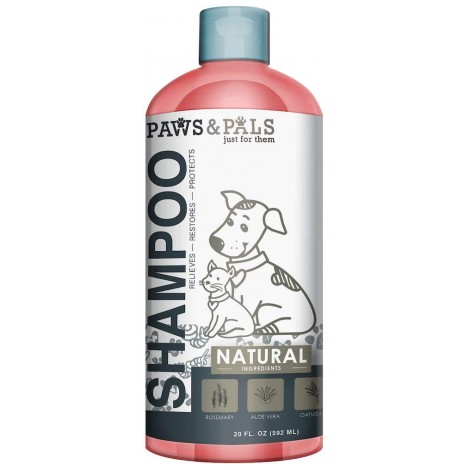 This premium option comes highly recommended by veterinarians. It is a result of natural ingredients and a balance of essential oils that clean and care for your pet's skin. It is ideal for pets with normal skin as well as those with a dry, sensitive and itchy skin. Some of the ingredients used in the making of this product are oatmeal to moisturize and soothe the skin of your pet, Aloe Vera and pro-vitamin B5. These help to hydrate the skin and promote healing. To avoid eye irritation and tearing during bath time, this is soap-free making bath time fun for both you and your pet.
Long Lasting Fresh Scent
Pets are known to play with just about anything they come across. Their thick fur can hold on to bad odor for days. With the long-lasting fresh scent that this has to offer, you can help your pet smell fresh at all times. It also helps to get rid of wet dog smell that arises after bathing your dog.
Shampoo and Conditioner
This product also doubles up as a conditioner and works particularly well for pets that have long fur. It is not only excellent at deep cleaning the pet but also detangles the fur and moisturizes the skin making it easier for you to comb your pet after the bath.
Cost and Value
Even though it is not cheap, the pricing of this option is quite reasonable. For the price, you get a premium product that will benefit your pet and you have plenty of shampoo in the bottle that will last for quite a while.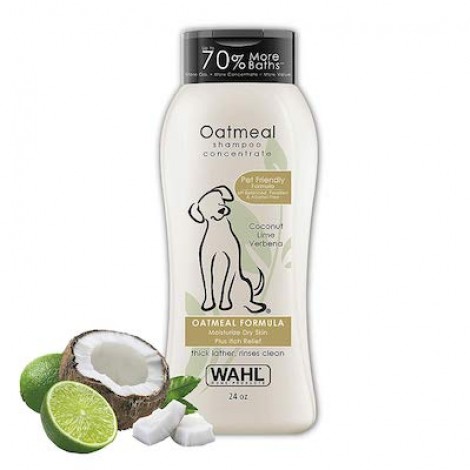 For pet owners that are struggling with dry and itchy skin, this can offer substantial relief. Like the previously reviewed options, it is made from natural ingredients like coconut, lime, lemon verbena, and aloe to give your dog a true feel of luxury and a fresh smelling coat. The product is just one out of a variety of pet-related skincare products offered by Wahl so you're guaranteed of the best quality and standards that have gone in creating their range of products. It has a balanced pH to promote healing and the shampoo is PEG-80 free so you don't have to worry about any outbreaks or reactions to your pet's skin.
Made from Natural Ingredients
The best thing about pet shampoos that are made from natural ingredients is, they are ideal for pets with sensitive skin. They will not only clean but also boost the state of your pet's skin for a healthier and cleaner pet. In this case, the preferred ingredients are coconut, lime and lemon verbena among others.
Ideal for Dry and Itchy skin
If your pet is struggling with a dry and itchy skin, this shampoo can help. It contains oatmeal which helps to moisturize and alleviate the symptom of itching. Other ingredients like coconut oil help with healing.
Cost and Value
This is a great product for pet owners that are juggling a tight budget. It is very affordable and yet the price does not come close to representing the quality of this shampoo. It is one of the best priced products on this list.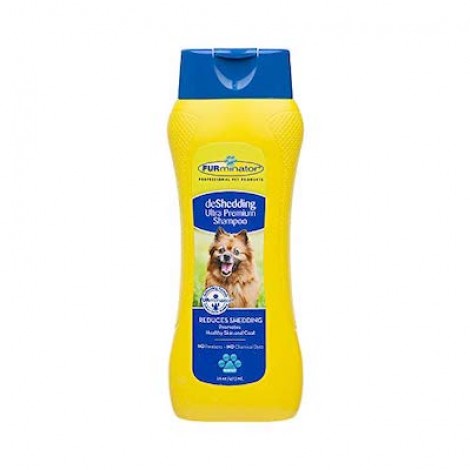 One of the greatest challenges with having pets is having to vacuum fur off the furniture, carpet and every space that the pet has touched. It can be frustrating and annoying. With this pet shampoo, you can easily make the shedding more manageable while enjoying a variety of other benefits. This product works by promoting a healthy skin coat to reduce shedding. It is fortified with omega 3 and 6 fatty acids and other ingredients like papaya leaf extract and calendula extract. To get the best results for your pet, this should be used along with other Furminator grooming products.
Natural Ingredients
When it comes to pets, buying products like this can be a nightmare especially if your mutt has sensitive skin. Shampoos that are made from or have natural ingredients are gentle on the pet's skin and reduce occurrences of dry itchy skin. This particular one also comes with an additional benefit which is reducing shedding.
Subtle Pleasant Scent
Other than leaving your pet with a clean coat of fur and reducing the amount of shedding from your pet, this shampoo also guarantees a subtle and pleasant smell that sticks around for many days.
Cost and Value
Most pet owners will find this shampoo to be very affordable and pocket-friendly. It is available in two sizes and both of them are affordable. Given the quality of the ingredients and the quantity in the bottle, the price is definitely worth it.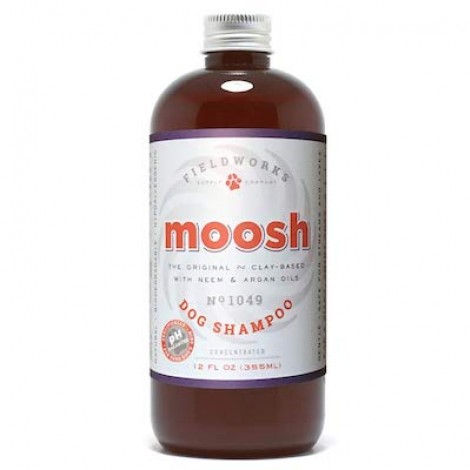 In addition to dealing with the shedding, dirt and dry itchy skin, some pet owners also have to put up with hotspots. If you are one of those owners, this product could be the solution you have been looking for. This is not only a great shampoo for your dog but it is also an anti-bacterial, anti-fungal wash. It contains neem oil which is a natural insect repellent. It also contains other vital natural ingredients like Aloe Vera, shea butter and argan oil. Another impressive ingredient is bentonite clay which helps to lift the dirt off the pet's skin while leaving the essential oils in place.
Natural Ingredients
This features a variety of well-known natural ingredients which offer a variety of different benefits. These benefits range from repelling insects and removing dirt while preserving the condition and health of the skin.
Alleviates Itching
This product has medical properties that help to alleviate symptoms for dry skin like itching. It also helps to fight bacterial and fungal infections. It is an all-in-one solution for all your pet skin problems.
Cost and Value
For a shampoo that does so much, you would expect the price to be through the roof. However, it is quite commendable and affordable. You get a fair price for a good amount of some god-sent shampoo that will not only clean but will also help your pooch to have a more comfortable experience.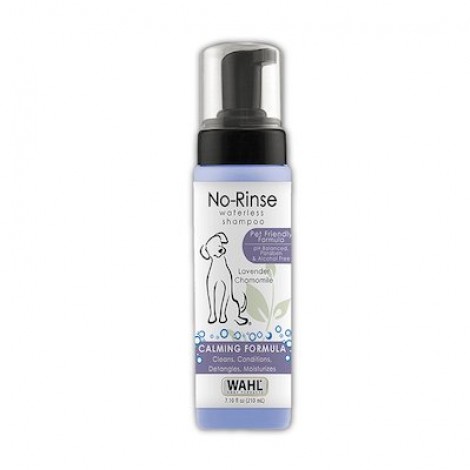 When it comes to washing your pets, finding the right balance between how often to do a deep clean is important. If you do it too often, the pet's skin can become dry and itchy. If you do it too rarely, it can result in build-up of dirt, tangled fur and pests under the fur. Between baths, you still need your pet to look clean and smell great. That's where the Wahl Pet No-Rinse Waterless Shampoo comes in. It is a great product that helps to refresh and deodorize the skin of the pet and does not need any rinses. The base ingredients are lavender and chamomile and coconut oil. It comes with an easy to use spray bottle and is perfect for cleaning, conditioning, detangling and moisturizing.
Easy to Use
You don't have to worry about giving your mutt a bath if you're using this. It is easy to use and perfect for use at home or when you're traveling with your pet. The spray bottle makes the application even easier.
No Harsh Chemicals
This is comfortable for your pet. It is made from natural products that are kind to the environment as they are to the pet's skin. The pH is well balanced and it also helps to moisturize the skin of the pet for the best results.
Cost and Value
This product comes in a seven-ounce bottle. Even though the quantity is small, it is more than enough to serve the purpose. The price is affordable for almost every pet owner.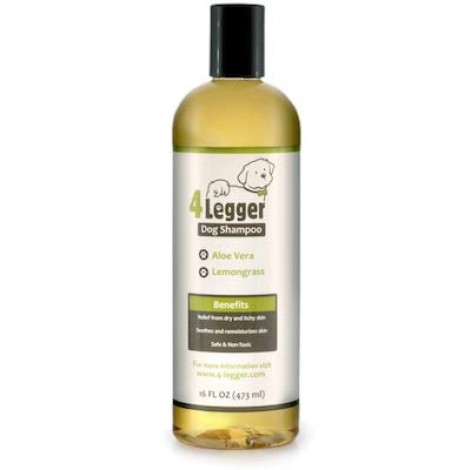 If you're a little sensitive about what goes onto your pooch, this product should cool your worries. This high-quality pet shampoo comes with certification and uses an all-natural formula to optimize the benefits and experience it offers your pet. The ingredients used include olive and jojoba oil, Aloe Vera and coconut oil. It is designed to moisturize fur hair and leave it feeling soft and looking shiny after each bath. Unlike other natural based products, it lathers well and leaves a fresh smelling fragrance on your pet that lasts for hours.
Certified Pet Shampoo
When it comes to your pet, you should not take any chances. While there are great products in the market, having a certification gives one product an edge over the others. This is because the production of certified products is more closely guarded and regulated. This is why the 4-Legger product might be a win for most dog lovers.
Quality Natural Ingredients
This uses high end and quality natural ingredients that guarantee the best outcome after every bath. The ingredients which include coconut, olive, and jojoba oils not only clean the skin of the dog but they also moisturize the fur and leave the pet smelling pleasant for days.
Cost and Value
For the price, you get a sizeable amount of good quality shampoo that you can use on your pet. The price is fair and affordable and the product meets and surpasses the standards of most shampoos for pets.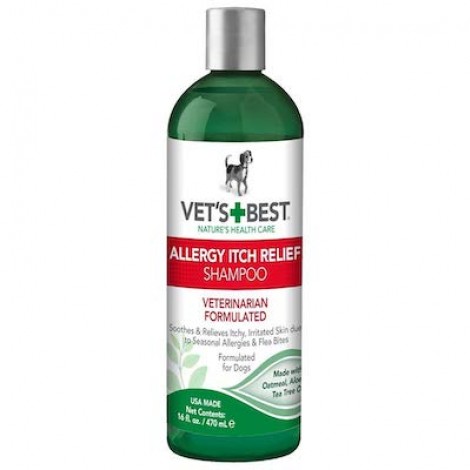 The Vet's Best product features a collection of natural ingredients that are gentle to your pet's sensitive skin to improve the bathing results and prevent irritation. It prevents irritation to the eyes for a fun cleaning session for you and the pup. Being a hypoallergenic option, this does mostly what it says it does and has a convincing collection of ingredients which include Aloe Vera and Vitamin E which soothes the skin and moisturizes to alleviate symptoms like itching. This is impressive at lifting and removing dirt without aggravating irritation and rash on the pet's skin.
Hypoallergenic Formula
For pets with sensitive skin, choosing the right product can be difficult. Their skin is easily irritated by the smallest amounts of chemical and the results can be disastrous. The Vet's Best option here is designed to make bathing for such pets fun and comfortable. It cleans, soothes and moisturizes the skin to ensure complete comfort for your mutt.
Free from Chemicals
Being a hypoallergenic product, a careful band gentle balance is paramount to allow the shampoo function and still be gentle to the dog's skin. In this regard, the Vet's Best does not contain parabens, detergents, sulfate and it is nontoxic.
Cost and Value
The price is a little higher than you would expect for other bottles of the same size. Even though it is a great product and has been proven by different users to work perfectly for their pet, it does require you to dig a little deeper into your pockets.

10

. Oster Oatmeal Essentials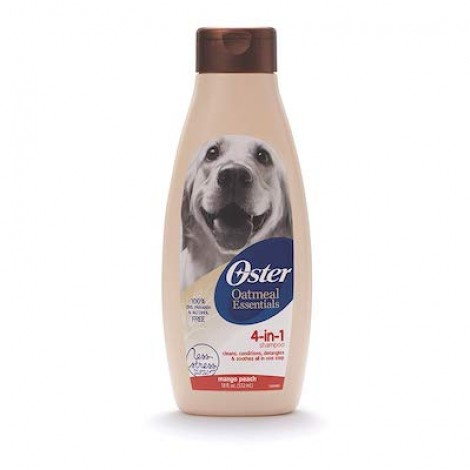 This product is a pocket-friendly multi-purpose option that works great for pets. It is natural and made from oatmeal, Vitamin B5 and uses coconut as a cleanser. The roles of this include cleaning, conditioning, detangling and soothing the skin of your pouch. To keep the dye safe and comfortable for pets, it is pH balanced and does not contain any dyes, alcohol or parabens. This guarantees a fun bath time with no irritation to the pets eyes. It is gentle and can be used on pets that have a dry and itchy skin.
Soothing Oatmeal Formula
Oatmeal has for long been regarded as the best ingredient in soothing and moisturizing shampoos for pets. Being one of the base ingredients makes it an ideal option for your pet whether they have normal or sensitive skin.
Multiple Functions
This serves four different functions quite well. It will clean, condition, detangle and soothe the skin. It saves you from the trouble and cost of buying additional products to carry out the other functions.
Cost and Value
The price is considerate and very affordable. Even more so because you get more 18fl oz which is more than you would get for the same price with most 15fl oz shampoos. It is a great bargain for a great product.

Subscribe to our Newsletter