Best Allergy Medications Reviewed & Rated for Efficacy
In a Hurry? Editors choice: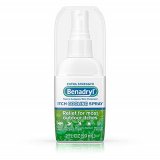 Test Winner: Benadryl Itch Relief Spray

Summer is here. Waves are crashing, the
sun is beating down
, and the sniffles are all around. "Wait, what?" you say, "The sniffles? Isn't flu season over?" Ah, yes, a good point. Unfortunately, you're both right… and wrong. While we've left the season for sickness long behind us, summer brings its own trials and tribulations. For many of us, this means one thing: allergies. Between the dust exposed from summer cleaning sessions, to the inescapable
pollen party in the air
, we all have felt the cruel hand of summertime sniffles. Have no fear, faithful reader! Hope is on the horizon, and we're bringing it to you at full speed with our top ten list!
Standout Picks
Criteria Used for Evaluation
Effectiveness
The very first part of this to pay attention to is the efficacy. Efficacy, by the way, is a fancy word that just means how effective something is. You learn something every day, and we always do when we're researching products! Efficacy is so important to decide whether or not you're willing to spend money on reaction relief. After all, having medicine that doesn't work is… Well, it's pretty useless, to be honest. Make sure you're picking a product that is shown to work in clinical studies and is backed by reviewers who've experienced it first hand.
Duration Of Use
Figuring out how long symptom relief will last is probably the biggest part of figuring out how effective the product is. Many of these relief-providing medicines will give you twenty-four hours of symptom-free living. If you can get that long out of a product, why would you settle for anything that loses effect after only twelve hours? You wouldn't!
Safety Hazards
With any remedy you buy over the counter, this is an important consideration. It ties into efficacy but is certainly its own category altogether. All remedies on the market are cleared by the FDA. This means they are generally pretty safe across the board. However, some of them have weird side effects that might be a problem for you. There are warning labels for a reason! These are the pieces of criteria we used to evaluate whether or not a product was safe enough to make the list.
More and more people in America struggle with addiction in one form or another. We, just like everybody else, would love to see a stop to this growing epidemic. That's why we paid attention to whether or not a product is habit-forming. This isn't just important for a person with a history of addiction, however. Sometimes you have to up the dosage if a product stops working at the current one. If a remedy is habit-forming this could spell disaster. This makes it addictive, but not in the traditional sense.
Make sure you always check to see how much of a product can cause overdose manifestations. Most of these would take an extraordinary amount to do any real damage, but overdose covers a large swath of manifestations. For example, taking three Benadryl instead of one can cause excessive sleepiness, and a definite brain-fog the next day. This is actually indicative of overdose on a smaller scale.
It's kind of like how vomiting when you've had one too many isn't normal. It's actually alcohol poisoning in the beginning stages. We don't think of it that way because it's pretty common (oh, those college years!), but it really is an overdose of sorts.
Style
It's crucial to figure out which style of application fits you best. This means finding out whether you're okay with sticking a tube up your nose and spraying… to put it bluntly. A lot of people have issues with certain styles, such as pills (swallowing), or the mental block associated with spraying liquid up your nostril. We'll go over the two main types and explain their pros and cons.
Nasal Spray
This is a great option if you can get past the act itself. Nasal spray tends to work pretty quickly and is tough on the build-up in your nasal cavities. If you're sick of sniffling and sucking back snot, then you need a nasal spray. It'll also relieve pressure associated with reactions, which is a godsend when your entire face feels chock full.
Pellet form
On the other side of the spectrum, we have pellets. Traditionally most antihistamines come in pill form since that's the easiest way to get quick relief. It's also generally perfect for anybody to use. There are some disabilities that make swallowing pills hard, however, and some children are pretty resistant to it. In that case, a less popular and effective option might be a liquid relief.
Value
Who doesn't want more bang for their buck? Nobody, that's who! That's why cost and value is a huge part of our selection process. The amount of product provided by the manufacturer for the price it costs is a huge deal. You never want to run out of your reaction relief! The more pills in a bottle, or the higher the spray count, the less you have to worry about restocking.
And, of course, it's always nice to pay less for more.
Size of package
Of course, the first part of the criteria for this section is the size of the package. Obviously the larger it is, the more product there is. However, there is a small section under the price that tells you the price of each "unit". They're referring to the number of pills in the bottle. Even if a medicine looks more expensive, look at that unit price and you may be surprised. It's a savvy shopping tip in general!
Multi-pack option
Is there an option for a multi-pack? These tend to be to a great deal since they normally have a cheaper per-unit cost. Most companies will offer this cost incentive to make more money overall. It works positively on both ends! The consumer is more likely to choose the multi-pack to save on two and have a bottle on standby, rather than buying one by itself. You save more money in the long run by choosing this option, and the company benefits because more people are buying multi-packs who may have only bought a single bottle previously.
Use
What do you need protection against? Is it a common allergen, like dust or hay? Or is it a little more far-fetched like grass? Yes, that is totally a thing. People really are allergic to regular, ol' grass! Some of you, just because of the allergies may end up needing a more serious treatment plan. However, there are a few products on the market for allergen relief which cover a few more bases than their competitors.
10 Best Allergy Medications
1

. Benadryl Itch Relief Spray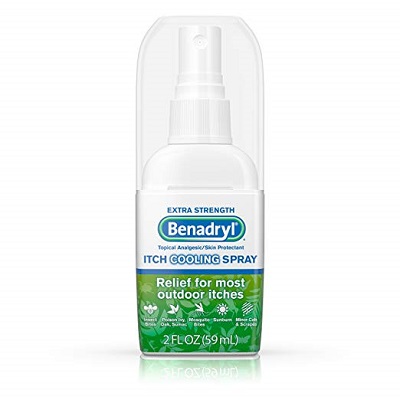 We're going to go ahead and assume that this comes as no surprise. Our number one product is, of course, a Benadryl product. You may have thought that we'd throw a curveball, but as it turns out some big names are actually living up to the hype. We love the spray-bottle application, and how quickly this anti-itch relief starts working. Some people have reported that it lasts for hours! There is nothing worse than waiting for your itch relief to kick in. With Benadryl's Itch Relief Spray you don't have to! It works on contact to combat any allergic reactions that might arise this season. Between the unique design, the instant relief, the duration of relief, and the trusted name, we really think that you'll love this spray bits if you give it a go
Unique Application
Other anti-itch remedies come in gel or cream forms. This can be messy to apply, and in some cases can even stain clothing. It's the unique spray-bottle design featured in this product that really has us interested. This design also allows for easier storage on the go. You may be worried about a cream or gel product getting residue other carrying devices. With this spray bottle design, you can consider that concern canceled!
A Name You Can Trust
Benedryl is a fan favorite in America. Like other brands (think Duck Tape or Band-Aid), it has become synonymous with relief from ailments of all kinds. Benedryl comes backed by physicians everywhere and is often the first remedy suggested. Such a household name has obviously earned the trust of the masses. Almost every person out there has some product by this company in their cabinets! You know when you choose Benedryl you're also choosing quality, so it's easy to put your trust in their products.
Cost and Value
We've talked pretty extensively about the name attached to this anti-itch spray. But, here's the thing: it works. Benadryl products are long-lasting, work almost immediately, and provide the relief you crave. On top of this, they aren't expensive at all! If you look at how many bases this product covers versus the cost we think you'll agree that the value is extraordinary. It's also a multi-use remedy which means it's pretty well rounded! Mosquito bites, for example, are a plague upon this earth. We all know the struggle associated with these blood-sucking pests. If you have this anti-itch spray on you, however, you have a quick fix. So, there you have it! It covers every issue across the board and has a laundry list of amazing features.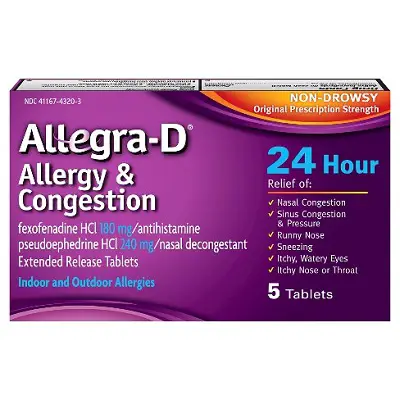 This is another well-known name in the industry. Allegra has been supplying consumers with effective symptom relief for many years. They're a fan favorite with the families that have grown up using them! Allegra has certainly made a name for themselves as they've fought for a foothold in this industry. It's because of this, and their commitment to both quality and efficacy, that earns them this spot on our list.
Works Within An Hour
This special formula was designed to work quickly and have you feeling better in an hour while battling both outdoor and indoor allergens. If you have a busy day ahead of you, allergies can really back you up. This quick-acting formula will have you back to your daily routine in no time.
Although it's always wise to rest up when you're sick, some times you just can't afford to sleep all day. This non-drowsy formula is perfect for anyone who needs to stay alert and active for the day.
Cost and Value
If we haven't already sold you on Allegra, maybe we can do that here. These perfect, pink pills are harbingers of reaction free bliss. If you're struggling with allergens like pollen, hay, or otherwise, this is a must-have for your house. There are different sizing options to choose for which gives you absolute control over your spending budget. Between their competitive pricing, size options, and well-loved products, Allegra packs value into every punch they throw. Their reaction relief formula is just as good as, if not better than, the rest of their product line-up.

3

. Kirkland Non-Drowsy Tablets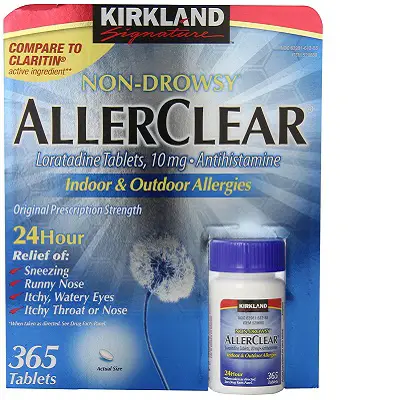 Kirkland: the brand good enough to show up back-to-back in our top three selections! Yes, we did reach out to their marketing team to try and get them to use this as their new motto. No, we haven't heard back. We remain hopeful, however, that they'll give in someday. After all, we're obviously huge fans! Kirkland shows true initiative in the industry, and constantly puts out products that keep their customers coming back faithfully for more. This non-drowsy relief stays true to what they're known for, with the added bonus of not knocking a person out. But we'll get to that in the rest of this section. Keep reading to find out why Kirkland may be right for you!
The Generic Option
More and more Americans are choosing to go with a generic version of remedy rather than the brand name. This is the way go-to for smart shoppers! Why pay for a more expensive product when the ingredients in them are truly the same? That's why it's important to read the labels of a remedy before you buy it. If you compare two bottles and the formulas are the same, then why go with the expensive option just for the sake of it? Sure, that pretty label is nice, but how about saving a pretty penny instead?
A Fun-Friendly Favorite
Active lifestyles are often impacted by sniffles. It's understandably hard to get up the energy to go for a run when you're hacking up a lung. Most relief products come with an unfortunate side-effect: sleepiness. So, you might be able to stop coughing, but at the cost of your energy levels. Basically, it puts you back at step one. Kirkland created this product with active people in mind. It's a non-drowsy recipe for success, and it will keep you up and moving all day long. Kirkland knows that you not only want relief, but you want it so that you can get on with your day, and not sleep it away.
Cost and Value
You'll find the most value on the list in these truly terrific pills. The real value isn't determined by the price tag, however. There's so much more to think about when you're deciding on Kirkland's Non-Drowsy pills! Honestly, there are more benefits to these pills than we can really go over. For example: have fussy kids? No problem! These are small and easy to swallow for even the toughest, strong-willed tots. Almost any angle you look at this product from will have you spotting more and more pros on the list. At the end of the day you really just can't beat a great price. It's an added bonus when the best-priced product, however, also happens to be one with so much to offer.

4

. Nasacort 24hr Nasal Spray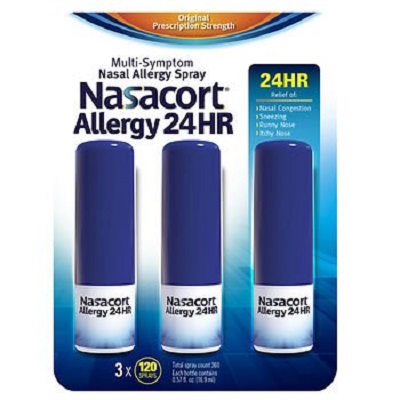 A long-time love of the allergen-plagued masses! Nasacort has cornered some sections of the market with its brilliant, aggressive formulas and innovative product ideas. They've climbed the ranks to sit pretty with other manufacturers like Claritin, and Flonase. Their 24hr nasal spray has earned itself a high-up place on our list because of, well, how great it is! We know you've heard about this brand from more than one source. It comes backed by physicians, specialists, and a whole hoard of other people, too. When you need relief, and you need it fast, you go with Nasacort. It's a name you trust, and a company you believe in. What more could you want?
Spend More, Save More
We know that this is a super expensive product. We totally get it. But bear with us! As it turns out, sometimes you have to spend a little more to save a little more. Many of the people who buy this claim that it pays for itself just with the money saved on buying tissues. Honestly, that's probably true! There are certainly extra costs associated with constantly having to blow your nose. From high-quality, soothing tissues, to balms that soothe your raw skin, you pay way more in the long run when you're constantly sniffling. Nasacort is a once-daily product, as well (more on that below). This means that it lasts longer than others. You save there, too!
A Once-Daily Remedy
The case with many remedies on the market is that they require usage throughout the day. This can be a huge hassle since it means bringing a small pharmacy with you wherever you go. Sure, it makes you super popular with the soccer moms, but it definitely weighs you down. Nasacort recommends using this product once a day since it's such a strong formula. This is great since it means you only have to worry about using it in the morning before work, or at night before bed. No more extra essentials on your person! Just whatever you need to tackle your day now that Nasacort has given you the relief to do so.
Cost and Value
Unfortunately, this is probably one of the most expensive options out there. As with most proven remedies, this nasal spray has a high cost associated with it. You get what you pay for, however, and you get a great product, and then some, with Nasacort. They have effective, fast-acting formulas that you can rely on. There are few things to fear more than using a product made for allergen relief and realizing that it's too weak to work. We recommend really considering the extra few dollars just to know that your relief product will work for you. Some of them have a lower concentration of chemicals, so keep that in mind when selecting your soother of choice!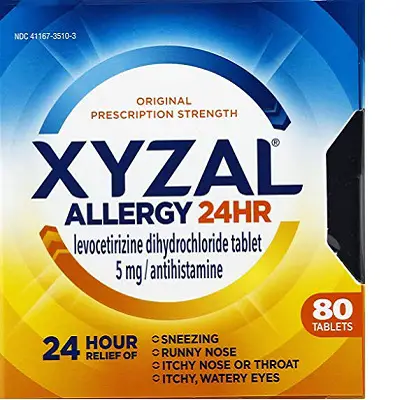 This may not be a name you've heard very often. Quite frankly, we weren't even sure how to pronounce it! Now that we've done ample research, however, we're much more well-rounded on the subject… including pronunciation! Xyzal 24hr is an upper-end allergen relief formula. They were chosen because of the simple, but effective, relief that they provide their users. We know that big price tags can be intimidating, but we also know that there are some cases where you need a more concentrated product. While being a savvy shopper is indeed smart, it's also important to remember that sometimes the extra dollar goes an extra mile.
'Round-The-Clock Relief
We've all been there. The clock strikes midnight, we're fine. The clock strikes 3 am, and suddenly it's like your entire body comes alive again… and so do your reactions. Waking up in the middle of the night to a raging headache, or having to deal with sniffling through an entire meeting, is more than an inconvenience. It can be career ruining! Alright, maybe we're being dramatic. But, based on experience, nobody wants to be the person who keeps sucking back their snot when it's almost silent in the boardroom. Skip the shenanigans and the sniffles!.
Works When Nothing Else Will
Have you run into a tolerance problem? Sometimes when you use a remedy for too long it loses efficacy. We see this often with a variety of relief products. If you've run into this issue then Xyzal may be the right change of pace. Don't let yourself be miserable with remedies that just aren't doing it anymore! Pick the product that has been shown to work for even the toughest cases out there. No matter the job, Xyzal has you covered all day.
Cost and Value
It can be hard to sell a product with such a large upfront cost. Xyzal doesn't seem to be having a problem doing just that, however, so they must be doing something right! Any brand that can charge essentially whatever they want for their product probably has something great on their hands. So, why not make it something great on yours? Some upper-end relief products can cause some serious brain fog the next day. This is not the case with Xyzal's pills! You'll wake up refreshed and ready, instead and yawning and yearning for more sleep. With all of the great things we've talked about in relation to this product, what are you waiting for? Experience it yourself!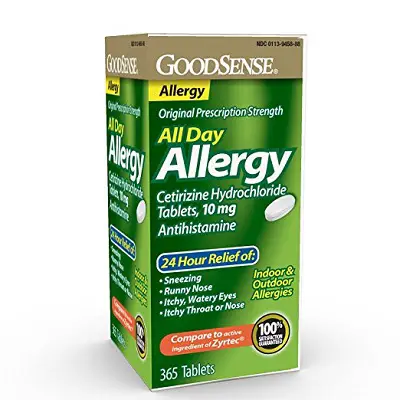 It's right in the same: Goodsense! If you have any good sense you'll be reading closely during this section. We sense good things to come, after all. Alright, alright! We're done. We promise. In all seriousness, this brand gave themselves a name very true to their culture. Goodsense offers lower strength, lower-cost options to anybody who wants to try them. Although they may not be strong enough for some, the other side of that coin is that they're less likely to make you drowsy. If you've found that other meds leave you at the mercy of your fatigue then these are a great option. We think that everybody can use their good sense to figure out that this is one helluva deal.
Effective For Indoor/Outdoor Allergens
Some products don't quite cover the full spectrum of symptom-causing allergens. Goodsense has crafted its remedy to cover all of the bases! How often have you been set off by dusting your house? If you're anything like us you put that off for a while, so there's always a fine layer of build-up. Well, now you can tackle that task with all the ease of somebody who isn't reactive to the dust! You'll find relief from absolutely anything that could cause a reaction! From dust to hay, and everything in between, Goodsense has you covered all day.
It Isn't Anti-Chlorogenic
There have been studies recently that suggest a link between chlorogenic products and Alzheimer's. The jury is still out on the subject, and we'll have to wait for more studies to be sure, but for now, it might be best to pick products that aren't under speculation. Goodsense had the good sense to make their remedy anti-chlorogenic. Loratadine is the active ingredient in these pills. Normally antihistamines are made with Diphenhydramine, but Loratadine is considered a perhaps safer alternative. It's just as effective, and won't leave you second-guessing.
Cost and Value
Had enough of the terrible puns yet? Good, because we have, too. We promise not to keep making them. After all, this part of the guide is the most important to us. We want to make sure that the value of a product is laid out so you can easily understand it. Unfortunately, sometimes products don't quite live up to the standards we wish they would. It is true that this product is not as effective as other brands. You're trading that off with the low price! We think that it's still worth a try, however. This is especially true if most meds make you overly tired.



This is another name we're all at least somewhat familiar with. There is a certain amount of trust that comes with a well-known brand, and Zyrtec is the go-to form of relief for many. This brand has cornered the market on both quality and quantity. It's standing in the public eye is mirrored by physicians and experts everywhere! With science-backed relief like that, you'll be seeing results in the blink of an eye. Zyrtec comes in many forms, but this is probably the most effective and commonly used. So, tackle your toughest reactions with these pills of choice!
Reaction Tracking App
We found a very interesting perk to Zyrtec's over-the-counter meds. They actually have an app made just for tracking your reactions! This can be immensely helpful when you're first showing signs and need to narrow the cause down. We know of a few cases where people thought they were reactive to something for a long time. Then, they went and got formally tested only to realize that what they had suspected as the cause previously was not really at fault. This app puts them ahead in our book!
#1 Recommended Brand
We've all seen the commercials for Zyrtec. It seems like there's a new one every other week, and that they play every other ad. While it might be annoying, the good news is that they're obviously notorious. Almost any doctor, or allergen specialist, will recommend Zyrtec to you almost right off the bat. It's a great go-to when you want to avoid getting shots or taking a different extreme route for sniffles that just won't stop. Nobody wants to have an extra doctor's appointment once a month, or more, for a possibly avoidable problem.
Cost and Value
Zyrtec is a tricky brand to rate cost and value. Quite frankly, this might be more up to you than to us. We think that Zyrtec is well worth the price, and definitely a good option if not much else has worked. With such a hefty cost, however, some people steer pretty clear. There is something to be said about a med that might be the #1 choice used throughout the USA. So, if you're willing to reach a little deeper in your pocket, you'll probably find more success in solving your sniffle woes. Otherwise, look at some of the other, more affordable options on this guide! There are, after all, quite a few.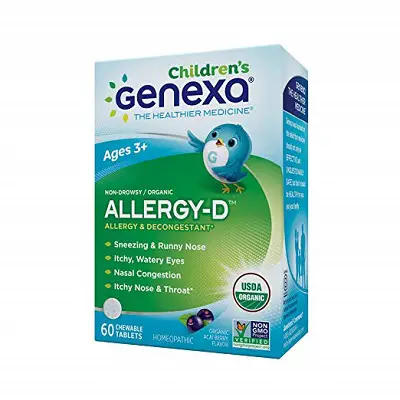 For those that are looking for a more natural form of clearing their pesky reactions, the Genexa homeopathic chewable pills might just be what you need. This Certified Organic and Non-GMO Verified medication treats multiple seasonal reactions without all the additional additives and fillers traditional medication tends to have. It's the "clean" way of feeling better, and it's the only organic pill on the market.
Treats reactions and Congestion
Not all allergy medications are created equally, and these prove just that. They're not only treated with organic technology to eliminate synthetic bits that other similar products tend to have, but they also treat congestion. Having the ability to help with congestion is great when you suffer from outdoor and indoor reactions throughout the year.
Formulated and Produced in the USA
Thank you Genexa for making your products in the USA! Many products are made overseas; therefore, there isn't really a count on what ingredients are blended together to create that specific product. Without this knowledge do we really know what we are consuming? Not exactly, which is why it's very important to support products that are locally made in the US. Not only is it safer but each product made in the US needs to go through specific rules and regulations in order to be sold on the market.
Cost and Value
Due to this medication being organic it is a bit more expensive than others on the list. However, the simple ingredients used, and the organic technology makes up for that price, due to giving you the satisfaction of knowing you are consuming something good for your body while relieving your pain.

9

. Alavert Allergy 24-Hour Relief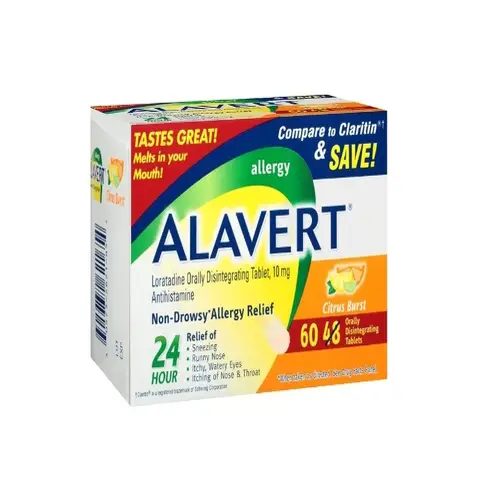 Why deal with the itchy throat, watery eyes, and senseless sneezing regularly without relief when you can get relief in minutes? Allergies are not only uncomfortable but having to take something for them repeatedly can be stressful. The Alavert Allergy 24-Hour Relief Orally Disintegrating Tablets not only help keep your symptoms at bay while giving you continuous relief, but they work for up to 24 hours. What this means is you do not need to worry if you miss a dose within that timeframe as you will still be covered.
Dissolving Tablets
Many allergy pills are either extremely big or too small to swallow properly. Furthermore, many times they have an icky after taste. These are a bit different. By simply placing them on your tongue, they will dissolve, and you will be left with relief and delicious citrus or mint flavor. Due to this feature, they can be consumed safely without the need for water. This is an excellent feature for those that hate swallowing any type of pill.
Non-drowsy
One of the biggest issue individuals with allergies have come across is how drowsy allergy medicine can be. Most efficient allergy medicine tends to have some sort of drowsy feeling, which means many times they can't be consumed until late hours in the evening. These dissolving tablets are the complete opposite! They do not make you feel drowsy or even loopy. You feel like yourself regardless of what time you consume them.
Cost and Value
When compared to other options on our guide these tablets are a bit on the pricier side. However, they do exactly what they advertise to do and bring instant relief which makes them well worth the price. Furthermore, you're getting prescription quality ingredients directly from the drug store.

10

. Clarispray 24 Hour Non-Drowsy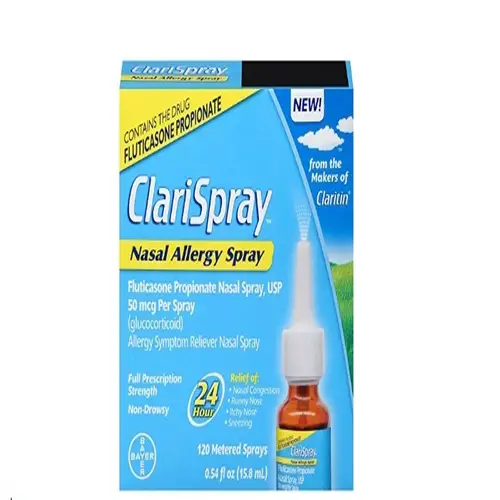 Know as the number one brand for allergy relief Claritin thought of everything once again by now providing a nasal spray. Let's face it nothing is quite like having a stuffy nose, not being able to breathe properly and having that classic sinus bothersome congestion. Having these symptoms humbles you in a way. It reminds you to never take breathing from your nose for granted ever again. Due to the popularity of these symptoms, Claritin took it upon themselves to bring a nasal spray that will help you along the way.
Helps multiple triggers
As stated above this is an allergy relief nasal spray, but unlike the other items on this list, this one helps bring comfort to multiple different triggers. Whether you're allergic to pollen, dust, dirt, chalk, or even pets this nasal spray can help. When your immune system comes in contact with allergens that bother your nasal cavity, there will be swelling and inflammation that will happen. That is where a good nasal spray will come into play. It will lower the swelling allowing you to breath better.
Works Quickly
There is nothing quite as uncomfortable like needing instant relief but having to wait quite some time to get it. After following the instructions of spraying two sprits in each nose you will nose a quick difference. Doing so allows you to get back to your everyday routine without having to worry about your allergens.
Cost and Value
Keeping in mind that you are getting a great product from a reputable brand, this nasal spray is a bargain. Furthermore, you are getting the relief that works well and quickly. That's a win-win for all, say goodbye to pesky nasal congestion.

Subscribe to our Newsletter