Best Pepper Sprays Reviewed & Rated for Quality
In a
Hurry? Editors choice: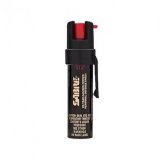 Test Winner: SABRE 3-IN-1

Pepper spray is a substance designed for one specific purpose and that is to incapacitate. The main ingredient in pepper spray is capsicum which is a part of the chili family. Even in doses as small as 0.18%, eye irritation will occur and concentration can legally get as high as 3%. Pepper spray is at times utilized by law enforcement, as an alternative to physically detaining a suspect. A non-lethal dose will incapacitate an offender, allowing them to be easily taken into custody. It can also be used as a
personal safety
device. All products, however, are not made equal, so read on to find out what the best option is for you.
Standout Picks
Criteria Used for Evaluation
Potency
When it comes to potency there is a lot of room available for variation. The main ingredients in pepper sprays are derived from the chili family across the board. To create the pepper spray these ingredients must be broken down into capsaicinoids. There are over six (6) different types of capsaicinoids that present with varying degrees of irritation. This allows for the different strengths even within the same content percentage. The Federal Government has set limits on the percentage of OC that can be used in pepper sprays for both law enforcement and the personal protection of citizens.
Pepper sprays used for personal protection can hold an OC percentage of 0.18% all the way up to 3%. Law enforcement agencies usually utilize percentages of OC that lay between 1% and 2%. OC content alone is not a clear indication of the "heat" of a spray as the grade of the pepper plays a major role in how extreme the effects of the spray will be. Also to be considered is the way the pepper is blended into the formula as this will affect how that specific capsaicinoid functions on impact. Pepper sprays with high OC content tend to have very high oil contents as well which advertently lowers the grade of the pepper and diminishes the effect it has on impact.
Advanced Features
One of the additional features of some pepper sprays is an added UV dye. This is an ultraviolet substance that stains the skin of an attacker when they are sprayed. It is only visible under a black light. Most dyes cannot be removed for up to twenty-four hours. This makes an assailant easily identifiable by the police and can lead to their speedy apprehension. Most pepper sprays are designed to be effective up to a distance of 10 feet away. Some sprays are more advanced when it comes to stream and pressurization and can maintain a strong steady dispersal from up to 16 feet away. This allows you to defend yourself from a safe distance.
Another advanced feature is the ability of some pepper sprays to penetrate the skin. Usually, the effects of a pepper spray are not immediately leaving the user in danger in the event of a close-range attack. These advanced devices, however, have a formula combination that penetrates the skin causing direct stimulation to nerve endings. These are effective upon impact. Many sprays also feature a sleek design that is able to effectively camouflage your device. This gives you the upper hand with the element of surprise in the event of an attack.
Brand
Sabre is one of the top brands of pepper spray in the industry today. Their formula is made available to law enforcement agencies as well as civilians. Their product lines include not only pepper sprays but aerosol projectiles, stun guns and deterrents for animals such as dogs and bears. They are committed to providing exceptional options that can leave with peace of mind. They also offer self-defense classes and relevant information that can prepare you for any threat to your personal safety.
The Fox Labs brand is backed by over 25 years of experience. They cater mostly to the professional market such as law enforcement agencies and military organizations. Their formula measures over 5 million SHU of heat. The solution is also non-flammable and safe to be used with equipment such as tasers. They also offer high standard training programs that require a pass to receive certification. They unwaveringly stand behind their product and their values of resilience and integrity.
The Mace brand is one of the longest standing providers of personal protection devices with a staggering 48 years under their belt. They cater to both professional and civilian consumers. Mace has shown their commitment to safety and security by continuing to create and produce products that reflect very high quality. Every item delivered to a consumer is tested for quality and has the brand's authentic seal of approval. They believe in empowerment and strength through safety and security.
Accuracy
The three most common modes of dispersal for pepper sprays are liquid, foam and fog. Each mode of dispersal has a specific type of release that affects its accuracy and effectiveness. A stream, for instance, is less likely to blow back into your face, however, it requires close proximity and very good aim. This makes it difficult to defend yourself from a safe distance and it is highly improbable you can track a moving target using this device. A semi-stream which is commonly consistent with a spray that dispenses foam is a lot more effective. The solution will cling to any surface it touches and is highly effective when your attacking is coming directly at you.
The cone dispersal is the most versatile of your options. Because it has a wide spray range you can effectively use your device even with poor aim. You will be able to target an attacker that is mobile and can prove highly effective with multiple targets. It should also be noted, however, that this type of dispersal can easily blow back into your face if released into the wind. This will cause you to experience the effects of the spray and can leave you vulnerable to your assailant.
Size
The spray range of a pepper spray is affected not only by the pressurization and dispersal method used but the size of the canister. The benefit of having a compact lightweight spray is that it is easy to transport and to store on your person. This ensures your device is available for use at all times, especially in the event of an attack. The reality though is that the smaller the canister, the shorter the range of spray. This can leave you vulnerable to an assailant as most sprays do not start working immediately upon contact. A short spray range also gives you less time and lowers the number of sprays you can dispense before contact with your attacker.
Sprays that are larger in size tend to have a longer range. If it is a hand-sized canister you can expect a range of up to 12 feet. The increased range also gives you added time and volume on your defense. This means you stand a better chance of being able to fend off an attack or avoid one altogether as it will have more time for the spray to start working and effectively incapacitate the assailant. On account of the bigger canisters having more volume of liquid, the longevity of your formula is also preserved. This gives an added value to your purchase as not all brands offer a free lifetime guarantee on refills.
10 Best Pepper Sprays
The Sabre multipurpose pepper spray has a powerful formula and is packed into a small lightweight dispersal unit that can be used from up to 10 feet away. This pepper spray is small enough to be carried in convenient places like pants or jacket pockets or alternatively in a purse or backpack. The spray pattern protects the user from accidentally spraying themselves in the face. The cover is reinforced to prevent the spray from going off while in transit.
Guaranteed
Due to the convenience of having an on-hand HPLC Laboratory, this solution has been tested for a quality combination. It is guaranteed to deliver the maximum strength of its OC dose in every spray.
Brand Recognition
Sabre is one of the best in the world when it comes to personal and home security. All of their products are certified for quality under ISO 9001:2008 certification. Their product lines are marketed to law enforcement agencies and are also available to members of the public.
Cost and Value
The price range of this selection is very low and features a clip instead of a key chain for easy access by product owners. They can be easily attached to articles of clothing or travel bags.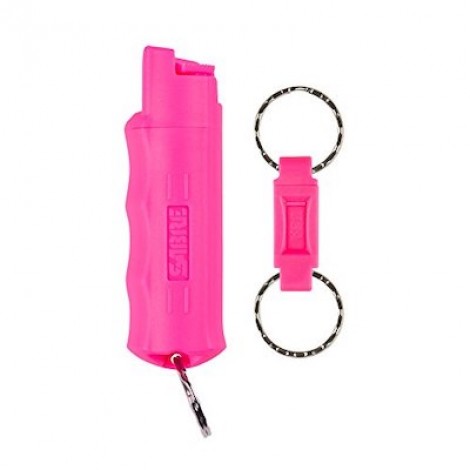 The Sabre Red pepper spray is a level 3 spray that is over 1.3% potent has over 10% OC content. This spray contains exceptionally strong levels of OC and comes with a quick release mechanism. It has up to 25 uses per canister and can be fired from up to 10 feet away from the target area. The spray pattern protects the user from accidentally spraying themselves in the face and a reinforced cap lowers the risk of leakage during transit.
Partners
Sabre works in conjunction with the National Breast Cancer Foundation and proceeds from the sale of this device is donated to breast cancer research in addition to early detection services. To date over 1.5 million dollars has been donated to this cause.
Quality Solution
Due to the convenience of having an on-hand HPLC Laboratory, this solution has been tested for a quality combination. It is guaranteed to deliver the maximum strength of its OC dose in every spray.
Cost and Value
This product has a low price range. It contains up to 25 uses per can and features a molded grip for ease of use and accuracy. Each package contains a link to training videos and other resources on how to use this product effectively.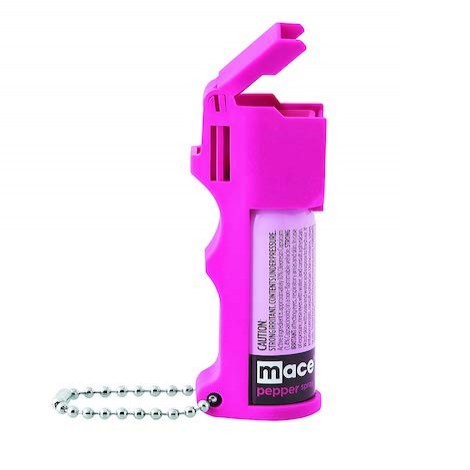 Mace pocket size pepper spray is infused with Oleoresin capsicum and backed by the Mace brand guarantee of quality. The OC in the Mace pocket size pepper spray is derived naturally from hot peppers. It is available in different strengths to accommodate a wide range of uses. This line of product is available for use by civilians and is the same grade as that used by law enforcement services globally.
10% OC Content
This solution has a 10% OC content. It is derived naturally from hot peppers and in a pure form called Oleoresin Capsicum. This makes the contents effective at incapacitation as it causes irritation upon contact.
10-Foot Spray
The spray pattern of this device has a range of up to 10 feet of any targeted area. The cap has a finger grip for easy use and increased accuracy. It also has a flip top cap. This prevents leakage and reduces the risk of accidental release of the solution.
Cost and Value
The price range of this item is moderately high. It contains up to 15 uses per canister. It also has an invisible marker included in the formula. This can assist police with easy identification of assailants.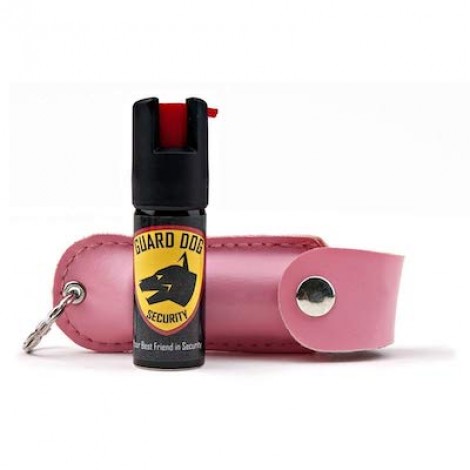 The Guard Dog Security spray comes in a convenient half ounce can and features a holster and keychain. This pepper spray has a whopping 18% OC content. It is a laboratory tested high-grade formula. The spray pattern covers a range of over 15 feet and it's unique twist top makes it easy to dispense the solution at a moment's notice. Invisible UV dye is included in the formula for easy suspect identification.
Holster & Keychain Included
The guard dog security hot pepper spray comes with two accessories. Both a holster and a keychain is included in your package. These can then be attached to items such as bags and purses while in transit.
OC Potency
The OC potency level of this selection is 18%. This high-grade formula ensures that your target is immobilized once the device is used correctly. It also has a spray range of over 15 feet.
Cost and Value
This selection has a low price range. It also has a free lifetime guarantee. Once you've had to use your pepper spray, the company will replace the product for free.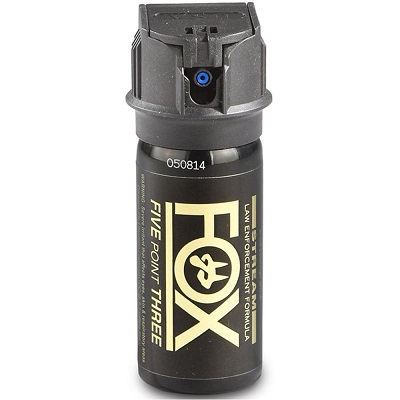 This product from Fox Labs has the batch birth date burned into their canister making it easy to gauge its expiration. This product is military grade. This makes it highly effective. It also includes multiple safety measures. It is oil based which makes it a great selection for law enforcement agencies as it can be used while accompanied by a taser and the risk of it becoming flammable is very low.
Size
The solution comes in a 1.5-ounce canister. Its dimensions measure just 4 inches in height and minimal 1-⅜ inches in circumference. This makes it easy for individuals to carry the product on their person at all times.
8 Uses
Each canister has up to 8 uses and can be used effectively on a target up to 15 feet away. The formula is released in pressurized bursts that last for half of a second on average.
Cost and Value
This selection has a high price range however it is made available to civilians and contains the three formula and five-point compound solution used by the military.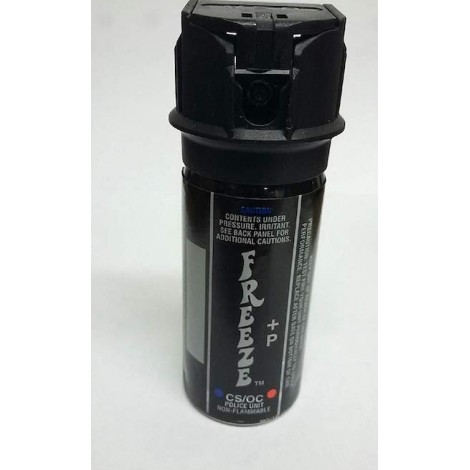 The Freeze +P flip top pepper spray comes in a 2-ounce canister with a unique compound formula. This pepper spray successfully combines Orthochlorobenzalmalonitrile (CS) with Oleoresin Capsicum (OC) to produce a powerful and highly effective solution. This formula is guaranteed to incapacitate. It is non-flammable and designed to penetrate the skin's surface for maximum impact. The solution also contains a UV dye to assist in the identification process.
Powerful Compound
Blending Orthochlorobenzalmalaonitrile and Oleoresin Capsicum create a powerful compound that can penetrate the skin. This ensures that the full dose of each active ingredient is delivered to nerve endings for maximum effect.
Easy to Use
This canister is uniquely designed to release its contents even if the can is being held upside down. This ensures that no matter the circumstance under which the product is used, it functions efficiently when you need it.
Cost and Value
The price range of this selection is moderately high. It is only available through authorized dealers. This list includes licensed firearm dealers and pharmacists.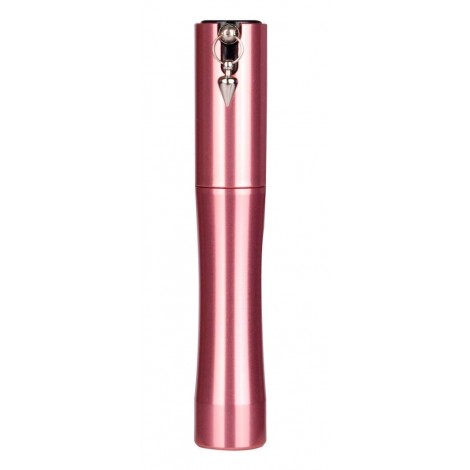 Theiworldsafetech Pepper Spray Zenith has a massive 14-foot spray range. This pepper spray is backed by a company with over 30 years experience in its industry. They are always looking for ways to innovate and the I World Safetech pepper spray is no exception. Its high-grade formula starts working upon contact to incapacitate an assailant and can be used from a safe distance away with a spray range of over 14 feet.
Quick-Acting Formula
What makes this product effective is its quick acting formula. It starts working immediately upon contact. Once dispersed the side effects are confusion and vision loss. This solution is guaranteed to incapacitate.
Small Size
With 4 inches in height, and under an inch in diameter, this lightweight, compact pepper spray is easy to carry around or have on you at all times. The sleek design and wide color selection makes it inconspicuous and a stylish accessory.
Cost and Value
This selection has a moderate price range. It also has to ability to disperse its contents from any angle. This makes it effective under various types of circumstances.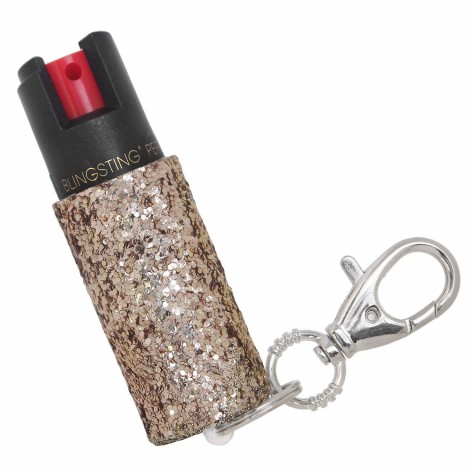 Blingsting pepper spray combines the need for safety with the need to make a fashion statement. This product has a high-grade formula with a 10% OC content. It is designed to effectively deter an assailant without causing permanent damage. It comes with a keychain clip that can be conveniently attached to bags, purses, and keys while in transit. This also makes it easily accessible when needed.
No-Fail Triggering System
Blingsting pepper spray has a no-fail triggering system. This ensures that if you do need to utilize the product it will disperse as intended with a powerful and seamless no gel stream.
Brand
The Blingsting brand continues to experience massive growth in its industry. It has been featured by a number of reputable outlets such as The New York Times, Cosmopolitan and The Today Show. This formula continues to receive praise for its potency and portability
Cost and Value
The price range of this selection is very low. It uses CN as it's active ingredient instead of OC or CS. This is a military grade tear gas that works similar to CS but with longer lasting effects.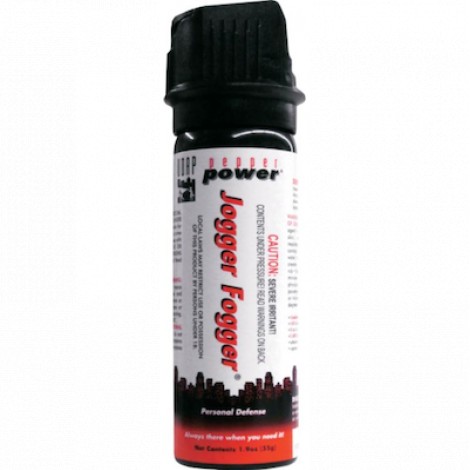 Jogger Fogger pepper spray has a band that keeps your pepper spray attached to your palm while you run. This pepper spray is designed to remain in the palm of your hand so it is readily available while you run or jog. It can also be attached to articles of clothing such as belts adding to its versatility. It creates a fog that is effective on a target up to 10 feet away.
Size
The Jogger Fogger is designed to fit comfortably in the palm of your hand. It is also lightweight enough to be carried around on your person during the day. This is a great feature for persons whose jobs may take them to dangerous areas and inconvenient times such as mail carriers or messengers.
Potency
This formula can effectively incapacitate an assailant from up to 10 feet away. The potency is, however, is not designed to be used on aggressive animals such as bears. It does, however, contain just under 2 ounces per canister and has a shelf life of up to 5 years.
Cost and Value
The price range of this selection is moderately high. It is also restricted in some states in the U.S. due to content volume and these details should be considered before acquiring the product.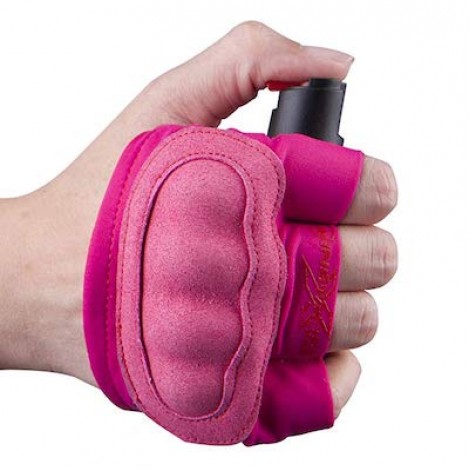 Guard Dog Instafire pepper spray is designed for joggers and gives the immediate self-defense in the palm of their hands. This pepper spray is ideal for anyone who actively uses the outdoors for recreational purposes. It features a band that keeps your spray affixed to your palm for immediate dispersal if the need arises. The device has a quick release trigger that disperses a powerful dose of OC guaranteed to incapacitate an assailant.
Effective for Self-Defense
An 18% OC content makes this formula highly effective as a self-defense tool. It is guaranteed to incapacitate. It also has a built-in safety lock which prevents accidental firing and or leaking of the contents within the canister.
Can Be Used Far Away
This formula can be used effectively from a safe distance of up to 16 feet away. The band that attaches your pepper spray to your palm has reinforced rubber in the region of your knuckles.
Cost and Value
The price range of this selection is moderately low. The armband is made of a nylon spandex fabric blend to wick sweat away during physical activity.

Subscribe to our Newsletter