Best Organic Dog Treats Reviewed & Rated for Quality
In a Hurry? Editors choice: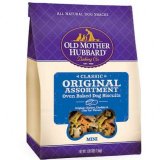 Test Winner: Old Mother Hubbard Crunchy

All our four-legged friends want from us is the bare essentials -
shelter
, food, and a little attention, and they give us the world. It is important that we take the best care of our dogs possible, and that includes what we feed them. From their food to their treats, dogs trust us to feed them foods with ingredients that are pure, healthy and nutritious. Many owners choose to go the organic route to avoid feeding their pets treats without any harmful pesticides, additives, artificial growth hormones, chemicals and so forth. We've compiled a list of the best organic dog treats you can offer your canine companion to not only help them stay healthy for the long haul but to reward their good behavior with a treat they'll love the taste of. Let's take a closer look at what is available on the market today!
Standout Picks
Criteria Used for Evaluation
Brand
You do not want to purchase dog treats manufactured by a no-name brand. You want a reputable brand with an excellent reputation, not a company you've never heard of. If you're shopping online, do a quick Google search and see if there have been any recalls of products manufactured by the brand you are researching.
It is also highly recommended that you buy from an American brand. This is not to suggest that American brands are not without their problems, and non-American brands are toxic, but, as previously discussed, dog food brands manufactured in certain countries, such as China and Mexico, can be extremely dangerous for your pets. Sometimes, it's worth it to spend a little more to purchase dog treats from a brand you can trust. After all, protecting your pet is priceless.
Materials
The materials, or ingredients of which dog treats are comprised are of the utmost importance. Clearly, by evaluating this list, you are concerned with organic, all-natural ingredients, and rightfully so. Sadly, the majority of dog treats and dog food contains harmful additives, chemical pesticides, artificial flavors and coloring, high fat content, a high glycemic index that can all be detrimental to a dog's health. Double check a dog treat's ingredients list, even if it is marketed as being "all natural" and "organic." These labels can sometimes be deceptive, misleading and inaccurate.
Value
There are a lot of factors that come into play when determining the value of a dog treat. The majority of them are priced within a few dollars of each other, with the occasional outlier. The real value is how good a treat is for your pet. Is it healthy, nutritious and all natural? Will a particular treat ease your dog's pain if it suffers from arthritis or stress to its hip joints? Can a treat help your dog to digest food, or perhaps boost its immune system? If the answer to any of these questions is "yes," then that treat is rather invaluable, going beyond value in the traditional sense.
Side Effects
If your dog has special dietary needs or a compromised immune system, check with your veterinarian to find out if there are any ingredients that may potentially have harmful side effects. For example, many organic dog treats contain rosemary extract. Rosemary extract is controversial; many experts believe that it can cause potentially fatal seizures in some breeds. To be safe, double check the ingredients list of every dog treat you purchase, cross check them with any medications you give your pet, and triple check everything with your veterinarian if you are still unsure.
Potency
The purpose of a dog treat is not simply to reward a dog for good behavior. Many dog treats are selected for their health benefits. As previously mentioned, certain brands are aimed at dogs with compromised immune systems. Others can aid in digestion, ease pain, and improve a dog's coat. For dogs with arthritis and limited mobility, many of these organic dog treats yield powerful, potent results. As an alternative to NSAIDS and steroids, holistic dog treats are a great choice.
10 Best Organic Dog Treats
1

. Old Mother Hubbard Crunchy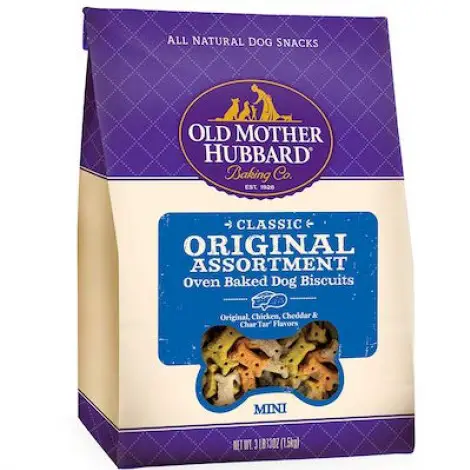 Old Mother Hubbard is a brand that has been providing wholesome, nutritious dog treats for over 90 years. The ingredients are all-natural, organic and free of preservatives and nitrates. Dogs love the delicious flavor of the treats combined with their crunchy, palatable texture. The biscuits are hypoallergenic and improve the quality of life for dogs with everything from allergies to pancreatitis, liver issues and more. The nutritious, vitamin-packed ingredients offer a strong immune boost to keep your dog happy, healthy and satisfied. From training puppies to rewarding older dogs, these cookies will undoubtedly become a household staple.
Great For Dogs With Allergies
Several customers who reviewed the treats reported that they have dogs who suffer from severe allergies. Terrible allergic reactions can be triggered by the majority of dog food, including treats, which are full of artificial ingredients, preservatives, and other chemicals that can irritate a dog's sensitive immune system.
In multiple cases, dogs with severe allergies and very limited dietary options are able to eat Old Mother Hubbard brand treats. This is a lifesaver for any dog lover looking to pamper his or her four-legged companion, and treat them with the delicious rewards they love.
Nice Variety
The biscuits are sold in a variety of flavors, including cheddar, original, chicken, veggie, chicken and apple, bacon and cheese, char tar and more. They also vary in size, with mini-bones available for toy breeds and larger-sized bones for bigger, more muscular dogs. There is virtually an option for every dog out there, whether the dog has a restricted diet, only eats certain flavors, or only likes treats with a certain texture. The 90 years of experience that Old Mother Hubbard has as a company has clearly paid off, with decades of experimenting with recipes, flavors, sizes, and varieties.
Cost and Value
The biscuits are sold in a variety of quantities and weight per bag, depending on the type of biscuit selected. The price appears to stay just about the same regardless of quantity and weight, and that price is a very fair and reasonable one. For a small amount, you get a product that has 4.5 out of 5 stars based on over 33oo customer reviews.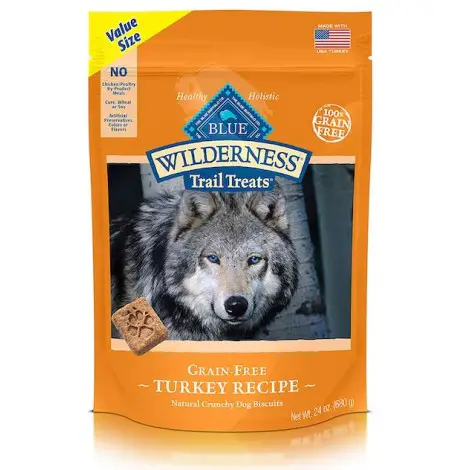 Blue Wilderness has an excellent reputation for producing high-quality dog food and treats. They use real turkey, salmon, duck and so forth; no harmful fillers or additives. The food contains the protein that dogs need and crave. Even the pickiest canines love Blue Wilderness. It is also recommended by vets for dogs with compromised immune systems. It can give their health a general boost, improving everything from appetite to the sheen of their coat. Blue Wilderness is made with natural, simple ingredients designed to keep your pup happy and healthy, which is why it is a favorite among dog owners.
Grain Free
It has only recently come to the attention of veterinary nutritionists how harmful dog foods and treats that are packed with grain and cornmeal can be. However, it is also important to note that not all grains are harmful. In fact, some vets recommend dog foods with some grains in them. There are healthy and unhealthy grains.Grain-free versus dog foods that include grain is a controversial topic in the veterinary world, with pros and cons to both sides.
Some dogs are allergic to grains, in which case, foods and treats like Blue Wilderness are ideal. How do you know which brands with grains are okay? Check out the ingredients list. If grains are the first ingredient listed, you are probably looking at a low-quality food with few nutritional benefits for your dog.
Resealable Bag
The treats come in a sturdy, resealable bag. There is no need to repackage them upon opening. The biscuits stay fresh and crunchy in the original bag, an added convenience. The bags are also recyclable, another perk you can feel good about.
Cost and Value
Blue Wilderness Treats come in a generous, 21 oz. bag for a relatively low price. According to the 3000+ customer reviews, most dogs absolutely love them. They are carefully made, nutritious, and offer an immune system boost. All in all, the treats are an excellent value.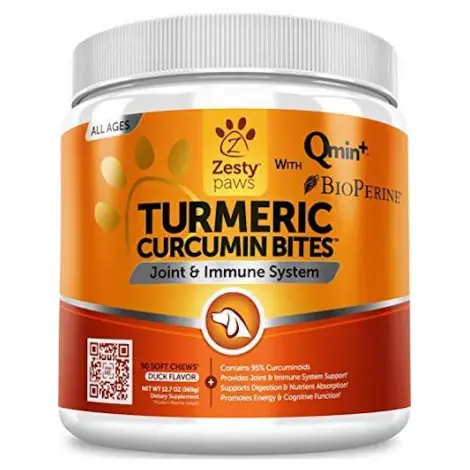 Turmeric Curcumin Dog Chews are a great choice for dogs in need of a joint or immune system boost. The chews are made with 95% curcuminoids which boost the immune and digestive systems, provide hip and joint support and relief from arthritic pain. The chews also contain organic Turmeric, BioPerine and coconut oil. Altogether, the chews provide pain relief, a general nutritional boost and taste good. They are ideal for older dogs or dogs with compromised immune systems.
Pain Relief
The chews provide gentle, all-natural pain relief caused by arthritis and stress to hip and bone joints frequently experienced by older dogs. Unlike other pain relievers, the chews' all natural ingredients do not have harmful side effects such as nausea or fatigue. The gentle provide a gently, soothing method of easing pain, calming and comforting your dog.
Increased Mobility
Several dog owners reported seeing increased mobility in their dogs after a few days of use of the chews. One dog owner explained that her Golden Retriever had limited mobility after being hit by a car. Another stated that his Yellow Lab had bad arthritis, making walking and playing difficult. Both had tried giving their dogs steroids and NSAIDS, yielding mixed results. However, they were both pleased with the results of the Turmeric Curcumin Dog Bites, stating that it was much easier for their dogs to move around, and it absolutely presented an improvement in the quality of life.
Cost and Value
The price of the chews is higher than the majority of other treats reviewed here, but it is important to note that each jar contains 90 chews. Overall, the chews are an excellent value; they aren't just tasty, but they provide pain relief and comfort to your pets; something which you certainly cannot put a price on.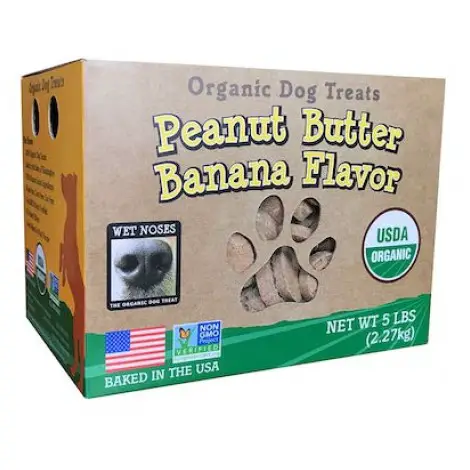 Wet Noses is a fantastic, ethical brand that you should feel good about doing business with. All of their products are manufactured in the USA, and all of their ingredients are sourced here as well. The company chooses high-end, all-natural products to make the best possible treats for your pup. Wet Noses' treats are packed with vitamins, nutrients and natural antioxidants. They are even suitable for dogs on raw food diets. The treats are easy for dogs to digest and are ideal for dogs with allergies and/or sensitive stomachs. They're suitable for training young pups and for treating older dogs alike. They're great-quality treats that you can give to your dog with confidence.
American Made
A very frightening, disturbing and real fact to be aware of is that a lot of dog food (including treats) sold in common commercial grocery stores and pet supply stores are manufactured outside of the US; primarily in China and Mexico. Sadly, these treats have been proven to be laced with products and chemicals that are carcinogenic, toxic, and fatal if consumed. As a result, the FDA has issued multiple dog food recalls. Tragically, for many dogs, these recalls came too late, and the pups suffered kidney and liver failure. While efforts and improvements have been made to remove these harmful dog foods from store shelves, it is still a serious, ongoing problem. Both veterinarians and the FDA urge consumers to purchase American-made dog foods. Wet Noses' dog treats are made in the USA, using American food products. You can rest assured that you are giving your dog healthy, safe treats with the "Made in the USA" stamp of approval.
Versatile
The treats are suitable for virtually all dogs; puppies and older dogs; large and small breeds; dogs with allergies; dogs on raw food diets and so forth. Wet Noses treats are easy to digest, even for dogs with very sensitive stomachs. The biscuits are designed so that the dog's digestive tract properly absorbs the vital nutrients that pets need to stay happy and healthy.
Cost and Value
The price tag is higher than the majority of treats reviewed here, but the value is exceptional. The treats are carefully made with high-quality American grown ingredients. They promote digestive health and ensure that dogs get the vital amount of vitamins and nutrients in their diets. Wet Noses may cost a little more than the competition, but they are absolutely an above-average product well worth the money.

5

. Castor & Pollux Organix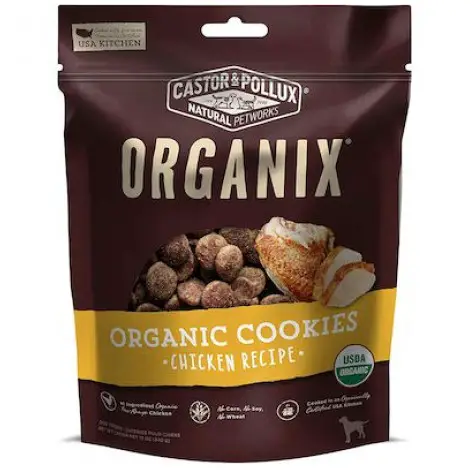 Castor & Pollux Organix is a simple brand of organic dog food that is healthy, no-frills, affordable and, all in all, good. It has all the bonuses of organic, all-natural dog food without any of the pretension. The ingredients list is short and easy to understand, the price is fantastic, and the dogs seem to love it. So, what's the catch? There really is none. Castor & Pollux is a relatively new brand still building name recognition. However, the company is still the fifth most popular organic dog food on a popular e-commerce website. Castor & Pollux is holding its own among the heavy hitters, and providing an excellent, affordable, healthy brand of dog treats all the while.
Made in Organic USA Kitchens
The manufacturer has gone beyond just making, and dog food; and they've also gone beyond making their treats in the USA. They've met the rigorous standards of manufacturing their dog treats in certified organic American kitchens. That means they are meeting the standards that qualify organic food for human consumption. Careful preparation, healthy ingredients, and the complete omission of any harmful additives, pesticides or toxic chemicals.
Huge Dose of Protein
A minimum of the ingredients contained in Castor & Pollux's treats add up to 14.5% protein. That is a huge dose, especially considering the treats' low pricetag. Dogs need lots of protein in their diets to thrive, and these treats provide exactly that. Protein, vitamins and nutrients.
Cost and Value
The price is incredibly low, but the value is superb. As previously mentioned, this is most likely due to the fact that the company is still boosting its brand and name recognition. That said, don't let the low pricetag fool you; these are high-quality treats, certified organic and all-natural, with several hundred enthusiastic customer reviews.

6

. Riley's Organics - Sweet Potato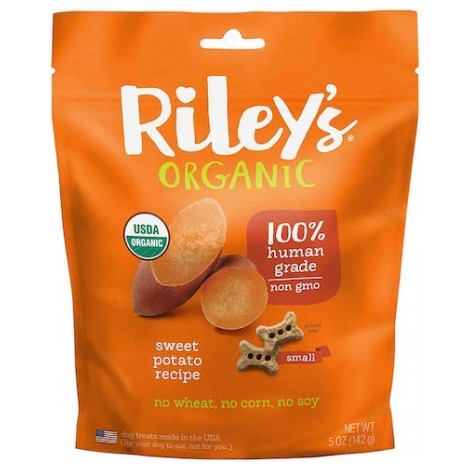 Riley's Organics purposely refers to its sweet potato treats as "human grade" because they are exactly that - delicious and healthy enough for human consumption. Ultimately, Riley's operates under the working theory that we should not feed our pets anything that we would not eat ourselves. Great chefs say don't cook with wine that you wouldn't drink. Perhaps this is a takeoff of that concept - quality matters, no matter what the circumstances. Of course, this is not to suggest that you should start literally sharing treats with your dogs; but it is comforting to know that Riley's is so confident in the nutrition, taste, and quality of their products that they would offer them for human consumption.
USDA Organic Certified
Riley's biscuits have the rare achievement of being USDA certified. This means that the company has met a rigid set of standards and criteria. Becoming USDA certified is no easy feat - it means meeting high requirements, following strict rules, and ensuring the safety of the goods that are to be consumed. Organic certification requires research, technical training and meeting strict criteria laid out by the government.
Free of Toxins
The ingredients are completely free of harmful GMOs. They are also free of corn, soy, and wheat. Additionally, the biscuits are made in the USA and are completely comprised of American ingredients. Riley's treats do not include any salt, sugar, artificial flavoring or coloring.
Cost and Value
The treats are very fairly priced, falling in the middle of the market. For such a high-quality product, they present an excellent value. You can give your beloved dog a delicious treat that he or she will love while knowing that your dog is getting the best, top-of-the-line ingredients available and that the treats are beneficial, and not harmful to your dog's health.



Threepaws Gourmet, the manufacturer of Coconut Bacon Bones, has created a canine culinary masterpiece. While coconut and bacon may not sound like likely bedmates to us humans, apparently, dogs absolutely love the surprising flavor pairing. Threepaws touts itself as a company that truly loves dogs, and that sentiment appears to be true based on the care, thought, focus, and devotion to the betterment of the lives of dogs around the world by delivering a truly special product. Are Threepaws Gourmet vegan treats a little fancy? Yes. But so what? Why not pamper your dog once in a while? He or she deserves it.
Vegan
The market of vegan dog treats is burgeoning. Many dog owners insist on feeding their pets foods that are completely cruelty-free. Organic, all-natural and vegan poses a challenging feat for the manufacturers of dog treats. However, Threepaws does it, and does it exceptionally well. The company describes their treats as being made with "passion and compassion" which could not be further from the truth.
Enthusiastic Reviews
The reviews for Threepaws are, generally speaking, incredibly enthusiastic across the board. Verified reviews cannot emphasize enough how much their dogs truly love these treats. They are emphatically and highly recommended by dog lovers, who have no ulterior motive to extol the virtues of these treats other than the desire to make other dogs (and their owners) happy. The reviews are enjoyable to read as they are so overwhelmingly positive. After reading a few reviews, any dog owner would be hard pressed not to order a bag to see what all the excitement is about.
Cost and Value
The treats are relatively inexpensive, making them a wonderful value. With excellent marks across the board. Considering the exceptional brand, vegan, organic ingredients, great taste and fair price, Threepaws might be your best bet when your dog truly deserves a reward.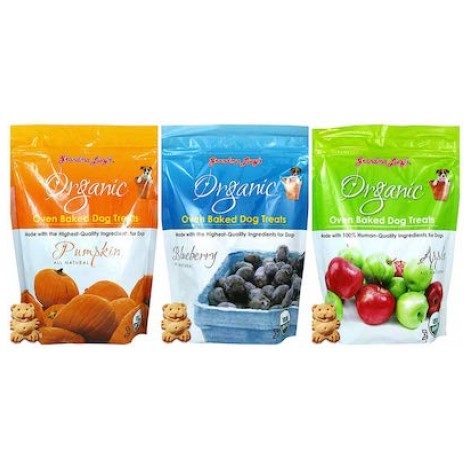 Grandma Lucy's Organic Baked Treats do not look like dog treats. Beware. With their bright, inviting packaging, sweet-smelling treats and appetizing looking products, be forewarned. These dog treats are enticing as heck. However, in the event that you succumb to temptation and decide to try one of Grandma Lucy's treats, fear not. They are human grade, meaning they are safe and approved for human consumption. That said, we do not recommend that you freely chow down on them while sitting at the office. Just because you can eat them does not mean that you should. That being said, they are a wonderful treat for your four-legged companion, who will no doubt be delighted with the delicious, crisp, fresh baked treats.
Interesting Flavors
These biscuits do not just come in the typical, run-of-the-mill dog treat flavors like chicken, meat and so forth. Instead, the treats come in bright, unusual, delightful flavors like pumpkin, blueberry, and apple. Your pup will undoubtedly love having some variety in his or her diet, and Grandma Lucy's seems to have found the perfect balance of sweet and savory, resulting in treats that dogs adore.
All Organic!
From organic cane sugar to organic vanilla extract, every single ingredient used to make these treats has the organic stamp of approval. No corners have been cut, nothing is misleading or mislabeled. These treats are real-deal organic, completely free or artificial additives, harsh chemicals, pesticides, and anything else that could be detrimental to your pup's health.
Cost and Value
Grandma Lucy's treats are yet another example of excellent value. They are priced very competitively, are packaged generously, and the reviews are over the moon. Yes, based on this article it may seem like there is a LOT of high-value organic dog treats available on the market, and that is the truth. Fortunately, there is a wide variety of organic treats for you to choose from that are both budget and pet-friendly.

9

. Full Moon Natural Organics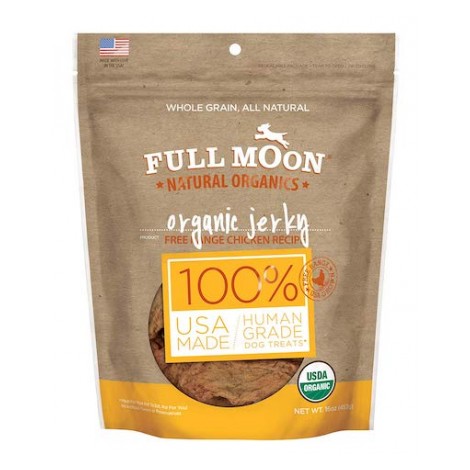 This is just a hypothesis, but there's a good chance that if Full Moon's human grade jerky strips were sold in the grocery store along with the beef jerky that's intended for human consumption, it would probably be a best-seller. Fully organic, gluten-free and with a low glycemic index, It's high-quality beef jerky that you can feel good about giving to your dog. And yes, if you decide to try a strip just out of curiosity, you will be perfectly fine. It might, however, put a little hair on your chest.
Free-Range Chicken
Full Moon jerky is made with free-range, cruelty-free, free-range chicken described as chewy and tangy. Full Moon is an ethical company that takes care to use humane methods of harvesting protein. All of the company's products are made here in the USA. The result is delicious, high-quality chicken meat that is light, delightful and delicious.
Gluten-Free
The jerky is gluten free and has a low glycemic index. Whether you are keeping your dog on a carefully controlled diet or just want him or her to have only the best, it doesn't get better than Full Moon. Additionally, the company is called "Full Moon" for a reason. It will help your dog get in touch with its inner wolf, perhaps howling at the moon, prowling like a brave warrior through the night. Just be aware that if you eat a piece of jerky, you may experience the same effects.
Cost and Value
Not to sound like a broken record, but the jerky is sold at a fair price and represents a great value. Dogs genuinely seem to love eating the strips, and owners can feel good about feeding them to their beloved canines. If you're looking for a great value and a reason to bark at the moon, look no further than Full Moon jerky strips.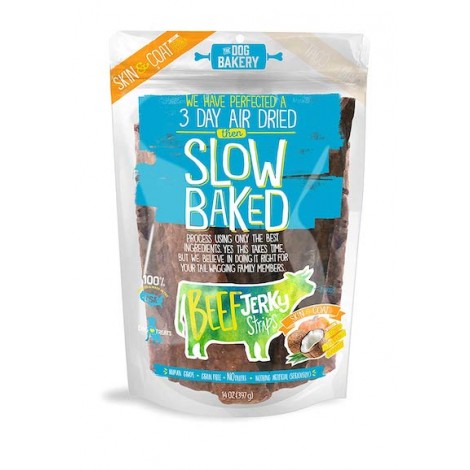 The Dog Bakery likes to brag about its treats and quite frankly, they have the goods to back it up. Yes, they're talking the talk and walking the walk. They're putting their money where their mouth is, and...you get the idea. They're a great company that makes superior dog treats and are confident in their goods. And why not? Taking pride in your work, when warranted, is great. The Dog Bakery is all about being better than the competition. Healthier, tastier, more affordable, more creative, cleaner, just plain better, in a class of its own. So, do treats from this company really live up to the hype? Signs point to yes.
Shiny Coat
Packed with antioxidants, beta carotene and omega-3 fatty acids, these treats will keep your dog's coat healthy, soft and with a glowing sheen. After all, like dog, like owner.
A Full Body Boost
The beneficial ingredients in Dog Bakery treat boost everything from the cognitive function in the brain, to the immune system's ability to fight infection, to reducing hip and joint pain, to aiding digestion. The treats are gentle yet powerful, designed to meet all of your dog's physical needs while tasting great and meeting the highest nutritional standards.
Cost and Value
The Dog Bakery's goods are reasonably priced and are an excellent product. These treats will keep your pup happy and healthy, boosting his or her quality of life while tasting delicious. The Dog Bakery will keep that tail wagging.

Subscribe to our Newsletter