Best Nikon DSLR Cameras Reviewed & Rated for Quality
In a Hurry? Editors choice: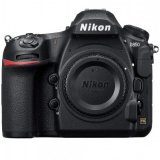 Test Winner: D850 FX-Format

Since the dawn of the digital camera, the brand recognition at the top of the game has been pretty much the same song the whole time. Other than a weirdly
surprising uprise in Sony's game
, the talks among common consumer photography and video capture have always circled companies like Canon, Nikon, and
Fujifilm
. We have spoken at great lengths about the rise and quality of the Nikon family of lenses, which make up some of the greatest kit additions in glass known to humankind. Their line-up of DSLRs are also extremely powerful tools. Let's take a look at the best offerings from Nikon in the DSLR market.
Standout Picks
Criteria Used for Evaluation
10 Best Nikon DSLR Cameras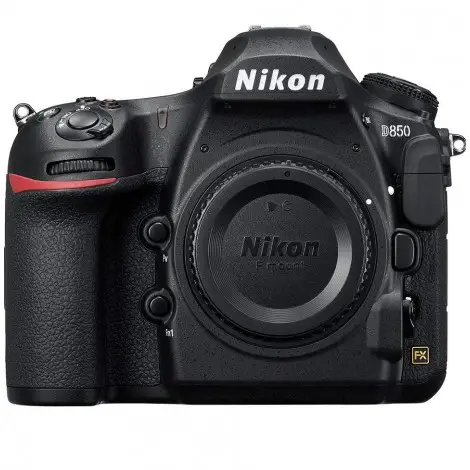 It's hard to look at the full line-up of Nikon DSLRs without gawking in awe and plucking the fantastic D850 FX body from the masses. This is easily the greatest surface level option in Nikon's current set, and there are many reasons why, but in essence, the body is a rockstar, and the options are near endless.
The Kits
The Nikon D850 is one of the most robust medium-sized DSLRs that Nikon has ever made, but one of the shining features of buying it are the options for bundles. Or kits, as they're generally called. The D850 can come as a stand-alone body if you've already got the lenses. Or it can come with one of eight lens choices. Or, the astounding collection that is included with the "Filmmakers Kit" which includes three wide lenses, extra batteries, a shock mic, and a wireless display screen.
The Sensor
Nikon's D850 comes with one of the greatest modern sensors in all of digital imagery. Their back-side illuminated (BSI) FX-Format full-frame CMOS censor that tops out at a staggering 45.7 mega pixels, without low-end filter pass. It's just jaw-dropping.
Cost and Value
The world of digital imaging isn't going to surprise anyone with crazy low prices (though, you should read ahead in this list, because we've found some great cameras), so it's not shocker that the cream of the pedestrian Nikon DSLR range is pretty dang expensive. But this comes on the promise that you will be acquiring one of the greatest digital cameras on earth.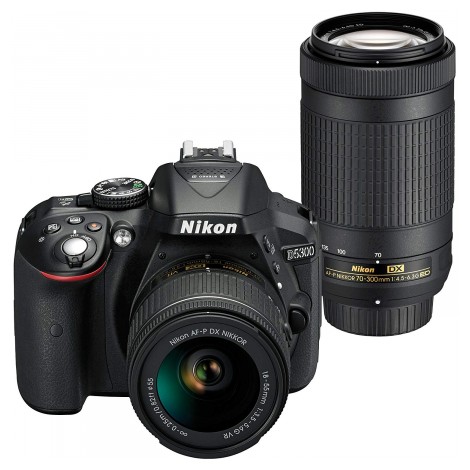 For our second choice on this list, we went with something that many people with even a mediocre knowledge of Nikon Digital Cameras wouldn't expect us to put on this list (maybe), at least not this high up, that's for sure. The reason? Well, it's one of the greatest values in digital cameras right now, and what we think as one of the most astounding gateway bundles.
Entry Level
It may be very easy for folks to dive into a pretty deep pool when it comes to getting into the camera game, and we don't really blame them. There's a lot of amazing tech out there. Plenty of amazing places to start. Which is why we think this budget-friendly, yet still powerful Nikon D5300 is an option that just can't be ignored.
Double Lens Bundle
A lot of the options to purchase cameras from any store will offer up just the body of the camera. You can also shop around and find basic kits, which include the body and a lens of some kind (usually a pretty standard zoom lens). But this kit, at a quarter of the price of some Nikon bodies alone, comes with bot a Nikkor 18-55mm f/3.5 lens, and a 70-300mm f/4.5 telephoto lens. Two great lenses.
Cost and Value
At simply just a few hundred bucks, the Nikon D5300 Double Lens Kit is one of the greatest deals in all of digital imaging that we've ever seen, and if you recognize my name, you know I've written a whole bunch of these lists. It's such a grand deal that I just picked one up for a friend.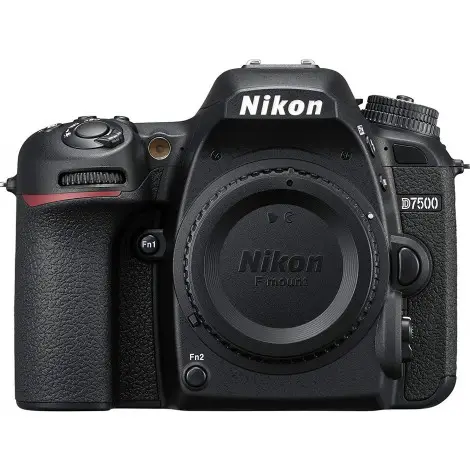 If we could become incredibly narrow and attempt to coin a category of camera that is the premium end of the bottom end -- the best of the starters, if you will -- then we've got the king of all kings in that category. The Nikon D7500 is the best of all-around premium cameras in a cheaper price bracket.
4K Video
Plenty of great cinematographers either start with, or make a grand name for themselves using just DSLRs of all kinds to make films of all kinds, and the killer package in the Nikon D7500 is a prime example of a nearly flawless place to start. It had, in its guts, a video processor capable of capturing beautiful lossless 4K video.
Connected
Another beautiful thing that can make the use of a premium modern digital camera above and beyond that of analog alternatives, comes in the form of that very term itself; it's digital. The modern structure of digital cameras have adopted a bluetooth, wi-fi, and even NFC wireless systems, making it a breeze to transfer data and captures wirelessly to smart devices and computers.
Cost and Value
The premium end of the starter market isn't something that's easily pinned down into a specific enough price range to brag about it here. But we tried to outplay this bundle with other options around the same price range, and couldn't. This is one of the best premium beginner cameras on the entire planet.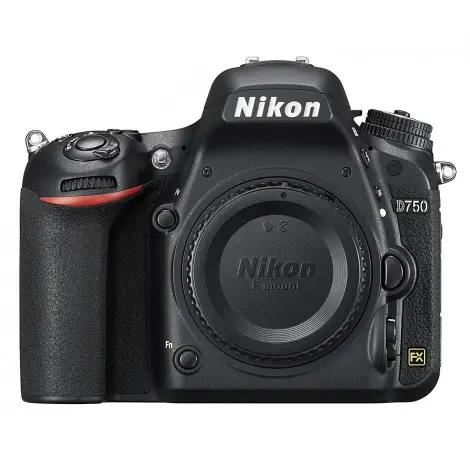 If the newer version of this camera is good enough to land itself on the top spot for this list, then the previous iteration has to be good enough for just off to the side of the podium. So, rightfully so, here we are talking about the Nikon D750 FX-Format Digital SLR Camera from Nikon, an illustrious, and not quite freshest piece of imaging tech.
Speed Before Clarity
While the extensively bolstered D850 is a powerhouse nearly out of measurable comparison to the rest of the Nikon line-up, the D750 is surprisingly humble. Though, it does have something it's older sibling got, which was a speed upgrade, before a megapixel boost. The D750 shoots with a 24.3 megapixel sensor -- which is great by a common standard -- but was given the new, and insanely fast, EXPEED 4 Image processor.
Age Bonus
We often stress here on the Gear Hunt that spending as much money as you can possibly (and comfortably) afford on technology is usually the best way to guarantee that you're getting the best product. But with cameras, kind of like motor vehicles, the refresh rate on products is almost annual, which makes the older models not that difficult to conceive as viable options. Strides aren't made in huge leaps and bounds, but rather tiny steps.
Cost and Value
At the current asking price, the Nikon D750 is a pretty above-average DSLR in the bottom end of the premium price range, or the top end of the starter range. There are some great bundle options, like most Nikon bodies, and you'd be a long time away from needing an upgrade if this is where you choose to spend some money.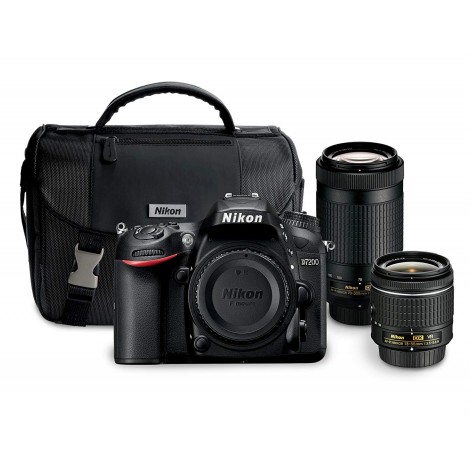 It may come as a surprise to some that it took us all the way until number five on our list to finally come up with an actual bundle to promote. But, here we are, and here's a bundle. We're not propping this option up because buying just the camera body alone isn't worth it, but we just can't shake how astounding this set is.
Two Lenses
Like we've mentioned multiple times already, a lot of camera options in the shops and online come with body only. This is designed this way because most people are buying a second body, and already have lenses. But, if you're starting out, or switching mounts, or switching camera brands, you need lenses. This, the Nikon D7200 Kit, comes with two lenses and the body, for the price of some medium-priced single lenses.
Work Horse
Many people in the Nikon family of photographers love their bodies like the D7200 because it's one of those fabulously designed and built Nikon bodies that are solid, and strong. There's not a whole lot that these guys cannot withstand. You'll be shooting epic stills or video for a long time to come.
Cost and Value
Right now, this entire bundle -- the D7200 body, and two varied zoom lenses -- comes in at a price that is a little bit less than even just some stand-alone Nikon lenses. Making it an extremely delicious and viable option for starters. It's a crazy deal.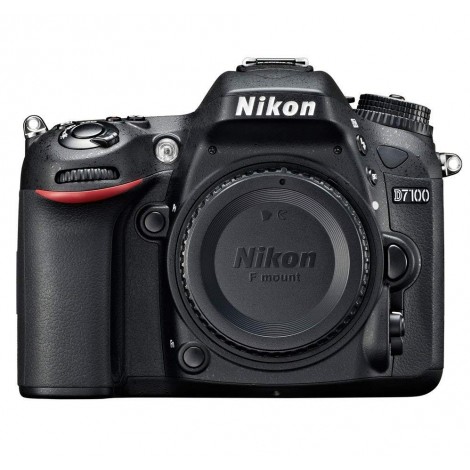 One step down from the Nikon D7200 is the previous iteration, the Nikon D7100. It was one of the first in the D7000 line-up history, and may have just been the first one to cement the line in legitimacy for the future. The D7000 or "d thousands" series is supposed to be a general step down on the ladder from the Nikon "d hundreds" line-up. But, much like the D7200 after it, the D7100 is astounding for its price.
The Sensor
When comparing this version of the D7100 with it's older sibling in the D7200, one thing you'll notice is that they pretty much have the exact same set of eyes. What we mean by that is that the sensor within it, shoots at almost identical megapixel sizes, sitting up at 24.1 megapixels on the sensor, and does so only just slightly slower than the 7200.
Focus and Fire-rate
We say that the 7100 shoots a tad slower than the 7200, but not by a whole lot. The 7100 can shoot at six frames-per-second, and uses it's powerful 51 points of auto-focus to attempt at grabbing sharp focus faster than a lot of its competition.
Cost and Value
There are a lot of sellers and resellers online and in store, but this wonderful camera body is something that should never reach into the four-digit price range, making it an incredibly powerful and extremely affordable camera option.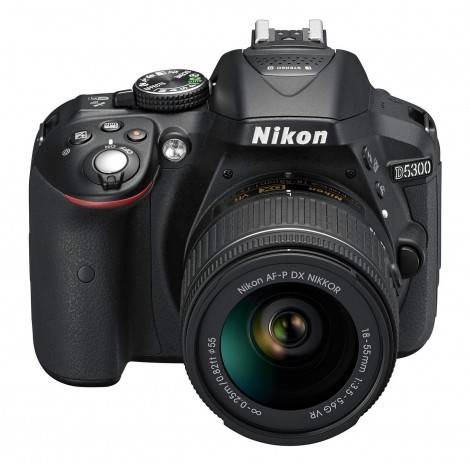 It's no smear campaign that plenty of digital SLR cameras aren't ever really used to actually take still photographs. Rather, a lot of owners of DSLRs in this stage of the 21st Century use their digital cameras for video capturing, or more specifically Vlogging -- the act of recording video blogs that contain various topics.
The Vlog Factor
Thanks to many factors, the Nikon D5300 is something that everyone thinking about getting into the vlogging game absolutely has to check out. There is the fact that you won't spend more than a handful of hundreds on it, mixed with the lightweight body, and topped off by it's incredibly sharp, full 180 degree swivel screen, which allows you to see yourself, and your frame as you shoot.
The Kit Lens
We like to rag on kit lenses a little bit here, and that's just because there are so many amazing prime and stand-alone lenses on the market. That being said, you can't get much better in terms of a kit lens than the standard Nikkor AF-P 18-55mm variable zoom lens that comes with the Nikon D5300. It has a great wide-end, and a perfect zoom-end. It can tackle so much.
Cost and Value
Vlogging is hard. Let's just state that right away. So when you're standing on the outside looking in, and you're interested in giving it a try, spending as little as possible, to get something as amazing as the Nikon D5300, is just perfect. It's an astounding option for complete entry-level vlogging work, with great perks for little price.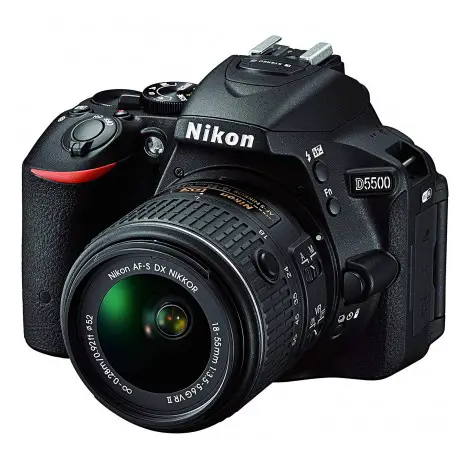 The technologies of the digital imagery industry move pretty fast, and because of that, lots of folks are oft-to trade in their older hardware. Which translates to discounts further down the serious ladder. If you're looking for older gear -- there are many reasons why it's a very smart choice to head backwards in the timeline to gear out -- certified refurbished models are prime items.
Certified
It can be daunting, and sometimes even down-right dangerous to purchase second-hand technology. Who knows if it will work, or function in the way it was intended. But, most camera manufacturers have a certified refurbishing arm, that grades and approves refurbished products from their line-up to ensure consumer health when shopping used gear.
Vlogging Ready
Much like the last option on our list, the Nikon D5500 has all the makings of a really great vlogging camera, at a little bit of a higher grade than the D5300. Being a few makes ahead of the 5300, the Nikon D5500 is an exceptional machine for its price range. It has the full swivel screen, for self recording, and a beautiful 18-55mm kit lens.
Cost and Value
The idea that you can get a slightly used, fully checked-over, older model of an amazing camera certified by the manufacturer, at such a dramatically cheaper price, just oozes value. Not only do you get an insanely great, and competent vlogging camera, but you get the full kit lens, and at that discounted price.



Another astounding kit, coming straight from Nikon, also happens to be the top pick as an "Amazon Choice" option. The Nikon D5600 is a slightly refreshing update on the previously mentioned D5500 model, and this kit comes with a whole lot that one would desire to buy regardless, making it an optimal choice. Or an Amazon Choice, if you're into that thing.
Second Lens
Most kits out there come with a standard kit lens. This is going to be something with a pretty shallow close-end, and a pretty standard top-end. For instance, the kit lens in this bundle is a 18-55mm variable zoom (a pretty common pick in Nikon boxed kits). But it's the secondary lens where this deal truly shines. An incredible 70-300mm lossless zoom Nikkor lens, culminated in a full kit that provides you the ability to capture almost anything.
The Rest of the Kit
Other things that are inside this boxed kit are things like an extra battery pack (everyone who photographs regularly has at least one extra, charged, battery in their bag or pocket. A wall-plug battery charger (single slot only, boo!). And a fancy "look what brand I represent" camera neck strap with a bold yellow Nikon logo on black.
Cost and Value
We've spoken a lot about the prowess in older camera gear, but one thing we've neglected to mention in this conversation is that the price disperity between similar models of old is pretty minimal. So, for only a hundred-ish dollars more than the previously mentioned item, you could get the refreshed D5600, and a whole bunch of awesome extras.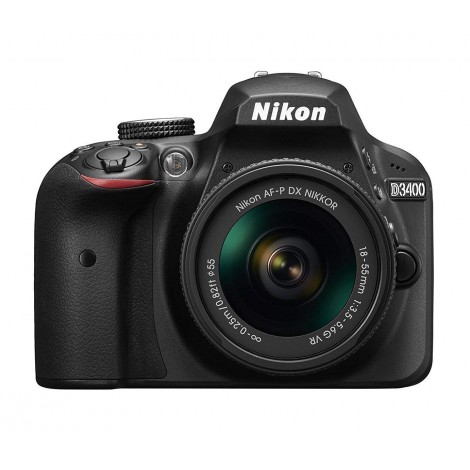 It's extremely difficult to head downwards down this list and not want to include something that is so incredibly affordable, and useable. It's equally as hard to head north on the price scale the further we get away from number one. So here we are, with one of the greatest values in all of digital cameras right now, Nikon-branded or otherwise.
Dat Sensor Doh,
The first thing that usually degrades in quality the further away from today you head down the line-up of any camera manufacturer is the sensor. So, it's pretty surpriding that the Nikon D3400 DSLR -- a whole 2200 in number, away from the previously mentioned 5600 -- has almost the same sensor. It's an amazing 24.2 Megapixel (the best camera at this price point maybe on the entire market right now), CMOS sensor.
Certified, Again
Once again, we can marvel at the fact that camera manufacturers usually have a certification process for refurbished and used camera gear. Especially as, in this case, you're getting something that might be shy on fancy frills, but is essentially four times the camera of anything from another brand, for just a few hundred bucks.
Cost and Value
Value is often determined by a mixture of features and stock capabilities, and the Nikon D3400 has one of those stocked up to its eyeballs. The base, and frill-less camera you see before you is a strong powerhouse with an incredible sensor, and a mount that grants you limitless possibilities with Nikkor lenses.

Subscribe to our Newsletter