Best Sneaker Cleaners Reviewed & Rated for Quality
In a Hurry? Editors choice: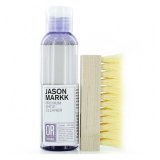 Test Winner: Jason Markk

Sneakers can get pretty dirty if you don't take proper care of them. Considering they're made from various materials and plastics all glued together, and you wear them on the part of your body that's most likely to get dirty without them, that isn't a surprise. What is a surprise, however, is how many options you have in excellent shoe cleaning kits. And we're counting down the top 10 best. For various different reasons we'll get into later, these are the absolute best of the best when it comes to cleaning sneakers.
Standout Picks
Criteria Used for Evaluation
Compatibility
What does this mean? Simple, there is a big difference between a shoe cleaner and a sneaker cleaner. This article tended to use the two terms interchangeably at times, so we understand if you're confused, but let it be clarified here. When you're looking for a shoe cleaner, you want to make sure it's a cleaner specifically designed for your kind of shoe. You wouldn't use a sneaker cleaner, for example, to clean a leather boot. Because of this, you need to pay extra attention to the labeling and contents of these cleaners and make sure that you are buying sneaker cleaner, especially if you want the best possible results from cleaning it.
Features
The best way to figure this one out, short of buying it yourself and trying it out to roll the dice, is to read online reviews by both industry professionals, and average consumers, as both are worthy viewpoints. Overall quality is a very nonspecific general quality of a product. I.e., does it function on a basic level? This judges the brush and how well it can remove stains, dirt, and grime from the sneaker. It also judges the cleaner, and how effectively it gets the job done. It's very basic stuff, but then, these are pretty basic products, so if they can't get these right, then they definitely don't make the list.
Safety Hazards
This applies more to the cleaning solution than anything else. Because the cleaning solution is NOT safe for children. At all. It's downright poisonous for kids, in fact. So, a big part of getting onto this list was how safe the bottle of cleaner was to use. This usually came down to the bottle is compact enough to put in high places away from kids, the cap being safe enough to use etc.
Features
This can get a sneaker cleaner on the list on its own merit. Every sneaker cleaner works on a basic, fundamental level, so with that criterion out of the way, the judging factor becomes how cleverly implemented each element was. Did the kit come with more than one bottle for different purposes? Did it find a way to combine the formulas into one to save space? The #9 spot got onto the list purely based on the merit that the design of its bottle was insanely clever, utilizing both a brush and a cleaner bottle in one design. The other thing that got it on the list was the merit of it using foam in its cleaner, which helped the soap focus squarely on the dirt and grime covering the shoe, without bothering the colors and fabric too much. We've been cleaning shoes and sneakers for decades, so we know how the basic design works, that makes a good foundation. And when you have a great foundation, the only way to go is up.
Brand
Another vital factor in any product, not just sneaker cleaners, is the concept of manufacturer reputation. You should always be extra careful to make sure that when you buy a sneaker cleaning kit, that you're buying from a reputable company. For one, it's a good way of reassuring yourself that the product you're buying is actually of genuine quality. Nothing is more reassuring than knowing that you're working with people who at least know how to do their jobs correctly. But it goes beyond that because it's one thing to know whether or not they can do the job. What you should really be concerned about is whether or not they do it the right way. What do they test their equipment on? What are the conditions of this test? Do they pay their workers adequately, including benefits, insurance, and all the rest? Are they officially certified? If not, what's keeping them? Personal choice not to take part in such tests, or something else?
This may seem overwhelming, but don't worry, the internet provides you with more and faster ways to access the answers to this question than anything else in the history of man. An afternoon's worth of research will tell you everything that you can possibly know about a company and their reputation with consumers. And once you know that, then you can figure out whether or not they deserve any of your money.
Value
Price will always be a cornerstone factor when discussing a ranked list of anything, and sneaker cleaners are no different. Now the average price of a sneaker cleaner kit depends entirely upon what exactly is in the sneaker cleaner kit. If it's just some cleaner and a brush, then it likely won't cost you all that much. However, as the case tends to be, the more you add in, the higher the price ratchets up. Which is why the #10 spot is the most expensive entry on this list. That kit has pretty much every last thing you could possibly need from a sneaker cleaner kit or a shoe cleaning kit in general, so of course, the price is significantly higher than your run of the mill sneaker cleaner. The trick is to find the right balance between a high-quality product and an affordable price. Especially if you aren't all that serious about sneaker cleaning and just want a simple kit to get, the job done.
10 Best Sneaker Cleaners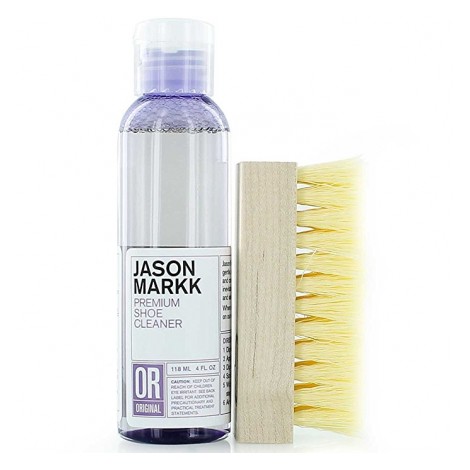 In our 2nd place spot on this list is Jason Markk Premium Shoe Cleaner. Sneakers tend to come in one of two forms, the kinds you use for running, jogging, and general recreational use, and then there are the types primarily used for sports. This cleaner can handle both of those, making it very attractive to athletes who love clean shoes.
Fast Acting Formula
But the versatility isn't what really draws people to this cleaner; it's the speed. This cleaner acts fast and brutally, removing even the toughest stains in an instant after being applied. Wiping down your shoe shouldn't take you any more than 5 minutes, tops.
Brush Is Optional
If you already have a brush, don't worry, you don't have to buy the brush that comes with this too if you just want the cleaner. A lot of cleaners will force you to buy the brush as well, but this one knows that most buyers just want the cleaner and make the brush optional.
Cost and value
Because the brush is considered optional, buying just the cleaner shouldn't cost you much in most retailers. It's actually probably one of the cheapest items you can buy on this list.

2

. Rufus Styles Premium Kit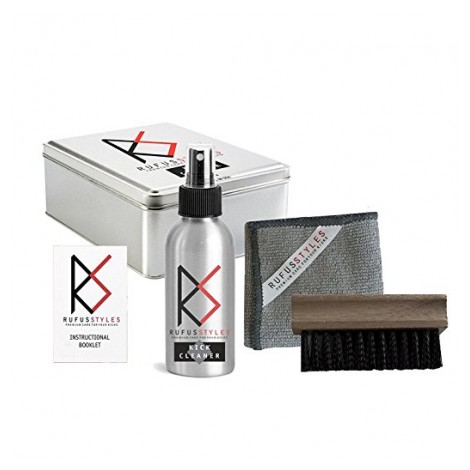 Second on our list we have the Rufus Styles Premium Shoe Cleaning Kit. If you need a sneaker cleaner that will not only wipe away the gunk and grime from your shoes but also leave the colors underneath untouched, then this is the shoe cleaning kit for you.
No Residue
One problem that a lot of people have with shoe cleaner is that a lot of them contain perfumes, oils, dyes, and other chemicals that can leave behind ugly residue and film on your shoe. But this shoe cleaning kit contains no such chemicals, and thus is free to leave your shoe as clean as a whistle.
Versatile
When you buy a box of shoe cleaner, you should probably expect a small list of the shoe materials that the cleaner won't play nice with. However, this shoe cleaner works on suede, microsuede, canvas, nubuck, vinyl, mesh, leather, and neoprene. Those are the usual suspects you typically find on the "no go" list.
Cost and Value
You'll find this deluxe kit of shoe cleaner for a rather reasonable price, given what's being offered.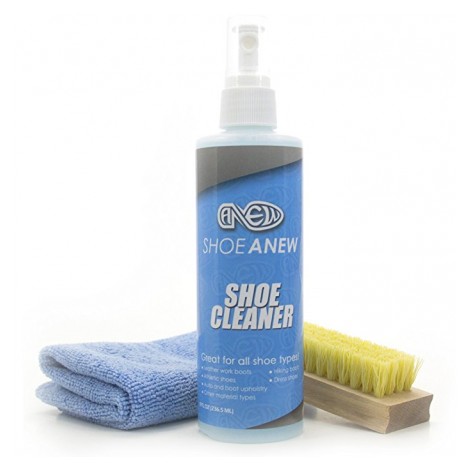 Finishing up our top 3 section is ShoeAnew Shoe Cleaner Kit. Unlike the others on this list, this is considered to be more of a starter pack for sneaker cleaning. Though to be fair, it still includes everything found in your average sneaker cleaning kit, so it's really just a title.
Microfiber Cloth
The cloth included with this pack isn't just any kind of cloth, it's made of microfiber. This makes it the perfect cleaning cloth for those gentle, soft parts of the shoe that will get damaged if you take the rough brush to it. But that isn't to say that the brush has no part to play, itself.
Nylon Brush
What better material to make brush teeth from than one of the toughest fabrics out there: nylon. And this is one tough brush, rest assured. It is guaranteed to take out even the toughest, most caked on dirt and grime on the soles of your shoe, leaving it so clean you could eat off of it.
Cost and Value
Considering the high-quality materials that this kit is made out of, it's no wonder that it's just a tad bit expensive. However, you may find it much cheaper than you were otherwise expecting it to be.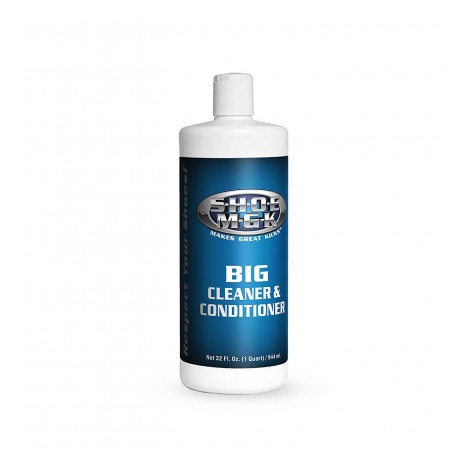 In our #4 spot, we have Shoe MGK's Shoe Care System. As you can tell from the picture, it's rather obvious what sets this one apart: the fact that it includes multiple cleaning solutions, making it live up to the moniker of a cleaning "system." What else does it have? Let's find out.
Various Solutions
These aren't all the same type of cleaning solutions. They all have their special role to play when cleaning your shoes. There are two bottles of cleaner and solution (the most vital of the three types, so there should be a spare to fall back on), one bottle of water and stain repellent to make it harder for a new stain to crop up in the place of the old ones, and finally a bottle of touch up, to give it that extra bit of shine.
Careful Instructions
Since these four bottles present a complicated process that not everyone is going to be able to know how to follow for the first time without help, the bottles come with detailed, helpfully written instructions to help you keep on the right track when using this kit.
Cost and Value
The main downside to this kit is its cost. But this should come as no surprise, as just the cleaner and a brush is enough to bring your run of the mill kit into the double digits, so of course, a kit that comes with four different bottles of cleaner would ratchet up the price something fierce.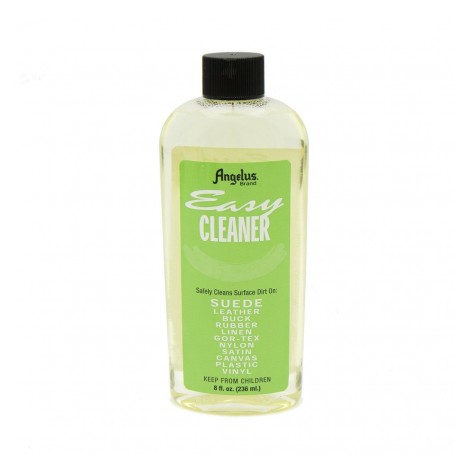 In the #5 spot, it's Angelus Easy Cleaner Kit. This is one of the oldest brands in shoe cleaning out there, having been operational ever since someone got the idea to clean shoes on the streets in the first place. And this product more than proves that they haven't lost their touch one bit.
Microfiber
Once again, the cloth used for this cleaning kit is made from microfiber, making it smooth, soft, but very thorough when it comes to cleaning. A microfiber cleaning rag is always a sign of a good quality cleaning kit, and this kit is no exception to that.
Not Just for Shoes
Weird thing to showcase here, you're probably thinking, but roll with this. Shoe cleaner can get stains out of shoes, yes, but people buy it for more than just that. For instance, if you're a painter, you can use this cleaner to clean the stains off of a wall or other surface that you plan on painting.
Cost and Value
Depending on the size of the bottle you want, this can be either really cheap or just moderately affordable. A very good price range with this cleaning kit.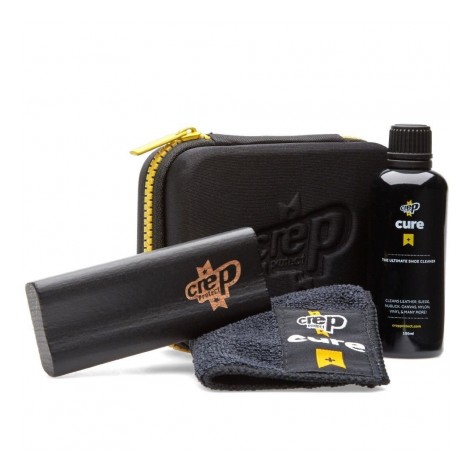 In our #6 spot, it's Crep Protect Shoe Cleaner. Unlike other cleaners on this list, you actually have two options for this cleaner. You can either get it in the spray form, that you see above you, or you can get a set of wipes that accomplish essentially the same thing. What does this brand bring to the table? Let's find out.
Great for Various Fabrics
We expect high-quality cleaners like this to get vinyl, suede, canvas, and so forth, but leather usually requires its own cleaner on its own. So, it's nice to see a cleaner that can tackle leather as easily as it tackles everything else.
Cleans and Touches Up
Not only will this cleaner get out those pesky stains from your sneakers, but they'll also handle that disgusting yellow tint that takes over the white parts of your sneakers as they age. Something like that typically requires its own bottle of touch up formula, but this bottle does both.
Cost and Value
Since this bottle usually comes all by itself, no brush or rag to speak of, it's a pretty affordable item. And if you go for the cloth wipes, you'll get a pretty good deal regardless of the size of the package.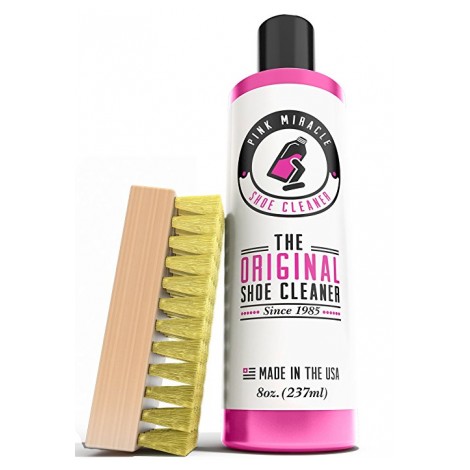 In the #7 spot, it's Pink Miracle Shoe Cleaner Kit. Returning to the classic formula of cleaning solution and brush, Pink Miracle offers excellent service, a modest price, and many athlete's number 1 choice for sneaker cleaner.
Can Last Years
If you correctly follow the instructions of the bottle and only apply a little at a time when you need to, then this bottle will last you years. It doesn't take much at all of this cleaner to get your sneakers completely spotless.
Works on Almost All Leathers
If the leather is washable, and many types of leather used to make shoes are, then this cleaner can wash them clean just as well as any other shoe fabric. It accomplishes this through a safe mixture of saddle soap, gentle oils, and conditioners, which work wonderfully with leather.
Cost and Value
This shoe cleaner has a very modest price, nothing too big, but nothing too small either. A pretty good deal, especially if you have a thing for shoes with a lot of leather and you're having trouble finding shoe cleaner that works with it.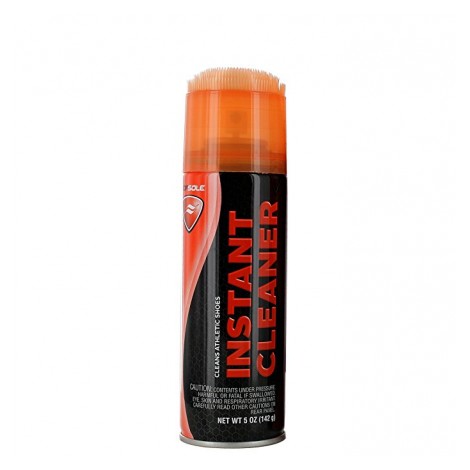 Kicking off our final 3 entries, we have Sof Sole Instant Cleaner. Make no mistake; this is one of the best sneaker cleaners you can find on the entire market. What makes it so dang good? Well, read on, and maybe you'll find out.
Foaming Action
Many sneaker cleaners have different methods on how to be tough on the dirt, but not the sneaker. This sneaker cleaner's method is to have a mild foaming action that makes the soap act solely on the dirt while leaving the shoe completely untouched.
Built-In Brush
Don't have a brush to use yourself? Not a problem, just use the built-in brush on top of the bottle to get out those super tough stains without any issue. As long as you keep it off of softer materials like suede, then this brush will work wonders for you.
Cost and Value
The best part about this cleaner is the price. In pretty much any retailer you can find this sneaker cleaner for a very reasonable price, that some would call downright cheap. Understandable, given that, while other cleaning kits include a brush and spray, this puts the two tools together to make it cheaper.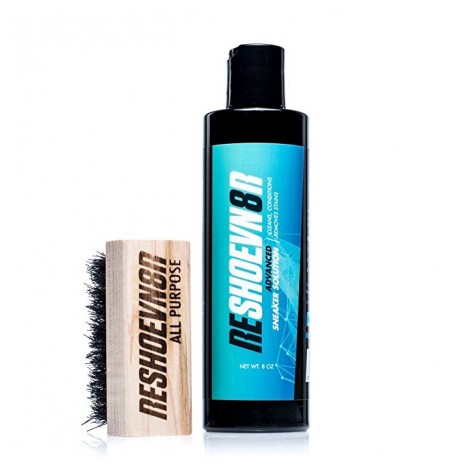 In the second to last spot of this list is the very poorly spelled Reshoevn8r Sneaker Cleaner Kit. If the brand name hasn't caused your eyes to roll out of their sockets from the sheer force of rolling, then you may want to pay attention because this is actually a really good shoe cleaning kit, and definitely worth your time.
3 Different Brushes
As you can tell from the picture, this is a really big cleaning kit, easily the biggest and most complex on the list. And one of its key features is a set of 3 different cleaning brushes. Each of them set to a different intensity so you can keep brushing even when dealing with a fabric that would otherwise not stand up to your brush. A very attractive offer to any avid shoe cleaner, sick of having to make due with rags when trying to clean their suede shoes when a brush would just do the trick better.
Ease of Use
All of these different materials and tools that make up that photo up there looks pretty overwhelming, doesn't it? Well not to worry, because this is one of the most user-friendly entries on this list. The instructions are easy, walk you through each step, and help you understand in an easy, natural way.
Cost and Value
Obviously, the biggest drawback to this kit is its price. Of course, it's a really high price; you could likely discern that for yourself just from how much is in the kit. However, it should be said right now that this kit is more than worth any asking price. For all that it offers you, this kit practically earns any price it wants. However, it is still very expensive, so please remember that.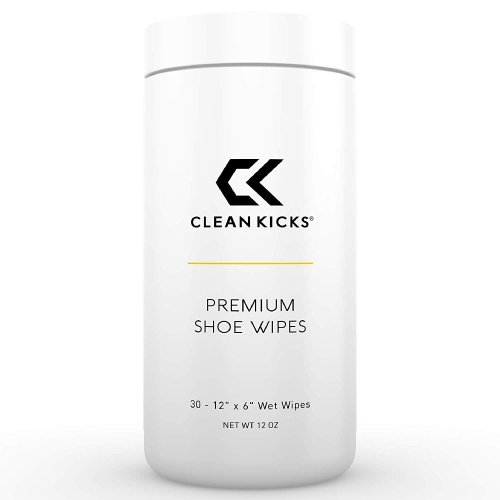 In our final entry, we have CleanKicks Ultimate Shoe Cleaner Wipes. Cleaning wipes have an interesting place among sneaker cleaners, since they are seen as the fast solution. No formula, no long brushing to get into those deep stains, just wipe the shoe down until the worst and most noticeable of it has been wiped off. But don't think that this simplicity negatively impacts the product's quality.
Soft on Fabrics & Delicate Materials
The biggest appeal for these wipes is the same appeal of using cloth rags for your sneaker cleaning, except these wipes are already doused in the cleaning material as thoroughly as they should be. And the soft material means that it works wonderfully with materials that may not agree with, say, a hard brush.
Portable
The biggest problem with the other sneaker cleaners on this list is that they take up a lot of space. With some of these entries requiring their own means of being carried around in and of themselves. But CleanKicks can just be carried around in your purse or bag, making them far superior in portability
Cost and Value
The best part about this entry is the price, which is incredibly cheap considering that these wipes tend to contain weeks or months worth (depending on how often you use them) of wipes.

Subscribe to our Newsletter